With Tyler in my rearview mirror, I'm driving southeast toward the tiny town of Arp on twisting farm-to-market roads, deep in a rolling countryside that unfolds into towering forests and varying shades of green. I roll down the windows to smell the pines and see the wildflower meadows more clearly.
High Hill Farm is at 12626 County Road 217 in Arp. Call 903-834-3444.

Explore Tyler on your way to or from High Hill Farm. Here's your must-do list.
Watching for the sign marking High Hill Farm, my destination and accommodations for the weekend, I notice a pickup truck is close behind. There's no shoulder on this tiny road so I can't let the truck pass me, but soon I realize the driver isn't in any hurry, either. When I swing into High Hill Farm's gravel driveway, so does the truck. In a minute or so, I meet the driver, Scott Herod, who's carrying a box of steaks from his cattle ranch just down the road.
"This is the beef you serve here in the restaurant?" I ask Erin Willis, High Hill Farm's chef, who nods her agreement. "Wow, that is really local!" That the beef Chef Erin uses in High Hill's restaurant is delivered personally by the neighboring rancher is just one of several elements that win me over at this small, family-owned inn.
The inn's owners, former Dallasites Sharon and Jason Romano, had long dreamed of creating an East Texas retreat. After planting experimental vineyards here in spring 2013, they constructed the first three guest bungalows and a main building for their restaurant and event space, opening High Hill to overnight guests (and the frequent wedding party) in 2015.
Jason invites me to hop on an ATV for a spin around the property. The vineyard sits to the west of High Hill Farm's main building on a slope that descends toward dense thickets of pines and hardwoods. North of the vineyards sit seven pastel-painted bungalows, four of them completed this past spring. "We've vacationed in Florida for years," explains Jason of the lodgings' cheery hues. "We're bringing some of that spirit here."
At the top of the inn's namesake High Hill, out of sight of the bungalows and main building, there's a skeet-shooting range, one of many amenities the Romanos have envisioned for High Hill. Eventually, Jason tells me, the resort will include vacation homes, a retail center, and a lake with a beach.
Back at home base, I settle into my cozy bungalow, which is painted the color of orange sherbet and outfitted with a king bed. But I can't resist the call of the little patio just outside my bedroom, equipped with two lounge chairs. Sitting quietly with a magazine, I read until I doze, with the chatter of birds sending me into a semi-dream state.
Eventually, I make the two-minute walk back to the main building, admiring contemporary paintings by local artists. Natural light spills through walls of windows, illuminating the artworks and the clean, simple lines of the crisp, modern architecture.
I find a seat on the breezy patio surrounded by potted rosemary and roses. From a list of specialty cocktails at the Napoleon Bar, named for a favorite watering hole in Jason's hometown of New Orleans, I choose the refreshing jalapeño margarita. I could easily while away the evening like this, but I'm curious about the dinner menu from the adjoining restaurant, Côte.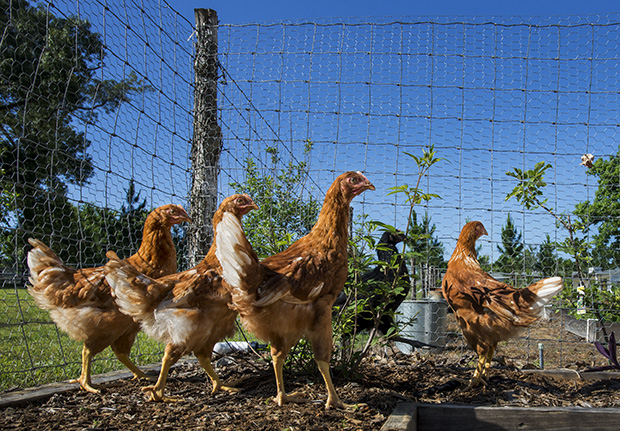 I have my heart set on a steak from the ranch down the road. But first, I'm drawn to a starter of Italian white beans stewed with caramelized onion, served atop thick slices of rustic rosemary bread. When I settle into that beautiful steak, which arrives topped with an herbed butter, I admire the chef's skill at cooking to my prefer-ence; the steak is seared on the outside but reddish pink inside. A plate of blanched asparagus with a tart tomato-caper-shallot relish on top makes the perfect pairing.
It's no wonder that guests enjoy dinner at Côte so much: Chef Erin is a Fort Worth native who built a career in Dallas, cooking at places like the Sur la Table, Patrizio's, and the venerable Café Pacific. During the week, she continues as a private chef in Dallas, cooking at High Hill Farm on weekends and for special events like vintner dinners and cooking classes.
When we chat, Erin tells me her trout amandine is a big guest favorite, along with the pâté she makes from her grandmother's recipe. Of course, the local beef wins over guests like me.
Erin is such a fan she's urged fellow restaurateurs to give it a try. Beef man Scott Herod, whom I'd met on arrival, says Erin's support, and that of Sharon and Jason, has made a big difference in his business.
"Their vision and dedication is evident in their ability to articulate what they're doing. They're so energetic and hospitable," Scott tells me. "They treat everyone as if their experience at High Hill Farm is the one that determines their success."
Indeed, I notice the hosts throughout dinner and the next morning at breakfast, interacting with guests and attending to every detail. Sharon takes the children of guests at a nearby table to see baby chicks recently hatched; Jason makes sure other guests know that bocce, washers, and horseshoes are always available for play. In the evening, the Romanos encourage guests to sit by the outdoor fireplace with a glass of after-dinner wine.
This sense of community inspires me to start planning another visit. It's a place that makes guests feel at home—albeit an especially lovely home with exceptional food and views.
From the July 2017 issue