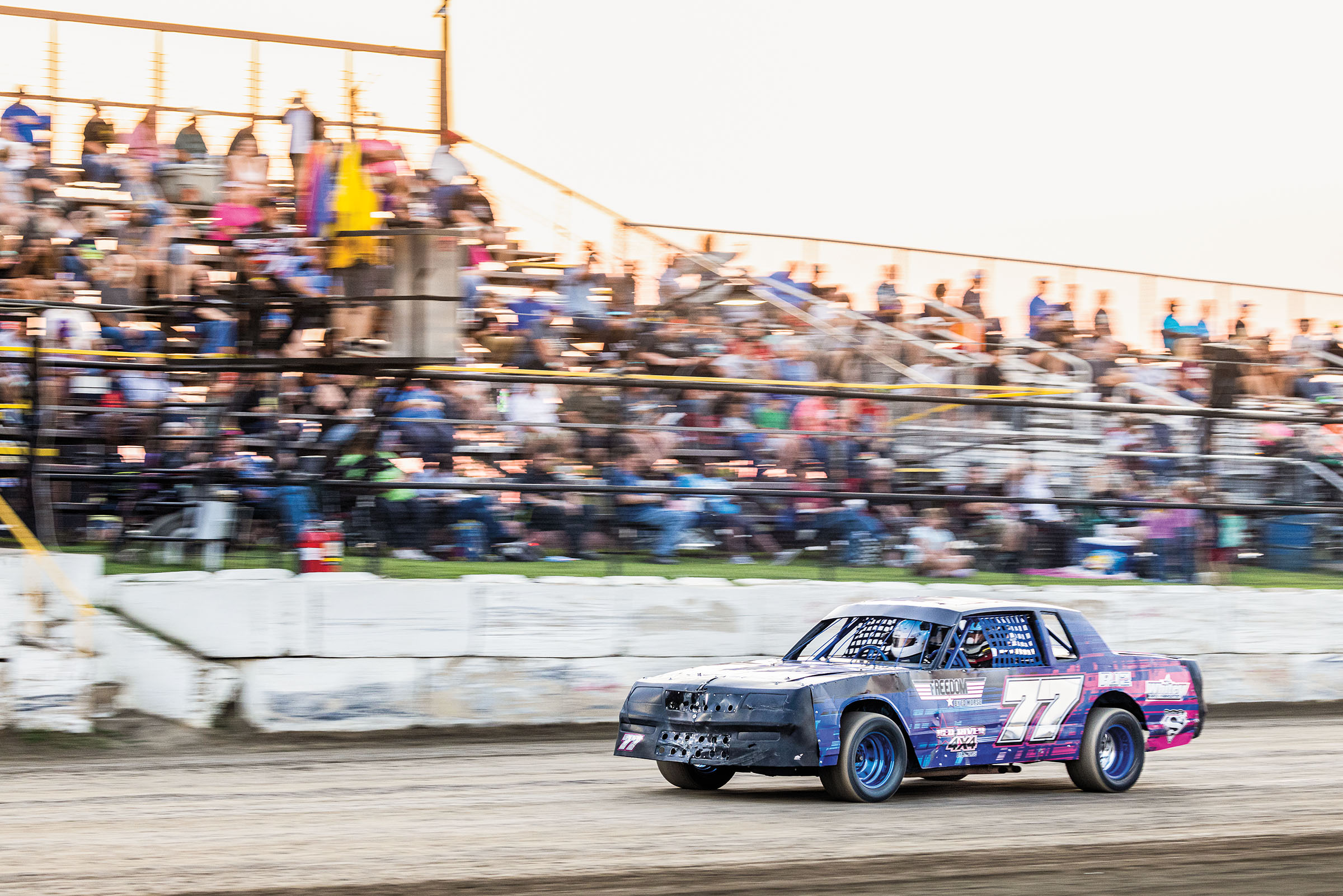 Dozens of high-horsepower cars wrapped in vinyl sponsorship stickers of eye-popping colors circle the track in a precious hum as dusk sets and the flicker of stadium lights illuminates the crowd. After the drivers run their hot laps and the announcer leads the crowd of over a hundred folks in the national anthem and a prayer, the heats begin. The predatory sound of revved-up engines envelops the September night, filling fans with what they've come to expect of small town dirt track racing: adrenaline. Grayson County Speedway, nestled in the rolling prairies of Bells, near Sherman-Denison, is one of many such tracks across the state welcoming a stream of fans as racing sports like NASCAR and Formula One gain worldwide popularity.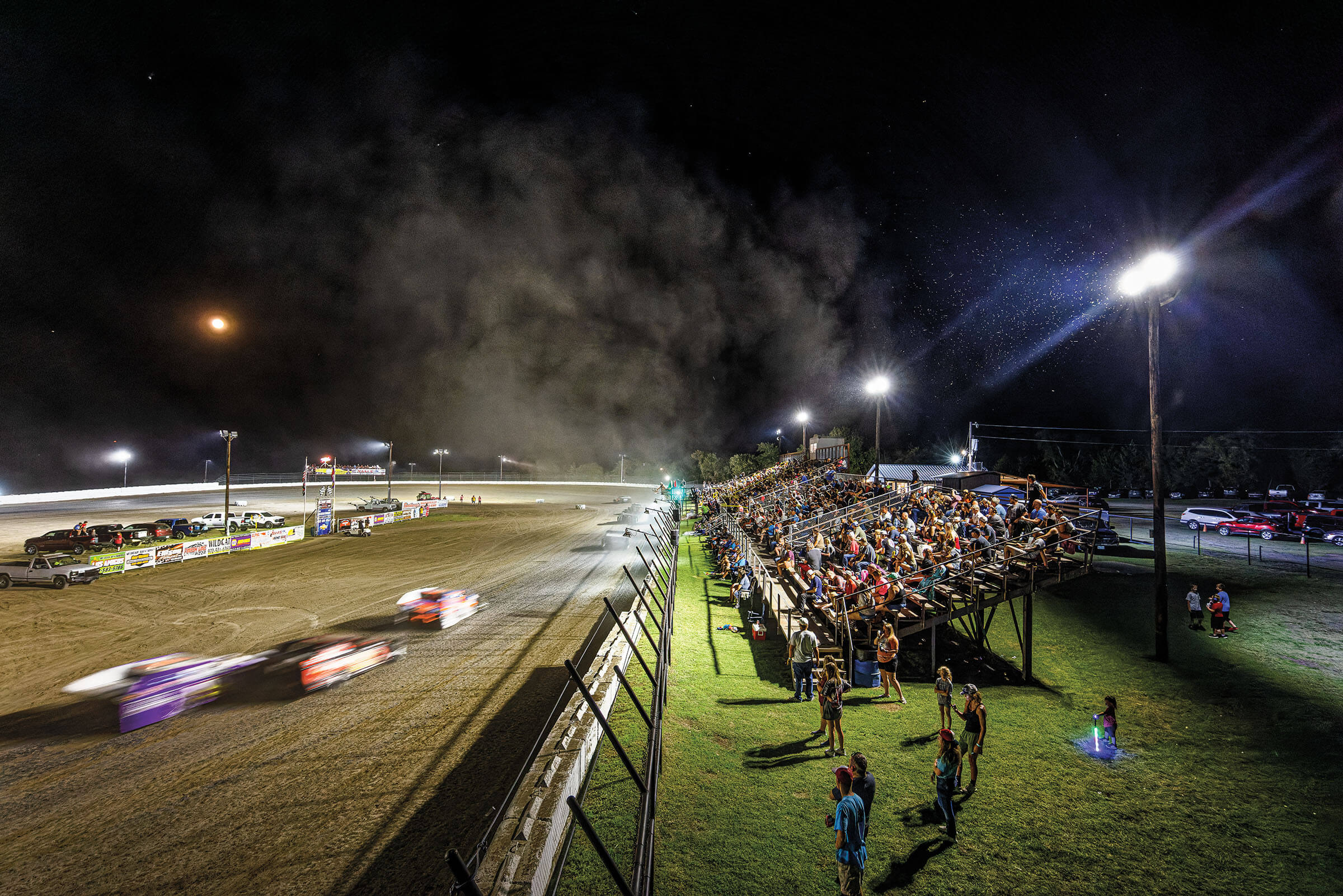 "One of the biggest things for me is to get the young people back into it," says Bryan Baker, a longtime driver and fabricator of dirt track race cars. Like many fellow drivers, Baker was practically born into the sport. He got his start when his uncle put him in a go-kart as a child with a nod of encouragement. Baker quickly developed a passion for racing, and it blossomed into a career. "I took a picture I drew when I was 5 years old," he says, "and turned it into a reality when I was 37 years old."
Baker carries on his family's racing legacy in various ways. In February 2020, he opened Crossroads Chassis and Fab and turned it into a successful chassis shop despite the disruption of the COVID-19 pandemic. He's also mentored young drivers, built a racing team and community, and won a bunch of races. "It takes everything you got," Baker says, "plus $10 and a lot of prayers."
Baker is taking part in a pre-race social with other drivers and their supporters outside the Grayson County Speedway track. The purr of motors engulfs him as he intimates his desire for a national title through the United States Racing Association, a national governing body for racing sports that includes dirt tracks in Texas. But winning races doesn't solely define success for Baker. "The ultimate trajectory is to be able to pass the chassis shop on to my children," he says.
Baker's dedication to family is in line with other drivers'. This is infectious to race fans. To them, Baker is born of the same ilk as any champion driver, willing to make whatever sacrifices necessary for the weekend roar.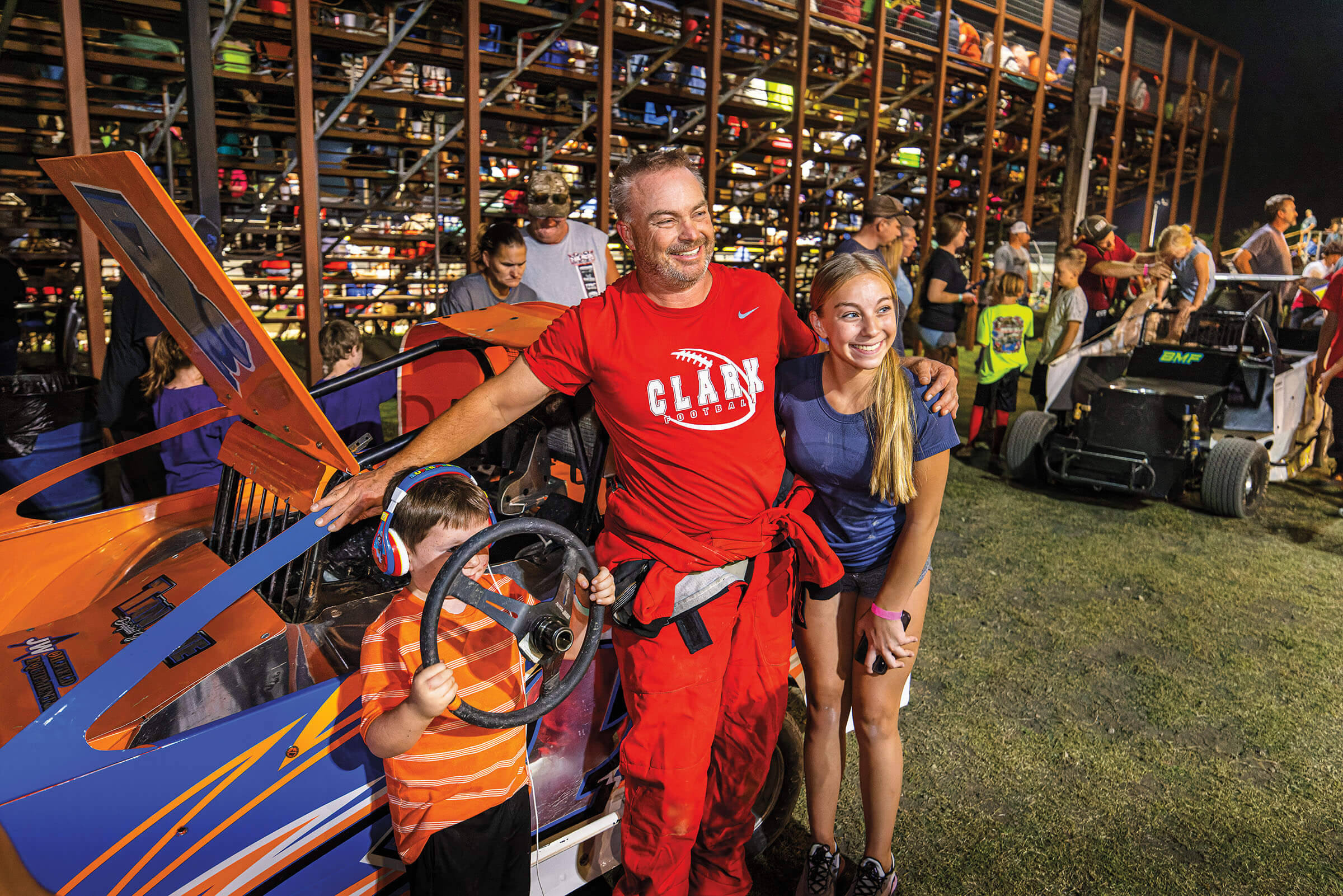 Excitement around a particular driver draws regular locals and even occasional newcomers. James Brown, who helps orchestrate the show at Grayson County Speedway, gets a kick out of seeing new people at the track. "You can see the genuine joy and thrill," he says. The frequency of races and the reasonable price point are also attractions. Unlike NASCAR at the Texas Motor Speedway in Fort Worth and especially unlike F1 at the Circuit of the Americas in Austin, races happen every weekend during their season, which generally runs spring to fall. And admission is a small fraction of what you might spend in Fort Worth or Austin.
At Grayson County Speedway, longtime friends and race fans Dwight Cline and Mark Littlefield happen to be rooting for some drivers from their part of Dallas-Fort Worth. "With dirt track racing, you'll get anywhere from three to seven different classes," Cline says. "With NASCAR, it's just that, and it's one race and you're done."
Different classes of cars indicate different levels of horsepower, weight, and drifting ability, adding to the aesthetic and performance variation. On a Saturday night, Grayson County Speedway features races with modified, sport mod, factory stock, eco mod, and economy stock vehicles. This results in much more diversity for a night's admission than a singular race with one kind of car. "Here, we'll probably see 20-something races," Cline says. "For 20 bucks!" Littlefield adds.
Dirt tracks like Grayson County Speedway run a quarter-mile in length in an oval shape. This accelerates drivers into steep, 75-foot-wide turns where the cars drift and kick up clods of dirt. Where a NASCAR race will run hundreds of laps around the loop, dirt tracks break up dozens of races into preliminary heats of around eight or so cars competing in eight-lap races. These build to larger feature races of up to 24 cars racing for 20 laps. The shorter heats amp up anticipation for the big prize of winning a feature, where an abundance of cars bump and maneuver in a small amount of space to claim first place. The tight circle, which causes cars to drift on the clay, coupled with the track's small size and number of cars, leaves ample opportunity for passing. And a key reason for watching a race is seeing drivers pull ahead from the back.
"There's not a lot of passing going on in NASCAR," says Mark Weiss, co-owner of Grayson County Speedway. "I mean, there is, but not like something you'd see on a dirt track." The dirt itself also becomes an agent, as its changing texture throughout the races challenges drivers to adapt to the track surface. If you've driven on a dirt road and felt how ruts dig out over time, you understand the challenge of driving fast. It's not a talent you can buy with money, which tends to be the solution in other racing sports.
"In dirt track racing, it's a driver's skill and reading the environment," Baker says. Fans see the challenge and cheer on drivers bold enough to accept it. Skilled drivers can make moves happen on the changing terrain of the dirt that the unskilled driver could not. "The fans just go nuts because of how they can, what we call, 'wheel the car,'" Weiss says.
Weiss and his wife and co-owner, Ramona, have curated the track as a family-friendly venue in line with Baker and others' attitudes toward racing and its future. Programming often includes activities aimed at children, be it events at intermission or chances to talk with drivers and experience the race cars close-up. Baker has let over 100 kids sign his car in Sharpie to feel like they have a stake in the race, too. The community-oriented nature of racing resonates with fans.
"My family has been racing for years," says Melissa Walters of Denison, who runs a stand selling toys and memorabilia. "My uncle used to race back in the '90s and '80s." Another fan and former driver out of Ardmore, Oklahoma, Josh Miller says, "I grew up around it, other people racing."
There's deep devotion to this sport among rural folks who are cut from a familiar cloth. "I would compare it to Texas high school football," Baker says. "You're not gonna miss it. When those lights come on, that's where you're going to be."
On Track
Sate your need for speed at racetracks across the state.
Gulf Coast Speedway
Food trucks abound, but this track is BYOB.
10329 SH 35, Liverpool.
gulfcoastspeedway.com
I-37 Speedway
In addition to races, there's the annual "Redneck Stress Relief" event with a "Flaming RV Truck Smash."
101748 I-37, Pleasanton.
i37speedway.com
West Texas Raceway
Come for the races. Stay for the fireworks show.
12503 US 87, Lubbock.
westtexasraceway.com
From the January 2023 issue