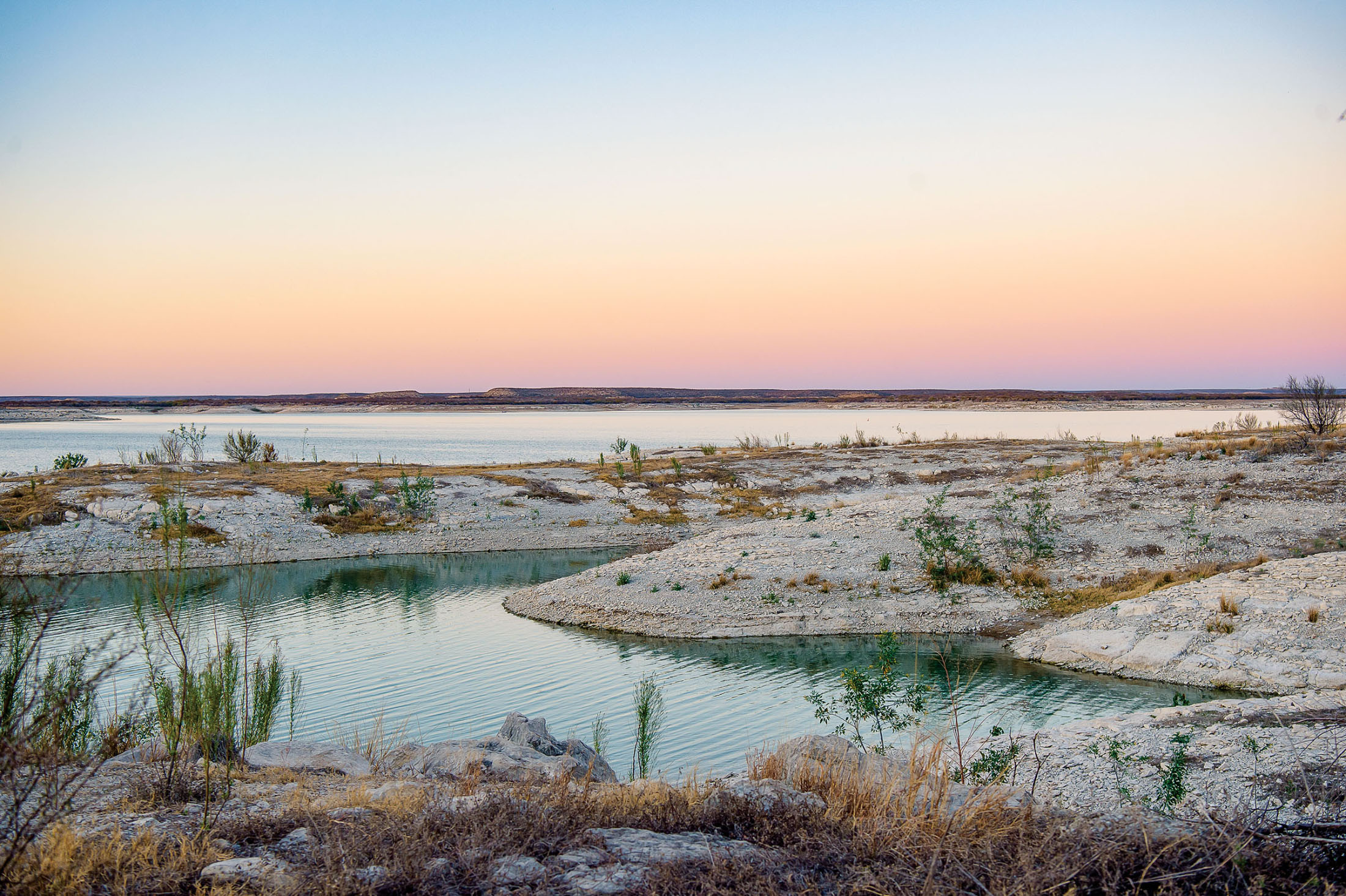 The Del Rio area has been a haven for humanity in the arid shrubland of southwest Texas since prehistoric times. Spanish settlements in Ciudad Acuña—across the Rio Grande in Mexico—led to Spanish farming north of the river along San Felipe Creek. The same resource drew Anglo land developers, who dammed the creek in 1869 and built a network of irrigation canals that still operate today. Goat and sheep ranching also flourished in the region, boosted by the arrival of the Southern Pacific Railroad in the 1880s. Today, Del Rio is home to Laughlin Air Force Base; Val Verde Winery, the oldest operational winery in Texas; the beloved Julio's Tortilla Chips; and Amistad Reservoir, a recreational paradise. With the railroad dividing the city, visitors will find more commercial developments in the north, while the southern part of town harbors historic attractions, like South Main Street, which is being revitalized with new shops.
San Antonio
2.5 hours
Austin
4.25 hours
Houston
5.5 hours
Dallas
6.5 hours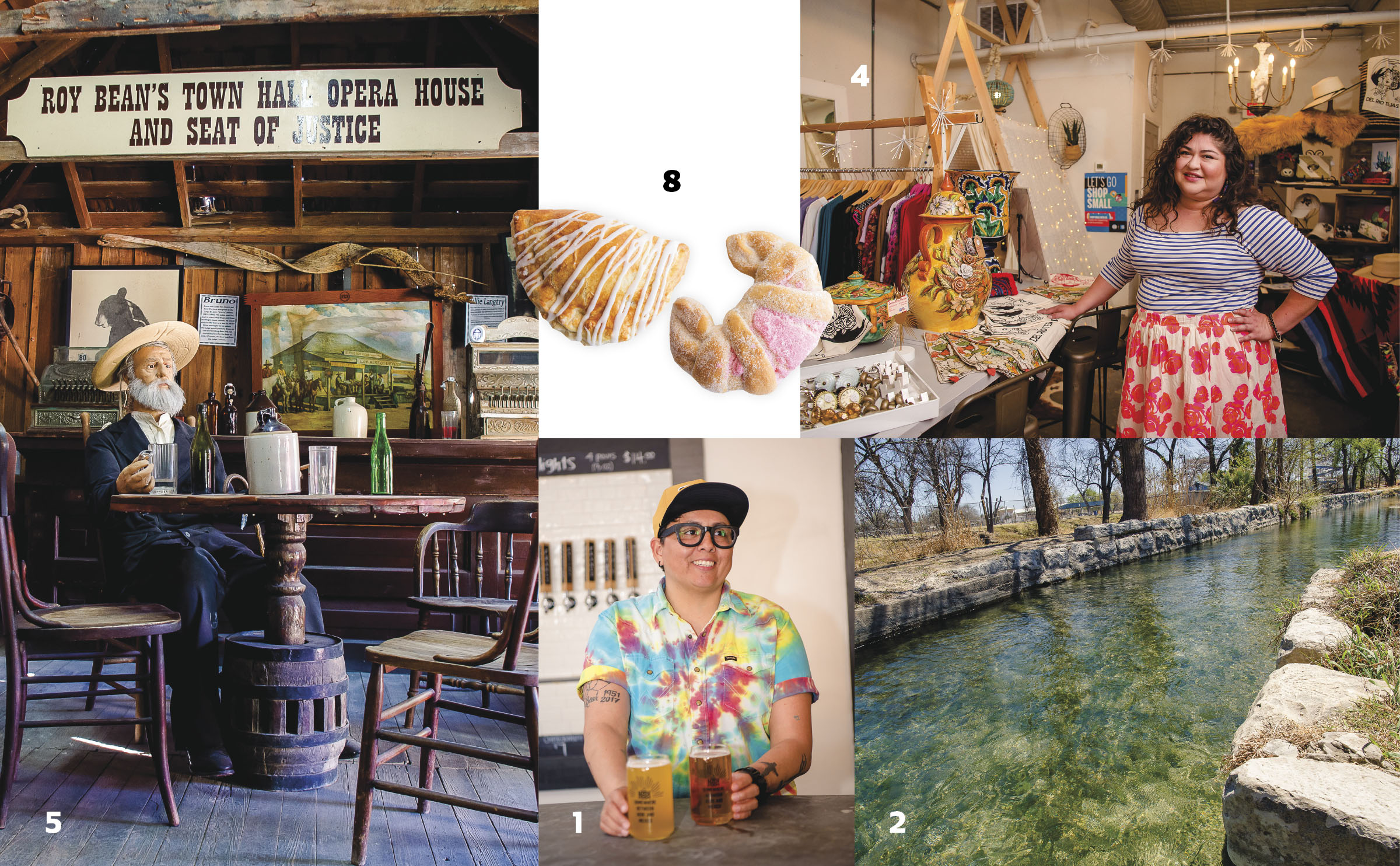 Stay

Eat

See

Learn

Shop

Drink


1 / Mesquite Creek
Located on the second floor of an 1898 office building, this restored apartment offers lodging ($299/night for up to eight guests) with vintage architecture, contemporary furnishings, and stylish Tex-Mex décor. Owners Sarah and Cade Sigmon are also the proprietors of Mesquite Creek Outfitters, a craft beer and wine bar that also sells apparel located downstairs.

2 / San Felipe Creek
Fed by prolific springs that are the city's main water source, San Felipe Creek flows through the southern part of town. Find popular swimming holes at Horseshoe Park and Lions Park, as well as a public swimming pool at nearby Moore Park. Walkers and joggers love the paved Mayor Dora Alcala Hike and Bike Trail that follows the creek through parkland and picnic areas.

3 / Memo's Restaurant
Opened in 1936 by Guillermo Calderón, this family-owned restaurant located near historic Brown Plaza features views of the San Felipe Creek greenbelt. See live music on Thursday nights, a tradition started by Guillermo's late son Blondie Calderón, who was the pianist and bandleader for country music legend Ray Price for more than 30 years.

4 / Lemon Drop Shop
This charming women's clothing store features accessories and home décor with local flavor—think dish towels stenciled with "Del Rio, Tejas." It resides on a stretch of South Main dubbed The Shops on Main Street, which includes antiques store Casa Bella, Jefita's Sewing and Fabric, and elegant women's boutique La Florentina.

5 / Whitehead Memorial Museum
Spread across 2.5 acres, this museum presents the history of Del Rio in exhibits that include an 1871 general store. Displays cover pioneer life; the border radio era of sister city Acuña; the infamous "goat-gland doctor" John Brinkley; and Roy Bean, the Wild West saloonkeeper and justice of the peace, who's buried on-site.

6 / Val Verde Winery
The Qualia family owns and operates Val Verde Winery, which was founded in 1883 by Frank Qualia, an Italian immigrant. The winery offers a variety of wines for sale and places to sip in its intimate tasting room and outdoors adjacent to the vineyard. The tart and fruity Blanc du Bois is a standout white wine made from grapes grown on the 12-acre estate.

7 / Amistad National Recreation Area
The Devils and Pecos rivers meet the Rio Grande at this lake, built by the U.S. and Mexico in the 1960s. Located northwest of town, Amistad offers fishing, paddling, camping, and hiking. For the best swimming, head to the pebble beach shorelines of Governor's Landing and Diablo East.

8 / chapa's bakery
Chapa's first location opened in Acuña more than 80 years ago, but you don't have to cross the border to get the bakery's tasty pastries. In 2013, the business opened a storefront on Bedell Avenue. Along with cakes and donuts, popular offerings include fruit-filled empanadas, frosted conchas, and pig-shaped cookies called marranitos.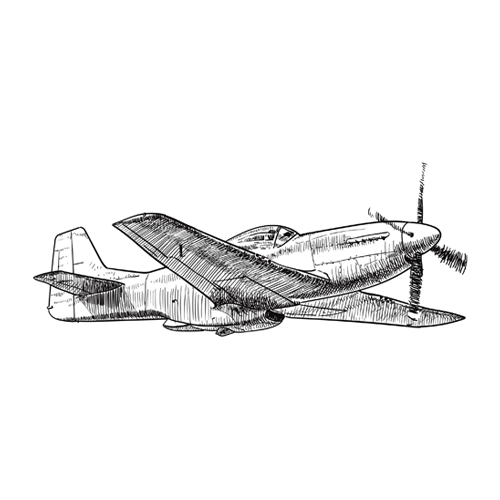 Laughlin Air Force Base

Aviation has been part of Del Rio since Calbraith Perry Rodgers—the first person to make a transcontinental flight across the U.S.—landed here on his historic 1911 flight. The U.S. Army Air Corps established a base in 1942, naming it for pilot Jack Thomas Laughlin, the first Del Rioan killed in World War II. Though the base was closed after WW II, the Air Force reopened it in 1952 as a flight school, taking advantage of the region's mild climate and wide-open spaces. Visitors can learn about aviation history and the base's role as a center for flight training and strategic air command for U-2 reconnaissance missions during the Cuban Missile Crisis at the Laughlin Heritage Foundation Museum in downtown Del Rio. 309 S. Main St. 830-719-9380; laughlinheritagefoundationinc.org
Rough Canyon Campground at Lake Amistad, about 25 miles from Del Rio, offers tent camping and RV sites (no hookups) for $6 a night. Lake Amistad Rentals, near Rough Canyon, offers furnished lake-view lodgings, from small cabins for $115 a night to larger condos for $325 a night. Accommodations include fresh linens, cooking utensils, and water and trash
service. RV sites cost $45 a night.
nps.gov/amis; lakeamistadrentals.com
From the June 2022 issue