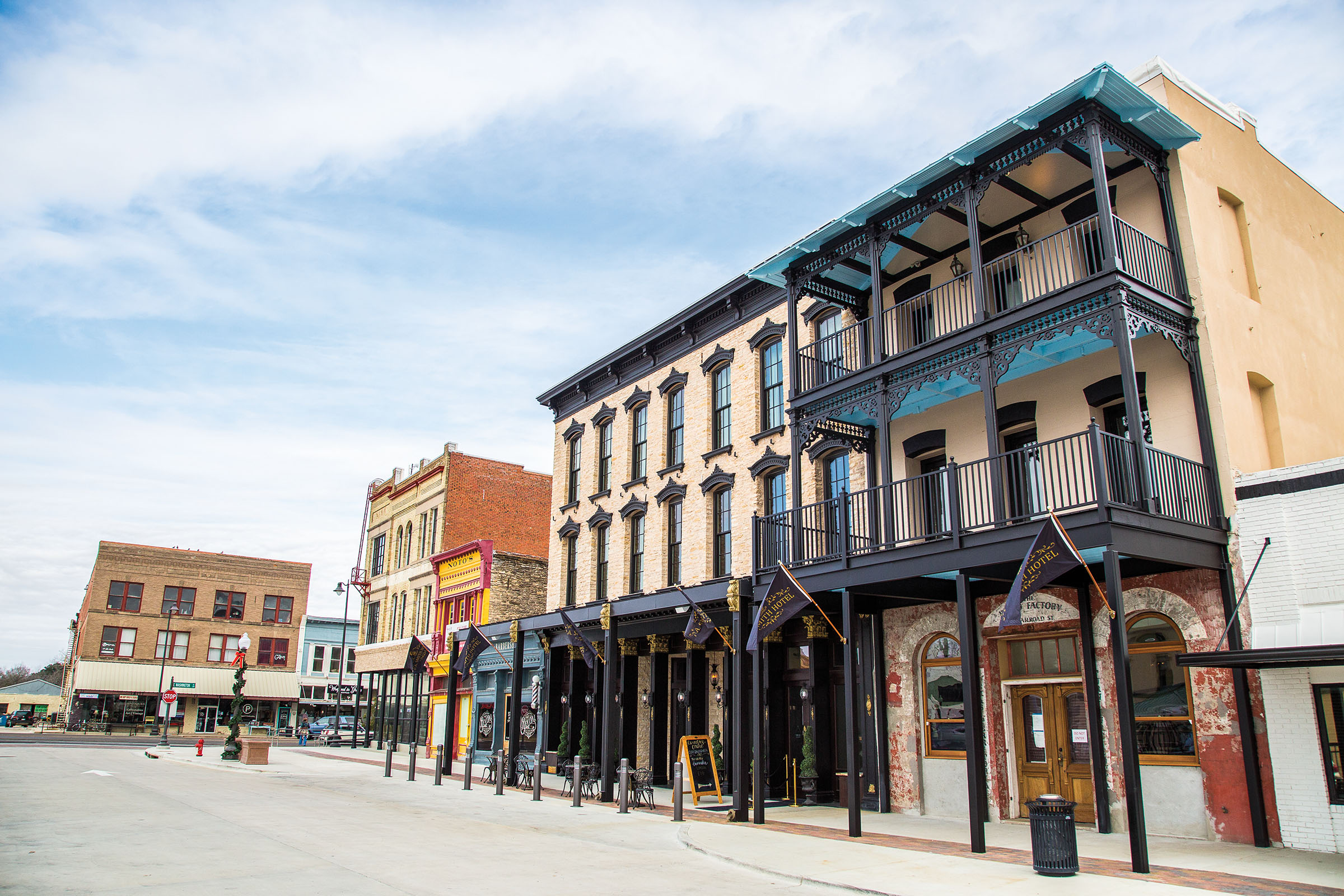 Set among the East Texas plains and prairies, Navasota bills itself as the gateway to Washington-on-the-Brazos State Historic Site—where Texas settlers declared independence from Mexico—and beckons visitors for springtime bluebonnet vistas. The Union Pacific laid tracks through Navasota in 1902, invigorating the farming community with new businesses and merchants while also attracting drifters on the hunt for an easy dollar. Downtown grew into a bustling district of bars and brothels; shootouts were not uncommon. In 1908, Frank Hamer—the Texas Ranger who later gained fame for tracking down Bonnie and Clyde—became city marshal and restored order. Navasota has come a long way since then. Historical buildings along Railroad Street and Washington Avenue have been refurbished as storefronts that blend contemporary tastes with authentic heritage.
Houston
70 minutes
Austin
2 hours
San Antonio
3 hours
Dallas
3 hours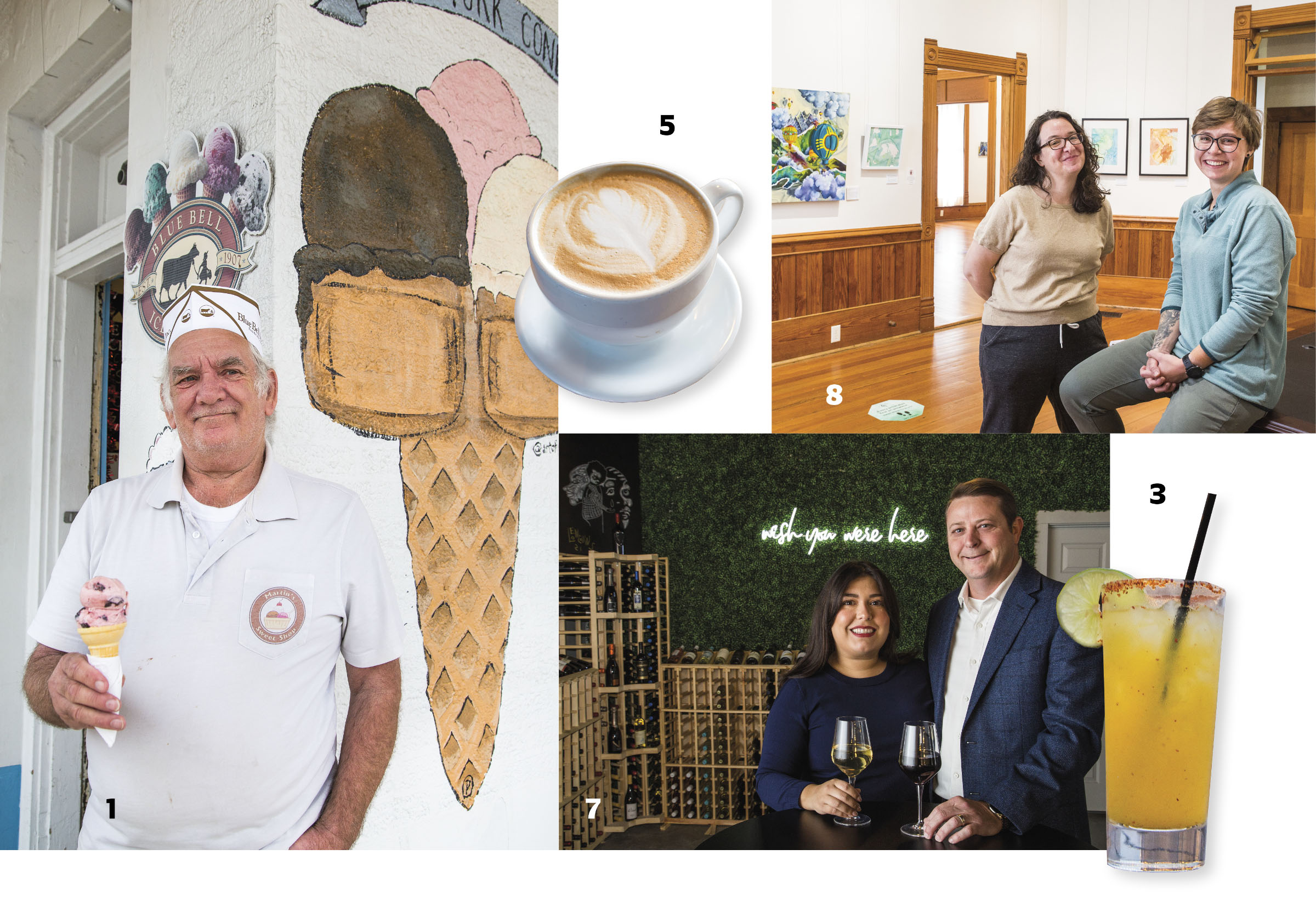 Stay

Eat

See

Learn

Shop

Drink

1 / Martin's Sweet Shop
Satisfy your sweet tooth at this corner shop named for its New York-born proprietor. Martin Price has been scooping ice cream for more than 50 years, having started with a cart in Brooklyn when he was just 14. Try the cream-
sicle soda float or Blue Bell scoops in a cone.

2 / P.A. Smith Hotel
This recently restored hotel, originally built in 1876, features 10 rooms, a penthouse suite, posh furnishings, glittering chandeliers, and a speakeasy. (Rates start at $289.) The hotel's restaurant, Red Board Tavern and Table, is a few steps away.

3 / Rail & Rye
On Friday and Saturday nights, patrons can enjoy the view from the rooftop patio bar, with live music and handcrafted cocktails. Try the Mexican Candy—a tequila concoction sweetened by watermelon and lime. Its downstairs restaurant is due to open this spring.

4 / Muddy Water Bookstore
Readers of all ages will find plenty to choose from at this shop, which stocks both new and used volumes, children's literature, Japanese comics and graphic novels, and books on Texas history. Cozy nooks throughout the store provide spots to browse at leisure.


5 / Classic Rock Coffee Company & Kitchen
Musical instruments and vintage concert posters adorn the walls of this hip coffee and sandwich shop. A space in the back also has guitars, ukuleles, and vinyl records for sale.

6 / Blackberry & Honeysuckle
This specialty store offers a selection of gifts, including scented candles, throw blankets, hand soaps, knitted toys, barware, and edible treats, plus custom-made gift boxes to suit any occasion.

7 / Patout's Wine Shoppe
Opened in September, this stylish tasting room serves a selection of reds, whites, rosés, and sparkling wines by the glass or bottle, as well as cold beer and charcuterie offerings, every Wednesday through Saturday evening.

8 / Horlock House
This Victorian manse is now a contemporary art space showcasing works by artists in residence, such as Coloradoan Saskia Becker and her dreamlike oil paintings. Two new artists join the rotation every six months.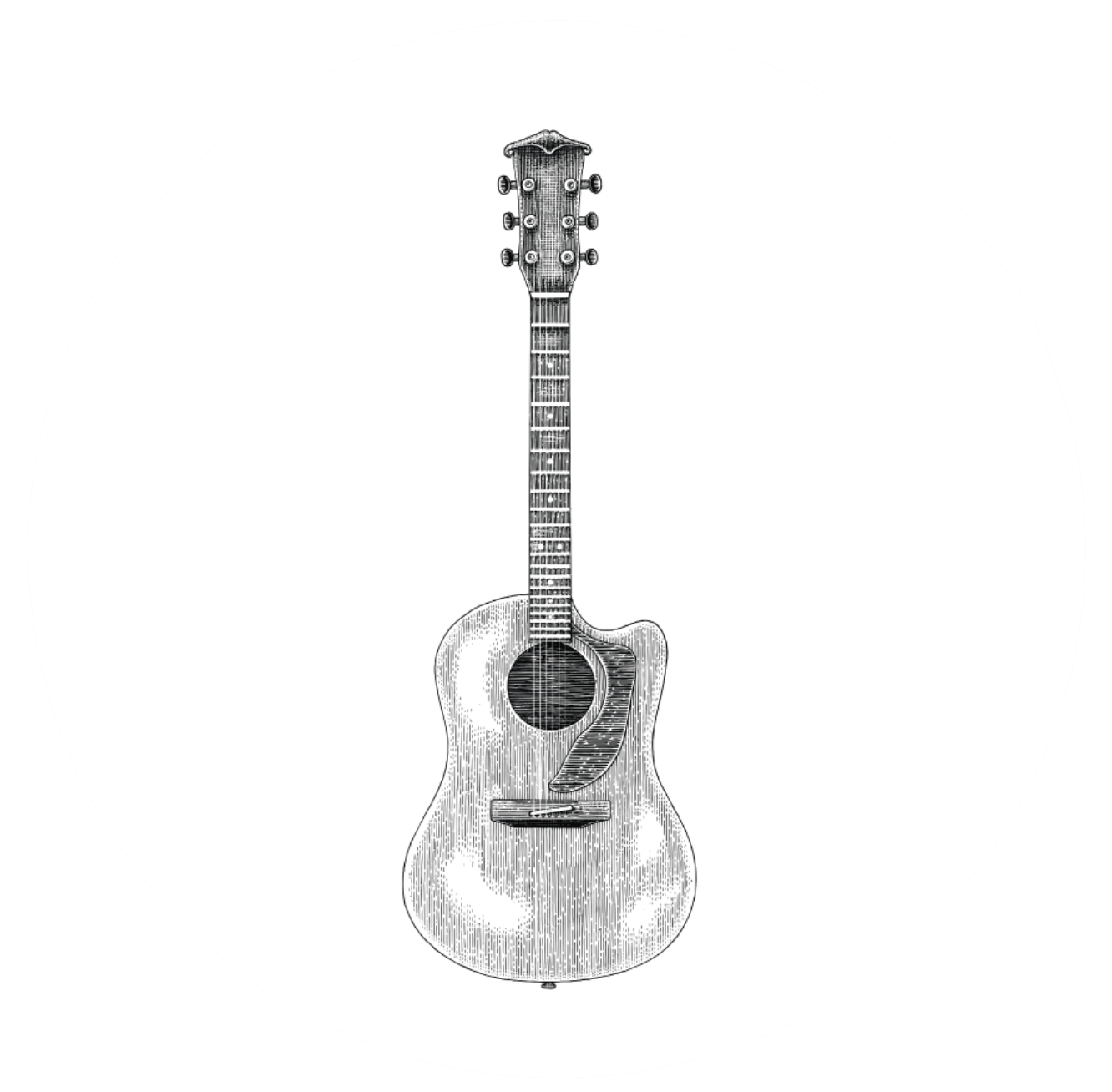 Built by the Blues
The Texas Legislature declared Navasota the "Blues Capital of Texas" in 2005 in recognition of blues musician and native son Mance Lipscomb (1895-1976). Tributes to Lipscomb exist around town: Mance Lipscomb Park features a life-size bronze statue of the bluesman playing guitar on a park bench; and the Classic Rock Coffee Company & Kitchen displays concert bills and an electric guitar once owned by the musician, plus a large mural on the side of its building pays tribute to Lipscomb and other musical talents who have made an impact on the region.
Located about 10 miles southeast of downtown Navasota, 7D Ranch Texas offers cabins and tent and RV camping on its 1,600 scenic acres, where visitors can also participate in trail rides, roping and riding lessons, and other ranch activities.
2729 CR 305.
936-870-5114; 7dranchtexas.com
From the March 2022 issue