Get even more summertime adventure ideas.
Hello summertime! We know it can get hot out there, but that's no excuse to stay inside: Cool outdoor adventures in Texas abound. There is much to explore this summer, from hiking in the Davis Mountains to surfing (yes, surfing!) on the outskirts of Austin. Read on to get inspired.
Hang 10 at NLand Surf Park, Austin
Nothing has made waves in Austin lately quite like the opening of the NLand Surf Park. It's just so unlikely—how is it that both surfing pros and beginners alike can now catch a wave in Central Texas? We can thank beer heir and passionate surfer Doug Coors, who paired up with visionaries at Wavegarden, the Basque wave-technology developer behind Wales' first surf park. Coors sought out a place in the United States with both demand and available space, and in 2016 opened the country's first inland surf park, deep in the heart of Texas.
Whether you've never surfed or have been surfing all your life, this summer you get a chance to hang 10. The 13-acre surf lagoon has three different wave configurations to accommodate surfers of various experience levels, plus instructors to assist first-timers. The waves can last a luxurious 30 seconds—a nice reprieve from the ocean's unpredictability. With coaches and classes, almost anyone can learn. And just like you'll find at Maui or Malibu, the surf scene here is cool, dudes. Bring a beach chair to watch the action from the beach or dig into an après-surf meal at the park's Blue Prairie restaurant. It's totally awesome. Surf passes cost $60-$90 for just under an hour; coaching sessions and clinics start at $85. Shore passes cost $5.
Zipline over Palo Duro Canyon, Canyon
See www.palodurozip.com.
If you don't think of yourself as the adventuresome type, you may want to think again. Most of us can overcome our fears and fly via zip line over Palo Duro Canyon, the second-biggest canyon in the United States. "We've had 90-year olds, we've had one-year olds," says Mel Smith, the owner of Palo Duro Canyon Adventure Park, which is headquartered in Canyon. "Grandparents can zipline over the canyon with their grandkids. We take people up who use wheelchairs. Everyone gets a chance to put down their video games and get out and do something real."
The whole experience, from donning safety gear to the exhilarating landing, takes only an hour, and that includes driving out to the towers, climbing up the wheelchair-accessible suspension bridges, performing multiple safety checks, and taking a leap into the canyon. "We do all the work so that you can relax and enjoy the ride," Smith says. And what a ride! With more than 20 miles of visibility, you get a celestial view of the rocky, mesquite-dotted terrain, and you can peer down to the canyon floor some 460 feet below. If you time it right, you can fly into the pinks and purples of a desert sunset, or experience a Saturday-night Moonlight Zip, where you might get lucky and cast a moon shadow.
Dive into Blue Lagoon Scuba, Huntsville
Whether you are a diving newbie or a seasoned pro, you'll find a slice of scuba heaven in Huntsville's Blue Lagoon. As improbable as it may seem, this former limestone quarry tucked away in the Piney Woods just outside of Huntsville looks more like Costa Rica than East Texas. And while Blue Lagoon admits swimmers, certified scuba divers enjoy priority status, so it's far easier to gain entry to this coveted oasis if you're there to dive.
With a depth that tops out at 30 feet, Blue Lagoon is an unintimidating spot to first dip your fin into this underwater sport. Water temperatures range from the 50s in the winter to the 90s in the summer, and an on-site dive shop rents gear and supplies. Blue Lagoon's PADI certification program permits learners to complete online training off-site, then spend two days at Blue Lagoon mastering the open-water coursework; there's even a bunkhouse for the overnight stay.
Go Birding, Rockport
See www.aransaspathways.com (for maps of area birding sites) and www.rockport-fulton.org.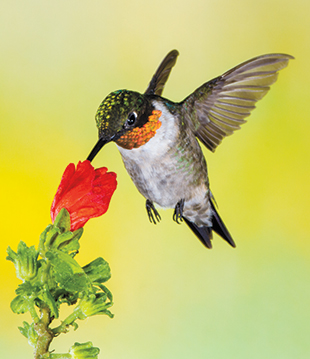 You don't have to be a seasoned birder to thrill at the pink swoosh of a roseate spoonbill coming in for a landing near Rockport Beach. No experience is necessary to delight in the silhouette of a magnificent frigatebird flying over Aransas Bay. Although plenty of serious bird nerds do flock to South Texas, even beginners can be astonished by the feathered friends that populate Texas coastal towns like Rockport.
Rockport is known for its whooping-crane tours in the winter and early spring, and its popular hummingbird festival in September, when scores of ruby-throated hummers stop here during their fall migration. But summers are the only time to see the magnificent frigatebird and the woodstork. Long-legged shorebirds such as ibis, egrets, and herons are also summer residents. "We see shorebirds arriving back from the Arctic in mid-July," says Debra Corpora, president of the Aransas Bird and Nature Club. "But the main attraction for novice birders in Rockport is the rookery at Little Bay."
This nesting spot—known unofficially as Bent Oaks—consists of eight acres of windswept oak trees where hundreds of herons, spoonbills, and other birds nest. You can't walk onto the property, but you can see the birds from the road. In 2015, the city of Rockport purchased the land to protect it from development. "Last summer I saw about 60 great blue herons sitting up in the trees," Corpora says. "The birds are usually there until the end of August."
See a Film under the stars, Austin
Enjoy an al fresco summer movie at the Blue Starlite, the "mini-urban drive in" that is reimagining the retro movie experience. Its creator, Josh Frank, has a passion for repurposing the old and giving it new life. You can hook your car up to vintage drive-in speakers Frank bought on eBay and grab your popcorn and Whoppers from one of his spruced-up trailers. It's a lo-fi movie night—the opposite of the booming multiscreen theaters that bombard the senses. Instead, with your windows rolled down, you might hear crickets and feel a summer breeze. You can also just walk in, sit under the stars on a blanket or lawn chair, and watch the reel roll with no car at all.
Frank launched the Blue Starlite in 2009 in an east Austin alley with spots for just six cars. The demand grew as more movie-lovers rediscovered the charms of an authentic drive-in experience; just this spring the Blue Starlite moved from its most recent locale on Austin's 51st Street to a new three-acre site in Manchaca, which also offers a fire pit, picnic area, and proper restrooms. Soon, the owners hope to offer camping options so you can watch an outdoor flick and then crawl into your sleeping bag—a perfect summer adventure.
Go Bouldering at Hueco Tanks State Historic Site, El Paso
See www.tpwd.texas.gov/state-parks/hueco-tanks, www.huecoclimbers.org, and www.wagonwheelcoopt.com.
Not far from El Paso, approximately 34 million years ago, subterranean magma cooled to form rock that would eventually rise up and become Hueco Tanks, a range of rocky, red desert mountains. That cooled magma eventually cracked and weathered by erosion to form little pools, or huecos in Spanish, which held water and sustained life. Archeological records indicate indigenous Americans were drawn to the pools of Hueco Tanks as far back as 10,000 years ago; some of their cave drawings are still visible and are a magnet for visitors nationwide.
Today, Hueco Tanks State Historic Site is still a revered place—not only for its history but also for its potential for bouldering, or rock climbing without ropes. Since a limited number of people are admitted to the park at any one time, most bouldering fans regard Hueco Tanks as a rare climbing sanctuary. Climbers make the pilgrimage from across the globe to take a spin on Hueco Tanks' "boulder problems," or paths, which are known for their difficulty and beauty.
"It's the desert, so it has this stripped-down feel," says Rupesh Chhagan, a rock-climbing devotee who has scaled the rock walls here through the years.
Try Flyboarding, South Padre Island
Ever wanted to careen through the sky like Iron Man? The experience of jet-packing like a superhero is now within your reach thanks to flyboarding, a sport invented a few years ago in France. And while flyboarding first took off in beach towns overseas—you can see photos of actor Leonardo DiCaprio flyboarding in Ibiza and singer Drake doing it in Dubai—the sport has now landed in Texas.
If you want to defy gravity too, you'll need a lesson first. At South Padre Island Watersports, instructors offer a 30-minute training session before you hit the water for takeoff. Next, you'll strap on boots attached to the flyboard, as if you were going snowboarding or wakeboarding. A long hose connects you to the water flow of a jet ski; the water pressure is directed downward with the idea that you'll shoot upward.
But before you imagine yourself rising from the water like Neptune or the real-life hotshots you can watch flyboarding on YouTube, prepare yourself for a little water up the nose. On your first flyboarding outing, you may only get to soar a few feet out of the water; it takes a lot of practice to master a complicated maneuver like a back flip. But we all need something to aspire to, and even a few seconds of superhero flight feels better than none at all.
Hike in Fort Davis
See www.fortdavis.com.
If you love hiking in West Texas and dream of escaping the summer heat, here's a tip: Try the mile-high town of Fort Davis. This tiny West Texas town actually peaks for heat in June, but then July and August usually bring rain and cooler temperatures; daytime highs in August average in the mid- to upper 80s, and temperatures at night might even inspire you to pull out a sweater.
About 95 miles north of Big Bend National Park, the 2,709-acre Davis Mountains State Park offers a number of invigorating hikes on more than 17 miles of trails. From the trailhead by the interpretive center, you can take a 4.5-mile hike to the Fort Davis National Historic Site, or you can hike up to the state park's Skyline Drive and Civilian Conservation Corps trails. At the top of the Skyline trail, take a breather in the old CCC stone hut, which was built in the 1930s when the trails were first laid out. From here, you can see the Chihuahuan Desert's layers of beige, blue, and purple; the Chisos Mountains in the distance; and even the white domes of the McDonald Observatory.
About 10 miles north of the observatory, The Nature Conservancy's Davis Mountains Preserve (below) offers hiking trails and scenic views of Mount Livermore, Madera Canyon, and plants and animals found nowhere else in the world.
Tube the South Llano River, Junction
See www.tpwd.texas.gov/state-parks/south-llano-river and www.junctiontexas.com.
A few miles south of Junction, where the Hill Country meets the beginnings of West Texas, you'll find South Llano River State Park. This park, lush with pecan trees and donated to the public in 1977 by a generous rancher, is famous for its turkey population in the winter. But in the summer, the main draws are swimming and tubing in the cool, spring-fed Llano River.
The easiest way to float downstream here is to rent a tube from the state park office ($5) and relax into the stretch of the river that flows through the park. You can put in by the main bridge and enjoy an easy 15-minute ride down to the day-use area (repeating to your heart's delight), or you can keep going for the roughly two-hour ride downstream. Be sure to get out when you see the red-and-white "Tube Exit" sign to the right, or you've got a long, eight-hour float into town. (From the "Tube Exit" sign, you'll have a 15-minute walk back to the day-use area, which is a good spot to park your car.)
If you want to take your tubing out of the park, try one of the outfitters in Junction. For about $20, guides will shuttle you and your crew to a river crossing upstream, and then you can enjoy a two-hour float back to your car. You can also rent a sweet little rectangular tube perfect for a drink cooler.
Skydive, San Marcos
One, two, three, Geronimo! Yes, it might seem crazy to jump out of a small aircraft soaring two miles above the planet, but if you've ever dreamed of flying like a bird, skydiving gives you wings. For a few exhilarating moments, you feel like a hawk floating on thermals over the Texas landscape.
Because there are certain inherent risks to jumping out of a moving airplane, your first jump should be a tandem jump with a skydiving pro. There are many great outfits in Texas, but one well-established option is Skydive San Marcos, which has offered the experience for more than three decades.
When you drive onto the property, you'll see a crashed airplane by the gate with a sign reading "There's no such thing as a perfectly good airplane—learn to skydive!" And while the instructors may be funny, they also take very good care of you. Following a group orientation and some individual instruction, you'll borrow a spiffy flight jumpsuit and board the plane. After an adrenaline-enhanced 15-minute ride, you'll take a literal leap of faith with your skydive buddy, experiencing nearly a minute of free-fall before you deploy the parachute and float another few minutes to the ground. According to instructors, the most common question they hear when it's over is, "When can I do it again?"
Lake Texoma Dinner Cruise
Watching the sun drop down over Lake Texoma, the vast 89,000-acre reservoir on the Texas Oklahoma border, is a sweet summer pleasure. But what if you could watch that shimmery sunset while gliding along in a 65-foot Skipperliner eating barbecue? Now we're talking summer memory-making.
On weekend nights, Fastrac Cruises will take you out on the lake for an hour and a half dinner with different nightly themes: Candlelight Dinners, Cajun Jazz Nights, Mexican Fajita Fiesta and, of course, Texas Barbecue. The Skipperline is open-air on top for taking in lake breezes, but there's AC below in case you need some climate-controlled comfort. With a qualified captain at the helm and a friendly staff serving you dinner, you just get to admire the calm of the lake when it's at its prettiest.
Plus, with the Hagerman Wildlife Refuge nearby, there's a good chance you'll spot a great blue heron soaring over the water. And if you'd like a libation with your sunset moment of bliss, you are invited to bring your own; the dinner cruises don't include adult beverages.
Kayaking Lake Meredith
See www.nps.gov/lamr.
At Lake Meredith National Recreation Area, glide your kayak through spring-fed canals laced with vivid green cattails and you will feel transported to a lusher, more verdant place—a welcome treat in the Texas summer. "Down on the water," says Chief Education Ranger Tim Cruze, "meandering quietly though those big grasses, you can really see the wildlife—muskrats, turtles, an occasional great blue heron. It's hard to believe you are in the Texas Panhandle; you feel like you are in the Everglades."
This lesser-known attraction offers a bounty of summer programs, but the weekend kayak excursions are the most in demand. Not only are they free, but they take out all of the hard work of a kayak trip for you. Park rangers walk you through safety tips and kayaking techniques; they provide the boats and the life jackets; and they know the most interesting and safest routes (Lake Meredith, a man-made lake created from the damning of the Canadian River, can get some fierce winds that make paddling a battle). Plus, while you are out kayaking with a park ranger, you will also learn about wetlands and conservation. And then, the very best part, are the moments of quiet where you just float and watch and wait for a wildlife sighting, like the red-tailed hawks that sometimes grace the sky. "The quieter you can be," says Ranger Cruze about wildlife on the lake, "the more you get to see. And you never know what you might see."
Wake Surfing, Lake Grapevine
When does a lake act like the ocean? When you're atop your surfboard, doing some sweet cutbacks and lip slides not on a wave, but on a wake. Move over skis and wakeboard, the surfboard has hit the lake, and it's totally rad. The specialized surf boat uses water tanks or other ballast to weight the boat down, thereby creating a larger wake than a regular ski boat. The weight is distributed unevenly, so you get a fat wake on just one side that serves as a pretty stellar wave.
Westin Duffy, a wakesurf instructor who has been skiing and wakeboarding for over 17 years, says that all the watersport enthusiasts these days are now learning how to surf on Lake Grapevine—an 8,000-acre reservoir about 20 minutes north of Dallas. "The older generation of original water skiers, well, they've hung up their water skis and are getting surfboards. You don't have to be muscular or have really good balance—I've been successful teaching wakesurfing to everybody. I can take anyone from 8 years old up. I taught a lady who was 65 and she got up and absolutely loved it and now she's out here surfing all the time."
If you are ready to ride the wake but would like instruction, call up the Sam's Dock at their Silver Lake location on Lake Grapevine (there are six different Sam's Dock locations on the north Texas lakes surrounding DFW, but currently Lake Grapevine is your best bet for lessons—ask for Westin!). Tip: try to book a lesson in the morning when the lake is smoother and less crowded.
Cliff Jumping, Devil's Waterhole, Inks Lake
Nothing says nostalgic summer fun like jumping from a cliff into a shining blue body of water below. While Possum Kingdom Lake in North Texas is home to the Red Bull Cliff Diving World Championship, that lake's infamous Hell's Gate and other precipitously high jumps are not open to the public—safety first!
For a cliff-jumping experience that feels far less harrowing, come to the rocky ledges of the Devil's Waterhole at Inks Lake State Park. With a sloping rock surface that puts your jumping distance anywhere from 5 to 15 feet, the Devil's Waterhole lets you start at a far less intimidating height and work up. Even a kiddo could brave a little five-footer; just be careful when scampering over the rocks. Park Superintendent Corey Evans said that skinned knees are the most common injuries at the Devil's Watering Hole.
And if you are feeling really brave? You could climb up to the oblong rock balancing up above the primary cliff for a higher jump. This spot is called Chicken Rock, presumably named for all the chickens who had to crawl back down once they got a good look at just how high 45 feet really looks when you are standing on top.
Chute 'Em Up Parasailing, Port Aransas
Here's the big secret about parasailing: it is peaceful up there floating 300 feet above water. With Chute 'Em Up in Port Aransas, parasailing can be more Zen than adrenaline; for ten minutes of flight time, it's just you and the view as you fly over the Gulf of Mexico, Aransas Pass Lighthouse, St. Jo Island, and maybe even dolphins frolicking below. "It's not some kind of roller coaster ride experience," says Dillon Stowe, a skipper for Chute 'Em UP. "It's so gentle and calm up there; the rope absorbs all the impact from the waves. It's actually less windy up in the chute than in the boat. I was amazed. As soon as I got down from my first ride, I said, "So that's what it feels like to be a kite."
Chute 'Em Up employs the most user-friendly technology, can parasail two people at a time, and will take up children as young as four. Because they drive a winch boat, you can just sit back on the deck and don't have to use a separate watercraft or run on the beach for take off. You could stay dry the whole time if you like. But if you are in the mood to get wet, they'll let you free fall for a few seconds just until you skim the ocean water and then, whoosh, they'll fly you up again. The Chute 'Em Up team guides the ride—you just sit back and be the kite.
From the May 2017 issue