Let's Cross That Bridge
Thousands of historic bridges throughout Texas span rivers, tides, and time
By Dale Weisman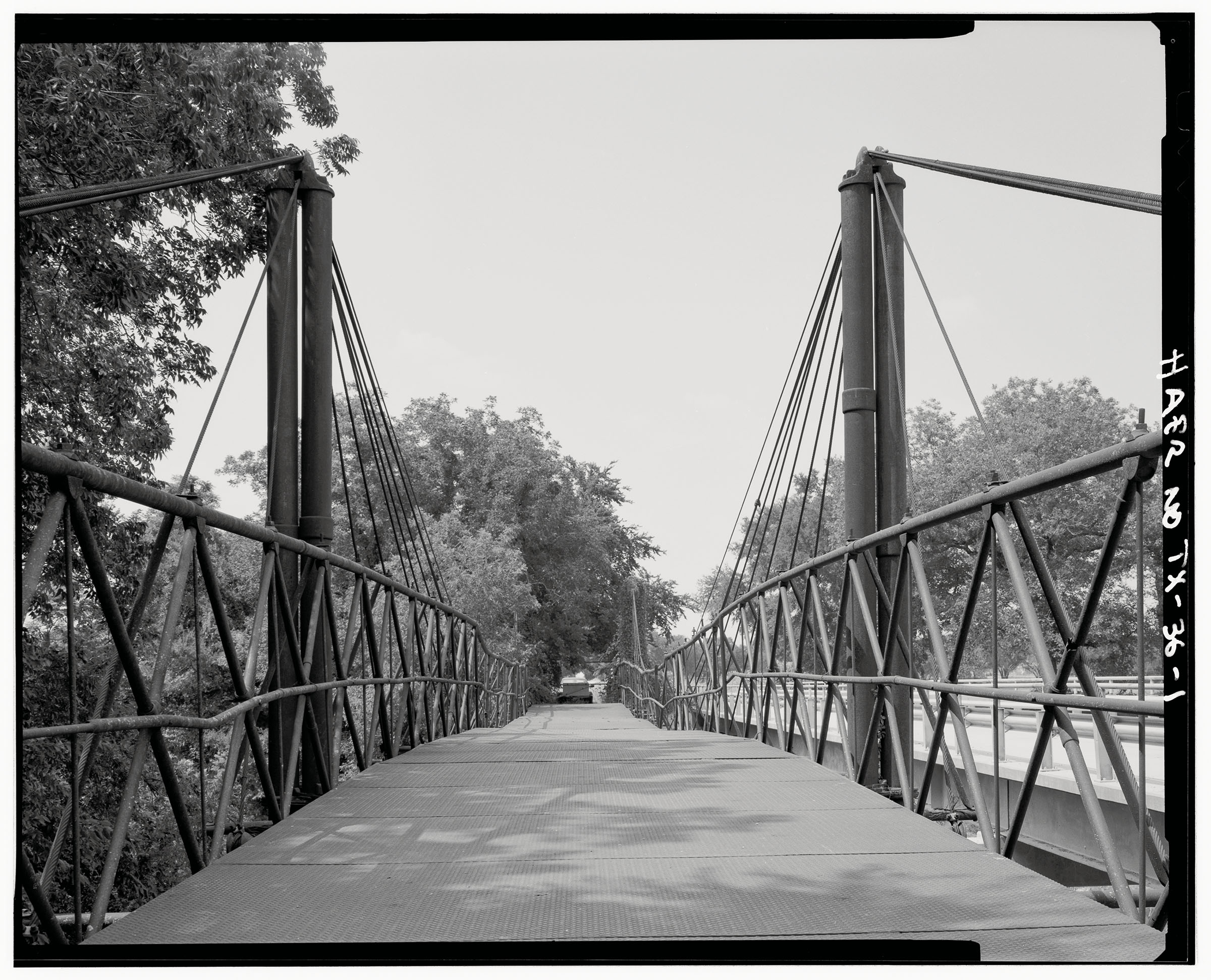 Given its vast size, 14 major rivers, meandering coastline, burgeoning cities, and 80,000 miles of state-maintained roads, it's no surprise Texas has more vehicle bridges than any other state. Serving as the connective tissue of roads and railways, bridges span gorges, rivers, streams, floodplains, wetlands, harbors, and ship channels. Some Texas bridges built over the past two centuries have aged gracefully into enduring master­pieces, while others have deteriorated.
"Every bridge tells a story," says Kitty Henderson, executive director of the Historic Bridge Foundation. "In many cases, a bridge is important because it speaks to the development of a community, the materials available, engineering best practices, architectural styles, and prevailing economic conditions during the time of construction."
An estimated 50% of historic bridges have been lost nationwide in the last 25 to 30 years, Henderson says. Many decades-old metal truss bridges have decayed beyond repair. Others are replaced when they no longer meet modern requirements for load capacity, width, and height. "When we lose a bridge, we lose part of our past," Henderson says. But scores of aging bridges are preserved and designated as historic landmarks or converted for pedestrian use. Cherished spans also anchor small-town heritage tourism, attracting history buffs who love the timeless allure of old bridges and the colorful stories they tell.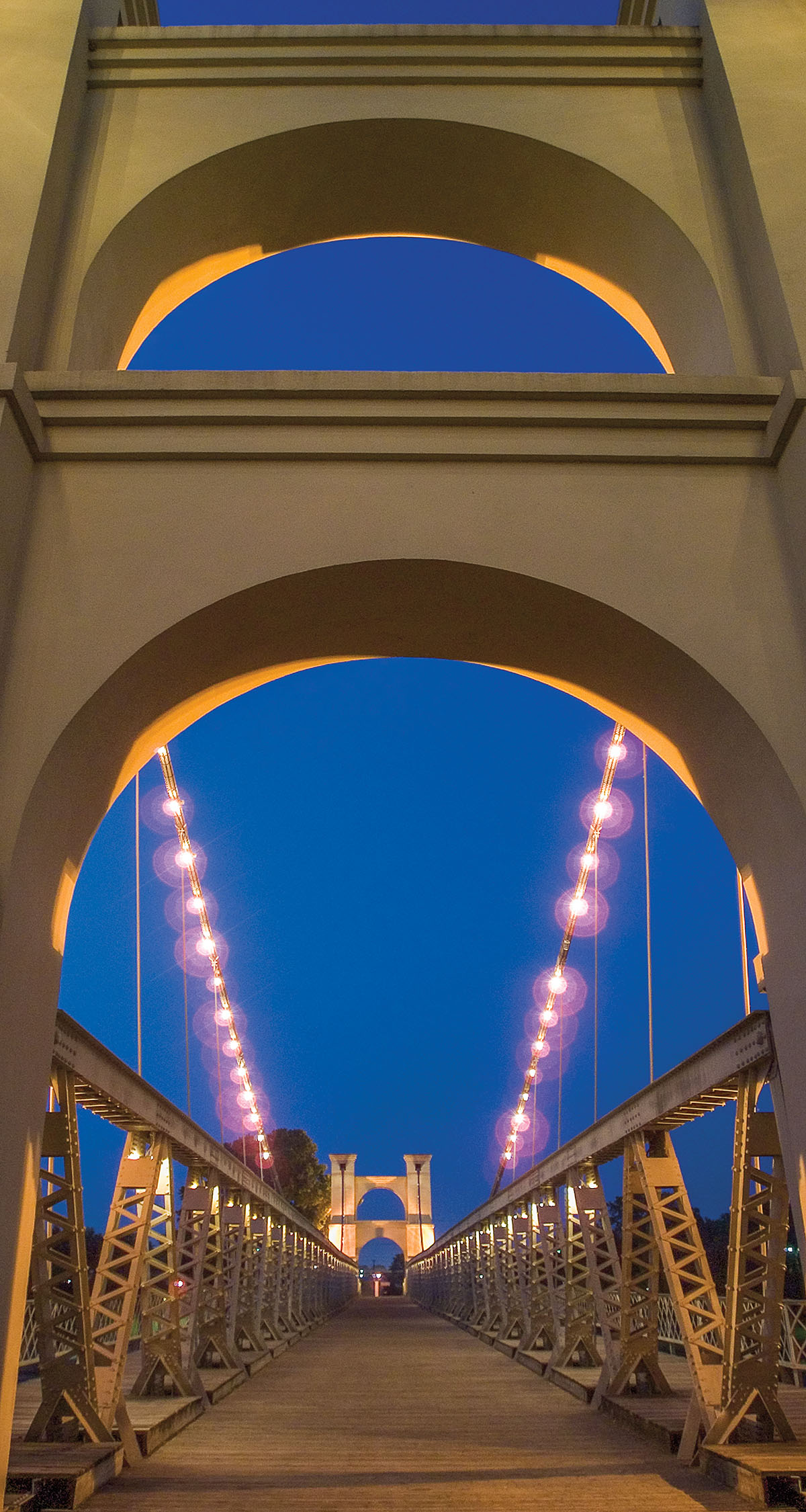 Abridged
After years of service, some venerable bridges have been rehabilitated or repurposed when no longer safe for vehicular traffic. Flanked by two parks, the monumental Waco Suspension Bridge—the first span over the Brazos River and the earliest permanent bridge in Texas—­exemplifies this adaptive reuse trend. Many metal truss spans, like the 1938 Montopolis Bridge over the Colorado River in Austin, enjoy second lives in parks as pedestrian bridges linking hike-and-bike trails.
55,009
Number of Texas bridges built for vehicular traffic
265
Height, in feet, of the Pecos High Bridge, a rail viaduct, over the Pecos River
28
Number of international bridges and crossings along the Texas-Mexico border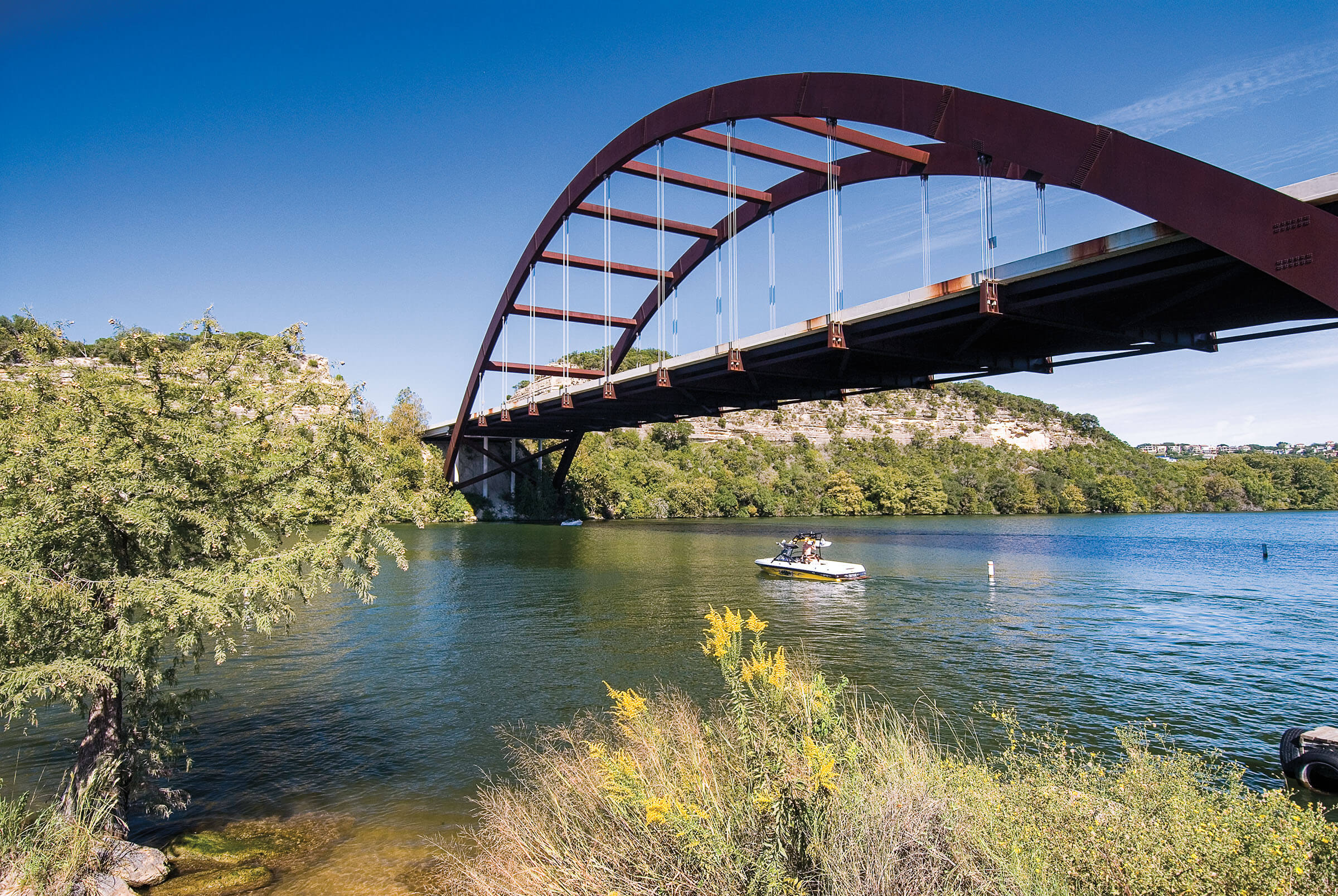 Water Under the Bridge
Texas bridges are popular gathering spots where people linger to admire scenic vistas or the intrinsic beauty of the bridge's architecture. Some bear the weight of history and folklore. Here are a few must-see spans.
A river city of bridges, Austin is home to the 1910 Ann W. Richards Congress Avenue Bridge famed for its summer bat flight spectacle, the Penny­backer Bridge above the azure water of Lake Austin, and the Pfluger Pedestrian Bridge over Lady Bird Lake, a downtown hangout where strollers and cyclists pause to savor views of the river and cityscape.
Ghost busters and thrill-seekers frequent haunted bridges including San Angelo's Lone Wolf Bridge, Denton's Old Alton Bridge (aka Goatman's Bridge), and south San Antonio's Donkey Lady Bridge. The last is home to a local variant of the legend of La Llorona, a weeping ghost who is said to roam near bodies of water mourning her children.
A metal truss bridge over the Red River linking Denison with Durant, Oklahoma, sparked a political battle between the neighboring states in 1931. The "Red River Bridge War" pitted the Oklahoma National Guard against the Texas Rangers during a nine-day standoff. See a piece of the bridge at Colbert City Park in Oklahoma.
Engineering Marvels

Masonry arch bridges are among the earliest built in Texas, recalling ancient Roman designs. Arch bridges surged in popularity during the Works Projects Administration's bridge-building era following the Great Depression.
Suspension bridges use vertical hangers to carry the load of the deck, or bridge surface. The 1870 Waco Suspension Bridge influenced Texas-bred designs including the 1928 Roma-Ciudad Miguel Alemán International Bridge, the last suspension bridge remaining on the Rio Grande.
Cable-stayed bridges support decks with a fan-like spread of cables attached to towers. The 1890 Bluff
Dale Bridge on the Paluxy River is the oldest bridge of this type in Texas.
Metal truss bridges, pioneered by the rail industry, were the go-to design from 1880 to 1930, with thousands constructed initially of wrought iron and then steel. The 1959 Corpus Christi Harbor Bridge, slated for demolition and replacement, is one of the state's last large-scale truss spans.
Pre-stressed concrete beams gained popularity in Texas by the 1950s, combining durability, strength, and economy for bridges, causeways, highway overpasses, and multilevel flyovers.
From the February 2021 issue