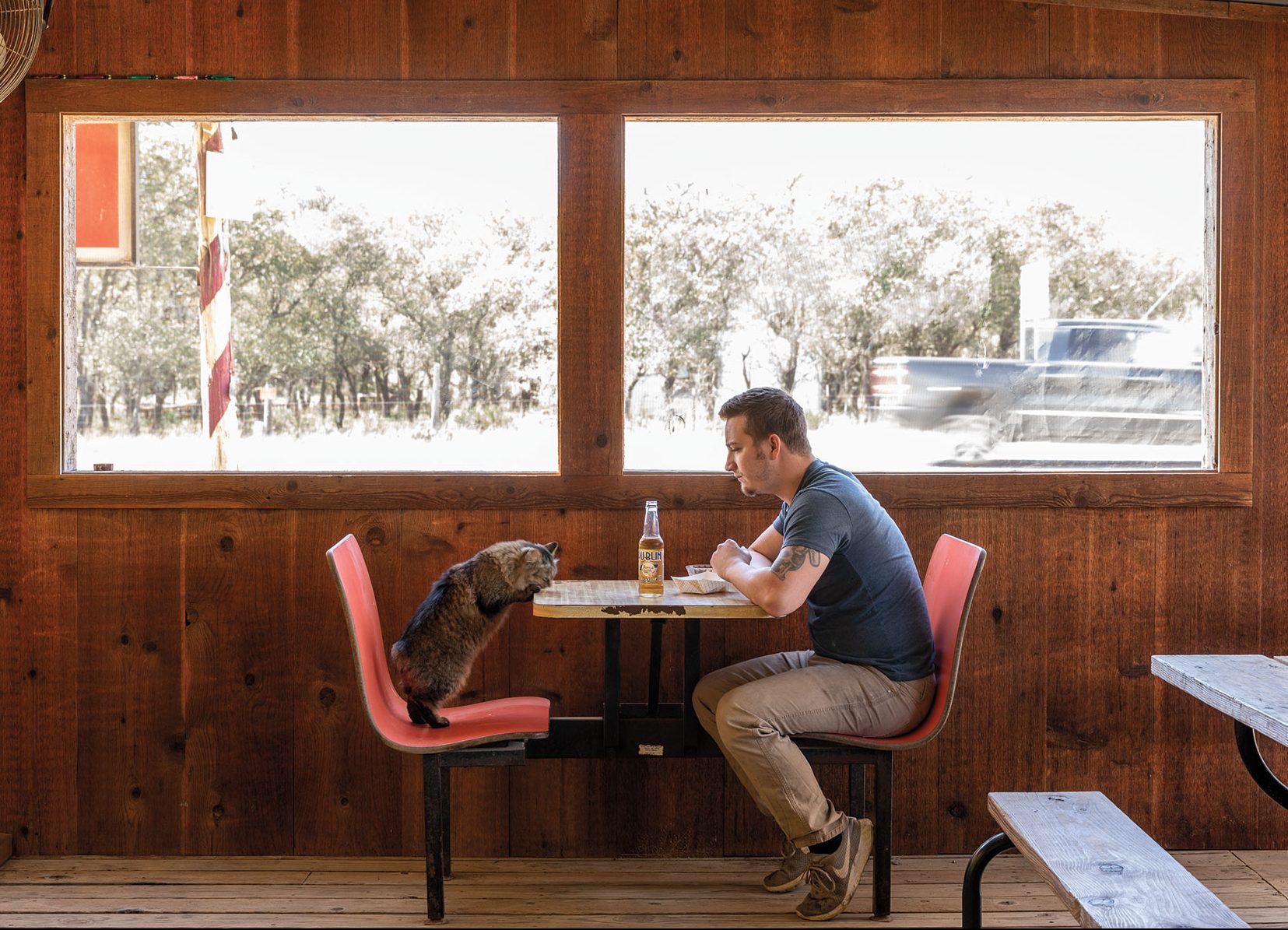 Small country stores once dotted the state's landscape. Today, many have either disappeared or else sit abandoned at lonely road crossings, but some mom-and-pop shops have found ways to thrive while carrying on rural commerce. Here are three such markets where travelers can drop in for a snack, some conversation, and a taste of old-time Texas.
The "Best Dang Jerky in Texas"
Like a place out of time, Garven's Store has stood since at least 1932 at a remote highway junction in the northeastern corner of Real County.
Handwritten signs warn those born after 1990 to "be mindful," "pay close attention," and "think very hard" when using the old analog gas pumps. The attendants are perhaps the store's most unusual feature: Peacocks patrol the grounds, greeting customers with their colorful plumes. In the dirt parking lot, a wooden directional signpost announces the distances to other destinations—the closest being Leakey, 27 miles south.
"This is the only restroom stop for about 30 miles, so you don't want to miss it," jokes Vincent Dowdy, who oversees operations.
Dowdy comes from a long line of shopkeepers: His maternal great-grandfather built Garven's Store, and his paternal ancestors were also store proprietors in the nearby community of Ingram in the late 1800s. In 1998, when Dowdy was 22, he helped his father, Billy, take over the shop from his grandparents. On his way back home to Austin, Dowdy hit a 400-pound hog with his Geo Metro. The hog walked away, but the car was totaled, so he stuck around.
Before long, Dowdy found himself carrying on the traditions established by his grandfather in the 1950s. One of those traditions was to stock Garven's with a wheel of Wisconsin cheddar that customers can slice to their liking. Another was to continue providing the store's claim to fame: jerky. Dowdy devised his own secret curing recipe and filled the shelves with a variety of flavors, including mild, hot, cracked pepper, honey, and teriyaki. "I try to get people addicted," he confesses.
While keeping Garven's Store traditions alive, the Dowdy family has expanded both its premises and inventory to cater to Hill Country travelers. Signs beckon visitors toward biker gear, barbecue, beer, and the "Best Dang Jerky in Texas."
The store also carries local products like Uvalde Honey and Sister Creek Vineyards wines, as well as its own brand of canned goods, including cherry preserves, peach cobbler, pumpkin butter, pickled quail eggs, jalapeño-stuffed olives, candied green tomatoes, and mango lime salsa, to name a few. Those looking for immediate gratification can order up a hot brisket sandwich or sausage wrap and eat at the picnic tables in the enclosed patio. Inevitably, one of the peacocks will take an interest in your food.
Dowdy says the peacocks arrived on the premises soon after he did. A neighbor had purchased a flock, but the birds flew the coop when they discovered the ready source of grub at Garven's. Every day the birds indulge in a smorgasbord of bugs, picked off the grills of customers' parked cars.
"It's a free service," Dowdy chuckles. "No charge." —Heather Brand
22 miles west of Mountain Home at 27304 N. US 83
830-640-3235
garvenstore.com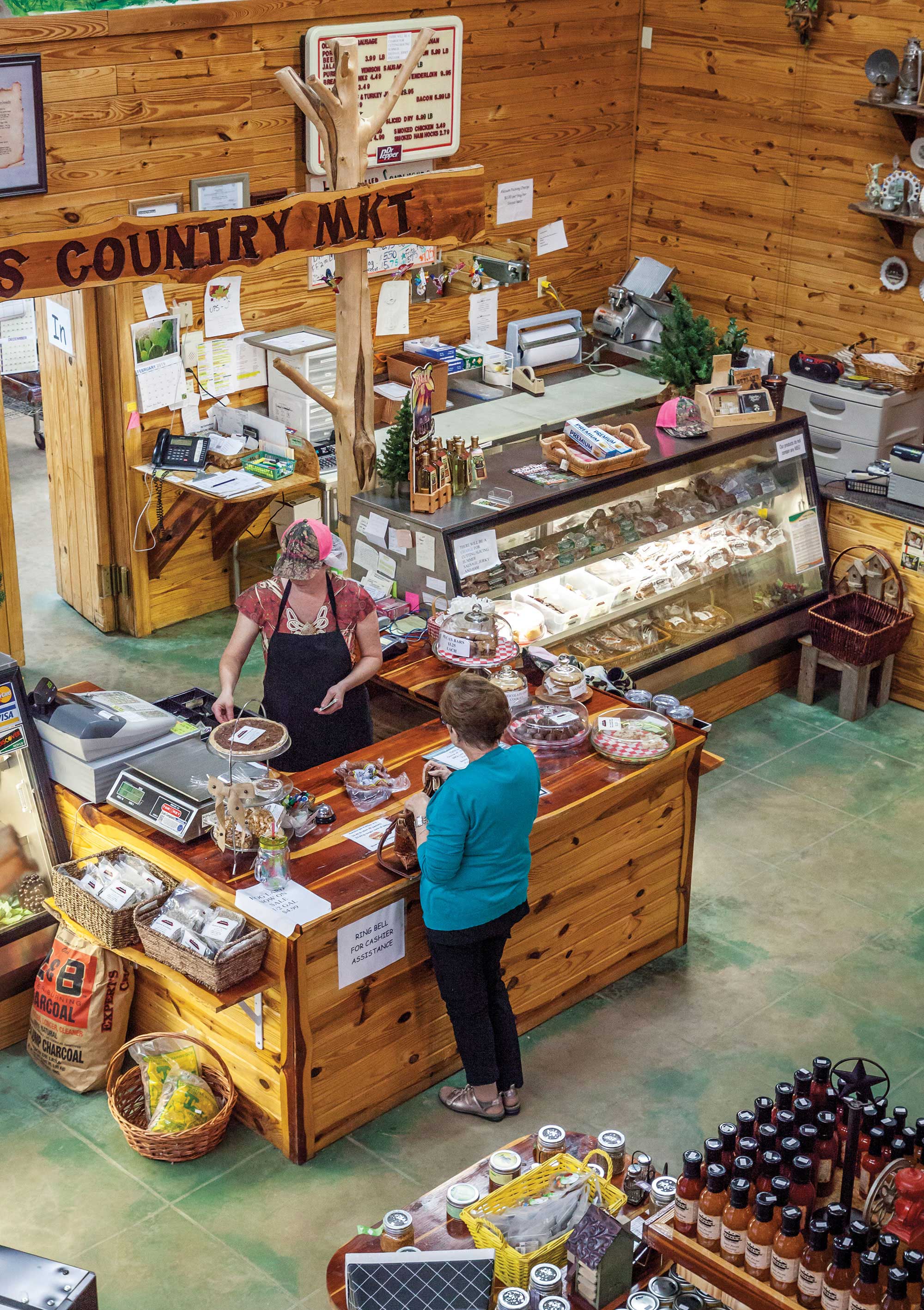 Czech Family Recipes
It's easy to cruise right past Janak's Country Market on the scenic route between Houston and San Antonio. Drivers who are in the know don't make that mistake. In fact, they tend to show up around lunchtime.
Situated on US 90 Alternate two miles west of Hallettsville, the old-fashioned market and gift shop celebrates the traditions and culture of rural Texas. Setting the tone is the rustic cedar interior hand-cut by owner Leroy Janak, along with shelves lined with delicate, hand-sewn quilts in a kaleidoscope of colors.
Janak's came from humble beginnings. Texans were still digging out of the Great Depression when Paul and Mary Janak opened their business, Janak's Packing Inc., in 1938 to slaughter and process hogs for the rural families of Hallettsville, Shiner, Moravia, Breslau, Komensky, and other nearby communities. Money was tight, so Janak's sometimes kept a part of the pork as payment. Paul used the pork to make sausage from an old family recipe.
With the spread of supermarkets after World War II, some meat markets in Texas' Czech belt morphed into barbecue joints, but Janak's diversified. Paul and Mary sold groceries, cattle feed, and hay in addition to sausage, bacon, ham, and pork chops. In 2000, the Janak family diversified again, adding a gift shop, expanded inventory, and a name change to Janak's Country Market.
Now owned by Paul and Mary's son Leroy; his wife, Alice; grandson Mark; and Mark's wife, Karen, the store sells country accent pieces, seasonings, and organic soaps and lotions. Just about every fruit in the orchard and vegetable in the garden gets canned, jammed, jellied, preserved, or pickled in house. Old favorites also receive the Janak's treatment, from the jalapeño mustard and fresh salsa to big jars of Janak's Country Made Cane Syrup.
The meat market is a candy store for carnivores, featuring thick slabs of bacon, country ham, pork loin, steaks, quail legs, and whole quail stuffed with rice, shrimp, and crawfish, ready to cook. Link sausage comes in mild, medium and hot varieties and is lightly seasoned with salt, pepper, and garlic then slow-smoked over hickory, the same process Leroy's dad followed 80 years ago.
Janak's also ships goods and gift boxes that can be ordered online. The store's customers seem to be a combination of locals who've been coming here since the days of rotary telephones and urbanites who opt for the more scenic and less hectic alternate to Interstate 10 when making the 200-mile hop between San Antonio and Houston.
The lunch menu includes plate lunches and sandwiches made with Janak's own smoked meats and condiments for take-out; or to be devoured right there with sauerkraut, potato salad, and iced tea. Cranking out sausage from an old family recipe for the past 80 years, Janak's gives the term "daily grind" a whole nother meaning. —Michael Barr
4 miles west of Hallettsville at 3116 US 90A W.
361-798-2985
janakscountrymarket.com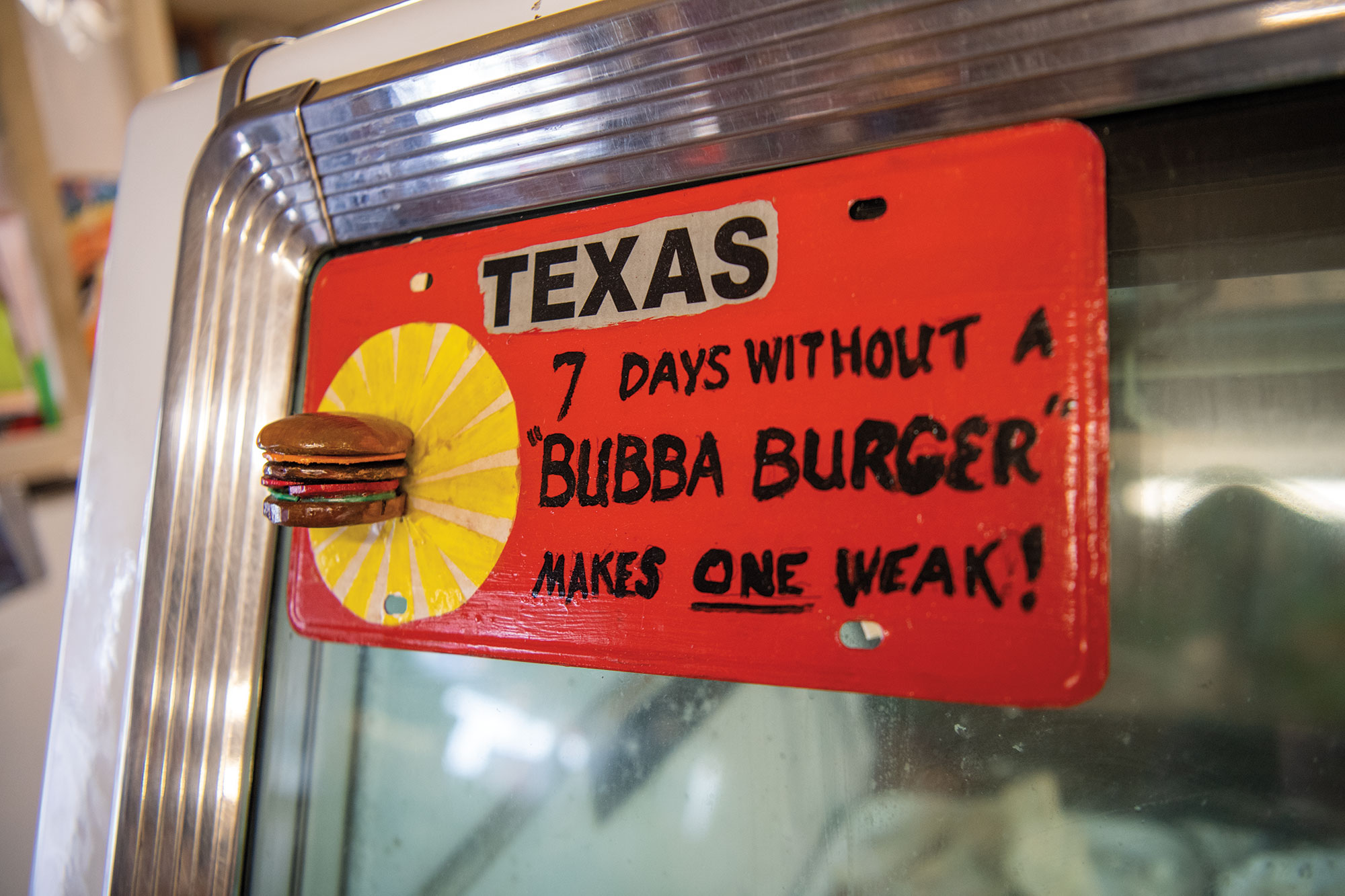 The Home of the Bubba Burger
Fugler's Grocery and Market has a little bit of everything—and a whole lot of Bubba burgers. You can grab a bag of dog food and other country essentials, get a deer processed, or wash a load of clothes at this out-of-the-way store about halfway between Marshall and Harleton.
Come lunchtime, East Texas regulars flock to Fugler's for the massive cheeseburgers named for John "Bubba" Fugler Jr.
Bubba's grandfather opened the grocery and market in 1940. By the mid-1980s, people were coming in and saying, "I want Bubba to fix my burger." The Bubba burger was born.
Six days a week, Bubba and his son Trey grind the meat, form the patties into three-quarter-pound mounds, and work the grill. They've developed quite the fan base. Marshall native George Foreman once told Jay Leno on The Tonight Show the Bubba burger was the best he'd ever had. —Wes Ferguson
8 miles northwest of Marshall at 10079
State Highway 154.
903-935-5967
facebook.com/fuglerburger 
From the May 2019 issue