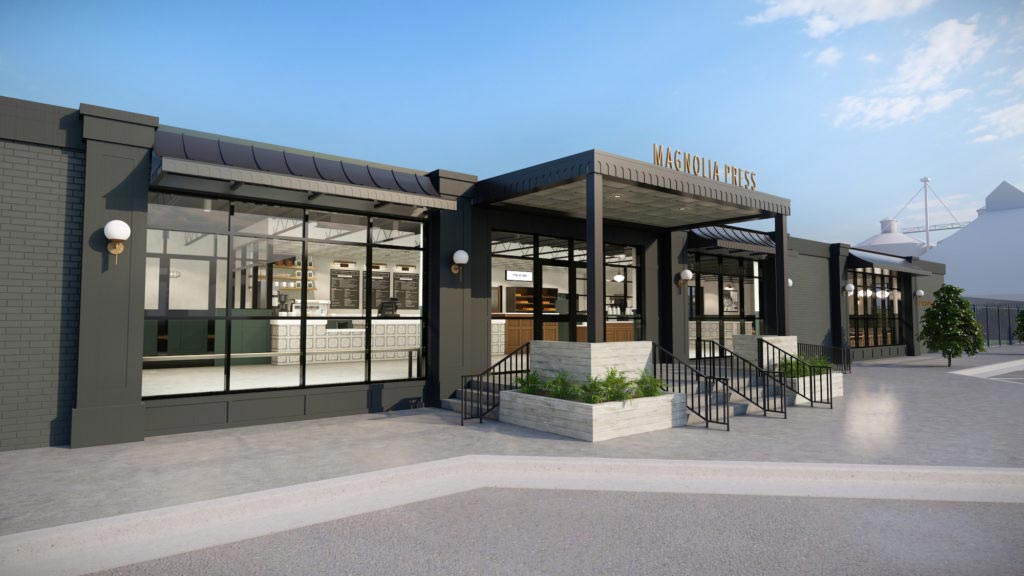 Ever since the final season of their HGTV hit Fixer Upper ended in spring 2018, Chip and Joanna Gaines have been looking to branch out in new directions. Not only are they partnering with Discovery, Inc., to launch their own lifestyle network in summer of 2020, but they are also expanding their Waco retail empire, Magnolia Market at the Silos. By the end of 2019, they intend to enlarge the complex from 2 acres to 4.9 acres, spanning two city blocks, with added amenities to boot.
601 Webster Ave. in Waco
Hours: Mon-Sat 9-6
Call 254/235-0603
magnoliamarket.com/silos/
Their plans include shifting the main entrance to South Eighth Street, where a gravel parking lot will be converted into a welcoming lawn ringed by five shops. Dubbed a "retail village," the new shops will offer a variety of products, such as hand-crafted home décor, artisan-made jewelry, ceramic wares, paper goods, and personal accessories. An information center will help orient visitors to the nearly 5-acre campus. Meanwhile, Magnolia is refurbishing existing buildings at the corner of South Eighth Street and Webster Avenue to house a new Magnolia Home Furniture showroom and Magnolia Press, a full-service coffee bar with a selection of teas and fresh pastries from the nearby Silos Baking Co.
The Gaineses are also renovating the nearby Second Presbyterian Church, which they will be moving onto Magnolia's grounds to serve as a gathering place and possible venue for seminars and special events. This historic wooden structure is one of the oldest churches in Waco, dating to 1894. Originally constructed at 510 N. 13th St., the property had sat empty since 1989 until it was purchased by the Gaineses in 2017. The couple plans to restore the church building's charming Queen Anne-style architecture and preserve the fine stained-glass windows and elaborate interior woodwork.
The creative couple is honoring Waco's history in another way as well: They are building a whiffle ball field at the Silos to commemorate Katy Park, a minor league baseball field that was razed in the 1960s. In years gone by, famous athletes such as Babe Ruth and Lou Gehrig played exhibition games there to cheering fans. The ballpark once brought excitement to Waco. It was a rallying point for the community, a place where people could come together—and the Gaineses hope to recreate that experience. The new field will have tiered seating to give spectators a clear view of the action.
The expansion plans include additional outdoor enhancements with the addition of a splash pad for kids and lighted brick walkways that will wend through shady landscaping, connecting the various buildings across the complex.
In all, the Gaineses will be investing $10.4 million in the expansion. These additions and renovations highlight their knack for preserving Waco's past while creating an inviting, modern retail experience. Magnolia Market at the Silos already attracts about 30,000 tourists per week. The larger grounds will not only help accommodate the crowds but also likely add to their number, drawing ever more visitors to discover Waco's charms.