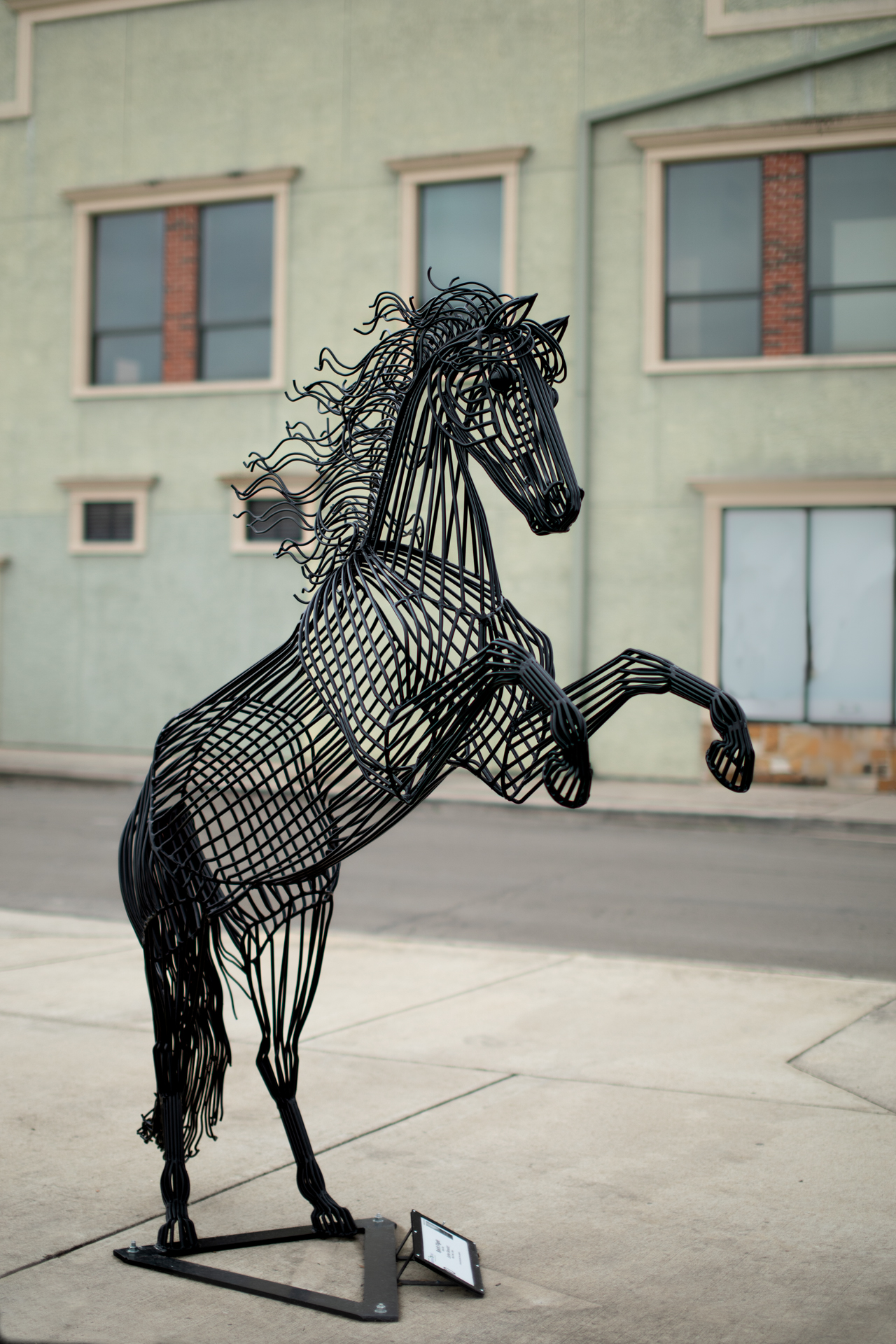 B
aytown
, just 30 minutes southeast of Houston, a peaceful stroll can be had around
Town Square's lush green space
and the adjoining area. The coastal city has become a new destination for those seeking an opportunity to view art in the wild thanks to the
Baytown Sculpture Trail
.
Attracting residents and tourists alike, the trail, which premiered last year, recently installed its second iteration of outdoor sculptures. Placed throughout Baytown's Art, Culture and Entertainment District, more commonly referred to as the ACE District, this year's installation features 25 sculptures by 19 different artists.
"Baytown Sculpture Trail is unique in that the works are concentrated in and around the center of downtown, making walking the tour quite manageable," says Jack Gron, a Houston-based artist whose piece, Visitation, is on the trail. "Visitors can view each piece up close in an outdoor museum open 24 hours a day."
This year's installation, which has grown by five additional works from last year's project, includes 13 artists working in Texas. They range from Houston's Guadalupe Hernandez, whose sculpture La Pesqueria draws inspiration from one of his papel picado works that depicts imagery of a Mexican fishery (cut out of steel, the work's project shadow shifts along with the sun's movement), to Nacogdoches' Elizabeth Akamatsu, who had a piece included in last year's presentation. Her two works for this year's trail, Cloud Buildup and Flower Pod, are both derived from the artist's love for nature and constructed out of painted steel.
Other Outdoor Sculpture Trails
The Decatur Artway
Decatur
The Artway, which began in 2015, offers an audio tour with artists providing commentary on their pieces.
Art Tracks
Palestine
This outdoor sculpture trail features 13 playful works by artist Jeffie Brewer through early 2024.
Entertainment District Art Trail
Arlington
Located at Richard Greene Linear Park, the sculpture trail rotates its many sculptures every three years.
West Side Art Trail
Farmers Branch
Currently in development, the jury-selected art trail is on track to open this summer.
Kurt Dyrhaug, a sculpture professor at Lamar University in Beaumont, used wood to make his Sensor Device IV, a continuation of the artist's ongoing interest in recontextualizing agricultural and nautical imagery.
"I have always believed that outdoor sculpture provides beauty and important discussion in all communities," Dyrhaug says. "Community members can love or hate the artwork, but the dialogue is an important aspect that brings people together."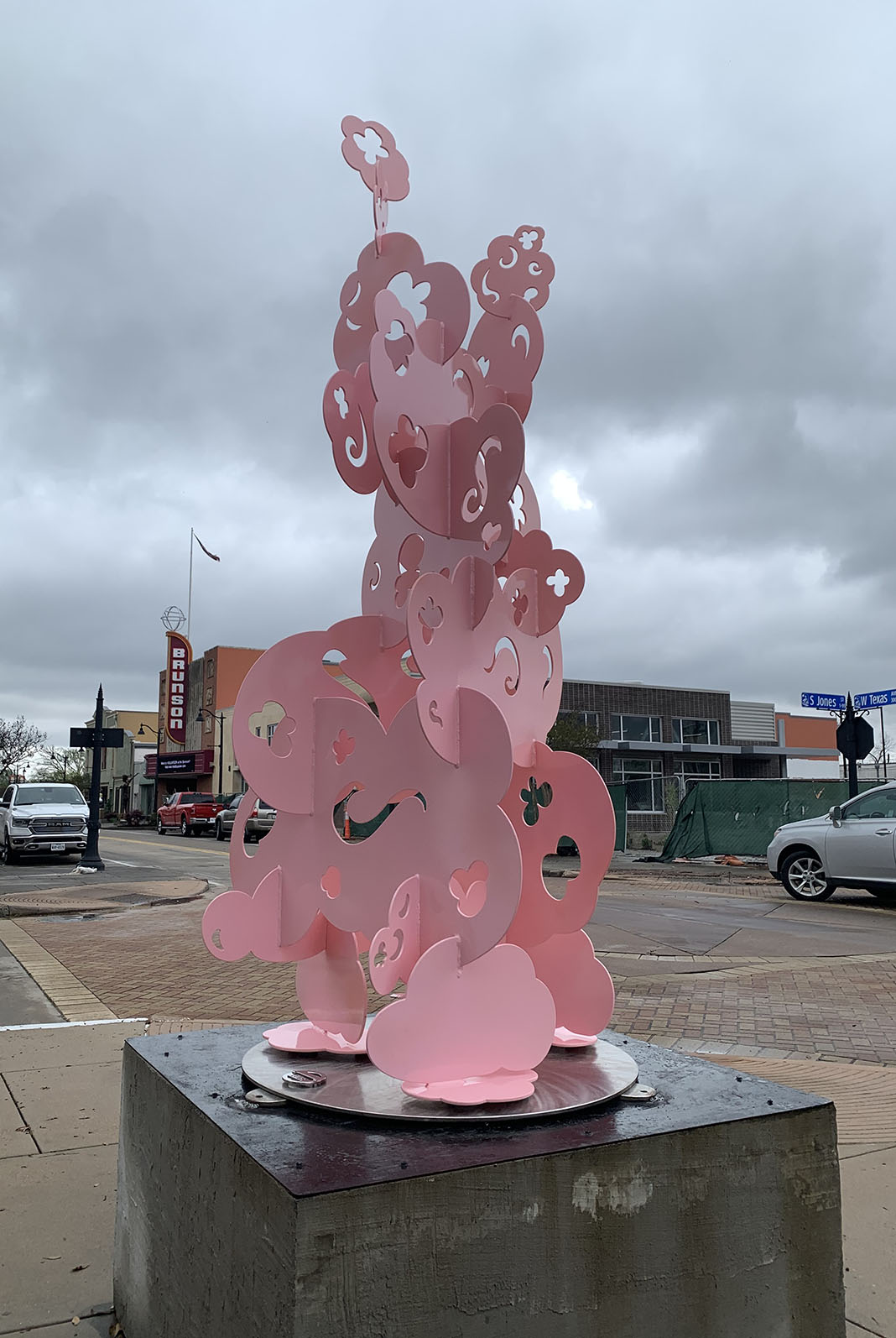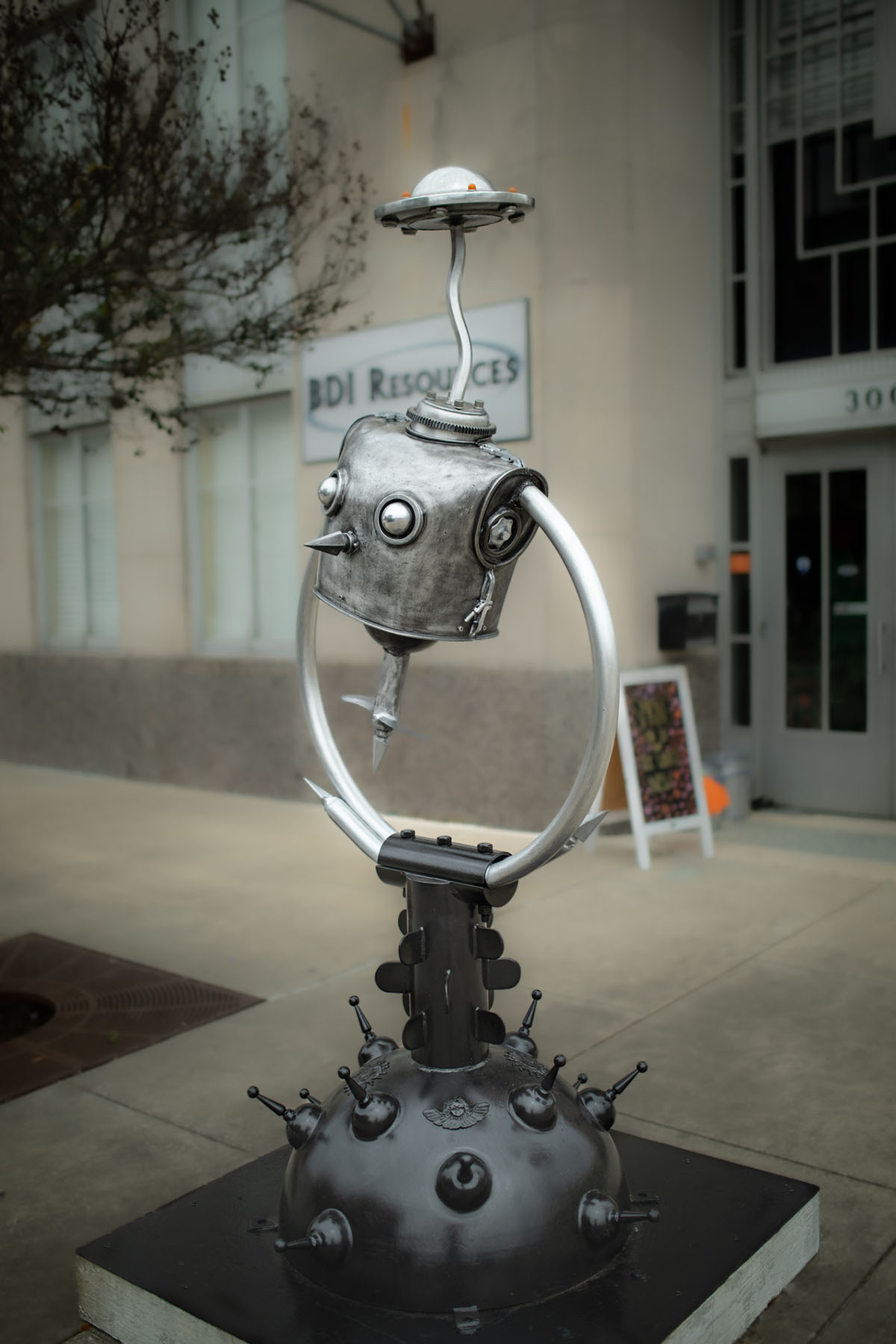 The sculptures are displayed in the 100 through 400 blocks of West Texas Avenue and alongside Town Square.
One of the ways visitors can engage further with the trail is by voting in the People's Choice award. Ballots included in the trail's accompanying guide can be cast at two boxes attached to light posts along the way. At the end of installation in March, the sculpture with the most votes is purchased by the city for permanent display. Last year, the bronze sculpture Mom, Can I Keep Him? by Susan Geissler of Youngstown, New York, won. And, since sculptures are available to purchase, you might be able to own one if it catches your eye.
Additionally, a Best of Show award is given annually by a panel of jurors. All participating artists receive a stipend. The featured artists were selected by a committee after submitting works to an online open call for the trail.
"Our hope with this project is to help revitalize Baytown's downtown arts district, get business to move back into the area and fix up the older buildings that have been in disrepair," says Karen Knight, Baytown Sculpture Trail co-director. "The sculpture trail, along with other projects, has begun to make a difference in the area and the committee has been very encouraged to see what is happening."
"Public art is a great way for everyone to enjoy the arts, which is easily accessible and free," Knight adds. "It does so much to enhance an area and draw people together or lets them just sit and enjoy on their own."
The Baytown Sculpture Trail will remain in place until March 2024. For more information, visit acedistrictbaytown.org and baytownsculpturetrail.org.