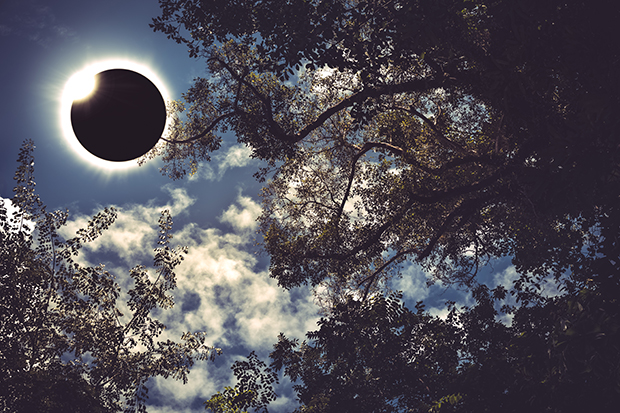 For the first time since 1979, a total solar eclipse will be visible in the United States on August 21. Although Texas is positioned to only capture a partial eclipse, it'll be quite the show just the same, with many watch parties are planned.
Important! Safe Viewing

While planning to view the eclipse, you must plan for proper eye-wear. Looking directly at the sun is unsafe except during the brief total phase of totality, when the moon entirely blocks the sun's bright face, NASA says. Although sunglasses do protect your eyes from sunlight during daily activities, NASA states that they do not offer enough protection from the harmful rays emitted by the sun while viewing eclipses. The only safe way to look directly at the eclipsed sun is through special-purpose solar filters, such as eclipse glasses or hand-held solar viewers. Looking at the sun without proper eye-wear or a solar viewer can lead to permanent eye-damage as well as blindness. Also, it is important to never use solar viewers in association with other devices, such as binoculars, as they can damage the filter and can cause injuries to the eye.

You may find free eclipse sunglasses at your local library, planetariums, museums, hotels or retailers, such as Warby Parker. The American Astronomical Society offers a list of reputable vendors of solar filters and viewers

Other options for safely viewing the eclipse can be found on the NASA webpage. The eclipse can also be viewed indirectly through a pinhole camera, something that can be made with common household items and printable pinhole projectors.

Library hosts

Find a list of libraries across Texas that are hosting viewing events. Most also offer free viewing glasses.

Til Next Time

While we get a partial eclipse this time, it will be good practice for the next one. On April 8, 2024, the total eclipse will be visible from Texas to Maine, including cities such as Dallas, Little Rock, Arkansas, Indianapolis, Cleveland and New York.
A solar eclipse occurs when the moon passes directly between the Earth and the Sun, causing the moon's shadow to be cast onto the Earth. Those experiencing the total eclipse will see day turn to night and a brief drop in temperature.
With the countdown to one of nature's most amazing events you may want to plan out where you want to witness this. Here are a few places:
Austin
In Austin, the University of Texas at Austin's Department of Astronomy is hosting a viewing party at the Robert Lee Moore Hall on campus. Pflugerville Public Library, and the Round Rock Public Library. While the central Texas area is not in the path of totality, Austin will be able to view 60 percent of the eclipse for nearly 3 hours beginning at 11:41 a.m., passing the maximum viewing time at 1:10 p.m., and ending at 2:39 p.m.
San Antonio
Scobee Education Center in San Antonio will host a viewing party from 10 a.m.– 2:30pm. The Center will open up their Powell Star Deck and surrounding terraces for activities such as viewing, planetarium presentations, and educational activities. Viewing glasses will be available but are on a first come, first serve basis.
Dallas
The Frontiers of Flight Museum in Dallas is hosting its viewing party from 10 a.m. to 3 p.m., but expects to see the moon obscure the sun by 75 percent at 1:09 p.m., with the eclipse ending at 2:39. The first 300 guests will receive free viewing glasses with their admission fee.
San Saba
Texas A&M Agrilife Extension Service in San Saba is hosting a Youth Solar Eclipse Party at the Mill Pond Park from 11:30 a.m. to 1 p.m. with an estimated 65-70 percent eclipse.
Sugar Land
The Houston Museum of Natural Science in Sugar Land is offering many activities along with the viewing experience.
Houston
The Houston Museum of Natural Science in Houston will present six, 15-minute programs between noon and 2 p.m. at the Burke Baker Planetarium. At 2 p.m., a showing of Starry Night Express will provide live feed from Casper, Wyoming to experience the eclipse from a different perspective. Safe telescopes will be provided in the front of HMNS, and outside the Sundial Plaza, and the Museum will provide safe solar glasses.
Lubbock
The Science Spectrum in Lubbock will celebrate with a free public Solar Eclipse Party from 11 a.m. to 2 p.m. on the front lawn and in the lobby. This event includes hands on science activities, solar system crafts, fun music, planetarium shows, as well as providing special helmets and optical projections. It is predicted that Lubbock will experience a 78 percent of the eclipse at 12:57 p.m.
Along with this event, the Science Spectrum's OMNI Theatre will offer screenings of the film Solar Max, which explores the journey on how we relate to the sun from early civilizations to today.
Fort Davis
The McDonald Observatory in Fort Davis, near Big Bend, is the perfect place to observe this scientific event. The eclipse begins at 11:30 a.m., reaching its maximum time just before 1 p.m. and ended at about 2:20 p.m. Fort Davis will experience approximately 65 percent of the eclipse.
While viewing is free, there are priced guided tours, including some of the largest telescopes in the world, that will be offered at 3 p.m. at the Visitor Center at 3 p.m.
Texas Parks and Wildlife
The Texas Parks and Wildlife plans a few organized viewing parties at Hueco Tanks, Bastrop State Park, Mother Neff State Park, Esetero Llan Grande State Park, Ray Roberts Lake State Park – Isle Du Bois Unit, Bentsent-Rio Grande Valley State Park, Meridian State Park, Guadalupe River State Park, and Cooper Lake State Park – South Sulphur Unit.
From the August 2017 issue