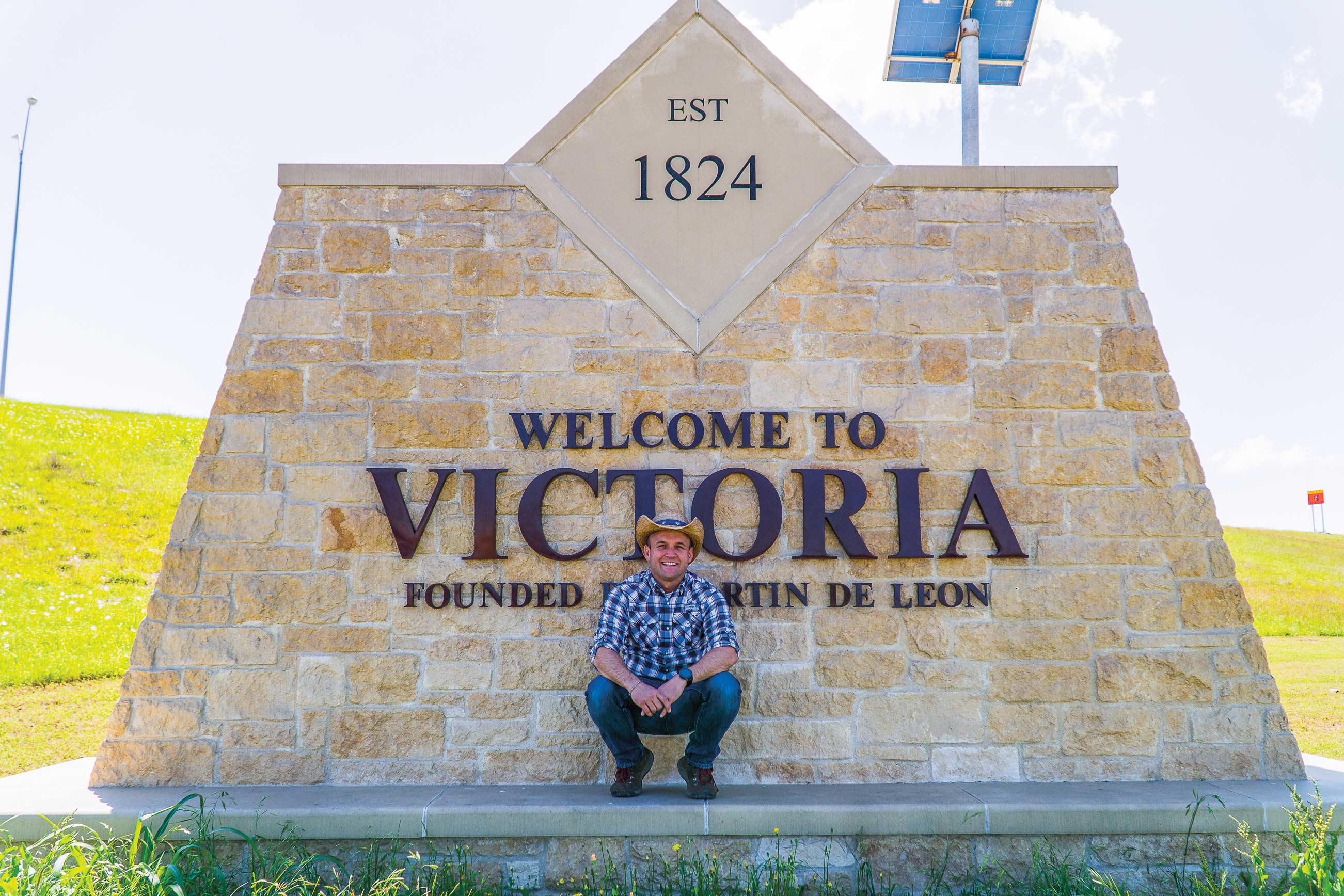 Sitting in the middle of the Coastal Bend is a town that's been around since before Texas was Texas. Visitors to Victoria, established in 1824, can explore the rich history of the town's past mixed with new experiences that make it well worth the trip.
Victoria Convention and Visitors Bureau
361-485-3116
explorevictoriatexas.com

Chet Garner is the host of The Daytripper® travel show on PBS.
To view the Victoria episode visit thedaytripper.com.
9 a.m.
Before exploring the region's days of yore, I headed to House of Bread for breakfast. As soon as I entered, the heavenly aroma of cinnamon and freshly baked bread hit like a freight train to the nostrils. I followed my nose (and stomach) and ordered a homemade cinnamon roll, which looked more like a giant volcano with vanilla glaze lava.
10 a.m.
Next, I visited the Museum of the Coastal Bend. The exhibits spanned centuries, from the Clovis natives to French settlers to Texas revolutionaries. The centerpiece of the museum is seven cannons recovered from the failed French settlement of Fort St. Louis. My favorite part was the atlatl exhibit, where visitors learn how to throw the prehistoric hunting weapon. After numerous failed attempts at taking down a mammoth, I'm pretty sure I would have been deemed a "gatherer" instead of a "hunter."
NOON After spending hours roaming the museum, I continued on my trip back through time with lunch at Texas' oldest deli, Fossati's Delicatessen. Established in 1882 by Italian immigrants, this Texas institution still serves tasty sandwiches and soups based on original recipes. I grabbed a stool at the counter and settled in for a Kites Kalteraufschnitt (aka "Dutch Lunch"), which is basically a build-your-own sandwich experience with a large platter of meat, cheese, and bread. I stacked it high and slathered on an extra-thick layer of homemade hot beer mustard that made my nostrils sting and my taste buds sing.
1 p.m.
To walk off lunch, I set out on the Trail Through Time, a path that doubles as an outdoor history museum. Signs guided me on a walking tour of the city and covered major events in Victoria's past and the amazing people who have lived here, such as Margaret Wright, the "Mother of Texas," and Jose Carvajal, who laid out the city streets while it was under Mexican rule. It made for a great way to stretch my legs and my mind.
3 p.m.
My journey concluded at Riverside Park, Victoria's outdoor playground. My first stop within the park was The Texas Zoo, where I
observed alligators, birds, and bears. In the petting zoo, I grabbed a bag of feed and threw an afternoon snack to the emus. From lemurs to peacocks, this zoo far exceeded my expectations. 
5 p.m.
Soon the summer sun was bearing down, and I needed to cool off fast. Luckily, true to its name, Riverside Park hugs the banks of the Guadalupe River. I joined the locals on the sandy beach of Grover's Bend and felt instant relief as I dove into the water. I spent an hour working on my backstroke and studying the insides of my eyelids—the perfect reprieve. 
6:30 p.m.
It was time for dinner at Mumphord's Place BBQ. I instantly felt as if I'd walked into a family reunion, which is appropriate considering the restaurant's barbecue style started more than 100 years ago at family gatherings. Today, the owners serve passed-down recipes by the plateful. I could taste the history and passion in my massive helping of brisket, sausage, and ribs covered in sweet sauce.
8 p.m.
It seemed like a sip at Moonshine Drinkery was the best way to cap off the day. This bar provides a list of cocktails made with one of America's oldest liquors—clear, unaged whiskey. I couldn't pass up the "American Dream," made with apple pie moonshine and ginger ale.
With a head full of history and a glass full of moonshine, my day wound down. Turns out one of Texas' oldest towns is a great place to make new memories. So whether you follow my footsteps or forge your own path, I hope to see you on the road. 
From the July 2018 issue