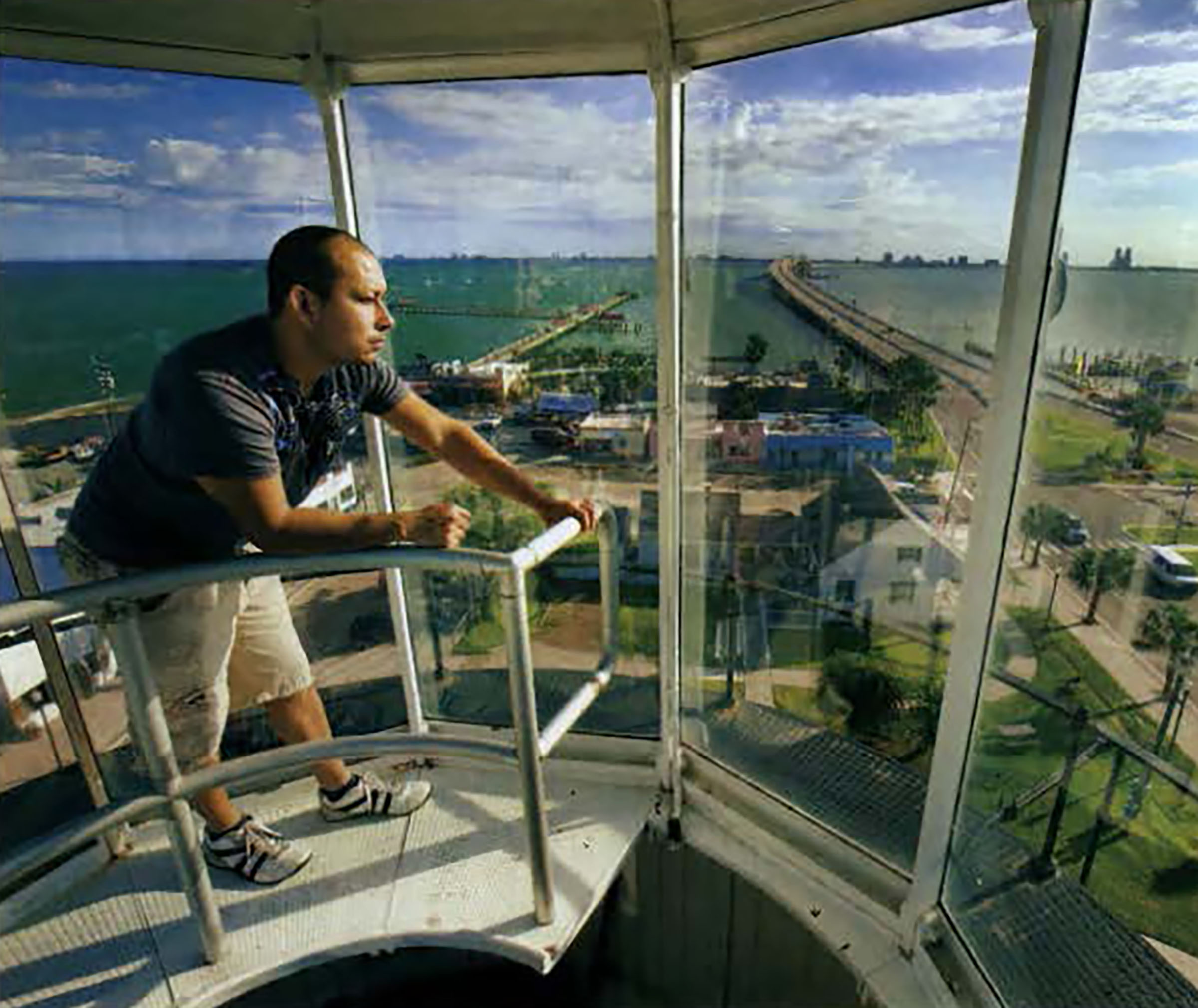 I wear a path to South Padre Island, where I like to read, walk the beach, and be a sea slug. Yes, I'm a coastaholic. But today I'm taking a break from the sand and surf to drive over the Queen Isabella Memorial Bridge to Port Isabel on the mainland.
Port Isabel is on Texas 100 about 30 miles north of Brownsville, just across the bridge from South Padre Island. Call the Port Isabel Chamber of Commerce at 956-943·2262 or 800-527·6102; www.portisabel.org.
As I cross the bridge—at 2.6 miles it's Texas' longest—I notice a barge headed toward the Port of Brownsville, 17 miles to the south. Barges and ships take this path daily, traversing the Laguna Madre, the local part of the Gulf lntracoastal Waterway, on their way to and from Mexico or to the East Coast. On a typical day, the bay, as we all call the Laguna Madre, is also filled with fishing boats, dolphin-watching crafts, and the odd ski boat pulling a parasailing tourist. Today, though, the winds are high in advance of a cold front, and the barge is the lone vessel I see.
The bridge descends into Port Isabel (originally Point Isabel), and I park in Lighthouse Square, where shops and restaurants surround a small hill topped by the famous Port Isabel Lighthouse. There's plenty of free parking behind the lighthouse and in a lot next to Pirate's Landing.
At one of the square's restaurants, a dark-paneled Italian/seafood place called Marcello's, I start my afternoon. Opened in 1988 in the Old Lighthouse Grocery building, Marcello's meanders through several rooms, yet retains an intimate feel. I order the lunch special—all-you-can-eat fried flounder served with a garden salad, a hot basket of focaccia, and spaghetti topped with a slightly spicy marinara. Between bites, I eavesdrop on Rotary Club members holding court in the next room. Always a good sign.
Sated, I make my way across Texas 100 to take in a little history. Port Isabel has three museums, and you can see them all for a combined $7 ticket. I start with the Port Isabel Historical Museum, where exhibits tell of wars, settlers, and the shrimping industry. Port Isabel once called itself the "Shrimping Capital of the World"; shrimpers here harvested 12 million pounds annually during the mid-20th Century. Foreign competition, shrimp farming, and legislation, coupled with the high cost of fuel and labor, have severely trimmed operations in recent years.
Much of the museum is devoted to the U.S.-Mexican War of l846-48, which won this nation 529,017 square miles of land. Displays include flintlock and percussion pistols, swords, buckles, buttons, bullets, cannon balls, and a timeline of Laguna Madre history. My favorite museum artifact, though, is a 30-inch-long sawfish bill (it does, indeed, look like a saw) that hung in the lighthouse back in the 1950s.
A ramp behind this collection leads to the Treasures of the Gulf Museum, which focuses on the shipwreck of three of four vessels that set sail in 1554 from Veracruz, Mexico, headed to Spain. Instead, they ran aground off Padre Island about 30 miles north of Port Isabel. The sunken ships carried 87,000 pounds of gold and silver. Mexican divers and salvage crews recovered about half the payload, and some silver coins, along with sea-ravaged cannons, are here. But much of the loot is, apparently, still in the sea. Displays and videos tell the tale of 16th-Century ships and the dangers the sailors faced (storms, fire, and pirates, for starters). I learn that 300 people survived the shipwrecks, but once ashore, only two lived to tell the tale.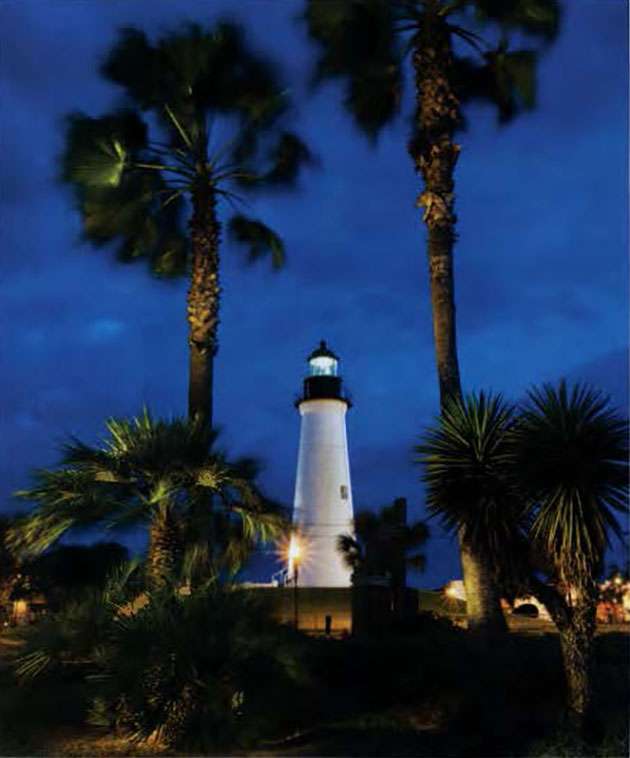 Next, I cross the street to the Sealife Nature Center, a delightful, little aquarium whose mission is to educate the public and promote the wellbeing of local sea life, including the native bottlenose dolphins.
At a petting tank, you may pick up a jellylike anemone, a sea cucumber (equally slimy and fuzzy), a lightning whelk (the official state shell), and hermit crabs, which recycle abandoned shells after their original inhabitants die. Other tanks here are filled with stingrays, along with a bigmouthed, spiny scorpion fish, a five-pound grouper, aguitar fish (tail like a shark, head like a ray), and seahorses. And that guy eerily peering out from the rocks in the big tank? That's a moray.
In a blue, plastic pool, Spike, a spiny, three-pound lobster with big purple antennae that was rescued during the area's unusual cold spell several years ago, crawls out from under a rock to glare at me. I'm surprised to learn that Texas has the same sort of lobsters that live of the coast of Florida—but not enough to warrant commercial harvests.
Across the street, I refresh my lighthouse history at the Point Isabel Light, completed in 1853. Its early keepers made $500 to $700 a year for turning the light on and off to warn incoming ships as they approached shore. The landmark beacon guided ships in the Laguna Madre until 1905, when it was permanently decommissioned.
A climb to the top of the 73-foot lighthouse involves 74 steps and three 8-rung ladders. It doesn't sound like much, but it's stuffy in there. At the top, it's windy, but it's worth the bluster to be able to see all the way to the Gulf of Mexico to the east and many miles in all directions.
I clang back down the lighthouse step and meet a friend a block away at Pirate's Landing restaurant for a piece of duke de leche cheesecake. This kitschy place—it's shaped like a fort and is festooned with pirates, flags, and skulls—is one of my favorite area restaurants, offering consistently good local seafood (snapper, flounder, shrimp, and such) along with steak and fajitas. My typical order is a shrimp po'boy on a soft, warm homemade roll with a side of either crispy waffle fries or homemade potato chips; it's hard to decide.
Right now, though, I'm indulging in my perfect caramel-infused cheesecake while I trade gossip with a Port Isabellian and watch a weather front whip up whitecaps in the bay. The locals here have a way of making me feel like I'm one of them, and that's part of the town's charm. I know it's hard to leave the beach, but I highly recommend this sojourn.
From the January 2010 issue