I remember learning the thrill of the road trip as a child. Back then, my parents would load us up in the wee hours of the morning to trek hundreds of miles across Texas or to far-flung parts of the U.S.
One of those childhood trips took us to Branson, Missouri. The experience has been blurred in my mind by the brush of time, but I remember my dad stoically abandoning his reserved nature at a musical variety show where he was called up on stage to dress as Dolly Parton.
LUFKIN

For Lufkin visitor information, call the Lufkin Convention & Visitors Bureau at 936-633-0349.
Amusing as that Branson trip was, my children—ranging from toddler to teen—handle short jaunts better than long days in the car. So we find a little piece of Branson in the heart of East Texas, only a few hours from our Dallas-area home. We head to Lufkin for a leisurely weekend of family fun, making sure to time our visit with one of the half-dozen performances that Lufkin's homegrown music show, the Pineywoods Jamboree, stages throughout the year.
The Jamboree rocks the old bones of the historic Pines Theater on Saturday nights. Founded in 2010 by locals Jimmy and Leigh Ann Hughes, the Jamboree fulfills Leigh Ann's childhood dream. "People always ask me why I haven't moved to Branson to sing full time," she says, "but I want to be home with my family. Since I was 12 years old, I've had this thought that I would start my own music show in my hometown."
Traveling to Lufkin

Nacogdoches

30 minutes

Houston

2 hours

Waco

3 hours

Austin

4 hours
Each show carries a different theme—ranging from '50s rock 'n' roll to Southern gospel—and the one we attend features music by country artists, including covers of songs from Johnny Cash and a tribute to Glen Campbell and Don Williams. As is typical of opries (as country musical variety shows are known) the Jamboree invites regional guest artists to sing solos and usually includes at least one comedy act in each night's performance.
One particularly impressive guest, a young teen named Colt Varnado, takes the stage to belt out Cash's "Ring of Fire," which is met with nods of approval and hearty applause from the multigenerational crowd. Leigh Ann ends the show by taking center stage to sing the gospel classic "The Anchor Holds."
Still feeling our toes tap to the rhythm of fiddle and guitar, at show's end we make our way out of the theater and into another community haven—Standpipe Coffee House next door. A gathering place for local artists, Standpipe hosts poetry slams on the first Friday of every month. We don't find poets but plenty of lively chatter and a gallery of local artists' work lining the weathered brick walls.
One wall features a 100-year-old Coca-Cola mural that workers rediscovered when renovating the building before Standpipe's opening in 2011. The coffee shop's name alludes to another historical link, referencing the 84,600-gallon, 100-foot-tall water storage tank that stood in Lufkin's town center from 1891 until the late 1920s. I relish this backdrop of history while savoring the decadent caffeine hit of an iced vanilla latte; the kids gobble mini cinnamon rolls with chocolate milk.
Come morning, we set out to explore Lufkin's wilder side—that of dinosaurs and ferocious beasts. Thankfully, the Naranjo Museum of Natural History is still in its sleepy stages of waking for the day's crowds when we arrive because my 2-year-old roars with excitement at first sight of the dinosaur skeletons filling the museum's interior. In fact, she drops into a crawl and begins impersonating a T-Rex. Her more civilized 6-year-old sister, a geology lover, thrills at a vault of precious stones.
The museum opened five years ago as a way to house the archeological collection of Dr. Neal Naranjo, a local who caught the archeology bug as a boy exploring East Texas forests in search of arrowheads. He eventually upgraded these childhood hunts to full-scale paleontological digs, growing his store of artifacts through personal finds as well as collecting treasures professionals have unearthed from around the world. Naranjo's museum includes hundreds of prehistoric artifacts: dinosaur skeletons such as Mary Ann Hadrosaur—discovered in Montana by Naranjo and his crew and named in honor of his wife—and more modern treasures, such as one of the largest moon rock samples (on long-term loan by NASA in thanks for East Texas' assistance in space shuttle Columbia's recovery), and an ornate 18-karat gold and citrine necklace originally purchased by Jungle Book author Rudyard Kipling.
Our adventures in the wild continue at Ellen Trout Zoo, which recently celebrated its 50th anniversary. The zoo started when local businessman Walter Trout Jr. received a hippopotamus for Christmas in 1965. And that was all the prompting Trout needed to turn his dream of a zoo for Lufkin into a reality. That founding hippopotamus, Hippy, delighted generations of children in his 30-year reign at the zoo. We peek at Hippy's successors in an eye-level hippo-quarium. But not all the animals here are enclosed—dozens of peafowl roam throughout the zoo, occasionally giving a quick flash of their jewel-toned tail feathers.
As much as the kids enjoy admiring the leopards, recoiling from the snakes, and giggling at monkeys, they can hardly wait to leave the animal exhibits. That's because the Z&OO Railroad train awaits us outside the gates, on the grounds of Ellen Trout Park. The train, which runs from March through October, skims over Ellen Trout Lake and into the cool shade of the forest surrounding the zoo. The kids would take lap after lap on the train if we let them, but there's more of Lufkin to experience.
I relish this backdrop of history while savoring the decadent caffeine hit of an iced vanilla latte; the kids gobble mini cinnamon rolls with chocolate milk.
Next, we stop by the Texas Forestry Museum, where the kids run straight to Timbertown, the interactive children's area. They scamper about an oversized train table, hauling timber from forests to sawmill with the tiny freight cars. And then they head to the sawmill house, which is outfitted with period décor from a late 1800s/early 1900s sawmill town. Donning pioneer dresses and bonnets, the girls busy themselves cooking play food over an antique stove. Outside, the kid-appeal continues with a caboose and retired steam engine that begs pint-size conductors to climb aboard and ring the bell, and family-friendly trails that wind through forested acreage behind the museum.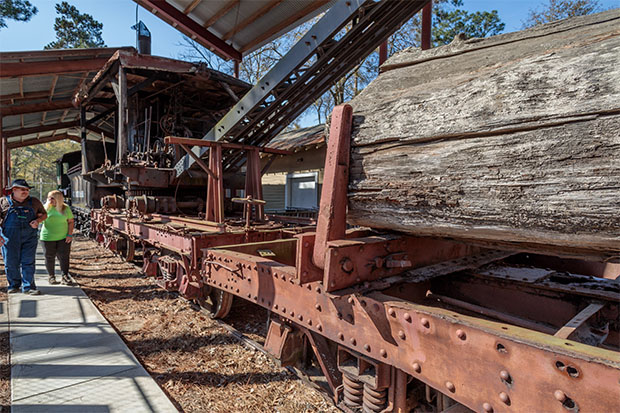 Such an active lineup of adventure makes us crave some time to unwind and refresh with a good night's sleep. Our lodging base for the weekend—the Villas of Crown Colony—is tucked into towering pine trees, albeit bordering a golf course, providing a fitting visual of Lufkin's past meeting its present. The condo features plenty of space for us to spread out, with a bedroom overlooking a living area whose sliding-glass patio door affords glimpses of those gorgeous pines. The full kitchen is ideal when the kids are too cranky to venture eating in public.
The next day I claim a slice of this family adventure for some retail therapy within the charming shops of downtown Lufkin. In the artistic spirit of the Pines and Standpipe, First Street's revitalized historic buildings today house friendly boutiques. Walking by shops offering everything from East Texas graphic tees to a velvet leopard-print coat, I duck into Sweet Ethel Mae to pick up a cinnamon-scented candle and inspiration for restoring my own hodgepodge of furniture via the gorgeous chalk-painted and waxed pieces on display. Market to Market reveals sparkling agate coasters in the shape of Texas—perfect for my little geologist.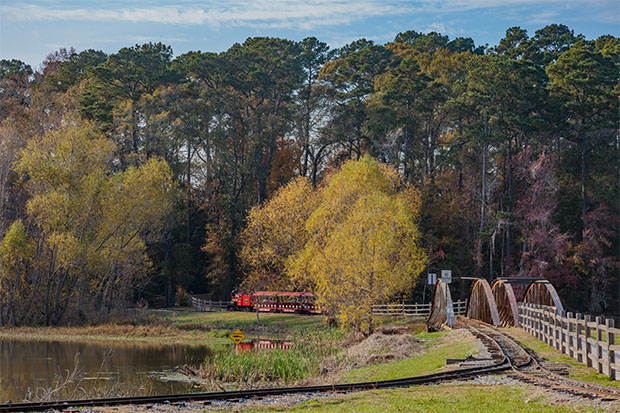 To reward the kids for their patience with my shopping excursion, I turn to a whimsical bakery called Confections, housed in an antique train car and swathed in cheerful red and white ribbons and décor. The small space prac-tically bursts with tiers of cupcakes and elaborately decorated cookies, in addition to light savory selections like soups and sandwiches. I'm tempted by the banana pudding cupcakes topped with Nilla Wafers and the dainty Mexican wedding cookies, but I fall for the classics, treating the kids to sugar cookies outlined in festive hues and chocolate chip cookies oozing rich sweetness with every bite. It's a fitting finale to our sweet family time in Lufkin.
From the February 2018 issue