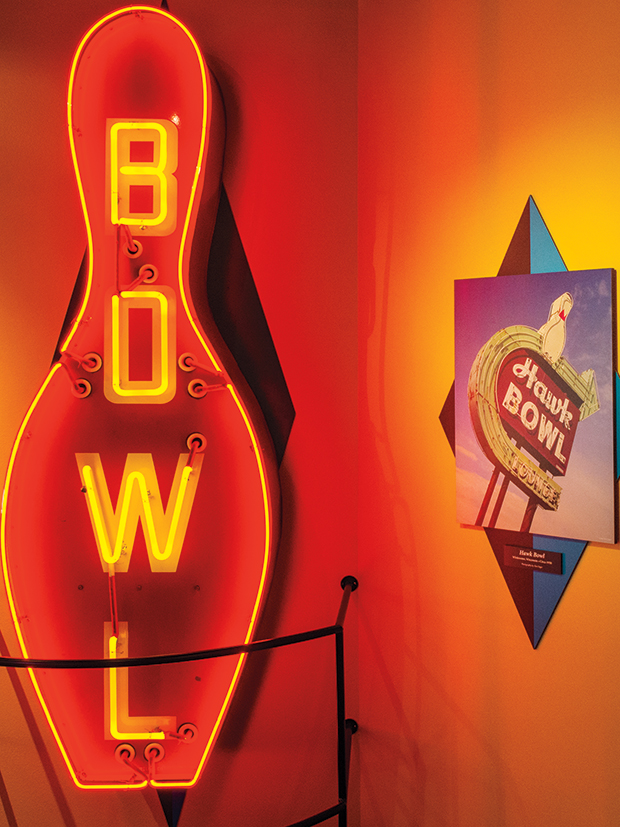 The International Bowling Museum and Hall of Fame in Arlington captures the enduring appeal of the sport so well that it could compel famous TV bowler Al Bundy to say "stee-rike!"
The International Bowling Museum and Hall of Fame in Arlington captures the enduring appeal of the sport so well that it could compel famous TV bowler Al Bundy to say "stee-rike!" The International Bowling Museum and Hall of Fame is at 621 Six Flags Drive in Arlington. Closed Monday. Call 817/385-8215.

Lace up your shoes and head for these eight great places to bowl a few frames.
Outside this 130,000 square-foot facility, a 20-foot metal bowling pin beckons passersby in for a closer look at a sport played by 95 million people in 90 countries. The venue, not far from the city's high-profile AT&T Stadium and Globe Life Park, serves myriad functions: It honors the accomplishments of the world's greatest bowlers, preserves artifacts relating to the sport, serves as a training facility for tomorrow's champs, and offers a wealth of materials for researchers, for starters. But its mission for casual visitors and bowling fans is simple: to paint a picture of a sport that dates as far back as ancient Egypt, and to inspire a new generation to lace up those goofy shoes and hit the lanes.
The International Bowling Museum and Hall of Fame operated from 1984 to 2008 in St. Louis, a city that in post-World War II America was as closely identified with the sport as Cleveland and Milwaukee. In 2008, the facility moved to a larger campus in Arlington and reopened in 2010.
The fun starts in the lobby, where a custom, bowling-themed motorcycle called "Strike Bike" inspires conversation. Showcased in the reality-TV series American Chopper, the motorcycle features a red-white-and-blue color scheme with a gas tank designed to look like a bowling ball, plus pin and lane designs on the wheels and fenders.
Through April 30, the museum's temporary exhibition space presents the special exhibit Bowls for Women, which details the many obstacles female bowlers in America have overcome in the past 200 years. In the early 1800s, women were barred from bowling, but by the late 1800s, women had joined the ranks of those who bowled for camaraderie
and exercise.
Women started forming leagues in the late 1800s, and in 1916, the Women's International Bowling Congress (WIBC) was created as a ladies-only counterpart to the male-only American Bowling Congress (ABC), which was founded in 1895. Notable artifacts from Bowls for Women include a cobblestone from the St. Louis street where the WIBC was founded, a 1966 photo showing Lady Bird Johnson receiving her gold WIBC membership card, and a shirt worn by Kelly Kulick, the first woman to win a PBA (Professional Bowlers Association) Tour event. "I always think of the legends before me, and how they paved the way for my achievements," Kulick says.
Another exhibit discusses bowling's origins. In the 1930s, famed British archeologist Sir Flinders Petrie dis-covered bowling pins and balls in a child's grave in Egypt, which suggests the sport is more than 5,000 years old. The museum includes models of those artifacts alongside a recreated sarcophagus containing a mummy holding a bowling ball.
Europeans took the sport to another level. Whether called quilles de neuf in France, keglespieles in Germany, skittles in Great Britain, or bocce in Italy, bowling became wildly popular and eventually crossed the ocean to the Americas. A display of early French bowling artifacts, including balls, discs, and pins, show France's passion for the sport. Along with artifacts and memorabilia, the museum also delves into bowling trivia: In 1588, for example, British explorer (and bowling enthusiast) Sir Francis Drake allegedly delayed his final assault on the Spanish Armada until he could finish his game.
In another area, visitors can learn about life as a "pin boy." Before the automatic pin-setter was invented in the 1930s, pins were collected and put back in place by humans, usually teenage boys. This was no easy gig: Pin boys had to accomplish these tasks quickly or risk being injured by flying balls or heckled by angry bowlers. Pin boys practically vanished in the early 1950s due to automation.
Thanks to television, bowling entered its golden era in the 1950s. Prime-time bowling shows proved popular, which led companies like Budweiser to sponsor teams to capitalize on that growth. The museum captures this period via a replica of a mid-century diner, bowling-related neon signs, and information about the corporate teams.
Another permanent exhibit details women in bowling, telling the story with video and artifacts, such as the ball that Michelle Feldman used in the 1997 Southern Virginia Open and a shirt worn by Bev Ortner, who in 1968 became the first woman to roll an 800 series.
Visitors who aren't yet overwhelmed with bowling knowledge can relax in an adjoining theater with an 18-minute video on bowling's past, present, and future. One notable artifact here is a microphone used by Chris Schenkel, the iconic sportscaster who covered bowling on ABC for 30 years.
The Science of Bowling exhibit goes into great detail about how balls, lanes, and pins are constructed. In the 1950s, for example, balls were mostly made of rubber, but in the 1960s and 1970s, manufacturers moved to plastic. Urethane balls surfaced in the 1980s and reactive resin balls, made by applying resin to urethane, in the 1990s.
The museum's penultimate section shows how bowling positively impacts the community through such organizations as the American Blind Bowler Association, Bowl for the Cure, the Bowling Veteran's League, and Special Olympics. A display featuring a pink bowling ball, pin, and shirt reflects how closely the sport works with the Susan G. Komen organization to end breast cancer.
Last and certainly not least is the Hall of Fame, an interactive display that honors some of the greatest sportsmen and sportswomen in the field. The Hall commemorates several Texans, including Houston's William "Billy" Welu, who was a former PBA executive and broadcaster inducted into the USBC Hall of Fame in 1995; Beaumont native David Ozio, an 11-time PBA winner and PBA Hall of Famer; and Amarillo native Mike Scroggins, who still competes on the PBA Tour.
Like many museums, the International Bowling Museum and Hall of Fame concludes in the gift shop, where visitors can pick up books, magnets, toys, and equipment such as bowling balls, shoes, and apparel. The Inter-
national Bowling Museum truly is a hidden gem in Arlington—whether you score frequent strikes or wind up in the gutter.
From the April 2017 issue