Service With a Wag
Assistance dogs can lessen the burdens of travel for people with disabilities
By Robyn Ross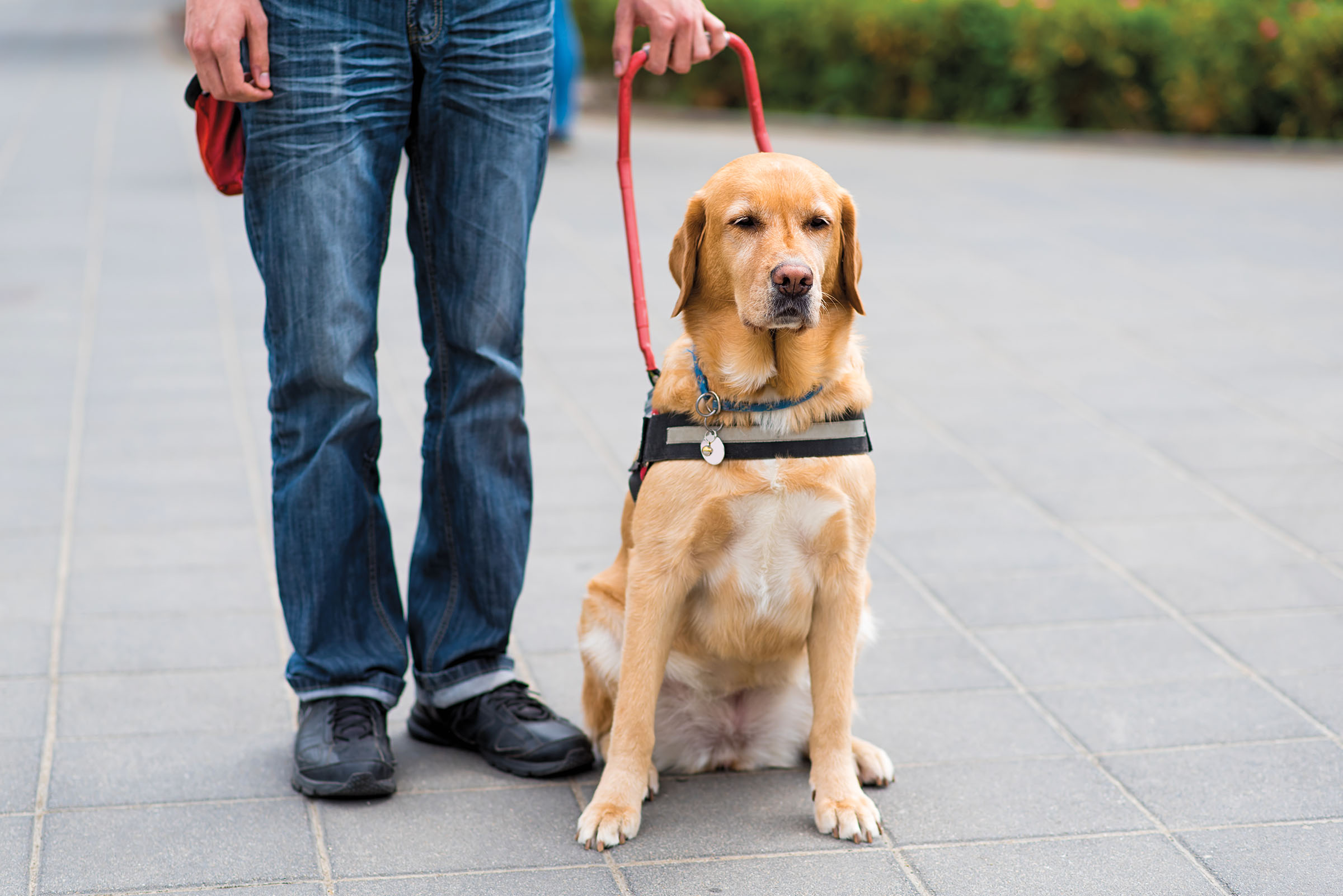 Travel poses extra challenges for people with disabilities, but service dogs can ease the burden. Since the 1910s, guide dogs have assisted people who are blind, but the first known instance of service dog training wasn't until 1975. On a trip abroad in the '70s, California special education teacher Bonnie Bergin witnessed donkeys helping people with disabilities. When she got home, she began training dogs to complete similar tasks. ​
Today, dogs help veterans and civilians with a variety of conditions including physical disabilities, deafness, visual impairment, autism, epilepsy, diabetes, and post-traumatic stress disorder. Most are trained by nonprofits that provide dogs—typically Labrador retrievers, golden retrievers, and mixes of the two—to clients at little to no cost, although waiting lists are often years long. A person can also train their own dog, such as through the accredited program at The Dog Alliance in Cedar Park.
Service dogs can open doors, retrieve medication, prevent anxiety attacks, and even help visually impaired people find pieces of equipment in a gym. Most importantly, they give their handlers freedom. "These service dogs are trained to do amazing things, but the end result is deeper than just those physical tasks," says Courtney Craig, a spokesperson for the Irving-based regional training facility of Canine Companions, the organization Bergin founded. "It gives the client independence and confidence, and they're able to go out and do things on their own because they have a dog by their side."
Old Dog, New Tricks
Tug open doors
Retrieve and deliver items
Turn light switches on and off
Alert deaf handlers to sounds like doorbells, smoke alarms, and ringing phones
Help blind or visually impaired people walk in a straight line and avoid obstacles
Guide their handler to the bathroom stall, sink counter, and trash can
Wake a person with PTSD from a nightmare San Antonio's Guide Dogs of Texas, which trains dogs for the blind, offers facility tours every first Thursday.
guidedogsoftexas.org
Always assume a service dog is ­working. ­Follow these tips to ­interact with them.
Ask before you pet the dog—and respect the handler's answer if they decline.
Avoid doing anything to distract the dog, including talking to the dog, making sounds, or making extended eye contact.
Take interest in the person, not just the dog. People who use wheelchairs or are visually impaired often welcome a friendly greeting and offer to help.
8-10
Average number of years in a service dog's career
$35,000
Minimum cost for nonprofits to raise and train a service dog
6
Number of Assistance Dogs International-accredited training facilities in Texas
​Know Your Animals
Service animal: a dog trained to complete tasks directly related to their handler's disability
Emotional support animal: an animal prescribed to a specific person by a mental health provider to provide comfort through its presence, not to complete specific tasks
Therapy animal: a dog or other animal trained to provide comfort to the public in settings such as schools, ­libraries, nursing homes, and hospitals
Woman's Best Friend

Lou Ann Williams, a retired special education teacher from San Antonio who has been visually impaired since birth, had struggled with travel for years. In 2005, she received her first service animal, Labrador retriever Bonney, through Guide Dogs of Texas. Bonney led Williams around obstacles, found ticket counters and empty seats at airports, and led her to the restroom—guide dogs can smell the difference between the men's and women's.
"It's made travel wonderful when I'm by myself because you work as a team," says Williams, who is now on her third guide dog, Keller. "I talk to the dog, and he lets me know by understanding my commands that he's talking back to me. We can figure out new, unfamiliar places." With her second guide dog, Atlas, Williams was able to go on a 17-day cruise, visit Spain and Germany, and hike in coastal northwestern Italy.
Her dogs have also increased her social interaction. Before she had a guide dog, Williams says, people seldom asked if she needed help. "It can be kind of stressful when you're out on your own and you really need to ask someone a question and no one will answer," she says. "But when I have my guide dog with me, people are interested about the dog, and they'll come up to me and ask if I need help."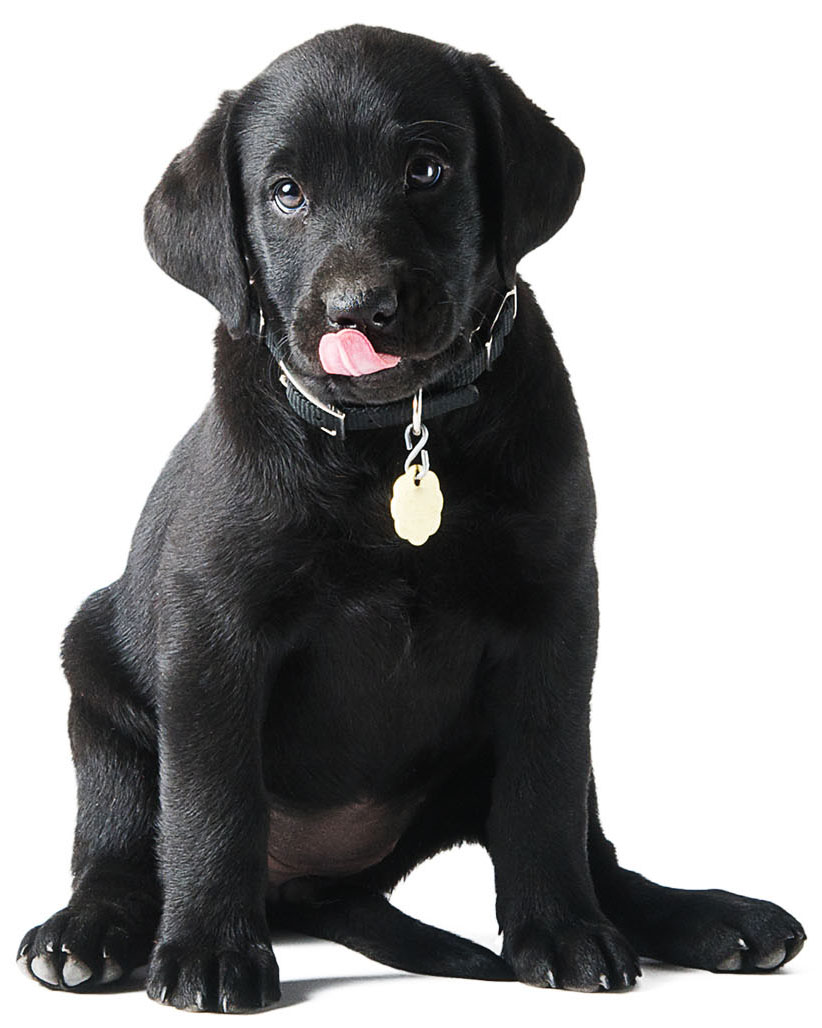 0-8 weeks: Puppies in service programs meet other animals and humans early on and are immediately exposed to sounds—like cats ­meowing, children­ laughing, a hair dryer, a train—to get them accustomed to the world.
8 weeks: The puppy can be taken in by a volunteer puppy raiser who manages housetraining, teaches basic obedience, and socializes the dog by bringing it everywhere.
12-18 months: Advanced training begins.
2 years: The dog is matched with a handler. It normally­ takes around two years to get matched with a dog. The dog is trained in skills customized to mitigate the handler's disability.
10-12 years: Dog retires. It sometimes remains with its handler as a pet, while the handler has the option to get a new service animal.
From the February 2022 issue