With 18 miles of hiking trails—13 of them open to mountain bikes and horses, along with plenty of flora and fauna along the Colorado River—McKinney Roughs Nature Park lives up to the "nature" in its name. Adding the word "adventure" seems more appropriate though, given the current offerings of zip lining, universal terrain vehicle tours, survival skill classes, and more. All of the above makes this Lower Colorado River Authority property an excellent destination for a family spring break adventure.
The Zip Lost Pines complex explores the east side of the park, with six zip lines strung over the wooded slopes and valleys, bearing names like Piney Plunge, Loblolly Landing, and River Run. The longest stretches 1,315 feet, and according to Director Sarah Linden McBee, "It depends on the wind, but most people reach speeds of 35 to 40 miles per hour on it." Dual lines make zipping more fun than going one at a time, letting competitive types race each other. The lines use a passive braking system, and guides do all the work with the gear so riders can focus on the adrenaline rush. The six-line tour involves a couple of short hikes through the woods and over several suspension bridges—a total of about 2.5 hours or less—and the fee includes entrance to the entire park.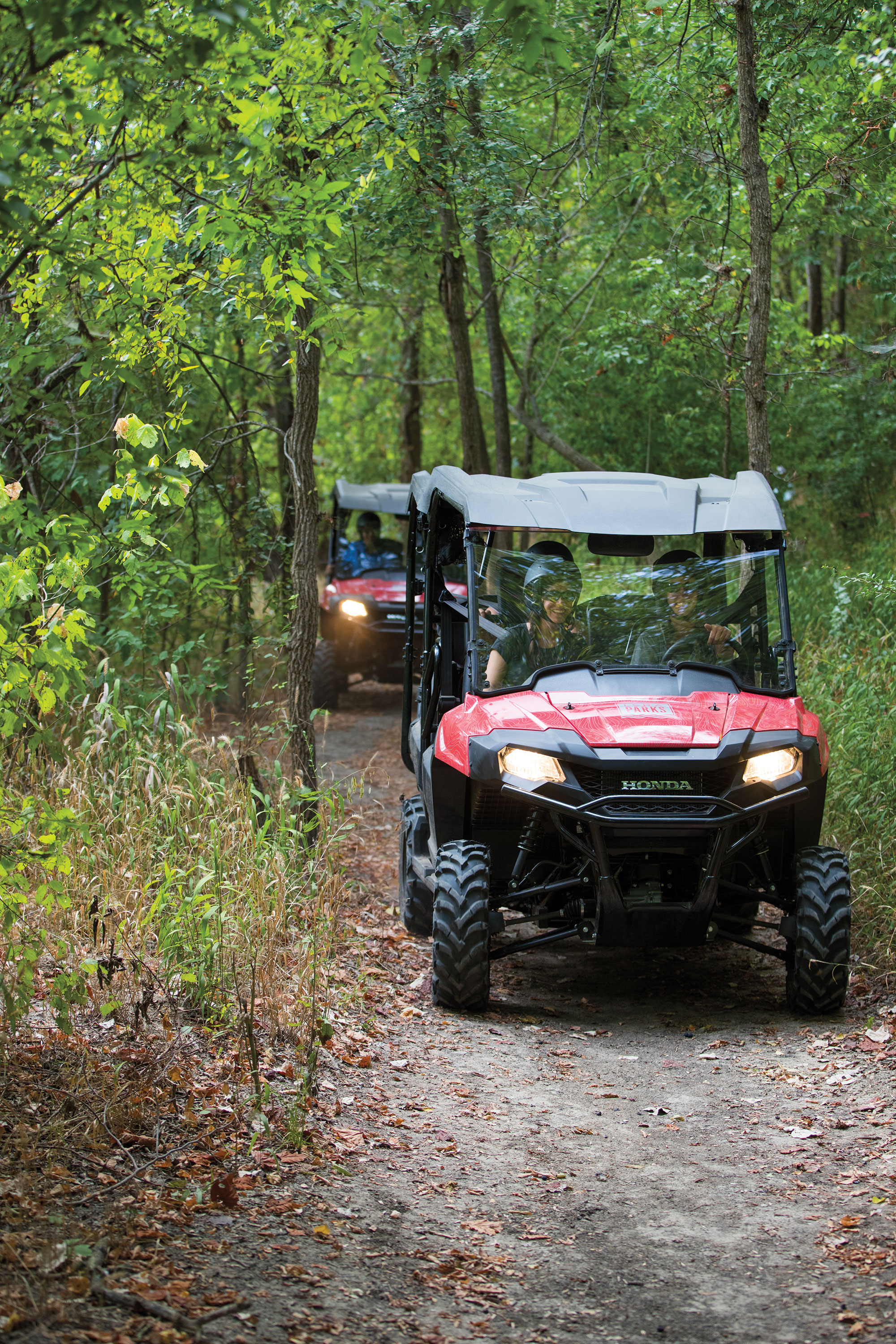 While hiking trails are a great way to explore McKinney Roughs, universal terrain vehicle tours make it possible to see more of it in less time—and with less effort. These golf carts on steroids each hold up to four people and up to five vehicles go out at a time, following old ranch roads and trails across fields, over hills, and along the river as the guide imparts tidbits of the area's history and current wild residents. On a recent visit, guide Nicholas Cowey, a park program coordinator, plucked a sprig of Yaupon Holly and explained that tea from its leaves provides a bit of caffeine, but too many cups have unpleasant side effects. He squeezed a tiny drop of nectar from a widow's tear flower and pointed out a spot rubbed raw low on the trunk of a loblolly pine—a sort of Tinder for whitetail deer, he explained. Few people spot javelinas, bobcats, deer, or armadillos, but Cowey often finds their tracks on tours.
The park's survival classes focus on practical skills handy for outdoor adventurers: building fires and shelters, locating drinking water and food, and making emergency kits. People can take one class or the series, which culminates in an overnight experience and lots of hands-on practice. Classes are taught by experienced instructors from both outdoor retailer REI and LCRA parks.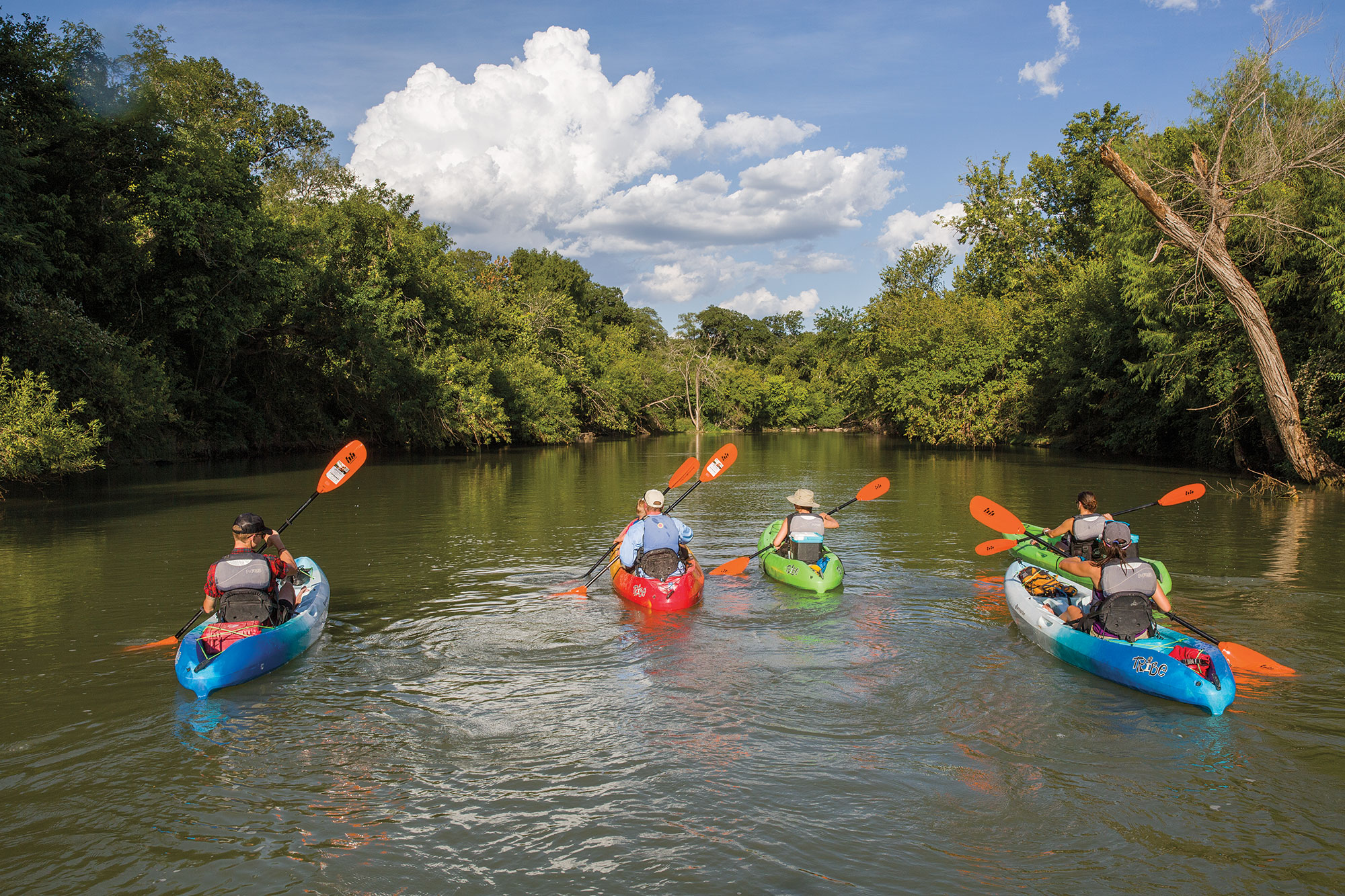 Other adventures at McKinney Roughs include guided kayak trips, star parties, and mountain biking classes. The park has three dorms that accommodate 128 people altogether, and is next door to Hyatt Lost Pines, which books many adventures directly and provides shuttle service.
Whether the LCRA adds the word to the park's name or not, those in search of adventure can find plenty at McKinney Roughs.
From the March 2019 issue