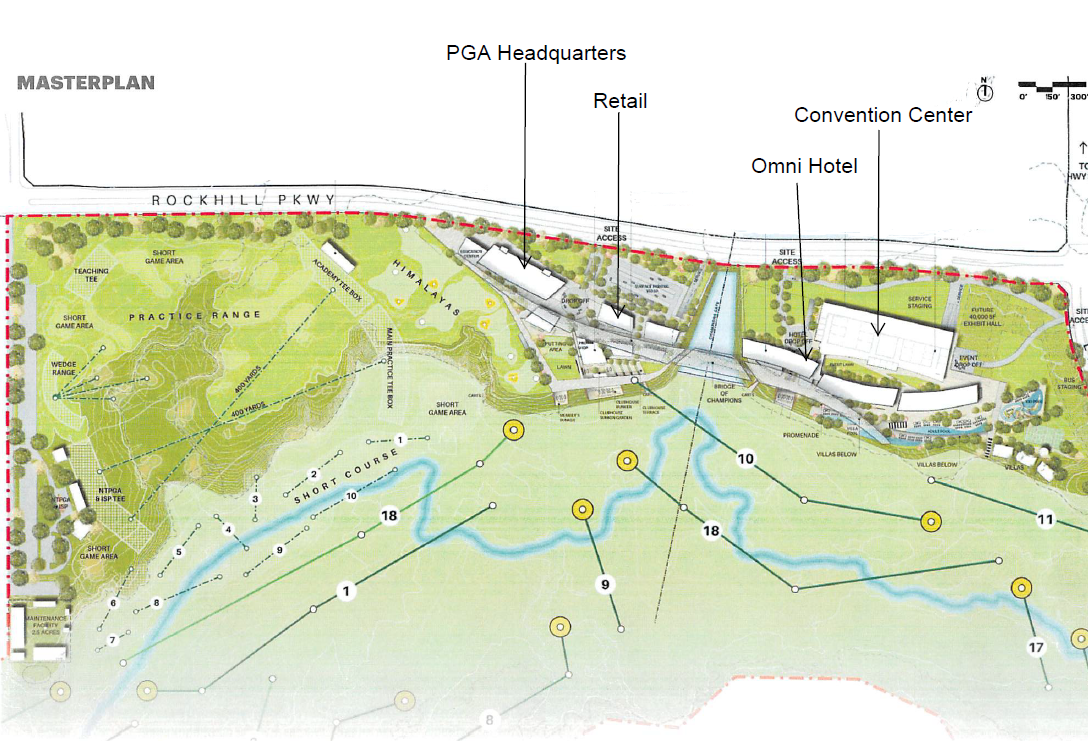 Destination golf in Texas just got a major boost—the creation of two championship golf courses in sports-crazy Frisco in connection with the just-announced move of the  headquarters of the PGA of America from Florida. The deal includes selection of the courses for at least two future PGA championships, bringing one of golf's four men's majors back to Texas for the first time in more than a half century—as well as potentially a Ryder Cup, which was last hosted in Texas in 1967.
The courses will be the only ones in Texas to host a major that the public can play other than Dallas' municipal Cedar Crest Golf Club, the site of the 1927 PGA. Others like U.S. Open hosts Colonial of Fort Worth (1941), Champions near Houston (1969), and Northwood Club (1952) in Dallas, and PGA host Dallas Athletic Club (1963) are exclusively private. The public Pecan Valley Golf Club in San Antonio, site of 1968's PGA Championship, no longer exists.
"The PGA will maintain those courses and we will anticipate them to be pristine," says Marla Roe, who directs Frisco's Convention and Visitors Bureau. Scheduled for completion in 2022 on ranchland on Frisco's northern border, holes will criss-cross Panther Creek and finish at a 35,000-square foot clubhouse designed to serve professional golf's stars, the visiting public, and even Frisco's high school golf teams.
On the site, the PGA will build its headquarters, and hotelier Omni will construct a 500-room resort and spa. The development also will feature a convention center and, eventually, walkable dining, retail centers, parks, and open spaces. "There will be a whole lot going on," promises Roe, who compares the vision for the PGA complex to the fan experience at The Star, the Dallas Cowboys' new Frisco headquarters. It has Cowboy memorabilia, the Ford Center indoor stadium, training facilities, an Omni Hotel, restaurants, and shopping.
Frisco brands itself "Sports City USA," having attracted the National Soccer Hall of Fame in addition to the Cowboys and PGA. North Texas' Major League Soccer franchise, FC Dallas, plays at Frisco's Toyota Stadium, and professional lacrosse's Rattlers at Ford Center. The NHL's Dallas Stars practice at Frisco's Dr Pepper Arena, which also hosts professional indoor football and minor league basketball. Frisco's baseball park is home to the Double-A Roughriders (and even has a lazy-river water feature).
The first PGA Championship in Frisco is scheduled for 2027, with a second one coming in 2034, on courses that don't have a name yet. The PGA also promises to hold its men's senior champion and women's championships on the tracts, which will have practice facilities and an extra nine-hole layout. Critical to the Frisco PGA initiative was a 2017 decision to move the annual dates of the PGA Championship from August to May, eliminating the problem of searing Texas temperatures in late summer.
Omni already operates the 72-hole Barton Creek Resort near Austin, now undergoing significant renovation and expansion, as part of a growing presence in golf destinations nationwide.