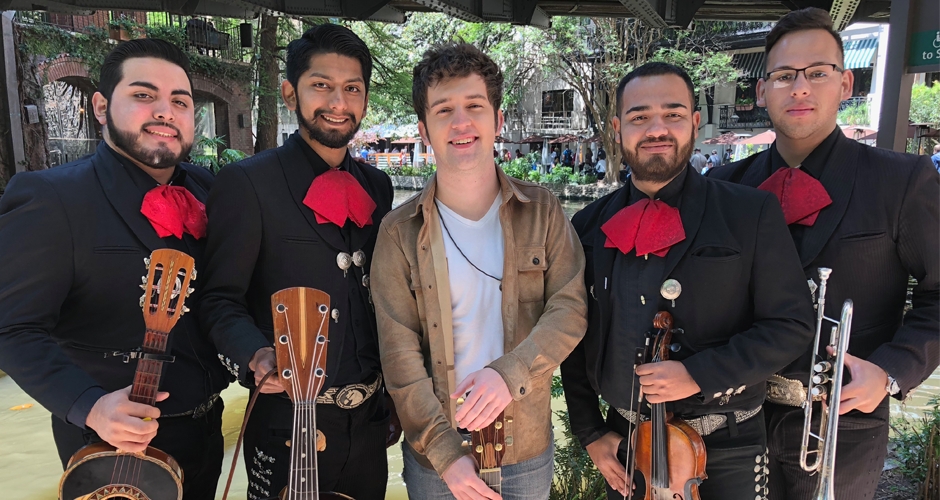 San Antonio's River Walk has a new anthem: Singer-songwriter Jefferson Clay just debuted his music video for the song "Riverwalkin'," a tribute to one of his hometown's quintessential attractions.
A San Antonio native and graduate of the University of Texas-Austin, Clay decided to embark on a music career when he was 17 years old, and his first EP landed him a spot on the Texas Music Picker's list of breakthrough artists of 2015. He is currently working on a new EP that will be released by the end of the year.
Although he's made the move to Austin, the pop-folk artist hasn't forgotten the city he called home. Watch the music video and check out our Q&A with Clay below.
Q: Where did you find your inspiration for "Riverwalkin'?"
A: I think I probably wrote the song in about an hour. I grew up in San Antonio. It was easy for me because I had spent so much time on the River Walk, and I just had such a feel for what it's like to be down there. So many of my memories are with family and friends along the River Walk. When we started doing this, I hadn't really given it much thought, but I'd spent a lot more time on the River Walk than I thought I did.
Q: What makes you proud of San Antonio?
A: I loved growing up there. It's like a cultural melting pot—there's people from everywhere. One of the things that was always so great to me about the River Walk is it's sort of like a summary of everything in the town, with all kinds of people and different types of food. Whenever I'd have friends coming from out of town growing up or family coming in from out of town, you go to the River Walk.
Q: How do you hope this song affects the people of San Antonio?
A: I hope people get a sense of pride when they listen to it. I hope they hear it and they can totally relate to it with their own experiences on the River Walk. And people who have lived there a long time and don't go to the River Walk any more because it's sort of a touristy thing, or even people that are visiting will hear it and remember the magic that everybody feels the first time they're there. It's a way to give back to a city that gave me so much growing up. We want this to be like the "New York, New York" of San Antonio—the song that sticks around for a long time.
From the September 2018 issue