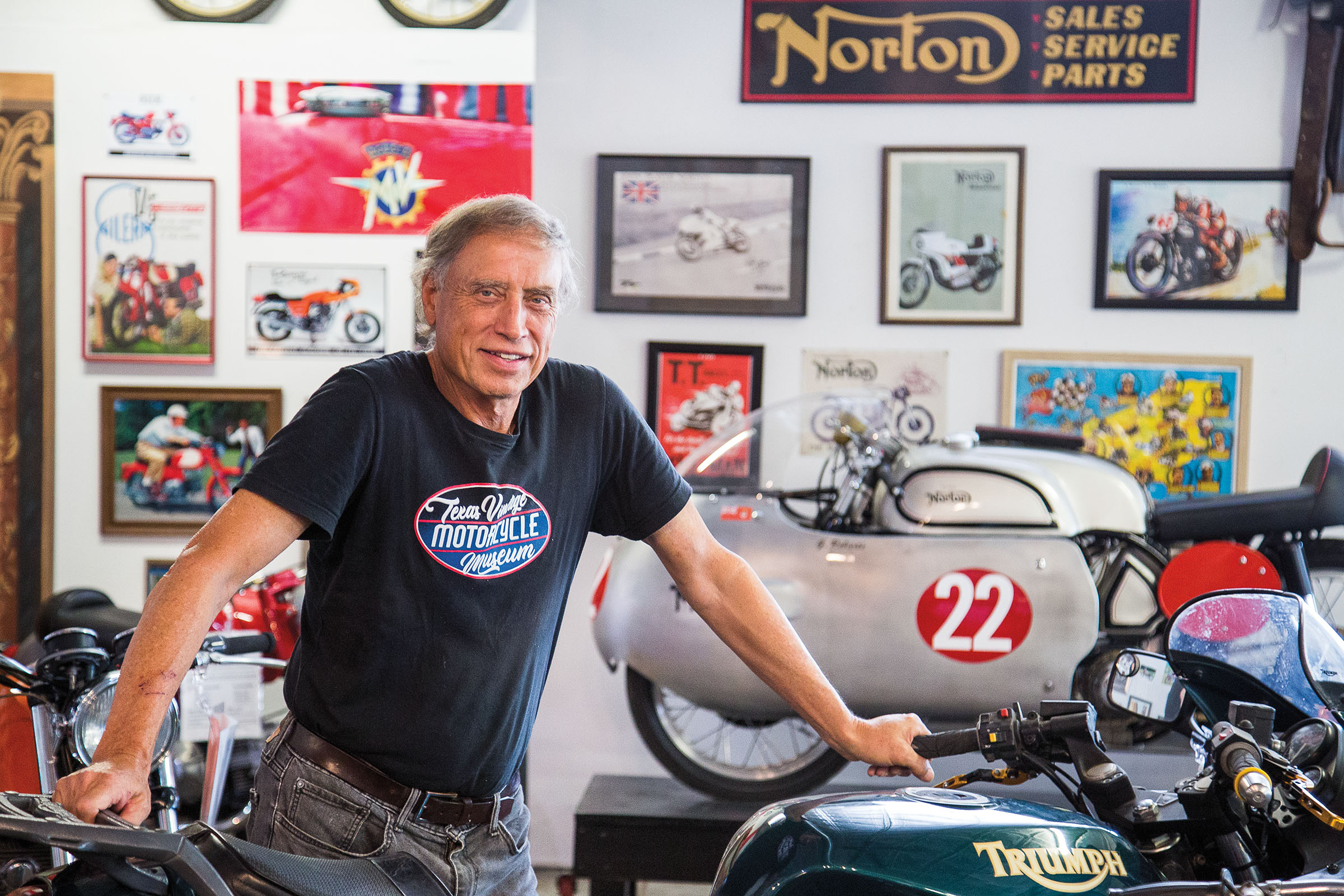 In the backroom of the new Texas Vintage Motorcycle Museum stands a 1967 Bultaco Metralla, a sleek minimalist machine of silver and black curves. Once the fastest two-stroke production street bike in the world, this Spanish beauty has an almost mythic reputation among biking cognoscenti—only 5,000 of them were thought to have been made. Riders say that when they're perched behind the Bultaco's handlebars, they're one with the road—light, fast, and free.
"This Bultaco has the right kind of curves, the right kind of lines," museum owner and bike collector Gordon Massie said. "I love the way this pipe swoops down. You see the curve of the taillight matches the curve of the tank matches the curve of the front fender matches the curve of the bikini fairing matches the curve of the tailpipe. That's art."
In 2021, when visiting his daughter who lives in the Hill Country, Massie decided to buy a historic building in the heart of Johnson City that had been a showroom for Model A Fords in the 1930s. After moving from the Woodlands, Massie opened the Texas Vintage Motorcycle Museum in the spring of 2022 to pay tribute to the art of the vehicle. Now his 81-piece collection of beauties is on display for people to admire and fantasize about the freedom of life on two wheels.
For Massie, his love for motorcycles helped him survive what may be the hardest loss of all: the death of a child. After his son, Hunter, died in 2021—just three years after the death of his wife, Barbara—Massie grappled with depression. "Have you ever heard of a long dark night of the soul?" he asked. "That's where I was." But a lifelong passion for riding, collecting, restoring, and customizing vintage motorcycles—a perfect metaphor for boldly moving forward—helped him get off the couch, sell his suburban Houston home, and move to Johnson City.
"I think it goes back to resiliency," Massie explained. "If you've had experiences where you've struggled and survived, it gives you the guts to try it again. And this was a gutsy move. I had to shoot from the hip and make all kinds of decisions and trust myself and have faith that things will work out. And so far, so good."
These are not new themes for Massie. In 1985, when he was in his early 30s, Massie was hired by American General Corp., an insurance and financial services business, where he worked his way up to executive vice president, managing billions of dollars in high-yield bonds. When American International Group bought AGC in 2001, Massie discovered inaccuracies and malfeasance hidden in their books. Digging deep to figure out the best path forward given what he knew, Massie decided to expose the fraud, a choice that resulted in professional ostracism—he lost his job and eventually won a legal settlement. In 2010, he published The Whistleblower's Dilemma, a lively read on the risks and rewards of calling out corruption. The book, which has been taught in business schools, reveals how the ethics that guided Massie link back to wisdom offered from his father, who advised Massie when he faced a tough choice as a teenager at his first job working at a gas station.
"What do you stand for—not just now, but for the rest of your life?" Massie's father asked him. A pattern emerged along the arc from Massie's first job to his struggles with AIG to how he regained his life after the deaths of family members. A 3,500-mile ride throughout British Columbia in Canada on a 2017 Honda Africa Twin bike taught him it's not about giving up but instead finding a road forward.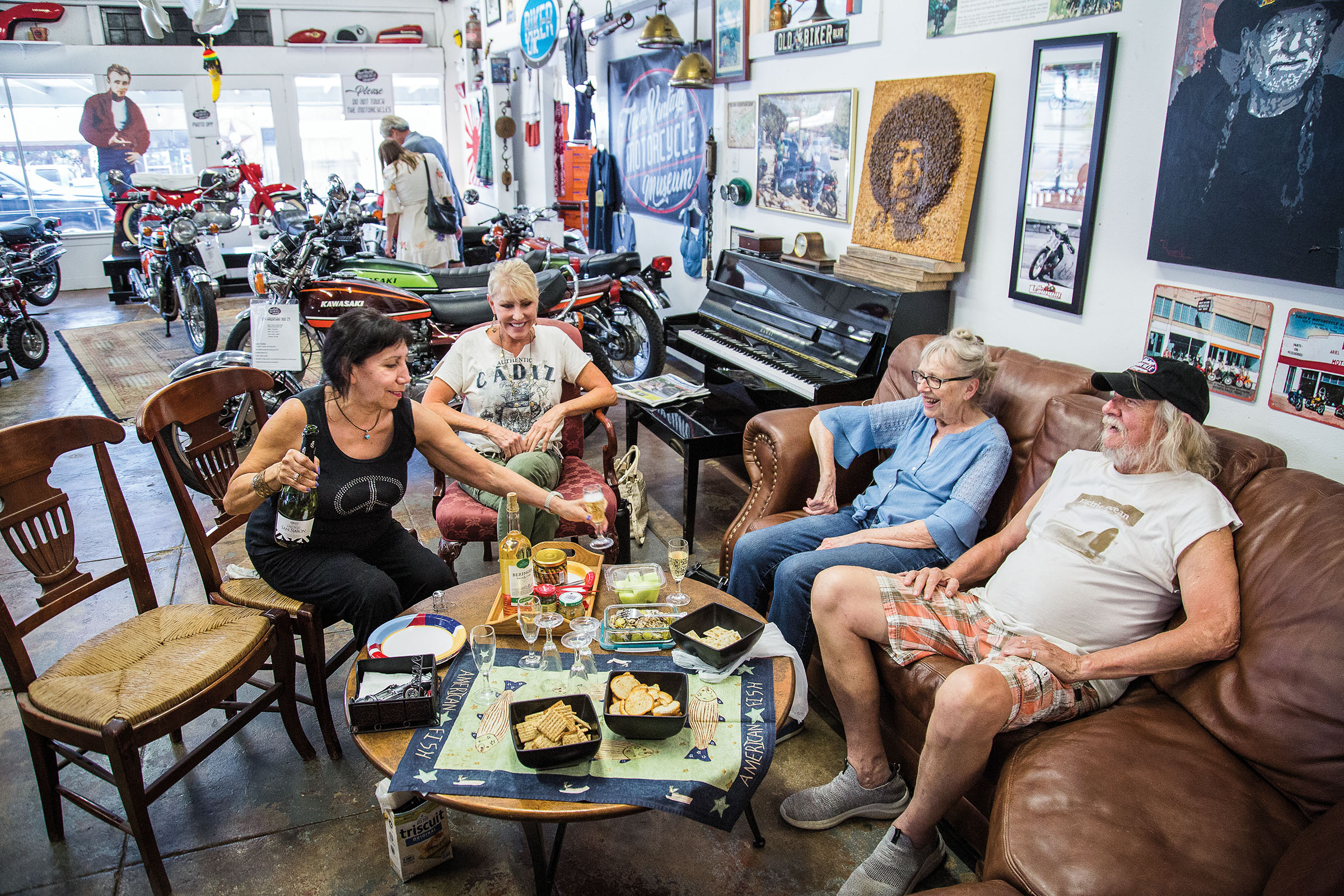 Silver block letters on a freshly painted black facade proclaiming "The Art of the Motorcycle" welcome visitors traveling US 290 through Johnson City. Under the portico that once showed off Model A Fords, safety-orange vintage gas pumps installed by Massie stand sentinel over a sitting area of couches and chairs. Once inside the museum's glass door, an elite fleet of motorcycle gold surrounds guests. Polished engines and exhaust pipes glint beneath the silver tin ceiling like a platoon of renegades awaiting their next move.
The 6,500-square-foot museum is dense with bikes from his personal collection and on loan from friends. For those unfamiliar with this world—unversed, say, in the differences between a café racer and a crotch rocket—it could be intimidating. But Massie has made these motorcycles' stories and idiosyncrasies easy to grasp. He clustered bikes by brand and country, with placards to explain the quirks and qualities of each.
Spread out in front of a Union Jack flag are old English rides like a 1955 Norton Manx, a British bike that raced at the infamously dangerous Isle of Man TT that same year. Nearby is a shiny red 1966 Lightning by BSA, or the Birmingham Small Arms Company Limited, once the largest motorcycle producer in the world. The placard notes the same make and model bike was featured in the James Bond film Thunderball.
It's hard to tell where form meets function. Which design choices were for cool points and which aim to get riders more smoothly from point A to B? Does the iconic extended front fork on a vintage Harley serve a purpose, or is it just for swagger? (Think Dennis Hopper in Easy Rider: A long front fork raises the front of the bike so the rider, in contrast, leans back low and easy behind the handlebars, his black leather boots kicked up on the foot peg). "It's mostly just to look cool," Massie admitted.
Ride On
Gordon Massie shares his three favorite motorcycle drives in Texas.
Marathon-Big Bend-Terlingua-Presidio-Marfa-Fort Davis-Alpine-Marathon Loop: SH 385, FM 170, and SH 67.
"Broad, sweeping, and meandering roads take you through the austere Big Bend world of amazing mountain vistas and arid desert landscapes along the Rio Grande."
Twisted Sisters in Rocksprings: SH 335, 336, and 337.
"Truly the best tight and twisty roads follow the river canyons and spectacular elevation changes in the westernmost part of the Texas Hill Country."
Piney Woods in Palestine, Rusk, and Alto: SH 21, 23, and 851, and US 84.
"Wide, spacious curves through the dense East Texas Piney Woods showcase the forests, lakes, and rivers."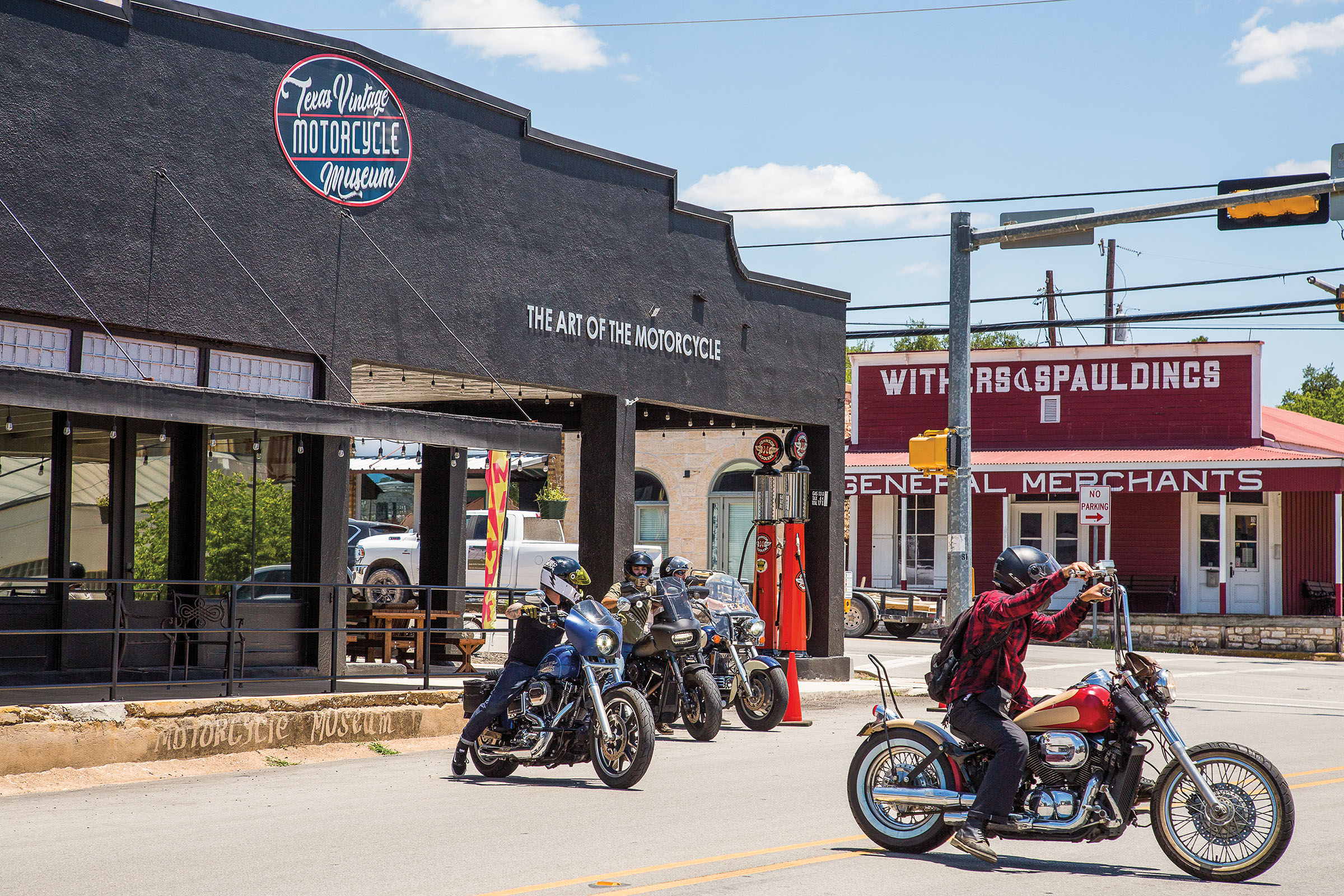 Massie's most prized bikes are elevated on risers, like Olympic medal winners. There's the glossy black 1968 BMW R60. "When you ride that motorcycle, it's like you're cruising down the highway in a La-Z-Boy," Massie said. Many of the bikes in his collection have been modified. In some cases, Massie has the stock and customized versions side by side for comparison.
While visitors can breeze through the museum in 30 minutes, they also may find reasons to spend hours. From the sign at the entrance that invites people to "Sit a Spell" to the lounge area with a comfortable leather couch, the museum offers spaces where folks can chew the fat. A team of volunteer docents, mostly retired Johnson City locals, makes a friendly crew for swapping bike stories. "People think it's the most wonderful place they've been in around here in years," said docent Paul Morris, a former biker and retired technology specialist for the McDonald Observatory in Fort Davis.
Adjacent to the showroom, the Biker Chic boutique, with an aroma of leather, sells biker boots, jackets, and other wares. Owner Liz Waller-Broyal has also operated Liz on the Square, a shop in Blanco, since 1999. She was thrilled when Massie invited her to expand to his property in Johnson City. "We have Sunday afternoon gatherings open to everyone," Waller-Broyal said. "We serve sardines, Champagne, and saltines—all brain food. The museum catches people visiting wineries, people who don't want to go home yet."
A noteworthy art piece hangs over the showroom lounge area—a rendering of Jimi Hendrix, composed of 10,000 quarter-inch wooden square dowels. It's the creation of Massie's late son. Massie tells museum visitors of the detailed, painstaking work that went into its making. Hunter's death is the great sorrow of Massie's life, he told me, and one he will always carry.
"But life goes on," Massie said, "and we all have choices to make. We can stay stuck in our grief and never get past it, or we can follow our passions and maybe things will work out. The grief doesn't go away, but you can live with it.
From the September 2022 issue