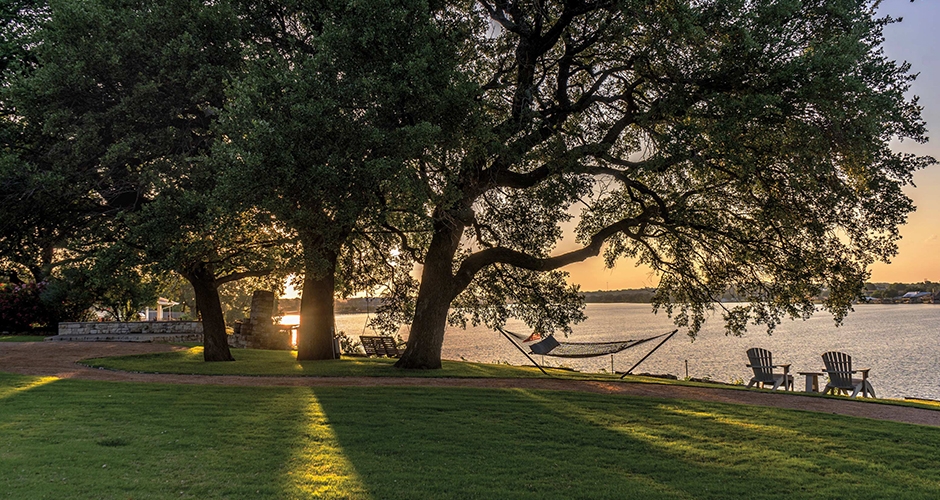 When Jim Leitch and his wife, Cathy Casey, opened the Inn on Lake Granbury in 2005, they couldn't predict their new business would dovetail with the fresh energy now infusing Granbury. While the two are too modest to claim credit, their subtly sophisticated lodging helped shift the appeal of this lakeside destination just southwest of Dallas-Fort Worth.
The Inn on Lake Granbury

205 W. Doyle St., Granbury
Rooms and suites range from $195 to $325 per night, with guest houses starting at $355 and $695.
817-573-0046
innonlakegranbury.com
Prior to the inn's debut, Granbury's prevailing charms clung mostly to a sweet, old-fashioned ambiance often associated with creaky antiques shops, tea rooms, and bed-and-breakfasts broadcasting a comfortable, grandmotherly atmosphere. That's what travelers sought in their weekend stays here. These days, however, visitors to the area are seeking splashy fun by way of new kayaking, paddleboarding, and waterskiing opportunities. Shops offer more modern choices including art, housewares, clothes, and jewelry, and a few fashionable lodgings appeal to romantic escapists or girlfriends on a getaway. The town's restaurant offerings have grown more sophisticated, too, with a bevy of wine and cocktail diversions.
When my husband and I recently made the short trip from our Fort Worth home, the inn once again proved to be a favorite antidote to city life. Settling into a pair of Adirondack chairs on a bluff rising about 30 feet or so over the lake's surface and equipped with glasses of wine, we both sighed aloud as our stress melted away. Hearing the gently lapping water and watching the occasional fishing boat slip past lulled us into a pleasant trance as we lingered in the shade of giant, aged live oaks. We'd do this every weekend if we could.
After gutting and rebuilding an 1880 home—it had previously been one of those old-school B&Bs in town for nearly a decade—Jim and Cathy opened the inn with eight bedrooms in what's now called the main house. The rooms are decorated with paintings, heavy wood furnishings, lavish upholstery and drapes, and posh bed and bath linens; some have balconies, patios, and stone fireplaces.
They also bought an adjacent property with two limestone buildings and made those into four suites with fireplaces and wet bars. Other options include a cottage and a two-story lake house, both with full kitchens, lots of room for lounging, dining and entertaining, and ample lake views. No matter which of the lodgings we've nabbed for the weekend, we're never more than a short walk to the lakeside. On our most recent stay in the cottage, shaded by magnolia and crape myrtle trees, we were just a few feet from the inn's saltwater swimming pool, a serene spot surrounded by rock, potted plants, fan palms rustling in the breeze, and stands of pink oleander that provide a bit of privacy.
The inn's appeal goes beyond looks, however: No detail is too small, such as bottled water and drinking glasses always sitting at bedside, and plenty of coffee, soft drinks, and water stocked in the suites, cottage, and lake house. In the downstairs parlor, everyone gathers in the late afternoon for wine, cheese, and hors d'oeuvres. Jim and Cathy's elaborate breakfast spreads—served in a sunny dining room attached to a small conference center that hosts retreats and wedding receptions—astounded us with its variety and indulgence, from green chile cheese grits, herbed scrambled eggs, and thick-sliced smoked bacon, to pecan-brioche bread pudding with whiskey sauce. Fresh flowers decorate each table, and all dining room seats offer a view of lush flowerbeds and, if you're lucky, a glimpse of the inn's fluffy cat, Sammy.
The innkeepers' concierge service raises the bar for hospitality, as well; Jim sits on national and state innkeeper association boards, thus his keen interest in standards, and he and Cathy are both involved in numerous local community groups. Whatever amusement guests seek in town, the couple has ideas at the ready. The beautifully renovated, historic opera house is a favorite, with musicals and plays performed by the Granbury Theatre Company and tribute shows in between (think cover bands playing music by the Beatles, Chicago, and the Eagles, among others). Most recently, they steered us to Eighteen-Ninety Grille & Lounge on the courthouse square, which proved a far more upscale experience than expected in a small town with its fine preparations of the ahi tuna appetizer and seared duck breast entrée.
If you're looking for a popular local hangout, Stumpy's Lakeside Grill is tops. Claiming a waterside picnic table, we tore into grilled fish tacos and sweet potato fries while watching ducklings paddling behind mama ducks. The "sweet shack" offers gorgeous temptations in the way of picture-perfect cupcakes, and a boutique sells everything from fashionable flip-flops to Yeti coolers. Stumpy's adjacent business, Lake Granbury Marina, rents pontoon boats, stand-up paddleboards, and one- and two-person kayaks. Marina staffer Wendy Crawford promises that anybody, including kids, can become kayaking experts after her quick, informal lessons.
Looking for another way to entertain ourselves by the water the next day, we wandered into the nearby Rockin' S Bar & Grill, which sits on a floating dock close to the US 377 bridge. As we shared fried pickles and chips and salsa while sipping big, frosty mugs of Blood & Honey, the renowned American ale from local Revolver Brewing, we watched folks heading out from Sam's Dock next door. That's the place to rent ski boats, Waverunners, and the Craig Cat, a little two-passenger boat the staff likens to a James Bond-esque nautical sports car.
So much fun in the sun can wear you out, but we mustered a second wind for a late-afternoon tour and tasting at Local Goat, a new distillery in town. Enjoying appetizers and the refreshing Billy Goat Gimlet, incorporating botanical vodka made on-site, we settled in for live music and toasted to Granbury's new vitality.
From the August 2018 issue