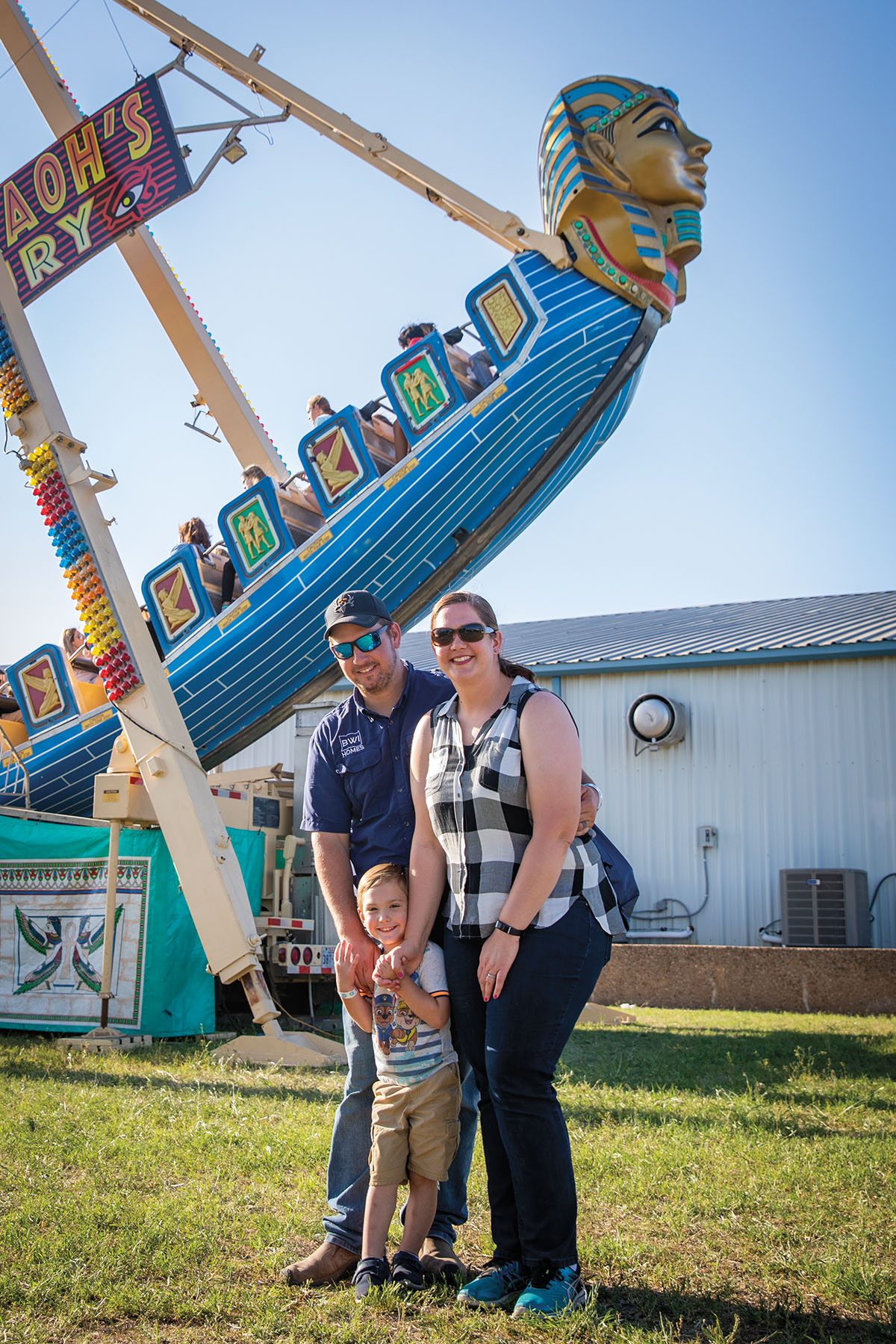 F
or a moment, Barrett Feller might have been the happiest 3-year-old in Texas as he ran ahead of his dad, Ronnie, to catch up to his mom, Renae.
"Go on now," Ronnie prompted, "tell her what you did."
"I rode that!" Barrett announced, pointing behind him at Pharaoh's Fury, a colorful metal contraption festooned with lightbulbs. You'd recognize it instantly: a traditional carnival ride designed to induce centrifugal terror in amusement park fanatics. Willing participants get strapped into an open-air canister meant to resemble a royal Egyptian riverboat before the machine conspires with gravity to swing in semicircles both exciting and terrifying. Pharaoh's Fury had inspired a newfound sense of bravery in Barrett, who shined like the sun with pride.
"What are you going to do next?" his parents inquired.
"The Tornado!" Barrett shouted. It was the first carnival he had attended. This was April, when vaccine jabs were getting into arms and life was getting back to normal. The 38th Annual Bluebonnet Festival, an affair that draws 30,000 to the small Central Texas town of Burnet, was back on after being canceled in 2020. That meant the Mighty Thomas Carnival, a family-owned-and-operated traveling carnival based in Austin, could go back to work.
For the Fellers, the Bluebonnet Festival was a good excuse to get out of the house and eat powdered funnel cakes while listening to the 1st Cavalry Division Band perform a cover of the Grover Washington Jr. jam "Just the Two of Us." The point of a weekend festival like this is to check out the craft booths, buy a jar of salsa, and postpone the diet until Monday. After a year of elbow bumps, social distancing, and wearing masks to buy Cheerios, dang it, it was time for a corn dog—maybe two.
Festivalgoers paid no attention to the great and powerful Ozzes who were making all the fun happen behind the curtain because their eyes were rightfully drawn to the Tilt-A-Whirl and the Sugar Barn. The fourth-generation family who operates the Mighty Thomas Carnival pulled the levers from an unassuming trailer serving as the weekend headquarters. The day before, they had sold their second-most ride admissions on a Friday at the Bluebonnet Festival since 2004.
In a pre-pandemic year, this was a regular stop on an annual migration that took the Mighty Thomas Carnival around Central Texas and the Rio Grande Valley before heading north into the Midwest and across into the Dakotas and Montana, then heading back through Utah, Arkansas, and Louisiana. By October, the show would return to Texas. The carnival always did a Christmas festival in Round Rock and Washington's Birthday Celebration in Laredo in February, but COVID-19 canceled both. After a year mostly in lockdown, it's scheduled to hit 36 locations in 2021, compared to roughly 50 in a normal year. The sight of kids rushing from ride to ride at the Bluebonnet Festival was a sign the family business would survive.
"This feels normal," said John Hanschen, the family patriarch and a member of the Outdoor Amusement Business Hall of Fame. "People are ready to have a good time."
In March 2020, the carnival was set up in the Dell Diamond parking lot in Round Rock. "They hadn't shut anything down yet," said Katherine Petree, Hanschen's daughter, who handles general management and oversees the food concessions with her husband, Brandon Petree. All baseball activity in the stadium had been canceled, and still the carnival stayed in the shadow of an empty ballpark, hoping the show would go on. Finally, county health officials asked them to shut it down.
"We thought it would be over quickly," Hanschen said, "because the president said it was gonna be over quickly."
"I didn't think that," Petree admitted.
That summer, they took a smaller version of the carnival up north through the Dakotas and Montana, always staying just ahead of rising infection rates. As they went along, they devised the rules about social distancing on carnival rides and daily temperature checks for the workers based on Centers for Disease Control and Prevention guidance. The Glass House attraction got left behind, but the Ferris Wheel, a 19th-century invention perfect for a 21st-century plague, made the trip.
Fun and Games
Katherine Petree of the Mighty Thomas Carnival shares how to walk the midway and come out a winner.
What to ride:
"The Zipper, a classic carnival thrill ride since the '60s. You never know which way you will spin."
What to play:
"Shoot Out the Star. No permit needed to play."
What to eat:
"Chocolate éclair funnel cake—Bavarian cream, whipped cream, chocolate drizzle. Or a candy apple with Tajín."
For more about the carnival, visit the Mighty Thomas Carnival on Facebook.
"We had to make decisions about a theory that hadn't existed before," explained Hanschen, who thought by the fall the South might be open again. But ultimately, they could not outrun the pandemic.
"The wave of COVID was cresting behind us," Petree said. "When we got done with Salt Lake City, it was a hard finish in that there was nothing, no other event to go to. So, in September we just came home."
Wartime rationing had only slowed the carnival in the '40s. Later, polio outbreaks forced the cancellation of some events, and once the carnival was barred from entering a state because of a livestock disease. Now a new disease was sending the Mighty Thomas Carnival home for a longer-than-expected off-season.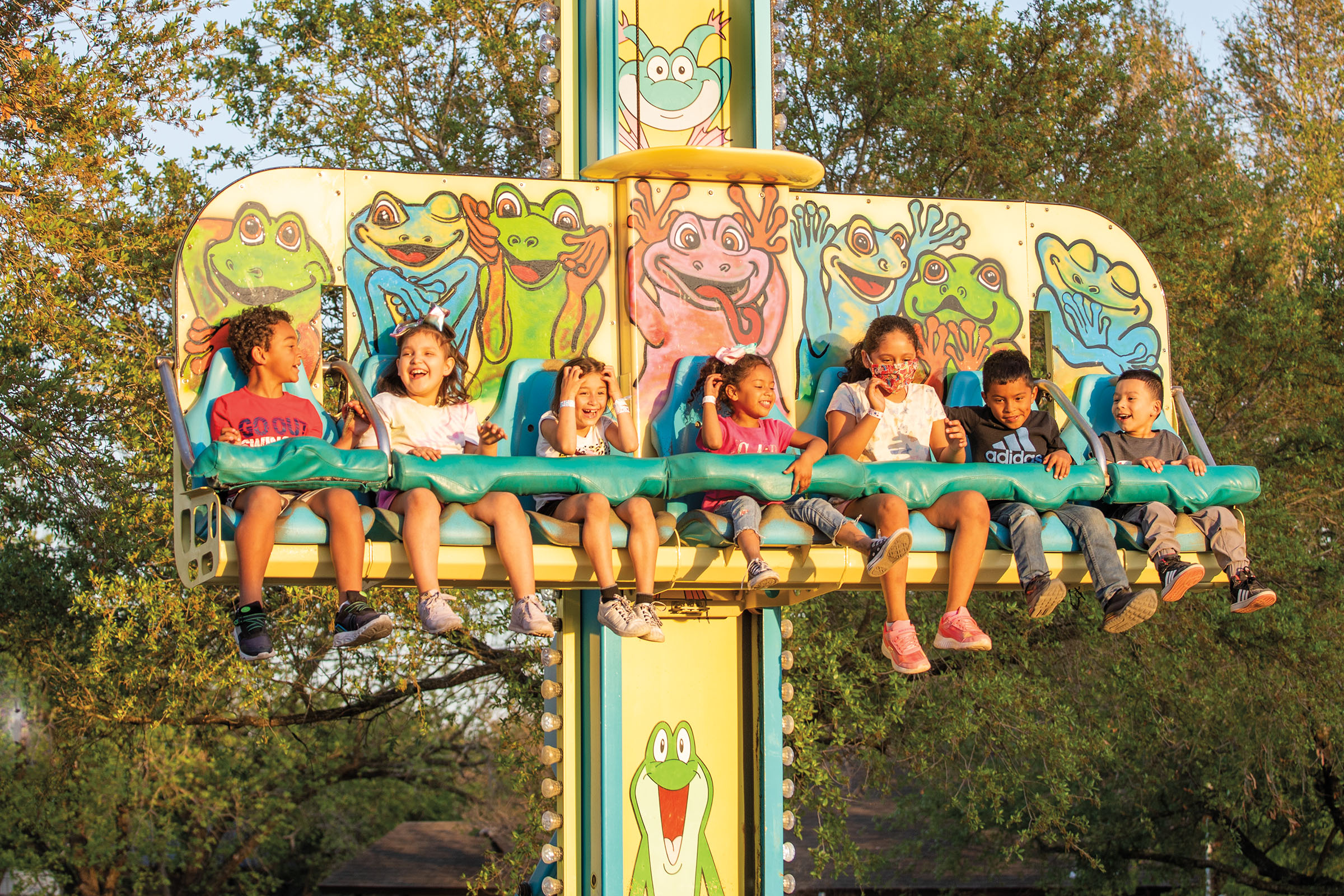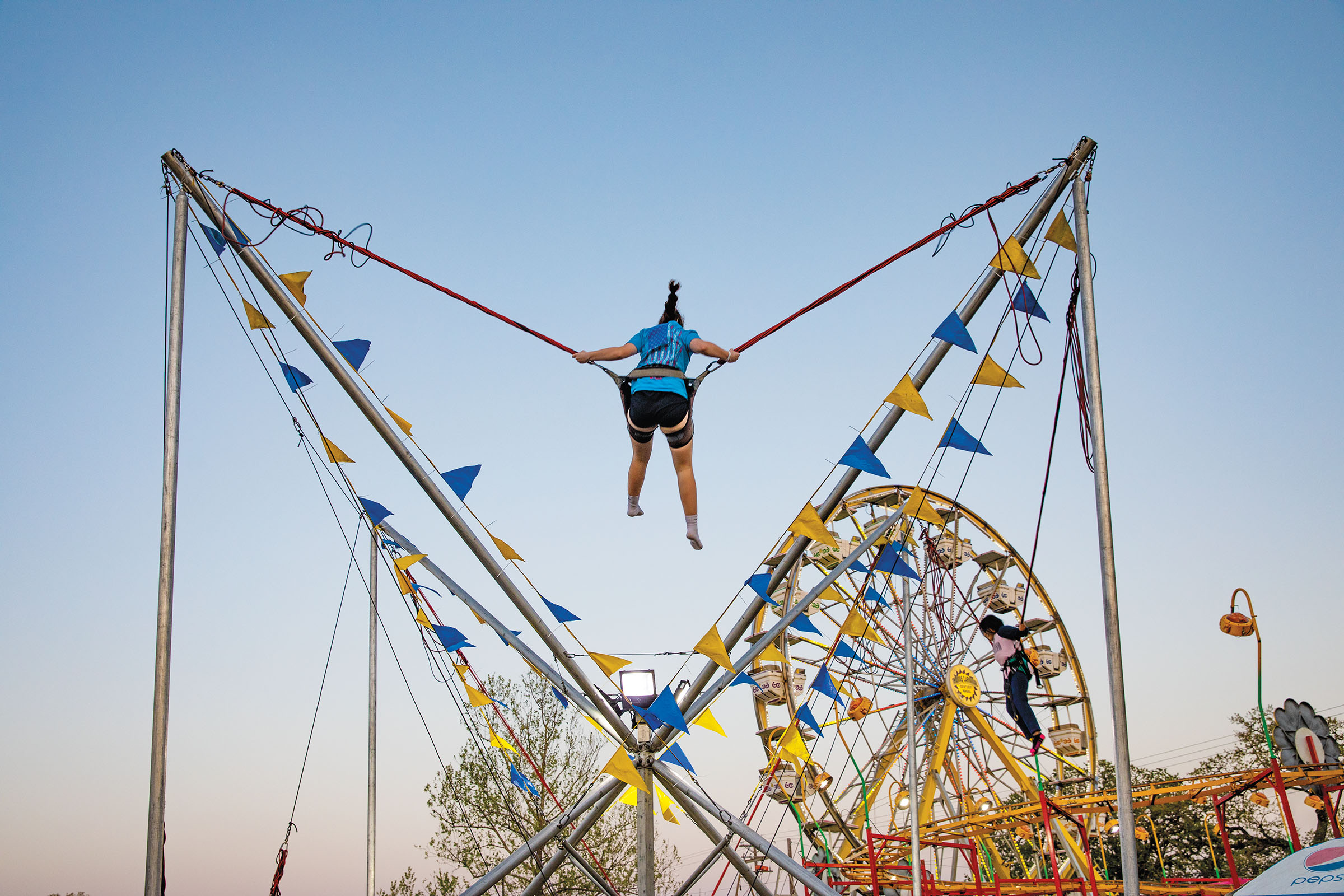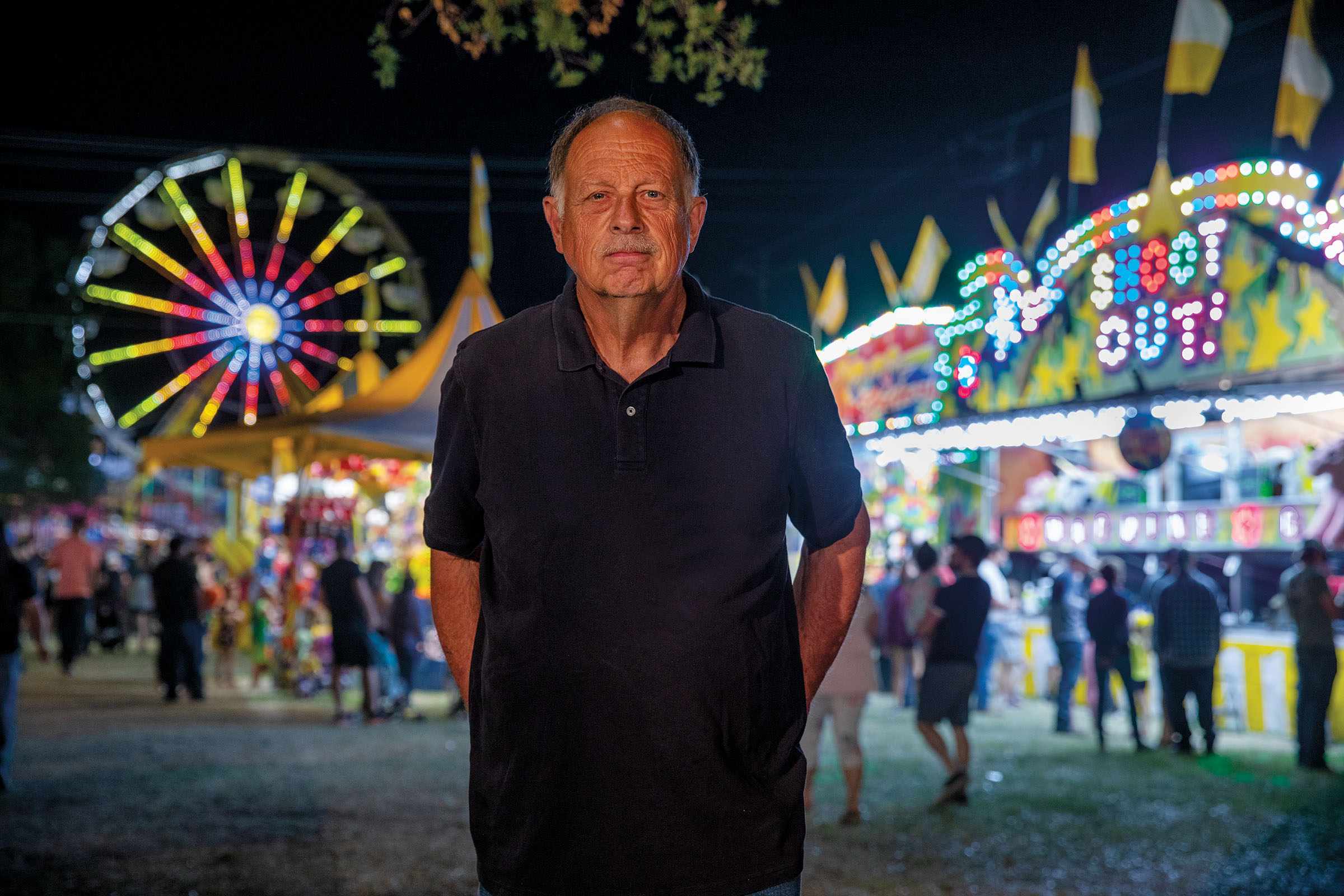 In 1928, Art B. Thomas, the son of German and Dutch immigrants, founded the Thomas Carnival in Lennox, South Dakota, with just two rides—a No. 5 Eli Bridge Ferris Wheel and a Parker Carousel. Back then, oddities and curios like monkey shows, acrobatics, and wrestling competed with the rides. Art expanded the business steadily through the Great Depression, and as tastes went away from side attractions to mechanical rides, his hustle and growth mindset paid off. By the time World War II hit, the carnival had 40 trucks and 160 employees; it added "Mighty" to its name in the '60s or '70s.
When Art's nephew Bernard came home from the war, Art retired and handed the carnival over to him, and Bernard continued to aggressively expand the business. In the early '70s, Bernard invented the Universal Ticket System, which created a uniform ticket for games and rides. And in '77 he moved the winter headquarters to Austin to take advantage of the South's longer operating season. Bernard retired in '86 and handed the business over to his sons-in-law, Tom Atkins and Hanschen. Before the pandemic, the carnival offered 50 rides, 50 games, and 15 food concessions. A new generation was making its mark.
But then COVID-19 foiled everything. By the time they had shut it all down in autumn 2020, revenues had dropped 80% for the year and payroll was cut in half. Without the federal relief that came in April 2020 and January 2021, Hanschen said, the dozen or so carnival companies of Texas would not have made it to 2021, when things began to open back up.
The family missed the busy days of working hard to make sure everyone had fun. They missed traveling from town to town and seeing the different parts of the country. But did people miss the carnival? The first 10 stops on the usual tour remained canceled this year. And even with vaccinations rising in March, they worried about the Bluebonnet Festival in April. Were people ready to get together in large groups again?
"It's not really like a music concert where people buy tickets in advance," Hanschen said. "You don't know who's going to show up."
But there ended up being no cause for concern. Amid midway booths called Dizzy Dragons and Fun Zone, social orders that had been submerged under quarantine were quickly reasserted. Dads in novelty T-shirts wore determinedly amiable expressions. High school couples held hands. Packs of teenage girls walked in formation. There wasn't a victory-over-COVID celebratory vibe, just a reversion to the pleasant, amused norm of the carnival being back in town.
"You're gonna win no matter what!" called out carnival worker Tomekia Jones as stray middle schoolers wandered by Lucky Ducky, the game where you are theoretically able to throw small hoops onto plastic ducks floating in a small pool. A successful toss has never been witnessed or recorded in human history, but still, every toss, accurate or not, wins a prize. Yes, everyone's a winner, and Jones should know. She has, after all, been working this carnival for the last seven years.
"I love it to death," she said. "I'm gonna make sure the kids are happy."
From the August 2021 issue