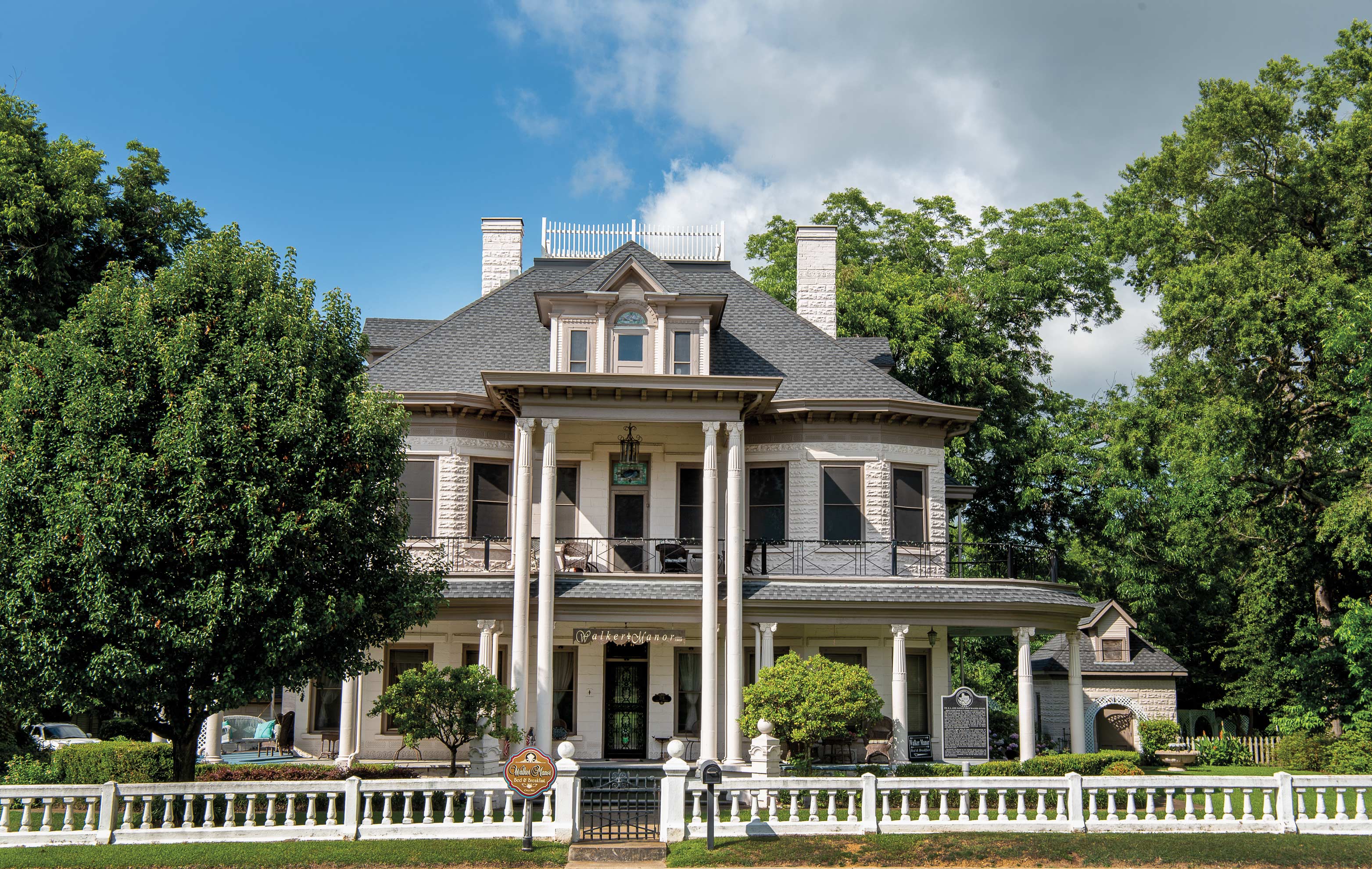 In the town of Gladewater about 30 minutes east of Tyler, a stately mansion from the turn of the 20th century sits two doors down from the opry house. Memori and Matt Ruesing purchased the three-story neoclassical home in 2009 and breathed life into it. The couple named the property Walker Manor Bed & Breakfast for the original owners, physician and pharmacist Edgar Walker and his wife, Nancy Walker.
A two-story portico commands the front of the mansion, which faces the railroad tracks, and a gorgeous, hand-carved wooden staircase dominates the interior, running from the ground floor to the widow's walk on the roof. During a tour of the house this spring, Memori—a schoolteacher and history buff—stopped and pointed to the paint that had begun to wear away from a finial on the staircase's handrail. "See how it's worn here?" she asked. "My husband says we really need to paint that. But you know, how many people through the years have touched this?"
There's no telling. Gladewater was founded as a railroad stop in 1873. After wildcatters struck oil nearby in 1931, the town's population swelled from 500 residents to about 8,000. Housing was so hard to come by, the Walkers' heirs leased mansion rooms to families of oil workers and rented cots on the second floor for 25 cents a day. "You had all these people moving into what basically became a boarding house," said Memori, who estimates as many as 40 to 50 people could have been living there on any given night at the height of the boom.
The Ruesings both have full-time jobs and run Walker Manor as a labor of love, pouring their profits into the ongoing restoration of the mansion. "The people who come here are so sweet, and they're enamored by the house," Memori said. "They end up coming back and becoming our friends. You don't buy an old house, nor do you run a bed and breakfast, to make money. You do it because you love service, you love being with people, and you love and value the craftsmanship, the history, and the memories of the house."
Walker Manor takes care of breakfast, of course, with fluffy grits soufflés as its signature item. For dinner, The Central Station, a restaurant and brewpub with 36 Texas beers on tap, opened last summer across the tracks and one block west of Walker Manor.