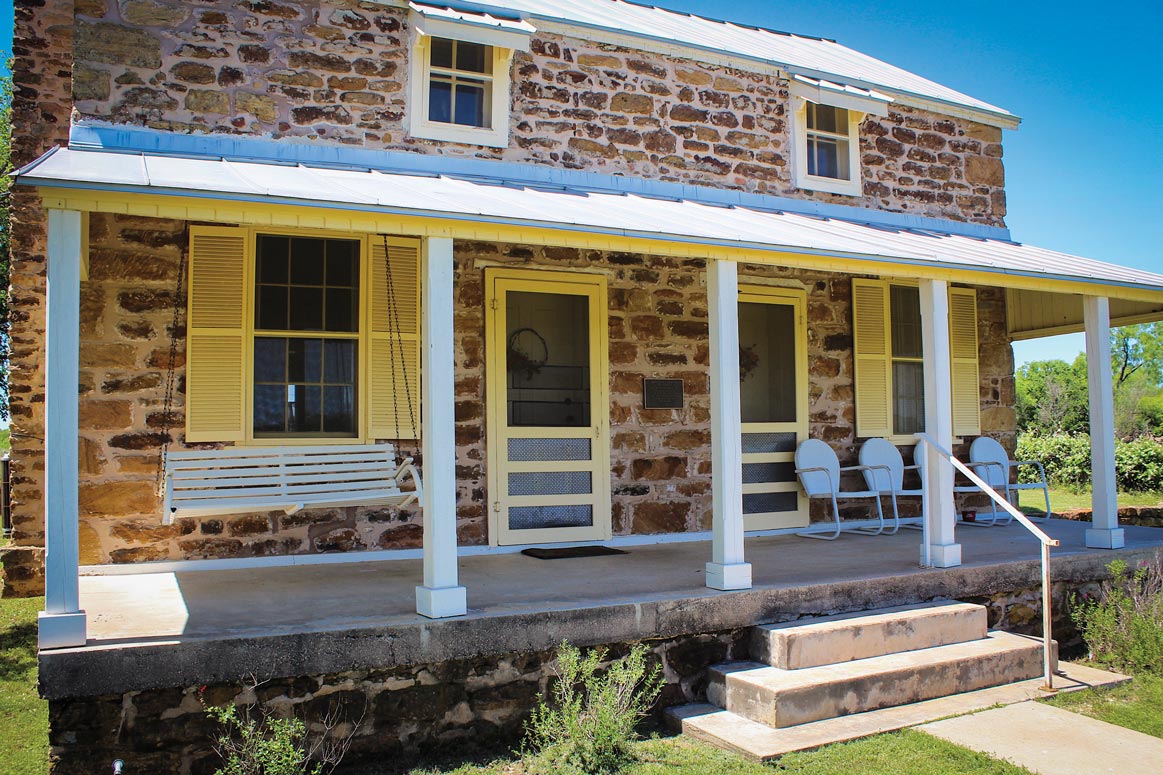 When grandma wakes up on a deflated air mattress and half the cousins are banished to the kids' table, Christmas might be too crowded. Enter the home rental, where extended family can gather under one roof, everyone has a bed, and the dining table is big enough for all. For something even more special, look for houses that pack history in locations featuring plenty of festivities and activities, helping to create lasting memories—the perfect gift for the entire family.
Hill Country Holiday
Come December, lights line the photogenic Mason County Courthouse and the shops around its square. Many of those shops also decorate their windows and plan special events for the holidays—red wine and chocolate tastings, music, and sales to name a few. Nearby, lights also adorn the ornate, historic Seaquist Mansion every evening. Locals appreciate the town's low-key approach to the holidays, and families looking for a quieter, less-hectic time will, too.
The Hasse House, a German-style rock farmhouse built in 1883, is a little slice of peace on Earth. Its wide front porch faces a 320-acre pasture bordered by tree-lined Willow Creek and a 2-mile trail for exploring. Inside, the house retains original pine floors, and its stone walls bear photos of the first owners, Heinrich and Fredericka Hasse, and their descendants, down to the great-great-grandchildren who still own it.
The kitchen, which gained running water and electricity in the 1940s, has plenty of space for holiday meal-making and a shelf with a variety of games and puzzles to enjoy on the large table. The circa-1890 Art Methodist Church across the road held services in German until 1937, but families attending this year's Christmas Eve service will hear it in English.
On the square in Mason, Lea Lou Co-op serves build-your-own pizzas, salads, and gourmet sandwiches in a spacious old storefront, and Murphy Creek Cellars offers a wide selection of Texas wines and wine-related gifts. The restored Odeon Theater shows movies Friday through Monday evenings and hosts live music some Saturdays. Restored officer's quarters at Fort Mason house a mini-museum, and the stone building's breezeway has one of the best views of the festively lit town. Fröhe Weinachten!
Hasse House sleeps six from $150 per night.
Yule out Yonder
The incredibly dark night skies, on-site telescope, and four chimneys at the Star Gazer's Inn, a 137-year-old adobe hacienda, inspire a new family tradition—watching for Santa's sleigh.
Lawrence Haley built this house and ran sheep on some 50,000 acres here in the shadow of Cathedral Mountain, the southern tip of the Glass Mountains near Alpine. Haley never married and left the property to his foreman, George A. Brown, grandfather of current owner Tracey Reider.
A rock wall and oak trees surround the four-bedroom home (plenty of beds for all the kids), and 15-foot ceilings plus doors and windows between all the rooms—remnants of the days before air conditioning—create a spacious feel and make for epic games of hide-and-seek. One of the best features, though, is a long, wide screened porch with a fireplace and view. You could spend the entire holiday sitting there, leaving only for nightly forays onto the lush lawn to gawk at the stars—and for meals, of course.
Christmas in nearby Alpine officially kicks off in early December with a lighted parade, hayrides, and shopping specials, followed by a Christmas bazaar the following weekend. Trees along the railroad track and historic Holland Avenue sport lights, as do many local businesses, Sul Ross State University, and historic Murphy Street across the tracks. There, the 1886 Hotel Ritchey recently reopened as the Ritchey Wine Saloon and Beer Garden, where a wraparound porch offers a great place from which to view all the festivities. Or to watch for Santa.
Star Gazer's Inn sleeps 10 from $250 per night.
More Houses with History
Galveston
The Belle of Ball Street survived the infamous 1900 hurricane and features a grand staircase, soaring ceilings, and balconies on all three floors, not to mention a dining table that seats up to 16 people. Built in 1894. Sleeps 16 for $325-$450 per night.
Rockport
The two-story R.H. Wood House overlooks the harbor from the Heritage and Cultural Arts District. Walk to the beach or lounge around an outdoor kitchen and heated pool. Built in 1868. Sleeps 13 for $483.
Fort Davis
Sit by original brick fireplaces or take in views of Sleeping Lion Mountain from the front porch under century-old pines at the Webster House a couple of blocks from dining and shopping. Built in 1898. Sleeps 8 for $158.
From the December 2018 issue