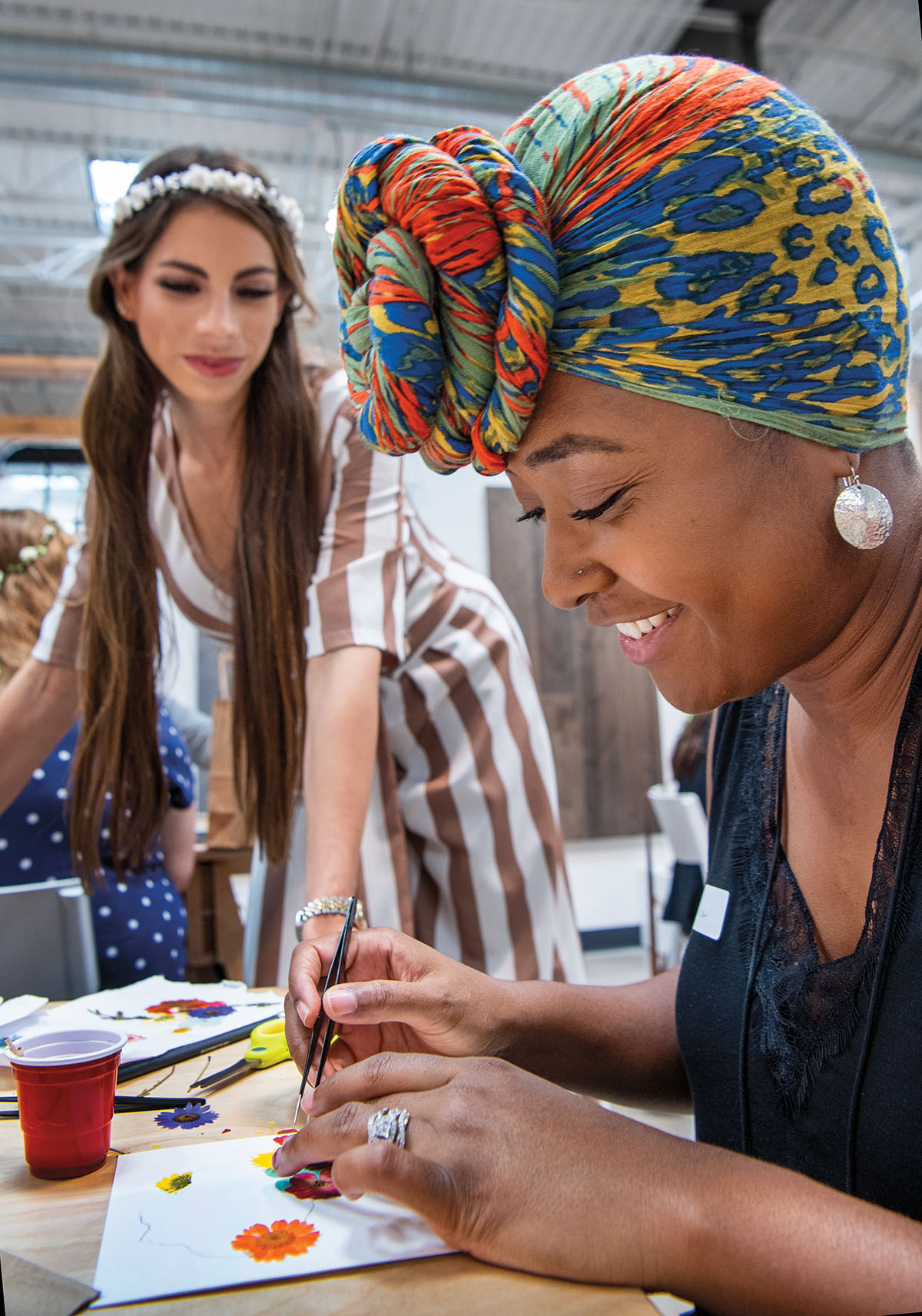 It's late morning on a sunny Saturday in North Texas, and 30 women are gathered in the midst of an upscale home improvement retailer, engaged in lively banter. Stationed nearby is a tower of donuts, boxes of handcrafted chocolates, and a three-gallon beverage dispenser filled with mimosas. Each guest also has been given a small goodie bag and a delicate garland of artificial flowers to wear on her head. Suddenly, the hum of conversation grows quiet as a young woman steps forward to kick off the event.
"I am so glad to see you all here," says Andrea Castaneda, weaving her way through the cluster of tables at which her guests are seated. Wearing a striped chiffon jumpsuit tied with a loose sash, the 20-something artist and her outgoing co-host, Mariah Demery, a local foodie influencer, invite the guests to partake of the high-carb delicacies, but it's Castaneda's expertise they really came for. Through her Instagram account and appearances at local markets, she has garnered a significant following of fans and patrons who are enchanted with her artwork, intricate pieces made of pressed flowers that preserve special moments in time. This morning, she will be giving a two-hour hands-on tutorial so those gathered can each make a piece of art to call her own.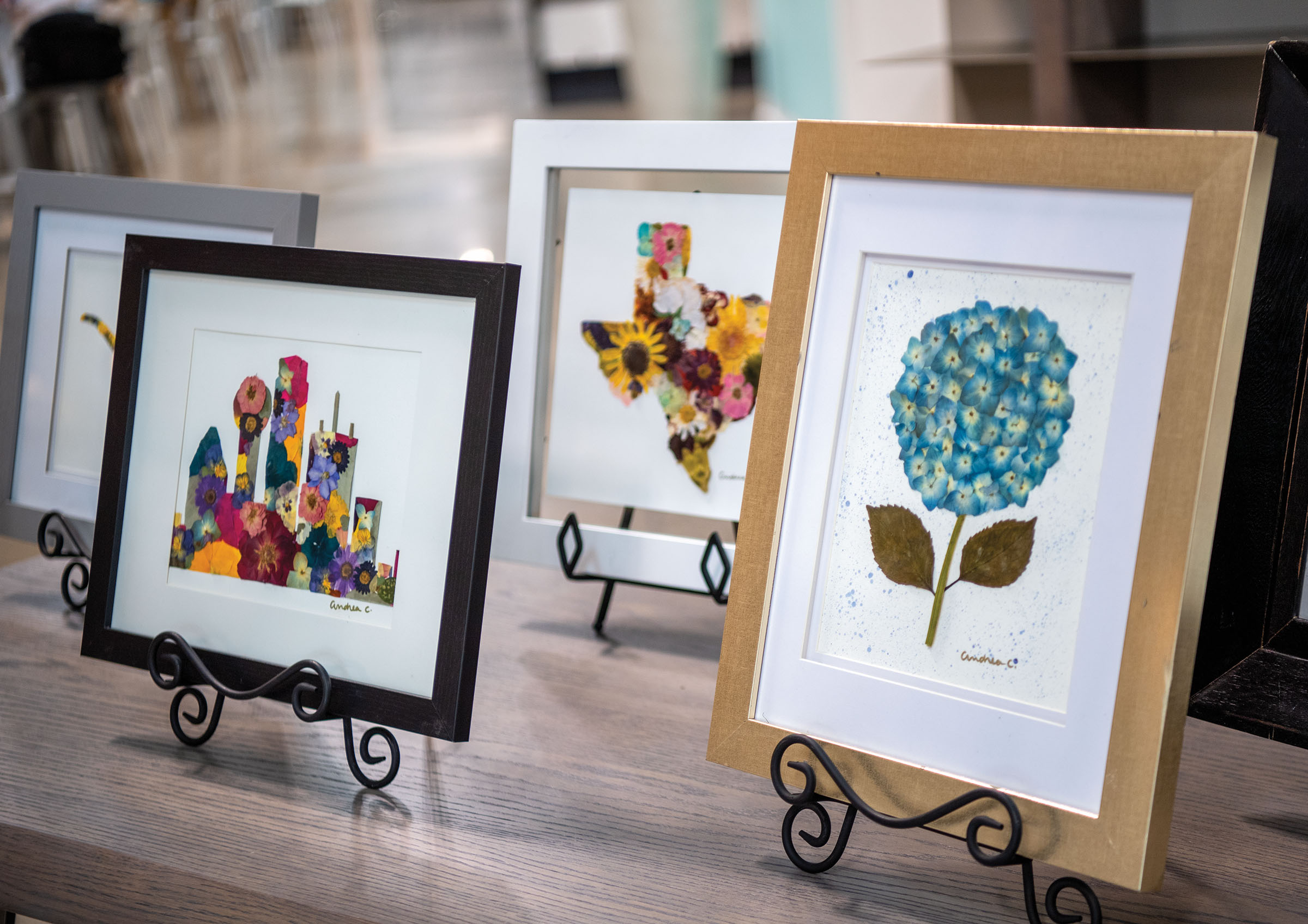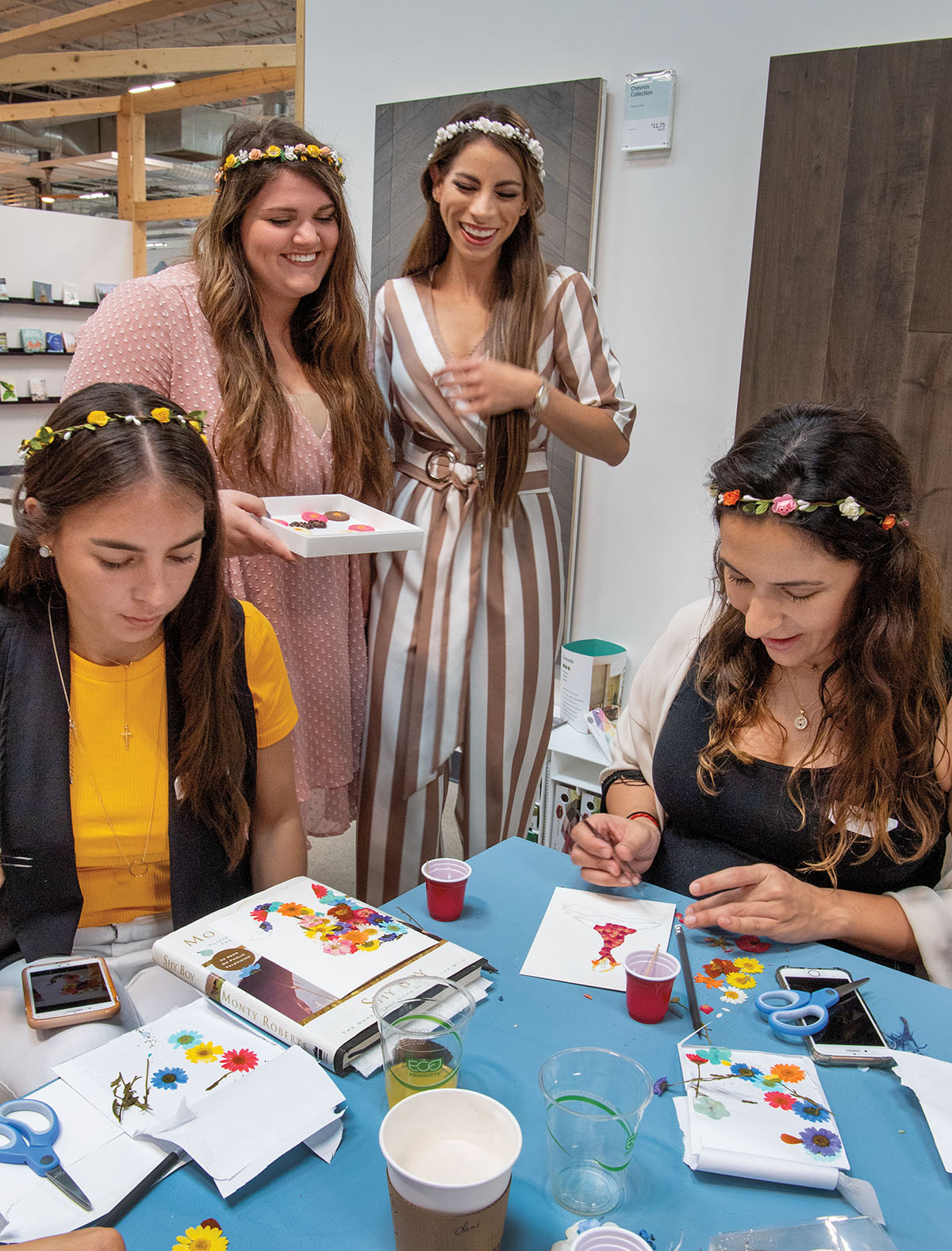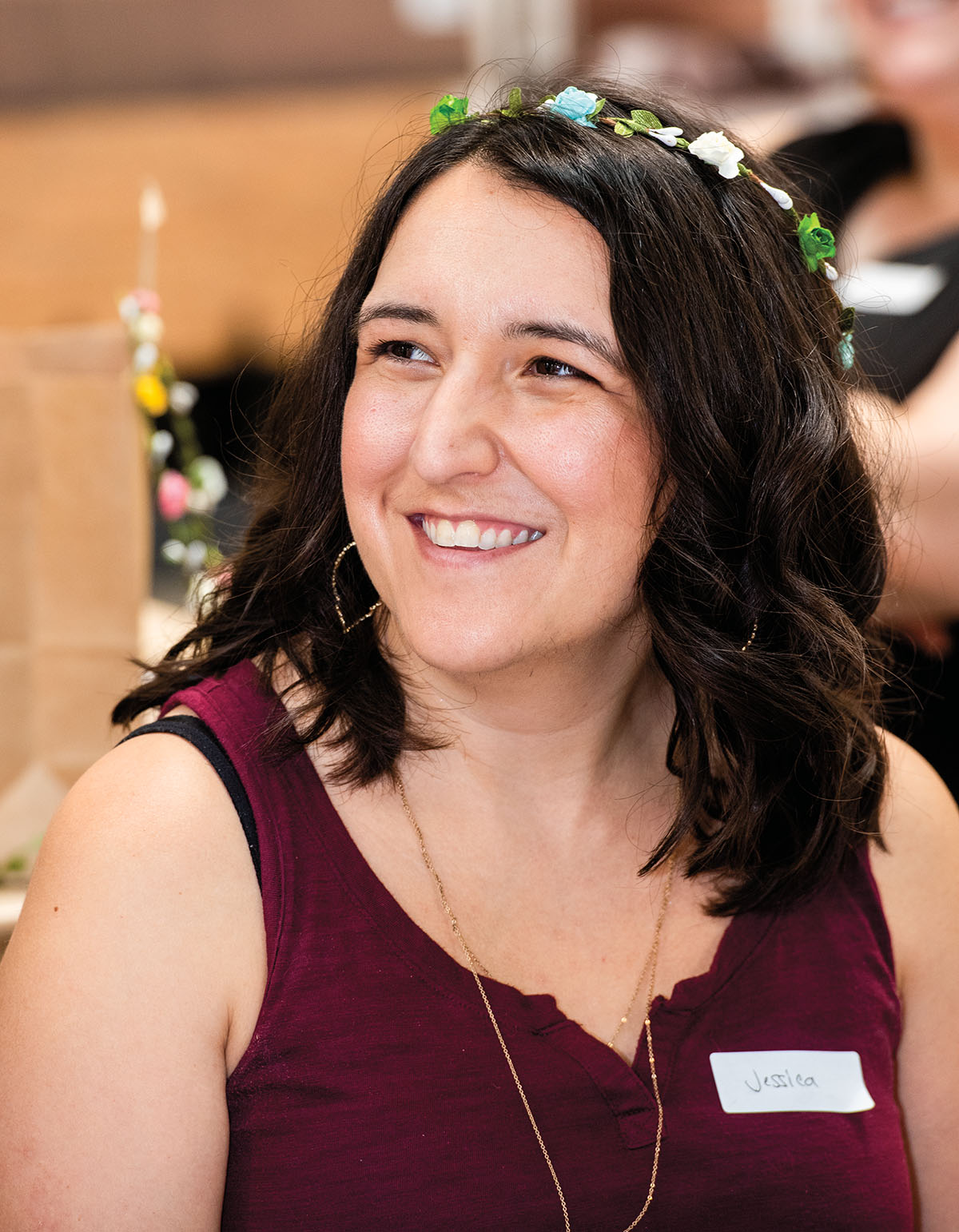 Cultivating Talent
Castaneda started doing the art as a hobby to pass the time on evenings when her boyfriend would work late. "His grandmother used to press flowers. I thought it was very interesting, so I tried it myself," Castaneda says. She learned through trial and error, experimenting with different designs. "There's a learning curve. Sometimes, I would press flowers and 70 percent of them would have to be trashed," she admits.
As her skills improved, Castaneda shared her work on social media, and a fan base began to take shape. Initially, she made pieces for friends and family, then a bride reached out through Castaneda's Instagram account. "She wanted me to make something from her bridal bouquet," a huge cluster of wildflowers bursting with color. Drawing inspiration from a wedding photo, Castaneda painted an abstract portrait of the bride's young flower girl and used pressed blossoms from the bouquet to create her dress. The client was so impressed she commissioned Castaneda to create additional pieces for her parents and in-laws.
Earning an income from her work came as a surprise, admits the entrepreneurial artist, who at one time planned to pursue a career in fashion design. "My mom was always supportive of everything I did, but she wanted me to have a business degree first," she says. Honoring her mother's wishes, Castaneda earned a degree in marketing from the University of Texas at Dallas and landed a job managing communications for a large flooring company. She stayed there for more than six years, developing her burgeoning business on the side toward the end of her tenure. This past summer, she finally stepped out, leaving behind the security of a full-time job to pursue her passion.
"I went to my first BoHo Market [in Dallas] in August 2017 to see how it was," recalls Castaneda, and then she debuted her artwork at the market three months later. She did brisk business, selling originals as well as prints and posters, and found a home in the community of local artists. Castaneda also found joy interacting with new clients. "Most people think they're just paintings, and you have to explain that these are real pressed flowers and they are sealed so they will retain their color," she says.
From Stem to Frame
Castaneda works out of a spare room in her Dallas home and grows most of the blooms in her front yard, changing out plantings with the seasons. The process of creating her one-of-a-kind pressed flower pieces is not complicated, but it requires both an artist's eye and a saint's patience.
Castaneda lays trimmed blossoms of pansies, daisies, and other small flowers flat between paper towels or sheets of Kraft paper, which she sets beneath heavy books to dry. For larger blooms, like roses and sunflowers, she uses homemade presses crafted of cedar wood and metal bolts. Sometimes she will take a flower apart, painstakingly laying out each petal on the paper for pressing, then put the blossom back together as she creates her art. In every case, the flowers stay put for six weeks or more.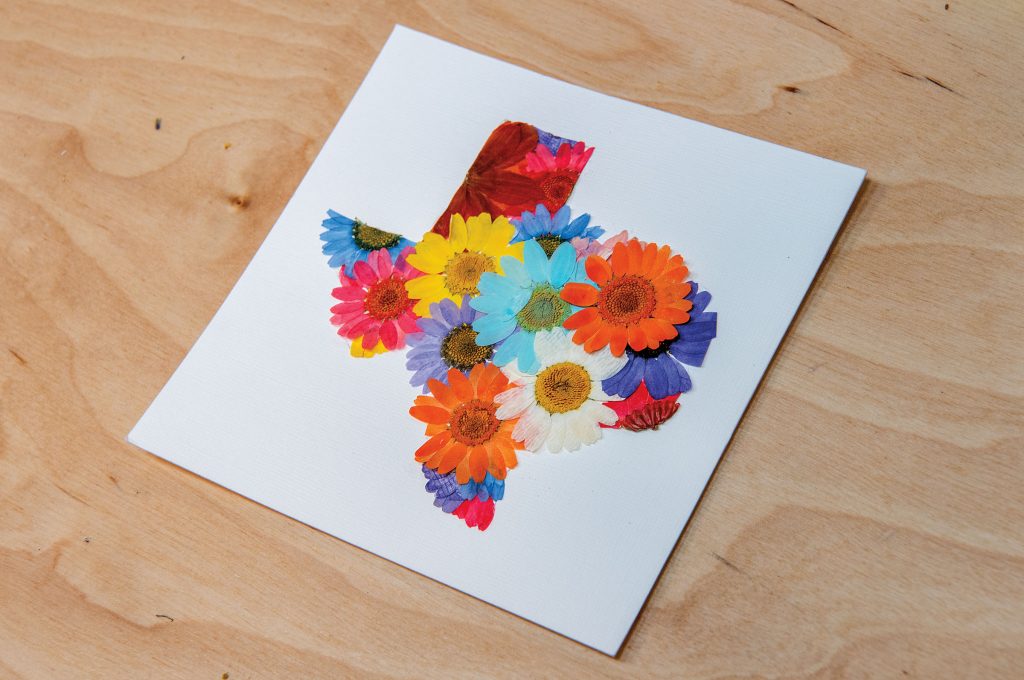 Her clients often request specific designs, while other pieces are inspired by nature or artwork she has enjoyed. After creating a sketch, Castaneda fills in the outline with pressed flowers and captures a snapshot before taking everything apart. Then she glues the flowers, petals, and leaves in place one by one, gingerly transporting them from table to paper with tweezers. Creating even a small piece takes three hours or more.
She sells her work through her website and at local artists' markets, with original designs starting at $50. "Right now, I have a lot of flowers in inventory, so if someone asks for a piece, I can turn it around in two or three weeks," Castaneda notes. She also offers prints and greeting cards, as well as frequent hands-on workshops.
As Saturday's class comes to a close, gleeful guests spend several minutes taking selfies with their handiwork. There are butterflies and hearts, turtles and cacti, all bursting with color. Castaneda reminds attendees to share their pictures on Instagram and is quick to capture shots of her own to post on social media. Her degree in marketing is paying off, but it's her passion for art that drives her business. "Frankly, it's been better than I thought," Castaneda quips, "because I'm obsessed with it."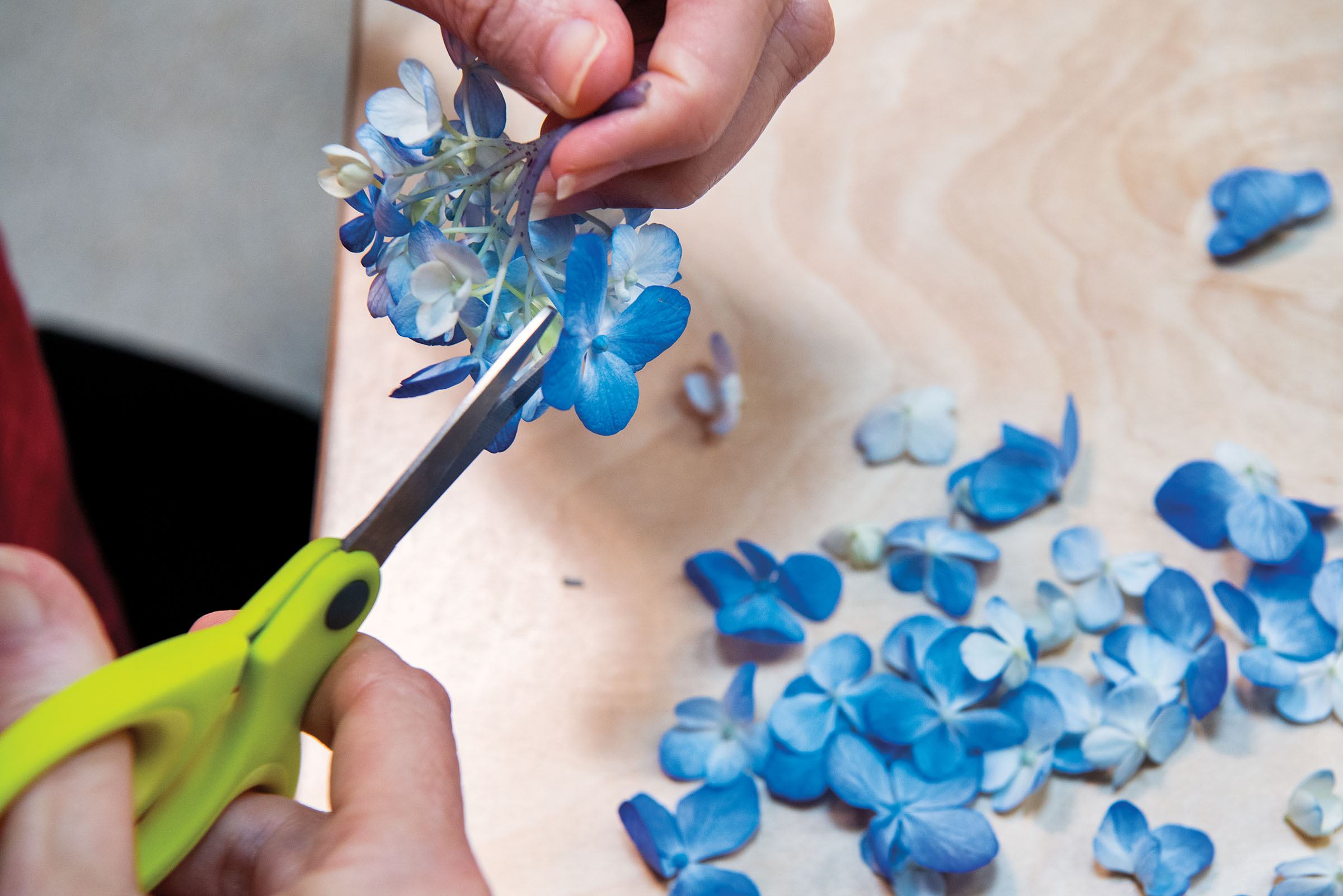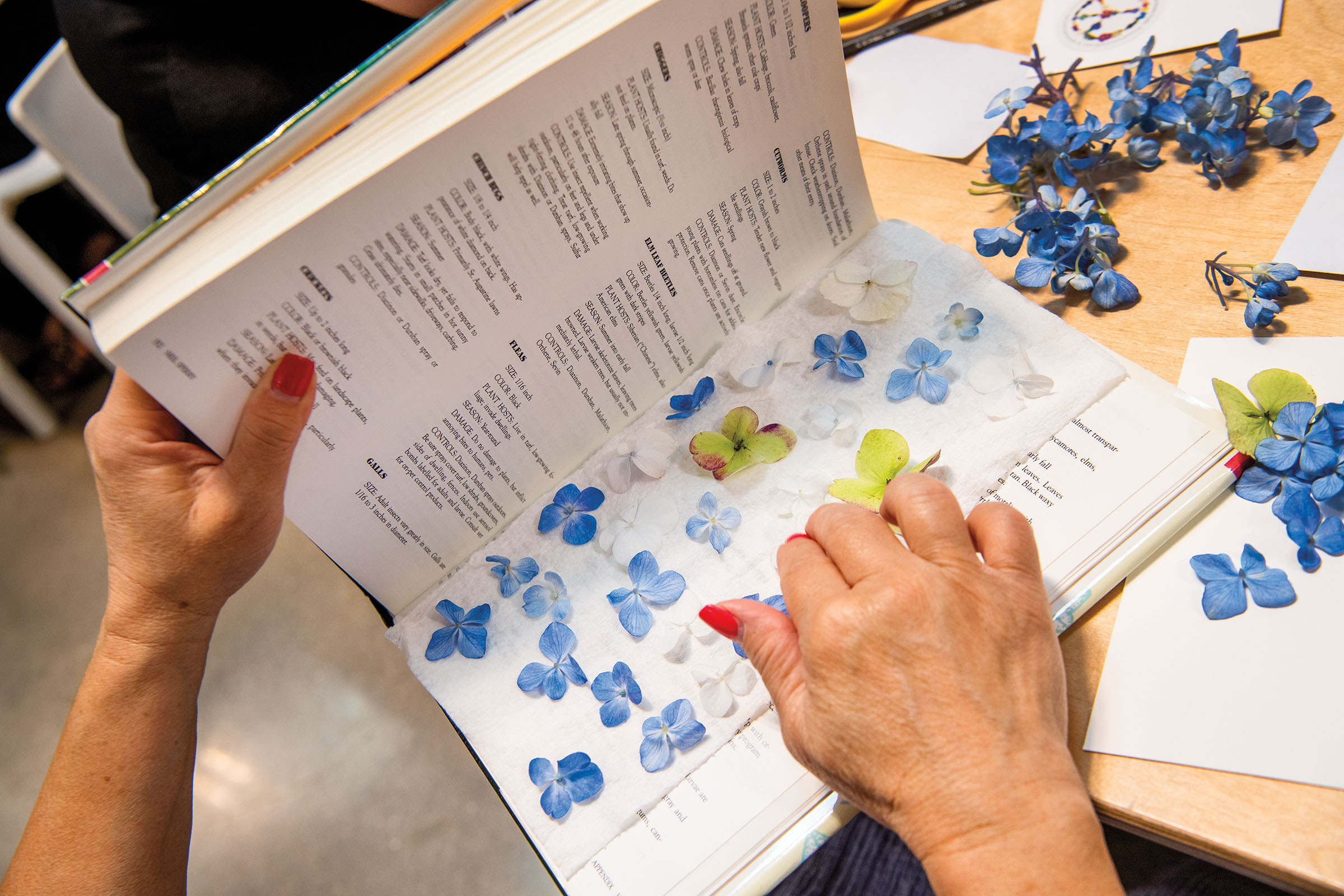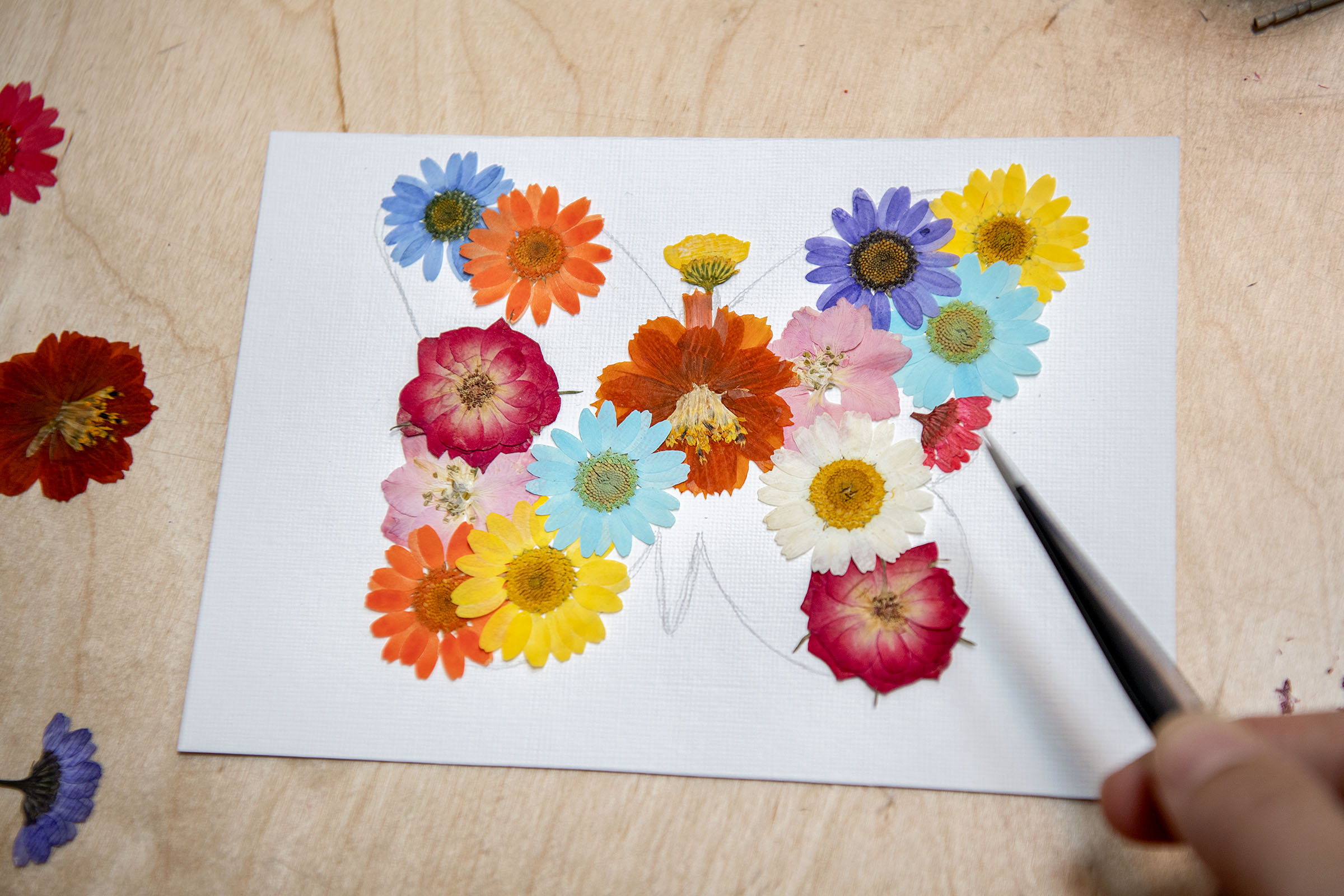 Make Your Own Masterpiece
Creating art from pressed flowers is a wonderful way to capture special memories or simply enjoy the beauty of nature while tapping into your creative side. Here's a brief tutorial to make your own pressed-flower masterpiece, or find a workshop on dbandrea.com.
Materials
› Small scissors
› Paper towels
› Pencil
› Elmer's glue
› Tweezers
› Toothpicks
› 5"x5" or 5"x7" 200-lb. cardstock
› Heavy book
› 20-30 small flowers
Tip: Artist Andrea Castaneda recommends starting with hydrangeas because one stem provides dozens of tiny blooms.
Pressing the Flowers
Snip each flower at the base of the blossom.
Open a heavy book to a page toward the back and insert a paper towel.
Place several flowers on the paper towel without overlapping them.
Place another paper towel on top of the blooms and close the book.
Wait 6-8 weeks, until flowers are dried and pressed.
Creating the Art
Sketch the shape you want onto the cardstock, or trace a template or cookie cutter.
Fill in the outline with pressed flowers, using tweezers to place them.
Cut larger flowers or trim individual petals to fill small gaps.
Snap a pic of the completed piece with your phone and slide flowers off the cardstock.
Pick up individual flowers or petals with tweezers and lightly apply glue to the back with a toothpick; set the flower in the appropriate place, using the photo for reference.
Repeat this process until all the flowers are in place.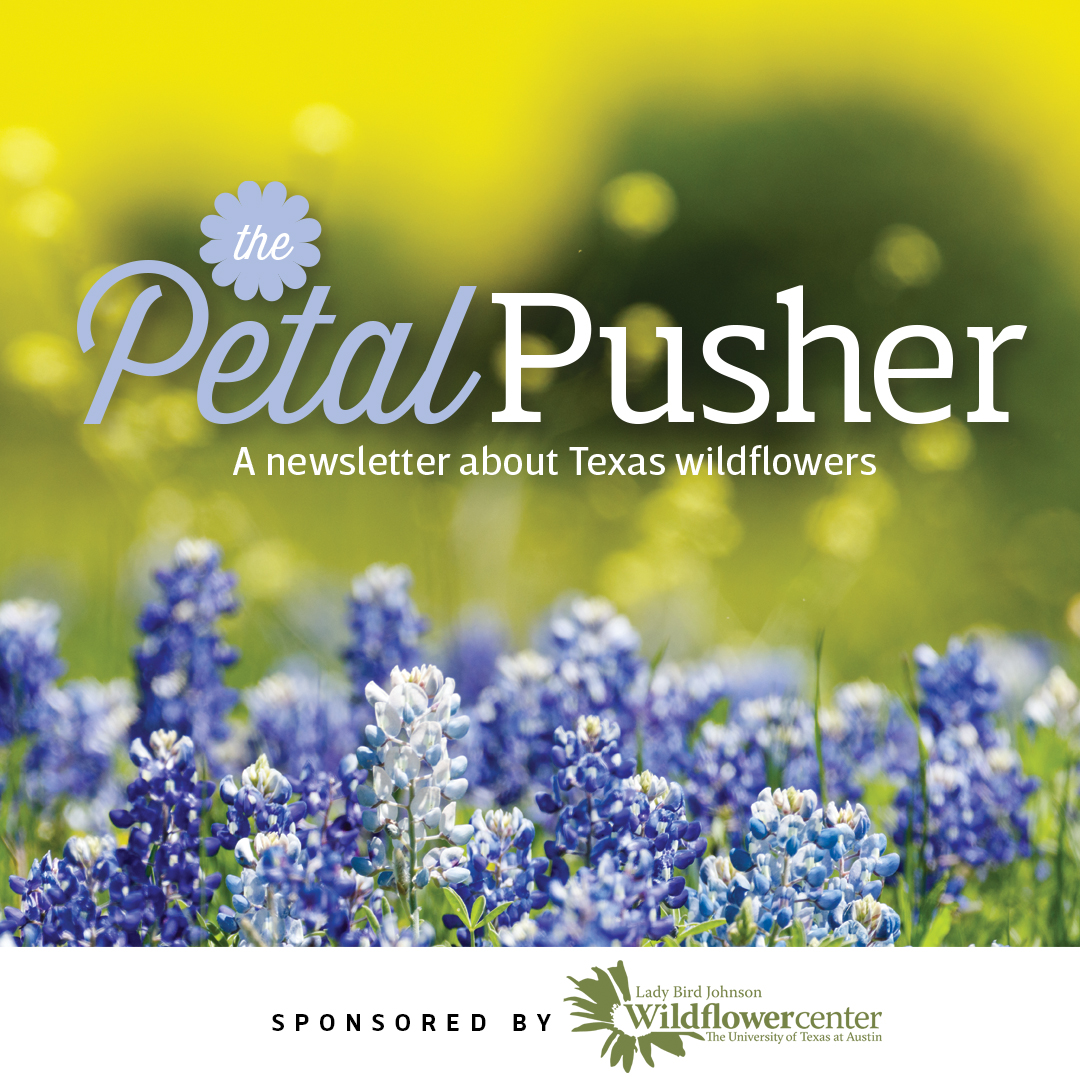 Sign up for our new wildflower newsletter
Sign up for our new email series all about the wildflowers of Texas! You will receive 8 emails (about one per week) about Texas' most abundant blooms, where to find them, and how they became so famous.