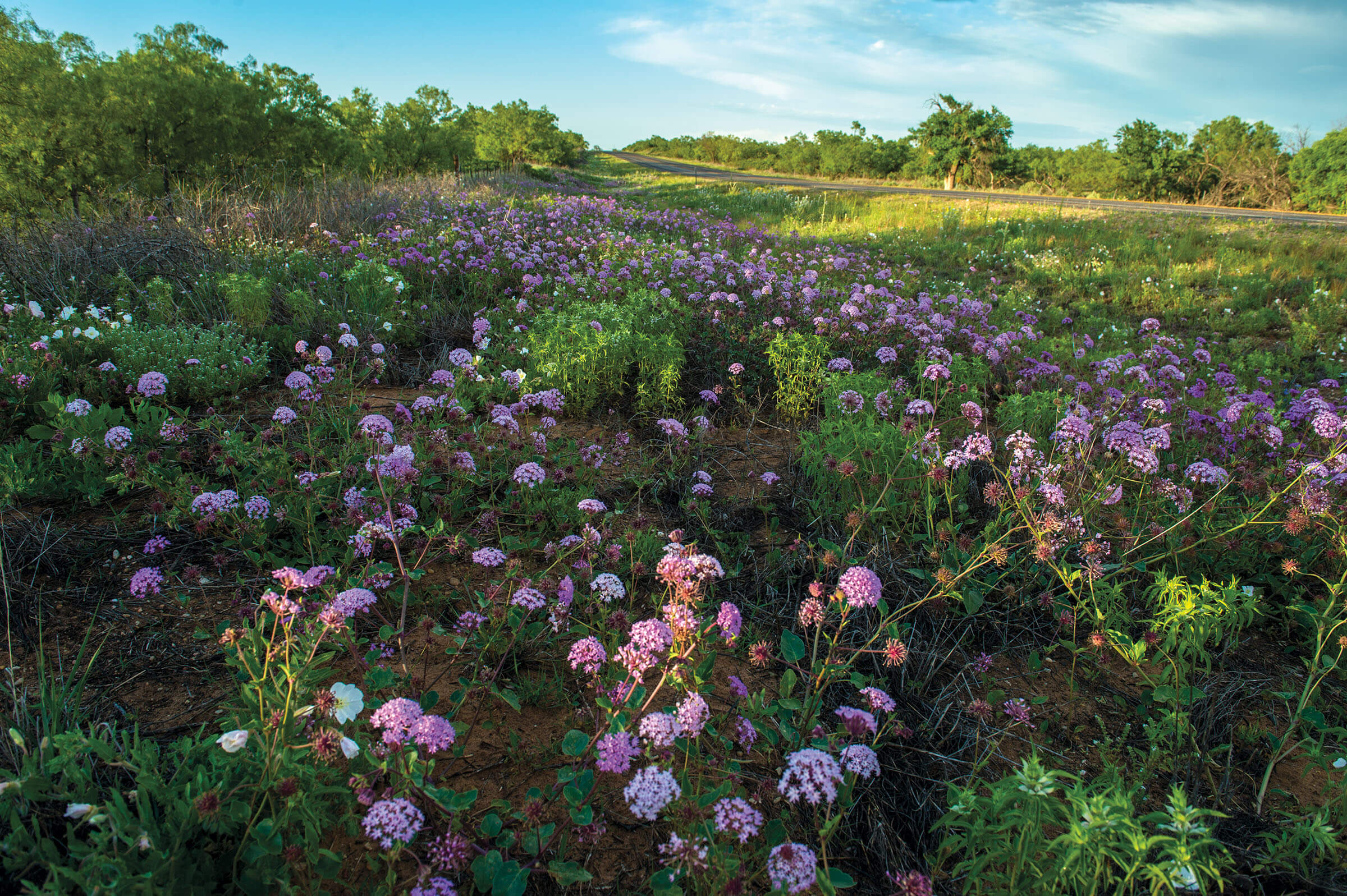 I
n 1965, Lady Bird Johnson remarked on her pride in the wildflowers that line the roadways of Texas in the springtime, calling them a "carpet of color."
At that point, the state highway department had already been spreading wildflower seeds along roadways for about 30 years—a program that precipitated The Highway Beautification Act passed during Lyndon B. Johnson's presidency.
Today, a Texas Department of Transportation team of six broadcasts wildflower seeds across the state as part of the Wildflower Program. Dennis Markwardt, director of maintenance field support at TxDOT, says the 20-plus types of seeds they sow along roadsides are native to Texas—with the one exception of European corn poppies spread around Georgetown—and sourced from
local growers.
"My personal favorite is the Drummond phlox," says Markwardt, who is based in Austin. "Sometimes it's bright purple, but then toward Bastrop it turns red. Texas bluebell is another favorite. You can see them blooming even in the heat of
the summertime."
Some flowers, such as goldenrod, gayfeather, and Maximilian sunflowers emerge even later, in the fall. Yet spring is undeniably the high season, and different parts of Texas offer particular varieties.
"The Hill Country is famous for the bluebonnet displays; East Texas for the goldenwave shows; and the Indian blanket and Engelmann's daisy put on displays throughout the state," Markwardt says.
West Texas roadways also get a splash of natural color.
"People think you can't have flowers out in West Texas," Markwardt says. "I beg to differ. Not much grows in Lajitas, but in February you'll see bluebonnets in bloom in the Chisos Mountains. And around El Paso, if you get a bit of rain, the Mexican poppies will bloom and turn everything golden."
TxDOT spends $50,000 to $60,000 a year to buy about 30,000 pounds of seeds (not including what the TxDOT district offices supply themselves). Even so, the program saves money by delaying the mowing of roadsides until after the wildflowers have gone to seed.
Markwardt says there are additional benefits: The wildflowers protect against soil erosion, encourage pollinators like bees and butterflies, and offer a boost to local economies through tourism.
"In Llano and Fredericksburg, hotels are filled with people coming to the Hill Country to look at the flowers in the spring," he notes. "Everywhere you look there are people on the side of the road taking pictures. People come from all over the country just to see the wildflowers."
And every spring Texas rolls out the red—and blue, pink, purple, and yellow—carpet to greet them.