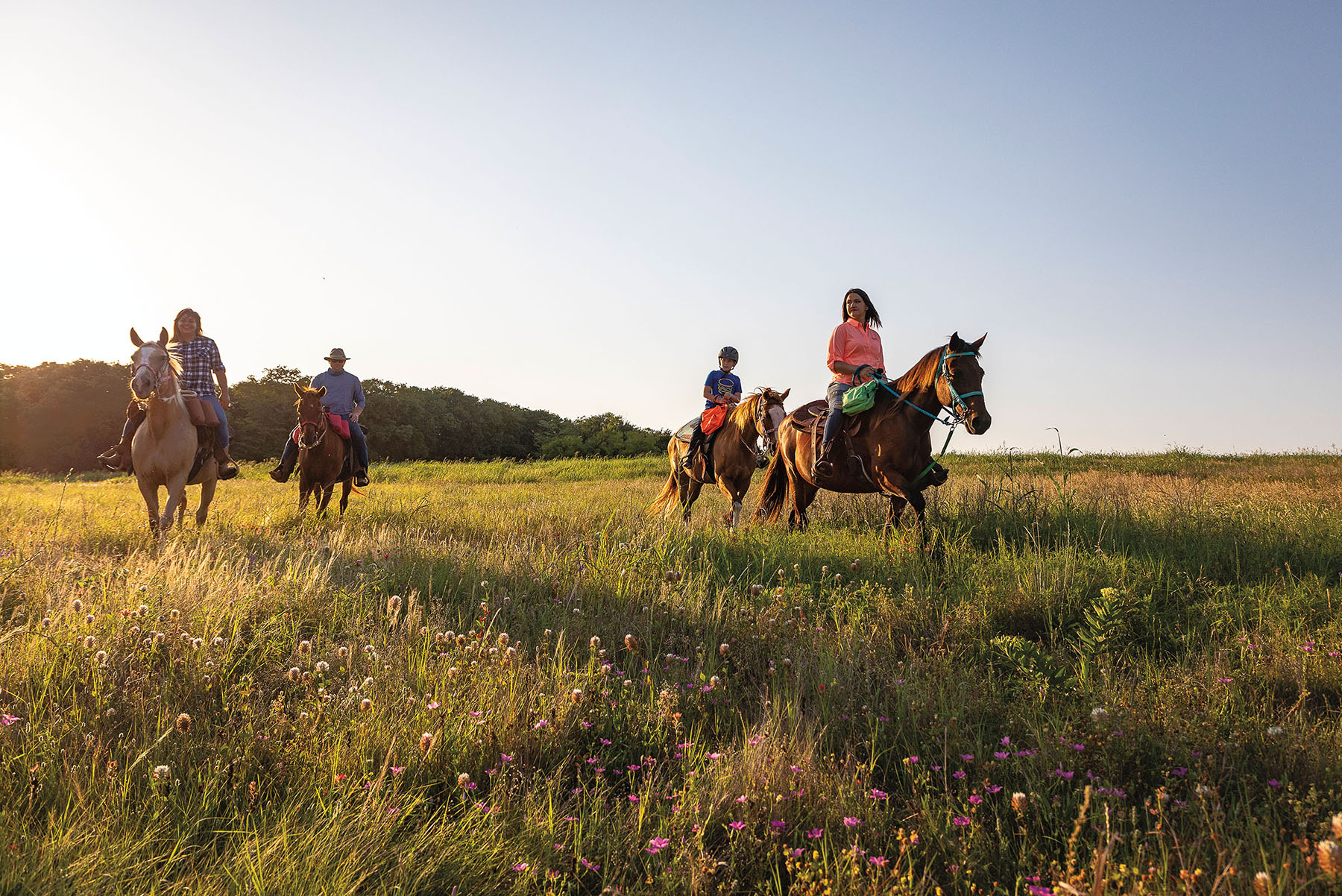 Sitting atop Champ, my horse for the day, I trot along the paths that wind across the pastures of the Chisholm Trail Rides ranch. My instructor, Ashley Yeager, leads us through the property in Quinlan, a sleepy town located beyond the eastern stretches of Dallas-Fort Worth. I have become a regular rider at the
ranch, and up to that small journey across the pasture, my time there had trotted on without interruption. Then it happened—the unmistakable feeling of a spooked horse. Champ zoned in on a deer blind that seemed abandoned, but his reaction to rustling in the decrepit structure indicated something was off. Yeager grabbed her cellphone: "Kristin, can you come check something out?"
I was able to distract Champ until trail guide Kristin Kuhn and her husband, Nathan, could investigate. Yeager and I watched Nathan open the door, retch from the smell of a rotting animal carcass, and avoid the vultures trying to fly to freedom. Yeager and I chuckled and carried on.
I was impressed with my progress—and poise—after only about a half-dozen trips to Quinlan. In addition to leisurely trail rides, the staff at Chisholm Trail Rides offers lessons in riding horses for beginners, and they have a knack for instruction. The experience is also BYOB with barbecue pits and fishing on the property. Weekend trail rides are a popular choice for most customers who want a full horseback riding experience without the commitment of lessons. After signing waivers, groups spend roughly 30 minutes in the corral getting their bearings before a two- or three-hour guided ride around the property. It's a classic Texas adventure, with plenty of opportunities for photos.
Chisholm Trail Rides started in 2011 in Rockwall. But after outgrowing that property about a year ago, the business relocated 20 miles east to Quinlan on a ranch that covers around 100 acres, with 60 acres devoted to trails. "One of the reasons we chose this place is because you truly get that country experience," owner Laura Smith says. "We haven't lost one darn client," she adds of the move. In 2010, Smith and her daughter, Sydney, moved from Georgia to Texas with a couple rescues and $300, and the business grew from there. "I want everybody else to be able to experience what we do every morning," she says, "what we are blessed enough to do."
Chisholm Trail Rides now operates with around 17 horses that cater to all age groups and experience levels. Several customers learned about this place through word-of-mouth and stuck around. I found my way via a Google search like many others, including frequent international guests who seek out the ranch for the experience of riding horses in rural Texas. "Pre-COVID," Smith says, "we rode about 42 different countries a year." The riders have been diverse in age, occupation, and nationality.
Like many who arrive at Chisholm Trail Rides, I was a beginner to the hobby, and the one-on-one instruction has thrown me headlong into a new passion. As opposed to a one-off weekend trail ride, I am completing ongoing lessons in horseback riding at the ranch. With Yeager and Kuhn, I have been learning the ropes from the ground up, literally. My first task in my initial lesson back in early January was to clean the hooves of my horse for that day—a friendly mare named Tequila—then brush her and prepare to saddle up. Smith and the staff want students to ride horses from day one, so after getting the bridle, reins, and saddle all in place, Tequila and I moved at a glacial pace around the corral while I got my balance and adjusted to the odd new feeling of moving at a horse's rhythm.
A week later, we moved at a faster pace. With each successive week, we hit the trail. The path winds along the pasture of the ranch, around a large, muddy pond in the front, through brush around a creek, and by deer blinds and other masses of organic and artificial matter that settle into the land. I live deep in urban Dallas, so riding a horse away from the day in, day out of city life filled me with a singular bliss.
Chisholm Trail Rides ranch is an ecosystem, an equine-centric commune of country folk. While Yeager and Kuhn no longer work there, they still live on the property, as do the other half-dozen or so workers and their children. "God brings 'em up my driveway," Smith says. There is a small diner 3 miles up the road from the ranch, where I met with Smith, foreman Dustin Shephard, and manager and trail guide Chelsea Johnson. The ethos of Smith flows through her workers at the ranch to the benefit of first-time riders.
"In the beginning, they're always a little nervous just because it's something new," Johnson says. "But I have yet to have a person come back and tell me that they just don't like it just to not like it. There are people who have told me, 'Yeah, it was fun'—it's not their cup of tea, but it's fun—and then I have the people who are like, 'I just found my new best thing that I absolutely love.'"
I fall into the latter category as someone who has made riding horses a new undertaking. People who simply enjoy horseback riding on occasion get a lot out of the experience, too. Dale Beard of DFW grew up on a ranch in West Texas and is intimately familiar with horses and riding them. He wanted to give his young daughter the opportunity. The two have gone on several rides with Chisholm Trail, the last one in March. "They take their time," Beard says. "It's not like they're doing it as a job—they seem to actually care about what they're doing."
Horsin' Around
Canter over to these spots catering to a range of skill levels.
Heritage Hill Equestrian Center, Princeton: Horseback riding lessons, summer camp, and
trail rides.
972-734-9800; heritagehillstables.com
Maverick Horseback Riding, Austin: Several trail-ride options, boarding, horse and rider training, and lessons.
512-230-8413; maverickhorsebackriding.com
Cypress Trails Ranch, Humble: Trail rides, training and lessons, boarding, and parties and events.
281-446-7232; cypresstrailsranch.com
Smith credits personalization for the business' success. "Our guides teach," she says. "They don't just teach in the arena; they get to know you. It's more than just you sitting on a horse. We want you guys to feel like you're riding with friends and family."
The horses are at the center of all this, after all. For me, there is something special about the horse-rider relationship. It's unlike the average animal-human relationship most people experience with their dogs or cats. Horses have been domesticated with the explicit purpose of moving humans from point A to point B. Learning how to make that happen brings you close to the animal in locomotion, understanding how your actions impact the way the horse moves through the world.
"It's very therapeutic," Johnson says, "and it's very teachable to a lot of things that you don't even realize you're teaching yourself, like patience and confidence."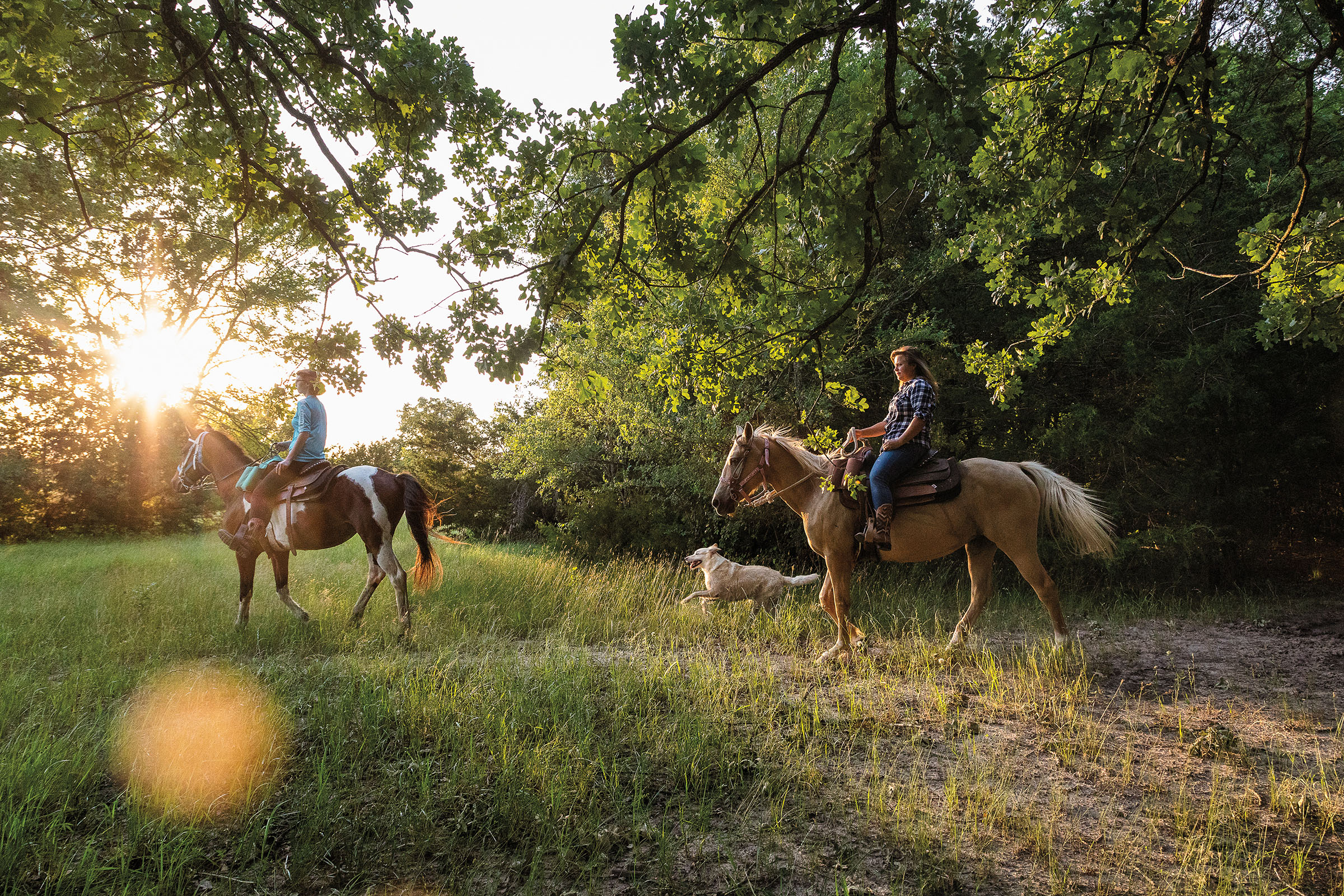 The horse, of course, can take full control of where you move and how fast. Thus, it is a conversation between you and the animal. Through kicks to the side, pressure on the reins, little pets and nuzzles, you communicate your desire to the animal, who communicates back and ultimately makes the choice for both of you. Your job is to figure out its language, its personality, its quirks, and make a case for yourself. The more you do it, the easier the conversation becomes.
"There's something about being out there, being out on a thousand-pound animal that you're talking to because you've been shown how to talk to them," Smith says, "and going out where you've got nothing but fields and woods around you."
From the August 2022 issue