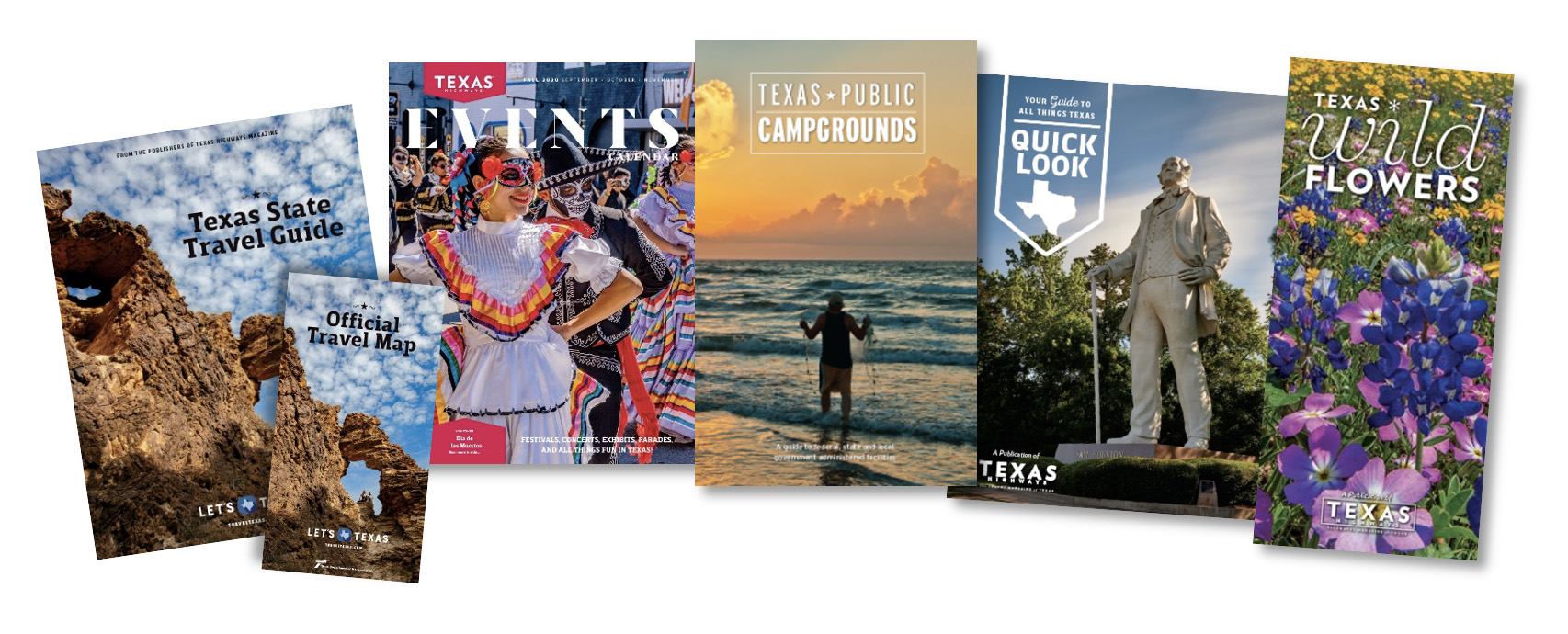 Order Free Printed Travel Information
Looking for even more resources to inspire and plan your upcoming travel? The Texas Highways staff produces several high-quality, printed pieces that you'll find essential for your Lone Star State explorations. And best of all? Each piece is free upon request!
Just go to Texas Travel Leads to start your order. Pieces available include:
Texas State Travel Guide & Texas Official Travel Map
Published annually, the 250-plus page guide highlights publicly accessible sites in Texas of cultural, historical, and recreational interest and serves as the state's primary fulfillment publication. More than 500 cities are included along with details on events, state parks, lakes, national parks and forests, wineries, and scenic areas, and Texas Travel Information Centers. The Texas Official Travel Map is designed to show the maximum amount of information relevant to travelers in the most legible manner. Arterial highways and farm/ranch roads leading to arterial highways, communities, and recreational areas are included, as are airports.
More information about the Guide and Map is available here.
Texas Highways Events Calendar
This quarterly publication features more than 1,000 listings of fairs, festivals, concerts, plays, exhibits, events, and cultural celebrations across the state–the most comprehensive collection of event information in Texas.
More information about the Events Calendar is available here.
Texas Public Campgrounds
Texas Public Campgrounds lists and provides details about 388 campgrounds operated by federal, state, and local government entities.
Texas: A Quick Look (for teachers)
This 32-page booklet gives a brief history of Texas and presents the state regionally, mostly with pictures. It is a broad overview of Texas including facts and the flags that have flown over the state. This piece is geared toward school-aged children and is a product for teachers and children requesting materials that will assist them in learning about Texas for school assignments.
Wildflowers of Texas brochure
Featuring photographs of many common Texas wildflowers, including seasons of appearance and where they grow.
For our Travel & Tourism Industry Partners
Our division operates an in-state literature distribution program designed especially for Texas visitor centers, cities, chambers, CVBs, hotels, and entities that interact with travelers. Approved entities may order bulk quantities of the Texas State Travel Guide, Map, Texas Highways Events Calendar, and other publications.
To order free publications for your business for free distribution to the public, follow these steps:
Click Register New User
Once registered, TxDOT will set you up in the system to be able to order. You will receive a confirmation email once this is completed.
Questions or need help? Contact:
Lakena Cooks
Ancillary Publications Coordinator
[email protected]
512-486-5927