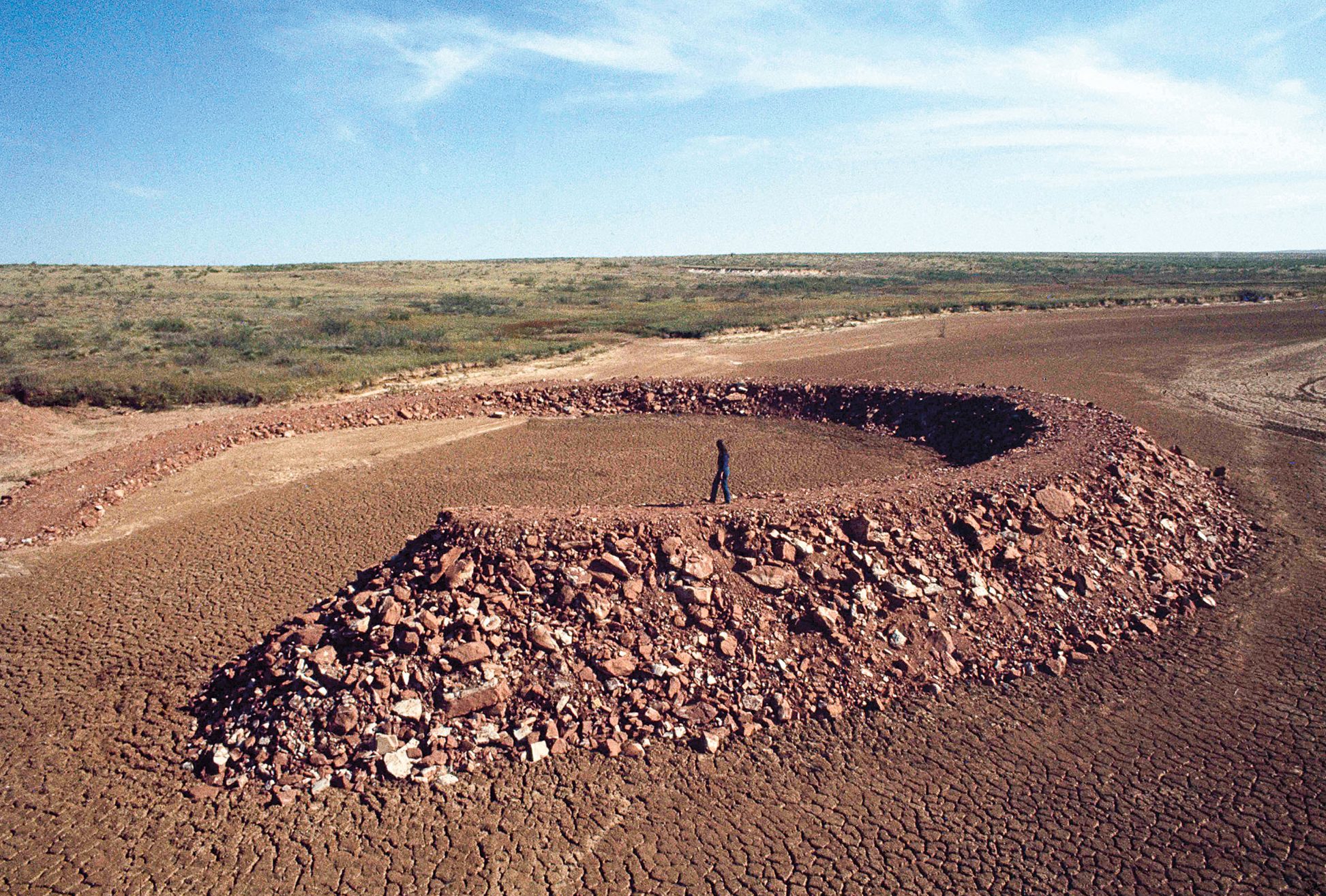 A living, breathing piece of art residing far away from a museum is coming to the end of its life. That's OK, though, because that's what its creator, New Jersey artist Robert Smithson, intended: a long, slow death for Amarillo Ramp, an "earthwork" meant to honor the passing of time. In 1973, when it was completed, Amarillo Ramp was a spiral pathway jutting into Tecovas Lake, an artificial body of water outside of Amarillo. It was comprised of sandstone found in the area, compacted to an ascending height of 15 feet, and measured 140 feet in diameter. Now, with the lake long since dried up, Amarillo Ramp amounts to a quirky, failing rock formation.
Smithson is a pioneer of earthworks—sculptural pieces made of, and embedded into, the landscape. This is one of only three of his earthworks, preceded by Broken Circle/Spiral Hill (1971) in Emmen, The Netherlands, and Spiral Jetty (1970) in Great Salt Lake, Utah. Stanley Marsh 3, an Amarillo arts patron, commissioned Amarillo Ramp for his vast property around the same time he enlisted the art collective Ant Farm to create the more well-known Cadillac Ranch off historic Route 66. Smithson died before the completion of Amarillo Ramp, but his widow and artistic partner, Nancy Holt, along with artist friend Richard Serra, came to the rescue and executed the project. They added but one final touch to Smithson's design: They cast the sides of the ramp at a slight angle rather than at 90 degrees.
Make arrangements to view Amarillo Ramp by emailing the Holt/Smithson Foundation, which is dedicated to the legacies of the married artists, at [email protected]. This rarely seen work comes with a personal tour guide and requires a 15-minute drive down a gravel road. What awaits on private land is a sliver of its original self and could easily be lost in the camouflage of the landscape. But it's there, reminding us, in the service of dying, to live life before we too are just dust in the wind.
From the November 2019 issue