In Light
F
Nature
Celebrating 50 years, the Kimbell Art Museum is an architectural masterpiece on par with the art it exhibits
By Fowzia Karimi
Photographs By Dave Shafer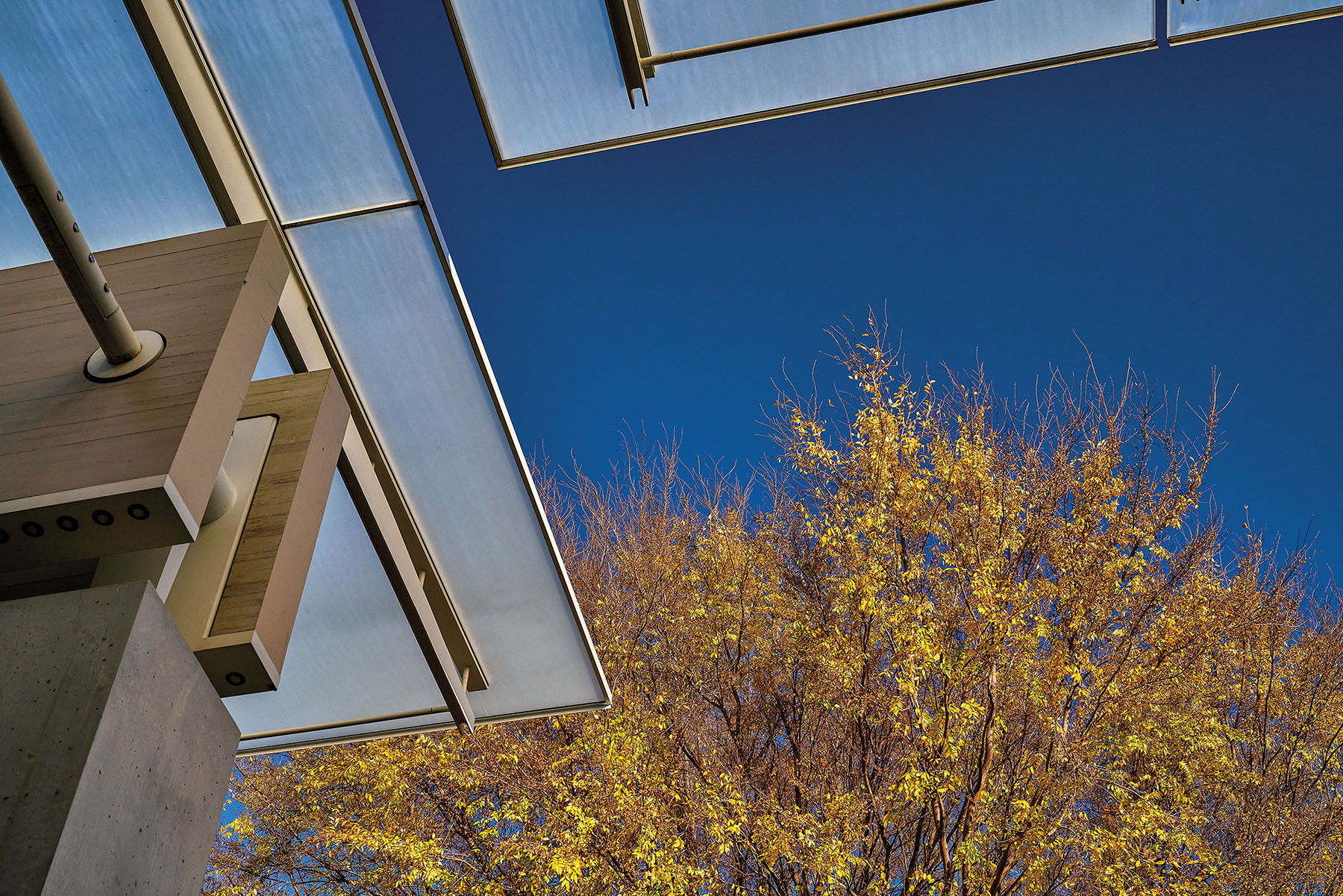 runs along the body of a freshly caught mackerel in Anne Vallayer-Coster's 1787 painting Still Life with Mackerel. The Kimbell Art Museum in Fort Worth acquired the painting in 2019. As I stand before it, admiring the French artist's exquisite sensitivity to her subject, I am aware that another band of silvery light runs over my head. This light, fluid and shifting, is natural light that streams in through narrow 100-foot-long plexiglass skylights. The skylights, running north to south down the length of the gallery's vaulted ceilings, are hidden behind suspended aluminum reflectors that distribute and soften the direct sunlight. The effect is that of walking beneath a cool wintery sky.
The Kimbell Museum is located in Fort Worth's cultural district in good company with the city's many other riches, among them the Modern Art Museum of Fort Worth just across the street, the nearby Amon Carter Museum of American Art, the Bass Performance Hall, and the Fort Worth Botanic Garden. The Kimbell began celebrating its 50th anniversary in October with 50 programs and an exhibit through October 2023, The Kimbell at 50, all of which look at half a century of acquisitions, design, special exhibitions, and community engagement.
Its art collection is housed in two buildings designed about 40 years apart by renowned architects Louis I. Kahn and Renzo Piano. The buildings opened to the public in 1972 and 2013, respectively. In a setting that is at once urban and natural, the two complementary but distinct buildings communicate across groves of yaupon hollies and elm trees, with live oaks elsewhere on campus. Museum visitors passing from one structure to the other linger between them to enjoy parklike spaces, which are integral to the museum's design and identity. Nature plays a central role at the Kimbell.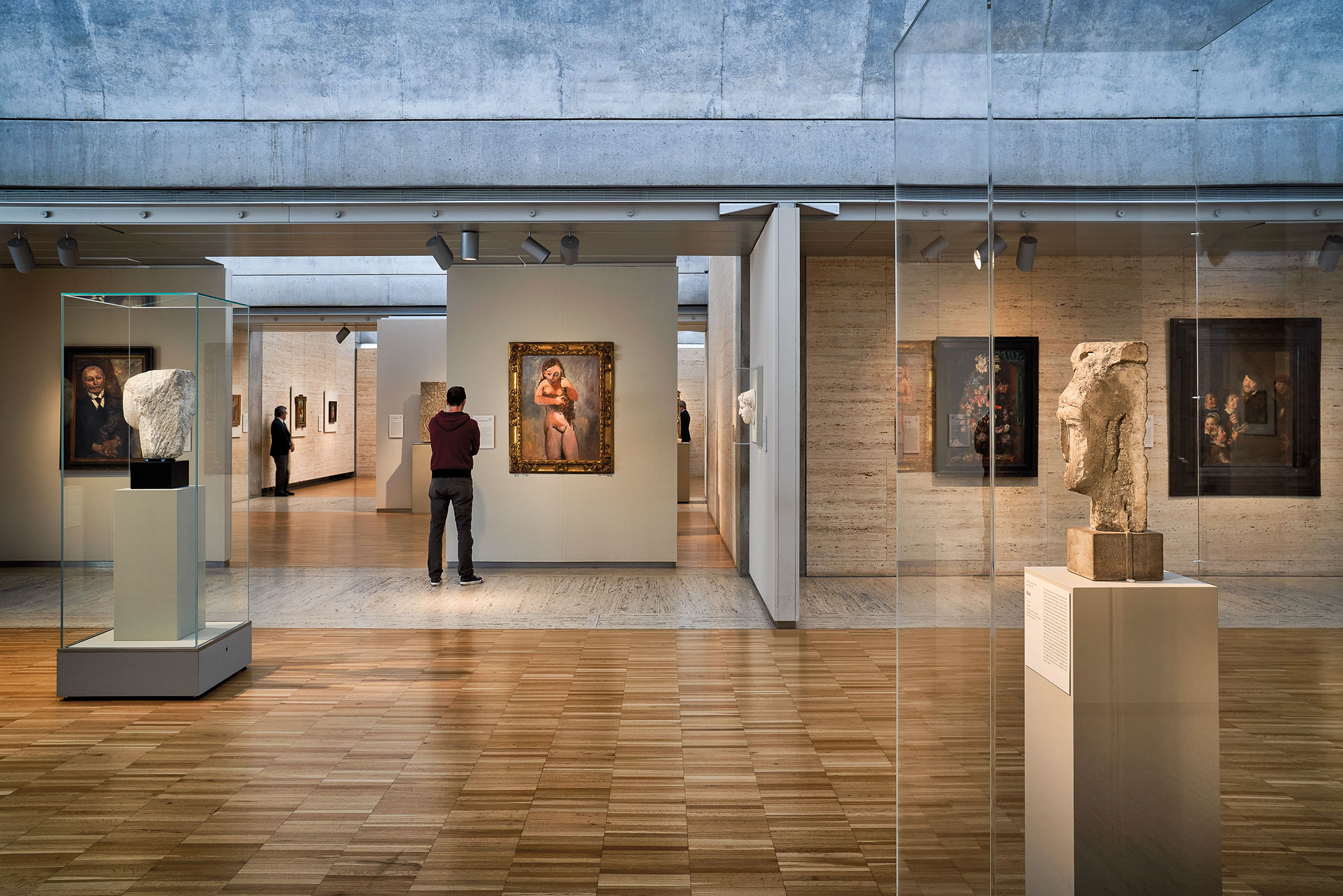 I am regularly drawn to the Kimbell not just for its art—a relatively small, permanent collection of about 350 works that rivals the institutions of many larger cities—but also for Kahn's building itself. I am not an architecture enthusiast; I don't speak the language or know the history. But I am aware enough of spaces and materials to know when a structure speaks to me, when it moves me. Kahn's building influenced me on my first visit. It is quietly monumental. Beyond its function to house art, it is its own masterpiece—perhaps the greatest one at the Kimbell.
While there is a street entrance on the first floor, the proper entrance is the building's stunning west facade, which leads directly into the second-floor galleries. Three 100-foot bays with travertine-sheathed walls and concrete vaulted porticos greet visitors. The central recessed portico directs visitors in through a cluster of hollies flanked by two massive basins of smooth, flowing water. Paths lead past light and shadow to a glass-walled entrance. Inside the museum, another 13 parallel concrete cycloid vaults—five deep in each wing, and three deep in the center—make up the three parts of the galleries. Plexiglass skylights run the length of the gallery ceilings, while three interior glass-walled courtyards bring in additional light. Two of the courtyards are accessible and invite the visitor out into the open air, interpolating the contemplation of art with time in nature.
In an unpublished 1972 interview with collaborator Marshall D. Meyers, Kahn spoke about the materials of his new building as if they were alive: "I feel that natural materials have a way of blending together. There's something about nature's making of the materials—somehow there's more sympathy amongst materials, a cross-sympathy of materials in nature…" This is perhaps most evident in the approach to the building's west entrance, which marks a progression from outside to inside. "The reflecting pools and yaupon hollies help to slow our pace so that we are more attuned to sensory information—the sounds of splashing water, shifting patterns of light and shadow, and once inside, artworks of profound beauty and importance," says Connie Hatchette Barganier, head of education at the Kimbell.
Alicia Villanueva has been a guard at the museum for three years. She says the light in the Kahn building is always in flux, subtly and sometimes drastically changing throughout the day and the seasons, as the sun moves across the sky or as storm clouds move in to block it. "Every day, for me, is a different experience," Villanueva says.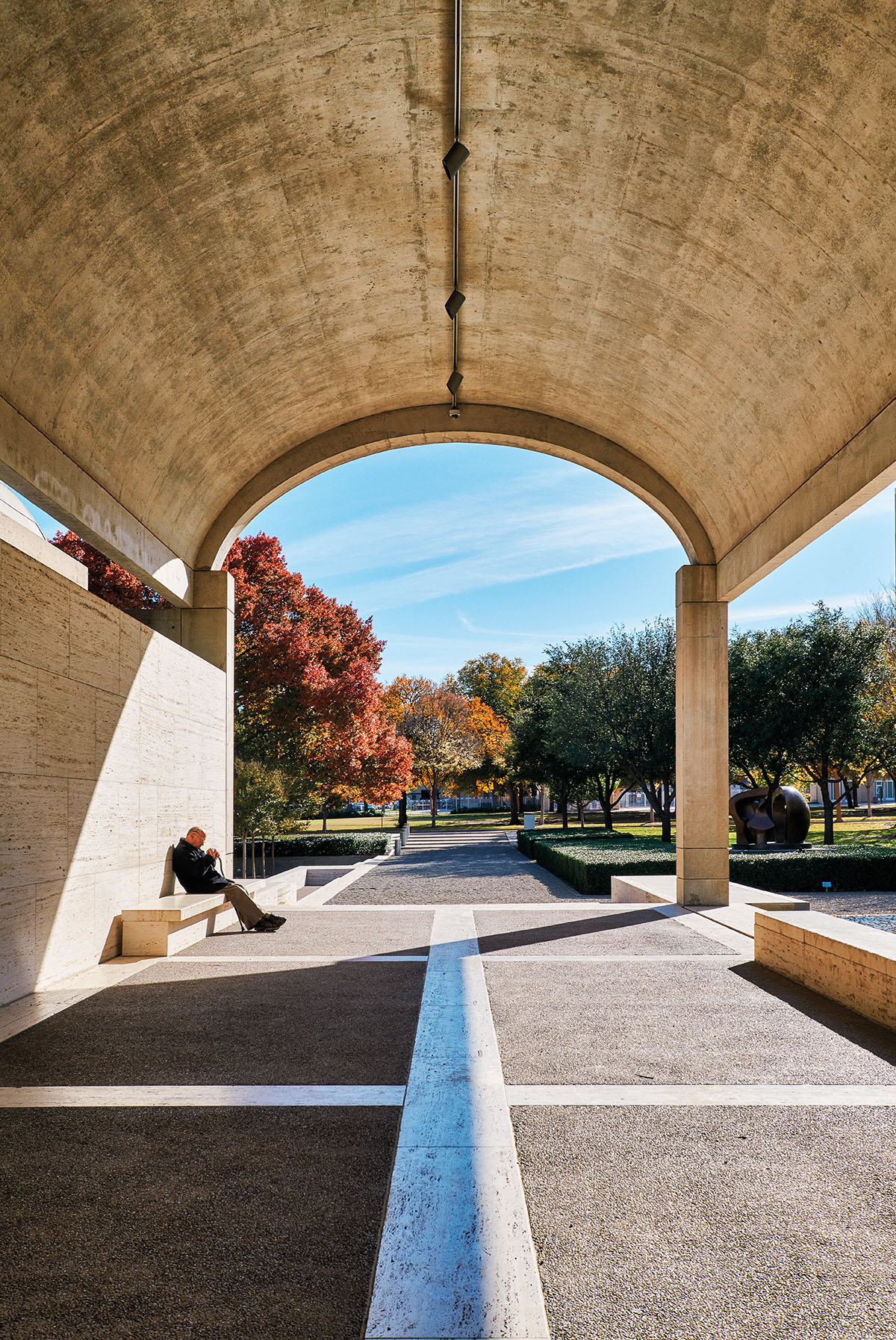 I come to the museum several times a year, and while I do not have the intimate relationship to the space or the artwork that Villanueva has, I share the sentiment. I have my favorite artworks to which I pay a sort of silent pilgrimage on these visits. But I am also regularly surprised by a new work or by one that I've walked by with a simple glance in past years. On this occasion, it is Vallayer-Coster's Still Life with Mackerel that attracts my attention.
Vallayer-Coster's painting lures me from a distance, and the closer I move to it, the more transfixed I become. The museum label notes her "magical ability to imitate nature." Indeed, there is an undeniable reality to the scene, and the designation of "still life" here triumphantly earns its name. A pair of stacked mackerel lie atop a plain white linen tablecloth in the foreground of the painting. Light shimmers over their scales and a rainbow of colors—blue, green, gold, rust, scarlet, pink—kisses and saturates the flesh. The shimmery plump fish have such an uncanny presence; they look as though they might slip off the edge of the table and into my hands. Light somehow vivifies a pair of dead fish, and it imbues the rest of the inanimate scene with lucid materiality by imparting a warm flush to cold metal, alternately highlighting or permeating hard glass, or burnishing the crust of a brioche. Of course, there is nothing here except oil paint on canvas, but Vallayer-Coster's brilliant facility with the medium transports the viewer to the setting.
This desire to imitate nature, to give it a second life in our works of art, is a basic and perennial one. From the beginning, using the materials in our environment—clay, soot, stone, sap, wood, bone, fat, feather—humans have set to sculpting, drawing, painting, and engraving the world around us. Whether for spiritual, cosmological, or aesthetic purposes, we aim to recapture nature in our art.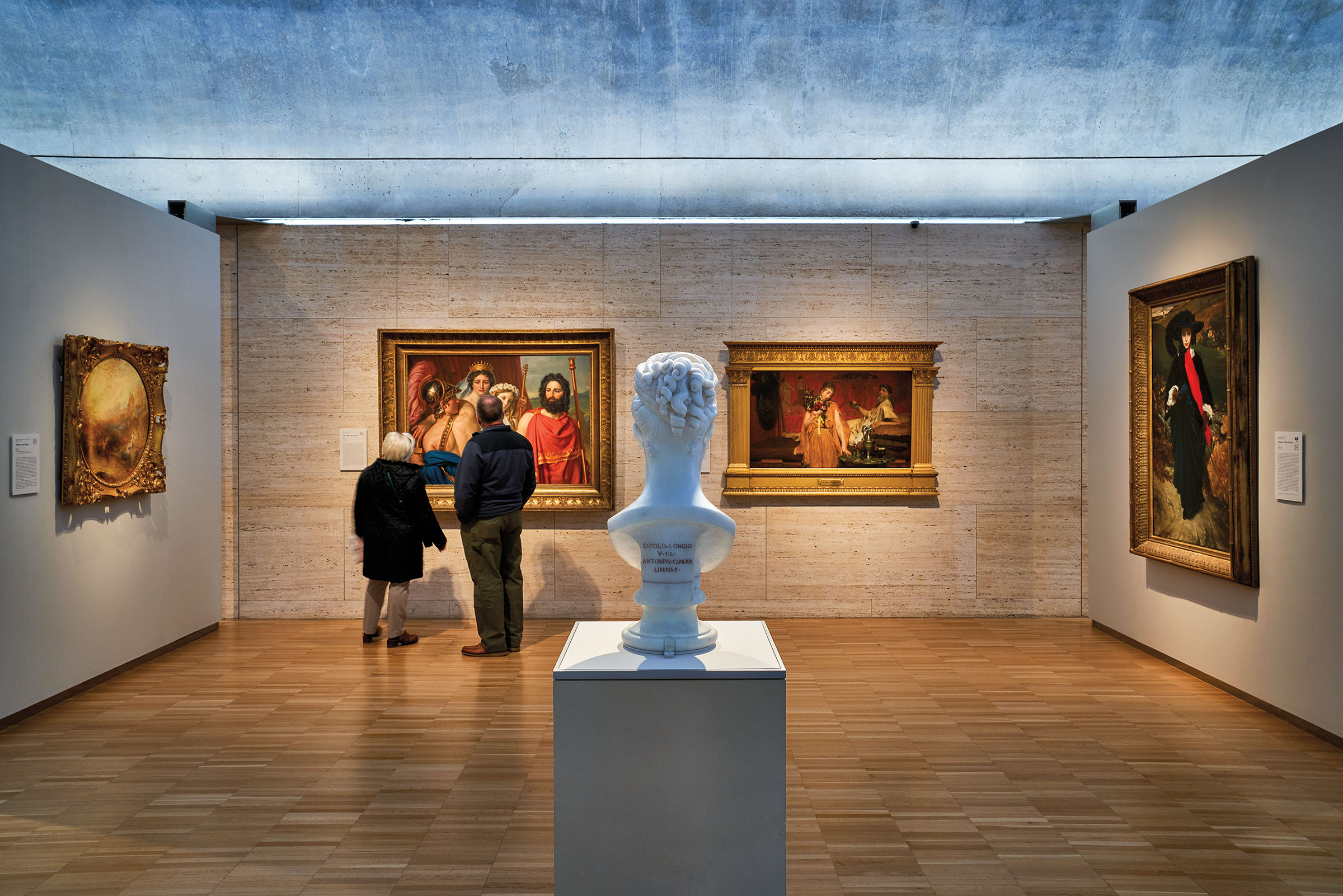 In 1998, I made a trip to Kyrgyzstan to visit my younger sister who was there serving as a Peace Corps volunteer. To show off the country's natural beauty, she took me up to the mountains to stay at Lake Issyk Kul, one of the world's largest and deepest. One afternoon, I walked along the lake among boulders; I watched a goat climb then stand atop a large rock in the distance. In the corner of my eye, something else caught my attention: marks made on the side of a closer rock. I drew near and saw an engraved image of a goat standing in the same exact position, facing the same direction, as the living goat in the distance. I felt myself transported, as though I was the artist standing before my stone canvas studying the living goat, having just scratched its image onto the boulder. As I walked around, I found other petroglyphs of animals preserved across a stretch of 3,000-4,000 years.
Whether left to the elements under an open sky, or housed in a building designed for the sole purpose of exhibiting art, our very human works of art tell the story of our enthrallment to nature. As I walk through the galleries, it becomes evident that the Kimbell's collection is made up of singularly powerful pieces. There are paintings, sculptures, ceramics, and other objects that originated across the globe and span 5,000 years. Pieces are acquired for their individual and aesthetic value rather than collected to fit stylistic or historical parameters. I can have a moment, or build a relationship, with a work of art that is based on that piece's merits, rather than its position in an artistic movement, or even the artist's larger oeuvre.
"Great works of art tend to look even stronger when seen within the context of the Kimbell's galleries, but weaker works of art tend to be diminished," Museum Director Eric M. Lee says. "Quality is the unifying feature of the Kimbell's varied collection."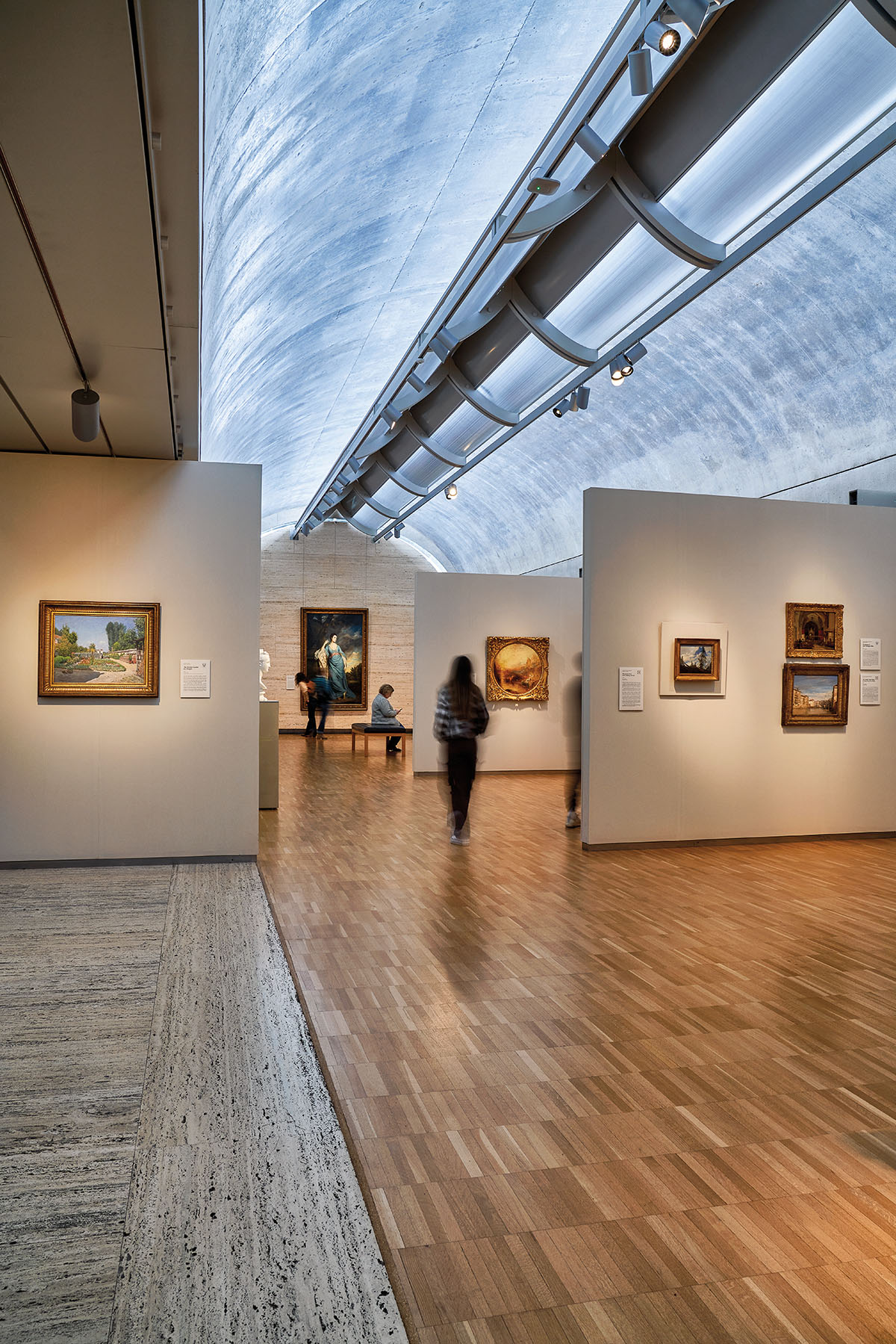 The Kahn building, at once grand and restrained, showcases each individual artwork through open spaces, allowing for impressive views of unexpected objects. "As an educator, I especially appreciate the scale of these spaces," Hatchette Barganier says. "They don't overwhelm or intimidate. They welcome and invite us to ease into appreciating artworks through careful looking and conversation."
When I visit the Kimbell, I enter a state of contemplation as soon as I leave my car. The repeating cycloid vaults, the grids of trees, the materials in regular proportion to one another create a beautiful order. This structural rhythm, this visual echo, evokes reverence. I wish I could visit the building more often to forge the kind of sacred relationship that forms from repeated visits to a beloved site. In our perpetual search for stimulation and novelty today, I think we lose something vital: ritual. We lose cyclical routine; we lose rhythm. These things are built into our biology because we live on a tilted, rotating sphere that revolves around a massive, blazing orb, giving us our days and our seasons. The Kahn building has something of this natural rhythm built into it, with its repeating forms, its elemental materials, and its direct relationship to sunlight. It somehow manages, as nature does, to elate and hush simultaneously.
In my mind, nature reduced to its essence is light. The Kimbell's materials—among them, travertine, concrete, white oak—combine in harmonious ways to create a structure that is at once monumental and weightless. Light, however, is the museum's most consequential element. The skylights and the interior courtyards let this essence of nature indoors so that light continuously informs the experience of viewing the other works of art, as well as one's relationship to the building itself.
This past summer, I visited Rome with a friend at the height of tourist season. In 100-degree weather, we wended our way from our hotel, among droves of tourists, down streets congested with traffic, to the Pantheon. Once there, we waited in a long line outside the ancient, colossal building, admiring its portico, remarking on its incongruous size and age among the surrounding buildings. We patiently took in the scene and the multitudes. Finally, the guards herded us through the portico and into the building. It wasn't until we were packed in that I was finally able to look up at the massive concrete dome overhead. I don't know whether everyone else also fell silent at that moment, or whether the profound beauty of the space smothered all of my senses but my sight.
One hundred and forty-two feet overhead, the oculus at the top of the dome—a circular opening with a diameter of 27 feet—revealed a brilliant blue sky. This made me feel unmistakably human and small yet connected to something powerful and sacred. A pigeon flew into and out of the oculus. The sky, taken for granted when we'd been outside just moments before, became a formidable and keen presence now that we were inside the building. It felt as though the blue sky watched us with its oculus, as aware of us as we were of it. I understood immediately, on a visceral level, the purpose of the building. This temple built to house "all the gods" has for nearly 2,000 years, through eras of pagan and Christian worship, fulfilled its function.
Kahn's work was inspired by ancient Roman and Greek architecture and ruins. The influence is visible in his design for the Kimbell. But it is one thing to be influenced by those ancient buildings and quite another to conjure their spirit in the modern world. Somehow, Kahn manages this and the Kimbell functions as a temple to masterpieces. "As many times as I have been here, and every season of the year, walking into this building, every time it's a lift," says Len Schweitzer, a docent who has led tours at the museum for 31 years.
Perhaps the work I visit most often, and usually circle back to before I leave, is Caspar David Friedrich's 1835 painting Mountain Peak with Drifting Clouds. For a small landscape—it measures about 10 by 12 inches—the work creates a substantial effect on the viewer. Friedrich is a German Romantic painter whose symbolic work focuses on nature. Mountain Peak with Drifting Clouds is one of a handful of his pieces in an American collection. It does not feature the expansive vistas of some of his larger works, but its small stature coaxes intimacy and invites contemplation, fostering a kind of silent dialogue with the elements in the mountain-scape. The eye moves from a horizontal downed tree trunk in the foreground, to living vertical trees in the mid-ground, across a drifting body of clouds, to a distant mountain peak. At each spot where the eye rests—whether on decaying branches, upright conifers, or soft clouds—the mind stirs.
I can stand before this quiet work for long moments, regarding one or another object or area in the small painting, moved to deep understanding not by thought or language but by nature's symbology. While the painting guides the eye from foreground to background, it also ushers it upward. The pointed treetops and pointed mountain peak finally guide the eye up and out of the frame, figuratively, to an imagined sky overhead and, literally, to the Kimbell's silvery blue light.
Visit the Kimbell Art Museum for five must-see works from the permanent collection. 3333 Camp Bowie Blvd., Fort Worth. kimbellart.org
The Torment of Saint Anthony, 1487
Considered the first painting by Michelangelo, this masterful work was completed when he was only 12 or 13 years of age.
Red-Figure Cup Showing the Death of Pentheus and a Maenad, c. 480 B.C.
This Ancient Greek ceramic presents gruesome violence in an elegant package, with delicate line drawings depicting the mythical king Pentheus being torn to pieces by Theban women.
Bowl with Pampas Grass Design, early 18th century
Japanese potter Ogata Kenzan's ceramic celebrates the charms of nature with its airy brushwork and use of vivid green and earthy brown glazes.
Xipe Totec, c. 900-1200
The sculpture of the Aztec god of spring and regeneration at once embodies a grown man and a newborn child, life and death, wrapped in the flayed skin of a sacrificial victim.
Weeping Willow, 1918-19
Claude Monet painted this portrayal of a garden in mourning during his later years and at the end of World War I.
From the February 2023 issue