The Art of Spring
Artists work their magic on the floral wonders of Texas
By Clayton Maxwell
Oleanders,
by Kitty Dudics
G
Good artists entertain. Great artists show us what we're missing. They crack open our perspectives to reveal the details, angles, and colors we hadn't noticed before. One could spend their whole life in Texas, for example, and never spot the false dayflower, which thrives in wooded and shady areas in Central Texas. But seen through the eyes of Austin photographer Chris Carson, the false dayflower's translucent lavender petals gaze back alertly, almost human.
Through photography, painting, collage, textiles, and sculpture, artists from across the state reveal floral wonders we might otherwise miss. And when we see these treasures with fresh eyes, the natural response is joy.
Consider Austinite Elizabeth Chapin's outrageous mega magnolia sconces. Many of us have admired the magnolia tree bloom's soft white petals and sweet perfume. But Chapin's in-your-face versions—with their velvet pink stamens and beaded cone tucked inside a nest of petals—make a bold statement. Crafted of acrylic paint on canvas, fabric, thread, beads, and metal, the sconces light up the room, literally.
Painter Kitty Dudics conveys her delight in Texas flowers through colorful paintings awash in patterns. Raised amid the bougainvillea, hibiscus, and oleander common in the Rio Grande Valley, Dudics knows intimately the stages in which the grapefruit and pomegranate trees in her backyard transform from flower to fruit, and how they are now fighting back from last year's devastating freeze. Her act of paying attention is born of a deep love of the land she grew up on.
Painter Mia Carameros' flower-inspired works bow to the vegetative wonder around her, including the weeds. She elevates the humblest of plants, like a vine growing out of a sidewalk, into a deep black gouache composition that highlights the vine's intricacies and elegance. Carameros doesn't take all the credit, though. "There is a creator of these things, and it's not me," says Carameros, who grew up in El Paso and now lives in Austin. "It's much bigger than me, and that feels really purposeful and meaningful. Just talking about it makes me want to go paint."
The delight found in flowers feels uplifting but not frivolous. It is as resilient as Dudics' grapefruit tree fighting back after last year's freeze, as playfully sensual as the velvet pink stamens of Chapin's magnolia, and as surprising as the gaze of Carson's false dayflower. As Chapin reminds us: "Sometimes there is nothing more shocking than joy."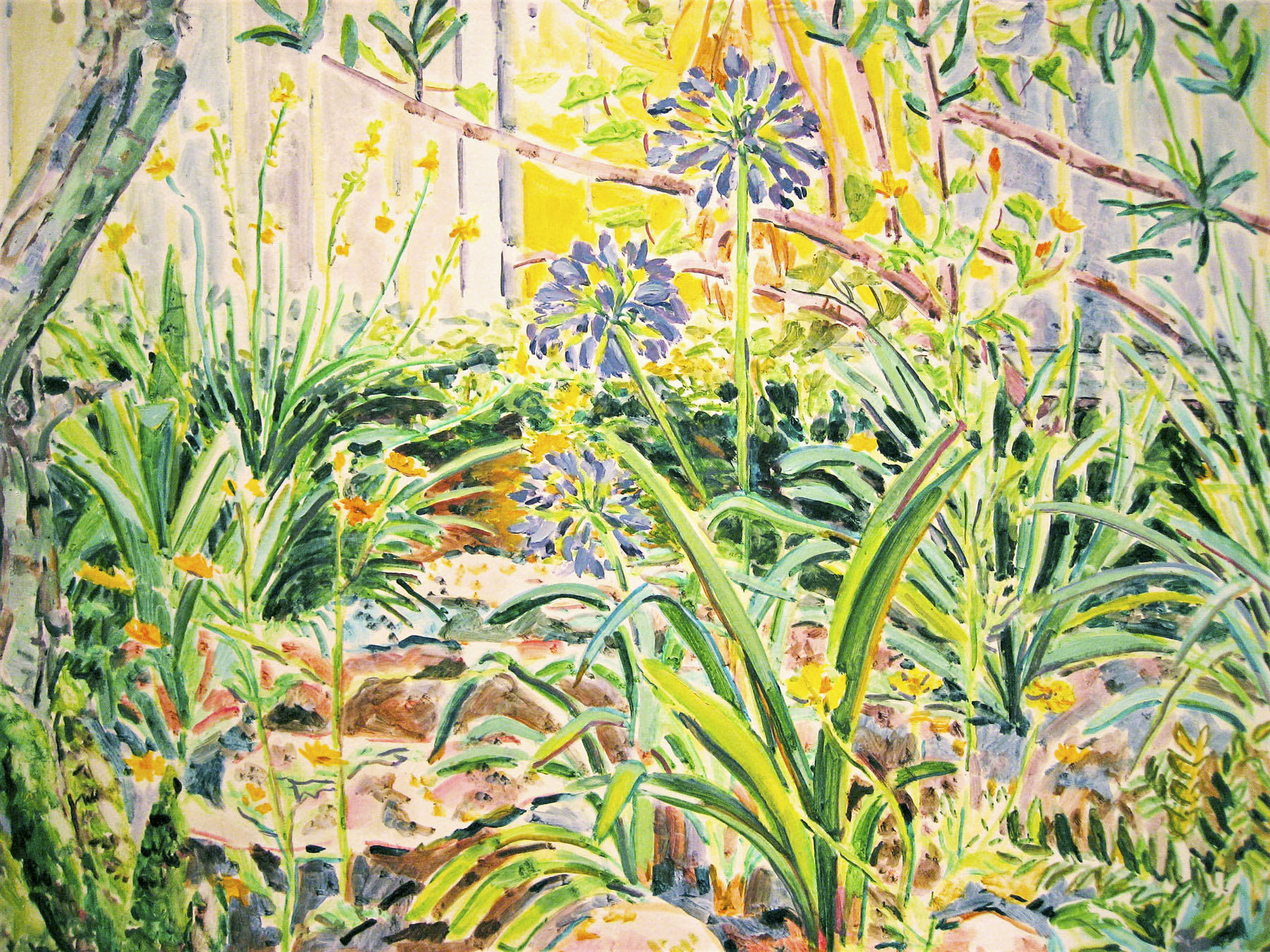 Kitty Dudics
Lily of the Nile Oil Painting
Kitty Dudics grew up near Brownsville in the 1950s and '60s on a resaca, an oxbow lake formed by an ancient distributary of the Rio Grande. As a girl, she would trod deep in the resaca's mud, trying to dig out fresh clams. Once she found a pearl. Her mother was a painter and grew hibiscus everywhere. Painting, as well as an abundance of flowers—bougainvillea, oleanders, and hibiscus—surrounded her.
In childhood, Dudics forged a relationship with nature that continues to fuel her as she paints in her Corpus Christi studio, which she named Girasol—Spanish for sunflower—because of the way the flower's face turns to follow the path of the sun. "Because that's what I do when I go out to my studio to paint," Dudics says. "It's my place to turn to God."
A mother of three who taught painting at Del Mar College in Corpus for 34 years, Dudics is a watchful observer of the many flowers of Texas. She admires the azaleas in Tyler, the unfolding of gladiolus grown in North Texas, "the lavender pom-pom shape of the agapanthus" in South Texas, and the pomegranate that blooms in her backyard in Corpus.
She's also painted the lavender fields that blossom in early June in Blanco. "My family indulged me," she says. "They let me watercolor on-site, which is my favorite thing to do. I didn't have to go to southern France to find lavender. It was right there in Blanco."
kittydudicspainter.com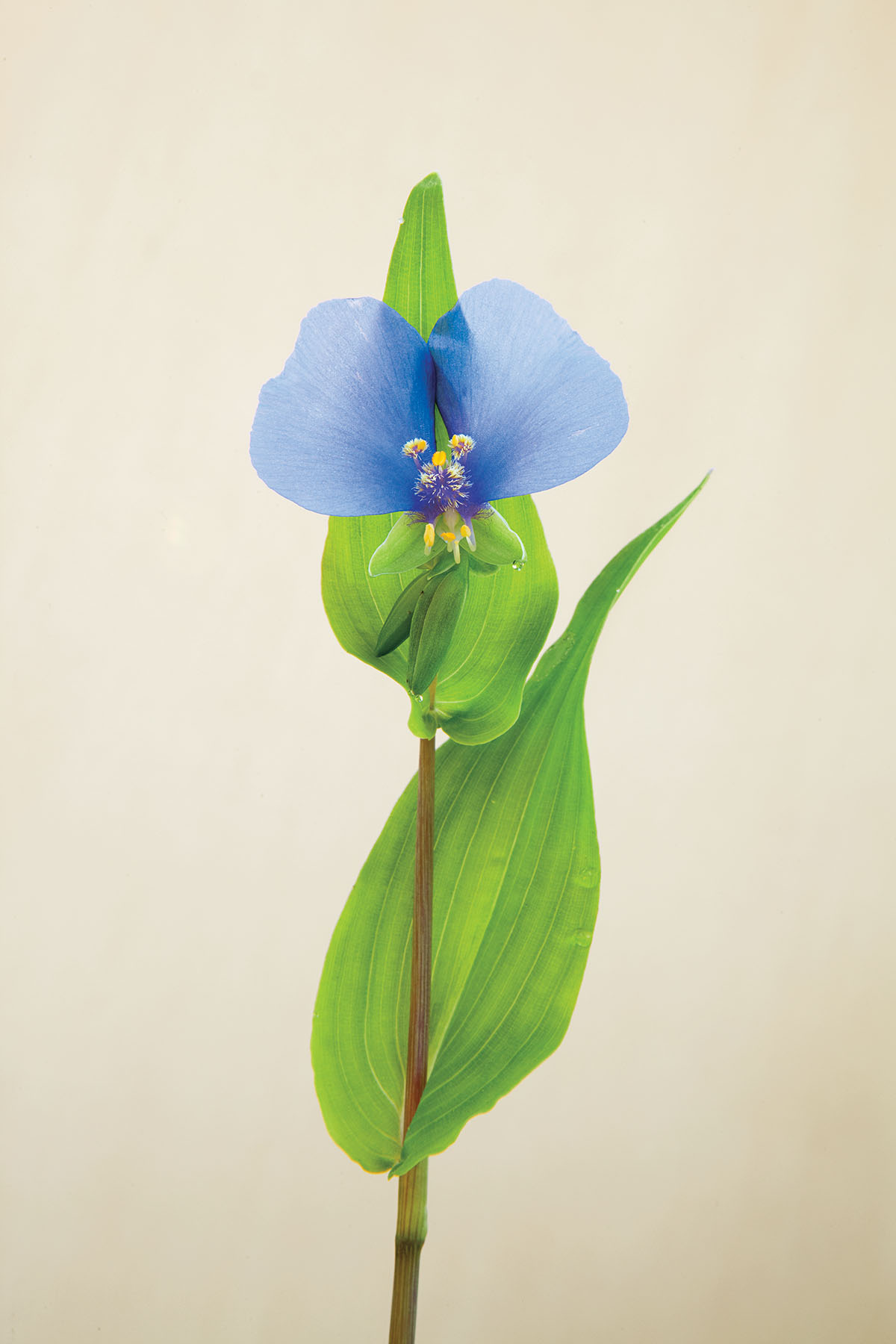 Chris Carson
False Dayflower Photograph
The curve of a thistle's green stem. The rough edges of a thorny white prickly poppy. The cascading purple buds of a wisteria flower. These are the subtleties of everyday flowers captured in Austin photographer Chris Carson's series "Botanicals." Inspired by classical botanical illustrations, Carson's photographs strip away context so we see a flower distilled to its purest form.
Among Carson's subjects is the false dayflower, a common Texas wildflower that hides in woodlands and alleys where it's not often noticed. His photographs of the flower, isolated, show off its fragile overlapping violet blue petals. Its tiny stamens gaze at the camera, making it feel more fauna than flora. Not just a photo of a flower, it's an arresting portrait.
"People walk by and don't notice flowers like these," Carson says. "And I think, 'It's so incredibly beautiful. If it was only isolated, I could prove it to you.'"
Carson doesn't use Photoshop or other digital enhancement. Instead, with twine and clamps, he pulls back the extraneous foliage that naturally obscures flowers. But he doesn't pick them. "No flowers were harmed in the making of these photographs," he says. Working in parks or backyards, he photographs the flowers against an off-white backdrop.
Carson was a sports and news photographer who found his way to flowers when he became a dad. "All of a sudden, having a 1- and a 2-year-old, I was stopping every five seconds with them to look at ants and flowers," he says. "I started learning about plants to tell my kids about them. My life went from that of a busy freelancer to really slowing down, and it took me stopping and slowing down to start seeing these things around me."
chriscarson.com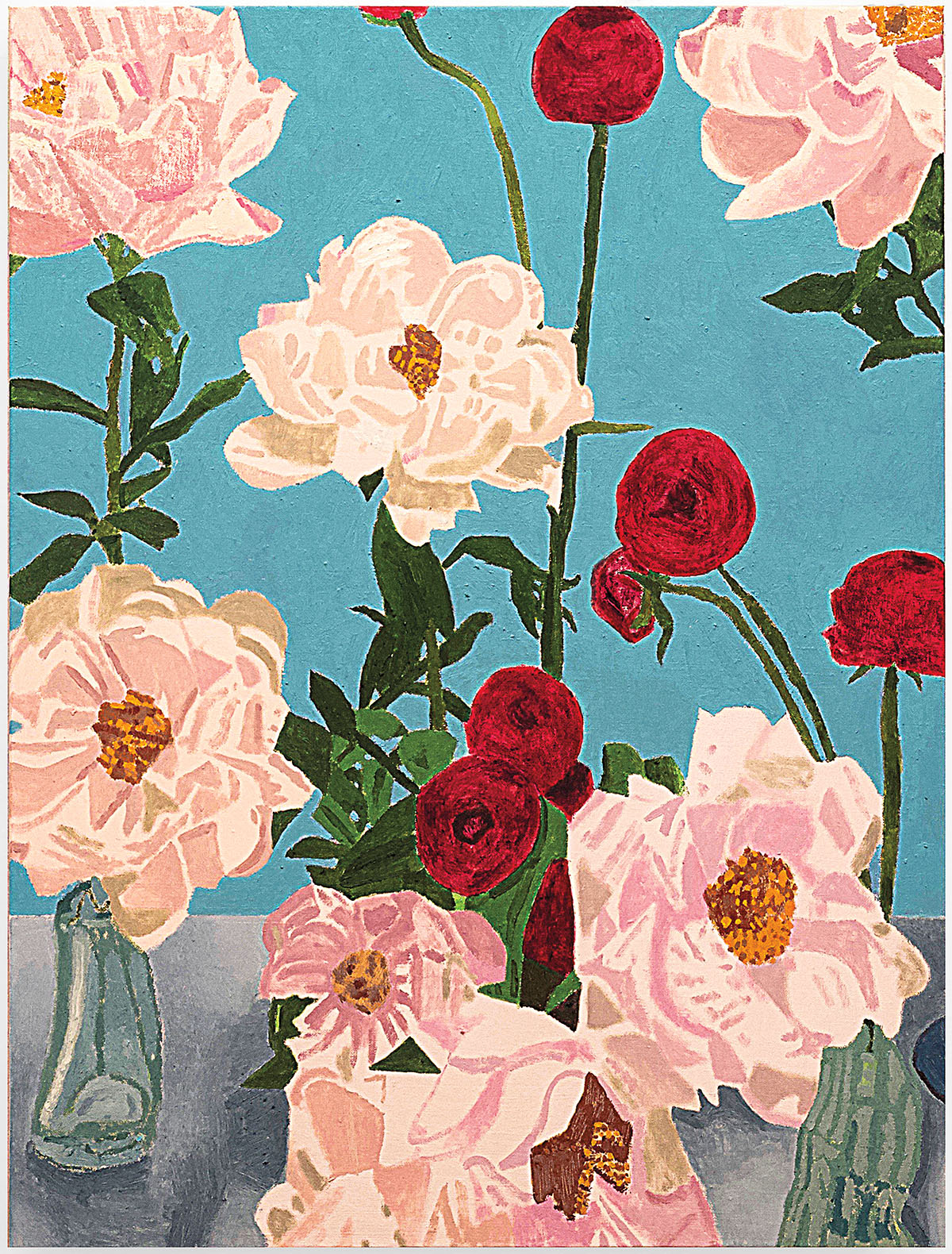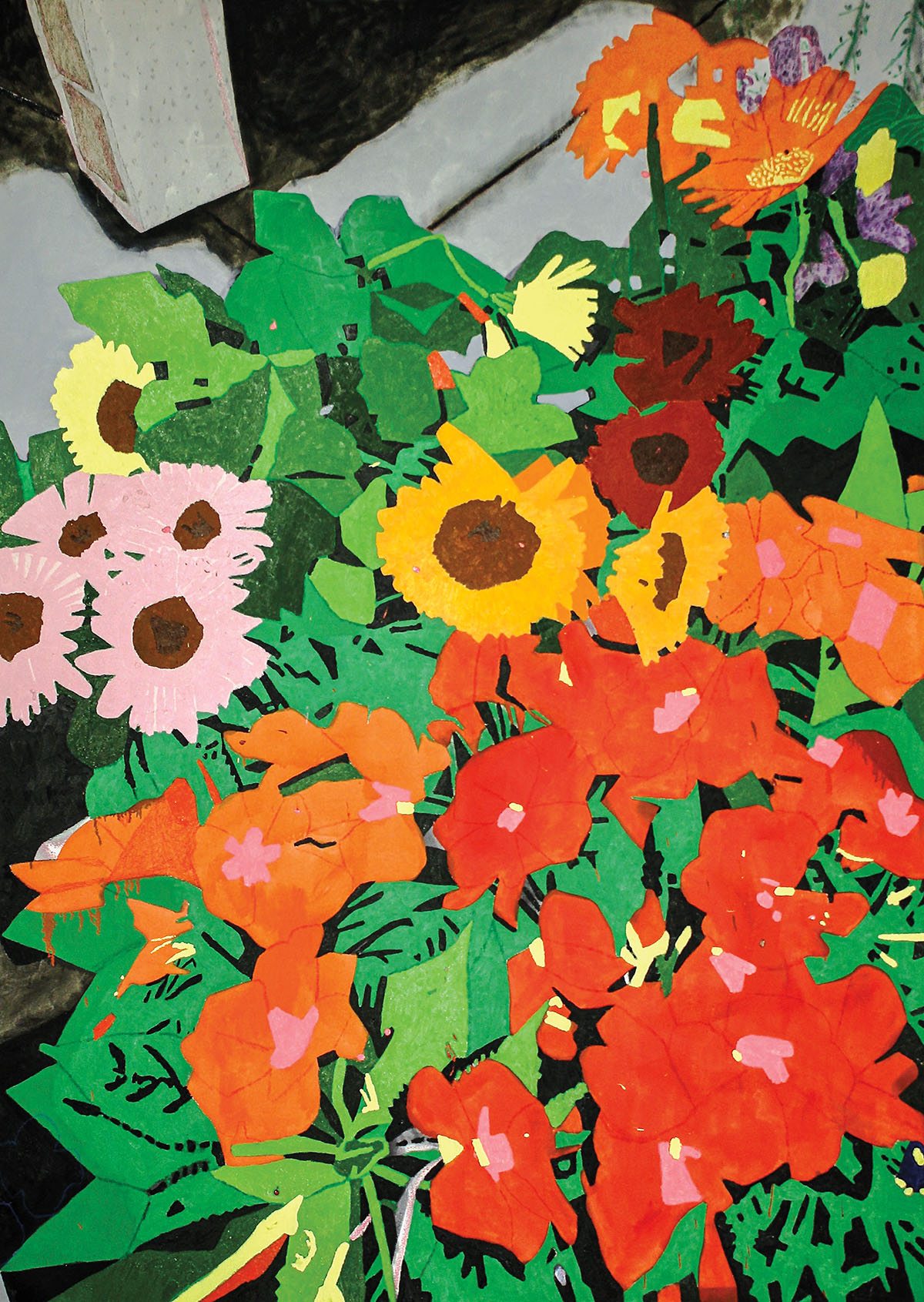 Bradley Kerl
Watching my garden grow all by myself Oil Painting
While most people get excited about Texas bluebonnets, Bradley Kerl says he was always "an Indian paintbrush guy." Raised in Beaumont, the Houston painter remembers begging his mom to pull over on highway trips because he wanted to see what color the flowers really were.
"Depending upon the variety and the season, they can be fluorescent orange or almost pink," he says. "From a distance you can approximate their actual color, but getting up close is something different."
Kerl's massive oil paintings, some more than 7 feet tall, offer that up-close view. Post Vet began as a bundle of flowers that Kerl saw at the entrance to a grocery store he popped into after a visit to the veterinarian. Sensing the elements of a painting, he snapped a photo for reference.
Kerl's paintings go deep into his flower subjects, studying the "interesting moments" of color, light, and shadow bouncing around. One pale pink rose in his painting Watching My Garden Grow All By Myself, for example, has approximately 12 different shades of pink in its petals. "It takes a lot of concentration and energy, but I think that's where good things happen," he says. "It's why I love doing it."
bradleykerl.com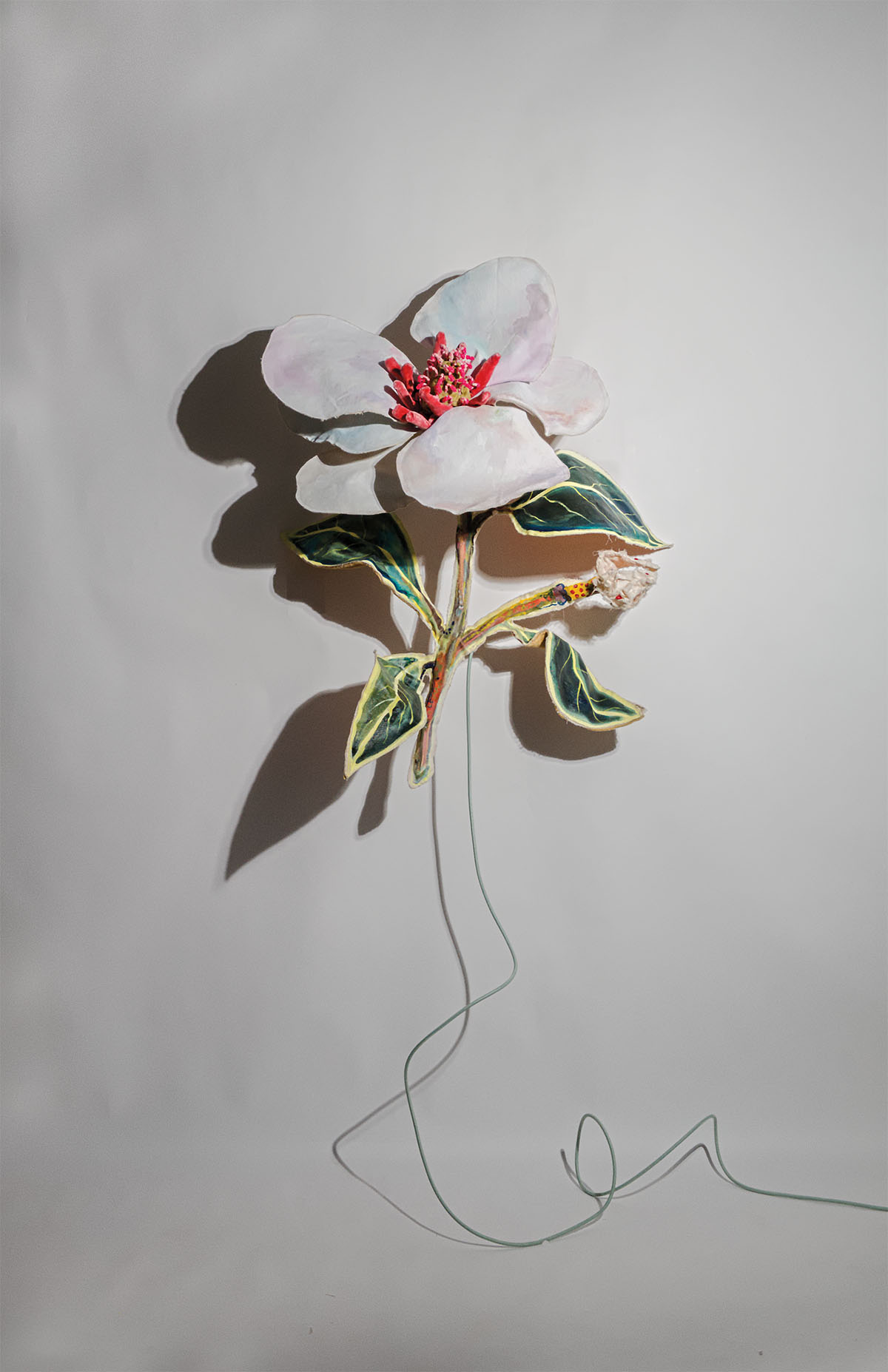 Elizabeth Chapin
Magnolia Sconce Mixed Media
The genesis of Elizabeth Chapin's unruly, jumbo-size flower sconces goes back to the Annunciation. "If you look at Annunciation art throughout history," Chapin explains, "Gabriel is frequently holding a lily. The lily is an offering. I've always loved the image, particularly Mary's hands."
Chapin's twist on the theme is a series of audacious mega flowers she's created in her Austin studio, which she calls the "petal factory." There's a gauzy poppy, a luscious iris, a jagged-edge parrot tulip, and a marvelous magnolia with rose velvet stamens poking out from its interior cone. These floral mashups of sculpture, painting, textiles, and lighting lean out from Chapin's studio wall, like they have something to say.
"If you look at what women painted historically," Chapin says, "then, yes, it was flowers. They were safe. Women weren't even allowed to paint from nudes until about as late as the 1930s. … My flowers are huge, unwieldy, like everything's become too much. And I suppose that's the way I feel."
Chapin's flowers are difficult to create. They require welding, electrical wiring, sewing, and beading. Sometimes things fail. Her parrot tulip, for example, proved top heavy so she had to rewire it. "I like working this way," she says. "It's a puzzle. I know where I'm going, even if I don't know exactly how to get there."
elizabethchapin.com
Mia Carameros
Sidewalk with Mabel Gouache on paper
As a child growing up in El Paso, artist Mia Carameros would flatten pansies from the garden, dab them in glitter glue, and put them in the freezer. "Because it's a desert, I didn't see flowers so often," she says, "but I do have a distinct memory of being so captured by this little iris in our yard that sort of sprung up out of nowhere.
Today, Carameros is still captivated by things that seemingly spring up out of nowhere, like cracks in asphalt. Sidewalk with Mabel, her gouache painting using opaque watercolors, depicts wild plants she noticed while on a walk.
"They were really delicate and feminine, but they're weeds," she says. "A lot of my work celebrates the mundane moments because I think that's life. It's all these small moments that, at the end of the day, show us what our life is about, you know, and what did I choose to do with it?"
miacarameros.com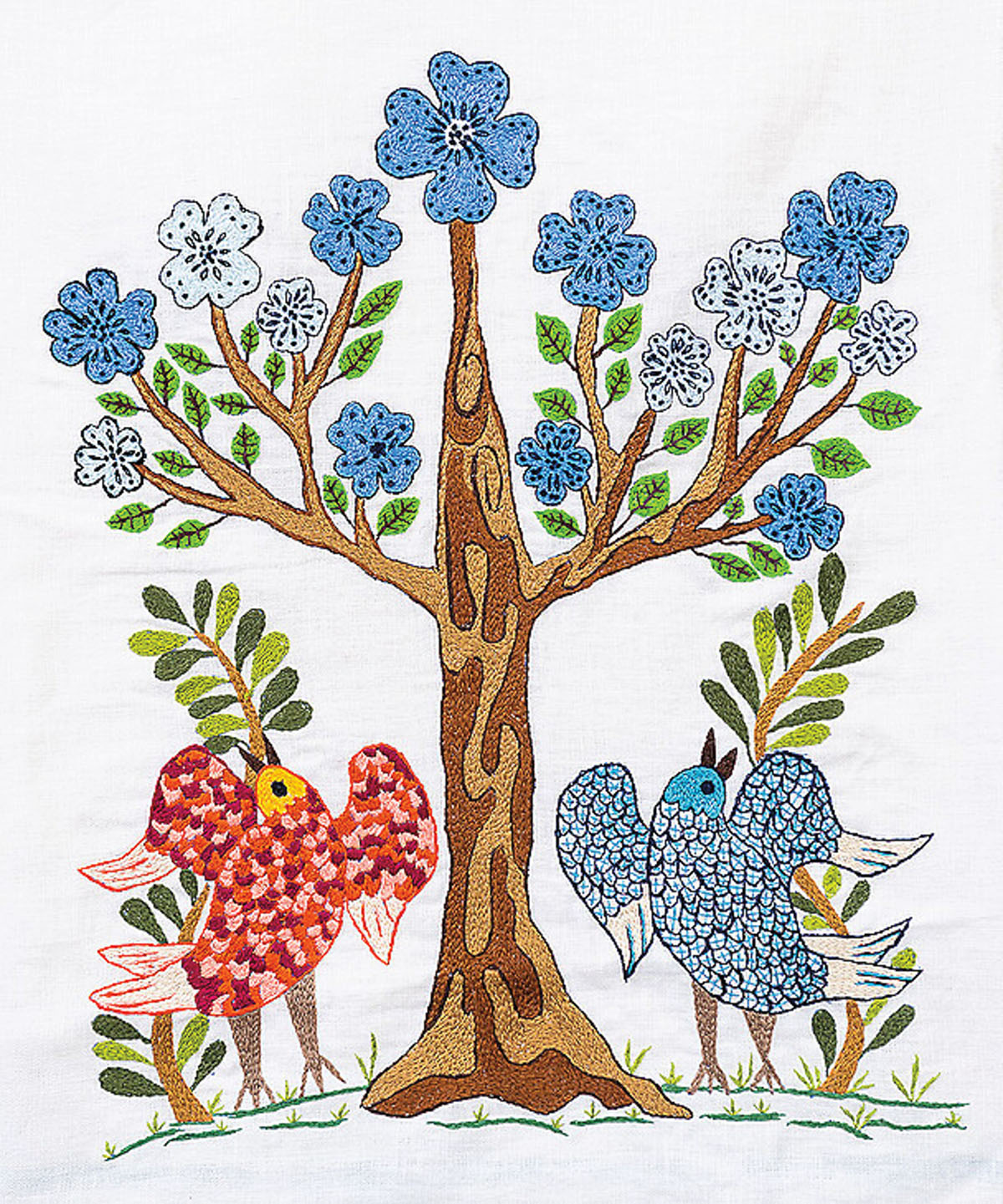 Susie Phillips
Two Singing Birds Embroidery
Dallas-based multimedia artist Susie Phillips understands the allure of a magnolia. Skilled with a needle and thread, she also knows the satisfaction of stitching flowers into fabric. When she recently unearthed the sketch for one of her large pastels of a vase of pink magnolias she'd drawn many years before, she decided to resurrect it through embroidery, and the needlework Pink Magnolia Stitch resulted.
"It's easy to keep coming back to flowers because there's always some variation on what you can be doing," she says. "I do magnolias a lot because I love the way their blossoms overlap and fold on one another. They're just luscious. I'm always drawn to the lusciousness of things."
susiephillipsart.com
From the March 2022 issue