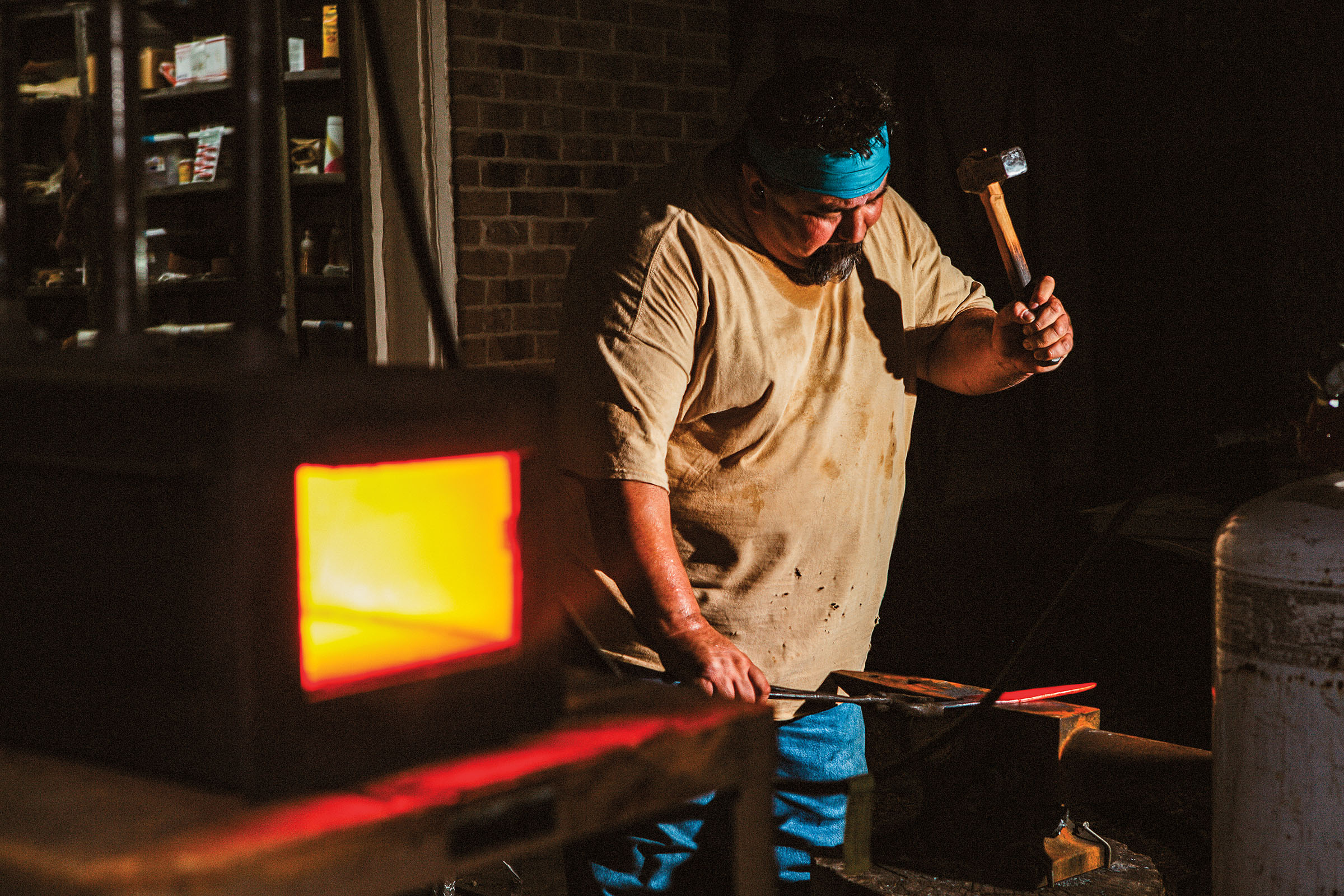 A
sk Sergio Menchaca when he became interested in knives and he'll joke, "According to my dad, the moment I was born. But in reality, he gave me my first knife when I was 5. For some reason, I've always been drawn to them." Menchaca has grown up to be the gifted, mostly self-taught knifemaker behind Texas Sage Forge, an online operation offering high-quality custom blades.
Menchaca's upbringing in Junction was typical of a Hill Country kid. He spent his time fishing, hunting, and butchering wild game for the dinner table. Knife in hand, he began to equate preparing food and cooking to familial love. Nowadays, he pairs antique steel scraps such as sawmill blades, plow discs, and hay rakes for blades with vintage wood, antlers, bone, cactus, and reclaimed native hardwood for handles to create "blades with a past." His full-tang knives—the metal used to form the blade runs the full length of the handle—start at $150. His specialties are custom kitchen knives and 14-inch barbecue slicers for his predominantly chef and pitmaster client base, which includes Mark Scott, co-owner and pitmaster of Convenience West barbecue in Marfa.
Menchaca, who is also the principal of Bowie High School in Bowie, made his first knife in 2015 as "a fun way to de-stress." Shortly thereafter, his friend and master bladesmith Chris Arguello invited him to learn how to forge. "It was magical," Menchaca recalls. "It's not just working with fire; it's about taking something that's considered trash and transforming it into something valuable with decades of use."
Menchaca is also inspired by turning family treasures into tools that become heirlooms. He's made a blade from a 150-year-old wrench that belonged to a customer's great-grandfather and turned an 18th-century oak wagon wheel into a handle. Customers can also have colorful epoxy resin molded into the handles. Even using old steel, Menchaca hammers his blades to a superb edge. "I forge thinner blades than most: 1/8-inch to 1/16-inch, versus 1/4-inch," he says. "Most chefs prefer that because it yields a super light knife that cuts effortlessly."
Recently, Menchaca has been crafting Japanese-style blades designed for various uses—suntoku, honesuki, nakiri—but he'll make everything from oyster shuckers to bowies. "Crafting knives still gives me a connection to my family."
For more information, visit texas-sage-forge.business.site.
From the October 2021 issue