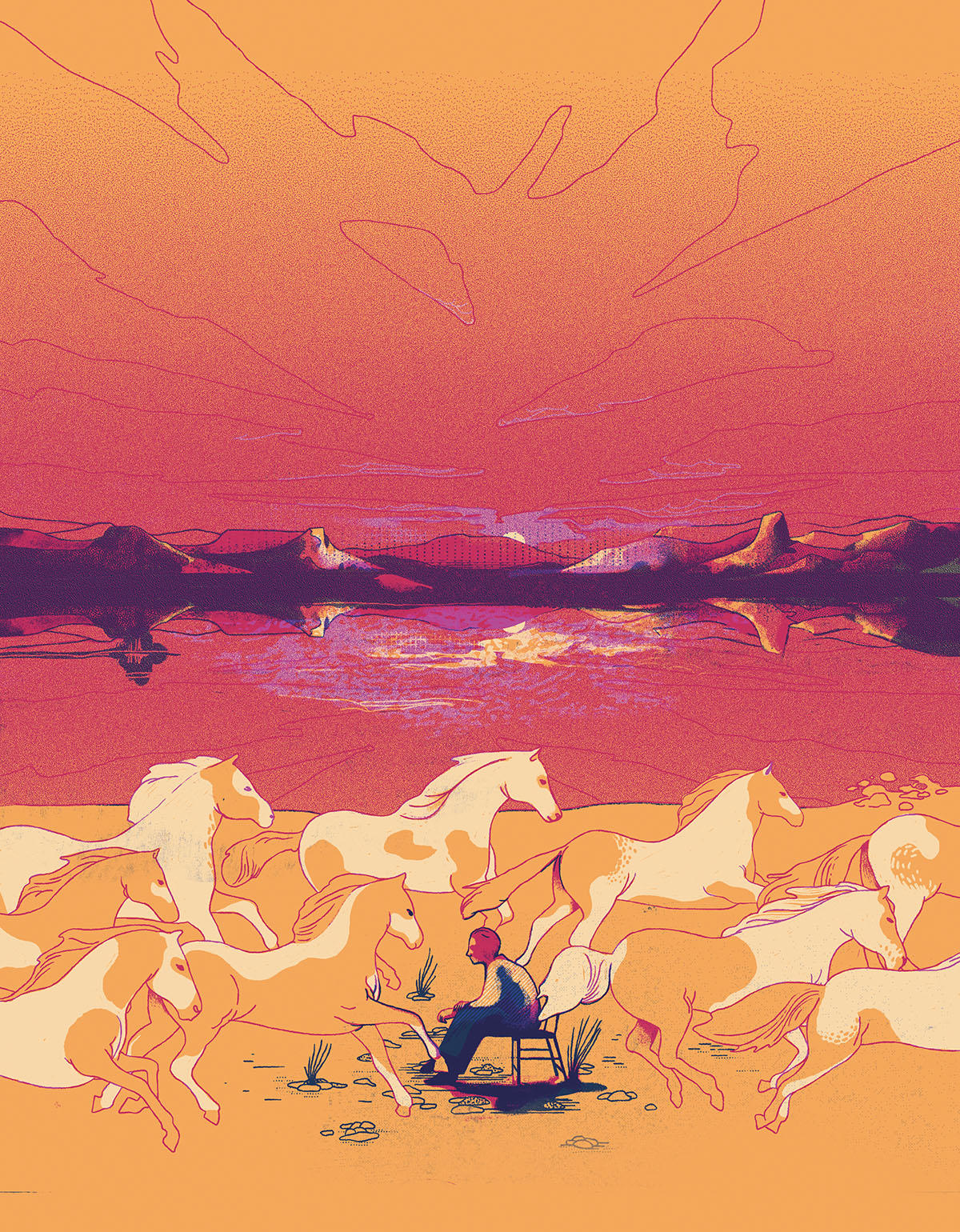 In the Valley of Mirrors
A son returns to the border and makes peace with the spirit of his father
by Antonio Ruiz-Camacho

A National Magazine Award finalist
Memory is the only pickup truck you can drive back to places that no longer exist. In the spring of 2019, a friend offered to let me spend the month of April at his ranch in a flat pocket of South Texas Brush Country between Cotulla, Laredo, and Eagle Pass known as the Golden Triangle (not to be confused with the Golden Triangle framing Beaumont, Orange, and Port Arthur). There, he explained, I would have the space and peace of mind required to finish the novel I'd spent the last seven years writing.
I'd be on my own at a small cabin away from the ranch's busy headquarters, tucked in the corner of an endless maze of mesquite, hard-soil trails, barbed-wire fences, and man-made ponds locals call "tanks." It is an active ranch that raises horses and cattle, a place where vivacious chickens and feral cats roam around freely. But if you stay quiet in the vast expanse long enough, you might also spot paisanos, owls, deer, turtles, wild hogs, even mountain lions more than once—or, maybe, never. Few ecosystems are as deceptive as the brush land.
By the time my friend's invitation hit my inbox, the novel was howling with life, haunting me for an ending, demanding that I come closer. It would be the first time I'd spend time alone in the middle of a sprawling vastness a few miles away from the border with Mexico, the country I was born and raised in. I didn't give too much thought to the prospect of living so close to Mexico for the first time since I left in 2001; I was just intrigued by the ranch's idiosyncrasies. Whenever I'd go out for walks, I'd have to wear a vest—olive green with bright orange accents, like those worn by hunters—so I was easily identifiable as a legitimate guest.
There was a small town nearby: Catarina, population 118. But if I wanted to shop for groceries or eat out, I'd have to drive a bit farther away, in the opposite direction, to Carrizo Springs, which is about 45 times larger than Catarina and yet home to fewer than 6,000 people. Like so many small towns in Texas, both places rattled me with homesickness the moment I heard their Spanish names, as if I'd been to these towns before and had long neglected them. As if my absence marked my relationship with this corner of the state I had never been to before.
I accepted my friend's invitation because, after nearly a decade plagued by second starts and bewildering uncertainty, I was very close to putting an end to the book. I just had to spend time on my own, deep-diving into my recollections of my formative years in Mexico City in the '90s, a decade marked by social unrest, neoliberalism, and the inception of NAFTA. These elements defined my history of the country. Being alone at a ranch, away from Austin and the tangible world, was a gift sent from a parallel dimension, where working a full-time job, waking up next to my wife every morning, and sending my kids off to college weren't nearly as important as writing the closing sentence of a story about the lost rage of youth, the invincibility of grief.
When I took my friend's offer, I was simply looking forward to doing the thing writers yearn for the most and many other people dread—be on my own to inhabit an imaginary world of my own devising for as long as possible. I was not expecting to drive back to the country of my childhood and get sucked in.
The Golden Triangle reveals its rugged landscape as I drive farther south from San Antonio on Interstate 35. Road signs begin to announce otherworldly, unquestionably Texan names foreigners might be tempted to dismiss as fictional latitudes taken out of a Robert Rodriguez movie: Bigfoot, Natalia, Devine, San Francisco Perez. Around Moore, mesquites and prickly pears start to replace the live oaks of capricious shapes that clouded my vision for the last 30 or 40 miles, their trunks twisted so wickedly you could stop questioning your faith.
The earth flattens out and the surrounding greenery pales as though time were moving backward. The cellular connection grows spotty, and 18-wheelers from far-off peripheries like Lubbock or Minnesota dominate the suddenly lonesome interstate. State troopers stay busy issuing traffic tickets to mavericks who've failed to realize they've long left Central Texas and its bustle behind.
The sky and the land expand galactically as I approach the line that divides the country that used to be home from the country that is home now, and I can't wrap my head around the limits of this frontier. I struggle to claim this land as my own, but my two countries were once one, and I wonder what that says about the state of my home: my home longing and my home losing.
I struggle to claim this land as my own, but my two countries were once one, and I wonder what that says about the state of my home: my home longing and my home losing.
How many more unforthcoming residents of this space-in-between are echoing my pang right this minute? Why, even though I've lived in Austin since 2004, hasn't this question kept me up at night until now? You get old when the unanswerable questions slide to the center, when you begin to search for the cure for heartache in history books.
Once you get off I-35 around Dilley, 70 miles south of San Antonio, the change of topography is abrupt. Secondary roads become an endless blade that slits the earth along the brush land. They grow indistinguishable from one another save for the puzzling inconsistency of speed limits on these seemingly identical two-way roads. Why can you drive 75 mph on Texas 85 but only 55 on Ranch Road 2688 if both look the same?
Every now and then you drive past a solitary oil well spiking out of the sea of mesquite. Then there are the entrances to ranches that announce their names on
exquisitely rendered wrought-iron frames, names that remind me how hard it is to write fiction about places charged with multiple realities:
ROD RANCH
RANCHO ROJO
QUIEN SABE RANCH
"I am wondering what time you might arrive," my friend had emailed me while we were still working out the final details of my visit. My original plan was to get to the ranch on a Monday night. "Given you're driving at the end of the day from Austin, it will probably be after dark, which has its own challenges. Every fence and gate looks the same at night on the road, even for people who live here."
That convinces me to leave early Tuesday morning instead. Around noon on a glaring day, I pull by a convenience store in Big Wells and text my friend that I'll arrive in 20 minutes. It is early April, but it feels like late May because of the heat. It is 2019 but it could be 2007—or 1999, or 1985 for all I know; it's as if time moved in circles around here. A dilapidated, seemingly abandoned gas station across the road still announces a gallon of unleaded at $3.10, a sobering reminder that the past is not always worth longing for. The store, the station, the one-story houses nearby—everything sizzles with the melancholy Kodak colors of the Jimmy Carter years of my youth.
Sure enough, I drive up and down the road a couple of times before I find the gate to my friend's ranch. He is there to greet me in his pickup truck. As I follow him in, my SUV tumbling up and down the dusty path, the sight of his cowboy-hat profile outlined through the rear window hits me like a memory I had forgotten.
Three horses are hanging around, nibbling at the patches of grass that surround the cabin, when we pull up to the front porch. A few feet yonder, branchy trees with ebony trunks and parrot-colored leaves, trees as tall as NBA players, dominate the horizon. The towering greenery—a wild quilt made of mesquites and black brushes and guajillos—grabs me right away. These thorny, arboreal creatures are not fruited maize plants, the kind you'd find at a ranch where corn is grown, but that's not what my instinct says. That's not what my heart says. It is not, in fact, a cornfield I'm surrounded by, but my gut won't abide.
In the upcoming days and weeks, I won't be able to look at the endless stretches of brush land that shelter the cabin without thinking they look like the milpas, or maize fields, at my father's ranch back in Acambay, 87 miles northwest of Mexico City. It still makes no sense, I tell myself as I type this six months after my stay, while Googling pictures of "cornfields" and "brush land."
Is it the bluest open sky above or the imposing height of the vegetation that reminded me of that other place, my family's land, where I spent so many weekends of my childhood? I don't know, but if hard evidence is what I'm after, the way my stomach seizes when I compare the search results is all I need to understand the stubborn workings of nostalgia.
None of the fauna I'll meet in the next 30 days is to be seen. All I see is the milpas looking back at me. I spend 10, 20 minutes just gawking out the window, like an idiot, hoping to see my father show up.
My friend excuses himself after showing me around. He reminds me to wear the hunter's vest if I step outside and to always watch for rattlers. He's aware the purpose of my visit is to be left alone so I can write. Once on my own, I unpack my bag. I set the phone-book-thick manuscript I need to revise on the desk, but I can't focus on the novel.
I approach the window, pull the blinds open, and peek out. The horses are gone. None of the fauna I'll meet in the next 30 days is to be seen. All I see is the milpas looking back at me. I spend 10, 20 minutes just gawking out the window, like an idiot, hoping to see my father show up.
There is a picture I must have taken in 1993 or '94, when I was still in college and black-and-white photography became a passion of mine almost as compulsive as writing was. I think I took the photo on a Sunday afternoon as we prepared for lunch. There are blurry shapes in the background that could be the tips of the maize plants, but I can't remember what time of year the photograph was taken, if the corn crop had been harvested that season, or if the maize stalks were still rising. The shapes could also be the weeping willows that surrounded one of the man-made water ponds that rested nearby the ranch's headquarters, which my father and the locals called
bordos
because their perimeter made them look like bumps bulging 7, 8, 9 feet aboveground.
The shades of gray above the darker blurry shadows in the background of the image are not the sky but instead the nearby hills where the Pan-American Highway, a network of roads that connects Alaska with Argentina, passes by. If you drove along that highway up the hills, you'd get a panoramic view of the valley where the ranch sat and the mirror-like effect created by the many bordos that peppered it. That's why locals call it el valle de los espejos.
Ever since I can remember, my family and I spent every other Sunday at the ranch, in from Mexico City. We'd arrive before noon and take long hikes around the milpas and the bordos. Then friends of my father would join us for lunch and grill carne asada or make tacos with barbacoa de borrego or carnitas. The grownups would drink Cuba Libres (rum with Coke) or París de Noches (cognac with Coke, dad's mix of choice) while my cousins and I would run delirious around the ranch, chasing sheep or hiding in the guts of giant broken-down combine harvesters, as careless and free as you can only be for so long, never once thinking about the end of things.
In the early '90s, I was a budding photographer with artistic aspirations and an unformed vision, obsessed with close-ups and low apertures. When I took this picture of my father, there must have been a crowd of relatives and friends around, but I focused on him alone, never an easy task. Dad was restless, incapable of staying still, always surrounded by people, probably uneasy whenever alone. It is a fleeting snapshot, a bit out of focus even. But I can't think of any other picture of my father that reflected my relationship with him better than this one.
In the portrait, from a safe distance, he's not just looking at the camera; he's looking at me. You could tell if only you could see the mix of tenderness, bewilderment, and worry in his eyes. When I took it, I had no idea I'd become an immigrant a decade later. I had no idea this would be the one picture of my father I'd bring with me when I left Mexico. I had no idea he would die only three or four years after I captured him in this photo.
"Everything here either stings, bites, or sticks," my friend jokes as he shows me, dizzy with pride, the makeshift South Texas botanical garden he's nurtured by the headquarters' porch. Creosotes, juncus, tasajillos, black brushes—fittingly known as chaparro prieto—all glow, gorgeous and resilient and thorn-ready, in the Armageddonian fall sun.
It is early October and I'm back at the ranch for a weekend. The novel's finished and my sciatica, which I attribute to the stress of parting with a book that occupied my life for so long and which prohibited me from running for the first half of the year, has resided. All I want to do is chat the day away with my friend and go out for a run around the brush land—things I couldn't do in April.
That month, every day at noon or at night, when my surroundings got so quiet my own breath startled me, the horses visited me. I'd hear them munch on grass or make their horsey nasal sounds. I couldn't help thinking, of all the animals that could keep me company, it had to be the one my father loved the most, the same one I've always had a complicated relationship with.
For years, he tried to make a jinete, or horseman, out of me, but I was never up to par. I lamented, yet again, that my father died before I could show him that I might have been no horseman, but I could write. Only once did I try to approach the horses outside the cabin and stroke them, but to no avail. No horse will trust you if you don't trust it first.
After lunch my friend asks if I'd like to hop on his dual-seat sport plane and fly south over the ranch. "We could get down to the river," he suggests. During my previous visit, I wanted to get there but the book kept me so busy I didn't have time to explore the ranch's confines.
In the afternoon, we pull by the ranch's gate, where the horses are grazing. After my friend feeds them snacks, we head to the hangar, where his gorgeous, bright red-and-yellow Carbon Cub awaits. From above, the Golden Triangle is a blanket of dust splotched by the uneven cacophony of mesquites, equal parts lush and desert-like. Tanks of bizarre shapes like mammoth mirrors tossed down on earth from high above dot the landscape against the late afternoon sky, and a warm sense of déjà vu in my stomach humbles me.
After 15 minutes of flight, my friend points at what seems like yet another bordo in the distance, but he clarifies through the intercom system: It's the river. Before I know it, we're flying along the northern bank of the Rio Grande. There it is, beyond and all around us: home.
The land at both of the river's edges crumples and flourishes into cliffs and mounds saturated with vegetation. The river snakes, unimpeded, east and west in whimsical twists, and turns in ways that make it hard to tell which side is north and which side is south. The water in its current is so unstirred it reflects every detail of the clouds, every wrinkle and every puff. The valley becomes a mirror of spiritual proportions. I wish this serenity wouldn't remain so elusive at ground level.
The next morning, the horizon still alight, I go for a run. When I reach the gate, the horses are there. They look up from the grass upon hearing me, and I come by the barbed-wire fence that keeps us apart. Chilo, an old, majestic sorrel stallion, approaches me for the first time. I fight the urge to back away. He leans in and inspects me with his nose. I don't want to be rejected again or go back home empty-handed, and I don't. I reach out and Chilo lets me stroke the white spot on his long, portentous forehead at last.
I want to tell him the last time I felt this close to a horse my father was still alive. I want to tell him I was so young the questions that kept me up at night had an unequivocal answer, an answer that didn't hurt. I want to tell him home was somewhere else and my heart was yet to learn about the aches of belonging to two countries at once. But there's no need. You can tell in the way he keeps looking at me until I break away and it's time to get back.
From the March 2020 issue