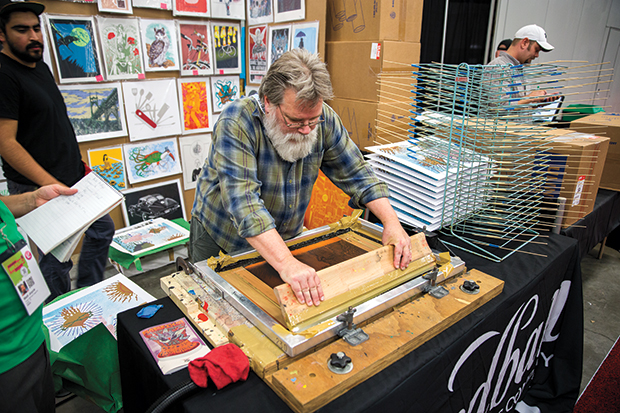 You never know what you'll find at South by Southwest, Austin's annual summit of creative industries and popular culture. President Obama showed up in 2016 to talk technology and tacos. In 2012, Doritos hosted a party with rapper Snoop Dogg performing on a stage built to look like a five-story snack vending machine. And in 2007, Twitter famously took flight during the conference.
Flatstock takes place March 15-17, 2018 in Hall 4 of the Austin Convention Center during the South by Southwest Conference & Festivals. Admission is free.
The cultural stampede can be a bit overwhelming, especially for those who aren't jetting in on business accounts to network at the festival's technology, film, and music conventions. But tucked within the Austin Convention Center, there's an engaging exhibition that is one of SXSW's most accessible activities for curious locals and tourists: the Flatstock poster show.
Organized by the American Poster Institute, Flatstock draws about 80 poster artists to Austin each year during the SXSW Music Festival. The artists come from across the globe to mingle with peers, market their work to bands and industry types, and display their screen-printed posters, particularly music posters promoting bands, concerts, and festivals.
Strolling through Flatstock feels somewhat like navigating a carnival midway as barkers pitch their games and rides. But it's not the artists themselves calling out; it's their splashy artwork that screams from the walls: Don't miss this rock show! Never forget that amazing festival! Check out my crazy colorful design!
"These are all real grassroots designers making artwork basically as close to from the soul as you can get in the world of commercial art," says Mark Brickey, a graphic designer from Los Angeles who hosts a podcast called Adventures in Design. "Where you and I are standing right now, this is the intersection where commercial art and fine art meet."
Flatstock is free and kid-friendly and features a stage that hosts about six bands each afternoon. Because the exhibition is located at the heart of the conference, thousands of touring musicians, industry reps, and fans filter through, providing a glimpse of the energetic, creative, and collaborative spirit that makes SXSW such a touchstone of popular culture.
Flatstock also bolsters the fundamental artistic element of music by honoring handmade artwork. The screen-printed posters offer balance to an industry that now reaches its audience mostly through touchscreens.
"The popularity of gig posters has been a reaction to the coldness of digital media," says Terrence Ryan, aka Lil' Tuffy, a San Francisco artist and co-president of the American Poster Institute. "The decline of music packaging—CD sales and record sales—has also been a factor. There's a desire to have things that are handmade and personal."
Rock poster artwork traces its roots to the 1960s in San Francisco and Austin, where underground comic-book artists were recruited to draw posters promoting concerts. At Flatstock, elements of Austin's music history from the past 40 years are on display at a booth hosted by the South Austin Popular Culture Center.
Artist Danny Garrett held court at the booth last year, signing copies of his book Weird yet Strange: Notes from an Austin Music Artist. Garrett started drawing music posters in 1971 and has worked with the likes of Willie Nelson, Stevie Ray Vaughan, and Antone's, the seminal Austin blues club.
"The very fact that there still is a gig poster scene going on and the fact that for more than a dozen years now it's had a place at South by Southwest and other music conferences, I think that's incredible," Garrett says. "Because really, this whole thing started out with people trying to describe psychedelic music as it was emerging in the mid-'60s in San Francisco with art. I think that led directly to what me and my colleagues did, and it's still going on."
Flatstock itself, which hosts a series of poster shows throughout the year in the United States and Europe, has certainly had a hand in perpetuating poster art since the show debuted in San Francisco in 2002. In 2016, I met two artists who took up printmaking after discovering it during visits to SXSW. One of them was Chris Hopewell, a poster artist from Bristol, England, whose Jacknife studio's eye-catching work draws on the imagery of comic-book heroines, beer can labels, and motorcycles.
"I came to South by Southwest because I was working in a different branch of music at the time, making music videos, and I discovered this," Hopewell says. "I fell in love with the whole idea of poster making, so I went back and bought a printing deck and started doing it."
Hopewell's imaginative artwork reflects the incredible diversity on display among the 55 booths in the convention center. Most of the posters cost about $30, and many of the artists also sell their artwork on lower-priced collectibles like T-shirts, koozies, pins, and stickers. Although most of the posters promote bands and concerts, you'll also see artwork related to sports, politics, movies, and nature.
That's what I find at the Biscuit Press booth featuring the screen prints of Austin artist Dan Grissom. Among Grissom's posters was one depicting the tranquil scene of a stout, gnarly tree set in the middle of a deep forest at dusk. Bicycles lean against the base of the trunk, and a ladder climbs to a tree house built into the canopy of twisting branches. Warm yellow light glows from the tree house windows, highlighting the silhouettes of people playing instruments, dancing, and visiting. I paused as the scene transported me away from the noisy convention center and into the forest, riding my bike to a tree-house gathering with friends and music—a magical adult fairyland of sorts.
As it turns out, Grissom had created the poster only a couple of weeks earlier for a Dallas-based environmental charity called RETREET. The group organizes weekend "Retreets" to plant trees for residents in places that have been damaged by natural disasters, while taking along their bikes for transportation and recreational rides. Since its founding in 2012, RETREET has planted trees in Bastrop, Wimberley, Lancaster, Cleburne, Rowlett, and the Possum Kingdom area as well as out of state.
Grady McGahan, the founder and director of RETREET, tells me later that Grissom's poster captures RETREET's fundamental values of trees, community, inclusion, and fun. "The tree is unique in that forest. It has a Berenstain Bears feel to it," he says. "There's a nostalgia for me looking at that image, nostalgia for this new thing that I think is a powerful motif that really draws you in: Come and climb this ladder, we're having a great time up here, everyone is welcome."
Now framed and hanging on a wall of my home, the poster evokes a similar reaction when I pause for a moment to focus on it or introduce the scene to friends. You truly never know what you'll find at South by Southwest.
From the February 2017 issue