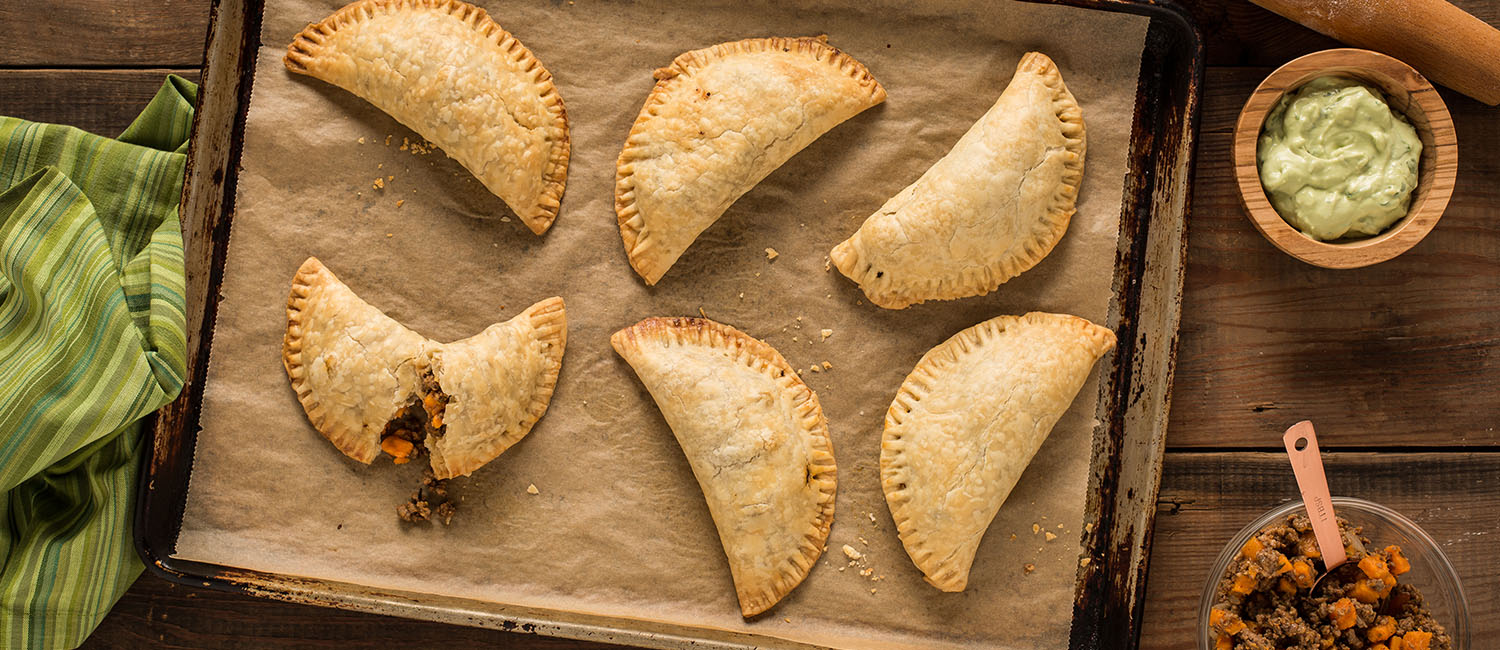 Makes 12 Servings
Recipe courtesy of: Autumn Reo, www.mamachallenge.com
Ingredients
1 cup sweet potato, peeled and chopped into 1/2-inch pieces
1/2 pound lean ground beef
1 cup yellow onion, chopped
1 clove garlic, finely chopped
1/2 can (10 ounces) diced tomatoes and green chilies, drained
1/2 teaspoon cumin
1 teaspoon chili powder
1/4 teaspoon dried oregano
1/4 teaspoon paprika
1 teaspoon salt
1/4 teaspoon freshly ground black pepper
1 tablespoon cilantro, chopped
3/4 cup shredded cheddar cheese
1 package refrigerated pie crusts (2 crusts)
Avocado Crema Sauce
1 large, ripe avocado, mashed
1/2 cup Mexican crema, sour cream or Greek yogurt
1 lime, juiced
1 teaspoon cilantro, chopped
1/2 teaspoon salt (optional)
Preparation
Place chopped sweet potato in small sauce pan. Cover with water and add 1 teaspoon salt. Bring to a boil, reduce heat and cover. Cook 5 minutes or until tender. Drain and set aside.
In a deep skillet begin browning beef over medium heat, breaking up with a spatula into crumbles. Add onion and stir until cooked through. Add chopped garlic and seasonings and continue cooking 1 minute. Add diced tomato and chilies and continue cooking on low heat for about 5 minutes. Add cilantro, sweet potatoes and cheese and stir to combine. Preheat oven to 400ºF.
Cut dough into 6 – inch rounds on a lightly floured work surface. Line 2 baking sheets with parchment or wax paper. Lay dough circles out on pans. Place 2 heaping tablespoons of meat filling on each circle, paint edges with water and fold dough over in half to enclose. Use a fork to press and seal edges. In a small bowl, beat the egg and water to make an egg wash and lightly brush the surface of each empanada.
Bake for 25 – 30 minutes or until golden brown. Serve hot with Avocado-Crema Sauce.
Avocado Crema Sauce
Combine avocado, crema, lime juice, cilantro and salt. Keep refrigerated until ready to use.
From the July 2017 issue