A Frozen Wonderland
Galveston's Ice Land showcases sculptures carved from giant blocks of ice
By Robyn Ross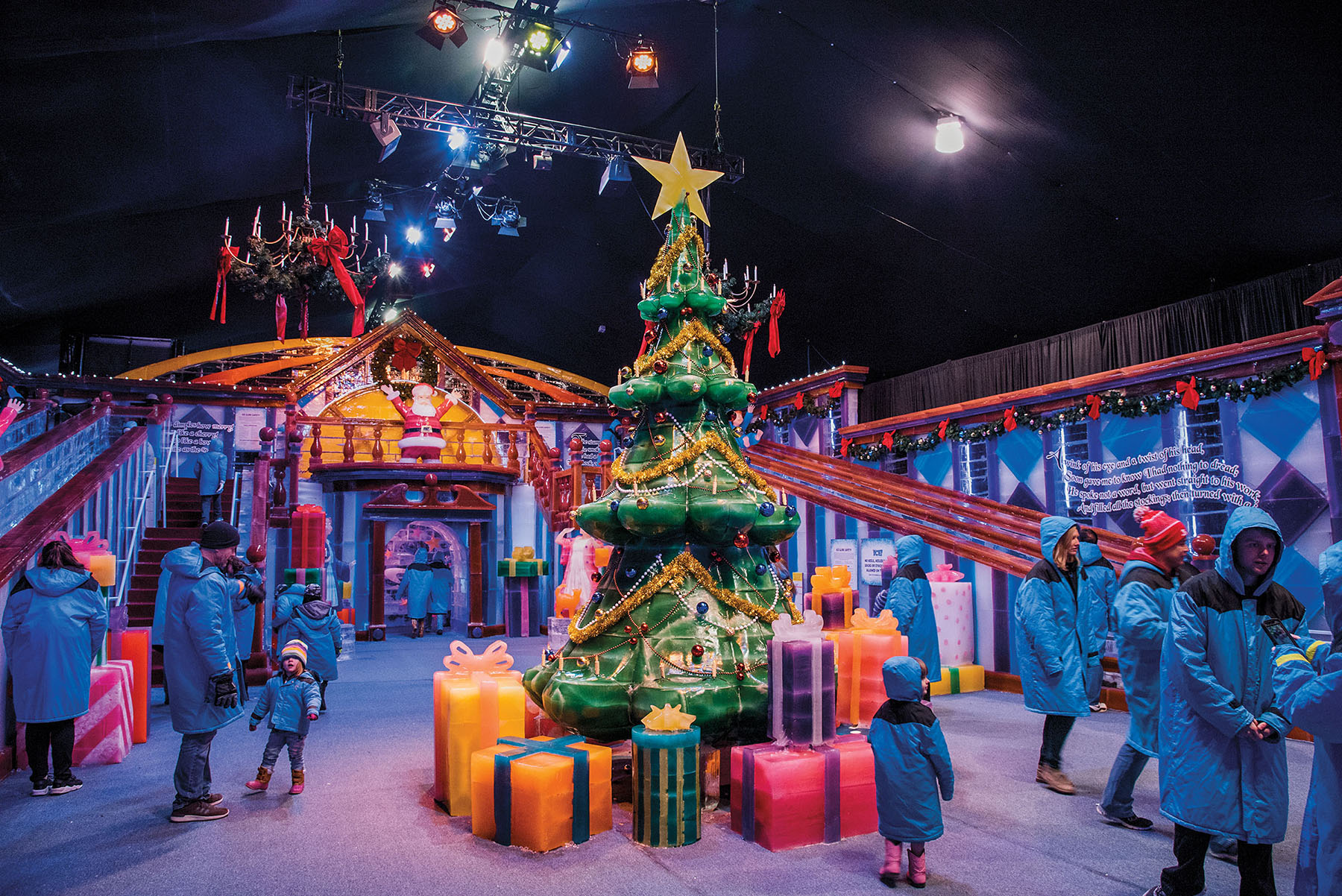 Since 1985, millions of visitors have flocked to Harbin, China, for the city's ­International Ice and Snow Sculpture Festival. Talented carvers transform blocks of ice cut from the frozen Songhua River into elaborate castles and towers illuminated by colorful lights. Inspired by the spectacle of Harbin, officials at the Galveston theme park Moody Gardens decided a little over a decade ago to create Ice Land, a smaller version of the event. But ice-sculpting in a subtropical island requires careful planning. A Dallas businessman with Chinese roots introduced Moody Gardens planners to a professional ice-carving team from Harbin. Park staff and consultants built an insulated tent with walls designed to withstand hurricane-­force winds so the carvers could work during the balmy autumn months. Flying Penguin Ice in Bryan supplies massive blocks of ice the 25 carvers transform into magnificent sculptures that last through early January. After a two-year hiatus due to COVID-19, when the carvers were unable to travel to the U.S., the sculptures have returned for a sixth year this holiday season.
Iced Out
Beginning in February, Bryan-based Flying Penguin Ice freezes 6,000 blocks of ice for Moody Gardens. Each block takes three days to freeze solid. To create the colors, Flying Penguin blends food-grade tempera paint with milk, which keeps the paint from streaking and marbling in the water. Making white ice is easy: The sediment in unfiltered water turns ice white. For clear ice, Flying Penguin pours reverse-osmosis-filtered water into a machine that circulates the water as it freezes from the bottom of the container upward. The company delivers the ice in the fall, bringing the exact colors and quantity of ice the carvers need for each day's sculptures.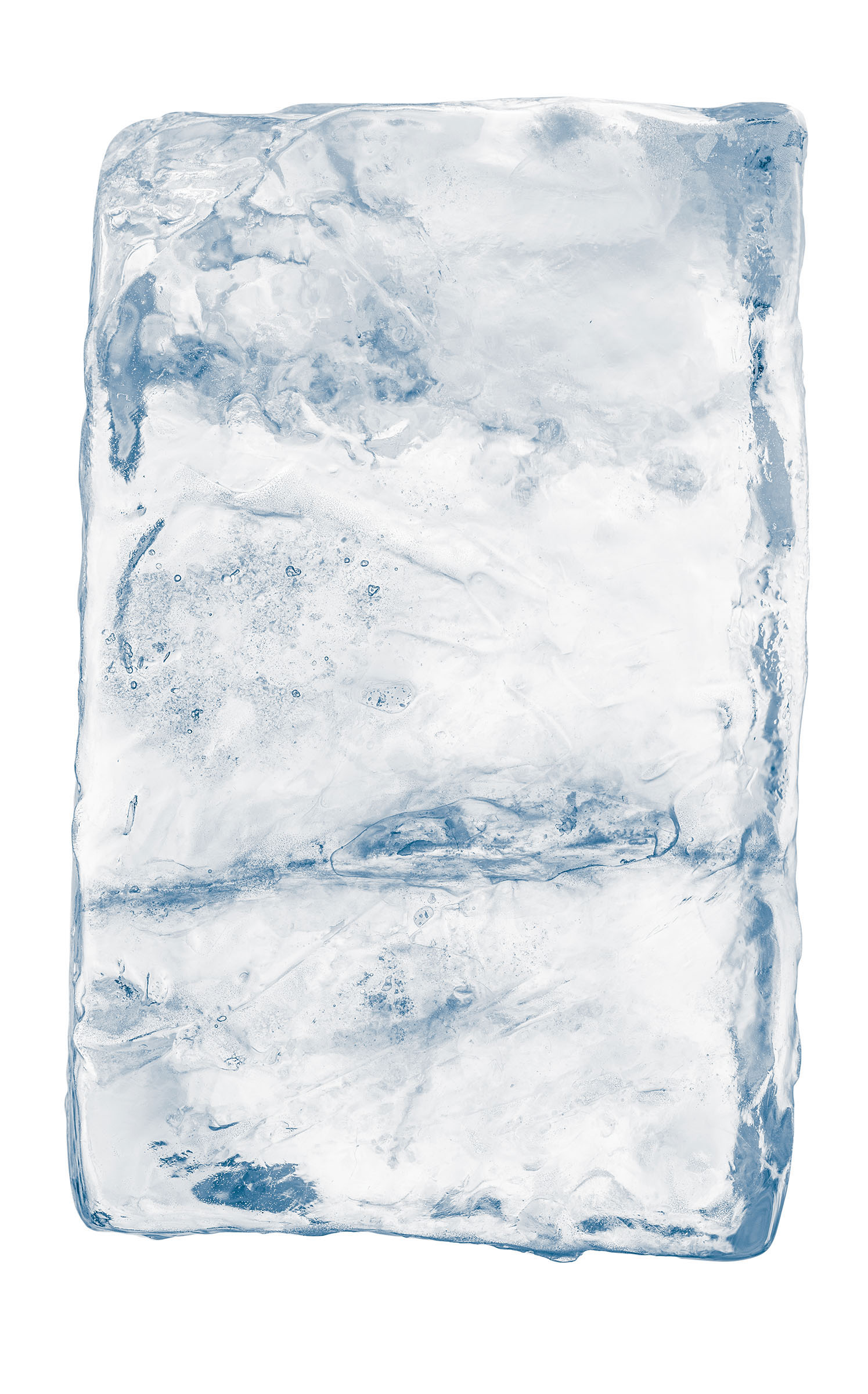 9 degrees

Temperature inside the tent during the holidays
1.8 million
Pounds of ice made by Flying Penguin Ice for Galveston's event
300 lbs.
Weight of each ice block used in Ice Land
Ice Breaker
Qiu Guanghui, a past captain of the ice-carving team that travels from Harbin, China, to Galveston each year, is a full-time carver who has won multiple competitions in China over his four decades in the profession. Based in Harbin, he travels the world building ice attractions. He spoke about his career with Texas Highways in Mandarin through an interpreter, and his answers have been edited for clarity.
How did you become an ice carver?
I wanted to be a carver since I was very young. Because winters are very cold in Harbin, our colleges have courses in ice carving. To be a good carver, you need to know the fundamentals of good drawing and painting. And you have to be able to stand the cold.
How does the experience of carving in Galveston compare with Harbin?
The sculptures in Harbin are much larger—our ice buildings are over 100 feet tall. We could never do that indoors, but we can sustain the details indoors longer. Because of the weather and wind in Harbin, your detailed carving could disappear the next day. At Moody Gardens, it's more about appreciating the carving detail of each sculpture, and the themes.
What is it like to create art you know will disappear?
It's true that you cannot keep ice carvings forever. The sculptures are seasonal—they come, and they go. But they are so beautiful and so unique, and the experience gives people so much joy, that it's worth it.

Plan Your Trip
Ice Land runs Nov. 19-Jan. 7 at Moody Gardens in Galveston. Tickets are $29 for adults and $24 for children and seniors. Wear pants, closed-toe shoes, gloves, a hat or earmuffs, and a scarf in the below-freezing tent. The extreme cold drains camera batteries, so bring extras.
In North Texas, view ice sculptures at the Gaylord Texan Resort and Convention Center in Grapevine, where the Polar Express-themed attraction ICE! runs Nov. 11-Jan. 1.
Freeze Frame
Ice Land opens for the holidays after a year of preparation
This year's Ice Land theme is "Caribbean Christmas," complete with carvings of fish, coral reefs, sea turtles, shipwrecks, and scuba divers.­
The carving team uses a 3D modeling program to determine the amount and colors it needs.
In February, Flying Penguin Ice starts freezing and storing 300-pound blocks of clear and colored ice.
In early October, carvers from China arrive in Galveston to work their magic. They finish in about a month.
A couple of ice carvers stay in Galveston through early January to maintain the sculptures.
From the December 2022 issue