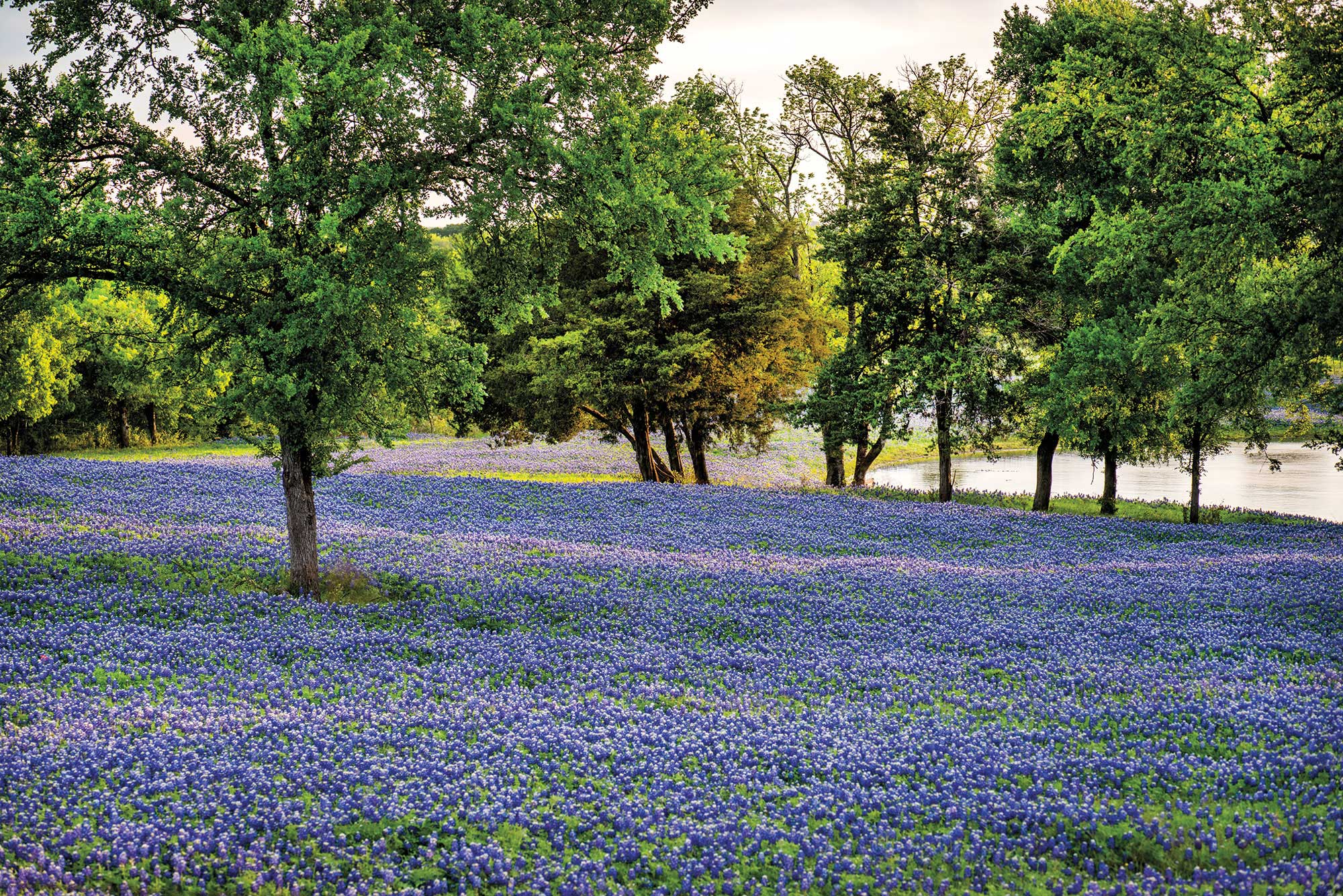 Growing up, I often felt like I lived on Interstate 45, traveling frequently between home in Dallas and a large extended family in Houston. "Ennis" was a sometimes-welcome sight on a highway sign—a signal for how close we were to our destination or how far we still had to go. But considering its proximity to Dallas—only 35 miles south—Ennis was never a convenient stop. That's how I found myself an adult before I walked the charming streets of Ennis for the first time.
Founded in 1872 by the Houston and Texas Central Railway, Ennis is a product of two pillars of Texas' 19th-century economy: cotton and the railroad. While Ellis County is no longer a top cotton producer, the railroad still plays a role in connecting Ennis' thriving manufacturing industry with the world.
In 2013, a tornado carved a destructive path through downtown, spurring city leaders to develop a five-year community-improvement plan focused on renovating and restoring the historic downtown, creating new public spaces, and expanding development opportunities. As part of this effort, Ennis also decided to rebrand. With the help of locals, the city chose a new slogan: "The bluebonnet spirit of Texas." The area's swaths of wildflowers have long been the pride of the community: In 1997, the Texas Legislature named Ennis the "Official Bluebonnet City of Texas." Today, visitors flock to Ennis not only for springtime wildflower drives but also to explore downtown's historical roots.
Friday
4 P.M.
Next Stop: Ennis
Hotels in Ennis come in one variety—limited-service economy—so the best way to get a feel for the local flavor is to book a room at one of the area's bed-and-breakfasts. 
The Moore-Ventura Bed and Breakfast is located near downtown in the city's largest historic mansion. Built in 1905 by a Civil War veteran, the home was purchased in 1999 by current proprietors Sam and Joanne Ventura, who have restored it to its early 20th-century glory. They rescued the original red velvet drapes from the attic, preserved the art nouveau owl wallpaper and much of the woodwork and light fixtures in the downstairs sitting rooms, and filled the home with thoughtfully chosen antiques.
After privately enjoying their work for 16 years, the former Dallasites decided to open their doors to guests in 2015. "We just love to share it," says Joanne, who gives visitors history-packed tours that, if you play your cards right, extend to the attic where Sam keeps his extensive antique model train collection.
7 P.M.
Date Night at the Drive-In
While car culture thrives in Texas, drive-in movie theaters were left in the dust following their peak in the 1950s. But Ennis is one of the few Lone Star cities where you can still watch the latest blockbusters from your driver's seat.
The best time to pull in to the Galaxy Drive-In, located off I-45 just north of town, is around twilight. That way you've got a bit of daylight to purchase double-feature tickets ($7; $3 for 12 and younger) to one of seven screens and then wind through the labyrinthine lot. The movie slate may be filled with current hits, but the concession stand features old-school American classics. Dine on burgers, nachos, and popcorn in the comfort of your car for a whimsical night at the picture show.
Saturday
10 A.M.
Antiques Hunting
After enjoying the delicious two-course breakfast Joanne serves each morning, head to Pop Top Coffee Shop for an extra buzz before exploring the sights and shops of downtown. Just across the road from Pop Top is Minnie McDowal Park. The park holds a special significance for locals, who remember when the site was home to the city's only indoor movie house, the Plaza Theatre—later known as the Tara—for more than 60 years. The building was demolished in the 1990s after suffering irreparable storm damage, and the city dedicated it as a park and named it for one of the theater's most beloved employees. The park now features family entertainment on Saturday mornings, like magic and comedy shows.
After you've gotten a taste for the town, start your shopping spree at Interior Ideas Inc., which offers a selection of home design and furnishings, as well as original artwork by local artist LaJuan Schlegel, who paints landscapes of East Texas. One block over on Ennis Avenue, the hunt
for vintage finds begins at All in the Family, a rustic shop filled with farmhouse-style furniture, antiques, and collectibles.
1 P.M.
Remembering the Railroad
To truly get to know Ennis, a trip to the Ennis Railroad & Cultural Heritage Museum is a must. Located along the tracks on the eastern edge of downtown, the museum is housed in the former restaurant that served rail passengers in the early 20th century. The museum is a time capsule of Ennis' early days with educational displays on the evolution of engines, artifacts from the golden age of train travel, and exhibits on city history and hometown heroes.
When it is time to refuel, grab lunch at Home Grown Market, where proprietor and chef Lucy Braddock specializes in products made from the Wagyu beef raised locally by her father. Assemble a selection of meats, cheeses, and picnic items (the homemade pastrami is a must) or order one of
the daily rotating lunch specials like meatball sliders and grilled pimiento-cheese sandwiches.
Braddock left Ennis after high school, but she returned to her hometown to open the butcher shop in 2018. "I came back to a different town than I left," she says. "Now, there's a lot more to do, there's a lot more life going on, [and] a lot more festivities than just football."
7 P.M.
Small-Town Drama
Though Ennis has fewer than 20,000 residents, it has big ambitions for its cultural offerings. Two local theaters, the Ennis Public Theatre and Theatre Rocks!, stage impressive lineups of plays throughout the year starring local thespians, including the manic "Noises Off" this month and "A Little Princess" this April and May.
For visitors who prefer a little more high-octane entertainment, the Texas Motorplex has been hosting drag racing events on its quarter-mile concrete track since 1986. After an evening of high drama, grab a nightcap at Finn MacCool's Pub, which offers a warm ambiance and a neighborly welcome in the heart of downtown.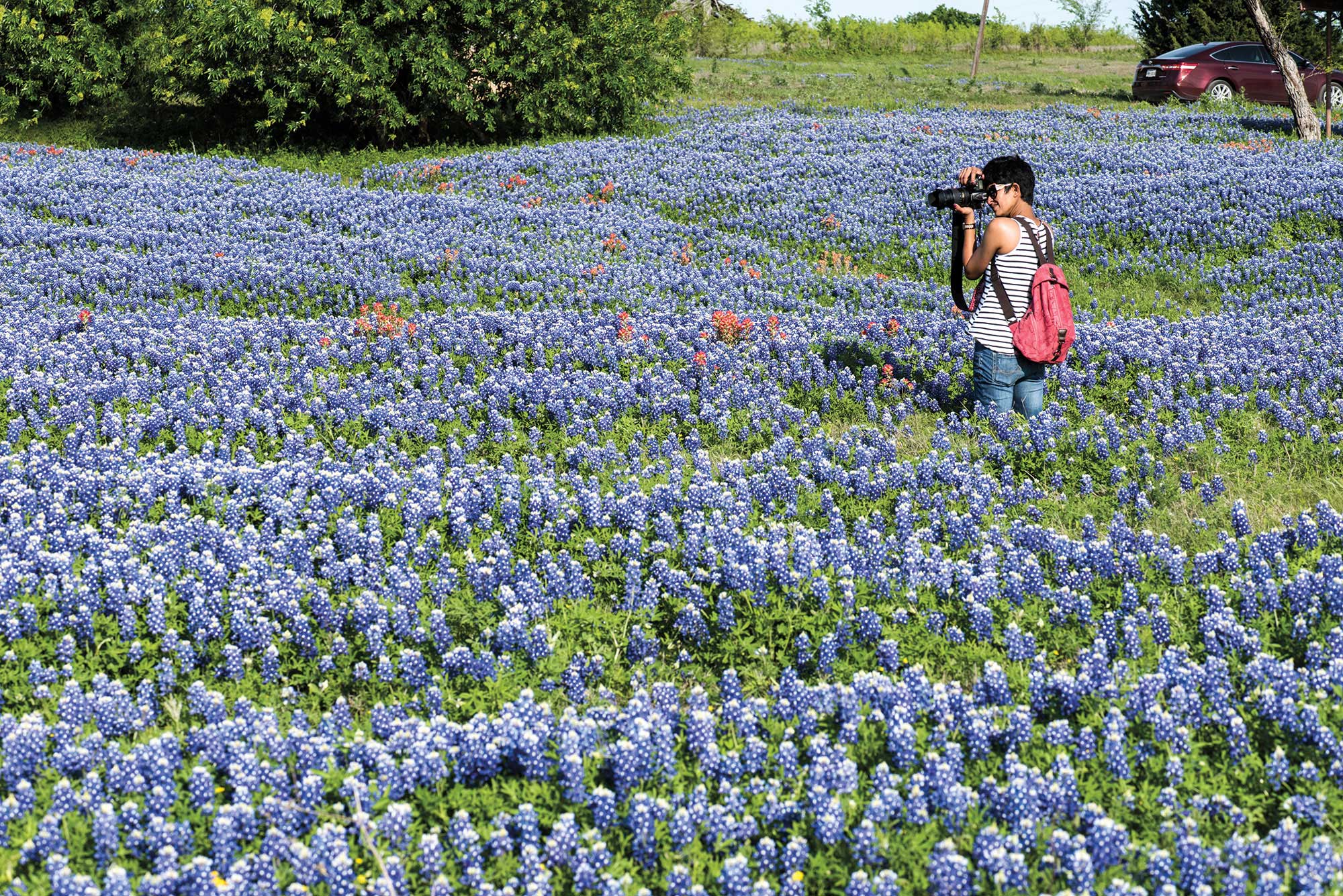 Sunday
10 A.M.
In the Wild
Most downtown Ennis establishments close on Sundays, so it's the perfect day to explore the great outdoors in this piece of the North Texas prairie. The first stop is Veterans Memorial Park, which honors U.S. service members who gave their lives in conflicts ranging from World War I to the current global war on terrorism. The monument is a tranquil spot, and the surrounding park has been seeded with 40 pounds of bluebonnet seeds.
While the wildflowers can start popping up as early as mid-March, they usually reach their peak around San Jacinto Day (April 21). When the flowers are in full bloom, set out on a country drive through more than 40 miles of Bluebonnet Trails—the Ennis Visitor Center provides maps. "I love that people come to Ennis to see the vast amount of beauty we offer," says Sandy Anderson, chair of the Bluebonnet Trails, a project of the Ennis Garden Club. She remembers one globe-trotting visitor who told her after a wildflower tour, "I've been all over this world, and I have not seen anything more beautiful than what I saw today." 
Ennis Bluebonnet Festival and Bluebonnet Trails
Every spring a fantastic display of Texas bluebonnets paints the Ennis countryside. The Ennis Garden Club maps the country roads and parks with the best views. Pick up a trail map at the Ennis Visitor Center anytime throughout the month of April, and then drive the trails at your leisure. April 12-14, the season peaks in Ennis with the Bluebonnet Festival—a weekend of arts and crafts, wildflower walks, live music, and samples from Texas wineries.
972-878-4748
bluebonnettrail.org
High View Park
On the western shores of Lake Bardwell, this popular spot offers 39 multiuse sites for RV and tent camping, as well as a marina.
972-875-5711
recreation.gov
From the March 2019 issue