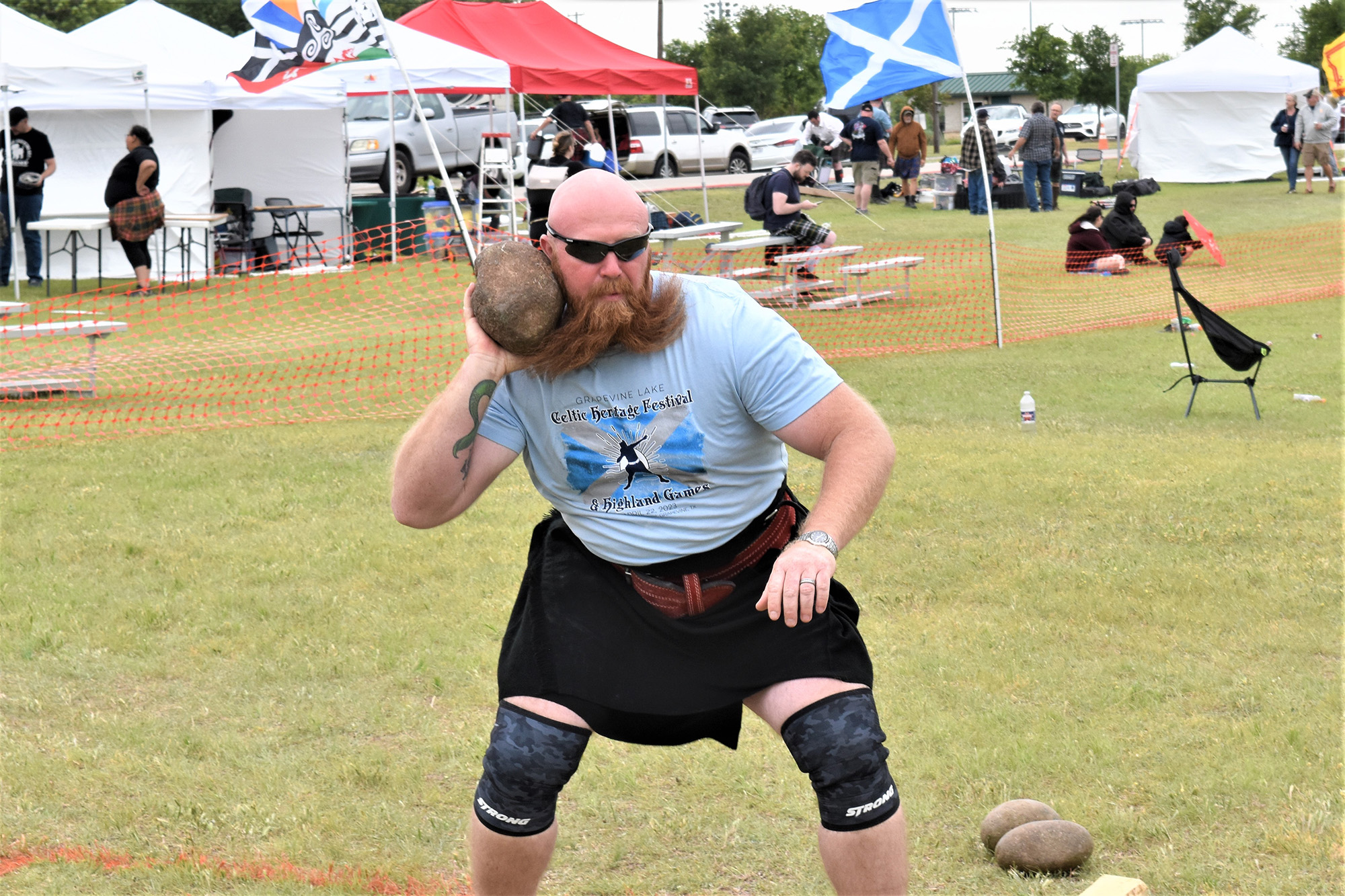 A
prils in the Hill Country town of Ingram bring a surprise sight: "Guys and women tossing huge telephone pole-looking things." This is how Marcello Derousseau, athletic director for the Stonehenge Festival and Highland Games held on April 29, describes the caber toss.
This event and many others are tied to centuries-long Scottish history. The first reference to a highland games event was during Scotland's King Malcolm III reign in the 11th century. He had called for runners to race to the summit of Creag Choinnich, a hill in Scotland, to evaluate men for battle. The ancient Scots made do with whatever they could to compete in other games—and stay in shape between conflicts. So, they turned to stones, tree trunks, metal weights, and other implements abundant in the area. Now, these feats of fitness are performed for fun and fellowship at highland games events across Texas.
Caber Toss
A crowd and competitor favorite, the caber toss is one of the highlights of any highland games. The objective is to toss end over end a cylindrical log or tree trunk, weighing up to 200 pounds and measuring approximately 20 feet. The smaller end of the object, which the thrower cups in their hand, should land pointing in the twelve o'clock position away from the contestant. Fortunately for competitors, distance is not measured.
Shot Put
The shot put, chosen as an Olympic sport by the modern Olympics founder Baron Pierre de Coubertin after witnessing a highland games, is thought to be related to the ancient "stone of strength." Competitors cradle the stone, weighing at least 16 pounds, at the neck and throw it using one hand.
"You can't just brute force everything and be good," says Doug Berry, athletic director of the Grapevine Lake Celtic Festival and Highland Games. "You'll have some of these smaller, leaner athletic young men that can throw the dickens out of these things, and you'll have these great big behemoth dudes, and they struggle."
Hammer Throw
For the hammer throw, competitors whirl a 22-pound metal ball attached to a 4-foot shaft around their heads and throw them over the shoulder without moving their feet. Flat blades can be attached to the contestant's shoes to improve distance and stability.
Training involves "a mixture of weight room—you're trying to get stronger—and practice out in the field," Derousseau says. "To be a good thrower you need to be strong and technical." Flexibility over just brute strength is important, too.
More Weight Events
For the weight throw, it's a matter of distance. Competitors throw metal weights of up to 56 pounds as far as possible with one hand. The bell or block-shaped weight is attached to a handle, usually by a chain. A spinning technique can be used to improve distance.
For the weight over bar event, the objective is height. Contestants attempt to throw, with one arm, a 56-pound weight with handle up and over a suspended high bar. The bar is raised until the one reaching the highest successful toss wins.
History
Founded in 1961, the Salado Scottish Gathering and Highland Games is the oldest such event in Texas, according to Liz Patranella, longtime board member and volunteer for the event. "It's a gathering of the clans, first and foremost," Patranella says. "Kind of like a family reunion." Around 40 clans present each year at the event held around Veterans Day. Bagpipers play classics such as "Amazing Grace" and "Highland Cathedral" during the Friday evening ceremony ahead of the games, when each clan acknowledges themselves during a torchlit roll call.
Piping plays an important part in the games and is a key ingredient of the Sherman Celtic Festival and Highland Games, says Rob Ballew, bagpipe major and founder of the event. "We try to present an environment where good sportsmanship is promoted and where people are encouraged to challenge themselves, to throw better than their last event," Ballew says.
When asked if they know their own Scottish heritage, each participant can provide not only their clan name but which side of the family it comes from: "I'm a Stewart;" "Donald;" "Bruce;" "McKenzie." For those with Scottish backgrounds, a drone of the bagpipes and a glimpse of kilted competitors bring that heritage to life.
Highland Games
Winter Warm Up Games, El Campo (February)
Hill Country Hye-Land Games, Hye (March)
Sherman Celtic Festival & Highland Games, Sherman (March)
San Antonio Celtic Festival & Highland Games, San Antonio (April)
Grapevine Lake Celtic Heritage Festival and Highland Games, Grapevine (April)
Stonehenge Celtic Festival and Highland Games: Ingram (April)
Sherwood Celtic Music Festival and Highland Games: McDade (September)
Celtober, Rowlett (October)
Houston Highland Games, Houston (October)
Tyler Scotfest, Tyler (October)
Austin Celtic Festival, Austin (November)
Salado Scottish Gathering & Highland Games, Salado (November)