The Battleship Texas will move from its home on the Houston Ship Channel near La Porte as part of a plan to preserve the historic ship and draw more visitors.
While still awaiting Gov. Greg Abbott's signature, recent legislation calls for the Texas Parks and Wildlife Department to become the ship's caretaker and for the ship to be sent to Alabama for repairs, the Houston Chronicle reports.
"If it stays there, it's going to die there," Bruce Bramlett, the executive director of the Battleship Texas Foundation, told the Chronicle. "It just doesn't work financially. It hasn't worked in years."
The Texas, the only battleship still in existence that fought in both world wars, is credited for advancements in radar, aviation, and gunnery. It was launched in 1912, commissioned in 1914, and is now docked at Battleship Texas State Historic Site in La Porte, near the state historic site commemorating the Battle of San Jacinto.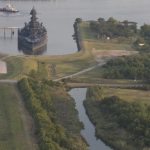 Rust damage has left Battleship Texas in tenuous condition. The ship's ultimate location has yet to be decided; one possibility is a dry berth, the Chronicle reports. The Parks and Wildlife Department is expected to partner with the Battleship Texas Foundation to develop a preservation plan for the historic ship and find a new home.
Rep. John Cyrier, a Lockhart lawmaker and sponsor of the Battleship Texas legislation, suggested Galveston could be an appropriate place for the ship.
"I think everybody that looks at this, if they look at the numbers and look at the reasoning on bringing it to Galveston, I think they'll realize that's the best option to save this battleship," Cyrier told the Chronicle.