Click to browse by 'Must Buy'
15 Mom and Pops
Small town shops are in the business of making travel convenient
T.C. Lindsey & Co. General Store
Sarsaparilla
Shopping at Buc-ee's is a ritual for many travelers in need of a break from Texas' long stretches of highway—and pick-me-ups like Beaver Nuggets. In our May 2021 issue, we published a story on the Lake Jackson-based convenience store chain, and our social media lit up with comments from readers telling us about their favorite one-stop shops, from Stuckey's, to Irving-based 7-Eleven, to lesser-known spots. That got us thinking: Why not highlight the smaller, often independently owned and family-run stores that provide essential goods and services to their communities?
In this feature story—a whopping 26 pages in print and roughly 7,000 words—we present 15 "mom and pop" shops that hit the spot. We enlisted nine writers to showcase geographically diverse places outside of the major cities. We also looked for establishments that provide an eclectic mix of goods, from bait at Johnson's Ranch Marina, to hay bales at Rosston General Store, to homemade pimento cheese at Good Things Grocery. The result is a colorful list full of local pride. Go and champion small town entrepreneurship—and pick up one-of-a-kind finds along the way.
—Michael Hoinski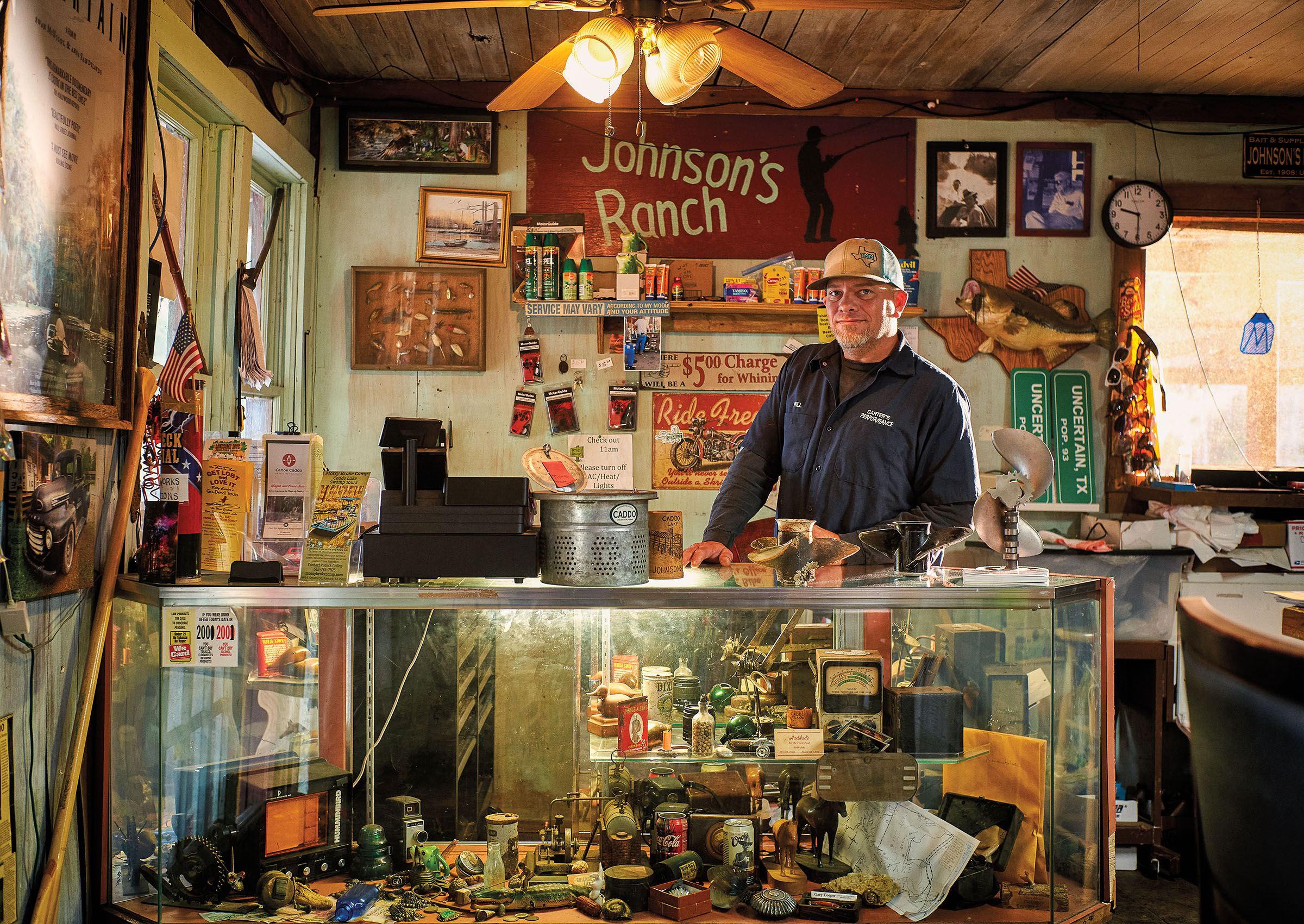 Johnson's Ranch Marina

This time-forgotten swamp shack on the shores of Caddo Lake has stayed in operation for more than a century by providing a little bit of everything to the East Texas fishing village of Uncertain. Customers can charter a fishing guide or a bayou tour, grab a snack and a six-pack, gas up a boat, buy some bait, cast a fishing line, paddle a canoe or kayak, rent a cabin with a screened porch, or simply catch the local gossip while idling on the wooden benches outside the front door.
Established in 1908, Johnson's Ranch is the oldest inland marina in Texas—and it looks the part. Spanish moss dangles from the rafters below a rusted metal roof, as the ripples from passing boats lap the pylons that keep the whole enterprise from sinking into the water. Come Fourth of July, there's no better spot to watch Uncertain's annual boat parade and fireworks show than from a front-row seat on the covered wooden deck among the bald cypress knees.
But change is inevitable. After a lifetime on Caddo Lake, the store's friendly proprietor, Billy Carter, died in the spring of 2021. His son, Will Carter, a mud boat aficionado, took charge and brought the marina into the 21st century. He replaced the rotting wooden planks on the docks, cleared the brush overtaking the property, and is leveling the floors. "The old ranch was trying to fall down on us, so every profit we made last year, we put back into this place," Carter says. "It's been cleaning up good." —Wes Ferguson
---
5131 E. Cypress Drive, Uncertain. 903-789-3213; jrmarina.com. Open: Daily.
Essentials: Alcohol, Bait, Food, Lottery, Souvenirs.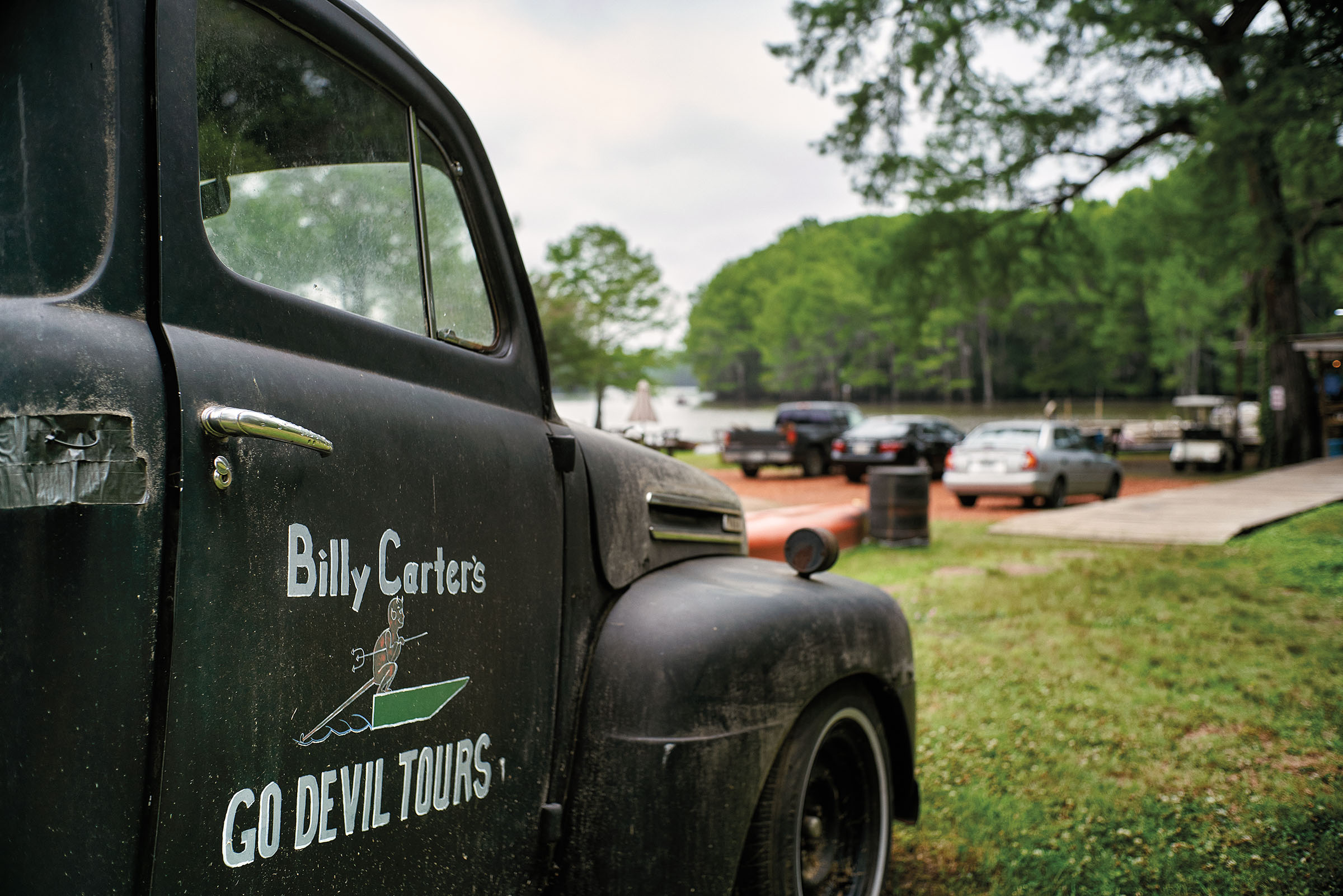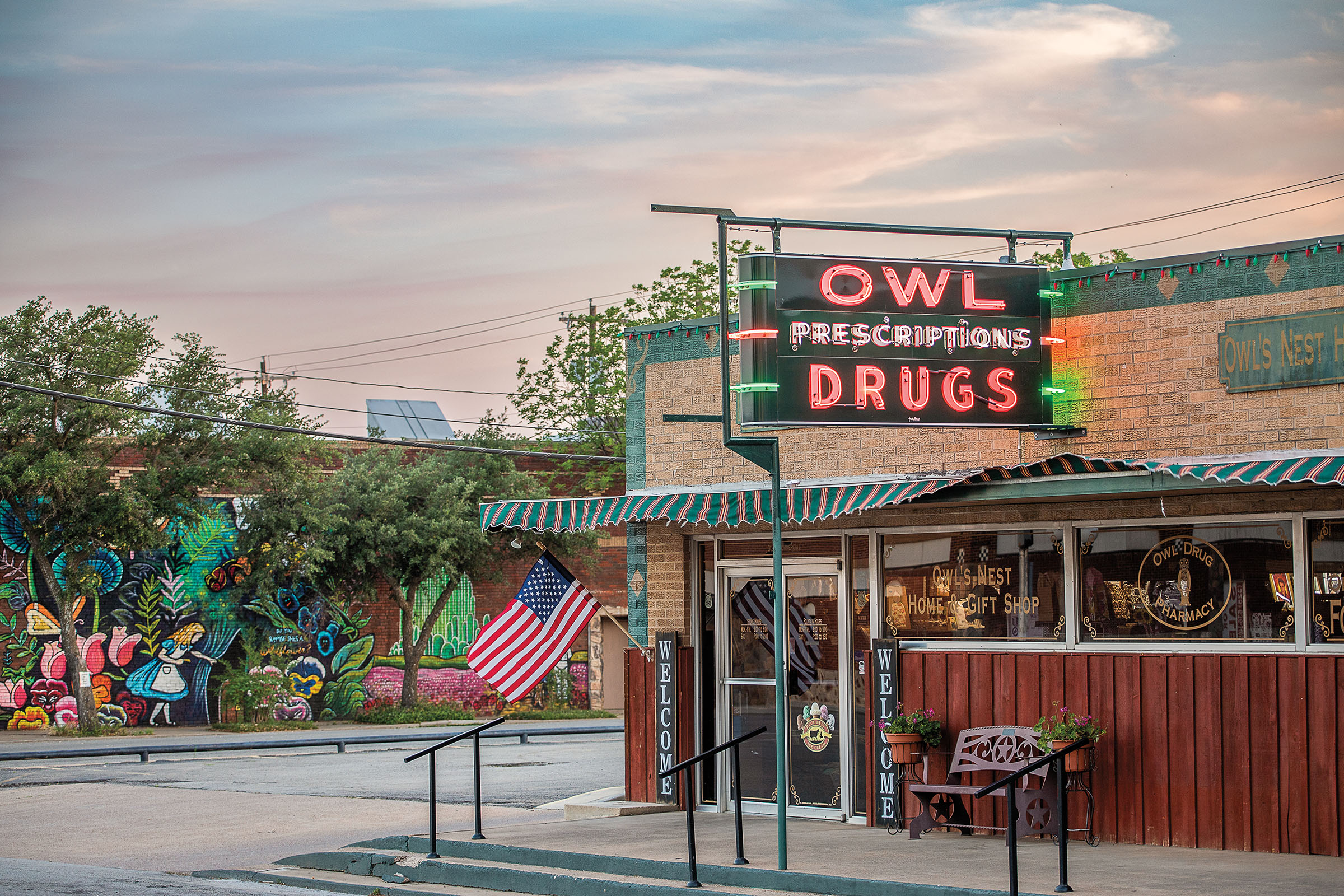 Owl Drug

Arriving at this corner store on downtown Coleman's main drag, it's impossible to know where to turn first. The vast collection of Elvis memorabilia functioning as décor commands attention, as does the extensive selection of products, including essential oils, kitchen gear, and gifts. But the drool-worthy aromas wafting from the soda fountain prove impossible to resist—treats first, then shopping.
Behind the soda fountain counter, a well-seasoned griddle stays busy through breakfast and lunch. The century-old store's big seller these days is the 1923 Burger, a ground beef patty hand-formed, cooked to order, and topped with smoked bacon, grilled mushrooms, melted Havarti cheese, crispy fried onions, and fig jam. Offered until 4:32 p.m. each day (for customers late to the 4:30 p.m. cutoff), the burger is best washed down with an ice cream soda made from scratch.
"We let kids come behind the soda fountain and learn to make drinks the old-fashioned way," says Cathy Allen, whose family bought the store from its original owner in 1976. "They're amazed when we tell them Coca-Cola and Dr Pepper were both invented by pharmacists."
Keeping the drugstore in the family is important to Allen—her parents, Jim and Linda Caldwell, remain involved in the business despite their retirement almost 20 years ago. Jim and Linda are both pharmacists, as were their parents. Allen says customers appreciate the healthy-living items, as well as the gift section. Along with baby gifts and scented candles made in Texas, the store sells kitchenware, clothing, and accessories. But some people just want to gawk at all the Elvis keepsakes.
"My dad has always been a huge Elvis fan," Allen says of the man who would dress up as the late crooner while she was growing up. "We have a life-size Elvis that's so bad, it's good. Lots of Instagram photos have been taken with that." —June Naylor
---
312 S. Commercial St., Coleman. 325-625-2178; owldrugrx.com. Open: Mon-Sat.
Essentials: Food, Pharmacy, Souvenirs, Treats.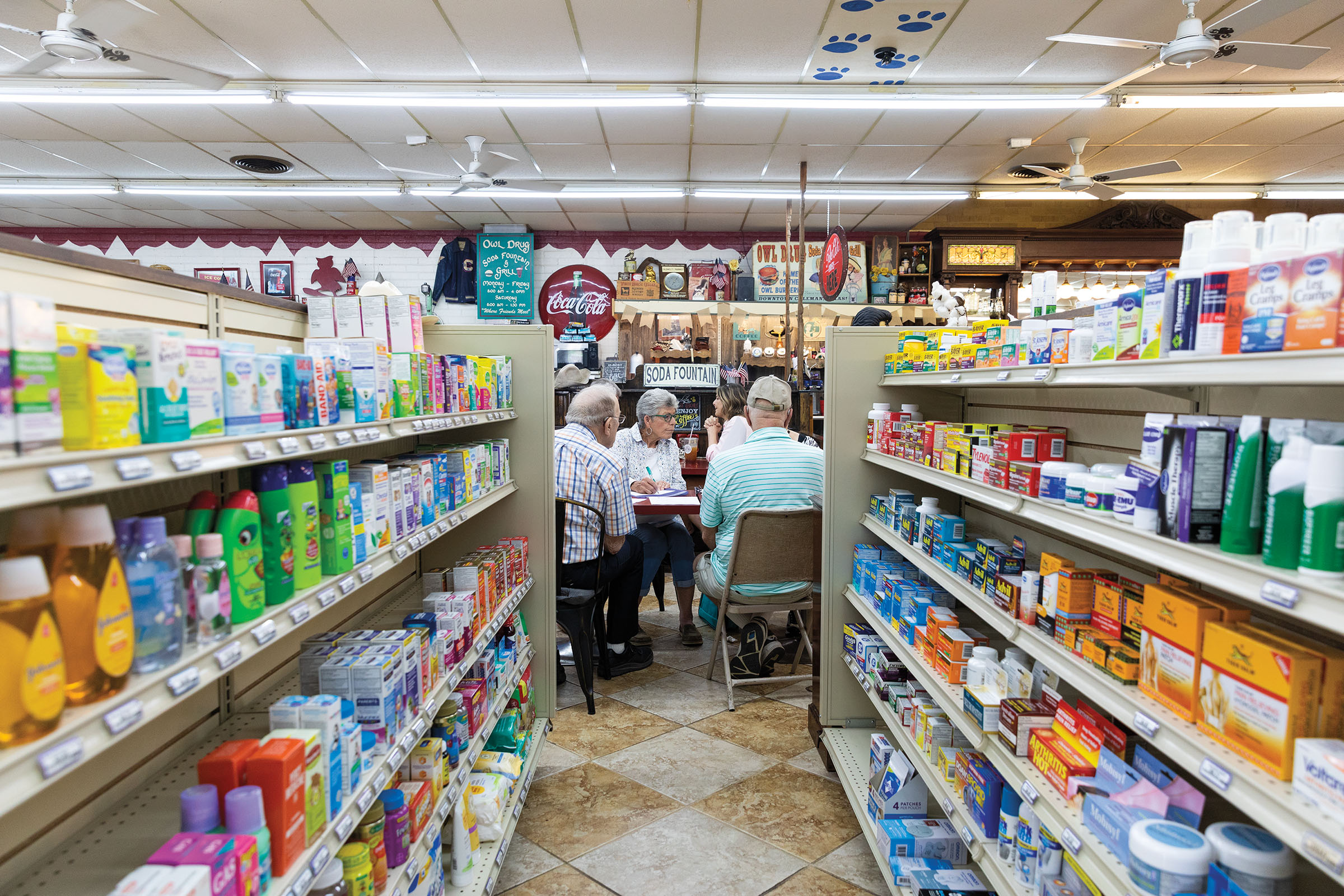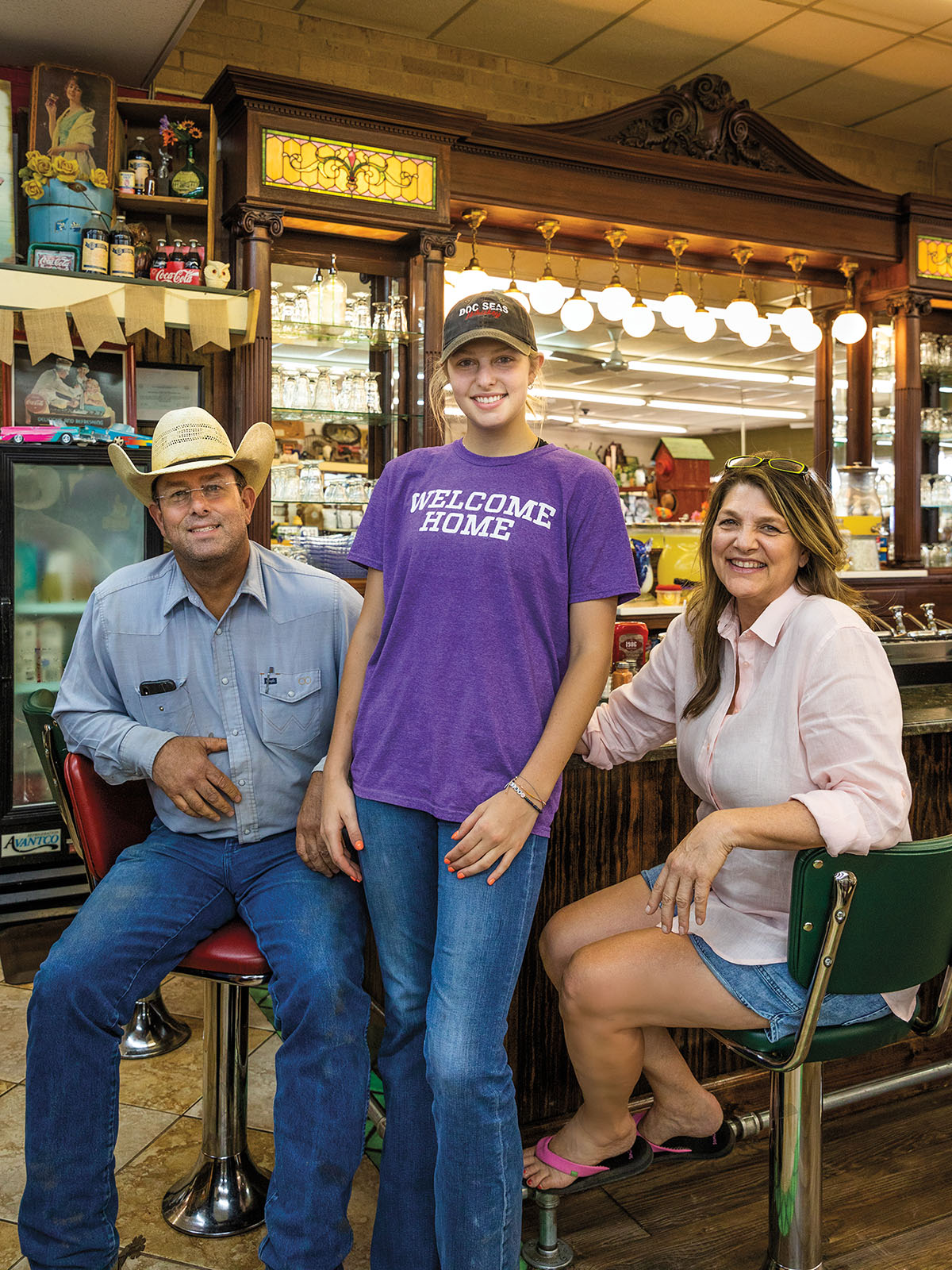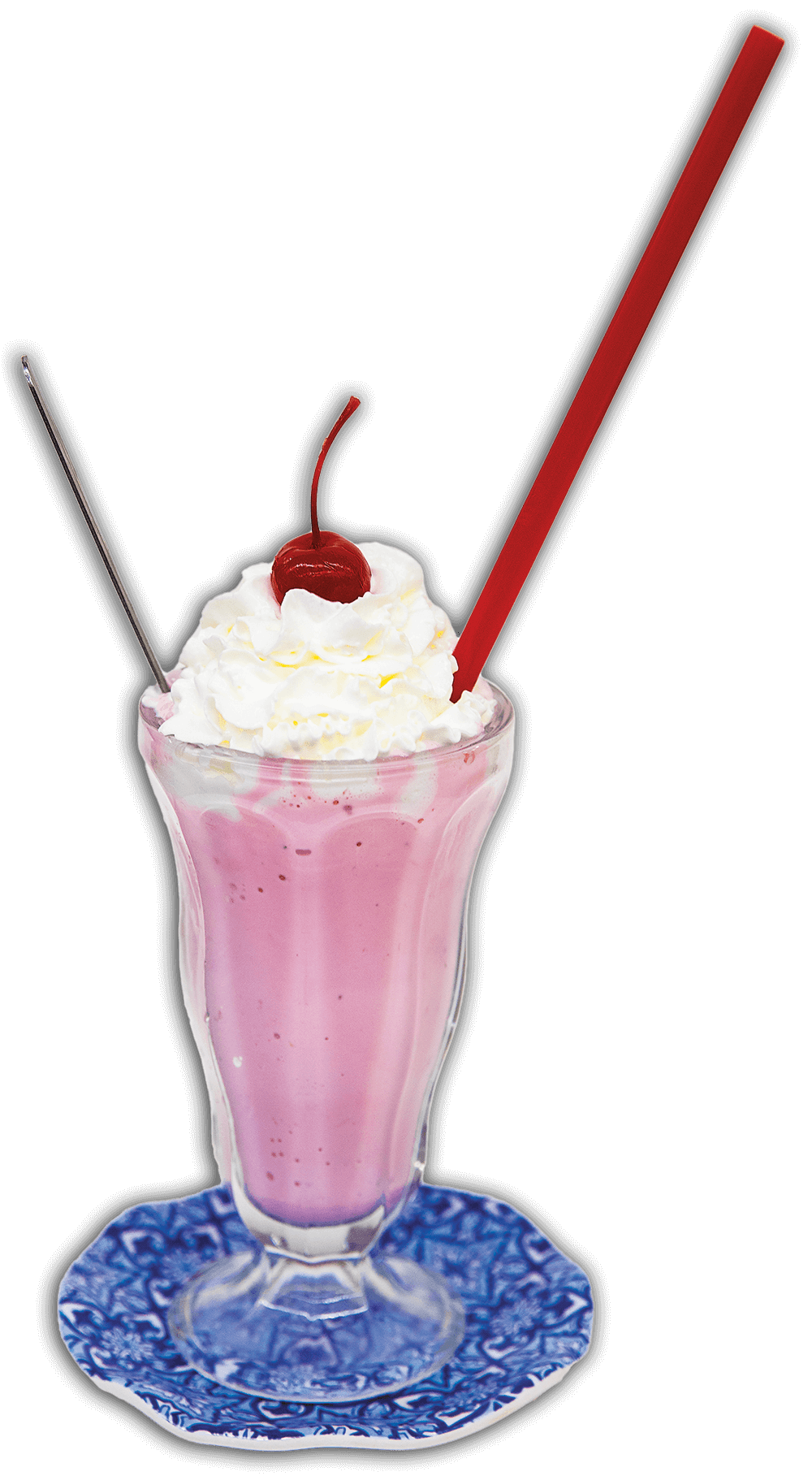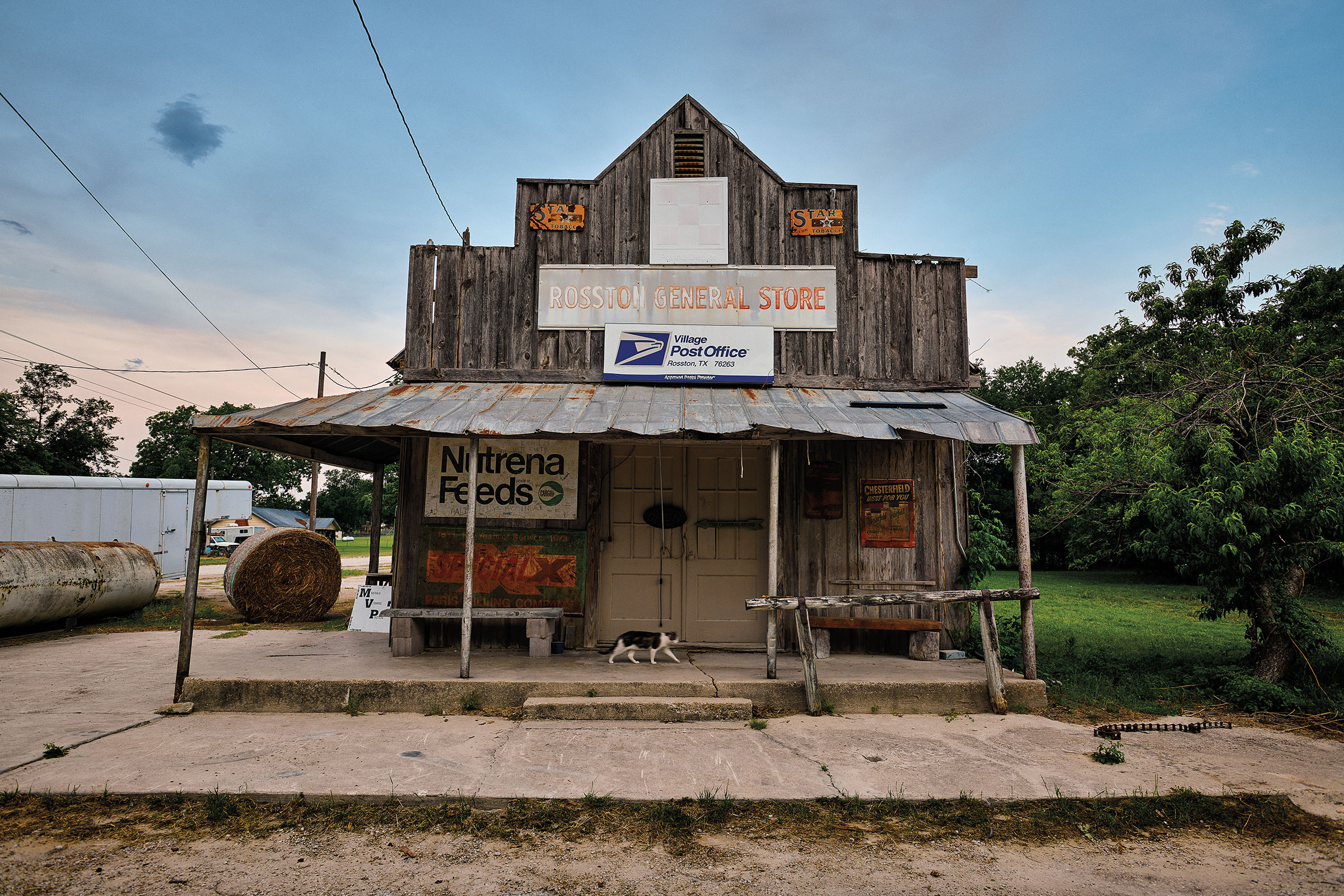 Rosston General Store

Walking into the ramshackle structure beside Farm Road 922 in southwestern Cooke County—about midway between Gainesville and Decatur—doesn't happen by accident. Way too far off any beaten path, the de facto community center for Rosston, a farming and ranching hamlet, functions as a place to buy tires, hay bales, and livestock feed. It's also a post office for the town, population 85 or so.
"Well, nobody mails much from here because they don't want anyone knowing their business. Not that I care about their business," says owner Nick Muller, who purchased the store—where he's worked and played his entire life—from his father in 1988. "Still, I sell 'em their stamps. Otherwise, they'll have to drive to Era or Valley View to mail things."
Visitors are greeted with a long-retired gas pump, sun-faded feed and soda pop signs, and well-worn concrete steps leading to the shop. The creaky building bears a metal roof hammered by decades of hailstorms and walls crafted from weathered cypress that came to Rosston by wagon in the 1870s from a nearby port on the Red River.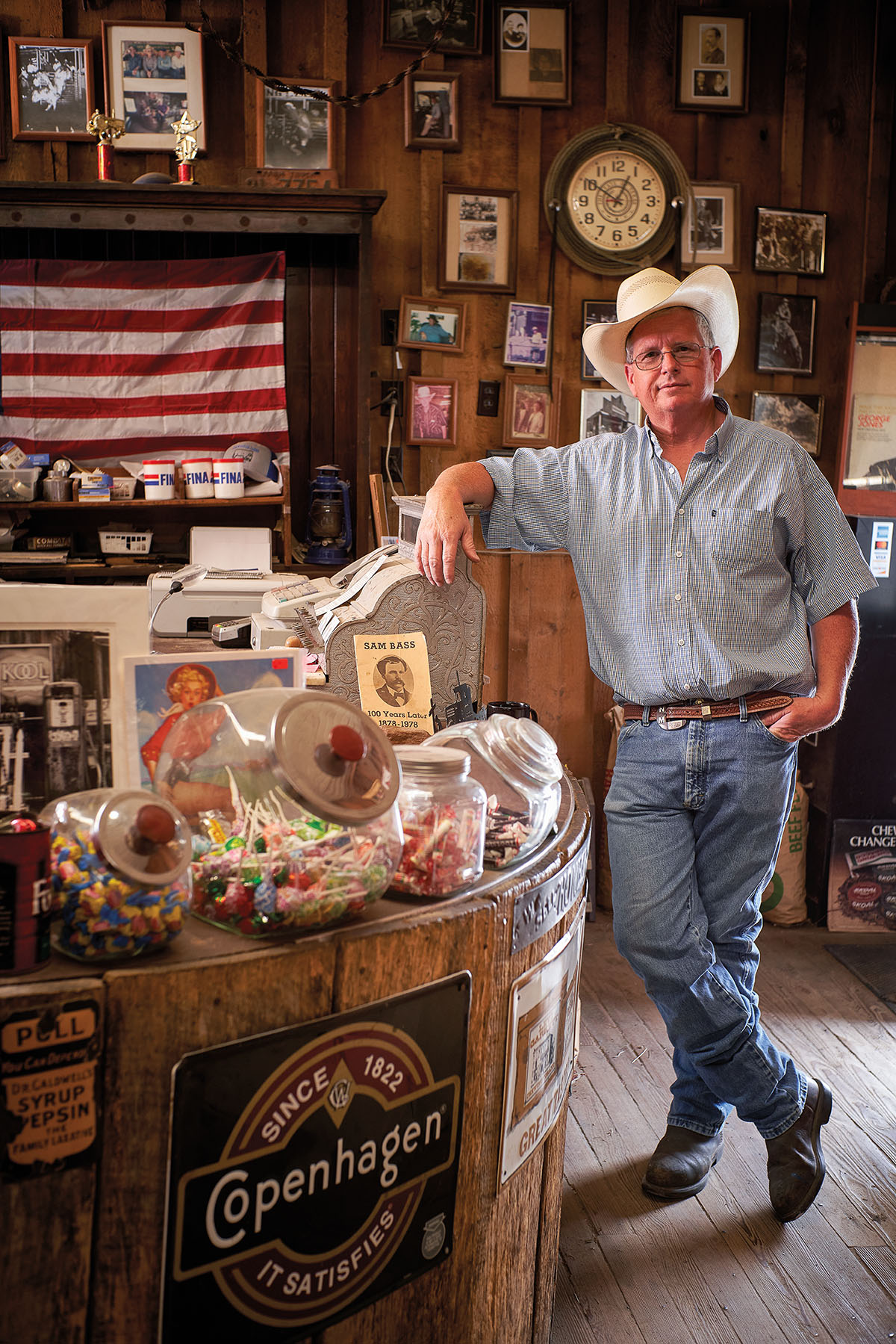 Apart from glass jars on the counter filled with Double Bubble gum, Smarties candies, and Tootsie Rolls, the store's contents act as a museum of sorts. Long wooden shelves that once held canned goods and fresh produce now carry Matchbox cars, aged toy tractors and firetrucks, rusted kerosene lanterns, and an old ham radio. Some items are for show; others for sale. Dozens of vintage photos of families, farmers, and cowboys who lived around Rosston line the walls, and a vinyl record collection spans the likes of Dolly Parton, Glen Campbell, and Johnny Cash to Earnest Tubb and Bob Wills.
The records belong to Anthony Wilson, Muller's childhood friend who helps at the store and sells vinyl to interested shoppers. A self-taught fiddler who Muller says has few peers, Wilson mans the store's iron stove, which is well over a century old, keeping its fires stoked on cold days.
When Muller's not loading customers' trucks with hay and the mineral-rich feed he has specially made in nearby Muenster, he likes showing off vintage photos of cattle that trod the nearby Chisholm Trail shortly before the store opened in 1879. Muller keeps the stories of those photographed cataloged in his head to share with descendants who show up looking for their North Texas roots. He's also happy to talk about the Sam Bass Day celebration, an annual barbecue cookoff in June that commemorates the infamous Old West-era robber who took refuge around these parts. Mostly, he enjoys sharing why this simple way of life still works for him.
"My dad kept this place going a long time," Muller says. "It's a good place to live. I don't want to leave here, ever." —J.N.

---
135 Palmer St., Rosston. 940-768-2239; facebook.com/rosgenstore. Open: Mon-Sat. Essentials: Ranching Supplies, Souvenirs, Treats.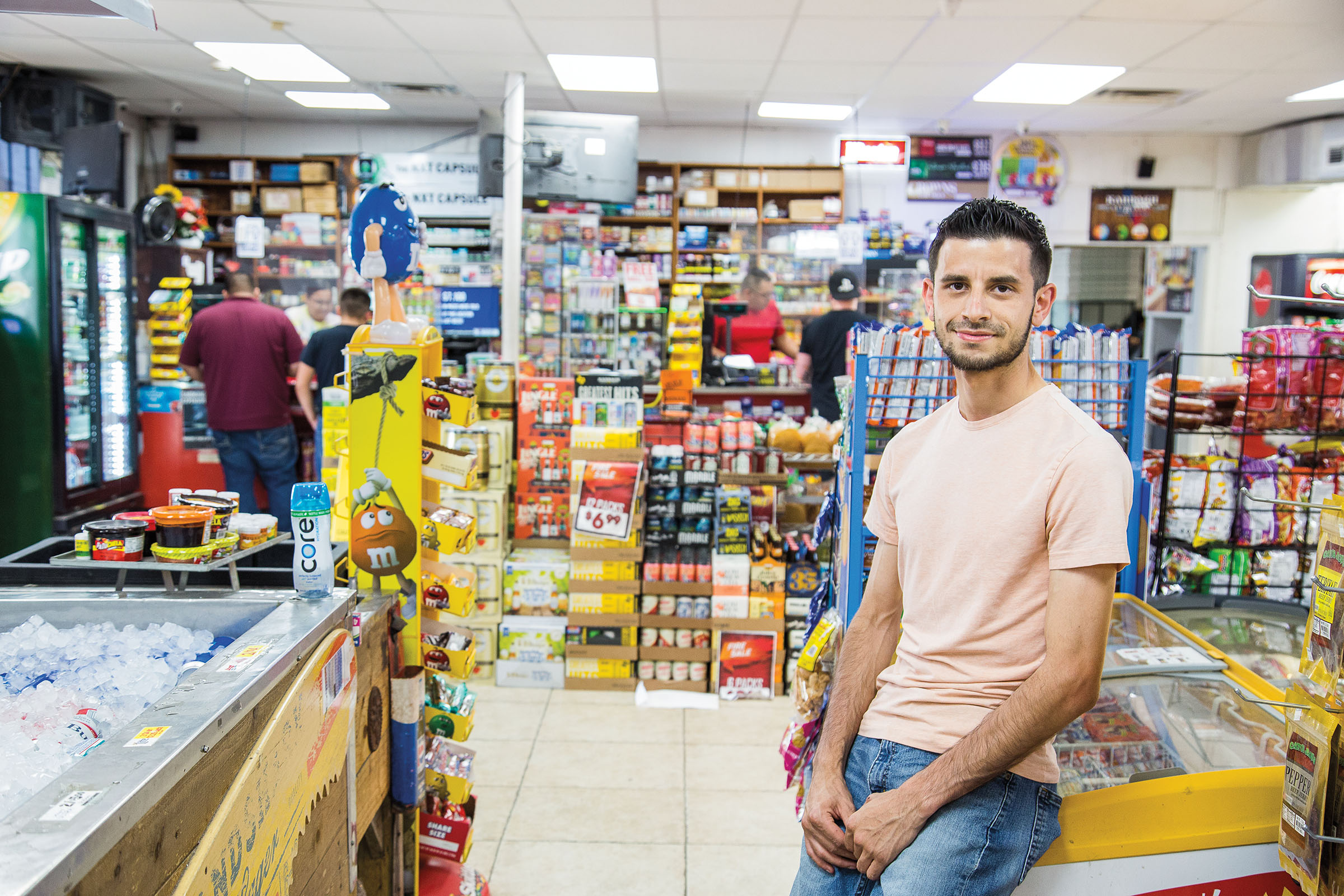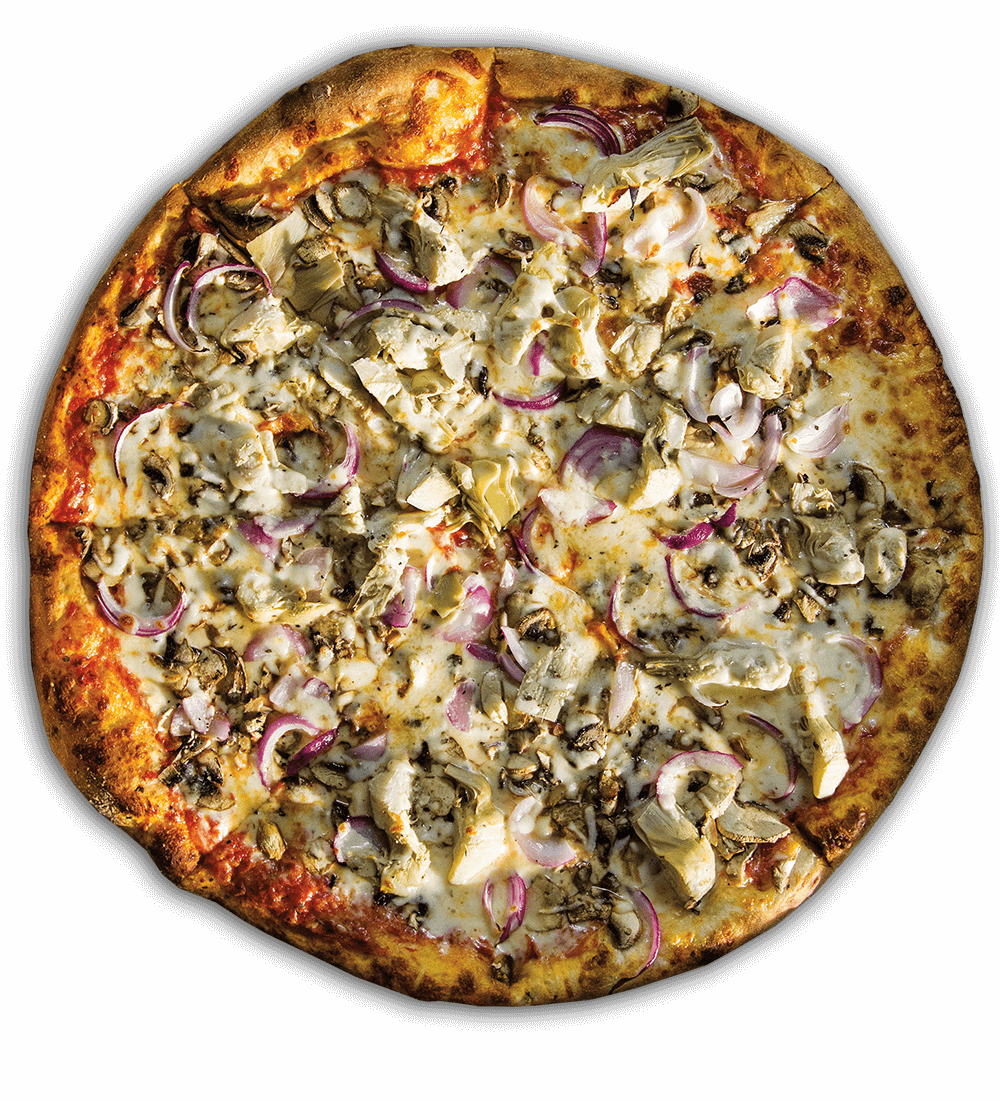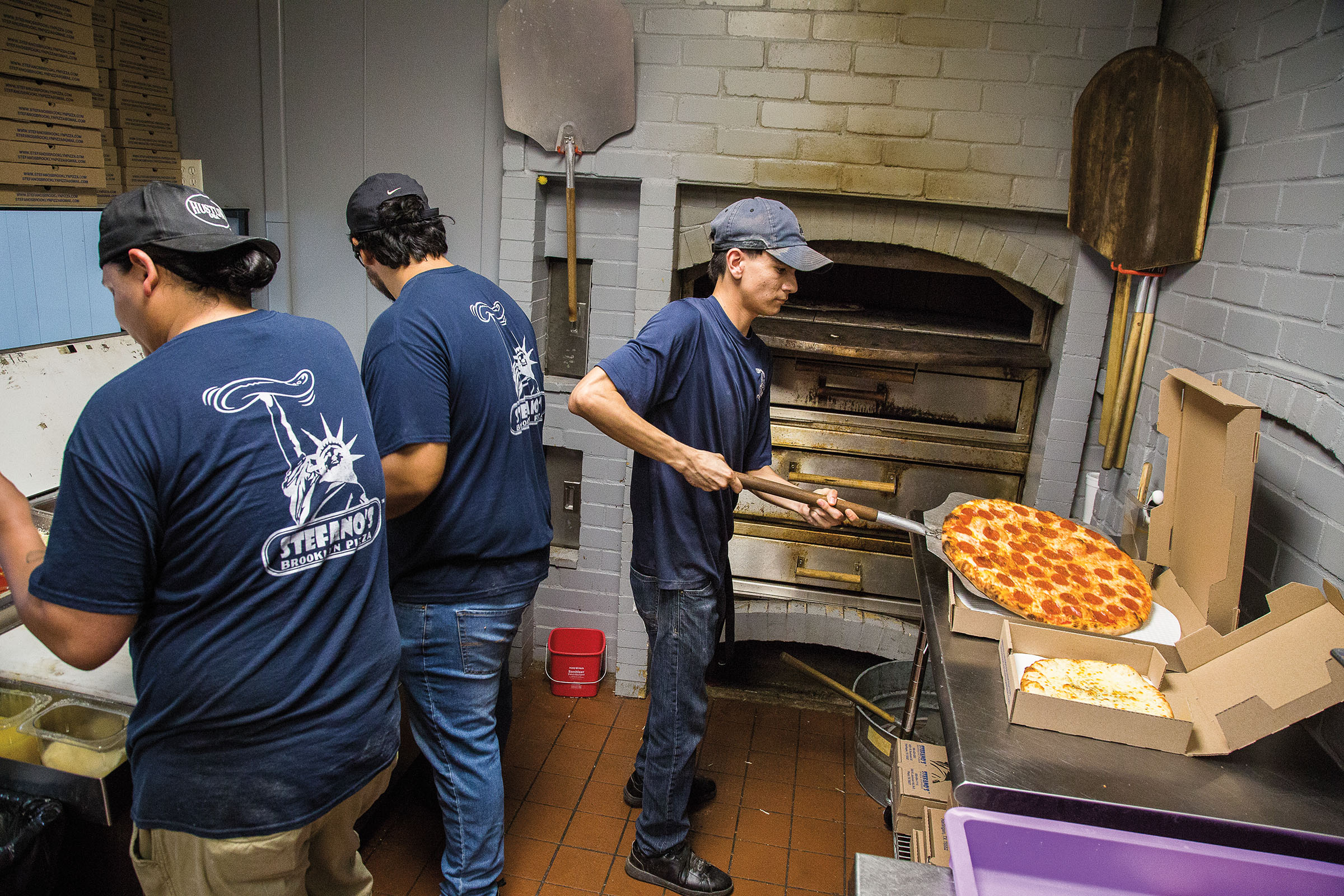 Steve's Food Mart

This market on the far west side of Harlingen began as a convenience store with the kind of items you'd expect, including a meat market, a wide selection of beer and wine, basic staples, and gas. Local artist Alma Quintanilla Castillo, however, raves about their food: "Steve's is the place to go for breakfast tacos and barbacoa." Steve's Mart also offers a Cajun fried chicken kiosk and, as of 2012, is the birthplace of Stefano's Brooklyn Pizza, arguably the area's best pizza.
"Our diverse offerings are part of our desire to take care of the community," says Ahmad Al Rasasi, manager of Steve's Mart. Feedback from his Hispanic coworkers led to offering breakfast tacos made to order. From the Mexican dishes, to the pizza, to the tortillas, all of the food is made fresh. "Everything is made in the store—fresh-cut veggies, eggs cracked on order," Al Rasasi says.
The pizza at Steve's Mart was so successful that two stand-alone Stefano's Brooklyn Pizza restaurants were subsequently opened in Harlingen and Pharr. Just before Christmas 2021, the Harlingen location was gutted by a huge fire, but the restaurant is being rebuilt and is expected to reopen by the end of the year. Al Rasasi says the care he's received from the community after the fire has been incredible. "They've helped us so much," he says.
All of Stefano's Brooklyn Pizza's offerings are available at Steve's Mart. Local graduate student Jo Reyes-Boitel says she'll be returning to sample more of the menu, which includes a 30-inch pizza, after enjoying a veggie pizza with "all the cheese over the toppings, keeping everything cheesy, and with sauce that was fresh, not canned." She adds, "Their staff was the sweetest."
The menu at Steve's Food Mart is extensive, with fried calamari, bruschetta, artichoke-spinach dip, minestrone and tomato basil soups, caprese salad, wings, calzones, lasagna, shrimp scampi, and more. Steve's shows when different cultures come together, the results can be harmonious. —ire'ne lara silva
---
5999 US 83, Harlingen. 956-230-2251. Open: Daily. Essentials: Alcohol, Food, Gas, Lottery.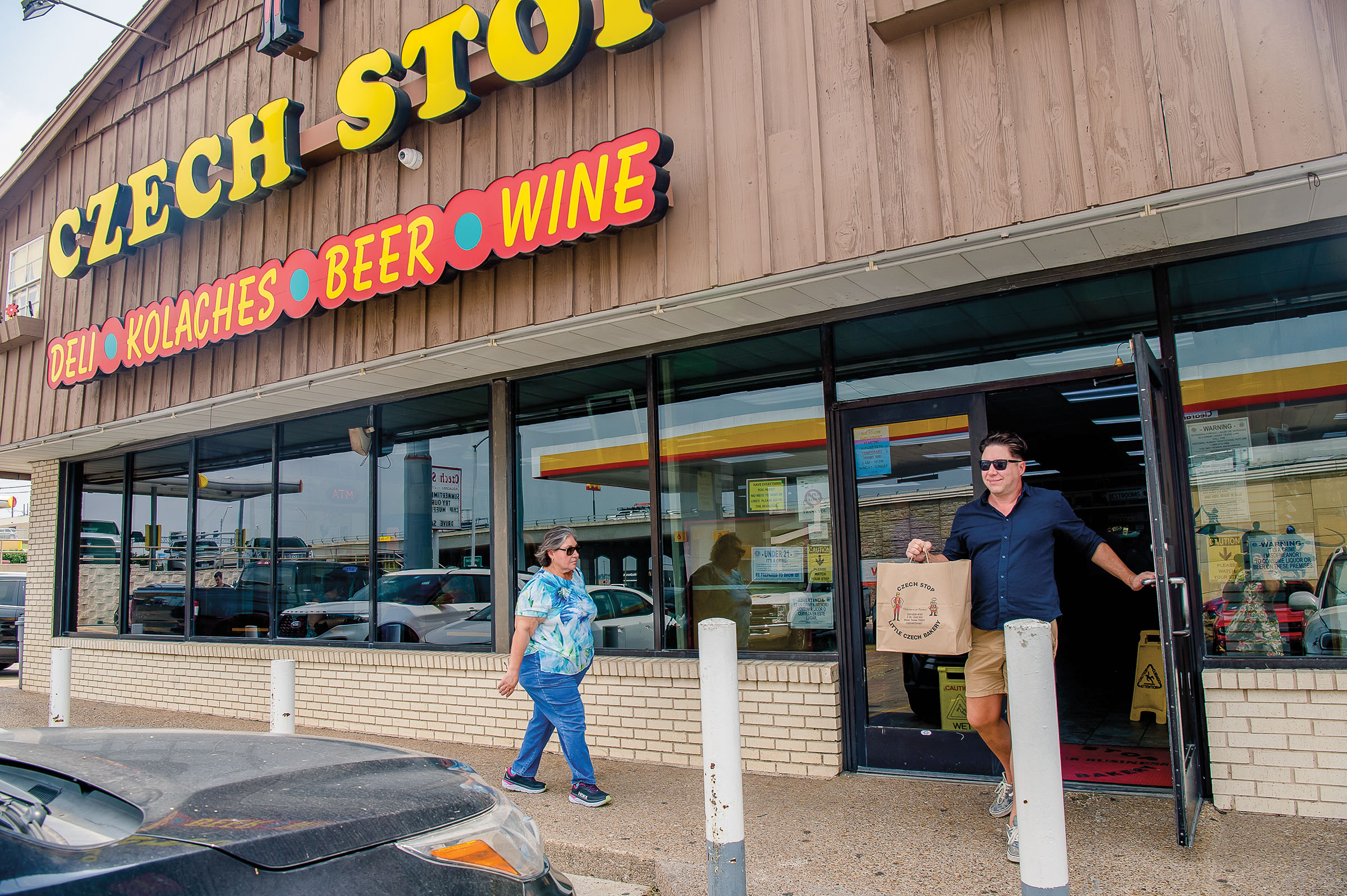 Czech Stop

Practically everyone Bill Polk knew dismissed his notion that drivers on Interstate 35 would pull off at West just to buy kolaches. But as a Waco-based beer distributor who helped organize Westfest, a Labor Day weekend event featuring polka dancing and beer drinking, Polk had witnessed how Texans love to celebrate Czech culture. Naysayers aside, he opened Czech Stop convenience store in 1983, later adding Little Czech Bakery, at Exit 353, roughly halfway between Austin and Fort Worth.
Today, you'll find cars jammed around the gas pumps and in an adjacent parking lot. Lines of people snake through the convenience store aisles or in the bakery showroom next door to buy kolaches, cakes, cookies, pies, sandwiches, bread, you name it—all produced on-site. Cream cheese and fruit kolaches are the top sellers. Meat-filled klobasniky are customer favorites too, especially hot "chubbies."
Czech Stop goes through a jaw-dropping amount of ingredients each week. Four tons of flour. A ton of sugar. A half-ton of margarine. Another half-ton of shortening. More than 100 pounds each of yeast and butter and 200 dozen eggs. At its pre-pandemic peak, Czech Stop employed 100 people. Currently it has around 80 staffers. "It was devastating to see the numbers drop," says Czech Stop president Michelle Wolf, who grew up in West. But, she says, hiring is ticking upward.
In the aftermath of the West Fertilizer Company explosion in April 2013, Czech Stop kept the doors open constantly, even though it was among the 150 damaged buildings in town. It became a gathering place for victims and emergency workers, who received food and drink on the house. Czech Stop collected more than $200,000 from customers for relief efforts.
In the mid-2010s, the Slovacek Sausage company of Snook opened a large store on the other side of I-35. It sells smoked meats along with kolaches and other baked goods, plus assorted novelties. Czech Stop wasn't worried. "Our customers find us," Barbara Schissler, an original employee turned part-owner, told the Fort Worth Star-Telegram at the time. "Anything that makes them pull off the highway has got to be good for all of us."
Czech Stop operated under Polk and Schissler until her death on April 28, 2020. Polk died just five days later. The company is now owned by their families. The plan is to keep on keeping on. "We're a well-oiled machine and moving on up," Wolf says. —W.K. Stratton
---
Interstate 35 Exit 353, West. 254-826-5316; czechstop.net. Open: Daily. Essentials: Alcohol, Food, Gas, Souvenirs, Treats.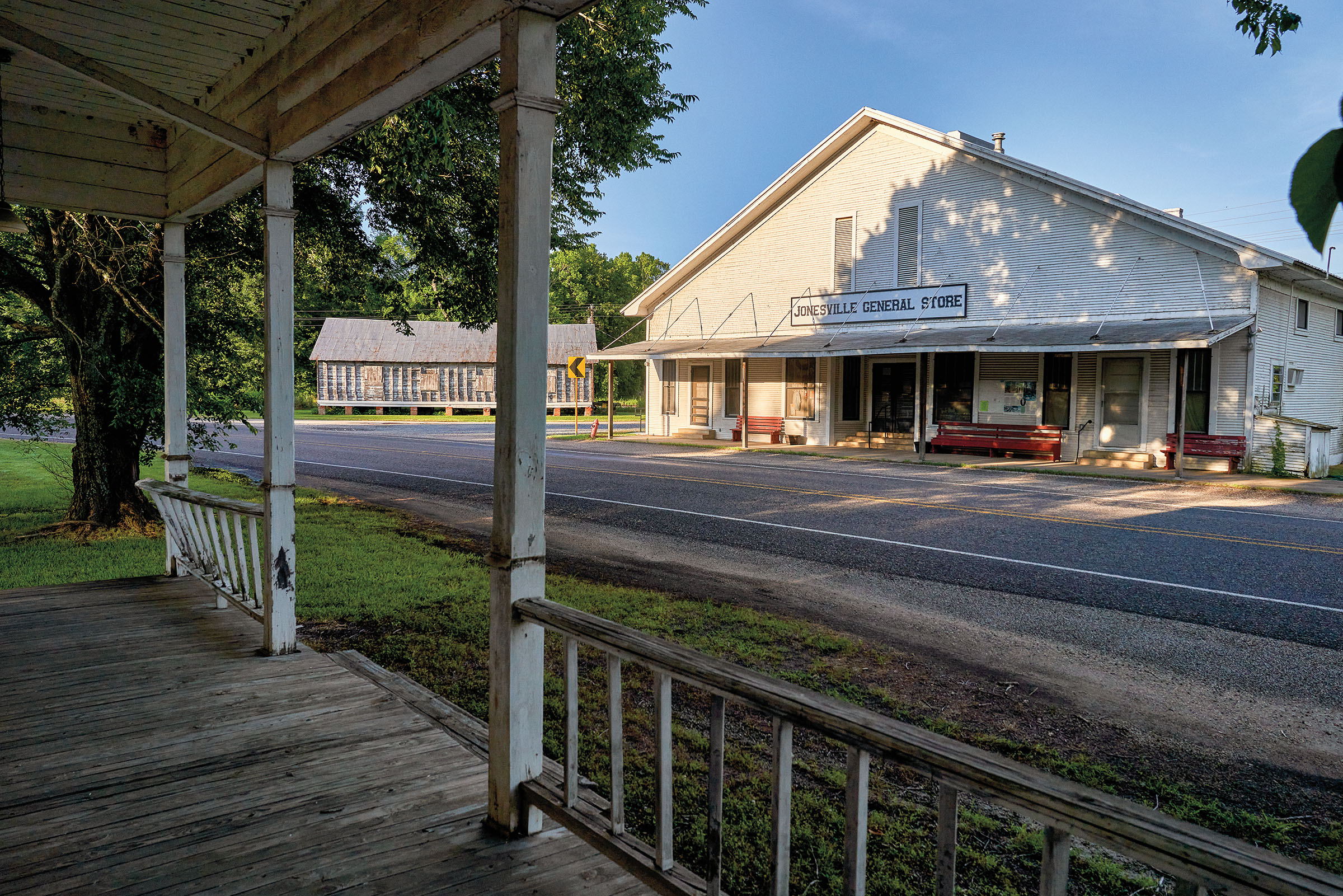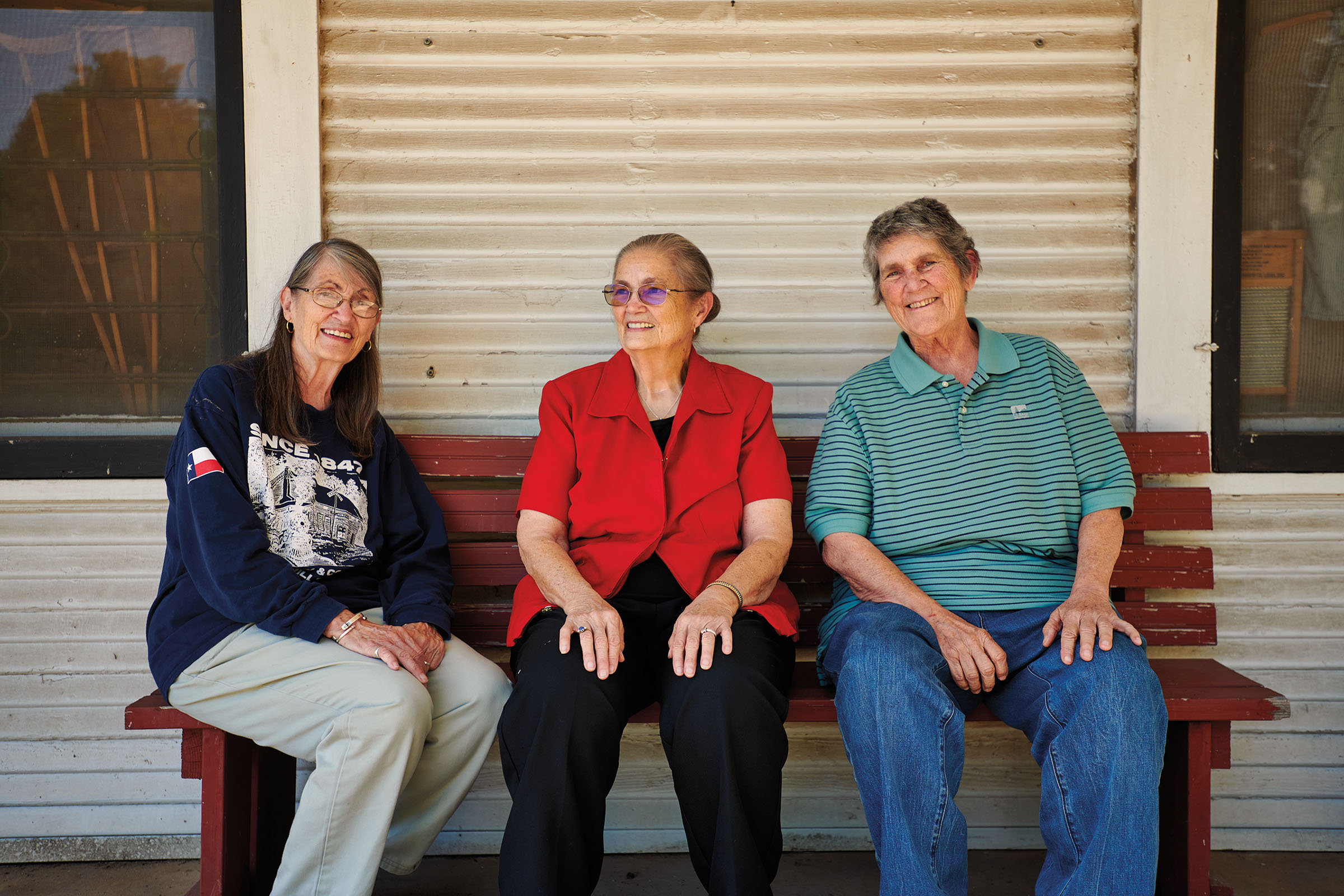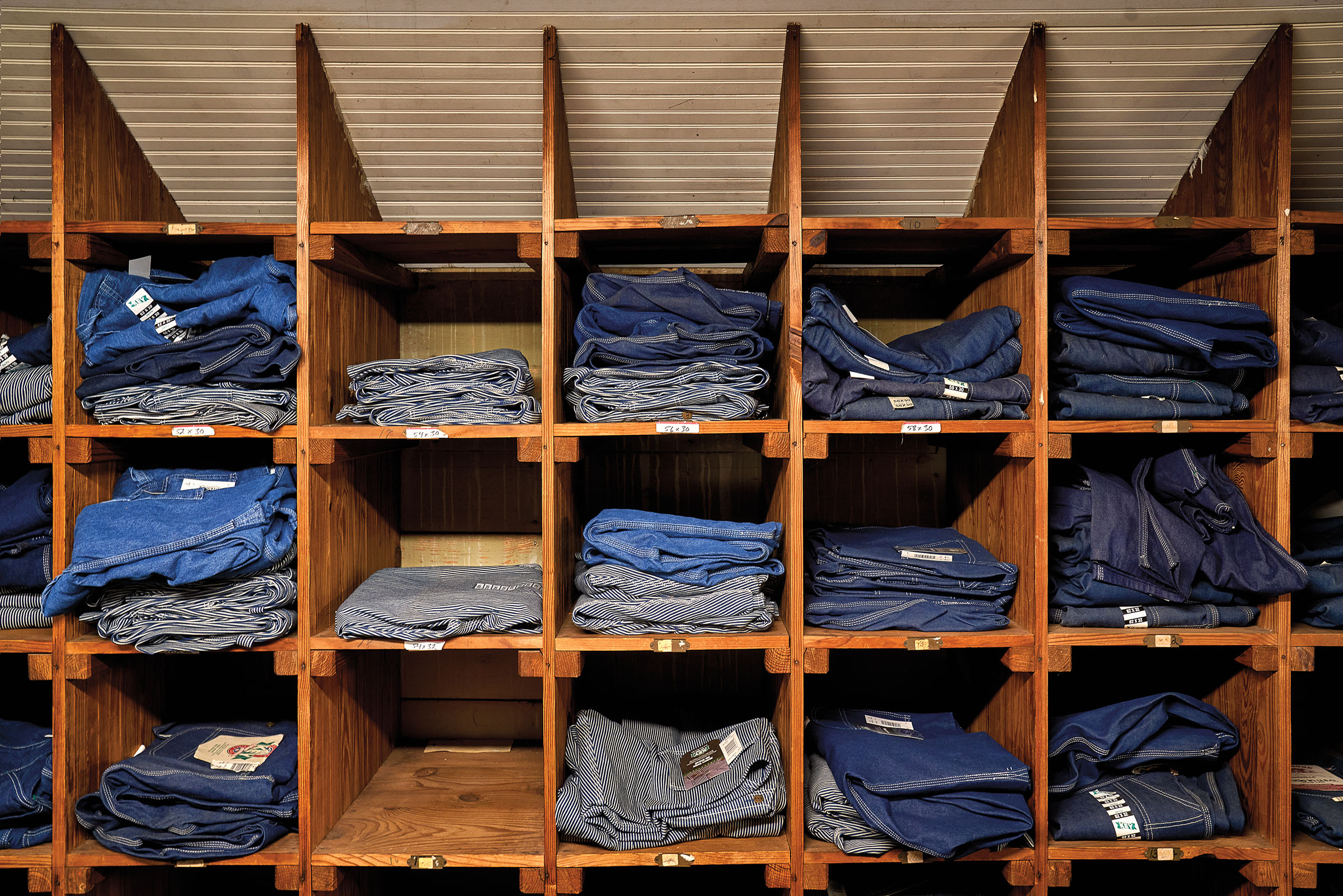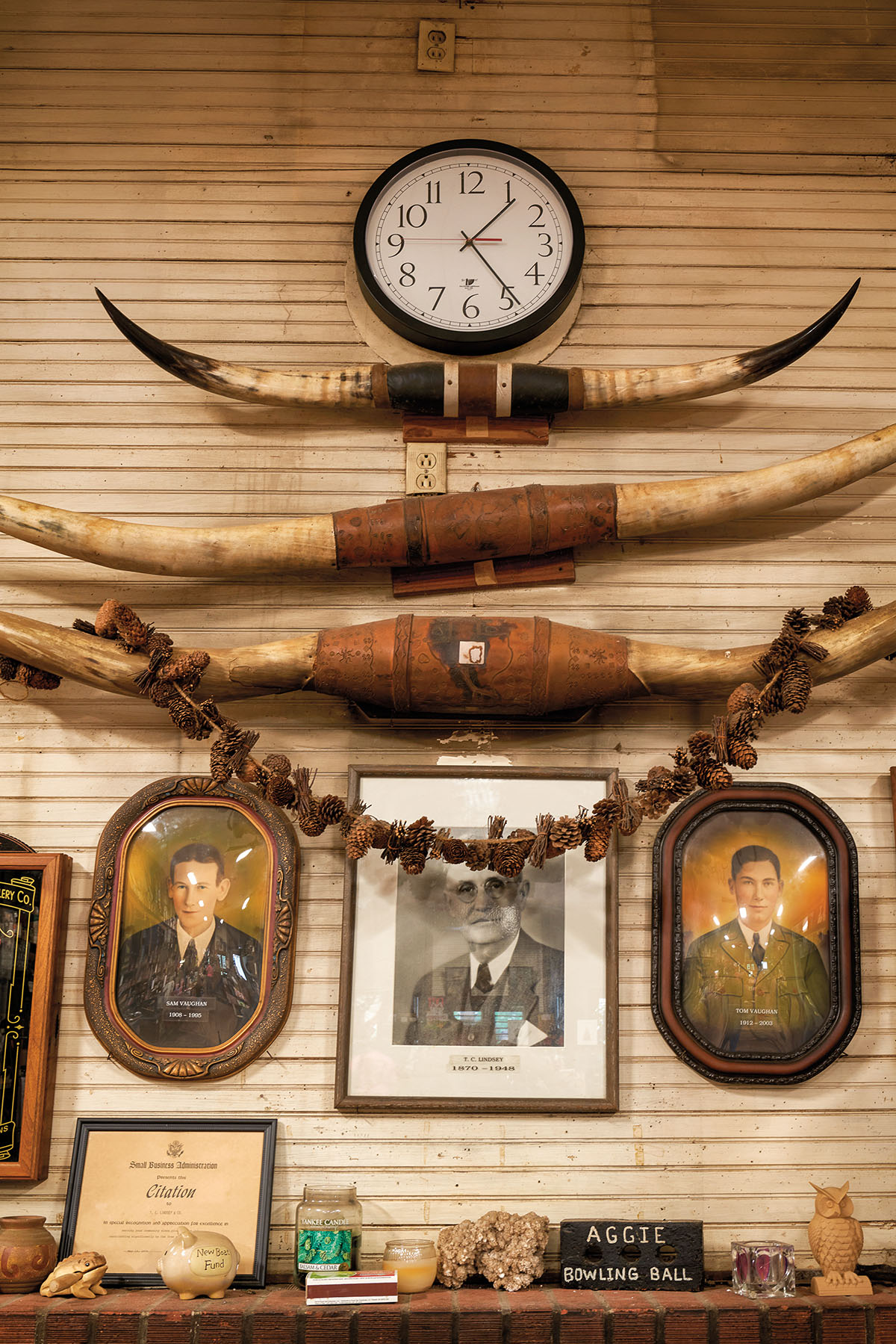 T.C. Lindsey & Co. General Store

People needing their fix of "bear tracks," a yesteryear gingerbread treat, drive to the far East Texas town of Jonesville. There, in a 5,000-square-foot century-old building, operates a business started in 1847. You'll run into folks making a regular trek from as far as Dallas just for the sweet snack; an old-fashioned sarsaparilla; or a piece of Wisconsin Cheddar cut from an enormous, red-wax-covered 24-pound wheel.
Having survived the Civil War and powered through the Great Depression, T.C. Lindsey & Co. General Store hit the pause button only recently, during the pandemic. Sisters Marty Vaughan, Lelia Vaughan, and Ellen Vaughan-Miller—the fourth generation of the sixth-generation family business and the great-nieces of T.C. Lindsey—pivoted to Saturday curbside service for almost 18 months to renovate. They updated the building with LED lighting, wheelchair-accessible entry and bathrooms, and central air. "Even with lots of fans, the summers were miserable inside," Marty says.
In its earlier years, T.C. Lindsey functioned as a bank, grocery, feed, and hardware store. Old photos displayed inside show mule-drawn wagons in long lines loaded with cotton to be ginned. In 1985, the TV movie The Long Hot Summer—starring Jason Robards, Ava Gardner, Don Johnson, and Cybill Shepherd—was filmed at the store. The sisters, along with store manager Jon Miller (Ellen's son) and his son Raymond Gutierrez, keep the vintage spirit alive.
"We have lots of antiques on display that aren't for sale so people can see what an old-timey store was like," Marty says. "We welcome locals, of course, but we really cater to tourists who haven't experienced a real country store."
Lelia draws in visitors with Facebook updates picturing merchandise: sock monkeys, rain gauges, wind chimes, yo-yos, Lodge Cast Iron pieces, Case knives, and pecan-honey butter. It's easy to lose track of time poring over East Texas books and old-school cookbooks. The sisters also take pride in selling brilliantly hued woven baskets handmade by women in Ghana. "We like supporting women in business in other parts of the world," Lelia notes.
The sisters are all about their quirky items. There's a pair of overalls fit for a giant suspended from the ceiling; solar-powered mobiles with colored balls that Lelia constantly reorders to keep in stock; and cans of "dehydrated" water. "Think about that," Marty says of the latter. "It's a silly gimmick, of course. Needless to say, we have a lot of fun." —J.N.
---
2293 Farm-to-Market Road 134, Jonesville. 903-687-3382. Open: Tue-Sat. Essentials: Clothing, Souvenirs, Treats.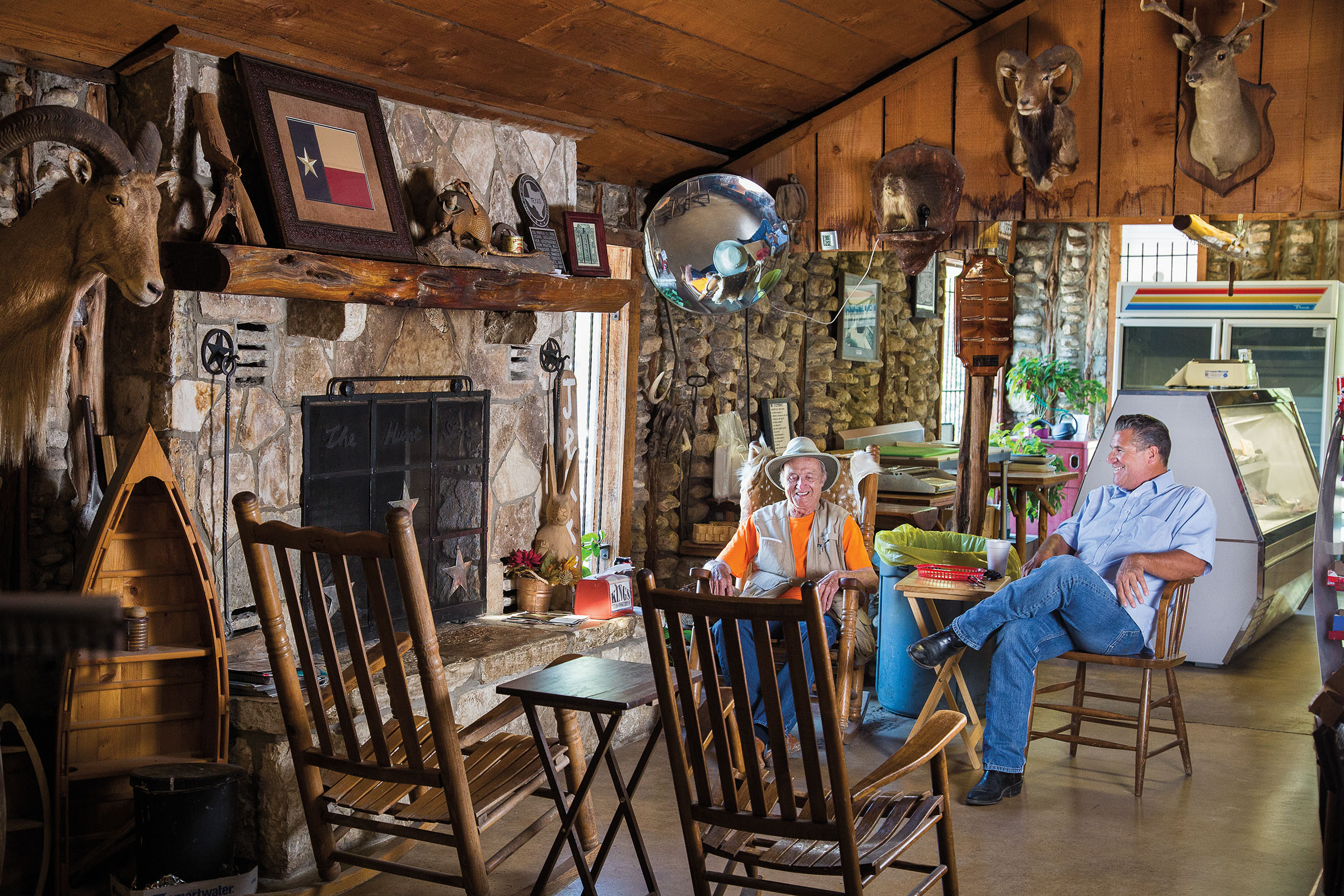 The Hunt Store

Hunt may be known for its scenic summer camps scattered like jewels down the Guadalupe River, but just beyond these sparkling banks, another town gem shines.
Steven King knows firsthand how important The Hunt Store is to this community. "It is the geographic and economic center of Hunt," says King, who acquired the business in 2020. "To operate this is an honor. It's a true Texas experience."
Fresh off its 75th anniversary, the landmark, which locals call "The Store," continues to offer a little something for everyone. After all, where else can you sip an ice-cold beer over lunch, mail a letter, purchase provisions, and do your banking under one roof?
Good old-fashioned comfort food is served inside at King's Texas Smokehouse, formerly known as the Hunt Rock Café. King also operates the King's Texas Smokehouse location in Camp Wood and expanded the menu in Hunt with a range of flavorful sandwiches using smoked meats.
The restaurant's tables, crafted from local cypress, are frequently saddled with patrons feasting on chicken-fried steak, smoked brisket mac and cheese, and sandwiches like The Beast, comprising sliced brisket, bacon, and grilled sausage on Texas toast with a side of onion rings.
The Hunt Store is the only grocery store and gas station in town, and it also offers a bank and real estate brokerage office on-site. Folks have their packages delivered here and often drop off letters to be mailed. On weekends, families listen to live music on the patio, which feels like sitting in a good friend's backyard.
Despite the challenges of the past two years, King is proud that he and his team never closed their doors. "We stayed open during the pandemic," he says. "This is where locals socialize and see people. It's a place of connection."
On any given visit to The Store, a steady rotation of regulars can be found, from the local Sweet Potato Queens to the Hunt Garden Club. There's also a gentleman named John Spencer, who parks his classic cars out front. Residents gather in the early morning to discuss the day's news over coffee, while every afternoon, a group called the "Hunt Locals" holds court at a table on the back patio. A sign hanging over their corner reads, "Hunt Locals: Members and Non-Members Only." King adds, "The community really owns the store. Anybody's welcome." —Sallie Lewis
---
1634 State Highway 39, Hunt. 830-238-4410; thehuntstore.com. Open: Daily. Essentials: Alcohol, Bait, Food, Gas, Souvenirs.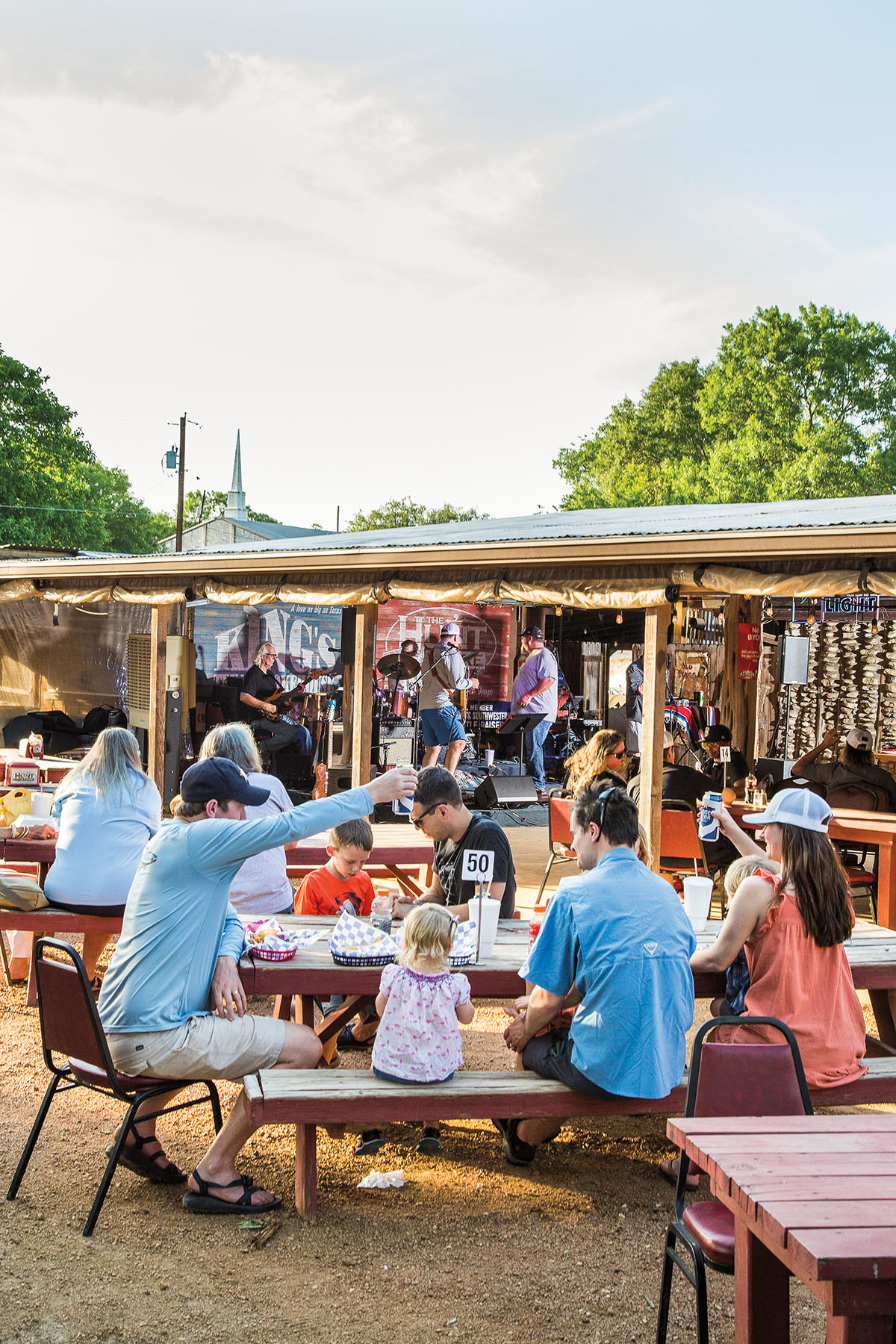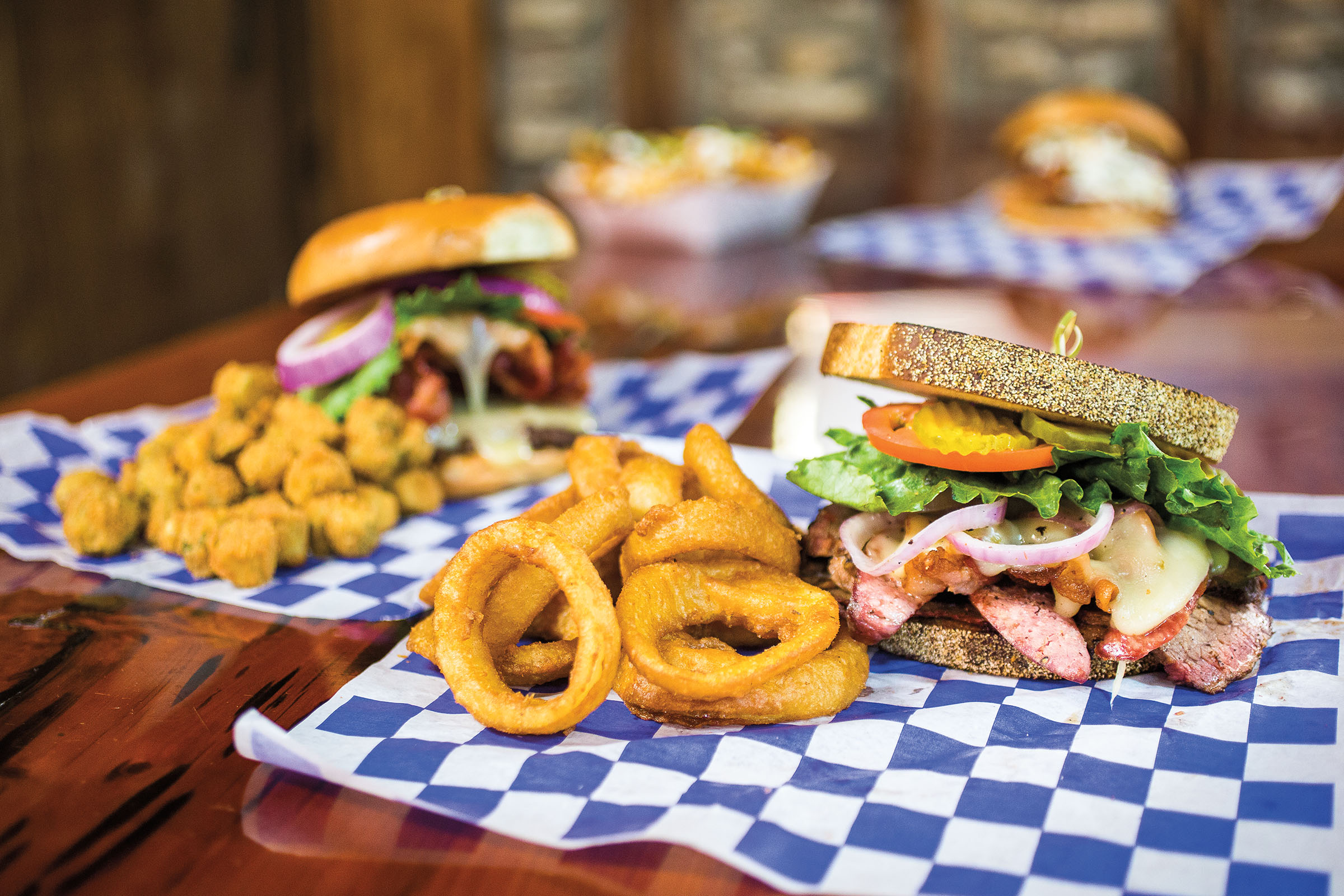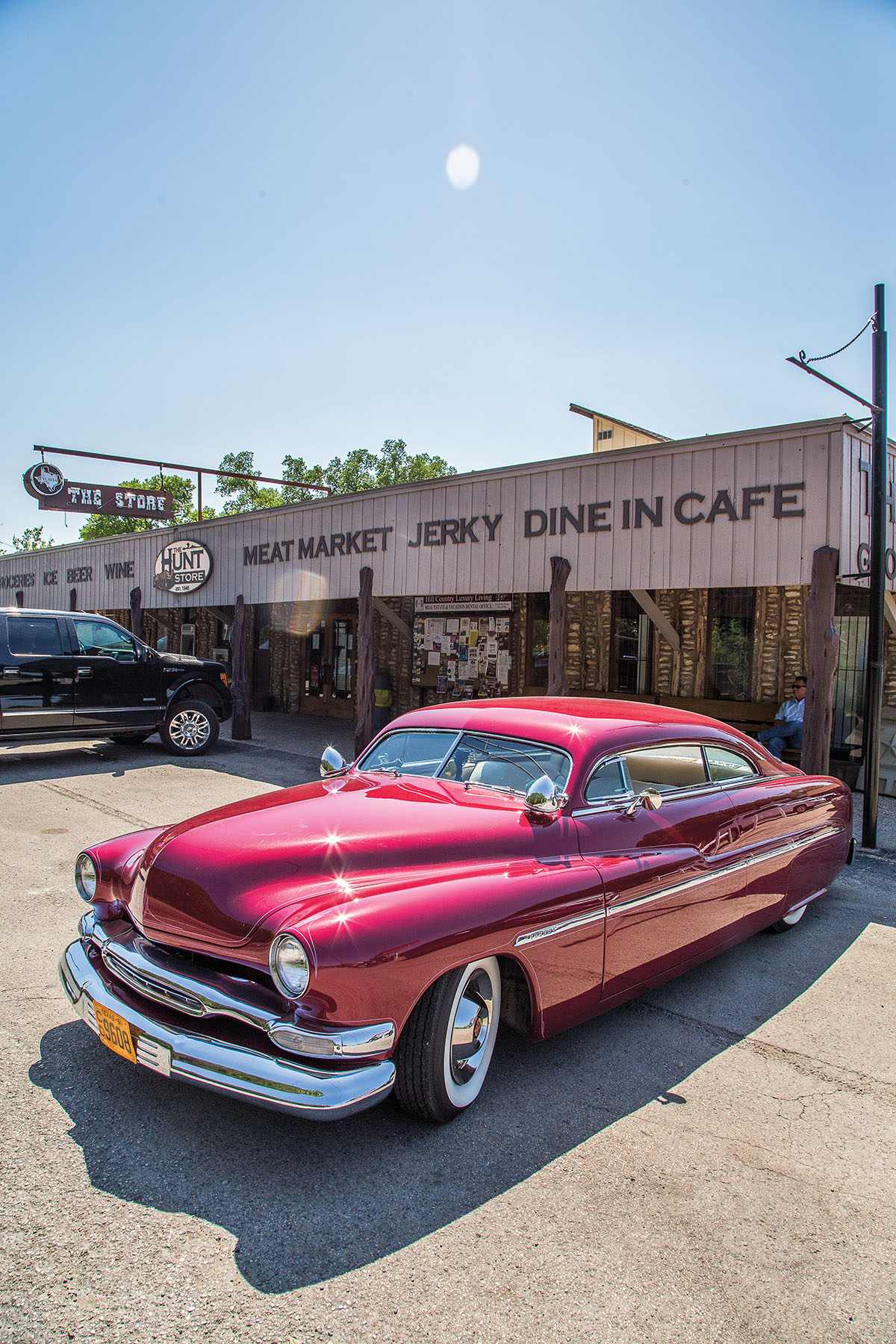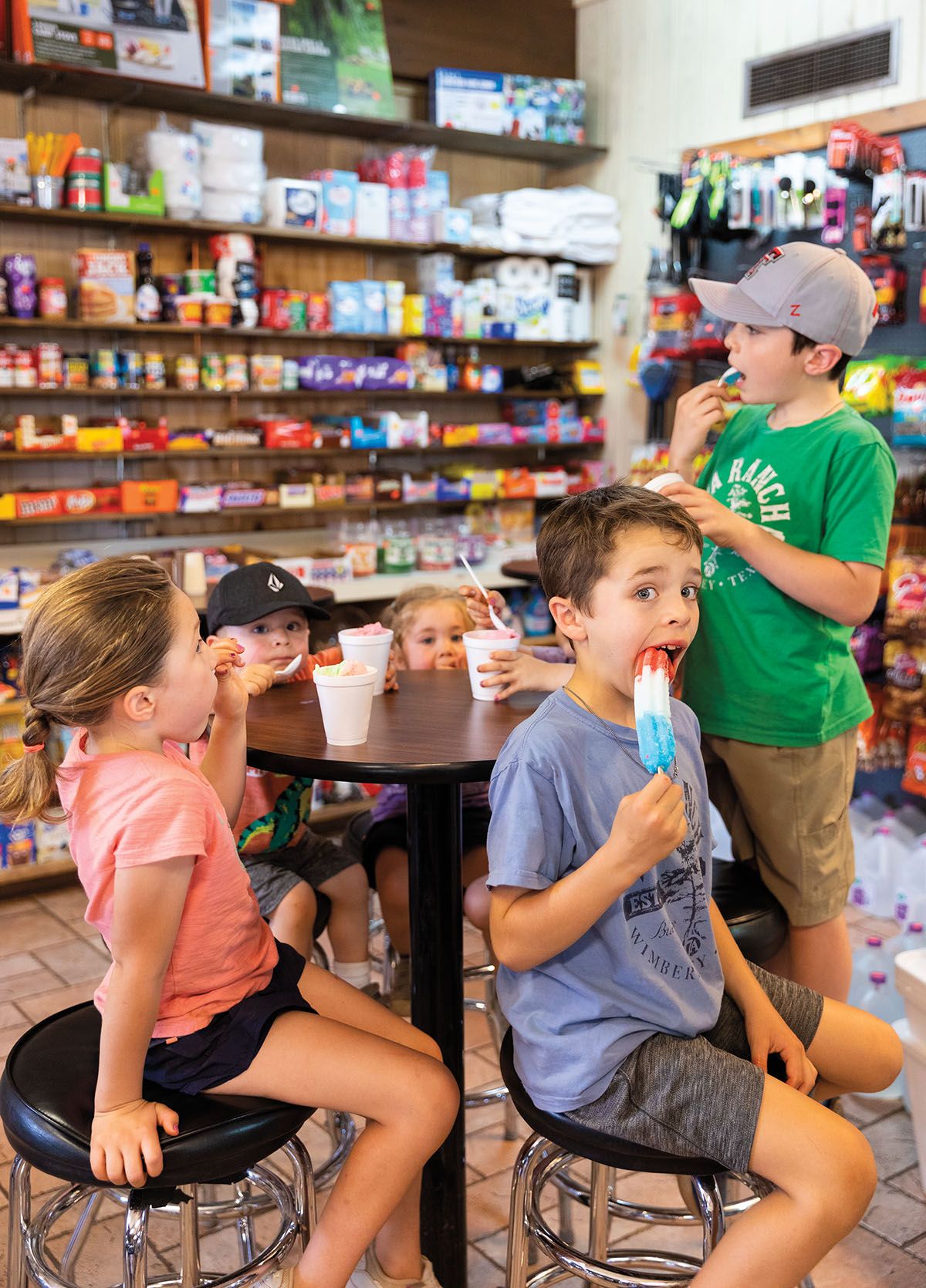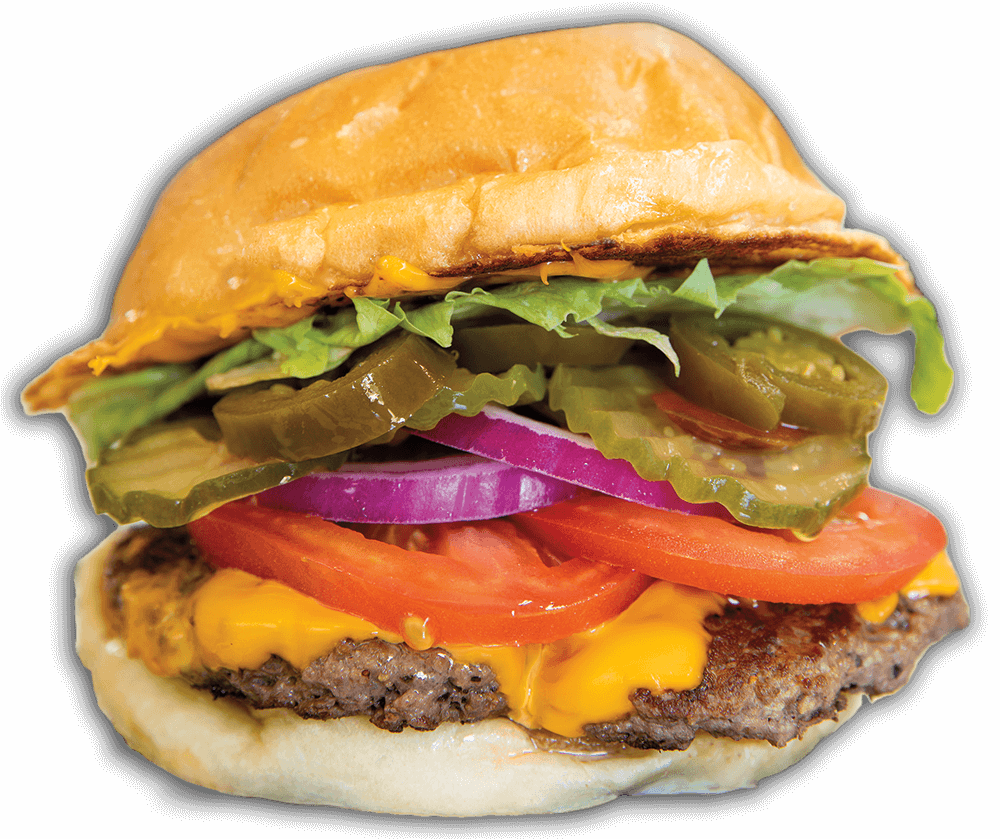 Palo Duro Trading Post

The Palo Duro Canyon system stretches for 120 miles over the Caprock Escarpment in the Panhandle. The nearly 30,000-acre state park named for the canyon is about a 30-minute drive from Amarillo and attracts thousands of visitors who view towering rock formations such as the Lighthouse as well as wild animals like Barbary sheep. When it's time to fuel up or buy supplies, the Palo Duro Trading Post, located at the very bottom of the canyon, is the place to go. You can also line up there to buy one of the Panhandle's best-known hamburgers.
Dusty Harris and his brother, Jason Harris, opened the Palo Duro Trading Post in March 2004 as Texas Parks and Wildlife Department contractors. They started out operating the Old West Stables, which offers tours by horseback of this stretch of the second-largest canyon in America—only the Grand Canyon is larger. Jason's son currently runs the stables.
The trading post has a large retail area with everything from groceries to bug spray, which is helpful for repelling pesky flies in the canyon. "Anything anybody forgets," Dusty says, "we try to have it." Refrigerator magnets and T-shirts are popular souvenirs. Recently, the Harris brothers added "glamping" to the post's offerings: Four canvas-sided units combine the tent-camping experience with that of lodging in an upscale cabin. "People who stay in the glamp sites aren't your everyday parkgoer," Dusty says. "It's bringing in a new group of people."
Then there are the hamburgers. "We knew we needed food here, and neither one of us are cooks," Dusty says wryly. "We figured, well, what can we do? Hamburgers. It wasn't exactly rocket science." But a lot of care goes into the burgers. Patties are hand-formed on-site, and the buns come from a bakery in Amarillo. The burgers from the brothers who can't cook are a success. "It was hands down the best cheeseburger I have had after a hike," one park visitor posted on Tripadvisor recently. The small trading post restaurant also serves breakfast sandwiches, and a variety of other foods round out the lunch menu.
In March 2021, the Harris brothers expanded their operations to a store 300 miles away at Possum Kingdom Lake State Park. "This is a desert up here, and we're on a lake down there," Dusty says. "It's two different worlds, really." But there is one commonality at both Harris stores: burgers. —W.K.S.
---
11450 Park Road 5, Canyon. 806-488-2821; palodurotradingpost.us. Open: Daily. Essentials: Camping Supplies, Food, Gas, Pharmacy, Souvenirs.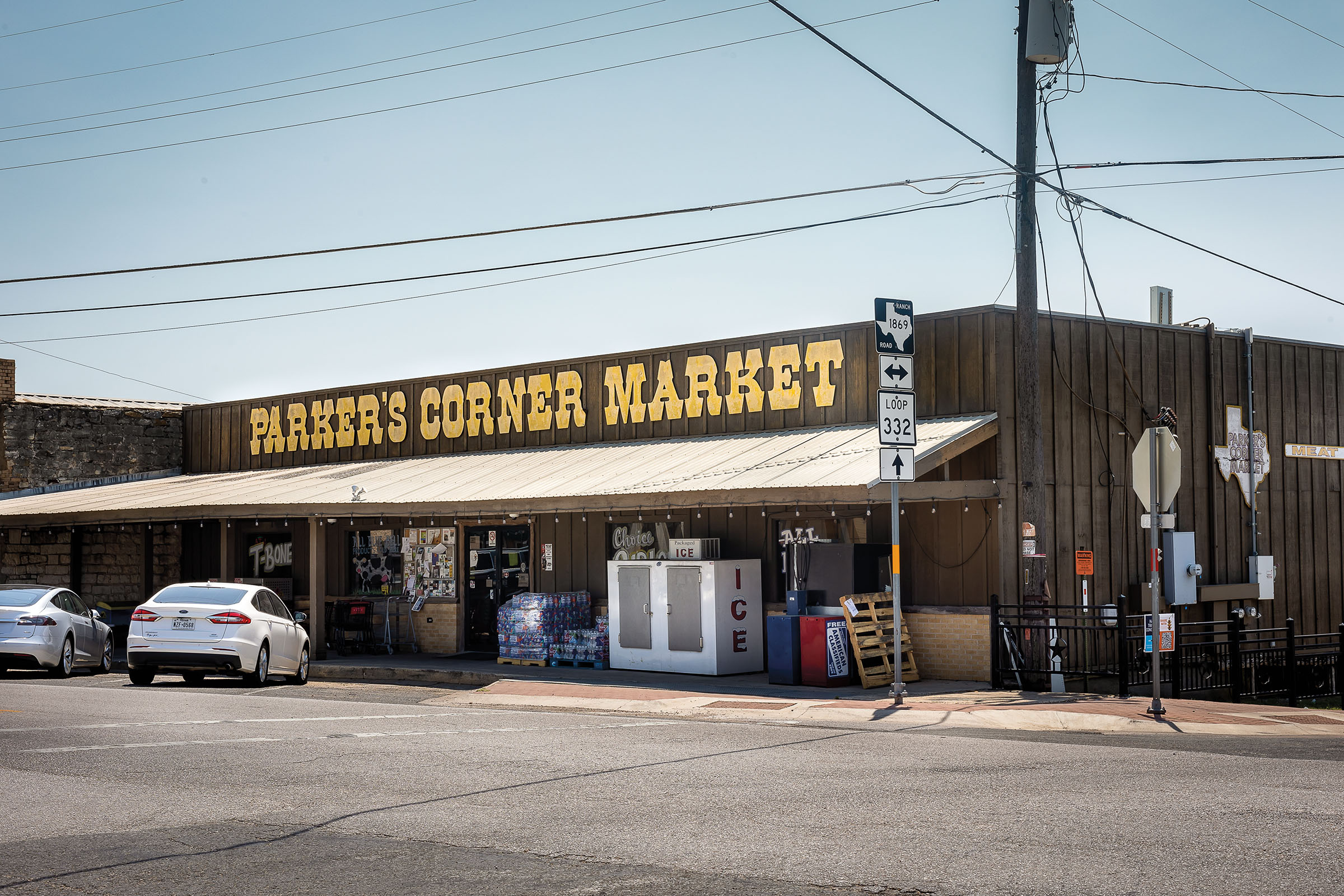 Parker's Corner Market

Hiking to the top of Spider Mountain Bike Park on the shores of Lake Buchanan has become a regular weekend adventure for many Central Texans. The 350-foot summit is mostly utilized by mountain bikers, but one trail, Eagle View, is open to hikers. The accomplishment might leave you emboldened but also famished, with thoughts of a barbecue at home as a reward. You might think, "Where can I score some great steaks?" That's when you cue up Google and stumble across the carnivore's paradise at Parker's Corner Market.
Must-Buy: Prime Top Sirloin
Pull off State Highway 29 and park in front of a faded brown awning with bold yellow letters. It's the kind of font one would expect to find in a small Texas town. Let's call it Wild West font. From the outside, Parker's Corner Market looks like it has been around for 100 years. According to current owner Paul Prajapati, a market has been in this location for that long, though it only became known as Parker's in 2001. The lone interruption during that time was a fire in 1999 that temporarily shut the market down. New owners brought the place back to life two years later.
In 2017, Prajapati, a New York transplant, bought the store and infused it with his bodega sensibilities. Prajapati says he wanted a country store and saw the potential to grow the customer base. He kept the walk-in beer fridge and beefed up the wine selection. Customers might train their eyes on a couple bottles of rosé from Provence or a Cohiba cigar. Prajapati also embraced the tradition of old school butcher-shop service. The cuts of porterhouse steaks, bone-in New York strips, and marinated kebabs are massive for such a little shop.
There is a bespoke charm to food shopping here, and people will be delighted to experience the wonderfully proficient service of a small-scale butcher for the first time. Get all that at Parker's along with everything you would expect from a weekly grocery store, like produce, canned goods, cereal, and household supplies. It's good to know the butcher's name, Lenny Brooks, if you want to get hooked up with the best USDA prime top sirloin steak in the case. Like any great salesman, Brooks provides some parting words about quality assurance: "Many of the other guys' beef comes from Mexico; ours is local." It turns out the beef at Parker's is processed in Brenham, after grazing on pastures in the Dakotas.
Can a country market compete with big chains and draw people to shop in Liberty Hill? Folks from Georgetown do, according to Prajapati. They come for the quality, reasonable prices, and convenience. "At the big stores, you spend so much time for two or three items," he says. "You drive, you park the car, you wait in line. Just looking for an item takes 10 minutes." Shopping at Parker's leaves you with more time to prepare your steak just the way you like it. —Ali Khan
---
1017 Loop 332, Liberty Hill. 512-515-0770; parkersmarkets.com. Open: Daily. Essentials: Alcohol, Camping Supplies, Food.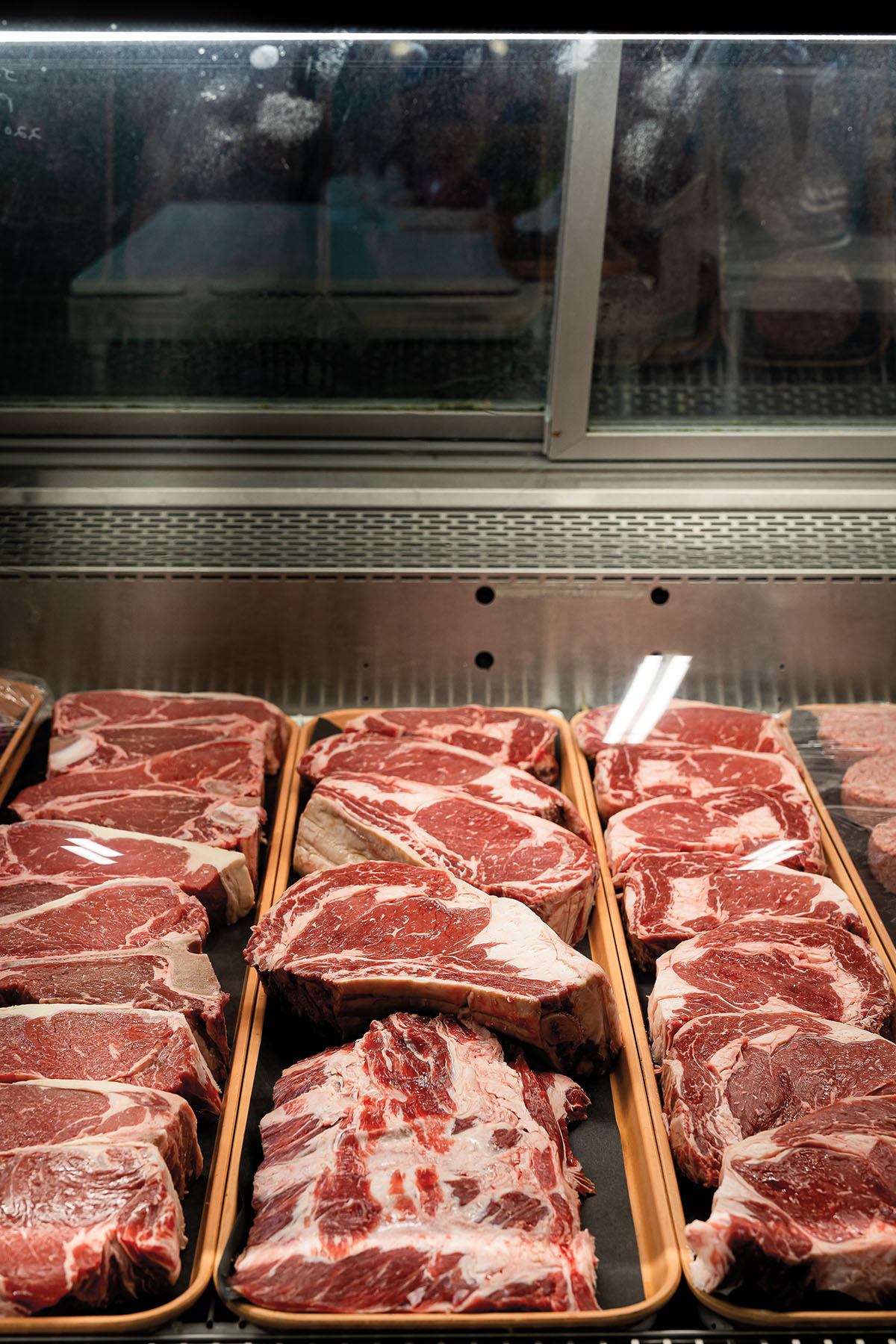 The Point

When in Palacios, get to The Point. The hyphenated words of the red neon sign atop the storefront's plain aluminum exterior sum up The Point's identity: Beer-Ice-Bait-Tackle-Grocery-Lottery. What else could the many fishermen who populate this bayside town need? Just yards from Tres Palacios Bay, The Point embodies much of the spirit of this little coastal town, population 4,500, known for its shrimping and birding. It's got beer, ice to keep it cold, fishing supplies, and lottery tickets—because, as with fishing, we can always dream of the big one.
A good bit of The Point's spirit stems from the hard work and positive attitudes of owners Bryan and Yen Tran. After long careers at the nearby Alcoa aluminum plant and in the local education system, respectively, the couple resuscitated the corner store a few years after its former owner, Yen's brother, died of cancer. A fishing enthusiast, Bryan amped up The Point's lure and tackle inventory while Yen started cooking her favorite dishes from Vietnam—pho, banh mi sandwiches, and crispy shrimp wraps. They also brought in a local Mexican American chef to make breakfast tacos and a few Mexican dishes. Their mashup menu melds the cuisine of two cultures, reflecting the core value of the store overall—everyone is welcome here.
"The Point is a gathering place," Yen says. "I remember there was a man in town who had a mental illness, so everybody was wary of him. But when he came here and would sit down at our tables, other people would come in and sit next to him, and they stopped being afraid. God's table should be like that—everybody sitting down together."
Since opening in 2015, Bryan and Yen have worked in The Point's kitchen cooking their beloved Vietnamese dishes—so good that Anthony Bourdain once sat at the store's picnic tables to sample every item on the menu. But due to health and staffing setbacks during the pandemic, the Trans paused their kitchen service. Then this past May, they brought on a new chef, Marvin Lee, who cooks up hearty fare including chicken-fried steak, tacos, pancakes, and omelets. Palacios regulars are happy to once again gather over food at The Point, with the hope that pho and banh mi will be back on the menu again soon. —Clayton Maxwell
---
608 First St., Palacios. 361-972-2106; pointatpalacios.com. Open: Mon-Sat. Essentials: Alcohol, Bait, Food, Lottery, Souvenirs.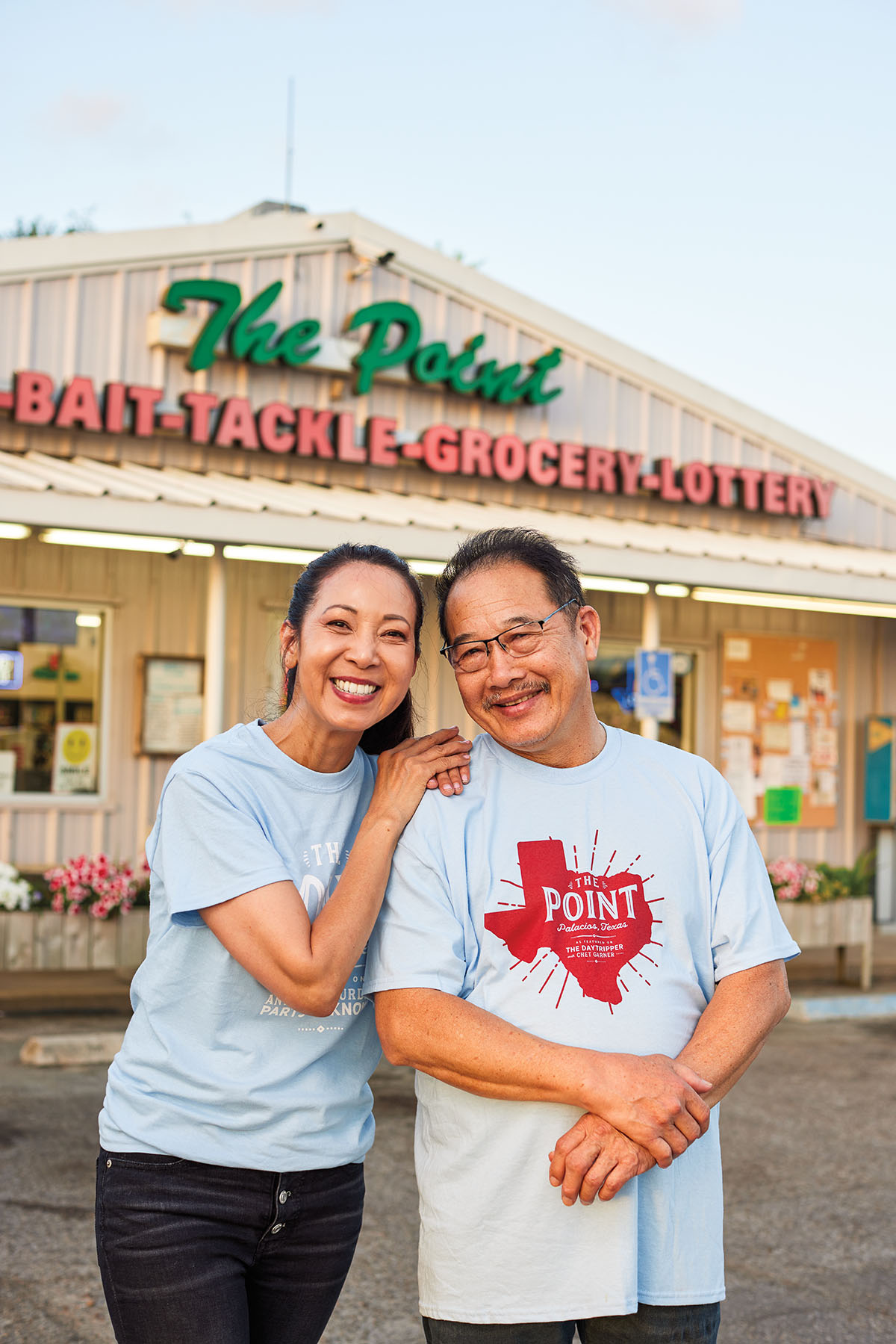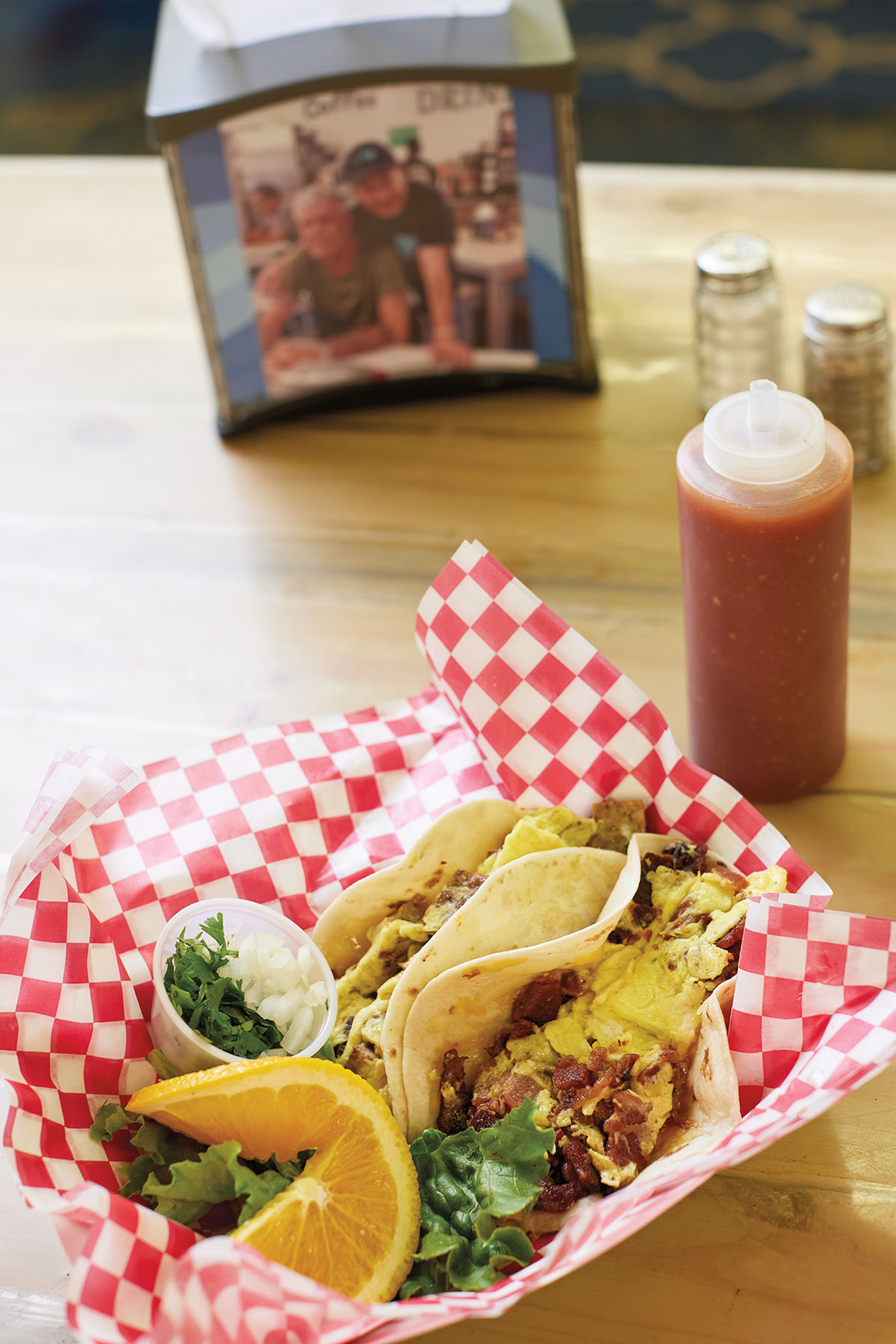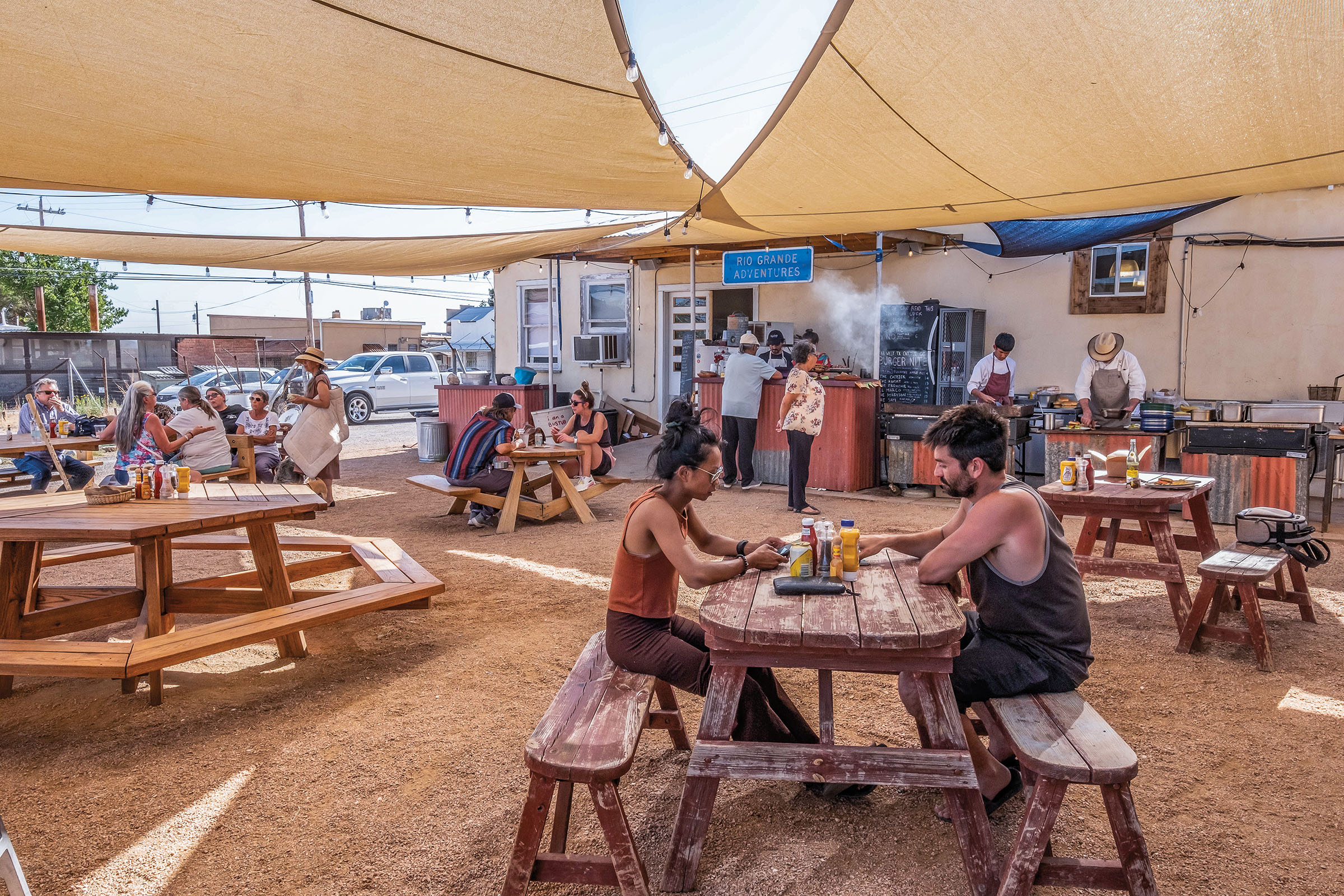 The French Co. Grocer

This indoor-outdoor spot in Marathon may stock organic produce and homemade hummus and sling espresso from a shiny machine, but don't call it fancy. "We are not this super bougie store that got dropped in an affluent Texas neighborhood," says Samuel Stavinoha, the store's owner and a former Rio Grande river guide. "I have months when 13% of my sales are food stamps."
Stavinoha, who still works his day job as a computer engineer, just believes in access to good produce, something that is hard to come by in remote desert towns. Luckily, the French Grocer is on the delivery route for a Colorado-based organic produce company. "What makes you a real grocery is your ability to hold consistency on produce," he says. "I didn't read that anywhere. That's just a standard I want to hold myself to."
No newcomer to Marathon, the little store was established by William French as W.M. French General Merchandise, in 1900, and has had various owners and iterations over its long life. In 2019, Stavinoha bought it from Marci Roberts, partner of noted Marathon photographer James H. Evans. Stavinoha's since transformed it into one of the most popular hangouts in West Texas. Since 2020, he has hosted an annual October birthday tribute for his favorite musician, John Prine, who died of complications from COVID-19 the previous April. Stavinoha and a couple of employees cleared the rubble in the store's backyard, added some picnic tables, and made a gathering space. They figured a few friends might show up to play some Prine tunes together, but 120 people stopped in. Soon came Friday Burger Nights, where Stavinoha and his chef, Franc Harriss, serve burgers in the backyard with homemade potato chips they cook up in an outdoor fryer. Sometimes guests come to play music and sing karaoke. They've sold out of burgers roughly half of every Friday night this year; 80 burgers served in a town of about 350 people equals high per capita burger eating.
Also known for its ready-to-eat foods like the roast beef sandwich, the French Grocer has expanded into catering, with Stavinoha even hauling his espresso machine out to weddings on a ranch in Hunt and an ecolodge in Taos, New Mexico.
Fueling all Stavinoha's efforts are the conversations and music-making the French Grocer stirs up. "If you are really honest, and I am from time to time, you realize that community is the whole reason to do this," he says. "If not, it would be like a zombie—it might have arms and legs, but it wouldn't have a soul." —C.M.
---
206 Ave. D, Marathon. 432-386-4522; frenchcogrocer.com. Open: Daily. Essentials: Alcohol, Camping Supplies, Food, Souvenirs, Treats.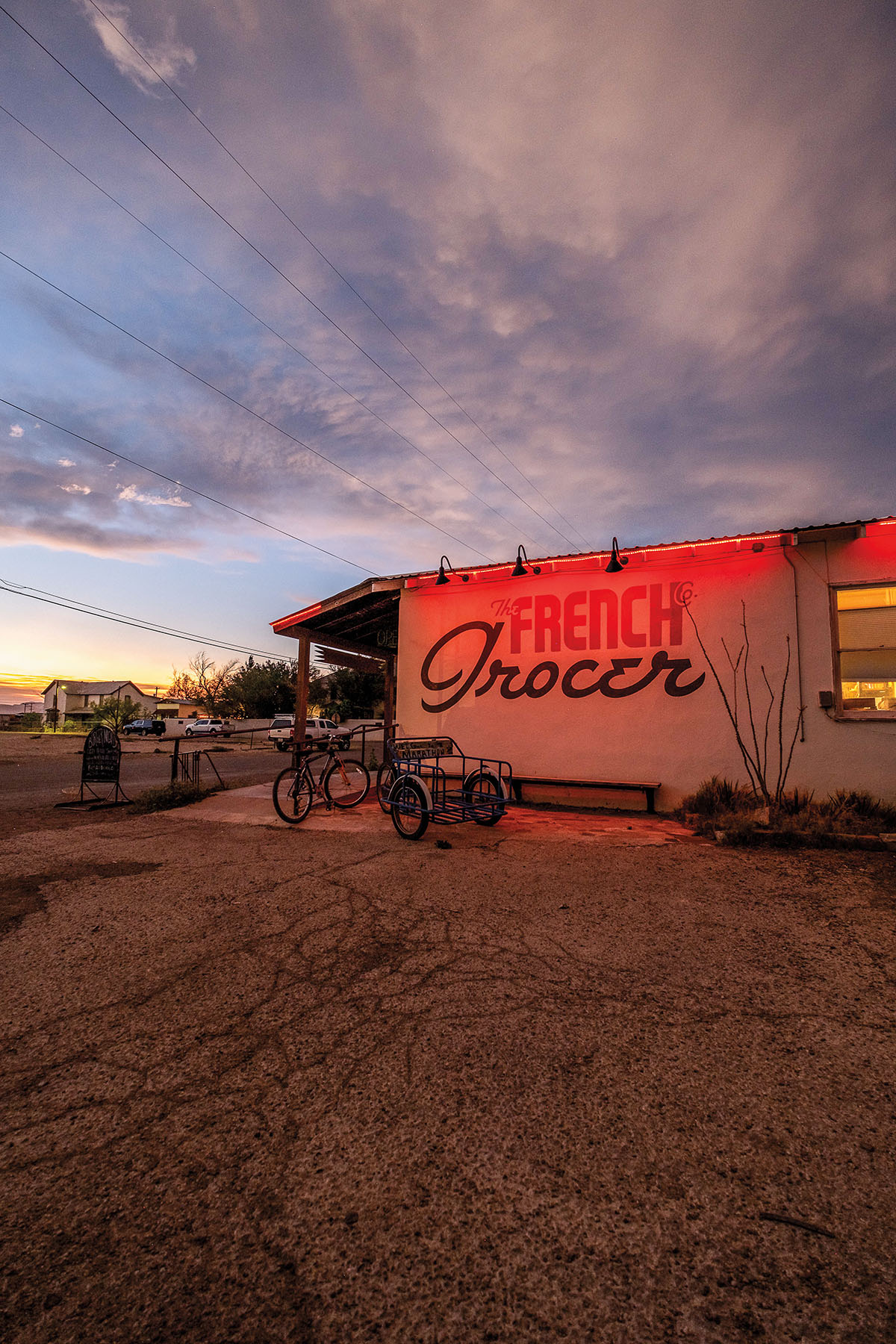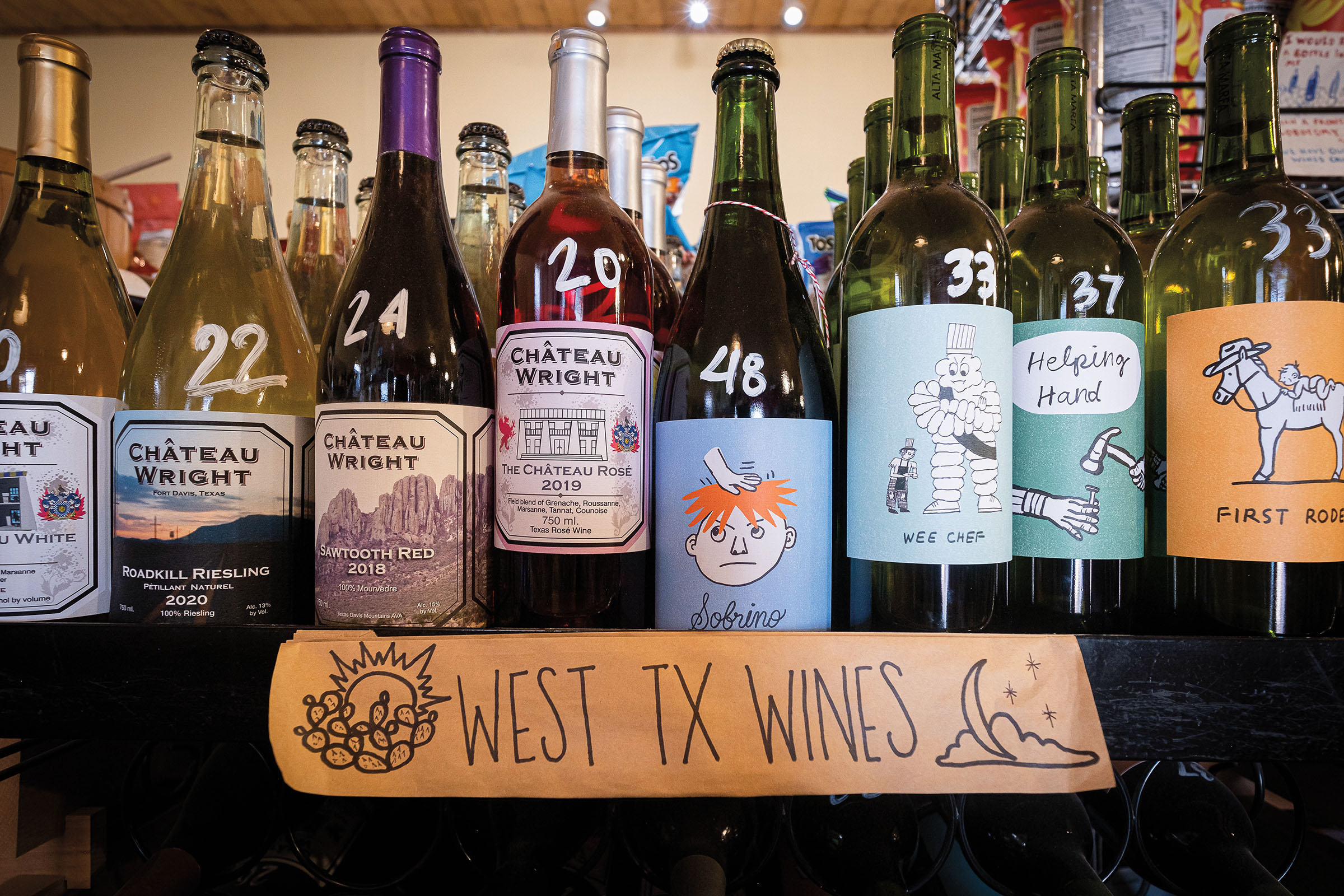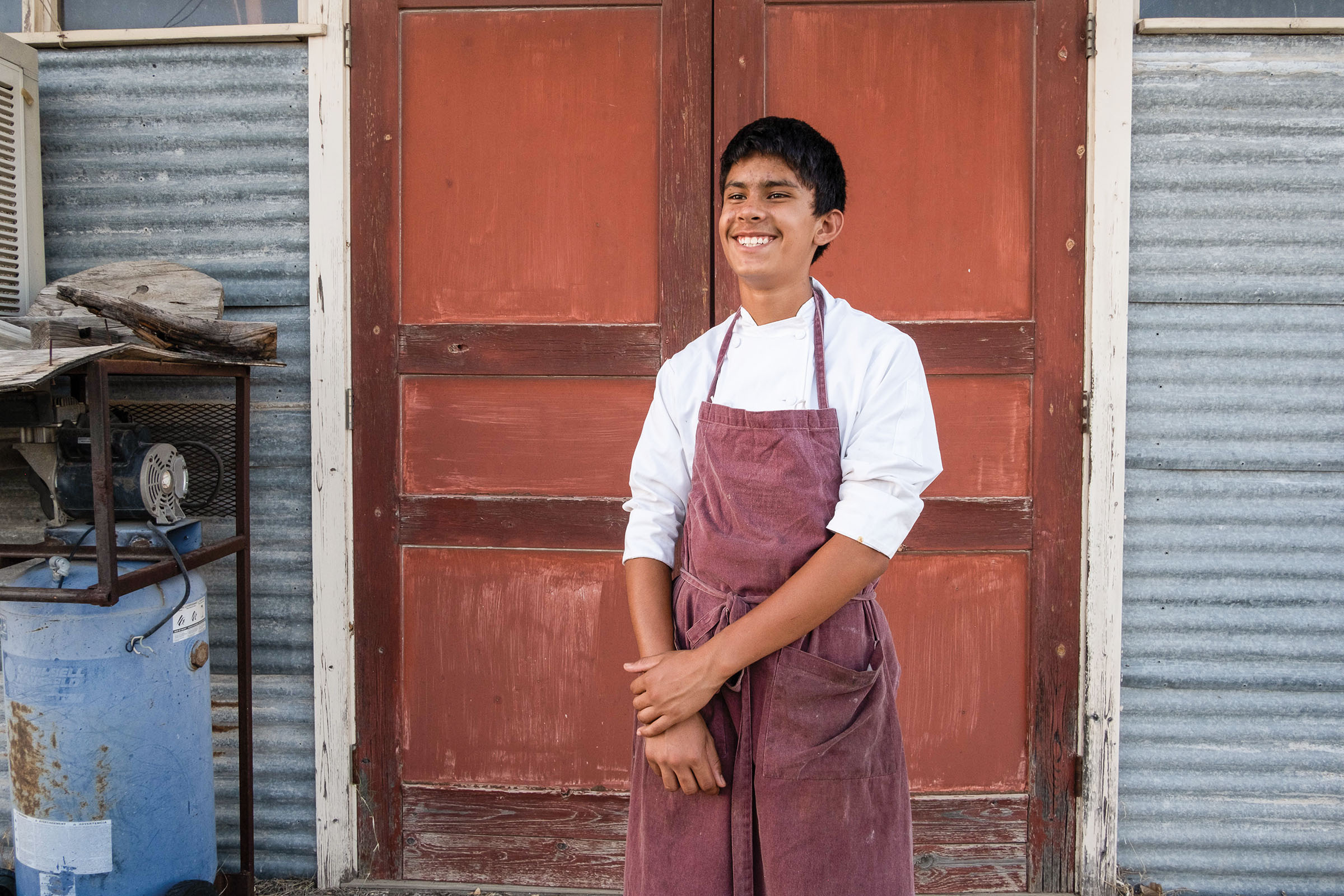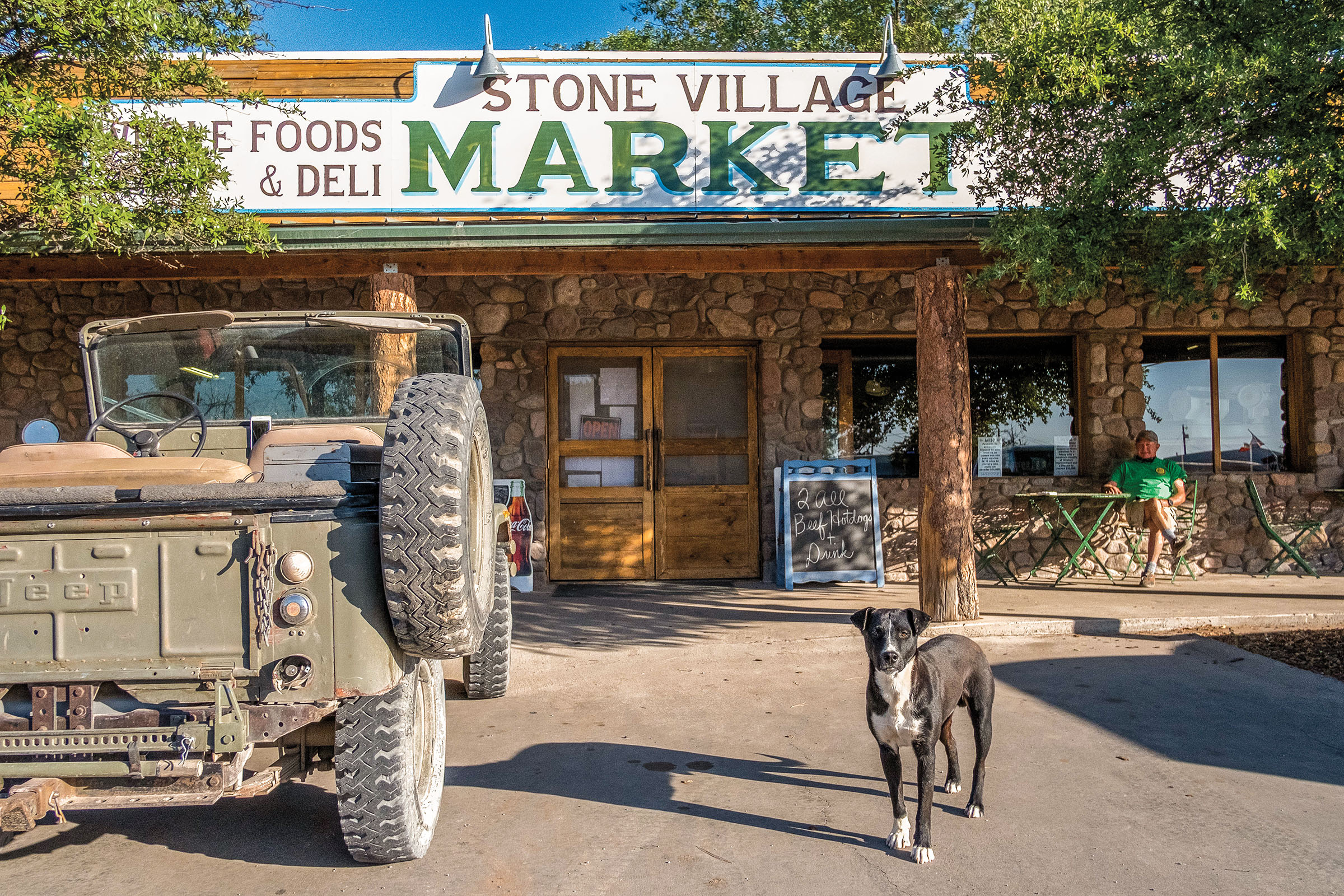 Stone Village Market

Pulling up to Stone Village Market on the main street of the desert mountain town of Fort Davis, I can imagine what travelers on horseback might have felt tying their horses up at the saloon after a long dusty ride: I'm so glad I've made it. But instead of stepping up to the bar for a whiskey, here you can fill your cup with nitro cold brew coffee—Big Bend Roasters' secret blend—right from the tap. You can also pick up the popular house-made cranberry almond chicken salad, deviled eggs, and pecan sandies. While putting in your order at their busy deli counter, with its breakfast tacos and build-your-own sandwiches, you'll find yourself in line with regulars as well as hikers and campers coming through for provisions on their way to nearby Davis Mountains State Park. Chances are you'll make a friend—like Cliff Calvert, the friendly cashier—and learn the latest scuttlebutt.
"We are like a hub of the community," says Belinda Kinzie, the owner and daughter-in-law of the couple who purchased the property in the early 1970s. "We have a group that plays dominoes while they're having breakfast and coffee, but sadly during COVID we lost a few of our guys. We don't get into politics, but we used to laugh about how in the mornings it was mainly liberals drinking coffee and in the afternoon it was the conservatives. So, if you're around all day, you get the full range."
Now a purveyor of well-curated groceries, from gluten-free crackers to IPA beers, the market has many former lives. It was once a Texaco station and then a typical nothing-special convenience store. In the 2000s, West Texas hoteliers Joe and Lana Duncan, friends of the Kinzies and owners of the Paisano Hotel in Marfa, helped spruce up the property, laying creek stone over its old cinder block facade and adding a front porch. Adjacent to the market is the Stone Village Tourist Camp, a throwback motor court dating to the 1930s. With 14 traditional motel rooms and six stone-wall rooms so small they call them "camp rooms," the tourist camp is one of the most affordable places to hang your hat in the region. —C.M.
---
507 State St., Fort Davis. 432-426-2226; stonevillagetouristcamp.com. Open: Daily. Essentials: Alcohol, Clothing, Food, Souvenirs.
Stanley's General Stores

Stanley's General Stores in Matagorda is the sole survivor of a onetime Bay City-based supermarket chain that had dozens of stores across the Coastal Bend and into Houston and Louisiana. It typifies the kind of one-stop shop you find in the more sparsely populated, hurricane-ravaged stretches of the Texas coast, where most national chains fear to tread.
Like Crystal Beach's Big Store, Stanley's aims to provide Matagorda residents and weekend visitors alike with everything—cupboard staples, beer, bait and tackle, crab nets, and coolers, as well as beach toys for the kiddos and Matagorda-themed apparel, souvenirs, and artwork. You can tank up your car or dispense with what little red tape exists for visitors here—generally speaking, fishing licenses and beach parking and driving permits. There's also an array of camping supplies, fresh fruit and vegetables, high-quality meat, and the charcoal to smoke it over, should your idea of paradise be jamming to your favorite music while tending a grill under sunny skies kissed with Gulf breezes.
Stanley's houses Stanley's Gorda Grill, which offers an assortment of dishes including piping hot breakfast sandwiches beginning at 5 a.m. for hungry fishermen. The lunchtime crowd can choose between oyster po'boys and juicy burgers.
"We believe it is the best restaurant in town," says co-owner Bart Stanley, a grandson of the founder of the former chain. In 2014, he and his sister, Susan Faciane, and brother-in-law, Kevin Faciane, bought the lone surviving location of the chain started by O.B. Stanley in the Depression era. This location has existed "only" since 1964. Today it serves as the unofficial hub of Texas' third-oldest Anglo town, founded in 1827.
"They are very customer-service oriented, and they are extremely involved in every local fundraiser," says Peggy Stanley, who is co-proprietor of the nearby historic Stanley-Fisher House bed-and-breakfast. In a town of around 500 year-round residents, everyone relies on one another, and Stanley's takes pride in providing locals with everything they need and more.
"They keep their store up," Peggy says. "They always have a little bit of everything. You are always going to see all the visitors there and all the locals. It's just a great store." —John Nova Lomax
---
752 Market St. Matagorda. 979-863-7613; stanleysgeneralstores.com. Open: Daily. Essentials: Alcohol, Bait, Camping Supplies, Food, Gas, Lottery, Souvenirs.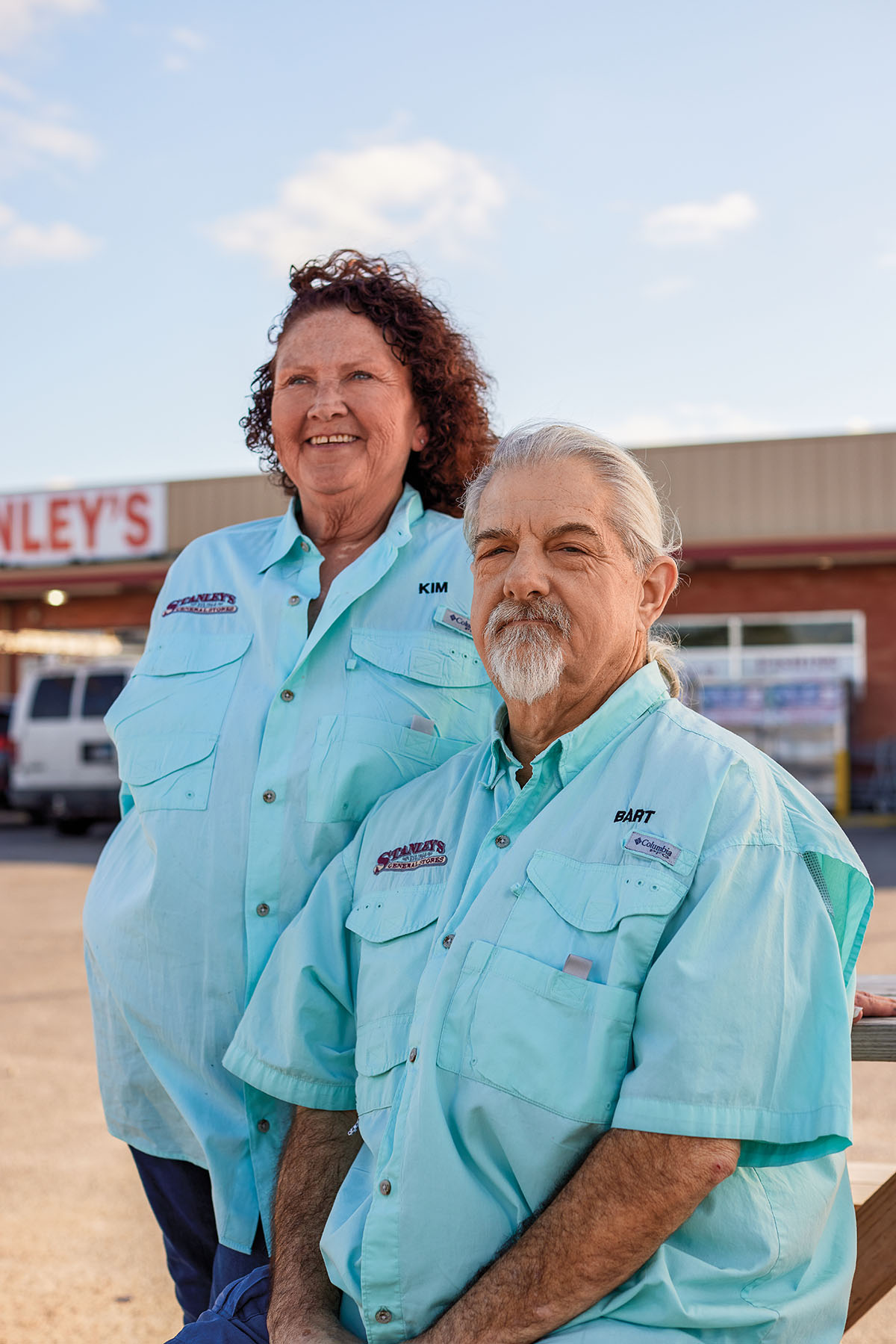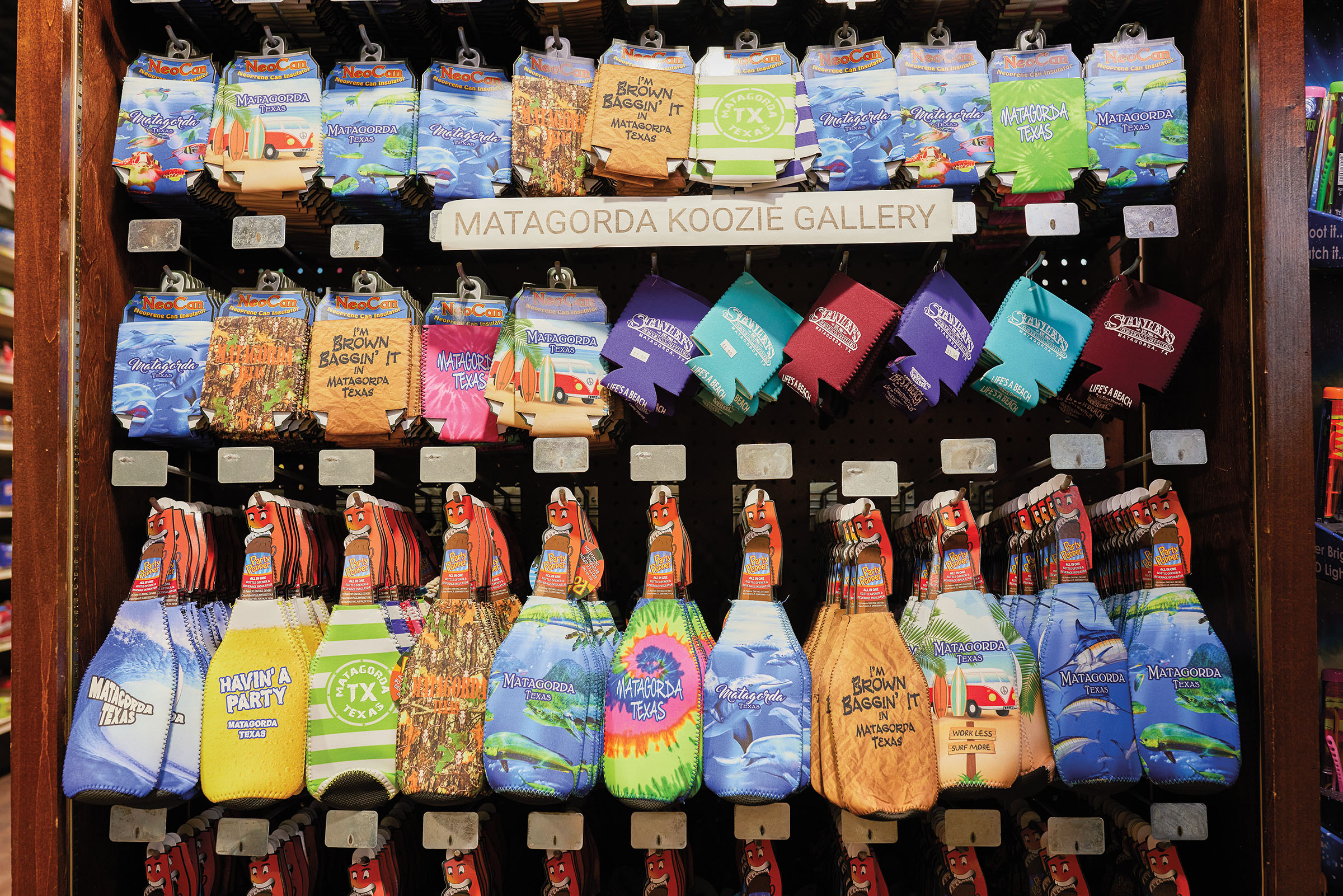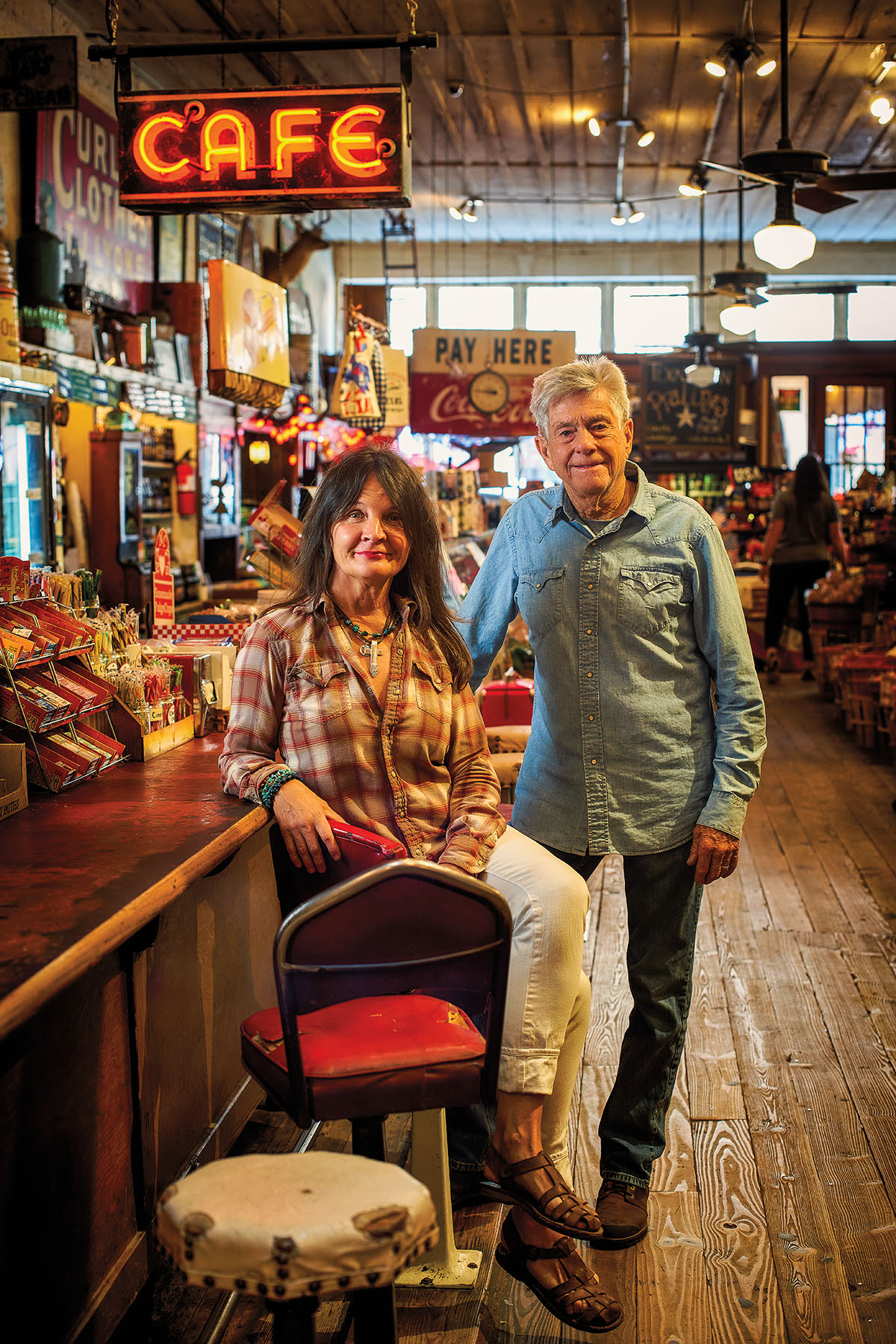 Jefferson General Store

Cliff Bode's passion for collecting old things led him to buy a really old building in 1979 to hold all those things. He and his first wife opened an antiques shop in an 1870s former hardware store building in downtown Jefferson, and in the early 1990s, he and his second wife, Anna Bode, turned it into a general store.
"I've always been drawn to things related to country stores and general stores," says Cliff, who has a penchant for finding and restoring discarded gems like jukeboxes and soda machines. "I guess it's just a combination of being an antiques collector and dealer."
A 1951 Chevy pickup truck, painted robin's-egg blue, sits outside the shop along Jefferson's well-trod brick streets. Huge plate-glass windows allow sunlight to wash over the 6,000-square-foot space featuring century-old counters stocked with cookbooks and children's books; toys like jacks, marbles, Raggedy Ann dolls, and balsa-wood airplanes; and old-fashioned sweets like Necco wafers, rock candy, bubble gum cigars, and Red Hots.
​"People walk in and find themselves back in a simpler time," Anna says. "Cups of coffee for a nickel, hearing the floor planks creak, and smelling the pralines cooking in our kitchen. People love smells from their childhood."
Visitors snap photos seated at stools lining the vintage soda fountain, itself a structure Cliff restored upon finding it abandoned in a cow pasture near Longview. Grandpas and grandmas tell their young companions what life used to be like—how the root beer floats and Frito pies sold here were treats of their day. Locals show up regularly for a Moody Dog, a staple from a long-gone joint down the street called Moody's, which Anna frequented while growing up. Now a favorite at the general store, the hot dogs are topped with chili from a Moody's recipe, mustard, Louisiana hot sauce, cheese, and onions.
"We have Wi-Fi, and we sell modern things like cute pajamas and Minnetonka moccasins, but we know people like stepping back in time," Anna says. "We hear it daily, the minute they come in, saying, 'This is exactly like when I was a child,' whether they're 30 or 90. That makes us so happy because we aim for this to be a feel-good place." —J.N.
---
113 E. Austin St., Jefferson. 903-665-8481; jeffersongeneralstore.com. Open: Daily. Essentials: Clothing, Food, Souvenirs, Treats.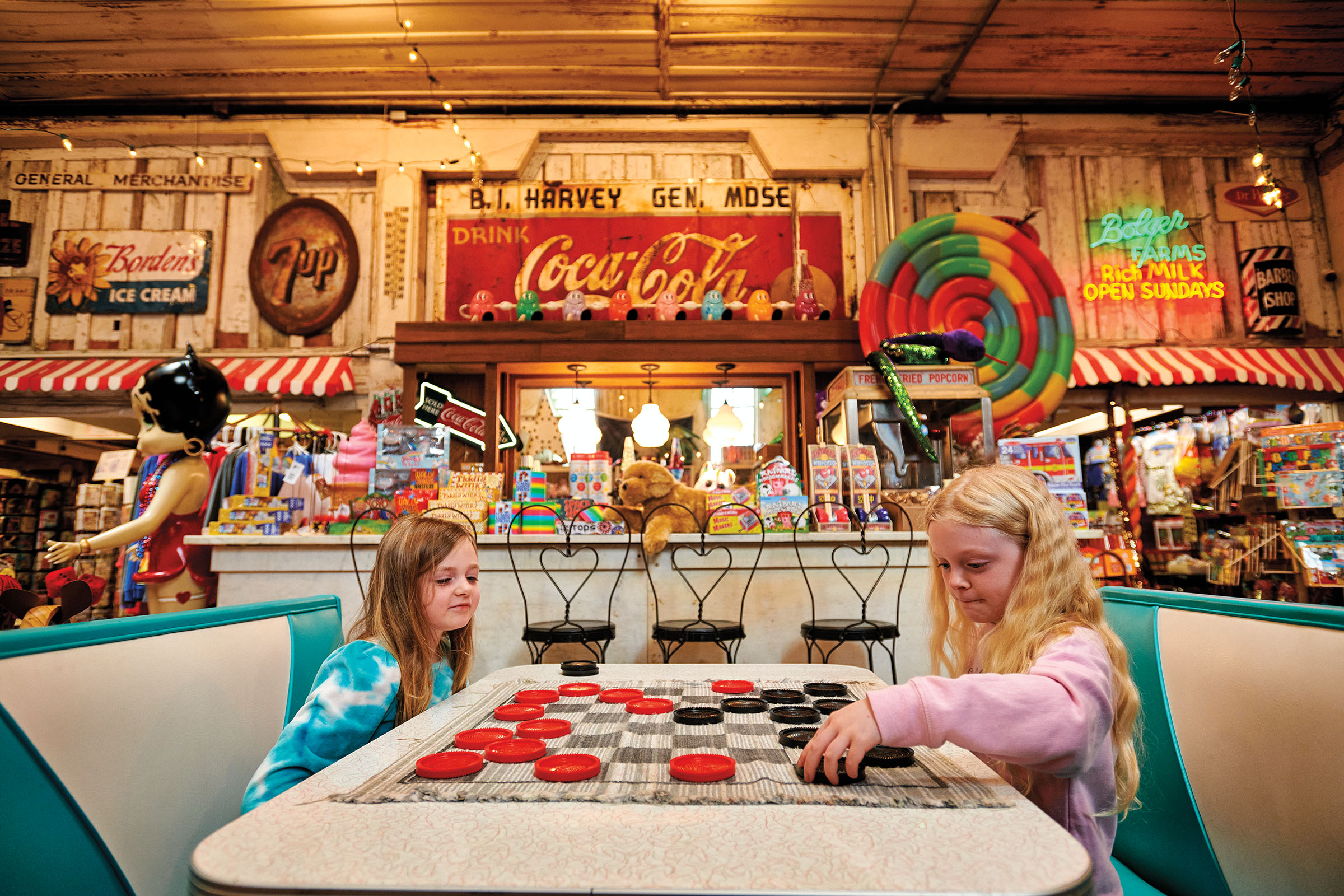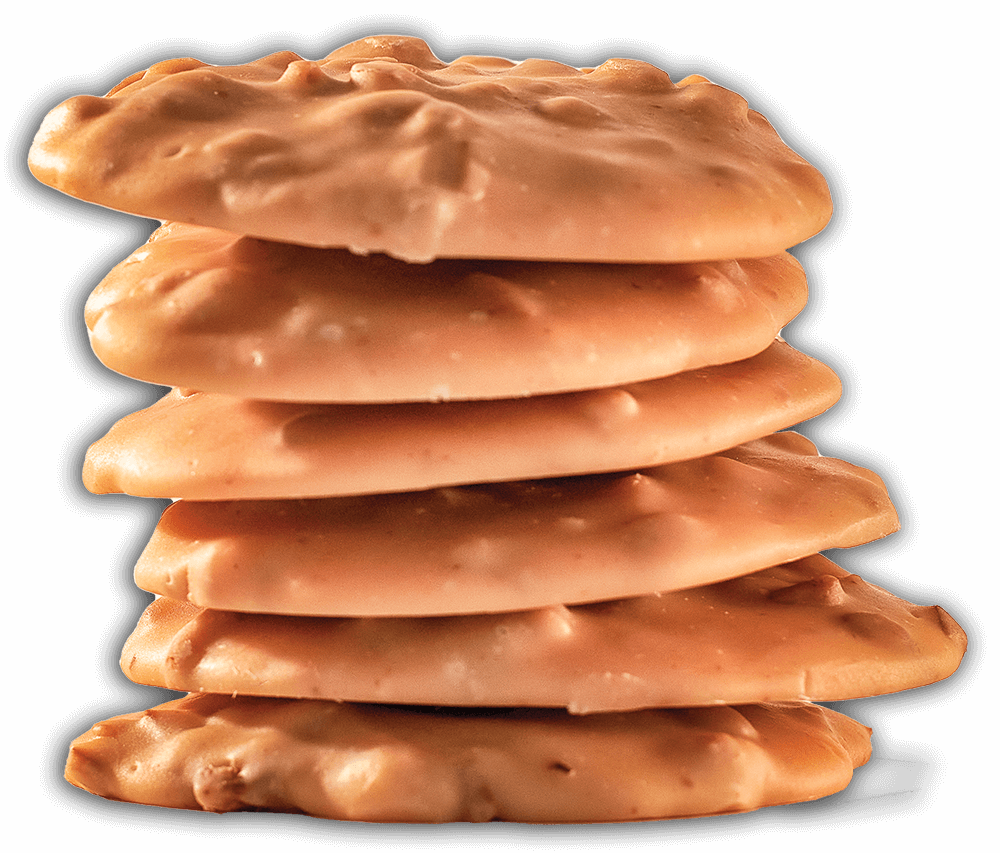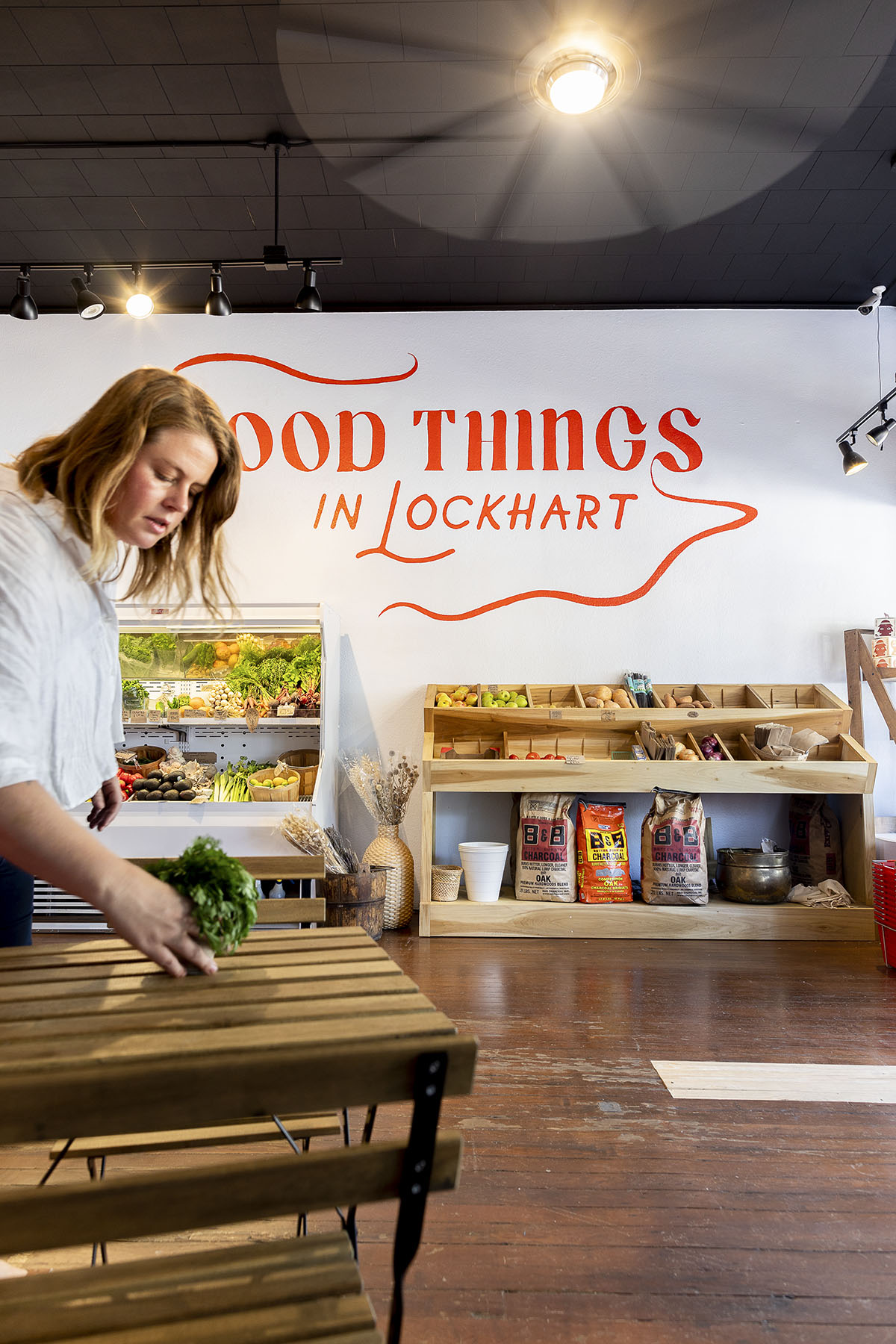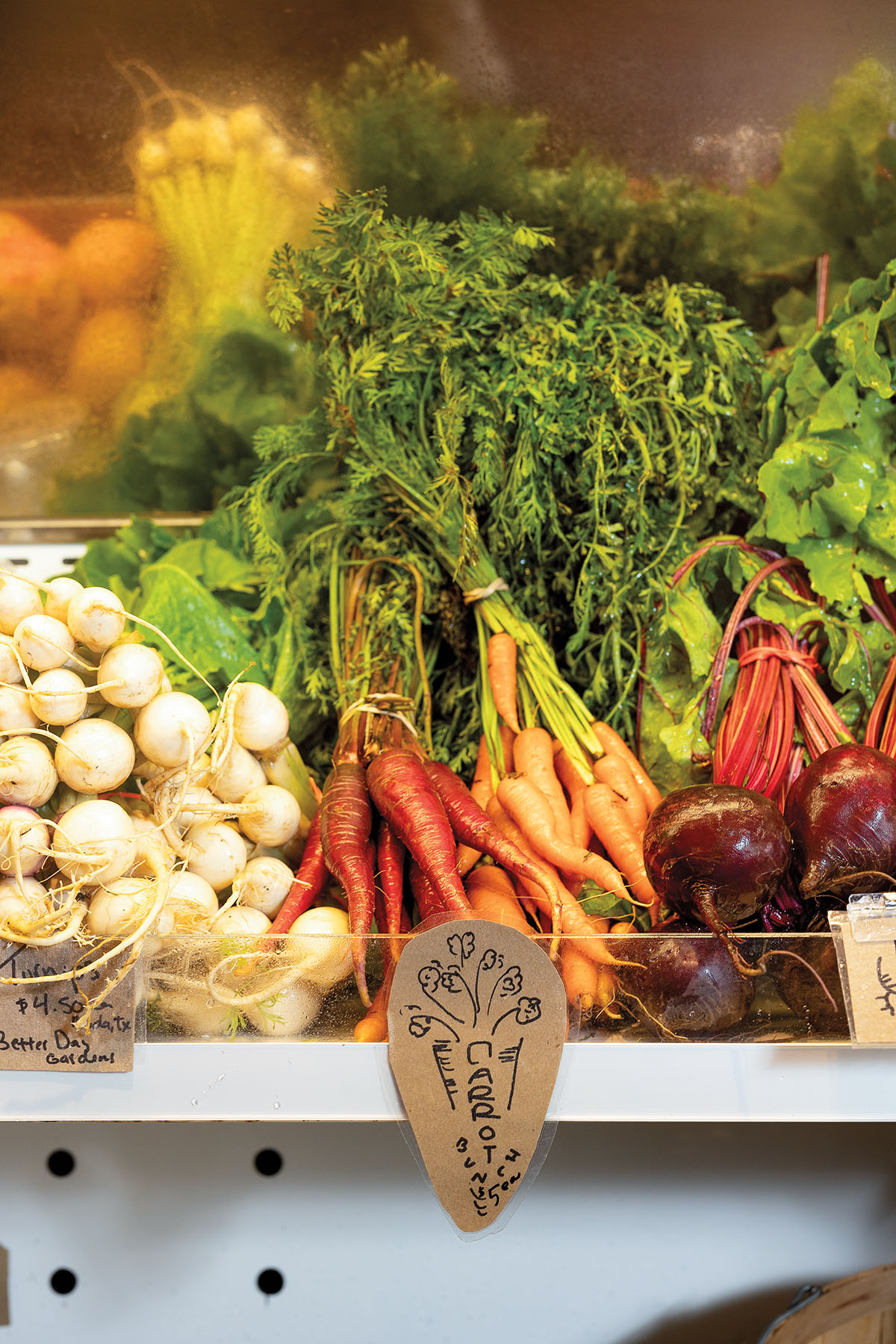 Good Things Grocery

Good Things Grocery sits in a sweet spot: the center of Main Street near the San Marcos River in the Central Texas town of Martindale. Occupying a space once filled by the Merchants and Planters Bank, the market juts up against a grassy courtyard and stands squarely in a huddle of turn-of-the-century red brick buildings across from city hall. Proprietors Taylor Burge and
Austin Burge conceived of the idea of a small town grocery with curated food options long ago, but the pandemic set the plans in motion.
As owners of Chaparral Coffee in Lockhart, the couple had seen their coffee sales take a hit in the early days of COVID-19. Anticipating food shortages, they seized the opportunity to start selling basic items out of the coffee shop and found success.
"We were like, 'OK, we've got deli meat here, so let's slice deli meat, package it up, and sell it,'" Taylor explains. They did the same with other staples and added more vendors. "We just turned the 600-square-foot coffee shop into a miniature market in order to stay viable," she says.
As coffee sales returned, the Burges needed a place to house their new market. In late 2020, they opened the Martindale store. The town bordered on relative food-desert territory before Good Things: The options were the lone local food purveyor, the Dollar General, or driving to Kyle, San Marcos, or Lockhart for regular grocery items. A year-and-a-half later, they opened a second location on the square in Lockhart.
While the Martindale shop was first, Taylor admits there is a built-in seasonality to that store—folks daytripping through town or grabbing provisions before heading to the San Marcos River. Meanwhile, the Lockhart store is loosely viewed as the Good Things Grocery flagship. It maintains heavy foot traffic from its spot on the square, where some locals visit multiple times a week to grab essentials.
Inside both stores, the décor is fresh and inviting, and there are plenty of little treasures to find between the shelves. This includes the grab-and-go section featuring hummus, chicken salad, and a Texas delicacy—Taylor's pimento cheese. Customers can find local produce, meats, grass-fed milk, alternative milks, farm-fresh eggs, and local kombucha, along with vegetarian, gluten-free, and dairy-free options. "We have those items they can't get in the H-E-B that really bring a lot of value to their lives," Taylor explains.
Tucked in the back is a curated section of natural wines that rivals any big city wine shop. Somehow, well-known winemakers like Furlani and Glou Glou make their way to the small grocery shop in the middle of Caldwell County. "We like to focus on natural, organic wine with a story behind it," Taylor says.
Good Things Grocery embraces the tradition of small town grocers, and while the original idea was modest, Taylor lacks neither ambition nor foresight in scaling the venture.
"I want it to be a brand that can be a small mom and pop shop duplicated in other towns, but also a larger chain maybe later on," she says. "You know, just wondering if that could happen." —E. Ryan Ellis
---
404 Main St., Martindale. 110 S. Commerce St., Lockhart. 512-357-4417; goodthingsgrocery.com. Open: Daily. Essentials: Alcohol, Food, Souvenirs, Treats.