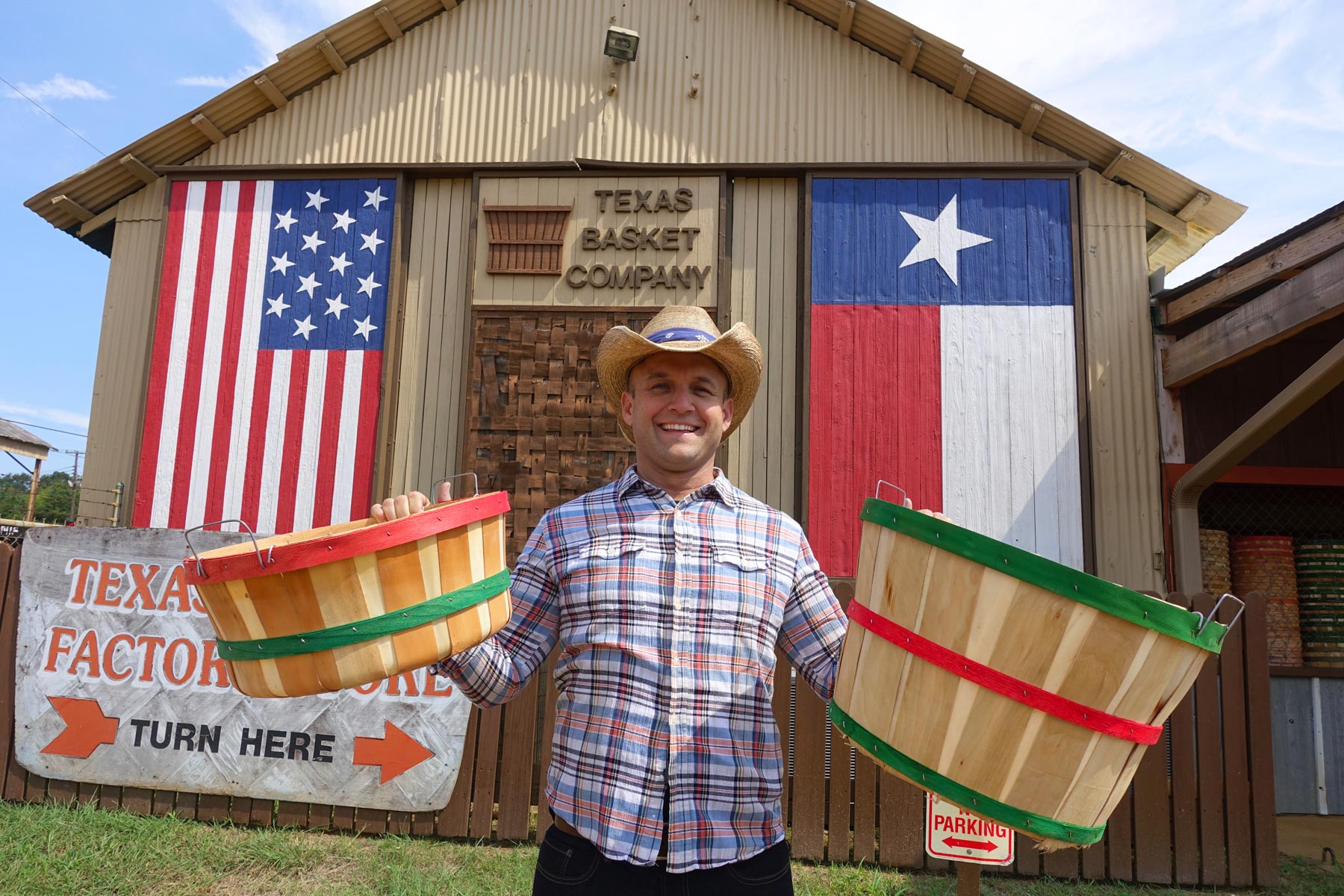 From the local Tomato Bowl football stadium to the countless painted concrete tomatoes that adorn businesses and parks all over town, Jacksonville is bursting with tomato pride. But what one might not expect is that a day trip here is as ripe and flavorful as the town's signature crop.
Texas Basket Company
Carrying tomatoes is delicate work. And as the tomato industry boomed here in the early 1900s, so did this historic basket company—100 years old this year and one of the largest commercial basket manufacturers in the U.S. Stop in and get a bird's-eye view of the factory floor as the makers create these incredible works of functional art. Don't skip the shop, where you can buy baskets of all colors, shapes, and sizes to carry all of your own bushels and pecks.
100 Myrtle Drive
903-586-8014
texasbasket.com
Tomato Shed
If you need something to put in your basket and you want a fresh taste of the tomatoes that made Jacksonville famous, then this is the stop. Operating out of an old railroad shipping warehouse, this seasonal farmers market carries the freshest produce and 'maters in town. Some are surprised to discover that tomatoes come in many more varieties than just red; my advice is to buy one of as many kinds as they're selling, and then spend the next hour savoring and comparing each one. You may be surprised at how much the taste varies from one tomato to the next.
461 Alabama Ave.
903-589-0094
Ritual
One step inside Ritual, and you'll feel like you're in a small café on the streets of Paris. The French-inspired cuisine at this luncheonette takes your taste buds on a similar journey. The croissant sandwiches are amazing, but don't miss the dessert case. If authentic French food in East Texas isn't odd enough, upstairs you'll find a yoga studio where you can zen-out in a group class while pondering if enough time has passed to enjoy a second dessert.
214 S. Main St.
903-284-6880
ritualonmain.com
Love's Lookout
While most views in East Texas are covered by towering pine trees, this is the exception. Stop at this roadside park on US 69 for a 30-plus-mile view of Cherokee County. The view is best at sunrise, which I know is rough, but once the sun peeks above the eastern horizon and turns the entire sky a dazzling pink, you won't regret one second of lost sleep.
43822 US 69
903-586-4868
jacksonvilletexas.com/loves-lookout
Sadler's Kitchen
My favorite way to eat tomatoes is fried and green, and you won't find a better batch than those coming from this Southern kitchen. Mixing elements of soul food and Texas tradition, Sadler's creates its own brand of East Texas comfort food out of the old renovated jail and police station. The brisket enchiladas always hit the spot, while the pie would make a worthy last meal.
101 S. Bonner St.
903-589-0866
facebook.com/sadlerskitchen
Whether you follow my footsteps or forge your own path, I hope to see you on the road.
Chet Garner is the host of The Daytripper travel show on PBS.
To view the Jacksonville episode visit thedaytripper.com. Follow along on Facebook, Instagram, and Twitter.
From the September 2019 issue