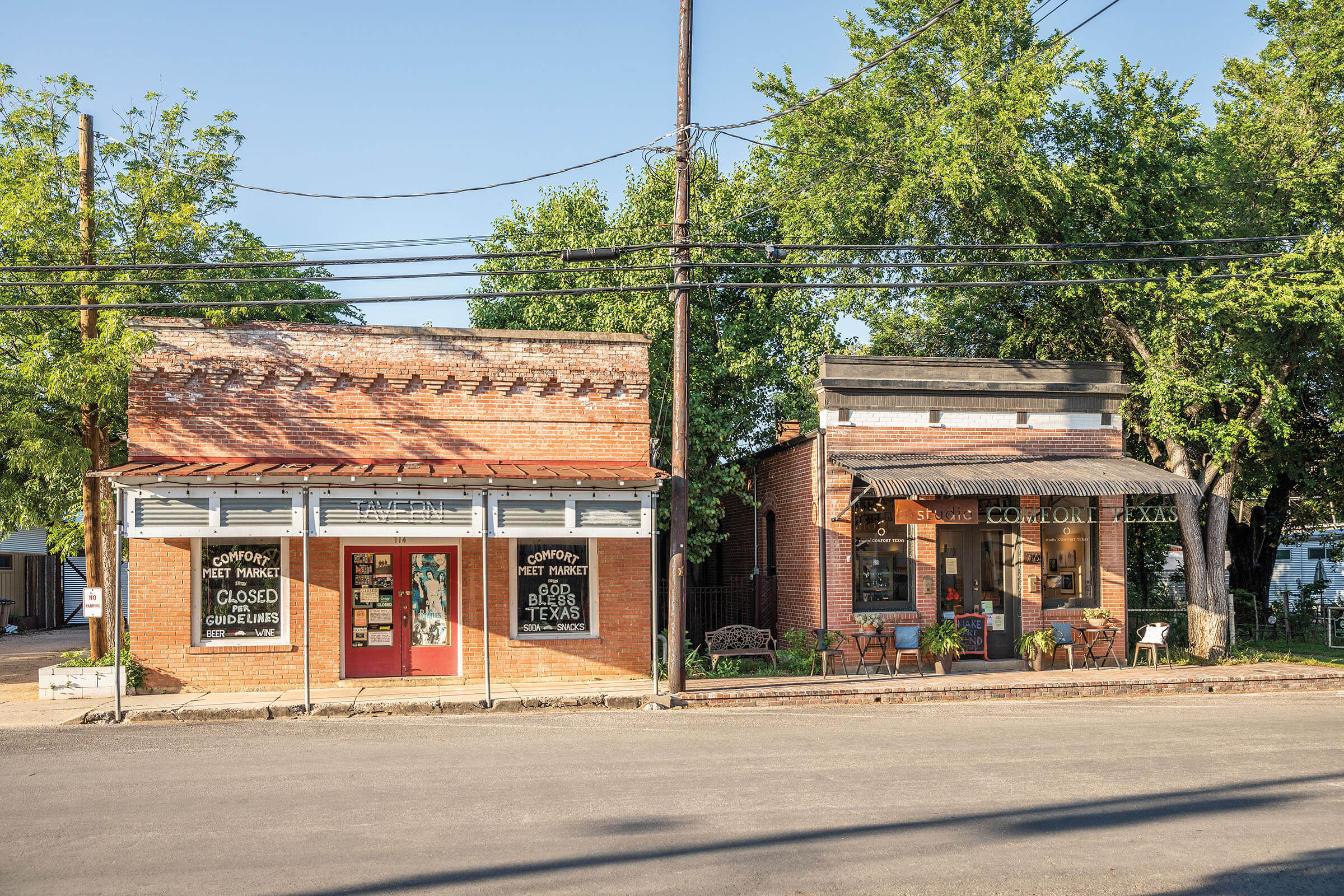 It's a beautiful thing to hear a Texas town wake up.
Enduring Spirit
By Clayton Maxwell and Joe Nick Patoski
We encourage all of our readers throughout the state to familiarize themselves with and adhere to guidelines around social distancing and other COVID-19 safety measures as recommended by public health officials and required by local and state governments, destinations, attractions, and businesses before traveling.
Read our editor's note
First a quiet concert of songbirds, then church bells, and finally, the salutations of locals as they converge on the square for breakfast at a café or a trip to the courthouse. As the sun rises higher over the square, so does the hum of everyday life.
These days, COVID-19 has subdued that hum as residents adjust to new safety measures. Courthouse squares are quieter, and some storefronts have closed. But the pulse of these towns beats strong. More often than not, locals know one another—their stories, celebrations, and heartaches. During these challenging times, the denizens of Texas' small towns are protecting their health while improvising new ways to sustain their economies.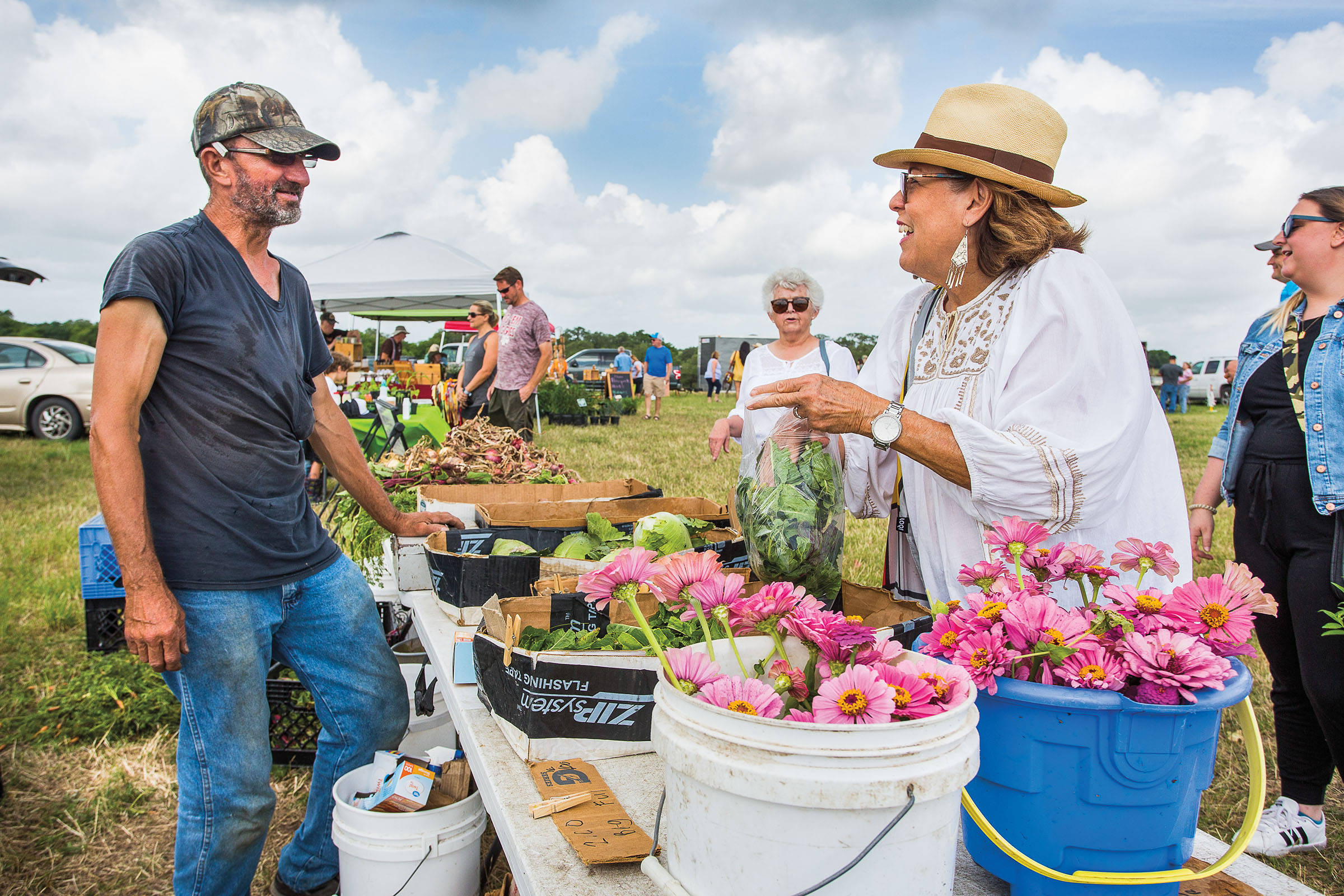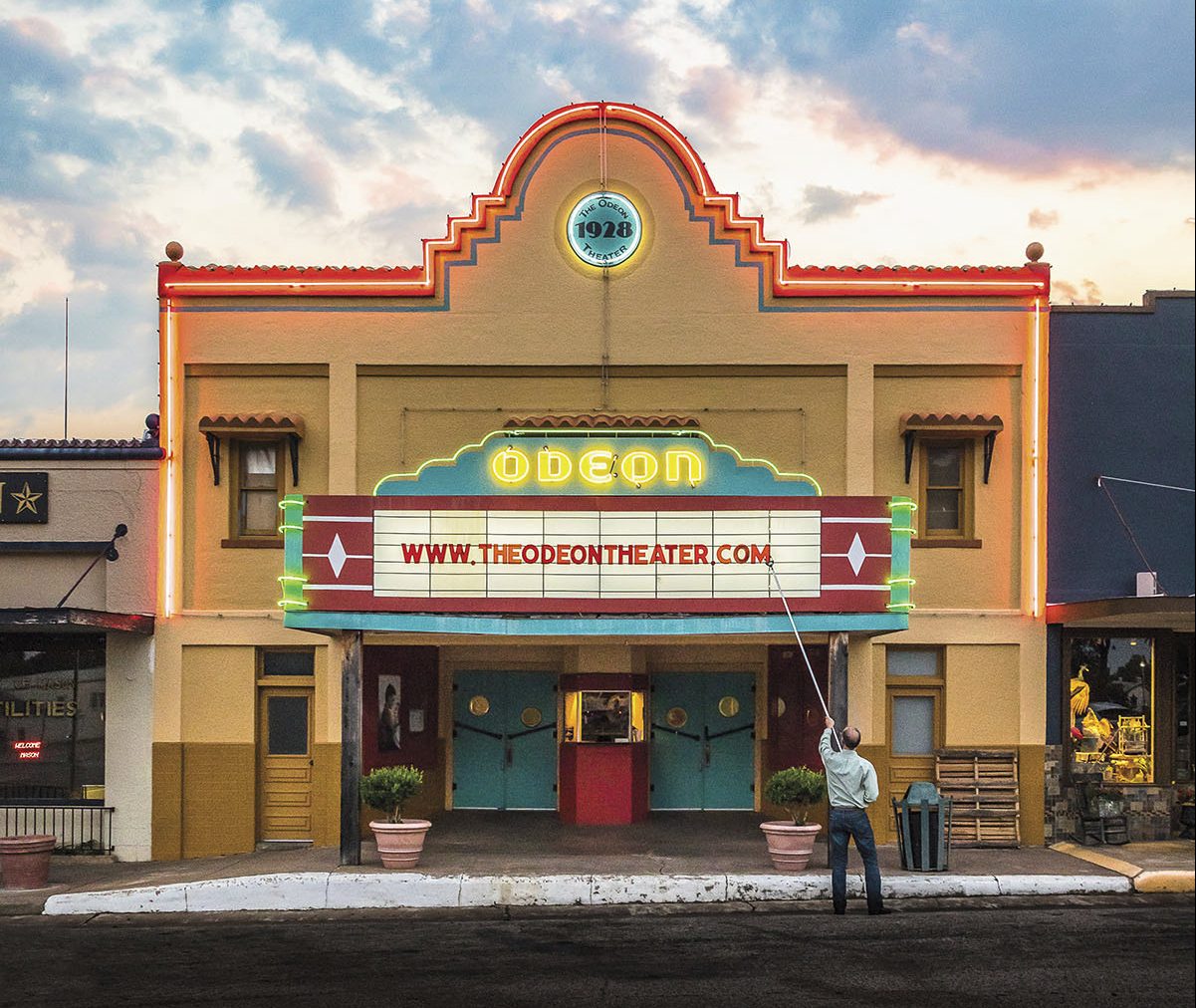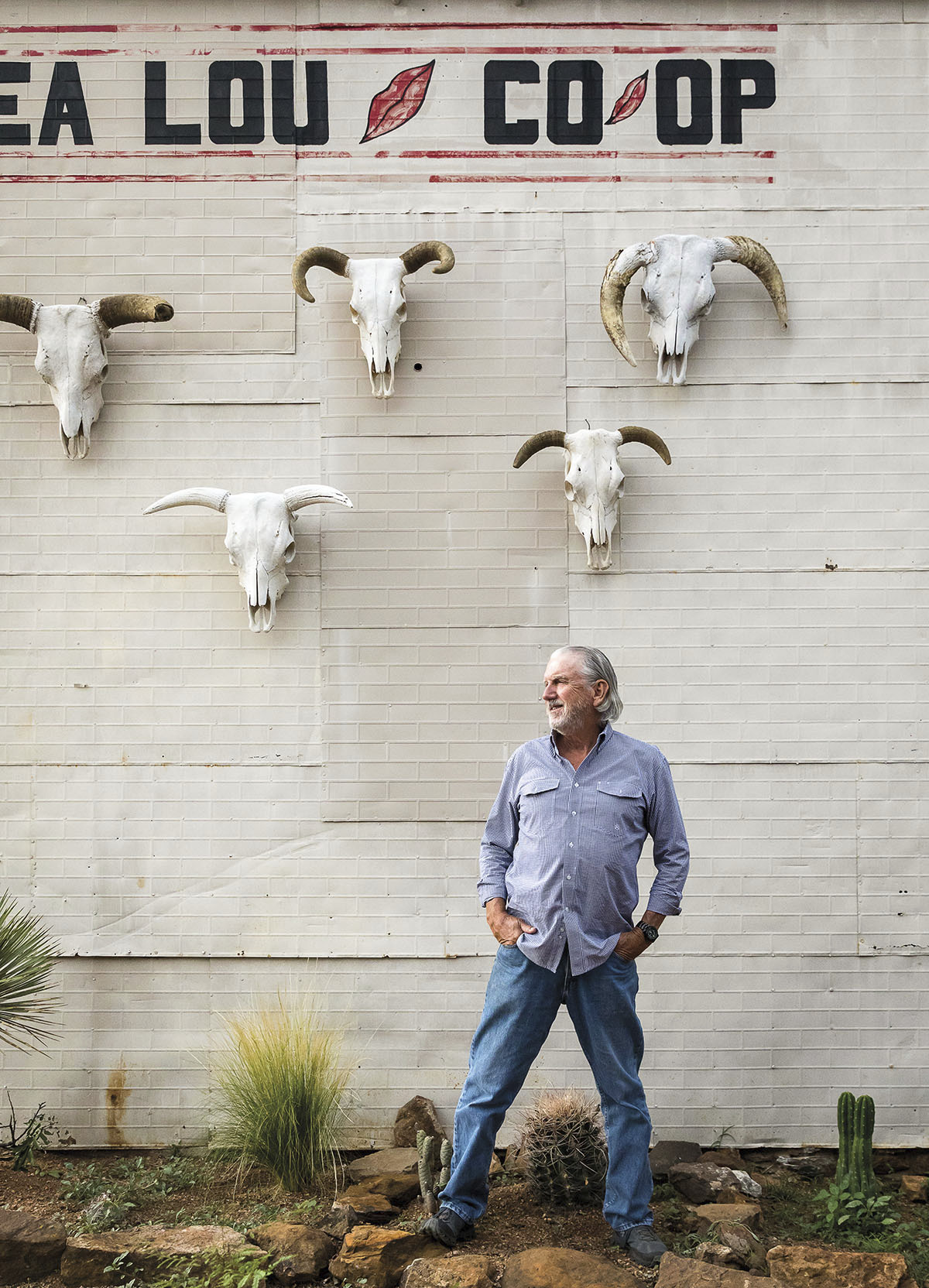 Consider Mason, a town of about 2,300 residents nestled on the edge of the Hill Country, 9 miles north of the Llano River. On a Sunday in April, my husband and I walked the empty town square, where handwritten notes in shop windows listed phone numbers for placing call-in orders. Murphy Creek Cellars, a Texas wine shop and tasting room, was open for takeout, including an expanded menu of frozen dishes to diversify its offerings during quarantine.
Mason's empty square felt unusual. Typically, shops and restaurants buzz with locals, and, increasingly, tourists, many visiting from nearby Fredericksburg for the day.
"People who say there's nothing to do in a small town don't know Mason," says Lisa Ruthven, owner of Murphy Creek Cellars. "But it's the people that make it—the families that have been here four generations or more, ranchers and farmers, and schoolteachers. Those who grew up here, moved away, and then came back. And then there is this infusion of new people coming in, also wanting to keep Mason special. One thing we have in common is that we all love Mason."
The town has plenty to love. It's one of the few remaining places where shop owners still post funeral announcements in their windows. When the Mason High School Punchers play, the whole community shows up for pep rallies to cheer on the football team named for the area's cowboy heritage. For such a small town, Mason's got big spirit.
Although the number of Texans living in small towns has dwindled—according to the Texas Demographic Center, only 15% of us live in non-urban areas—the spirits of towns like Mason persevere. A common thread among them is the loyalty of residents old and new: They relish their town's histories and want to keep their stories alive.
In Mason, locals are quick to note their county voted against secession by the highest margin in the state before the Civil War (along with neighboring Gillespie County). The Germans who settled this area, having just arrived in the United States, were not gung-ho about leaving it. Also, Masonites proudly claim Fred Gipson as one of their own. The author made the surrounding Hill Country the setting for his classic 1950s children's book, Old Yeller. And residents love to recount how, back in 1935, Mason High School tennis player Steve Latham hitchhiked to the state championship game in Austin because he didn't have a ride—and won!
Small armies of steadfast locals keep Texas towns moving. In Mason's case, two women from old German ranch families, Patsy Zesch and Barbara Pluenneke, kick-started a revitalization in 1985 when they spent their own money to spruce up the faded town square, color-coordinating facades and installing planters. When the town's beloved Odeon Theater, the oldest continuously running theater in West Texas, faced closure in 1994, locals formed the Odeon Preservation Association and kept the doors open. And now, a team of locals is restoring the Seaquist House, a Victorian marvel of hidden stairwells, stained glass, and 15 fireplaces.
"Mason is magical," says Andy Smith, who moved from Fredericksburg in 2014 and transformed an old hardware store and lumberyard into the Lea Lou Co-Op and 21 Club, a restaurant, bar, and lodge. In 1858, Smith's great-great grandmother, Anna Mebus Martin, came over from Germany at age 16, "barefoot and broke." Martin would eventually amass cattle and land, and become the first woman in the area to open a bank.
"There are common threads here," Smith says. "The shared German immigration stories, the cattle and cowboys, a love of the outdoors and rivers. Sometimes a bunch of us get together, maybe on the Llano or at one of the town's wine bars, and we laugh, 'Wow, it's another magical moment in Mason.'"Here, we take you on a tour of 10 small towns that are keeping their magic alive.
—Clayton Maxwell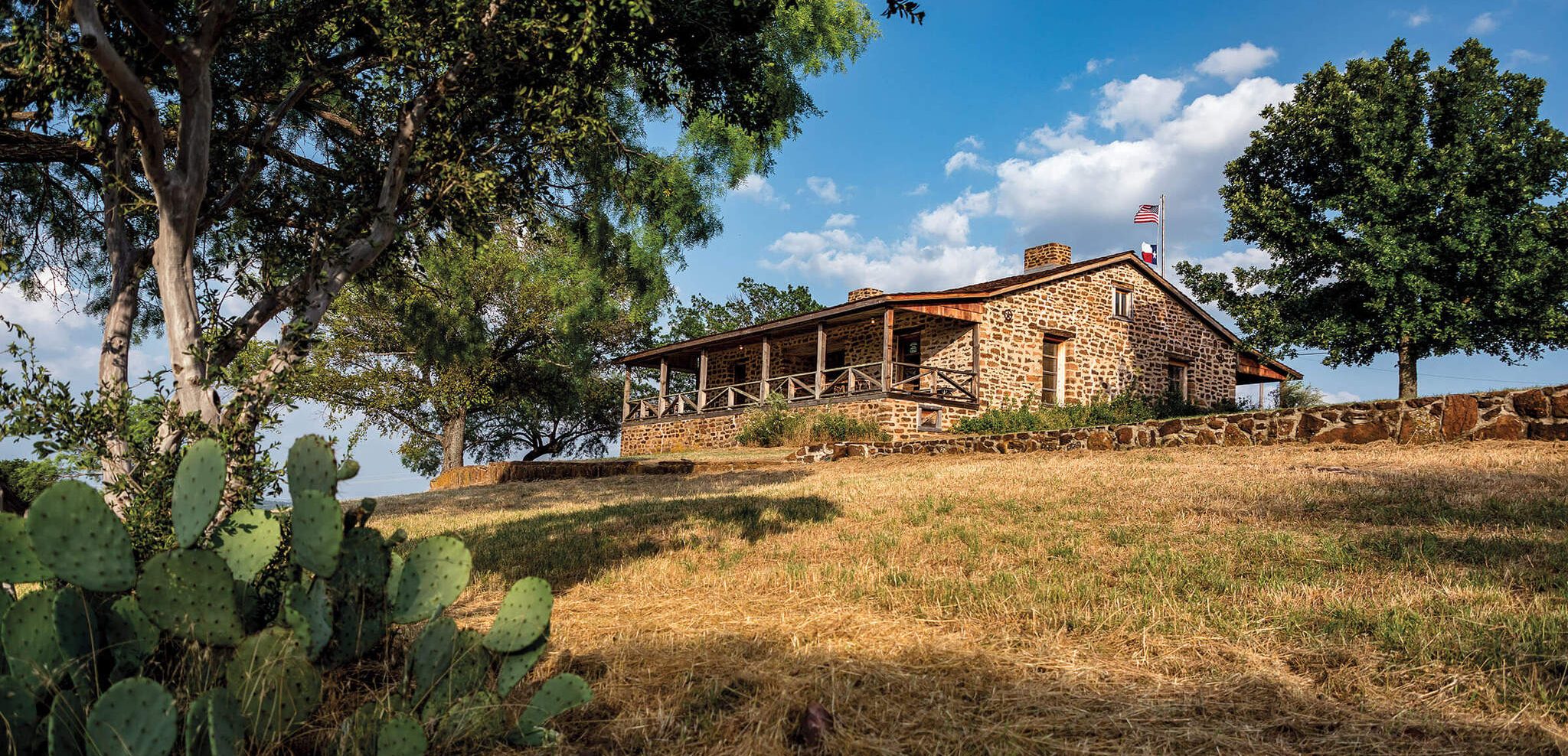 If Comfort seems like the ideal Hill Country town, there are reasons for that. Set on the banks of Cypress Creek, Comfort was founded in the 1850s by German freethinkers, idealists, and intellectuals who championed cooperatives but opposed local governments, slavery, and the Confederacy. More than 150 years later, Comfort remains unincorporated, and its compact seven-block downtown is full of 19th-century buildings. The limestone storefronts house cool shops, such as The Tinsmith's Wife for knitting and crocheting supplies, and eateries like Comfort Pizza. The legacy of Comfort's founders is honored by the Treue der Union monument and burial site, a tribute to local abolitionists who were killed for their beliefs when the Civil War broke out.
—Joe Nick Patoski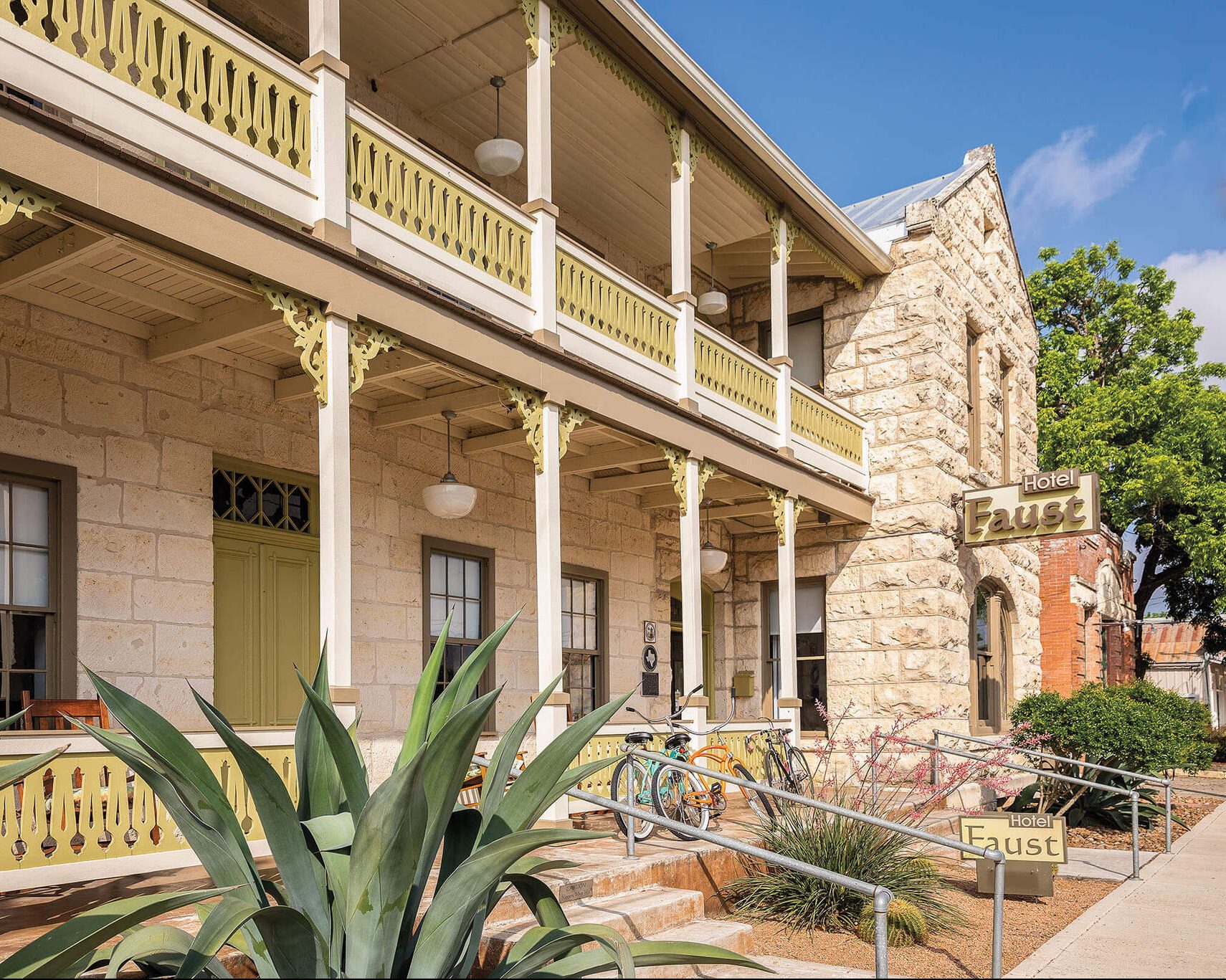 Junction
Population 2,404
You won't see many tree-huggers walking Main Street in downtown Junction, not yet anyway. But this ranching and hunting center perched on the western fringe of the Hill Country, where the landscape opens up and the Chihuahuan Desert awaits, could be on the cusp of an ecotourism boom.
Local promoters have dubbed their town the "Land of Living Waters," a superlative derived from the more than 300 miles of flowing spring-fed streams in Kimble County. No other county in Texas can claim that many. With its natural beauty, minimal industry, and a declining population, Junction is reinventing itself as a recreational destination.
The South Llano River anchors the outdoor scene with swimming, tubing, fishing, and paddling opportunities in town and in the hilly outskirts at South Llano River State Park. The dark-sky park also offers camping and miles of secluded hiking trails. It's popular with birders, who are likely to spot a few deer, armadillo, and porcupine among the wild turkeys and painted buntings.
Texas Tech University's Outdoor Learning Center hosts students and teachers for hands-on adventure courses in the great outdoors, and Tech's Llano River Field Station is leading the way in research of the local watershed and riparianhabitats. For a beautiful overnight stay among the springtime wildflowers, the Native American Seed Company rents cabins along the Llano.
—JNP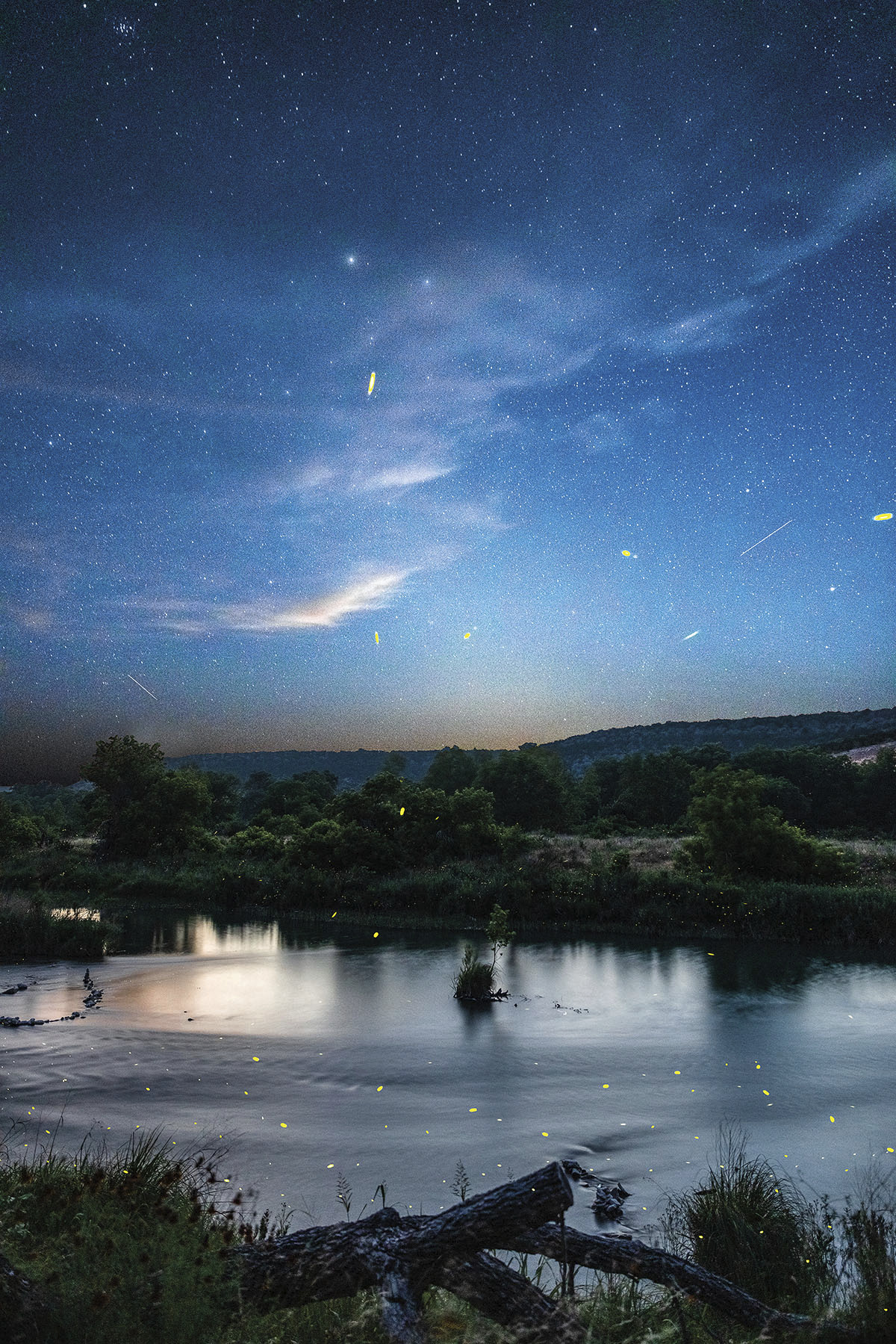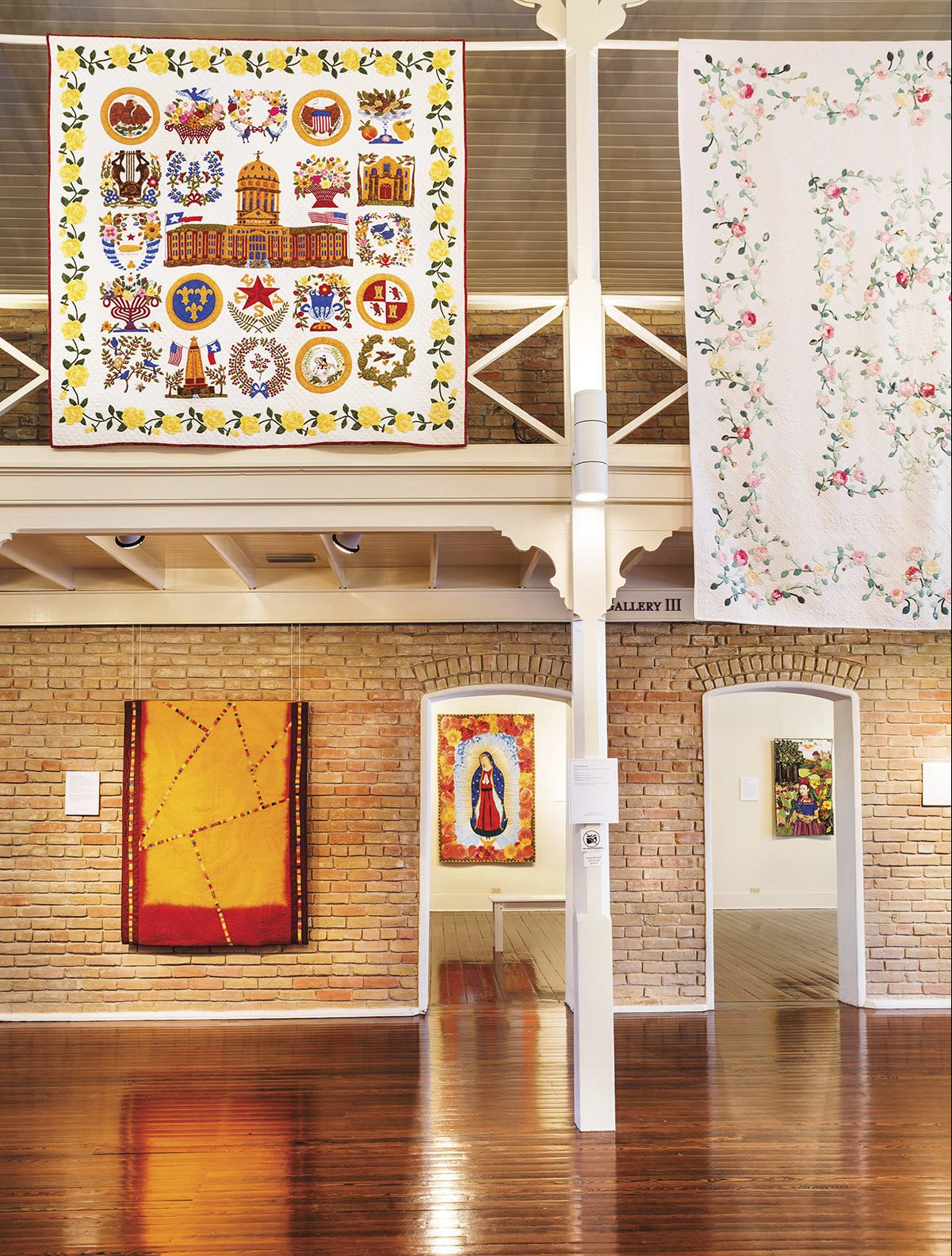 La Grange
Population 4,677
When Hurricane Harvey struck in 2017, the Colorado River rose more than 50 feet and submerged the streets of La Grange. The flood destroyed hundreds of homes, and some residents lost everything. But the community of this Central Texas town rallied. Churches fed the newly homeless, City Hall organized donations, and a local thrift store, Second Chance Emporium, morphed into a relief center to distribute aid.
Today, downtown La Grange reveals no vestiges of that calamity. The lawns around the 1891 Fayette County Courthouse—the first designed by noted architect J. Reilly Gordon—make an inviting spot to marvel at the building's carved details. Grandmother's Flower Garden, adjacent to the Texas Quilt Museum, is well-tended and open to anyone. Restaurants like Bistro 108 kept busy when the pandemic closed dining rooms and eating out meant curbside orders delivered by face-masked servers.
"La Grange people are kind, and they have time for each other," says Martin DuWors, who recently moved to the outskirts of La Grange from Cape Cod. "When my John Deere needed some TLC, the lawnmower guy in La Grange, whenever I had a question, he'd sit down and talk me through it. People are like that here; they help out."
—CM
Goldthwaite
Population 1,851
Some road-trippers overlook Goldthwaite as a pass-through town on US 183 somewhere between Abilene and Austin. But for the pecan farmers and goat ranchers who call Mills County home, Goldthwaite is a hub of local history and community.
Nowhere is this more evident than at Legacy Plaza, a garden and visitor center on Fisher Street (US 183's name as it passes through town). The plaza—a meticulous recreation of the surrounding land as it might have been 10,000 years ago—interprets the area's nature and archeology with native plants and an outdoor classroom for demos of prehistoric life, such as flint-knapping.
Across the street is the Goldthwaite Theater, a community group launched in 2017 by Kay Bouse, a retired Mills County extension agent. "My husband and I love live theater and usedto travel to other towns to see it," Bouse says. "And we thought, 'Why not open up a theater here?' Although everything is on hold right now because of the virus, the support from the community has been great. We've got talent in Goldthwaite."
—CM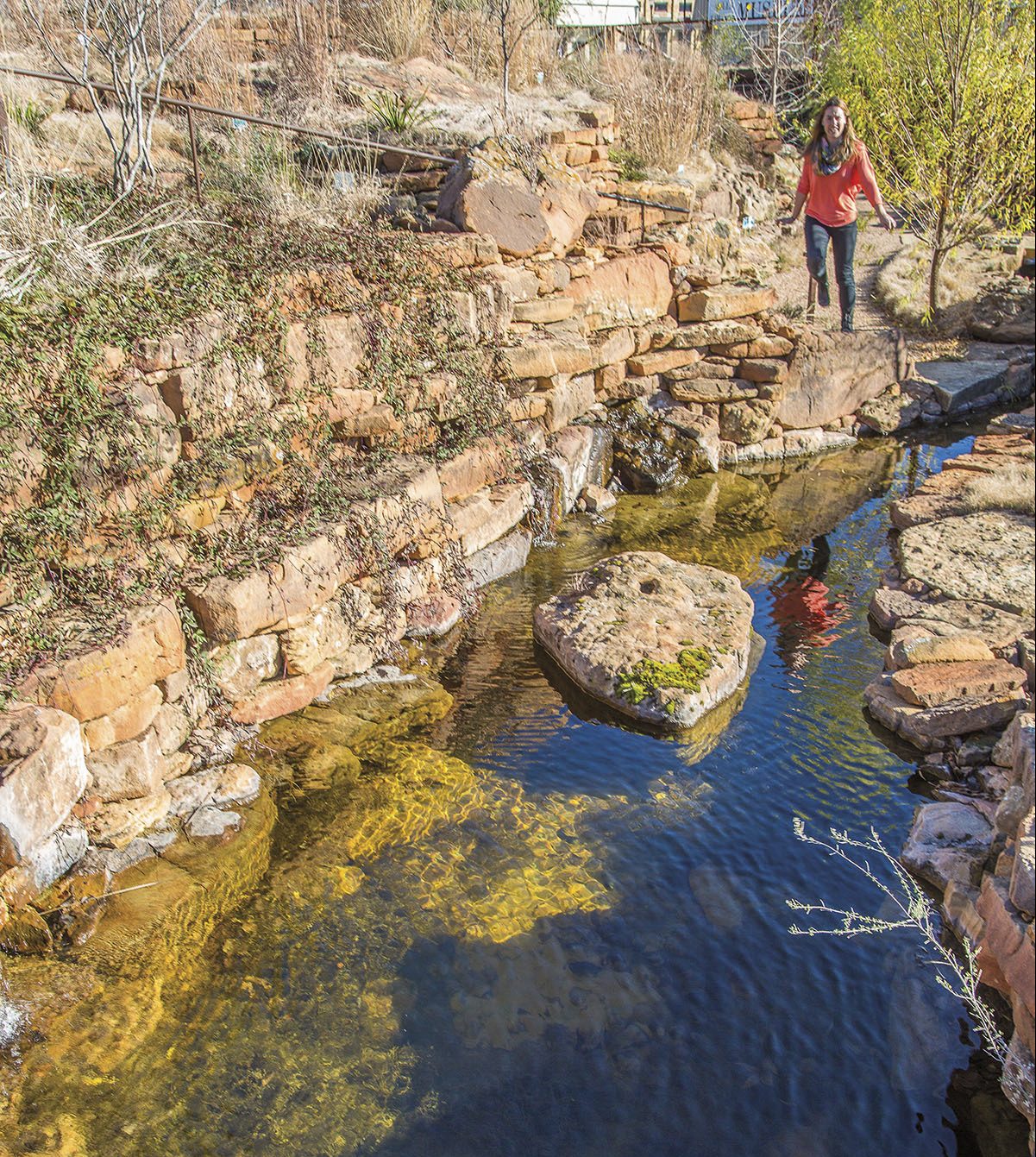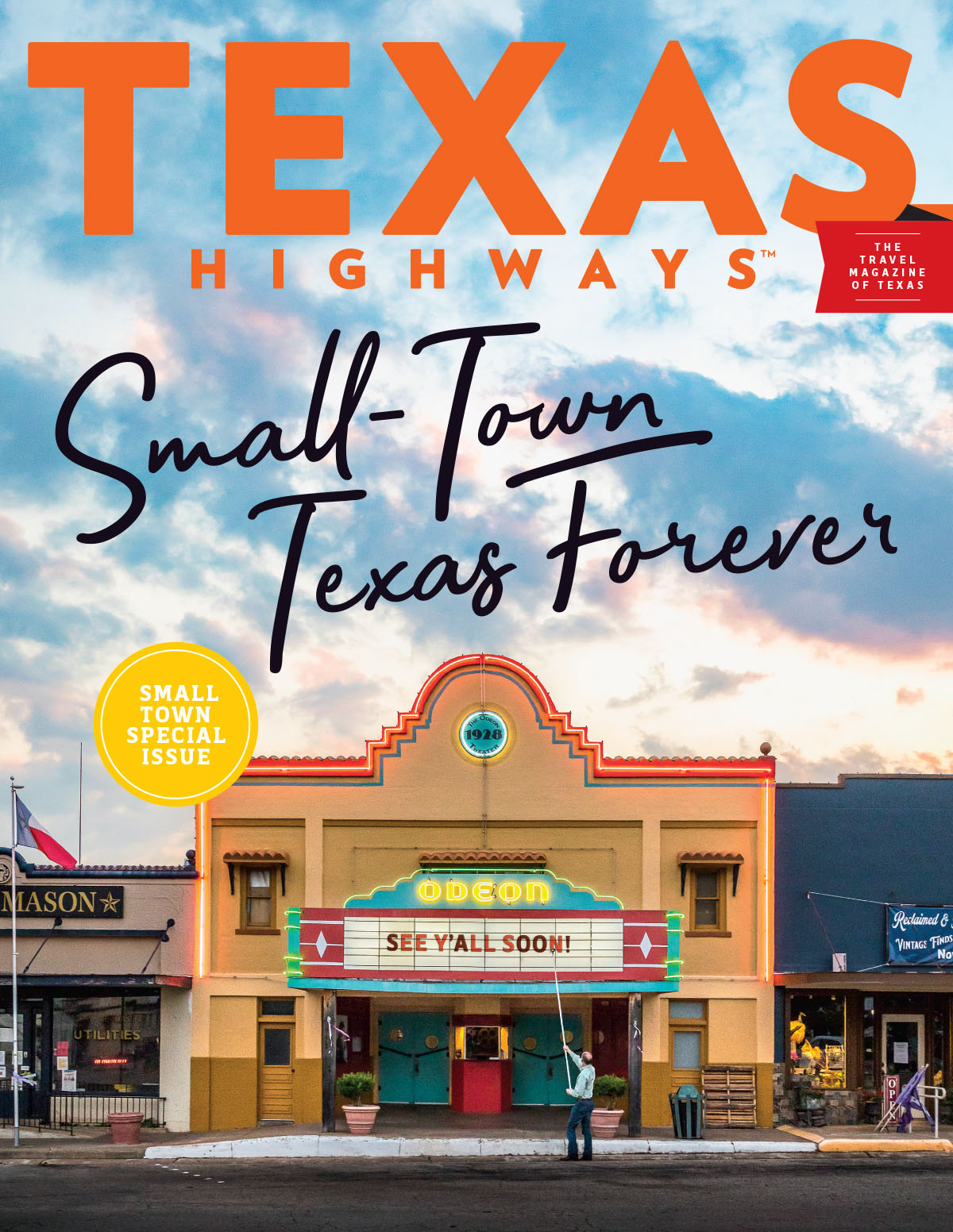 Subscribe to Texas Highways
Subscribers get stories like this before they are available online.
Subscribe today!
Mineral Wells
Population 16,700
Now's the time to check out Mineral Wells' revival-in-progress before the crowds arrive. Anticipation centers around what's to come for this North Texas town, which rose to fame in the 1920s as a health resort drawing on its alkaline well water.
The seven-story Crazy Water Hotel—built in 1927 and redeveloped into luxury apartments, short-term rentals, and an events center—is scheduled for completion by the end of the year. Nearby, the Baker Hotel, after decades of sitting vacant, is finally in the midst of a $65 million restoration, due to be completed in 2022. In the rolling hills west of town, the 4,400-acre Palo Pinto Mountains State Park may be the most highly anticipated new state park in decades. The state hopes to open it to the public in the next five years.
While the future is bright, the town today offers a sunny escape. Start at the iconic "Home of Crazy" sign (a replica was erected this year thanks to a community fundraising effort) and follow Oak Avenue past brick storefronts to the Famous Mineral Water Company headquarters. Here, visitors can drink Crazy Water at the Crazy Well, buy "Crazy" tchotchkes, or enjoy a mineral bath at the Crazy Bath House. Many visitors, drawn to town to "take the waters," also find worthy stops at the Brazos Market and Bistro (sandwiches, pizza, and wraps) and Market at 76067 (a collection of over 100 vendors). Want to get outside? Five blocks south is the trailhead for the 20-mile Lake Mineral Wells Trailway.
—JNP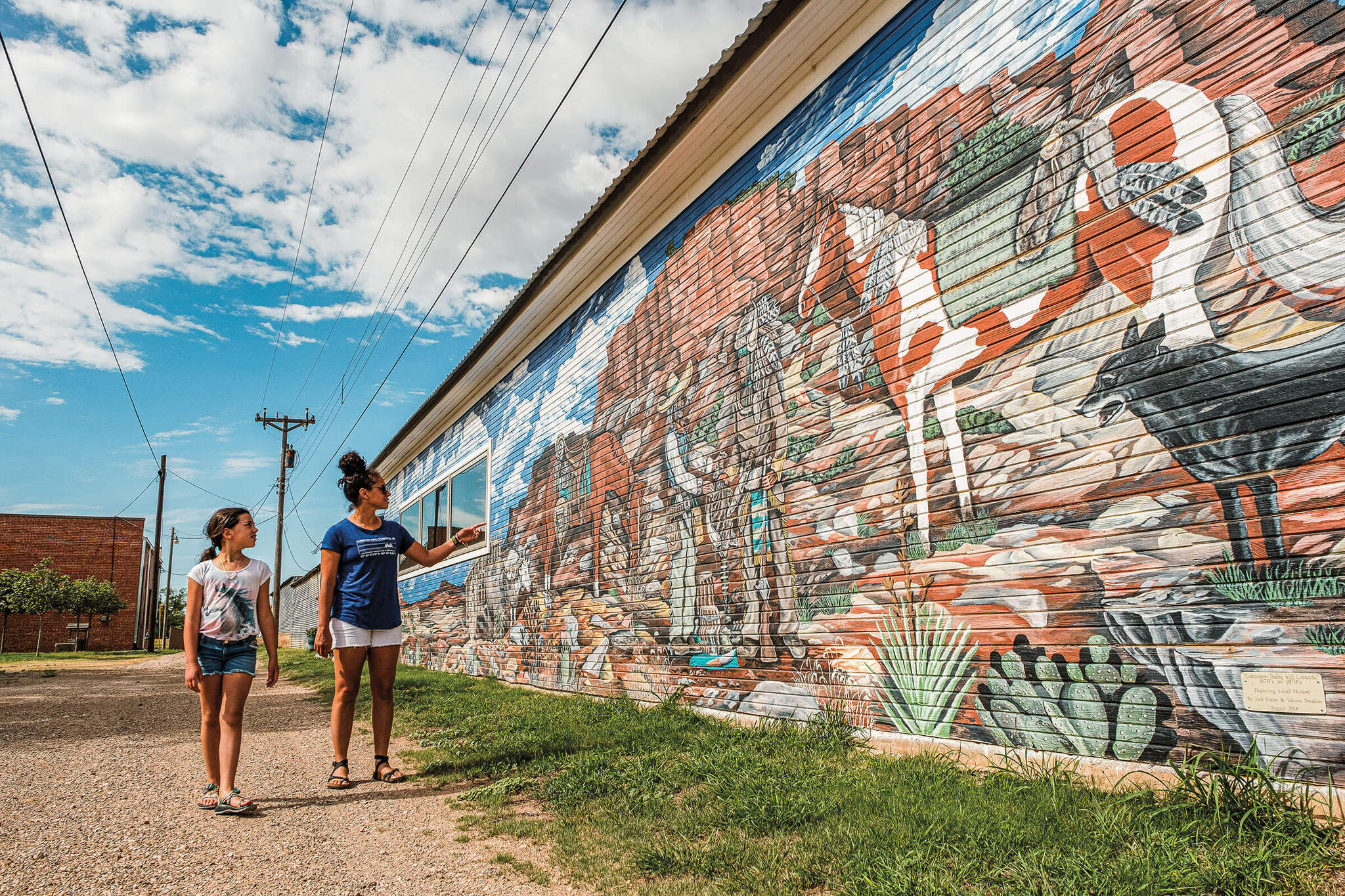 Nostalgic travelers of the Mother Road will find what they're chasing in Vega. Old Route 66 passed through the heart of this High Plains farming town, while its replacement, Interstate 40, bypassed it to the south in the 1970s. What's left are restored icons, such as the 1926 Magnolia Station and a surprising number of vintage Route 66 establishments that are still open for business—the Hickory Inn Café and the Vega Motel tourist court to name a couple. At a marker noting the end of a section of Old Route 66, Dot's Mini Museum showcases relics of the famed highway. No wonder some call Vega "the Route 66-iest town in Texas."
—JNP
Sulphur Springs
Population 16,234
Bring a courthouse square back to life and the people will come. At least that's what happened in Sulphur Springs, a town nestled among the lakes of Northeast Texas. They now come for dining, the cinema, the Saturday outdoor market, and the Celebration Plaza splash pad. The spirit of bonhomie cultivated by a downtown that's been refreshed over the past 15 years shines brightest at the town's annual Independence Day celebration, when the square hosts a fireworks show. On the Saturday of Labor Day weekend (Sept. 5), another downtown fireworks show features the local symphony. "It's such a heartfelt evening," says Linda Galligher, president of the Sulphur Springs Symphony League. "It's like a Norman Rockwell painting, a beautiful picture of small-town Texas."
—CM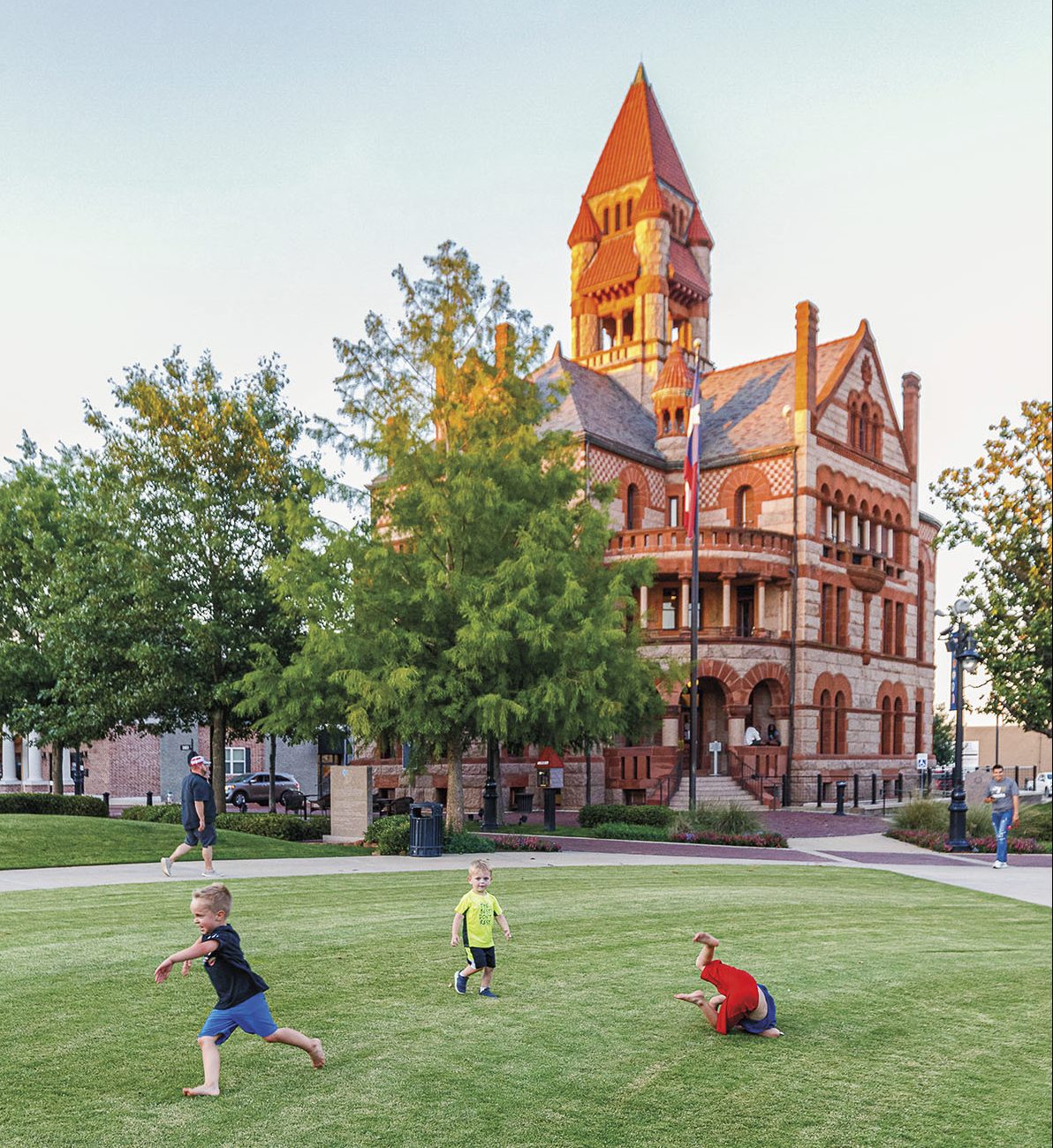 Luling resides in that old Texas sweet spot where farming, ranching, oil, and a marquee community celebration have kept the town rolling into the 21st century. (This past June, the town canceled its Watermelon Thump for the first time in 67 years.)
Considering the verdant prairie surroundings, it's no surprise Luling is known for its native cuisine—smoked meats. "This is a great area for growing hay and hay storage," says Ron Mathis, who has farmed and ranched east of town for more than 40 years. "There are probably more cattle per acre than just about anywhere else in Texas."
Hit either City Market or Luling Bar-B-Q on a Saturday and you'll see peak Luling: locals visiting on the sidewalk; homemade pies for sale in front of City Market; and people stocking up on fresh produce at the open-air farmers markets, which have adapted to social distancing.
First-timers can be forgiven their double takes when they spot one of the nearly 200 oil wells in town; many of them are whimsically decorated as fairy tale characters and animals. (The Chamber of Commerce provides maps for a pump-jack tour.) The Luling Oil Museum explores the history of the industry locally, while a different kind of ode to petroleum sits nearby on Interstate 10—Buc-ee'sfirst mega-travel stop.
—JNP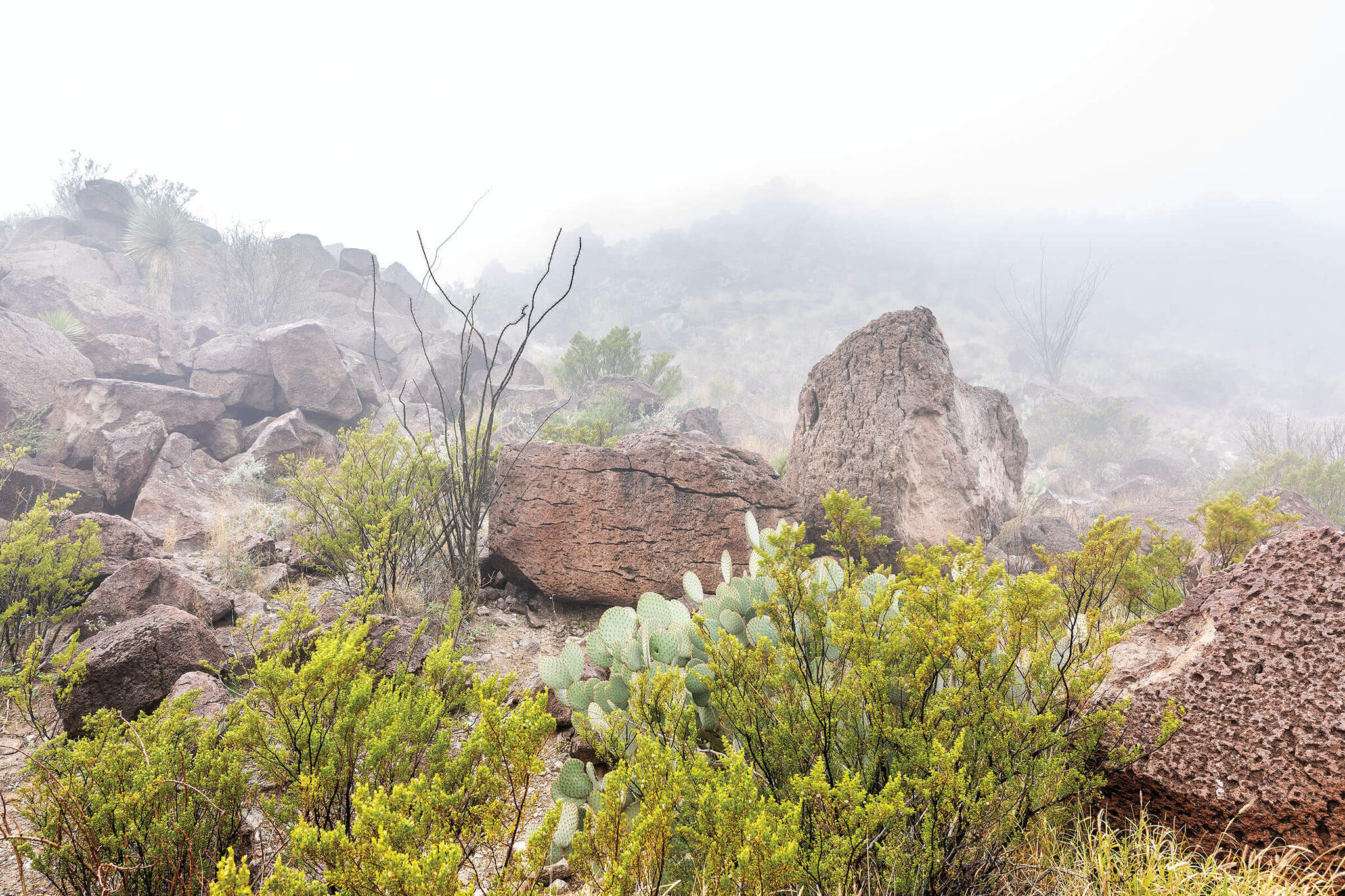 Presidio
Population 3,894
The earthy aesthetic of weathered adobe. A winding river road with sweeping views of Mexico. A border cultural blend all its own. This is Presidio. "It has everything," says Adele Jancovici, an art curator from Paris, France, who is transforming a 1924 adobe grocery store into a gallery expected to open this fall. "Presidio has its own beauty, it has infrastructure, you're a 5-minute walk to Mexico, and the people here know how to enjoy life." With Big Bend Ranch State Park about 30 miles away and the nearby Chinati Mountains State Natural Area scheduled to open in the next few years, Presidio is a down-to-earth outpost for desert lovers who crave the middle of nowhere.
—CM
From the August 2020 issue