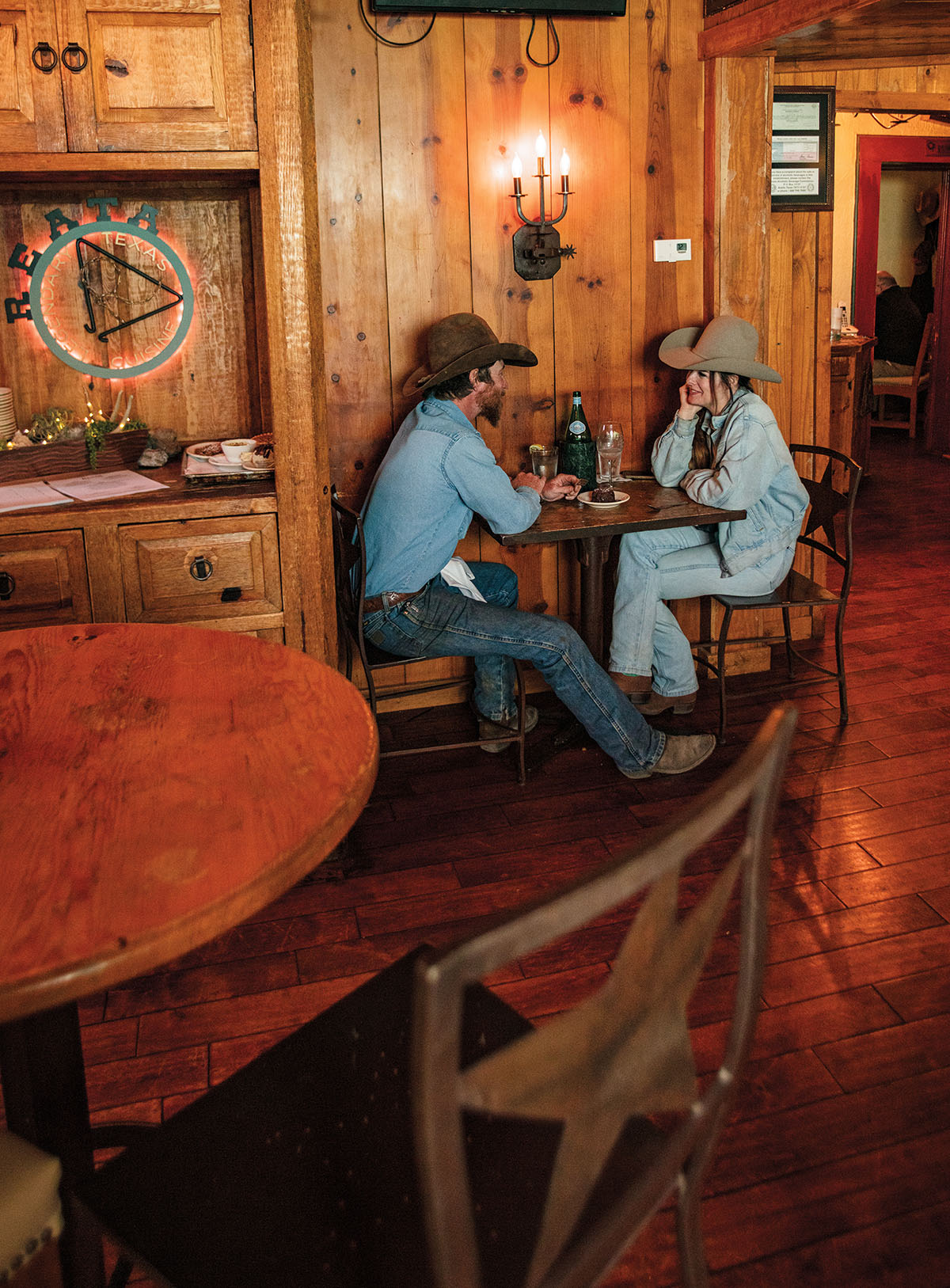 A two-stepping Hill Country ghost town, a history-rich East Texas burg, and a Rio Grande Valley standout are among our annual picks
Small Towns to Visit Now
Strawn
Population est. 600
If you sneeze hard enough, you might just blow right past the small North Texas town of Strawn. "That's what I always tell people," says Cody Doyle, whose family has lived in and around the community for the past few decades. He's talking while waiting tables at Mary's Cafe, a small stone facade building known for its legendary chicken-fried steak.
Opened in 1986 by owner Mary Stretter, it's the only restaurant in town, unless you count the Greyhound Pac-and-Sac, a convenience store where locals occasionally hang out and grill burgers out back. Mary's has long welcomed hungry travelers visiting nearby Possum Kingdom Lake, and the oversize chicken-fried steak has been the town's main claim to fame.
That is, until now.
Strawn, incorporated in 1940, began serving as a set location for Yellowstone creator and Texas native Taylor Sheridan's new Paramount+ show Lawmen: Bass Reeves, which takes place in the late 1800s. The town's quiet, rustic downtown was an ideal spot for Sheridan to create the fictional town of Checotah, of which visitors can find leftover props, like fake caskets, strewn throughout the streets. But Strawn is on the cusp of something much bigger than a television cameo—it's set to house the only entrance into the much-anticipated Palo Pinto Mountains State Park, the first state park to open in North Texas in 25 years. The park is expected to welcome visitors by 2024. It will encompass nearly 5,000 acres of land for hiking, camping, fishing, and other outdoor activities around Lake Tucker, which has provided the city's water for decades.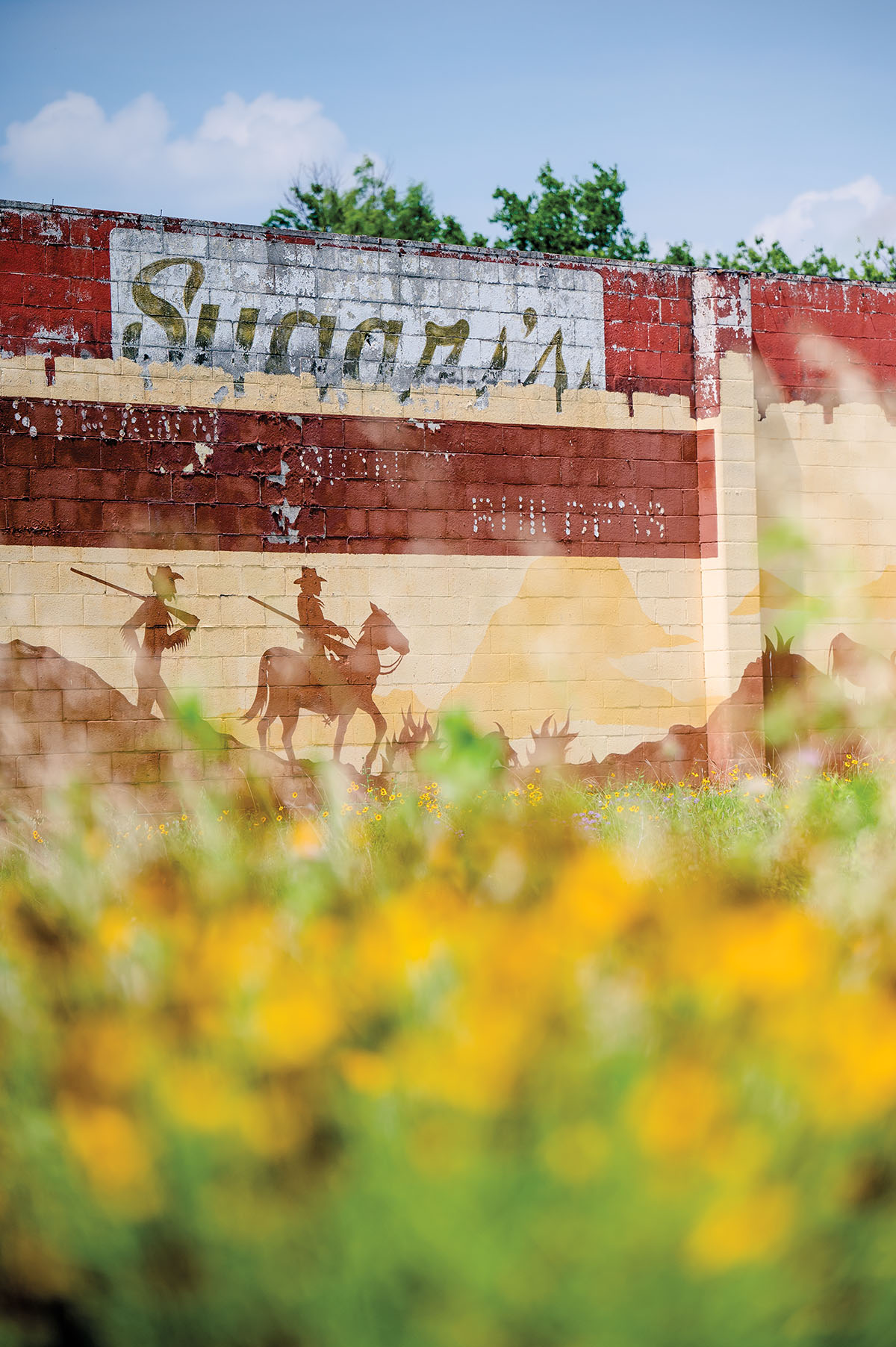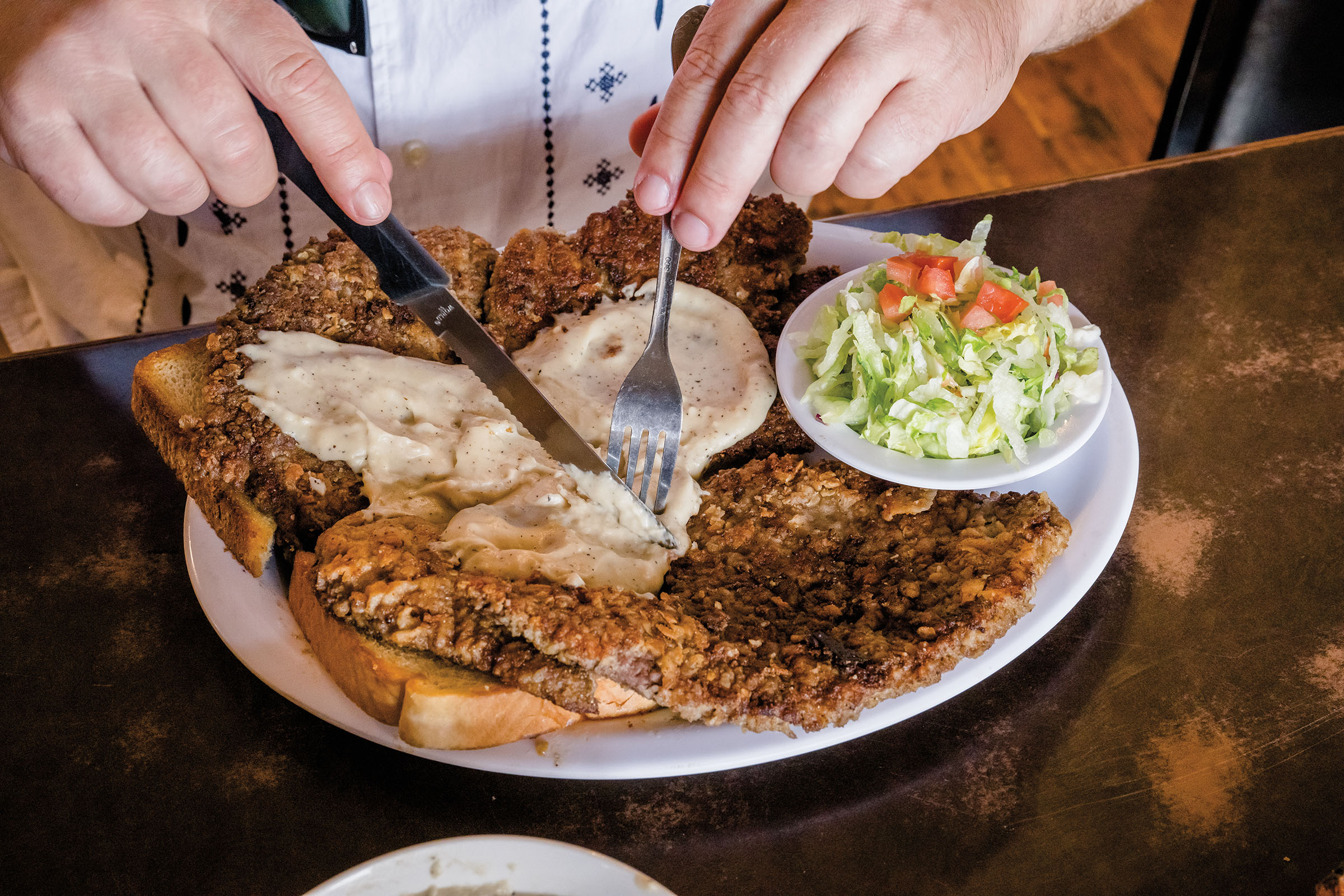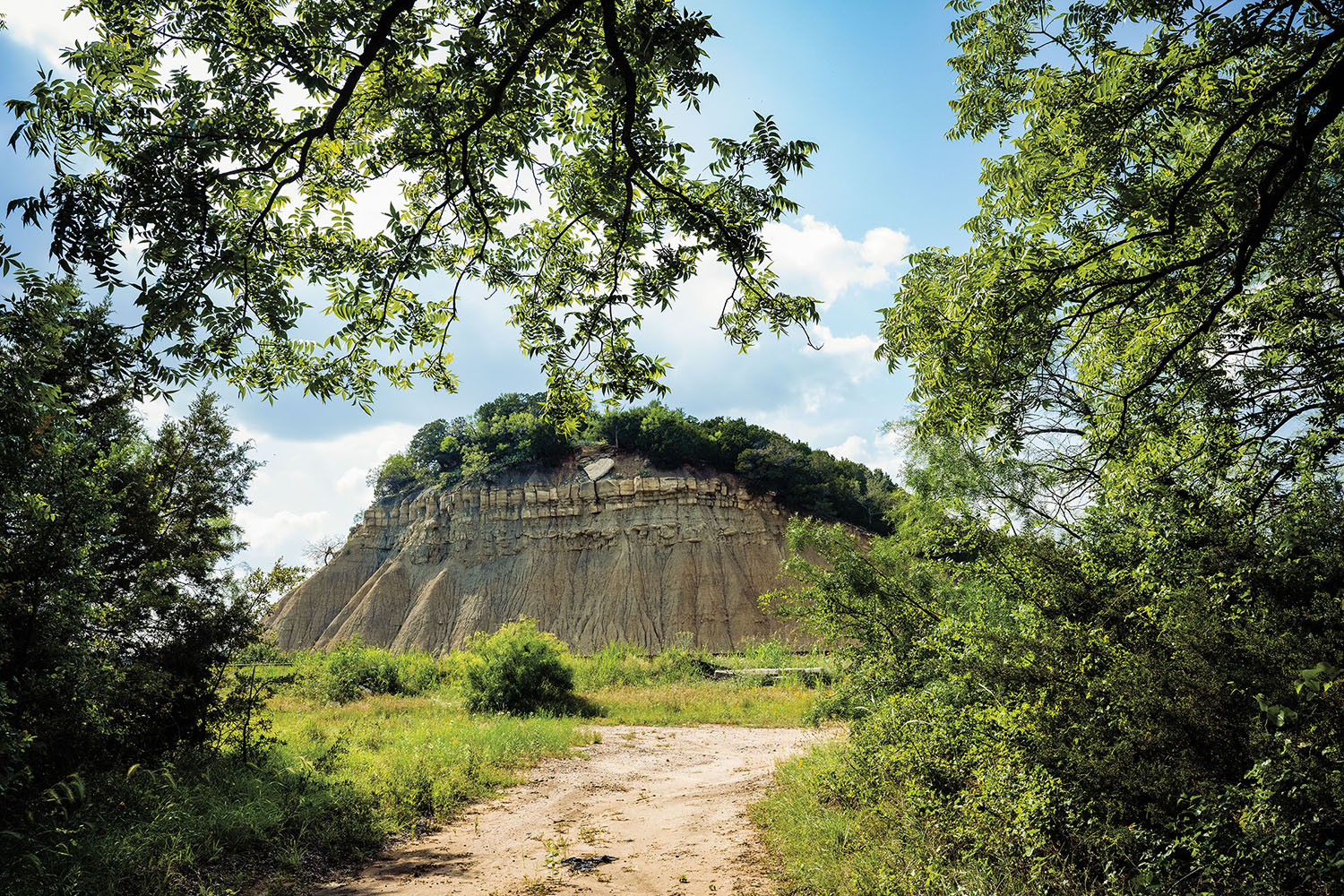 "I'm sure there are some folks who like the town as it is, but we did this with Strawn's growth in mind," says Daniel Miller, who grew up in Strawn and now serves as the city administrator.
The City Council signed a 99-year lease with the Texas Parks and Wildlife Department for recreation rights on the water, agreeing that TPWD won't open another entrance to the new park on the property around Lake Tucker. TPWD expects an estimated 100,000 visitors annually—meaning Strawn is about to see an unprecedented spike in traffic.
"This is the most excitement we've had out here in a long time," Doyle says.
Currently, the town only has one formal place of lodging aside from listings on Airbnb. The Watson House, a historic 5,400-square-foot mansion built in 1919 by an early town settler, offers private rooms or the whole house for rent. But when the park opens up, Miller says the town is bound to grow: "The new park will offer many opportunities, and there's a lot we hope will happen." —Danielle Lopez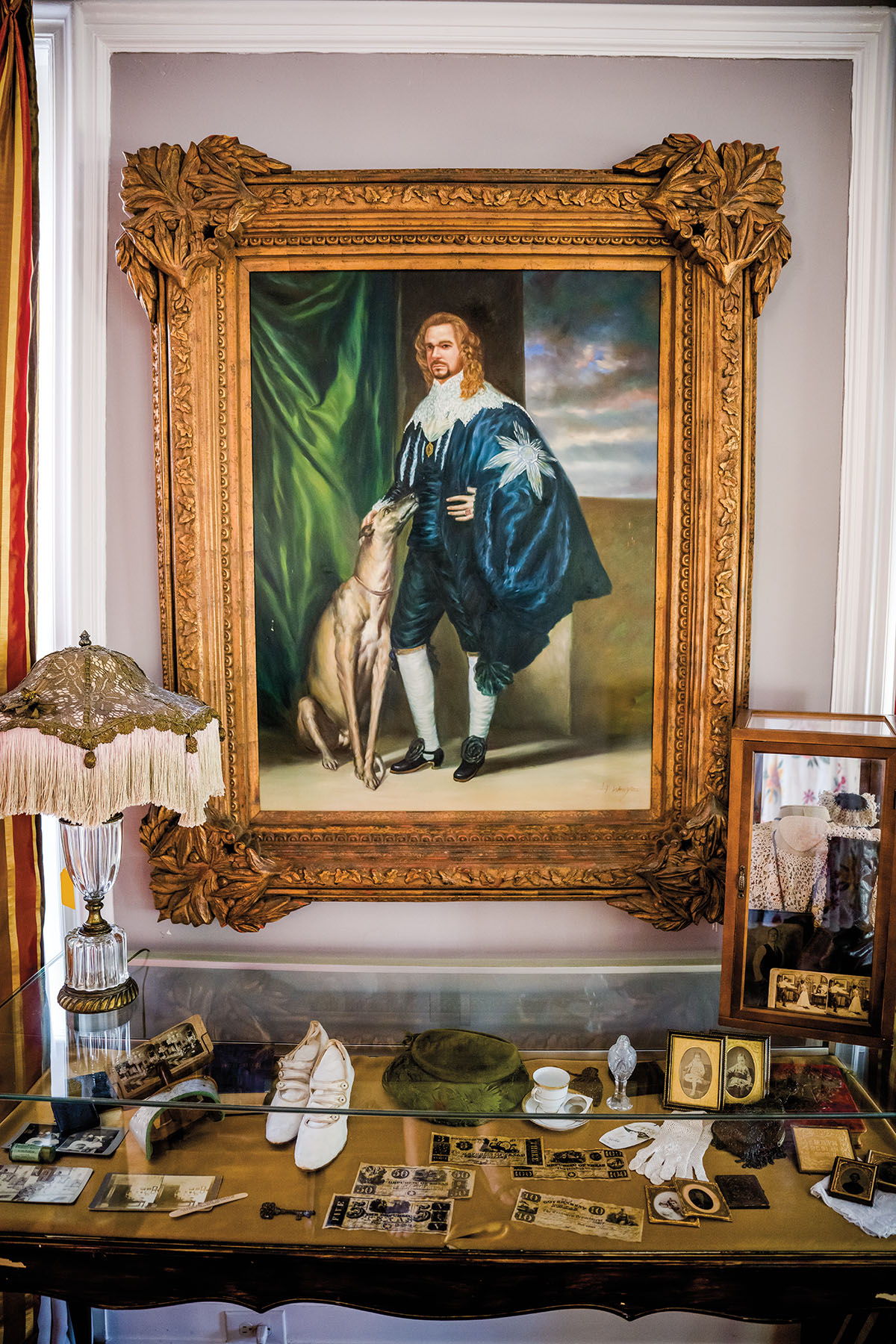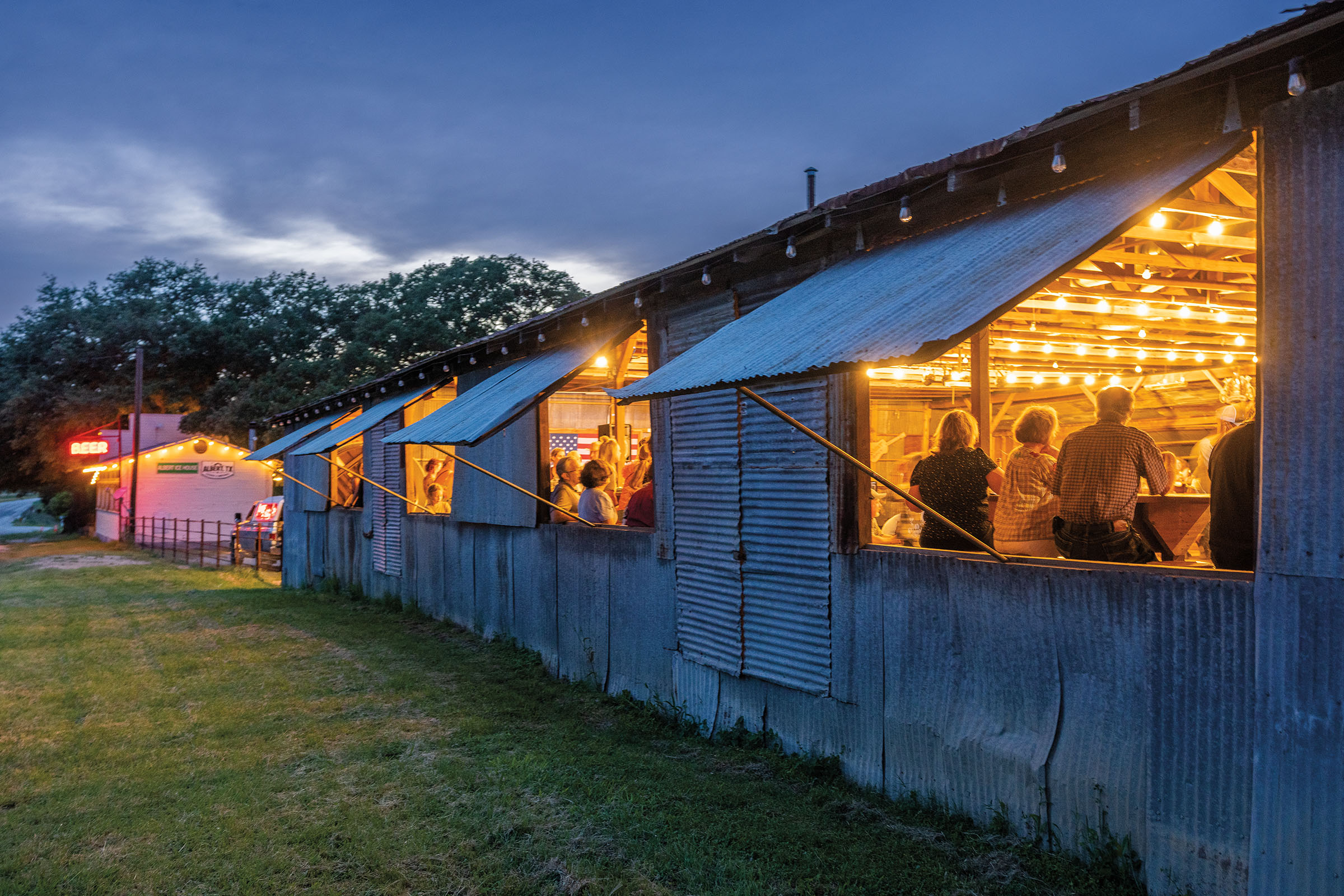 Albert
Population est. 7
Before you even step foot in Albert's dance hall, you'll hear live music emanating from the 100-year-old tin-covered building. The space is surrounded by acres of farmland and comes alive nightly with country music—whether it's a pickers' circle of local musicians or a live show from the likes of progressive country singer Gary P. Nunn. Couples and families two-step on the dance floor and then grab a drink from the icehouse next door or a burger from the on-site Cowboy Cantina food truck. In the backyard, folks hang out under the 600-year-old majestic oak tree.
Michael Miller, general manager of The Albert Dancehall & Icehouse, says most of his weekday clientele are regulars from nearby towns like Stonewall, Blanco, Fredericksburg, and Johnson City. On weekends, though, tourists visiting nearby wineries or escaping the bustle of crowded cities pop in. Lucky ones nab the renovated one-bedroom cabin across the dance hall, rented out by Cozi Vacation Rentals, a Hill Country-based company.
"On weekends, most of our local clientele don't even bother stopping by," he says. "They see 100 cars in the parking lot, and they know, 'Well I don't get my same spot at the bar I've been sitting at for 30 years.'"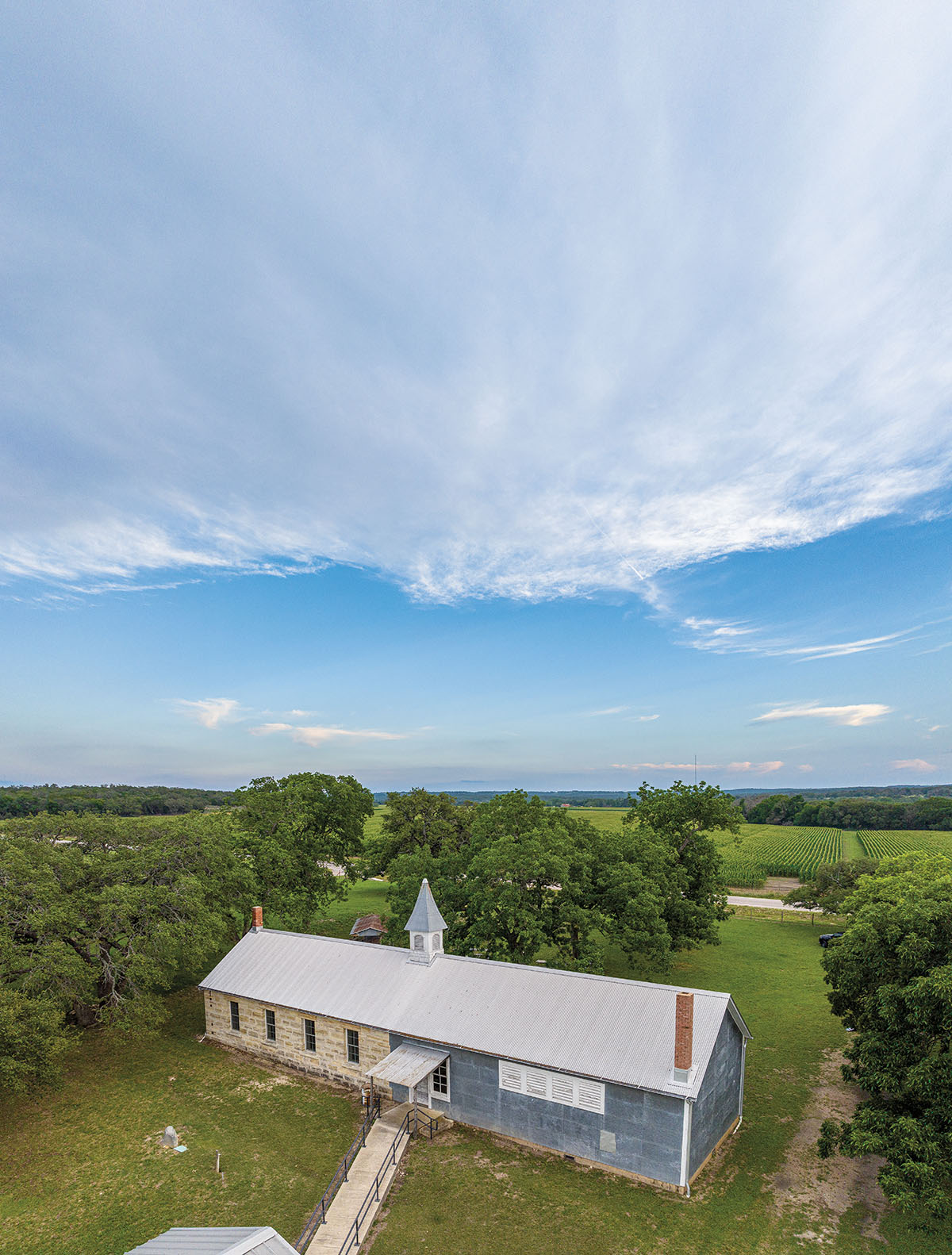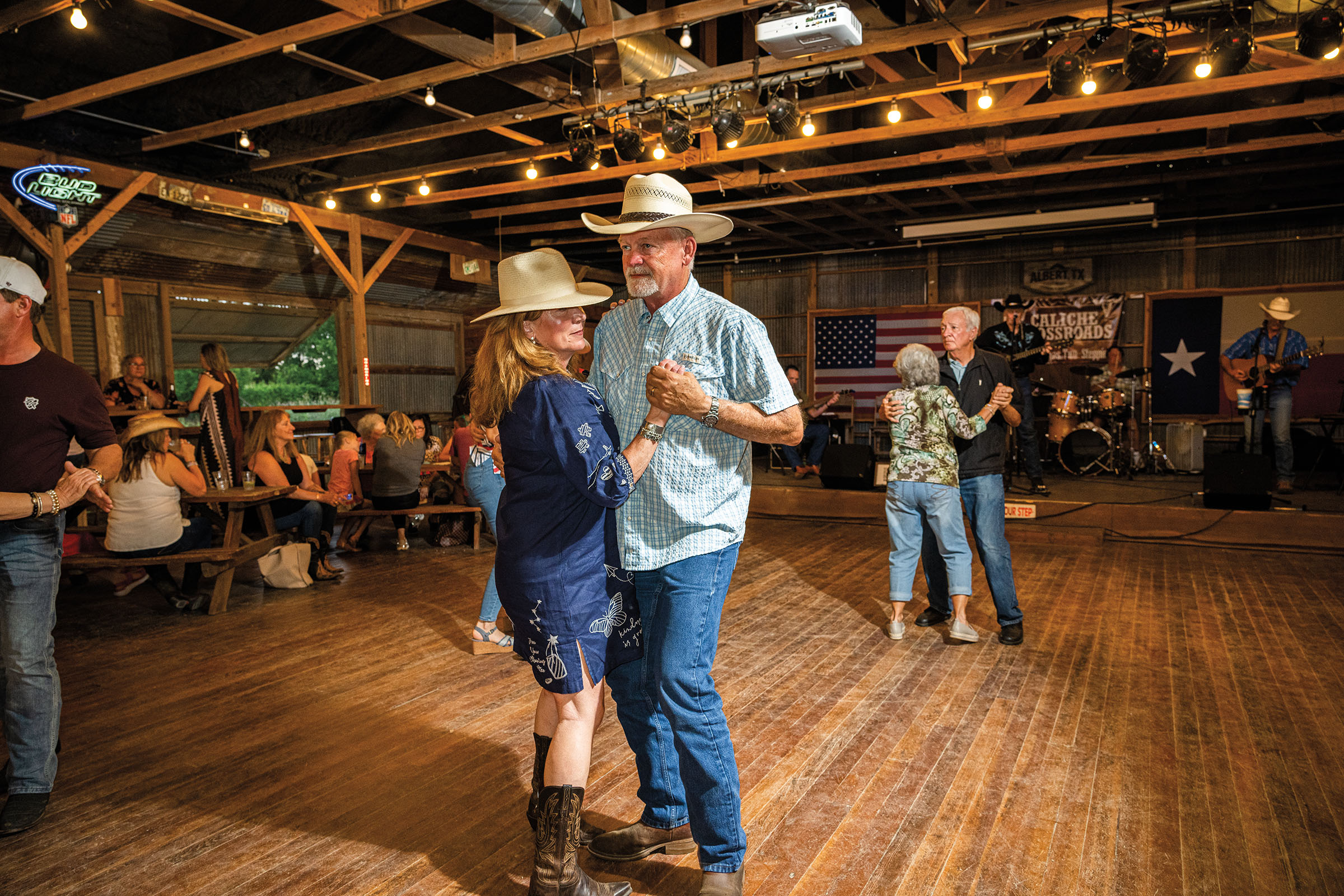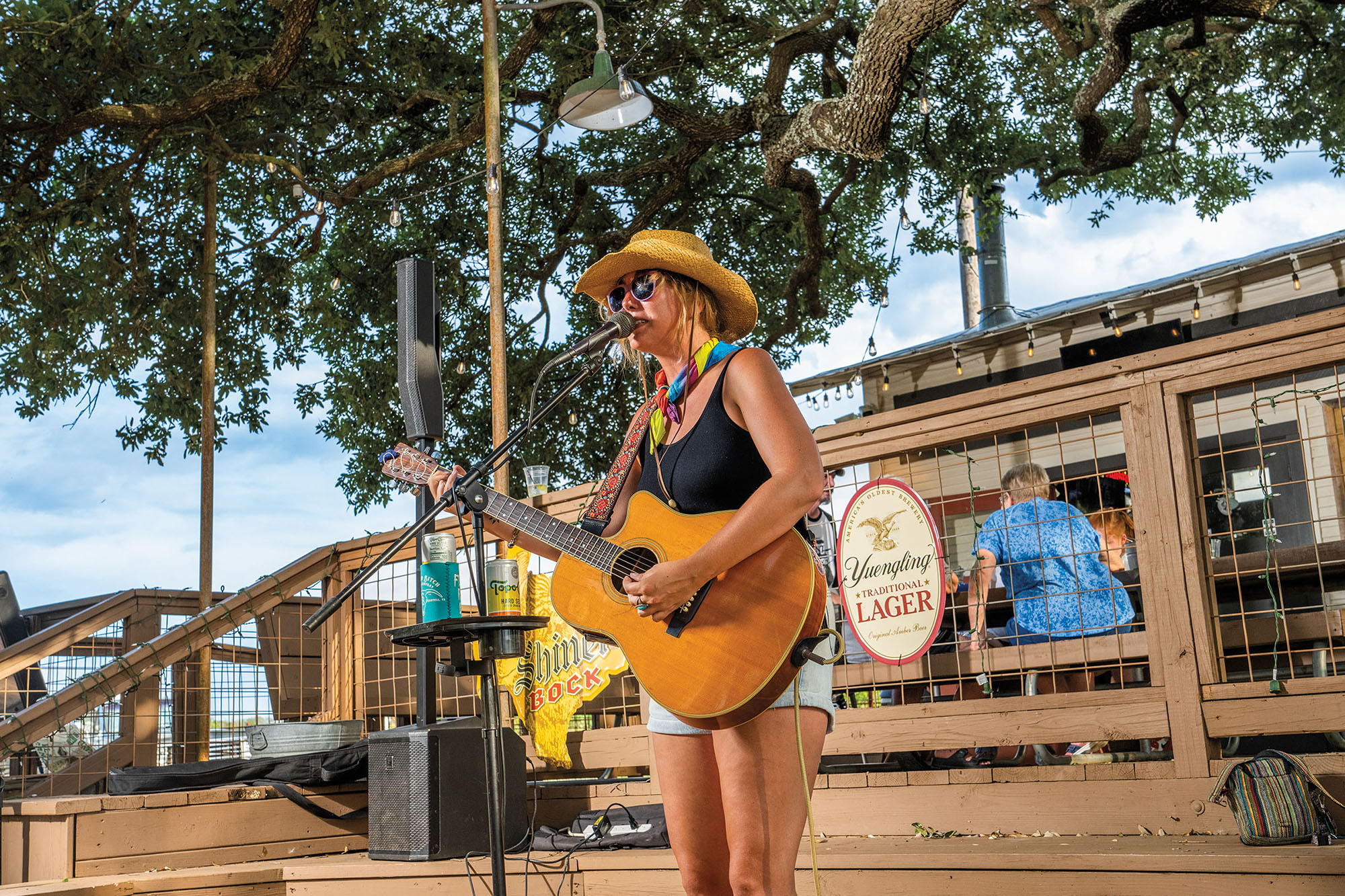 Albert sits a short drive down US 290 from Luckenbach, the famed town crafted by the late self-proclaimed mayor Hondo Crouch and put on the map by Waylon Jennings and Willie Nelson. Both places are now considered "ghost towns"—and they're actually named after the same person.
In 1892, German settler Albert Luckenbach and his wife, Minnie, left the first town named after him and moved about 20 miles east to a place called Martinsburg. They opened a general store and a post office, which they registered under the name Albert.
In the 1920s, the dance hall was built and became a popular gathering place. But the town began to decline in the 1930s, and the dance hall eventually closed. In 2004, an insurance broker bought Albert, restored the town, and put it up for sale on eBay. It's changed hands a couple of times since then.
Today, if you Google it, the population of the now 13-acre "town" is estimated to be just seven. James Franze has called the place home since he retired there in 2006. "It's just a really calm, laid-back place," he says. "There's something about a slower pace that intrigues most city dwellers."
Franze is president of the Albert Community Club, an organization of Gillespie County residents who maintain the only other remnant left of Albert, the historic Williams Creek School. The school opened in 1897, and President Lyndon B. Johnson attended it for a year as a boy.
"For a lot of folks, this is a step back in time," says Franze, who, at the end of the day, is glad Waylon and Willie chose to sing about Luckenbach instead of Albert. "Not that we don't love people. We just like a moderate amount of traffic." —Marisa Charpentier
Marshall
Population est. 23,000
Old meets new in the East Texas city of Marshall, where historic buildings house up-and-coming businesses and longtime traditions attract new visitors every year.
The 116-year-old former Memorial City Hall building downtown has been transformed into a performance space for live music and comedy shows. Just down the street, Wisteria Garden Bed & Break- fast preserves a Queen Anne-style home built in 1884. For a nice meal, The Ginnochio serves up steak, seafood, and pasta in a former historic hotel.
Locally owned shops worth perusing include Black Bird Bathhouse, which offers homemade soaps; clothing stores Royal Cypress, Deborah's Boutique, and Addictions by Rhonda; and Martinez Pottery, which sells handmade stoneware.
Marshall has several new attractions set to open this year, including a microbrewery and microdistillery; and a boutique hotel planned for the historic Elks Lodge downtown. What's driving these new developments? "A lot of it is just local people who have come back home and want to better the city of Marshall," says Marshall's Main Street manager Lacy Burson, who works with the Texas Historical Commission's program to revitalize local economies. "They realize that Marshall has so much potential, and they just want to be a part of that."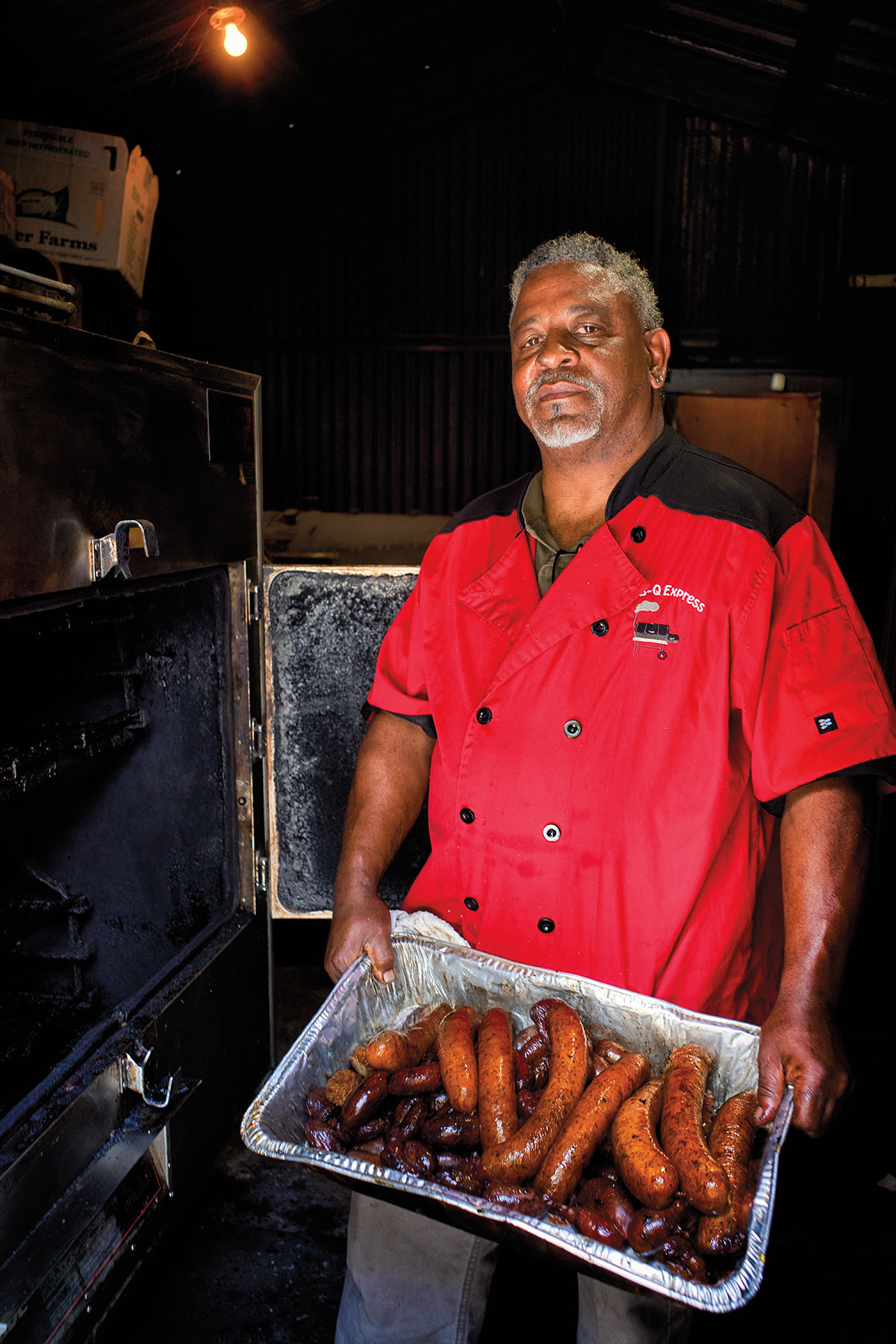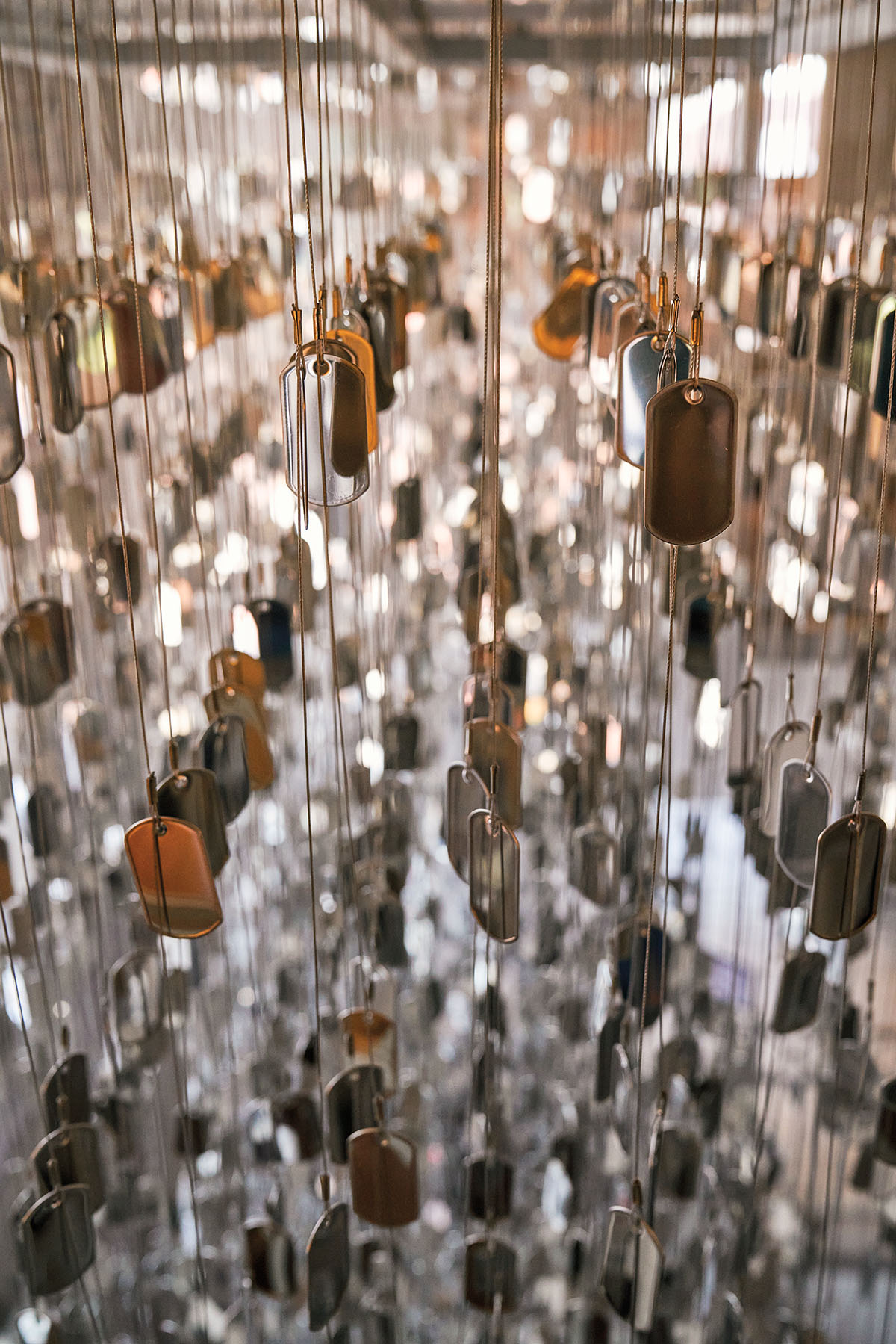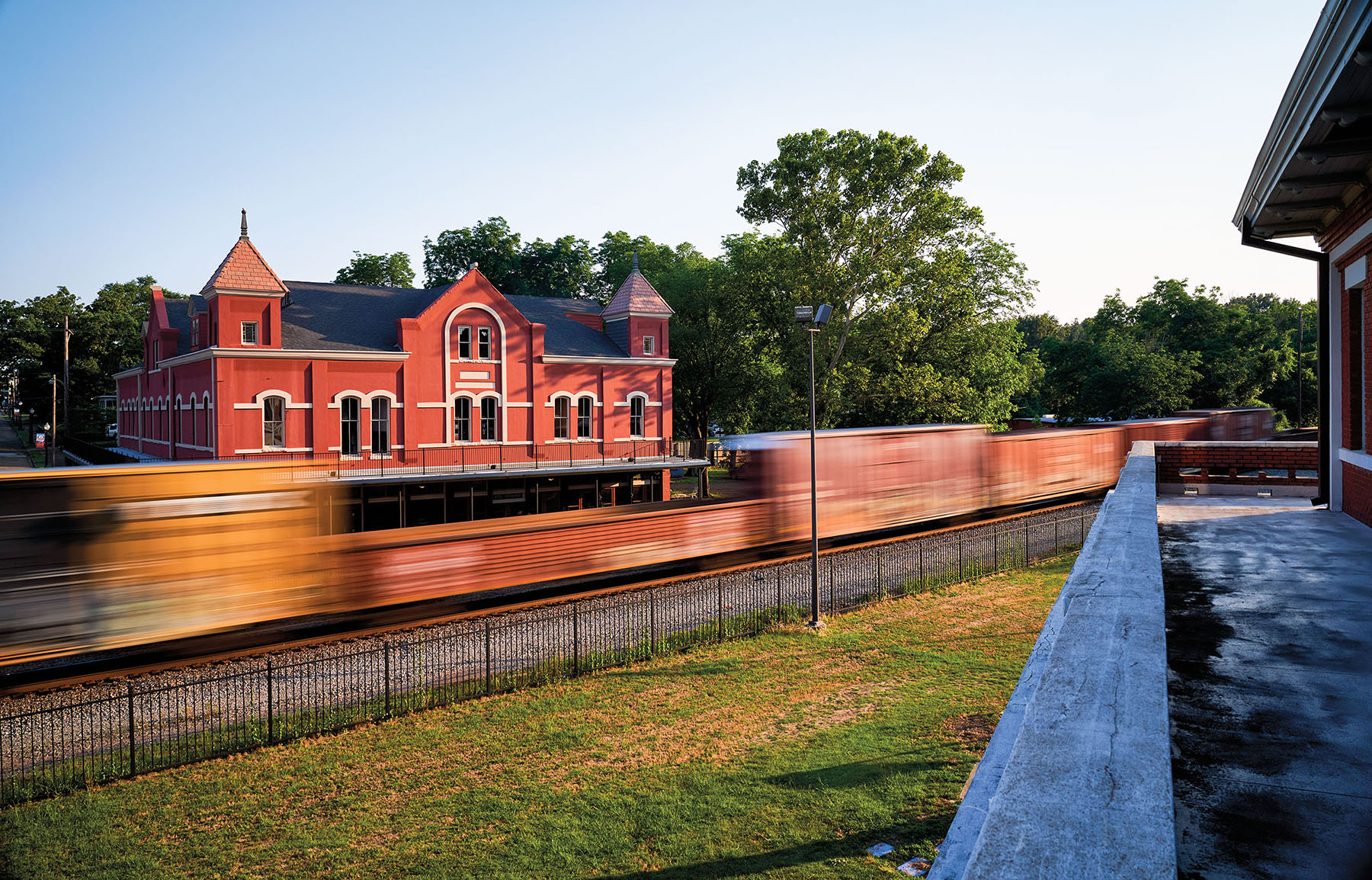 In the center of all this activity is Marshall's crown jewel: the Old Harrison County Courthouse. Built in 1901, the Renaissance Revival–style building boasts yellow brick and columns of pink granite. Each holiday season, the courthouse becomes the centerpiece of a 37-year-old tradition—the Wonderland of Lights. "Most people describe it as coming to a little Hallmark town," Burson says. "It's magical."
Even if you don't visit around the holidays, the courthouse stuns year-round—stained glass adorns the courthouse's dome roof, and several wings of the building house the Harrison County Historical Museum showcasing artifacts from local history. After the Civil War, many freedmen settled in Marshall. A lot of them were drawn to Wiley College, the first Black college west of the Mississippi River.
Today, visitors can tour the nearby New Town neighborhood, founded by African Americans in the early 1900s. Signs point out sites of the businesses, schools, and churches—some still standing—that existed in this self-sustaining Black community during the Jim Crow South. "There is such a rich history of people who had a very difficult time and yet they thrived," says Julia Williams, a member of the New Town Neighborhood Association, which helps preserve the area's history. "We felt very strongly about all the significant things that the people accomplished and the pride they must have felt in doing what they did."
The Buard History Trail allows visitors to take self-guided tours of local Black history sites, including Wiley College, several cemeteries, the railroad depot, and the downtown Harrison County Courthouse Square. Trail guide brochures are available at the Wiley College's welcome center or the Harrison County Historical Museum.
Marshall is also the birthplace of boogie woogie, a heavily percussive type of blues music that began in African American communities in the 1870s. Music is still a big part of the city thanks to the Marshall Regional Arts Council, which organizes live performances every third weekend of the month. If you plan your trip wisely, you just might get to hear some blues tunes echoing from Telegraph Park as you stroll the downtown square. —M.C.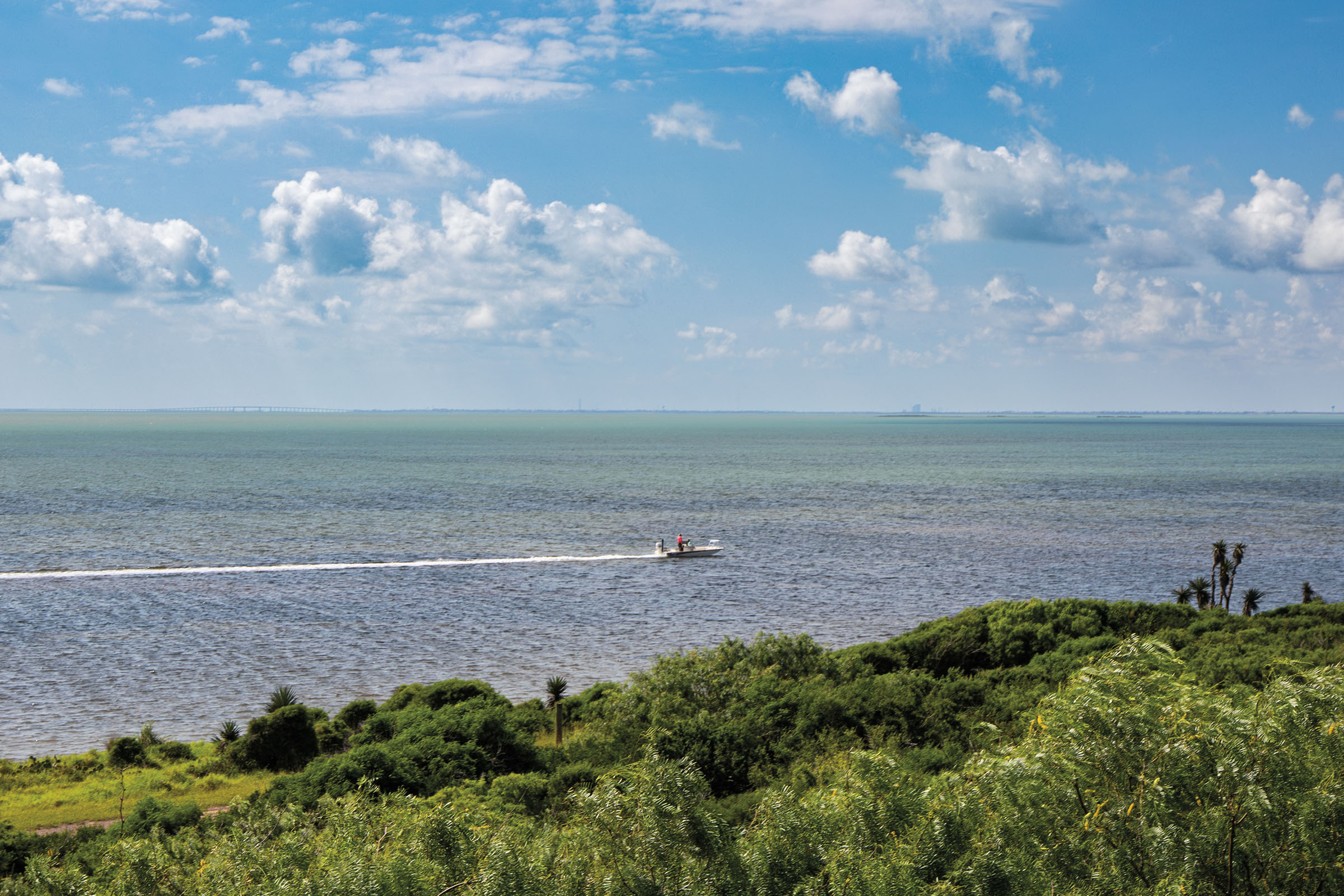 Los
Fresnos
Population est. 8,215
Ocelots, cowboys, and conjunto music take center stage in Los Fresnos, one of the fastest-growing small towns in the Rio Grande Valley. While Texans might be more familiar with the town as the spot where traffic backs up on the way to South Padre Island, Los Fresnos rewards the curious traveler with the best of the RGV.
Though Los Fresnos proper—about 4.1 square miles—wasn't established until 1915, the town has been a farming community for much longer. Like most of the RGV, the land was cleared for ranching; the Valley has lost more than 90% of its natural habitat to clearance. But Los Fresnos is just a 30-minute drive to the Laguna Atascosa Wildlife Refuge.
Established in 1946, the refuge protects nearly 11,000 acres of natural habitat. With more than 1,000 species of animals, plants, and insects, the refuge is a naturalist's playground. Each year the refuge draws hundreds of birders, hikers, and nature enthusiasts. As the RGV's population continues to grow, the refuge is focusing on rewilding the land. Friends of the Laguna Atascosa National Wildlife Refuge host an annual Ocelot Conservation Day in March to raise funds and awareness for ocelots—a few of the spotted wildcats run wild in the reserve.
"The refuge is a cool place because the South Texas ecosystem is so unique," says Thomas deMaar, a veterinarian and treasurer for the friends group. "Palm trees, cacti, salt marshes, freshwater—it all comes together unlike anything else in the U.S. And you can go with the whole family. Where else can you get a day's entertainment for everyone for just $3?"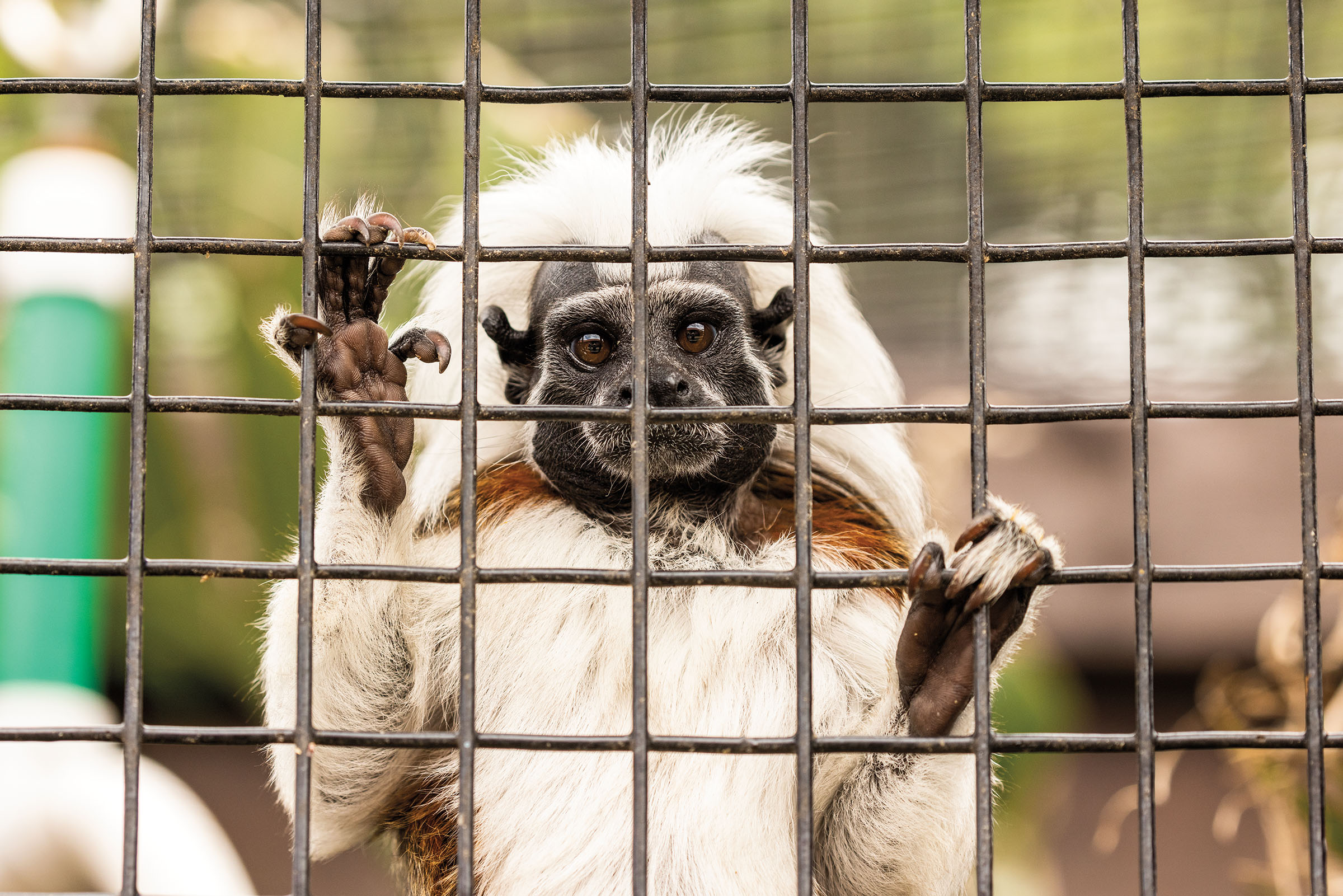 Los Fresnos also knows how to throw a party. For 33 years, the town has been home to "The Biggest Little Rodeo in Texas." The three-day affair in February features pro-rodeo competitions, a carnival, and musical acts—previous performers included country stars Aaron Watson, Kevin Fowler, and Joe Nichols. "For a small town like that, it's impressive how long they've been doing this," says Rogelio Nuñez, the director of the Narciso Martinez Cultural Arts Center in Los Fresnos. Named after the Mexican American accordionist and folk musician who grew up in nearby San Benito, the center is dedicated to preserving the cultural heritage of the Mexican American community in South Texas.
Nuñez helps oversee another beloved local event. This October marks the 30th annual Narciso Martinez Conjunto Festival, which celebrates the traditional Texan-Mexican music that often features a button accordion and bajo sexto. The event draws thousands of visitors from across the U.S. and is the second-longest-running conjunto festival in the nation behind San Antonio's. Nuñez says it's a chance for people to get a feel for the Valley and explore neighboring cities.
"We're not all concentrated like the big cities, but we are one big region," he says. "The Valley is very important. It produces musicians, it has a strong culture, and it's got a strong sense of tradition." —D.L.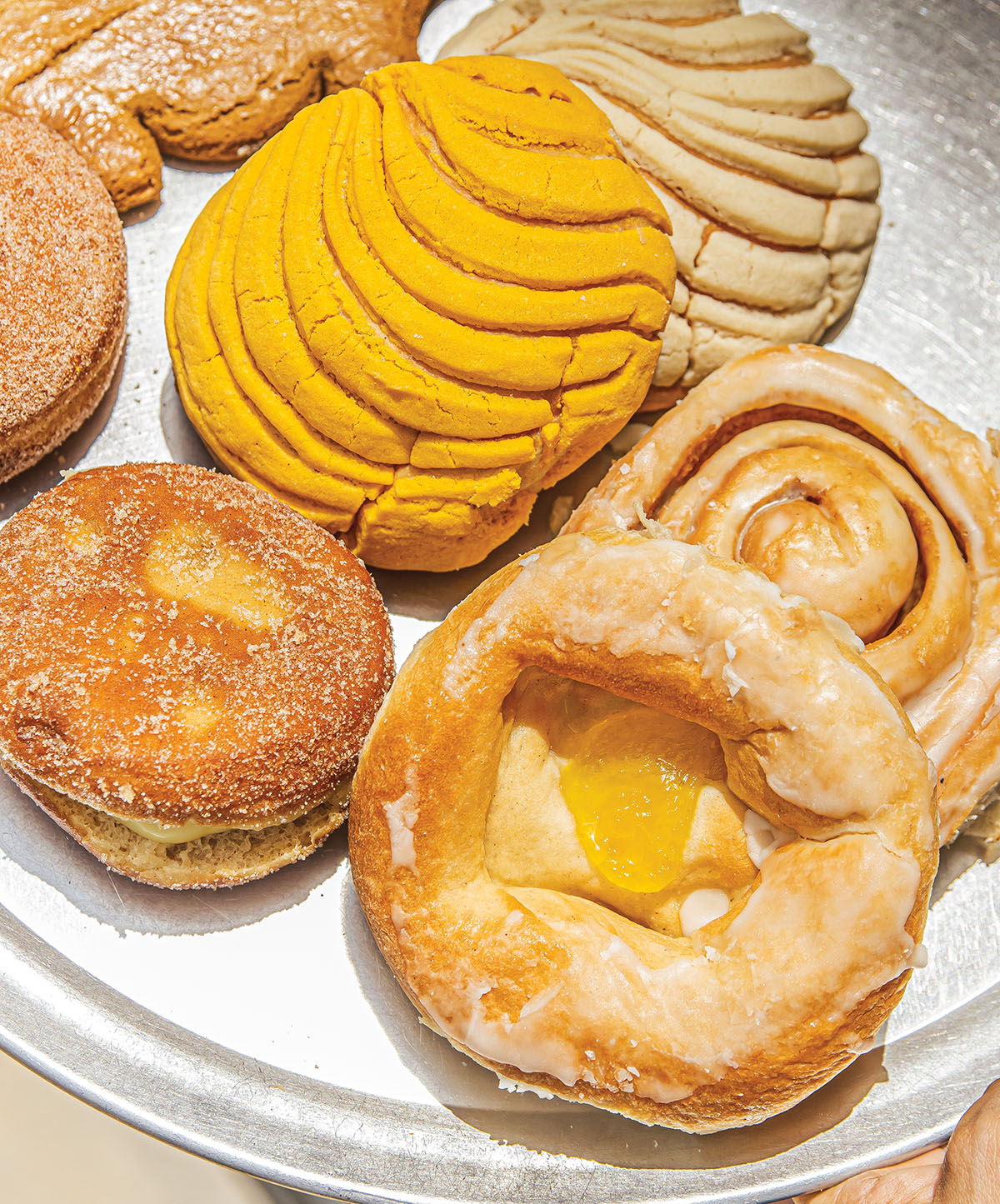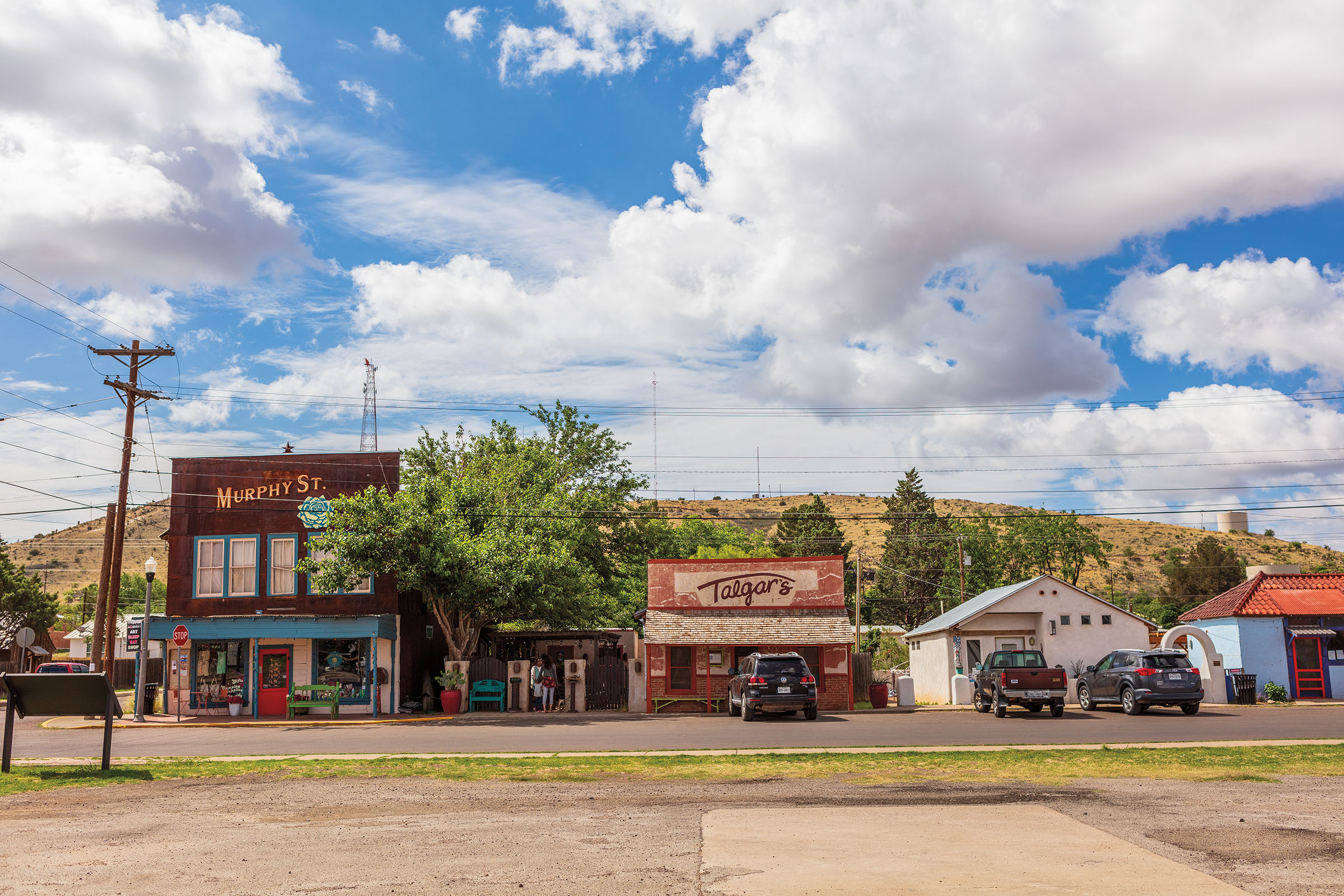 Alpine
Population est. 6,000
Like most folks who stumble upon Alpine, Chris and Ellen Ruggia were en route to Big Bend National Park. It was the early 1990s, and the population wasn't much smaller than it is today. After the couple graduated from UT Austin, Ellen enrolled at Sul Ross State University in Alpine to study biology, while Chris took a job at a local print shop. "That's what brought us here," Chris says, "but it's the community that kept us here."
Both the Ruggias are artists, and Chris is a musician in a band called The Swifts. These days he also serves as the city's director of tourism. The duo are part of a thriving cultural scene, made up of musicians, artists, makers, and foodies. Though Alpine doesn't get the same hype as Marfa, its more contemporary neighbor, locals seem to like it that way. "It's a world-class experience over there, sure," Chris says. "But Alpine is much more approachable. It's intimate."
Alpine sits at the center of Marfa, Terlingua, and Fort Davis. It's an energetic place that services the even smaller West Texas communities with its grocery stores, pharmacy, and other amenities. It's home to numerous art galleries, restaurants, and trendy lodging options. In June, the Museum of the Big Bend debuted its remodel and opened the new Emmett and Miriam McCoy building dedicated to displaying local art.
"I've lived here 33 years, and I still pinch myself," says Kerri Blackman, co-founder of Alpine's Gallery Night Inc., which promotes the town's arts.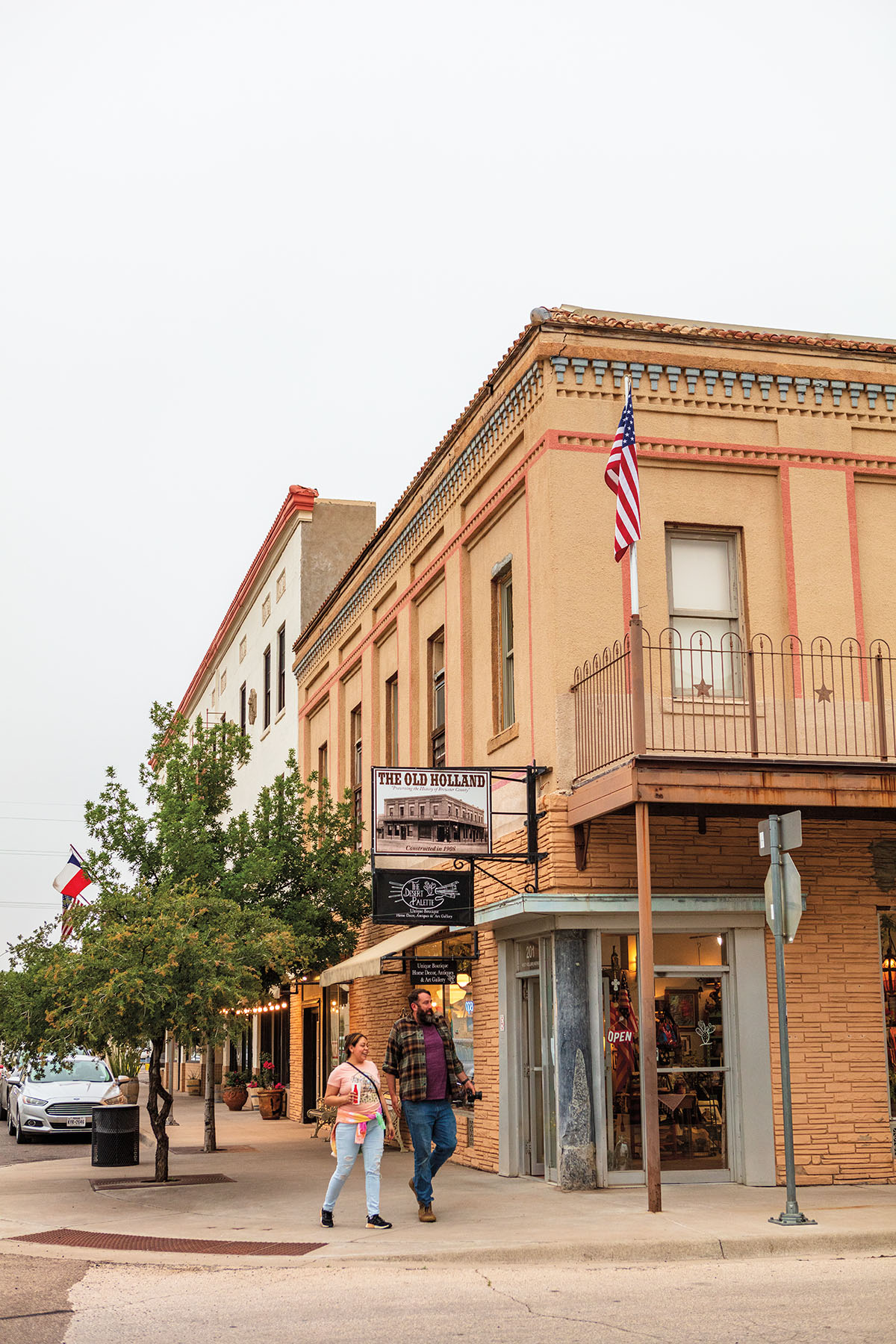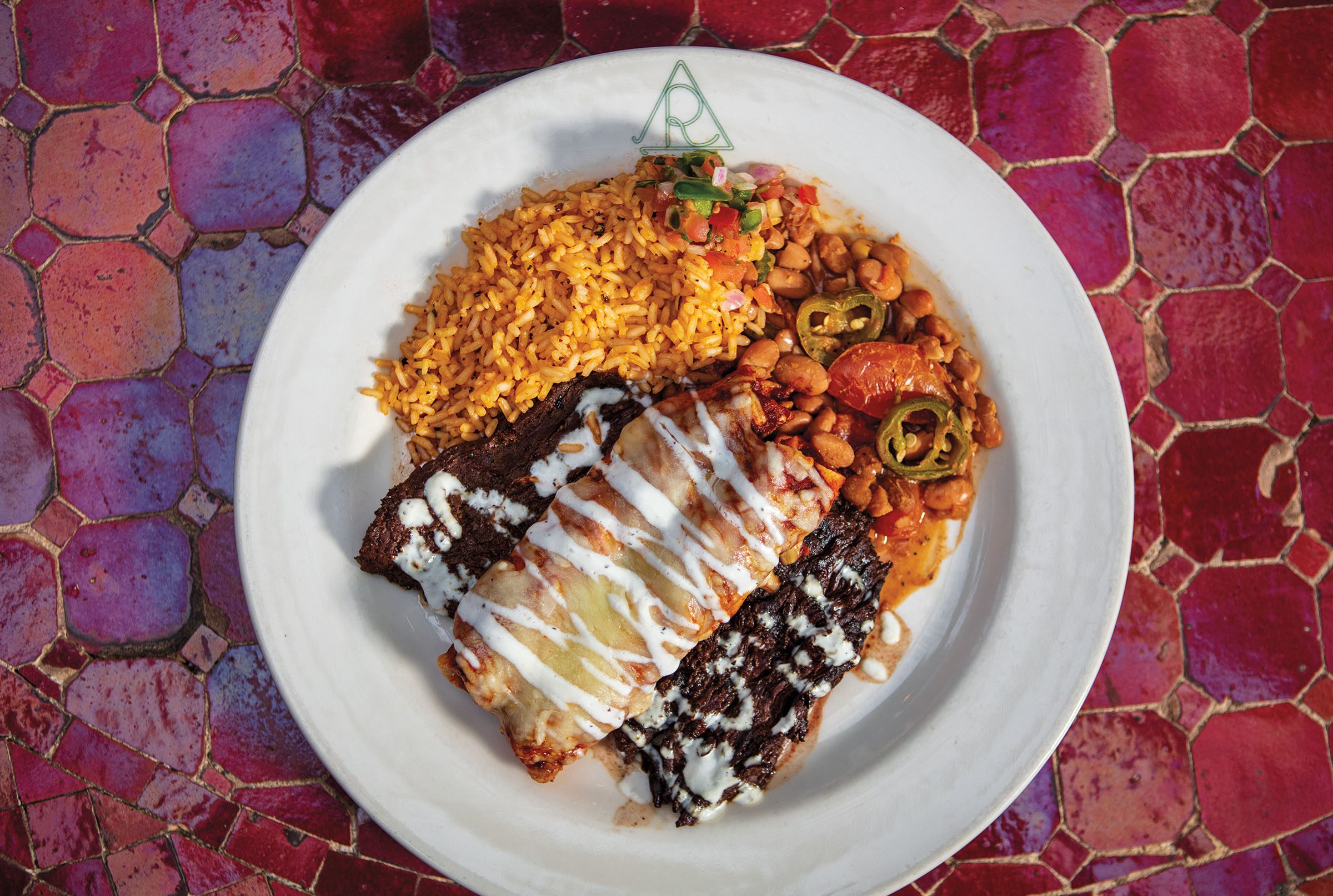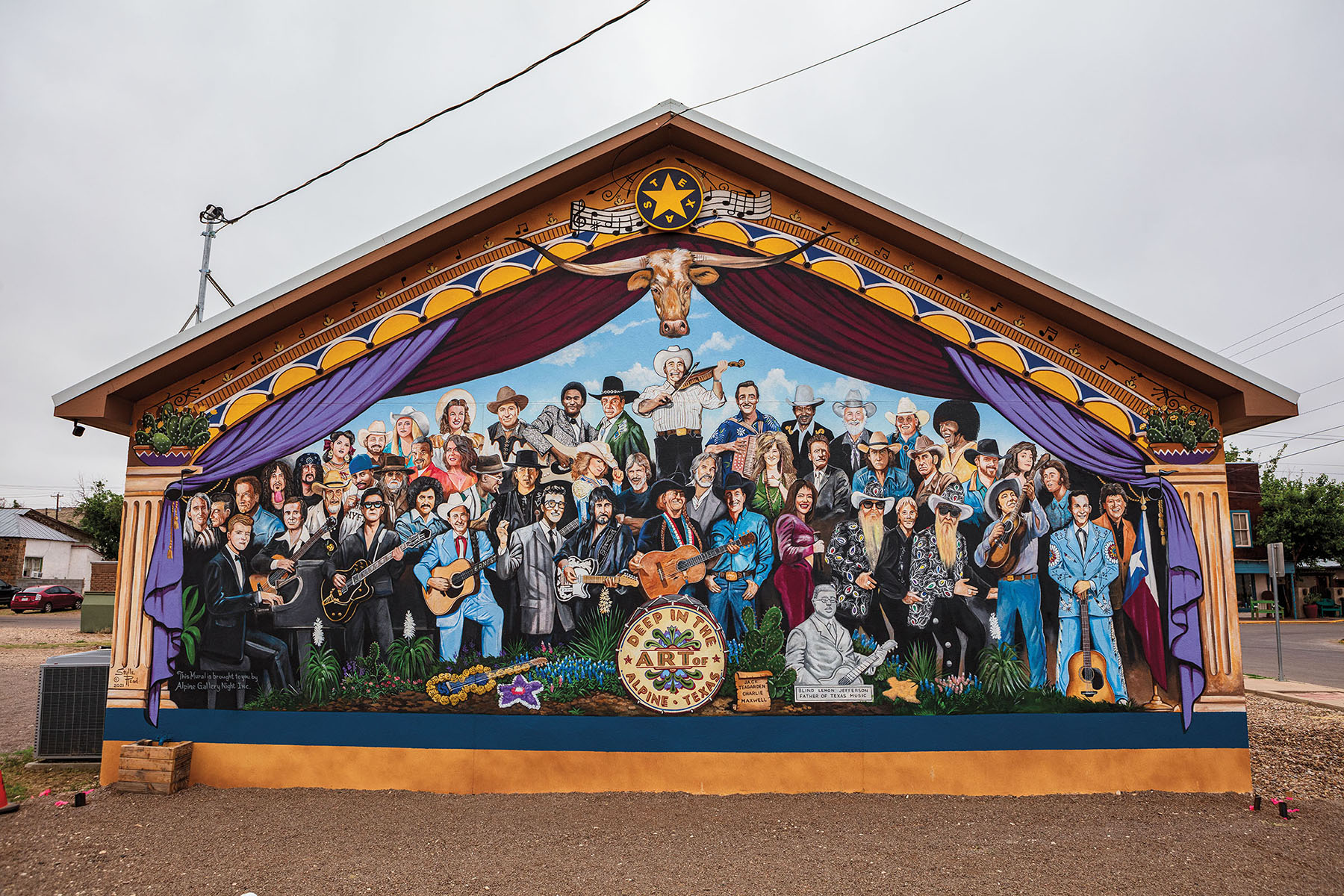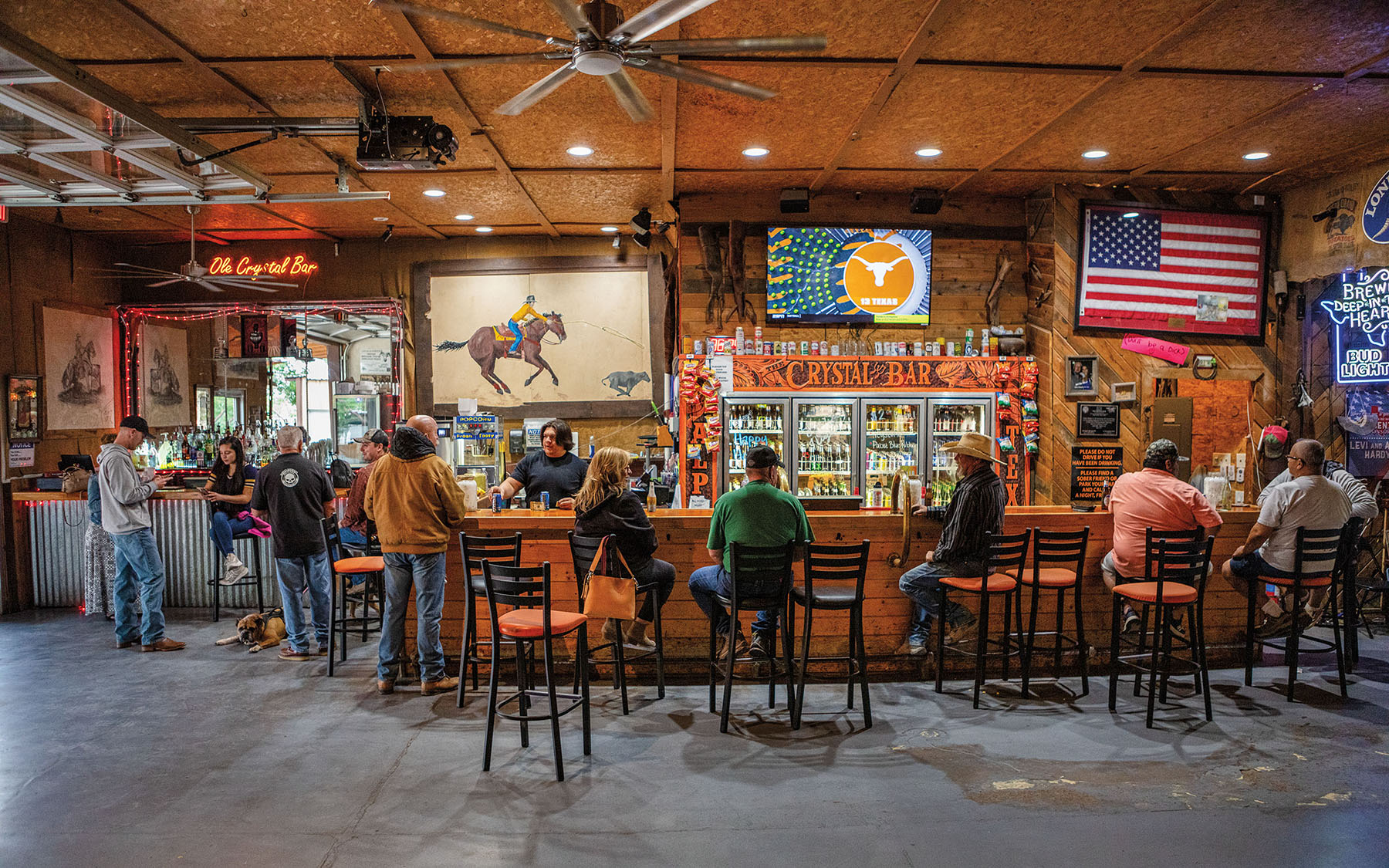 Around town you'll find more than 30 murals. The historic Murphy Street Mercado features shops like the Desert Rose Provisions, offering locally made products. Stop for a bite at the Reata Restaurant—named after the ranch in the movie Giant—or grab drinks from the Old Crystal Bar and the Old Gringo Bar & Grill, both of which have live music. Alpine also hosts the Lonestar Cowboy Poetry Gathering, an annual event in February featuring poetry and music from cowboy poets.
This November marks the 30th annual Alpine Art Walk, a weekend festival put on by Gallery Night that brings in artists and musicians from across Texas. There's an art car parade and a silent auction that benefits the local public library. In 2022, Gallery Night kicked off a second festival: Spirits of the West Wine and Beef Festival. The event honors the region's cattle-raising industry alongside local distillers and wineries like Chateau Wright in Fort Davis.
"Alpine is just a little cultural hub," Blackman says. "It's perfect for people looking to get away." —D.L.
From the August 2022 issue