Touch down in college towns
Football fandom collides with small-town charm in these four destinations
Boko the Bobcat gets the crowd going in San Marcos. Photo by Erich Schlegel.
Even though the state is
still deadlocked in oppressive summer heat, something in the air changes in August. College football fans know exactly what we mean. Around this time of year, they're perfecting their tailgate menus and purchasing new gear to sport their school's colors. While cities like Austin, College Station, Lubbock, and Waco boast high-profile programs, nothing beats the enthusiasm and warmth of small towns with under-the-radar football teams like those in Canyon, Denton, San Marcos, and Huntsville. While the ongoing COVID-19 pandemic may keep you from seeing your favorite teams live this year, we hope this guide will serve as inspiration for future trips.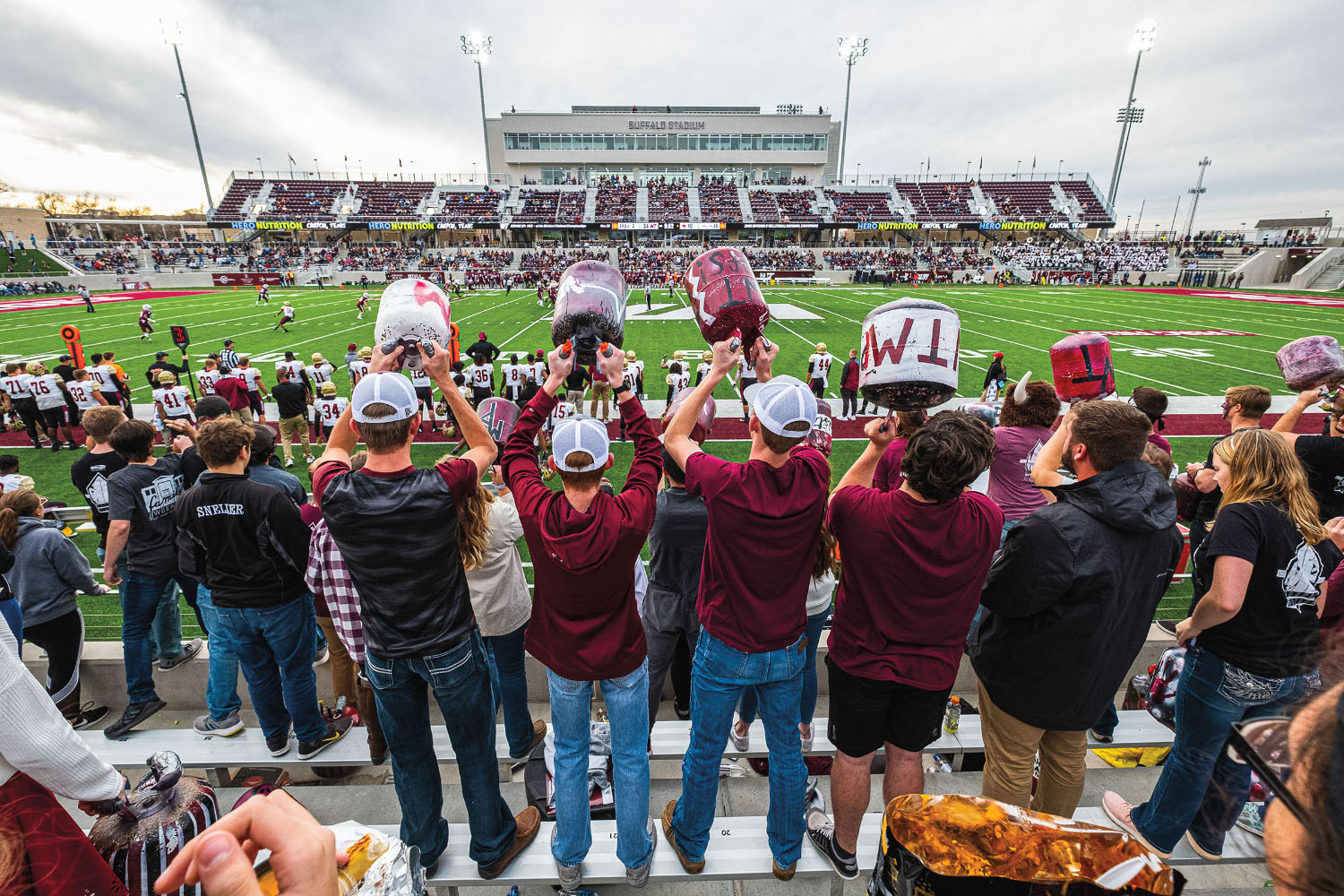 West Texas A&M University, Canyon
Last season was an auspicious one for West Texas A&M University: Home games finally returned to campus, and the Buffaloes ended the season with an impressive 8-3 record, a turnaround from the team's 9-13 record during head coach Hunter Hughes' first two seasons. The opening of the new Buffalo Stadium in 2019 marked the first time since 1959 the West Texas A&M Buffaloes actually played home games on the university's grounds. Previously, home games were held at Kimbrough Stadium (recently renamed to Happy State Bank Stadium), north of Canyon. The new field brought a fresh wind of excitement back to Canyon and its Division II team.
The new stadium introduced new traditions. For every home game, WTAMU now closes down 26th Street—which bisects the campus and runs directly toward the stadium—to host the university-sanctioned Buffalo Block Party. More than 60 businesses and vendors occupy the block, which opens to the public four hours before kickoff. Area banks cook hot dogs on enormous smokers, student organizations hand out noisemakers and T-shirts, and local bands provide live music beneath towering elm trees.
The festive atmosphere increases exponentially for homecoming weekend (scheduled for Oct. 16). The Canyon Chamber of Commerce hosts a citywide barbecue called the Canyon Chamber Chow-Down. This year, it will be held in the downtown square. A single admission price includes ribs and brisket. The evening pep rally features student-led chants and music.
During games, the university's mascot, a bison named Thunder XIV, hangs out on the field in a designated area. In the past, trained students would run the animal across the field after each touchdown, but that custom has ceased due to safety concerns. The live mascot tradition dates to bison purchased in 1922 from Col. Charles Goodnight's historic herd.
Another monument to the school's mascot is the white buffalo sculpture, located in the middle of Citizens Bank Plaza near the southern entrance to Buffalo Stadium. The late Jack Hill, a local sculptor, designed and originally installed the 9-foot-tall, 1,800-pound landmark in 1967 at the old off-campus stadium.
With much more to explore around Canyon, visitors may want to cross campus to the Panhandle-Plains Historical Museum on Fourth Avenue. It's the largest history museum in the state due to its more than 2 million artifacts, and has been a jewel of the university since the 1920s. Guests can easily spend a Saturday afternoon exploring its collections, from the fossilized bones of saber-toothed cats to firearms that belonged to Texas legends like Goodnight and Comanche chief Quanah Parker.
Of course, no trip to Canyon is complete without visiting its namesake Palo Duro Canyon State Park. Located 12 miles east of Canyon on State Highway 217, this nearly 28,000-acre geological wonder is known for its spectacular views and hike-and-bike and horse trails.
Less rustic diversions may prove more tempting for some. Bar Z Winery is located just 10 minutes northeast of the campus. Owned by Monty Dixon and Amber Dobler-Dixon, this winery partners with vineyards in the High Plains to produce award-winning vintages like its 2016 pinot noir, which earned a gold medal in the 2018 San Francisco Chronicle Wine Competition. The Bar Z tasting room offers a relaxing place to unwind and take in a gorgeous autumn sunset. —Jason Boyett
Where to Stay
End your day at Hudspeth House, a bed-and-breakfast located between the campus and courthouse square. This property dates to 1909, making it around the same age as WTAMU and almost as old as the town itself. A former boardinghouse, it served the earliest students and faculty of the original West Texas State Normal College—including famed artist Georgia O'Keeffe, who took most of her meals there during her tenure in Canyon. Staff maintain cleanliness during the COVID-19 pandemic by wearing gloves and wiping down furniture and counters after guests check out. Rates start at $130 per night. 1905 Fourth Ave., Canyon. 806-655-9800; hudspethhouse.com
University of North Texas, Denton
When visiting Denton for a University of North Texas football game, pack plenty of green. The color of the university's official team moniker, "Mean Green," proliferates across this college town. The color also represents UNT's reputation as an environmental beacon on the rolling prairie about a Hail Mary from the outer fringe of the Dallas-Fort Worth suburbs.
UNT's 30,000-seat Apogee Stadium is the first college football stadium in the country awarded a Leadership in Energy and Environmental Design (LEED) platinum certification, which measures a building's sustainable design. The stadium grounds also include three wind turbines, a visual testament to UNT's environmental consciousness. According to school officials, UNT is the first university in Texas to have wind turbines placed on campus property and one of the first universities in the U.S. to integrate renewable technology into an athletic complex and football stadium.
Fans gather on the hills and greens surrounding the stadium to tailgate and rally for the Division I program, which is in its 104th year and had its string of three consecutive bowl games snapped with last season's 4-8 campaign. About 30 minutes before each home game, the Green Brigade—UNT's marching band—struts its stuff through the tailgating area. The good vibes extend into the stadium, according to 2020 graduate Sarah Shirley, who performed as the school's mascot, Scrappy the Eagle, since her freshman year.
"The student section is so respectful of other schools," says Shirley, a Denton native who earned her degree in rehabilitation studies. "Everyone is there to relax and have a good time. I've been at other schools that weren't like that at all. I've seen and heard things that wouldn't fly at UNT."
As for casting aside the Scrappy costume, Shirley says she'll miss mingling with young fans the most. "I'll really miss meeting kids," she says. "They love Scrappy. Everyone wants to take pictures and get hugs. For some of them, meeting Scrappy is like meeting a superhero."
When you've had your fill of pomp and tradition, retreat to the courthouse square to take in the town's other attractions. LSA Burger Co. offers juicy patties alongside an impressive selection of locally crafted beer, and colorful murals by area artists dot the square. The Courthouse-on-the-Square Museum gives a solid primer on the town's frontier history.
A quick drive to the surrounding countryside reveals one of the primary industries currently operating in the North Texas prairie: horse farms. With prearranged tours, guests can get a glimpse into the processes of breeding, developing, and training the country's top race horses.
While Denton may not tout itself as a live music capital, no town in Texas punches higher above its weight class when it comes to musical talent. UNT's College of Music produces an array of artists that play everything from jazz to punk and experimental riffs that can't be classified. Dan's Silverleaf is a reliable music venue and dive bar, while Andy's Bar hosts an eclectic mix of live music in one of the oldest buildings on the square.
After a Mean Green win, there's a different kind of music that floats through the air. As throngs march in celebration to McConnell Tower, which tops the Hurley Administration Building in the heart of campus, they sing the school song, "Glory to the Green," and watch the tower light up—yup, you guessed it—green.
—Thomas Jones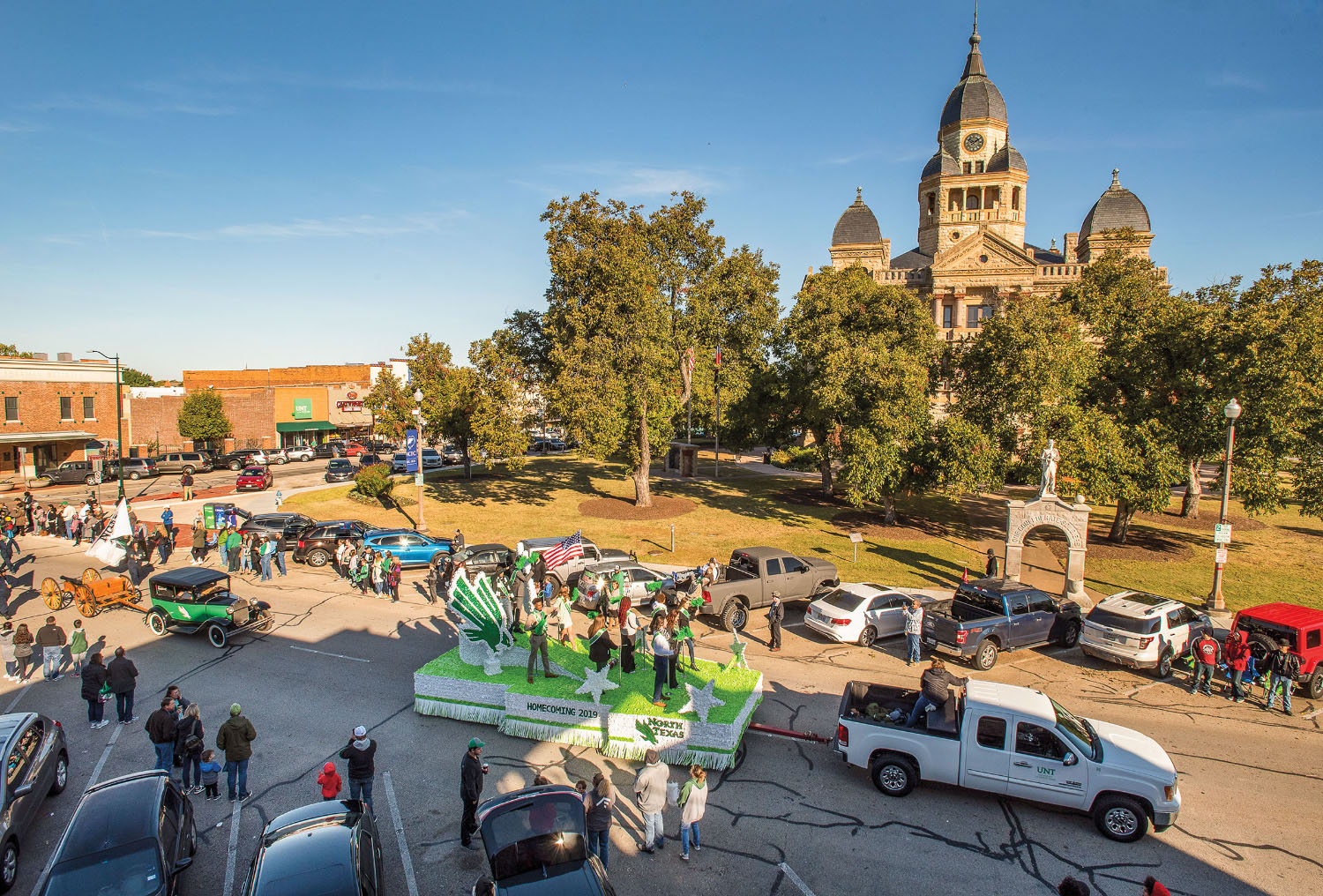 Where to Stay
Just east of town, the Old Irish Bed and Breakfast offers a home base complete with a replica Irish pub and a pack of curious alpacas. At this time, breakfast is served in guests' rooms. Everything is sanitized, including hot tubs and furniture. Rates start at $99 per night. 3030 N. Trinity Road, Denton. 940-323-1011; oldirishbb.com
Texas State University, San Marcos
Even though Austin and its surrounding communities comprise the fastest-growing metropolitan area in the nation, nearby San Marcos remains, unapologetically, a college town. Students lounge along the San Marcos River, sip coffee at The Coffee Bar or Cafe on the Square, and tap their feet to tunes at Showdown and Cheatham Street Warehouse. The frenetic energy of Austin seems more like 30 years away than 30 miles.
But don't think this relaxed nature pertains to Saturday afternoons in autumn. Texas State has earned its reputation as a school that likes to have a good time, and a football game offers a rowdy tailgating scene complete with lots of eating, drinking, and dancing.
The university's football program started in 1904. Today's Division I team has had just one winning season since joining the Sun Belt Conference in 2013. Even if a bowl game trophy might not be in sight, the band, cheerleaders, and spirit groups add to the pageantry of any home game—and few schools can match the history of Texas State's Strutters. The dance team, the first and largest such squad of any four-year college in the nation, celebrated its 60th season last year and has become a can't-miss part of the halftime show at Bobcat Stadium, which completed a major remodel in 2012.
"I always remind the Strutters that the Strutters before them are so proud of this organization," says Director Tammy Fife, a university faculty member since 1996. "I tell them, 'Everyone in the crowd cannot wait to see you perform. These are the best times of your lives. Cherish these memories, have fun, and entertain the crowd.'"
The Strutters aren't the only thing Texas State is nationally recognized for—a stroll through the quad leads visitors to the likeness of the school's most famous graduate. In the heart of campus is a statue of the late U.S. President Lyndon Baines Johnson, who in 1930 graduated from the university then known as Southwest Texas State Teachers College. Johnson returned several times to the campus to address graduates at commencement. It's also where he signed the Higher Education Act of 1965, which increased federal money given to universities, created scholarships, gave low-interest loans to students, and established the National Teacher Corps. The statue portrays the future political titan as a young student, with paperwork tucked under his left arm while his right arm stretches up. Campus lore says that touching his hand leads to good luck, especially during final exams. Those interested in learning more about his legacy can visit the nearby LBJ Museum of San Marcos.
Other points of interest surrounding the campus include the San Marcos River, an ecological oasis that bubbles up from the Edwards Aquifer in Spring Lake. Visitors can relax in City Park or Rio Vista Park and enjoy a picnic or a swim in the 72-degree crystalline waters. Another option: Grab gear from Lions Club Tube Rental and float. If it's too nippy for water activities, Texas State's Meadows Center for Water and the Environment offers a tour of the river in a glass-bottom boat.
Another natural attraction in town is the family-owned Wonder World Cave and Adventure Park. This destination, now in its 120th year, serves as the oldest commercial cave tour in Texas. Amateur spelunkers can explore the state's only fault-line-formed cave, as well as climb an observation tower that rises 120 feet. For a more relaxed activity, take a train ride through the pocket-size wildlife park filled with exotic animals such as four-horned sheep, axis deer, and emus.
In the hills west of San Marcos is the Devil's Backbone, a majestic drive for motorists and cyclists alike. Starting on Ranch-to-Market Road 12, the route winds along a loop through Wimberley, Blanco, and the north shore of Canyon Lake. Highlights include the shops and art galleries in Wimberley, barbecue at Old 300 in Blanco, and a round of cold beers served with ghostly tales at the historic Devil's Backbone Tavern.
The lit star atop Jackson Hall, the tallest building on campus, guides travelers back to San Marcos. The star, once used to mark the holidays, is illuminated whenever the Bobcats win a football game. In the 1930s, the star disappeared and the ritual stopped until—as legend states—a night watchman found the light in 1942 and returned it. After a victory, Bobcats fans can look up at the star and tip their caps to that watchman. —TJ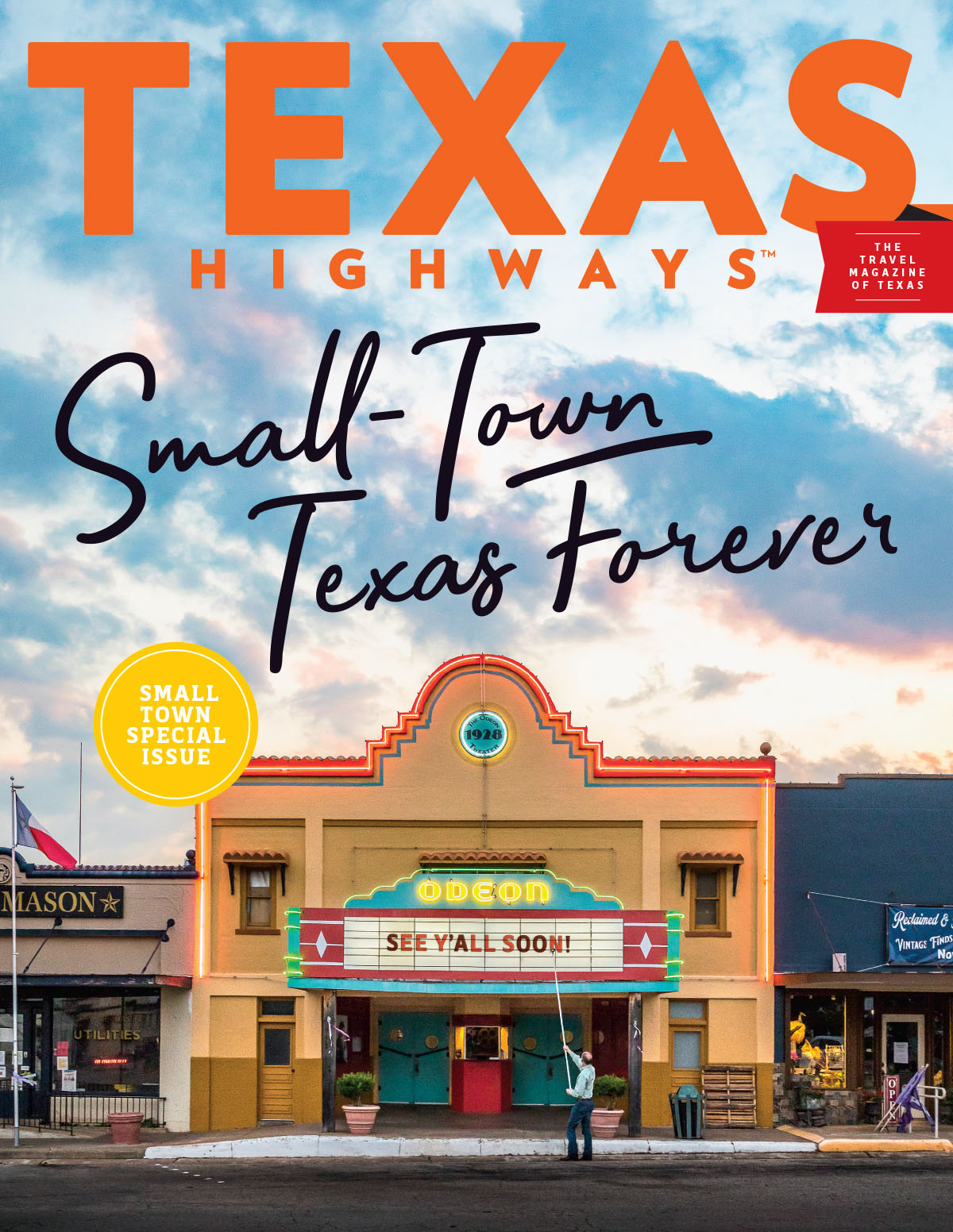 Subscribe to Texas Highways
Subscribers get stories like this before they are available online.
Subscribe today!
Where to Stay
The Crystal River Inn, a cozy bed-and-breakfast located just west of downtown and the Hays County Square, is walking distance from Bobcat Stadium. The staff is using hospital-grade disinfectant in rooms and common areas. Cooks are using gloves and masks. Rates start at $140 per night. 326 W. Hopkins St., San Marcos. 512-396-3739; crystalriverinn.com
Sam Houston State University, Huntsville
Most Texans associate this scenic town on the western edge of the Pine Curtain with the state's original penitentiary. But there's much more to the community than its infamous prison. One point of pride is Sam Houston State University and its Bearkat football team. In the shadow of Bowers Stadium sits "Bearkat Alley," Sam Houston State's official tailgating area. Enjoy a game of cornhole, grab some complimentary tacos from one of the tailgate sponsors, and get a selfie with Sammy the Bearkat, Sam Houston State's mascot for more than 60 years.
The school's athletic teams have been referred to as Bearkats for almost 100 years. School historians say it has little to do with the kinkajou, a small South American mammal in the raccoon family also known as a bearcat. Rather, the mascot likely originated from a then-popular local saying that a formidable foe "was tougher than a bearcat," according to Sam Houston State's "Musings From Sam Houston's Stomping Grounds" podcast series.
One can't talk football in Huntsville without mentioning Nacogdoches, the town located about 100 miles northeast and the home of bitter rival Stephen F. Austin University. The two schools have squared off in what's known as "The Battle of the Piney Woods" since 1923, which makes it the third-longest ongoing football series in the state. The game outgrew both campuses —Bowers Stadium seats 12,953—and now takes place at NRG Stadium in Houston, including this year's matchup on Oct. 3.
"Sam," as SHSU is often referred to, has won nine consecutive games in the series. "It's Sam's marquee game, and it's a great atmosphere," says Josh Criswell, the sports editor at the Huntsville Item newspaper. "With the large alumni base in Houston, the stadium, and a partnership with the Texas Bowl, it's a perfect storm to have it at NRG."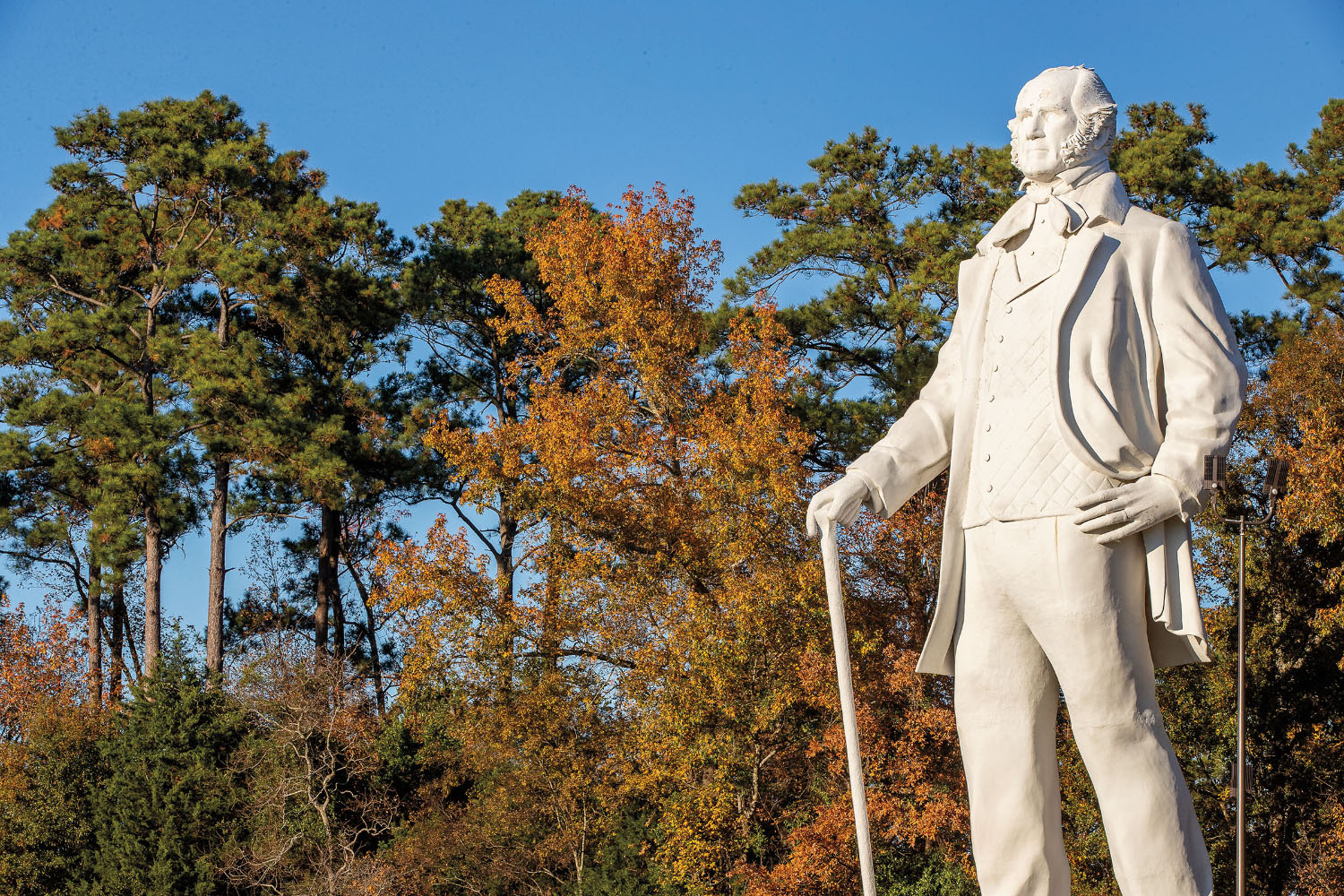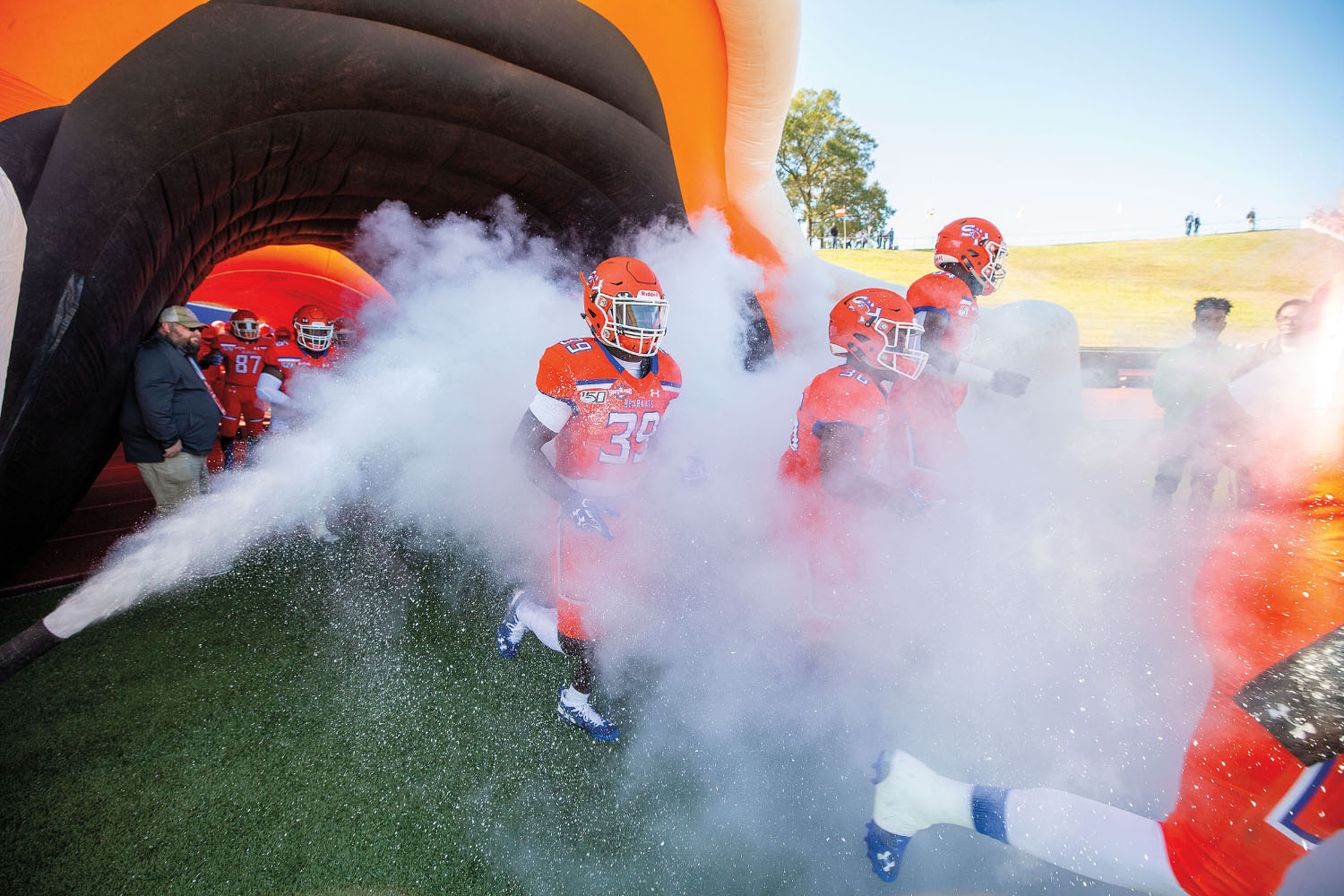 SHSU started its football program in 1912 and hasn't had a losing season since 2009. The school has long been a powerhouse in the Football Championship Subdivision, a Division I subset of the Football Bowl Subdivision, in which the University of North Texas and Texas State compete alongside the nation's largest and most well-known football programs. FCS schools don't award as many athletic scholarships as FBS teams, and they have no attendance requirements to compete in their collegiate division.
The annual grudge match for East Texas supremacy regularly draws more than 20,000 fans. The crowd at the 2016 game numbered 27,411­­—the largest in the series' history and the largest ever for a Bearkat game against an FCS opponent. "I don't want to take a shot at the FCS in any way," Criswell says, "but the game has an FBS feel."
About a mile north of campus, Oakwood Cemetery offers a serene final resting place for the school's namesake. Sam Houston, the first president of the Republic of Texas, was interred amid the towering pines and sprawling oaks in 1863. A solemn stroll around the grounds reveals the tombstones of lawmakers, soldiers, philosophers, and enslaved people.
The winding trails and hidden crannies in Huntsville State Park just south of town give visitors a sense of the vast and deep pine forests that once blanketed all of East Texas. Birders will enjoy the blind at the end of the Coloneh Trail, anglers can while away the day on Lake Raven, and hikers can explore one of the most pristine swaths of pine left in the state.
"The cool thing about Huntsville is that we have something for every interest," Park Superintendent Kody Waters says. "I like to say we have all the '-ings.' You can go hiking, swimming, biking, canoeing, kayaking, fishing—any outdoor activity."
Pines tower over much of Huntsville, but they don't quite measure up to Houston himself, whose likeness looms 77 feet above Interstate 45 near the entrance to the state park. Completed in 1994 by Huntsville native and acclaimed sculptor David Adickes, A Tribute to Courage honors the hero of the Texas Revolution.
At the end of every fall semester, the university hosts its Tree of Light celebration, which features performances by the school's choir and dance team, as well as a canned food drive. This year's event is scheduled for late November or early December, which football fans hope will coincide with the school's first playoff run in three years. Even if the Bearkats miss the playoffs, beating their biggest rival is still the ultimate mark of success. "The playoffs are big," Criswell admits, "but I don't know if anything is as important as winning against SFA." —TJ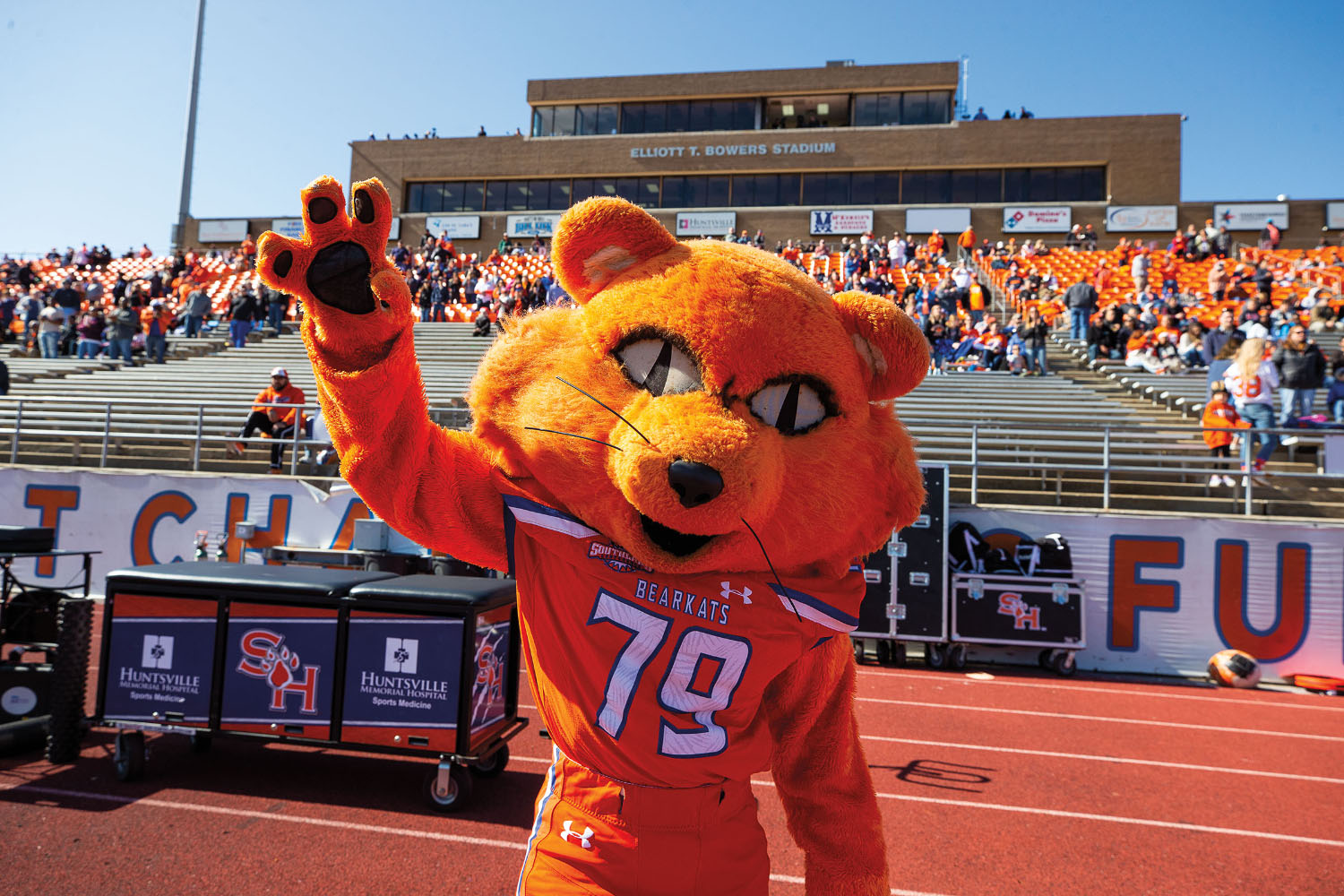 Where to Stay
For football fans, Sam Houston University Hotel, located a half-mile from the stadium, is ideal. At press time, the hotel was set to reopen on August 14. COVID-19 measures include cleaning public areas every half hour and offering sanitation stations on every floor. Rates start at $109 per night. 1610 Bobby K Marks Drive, Huntsville. 936-291-2151; shsuhotel.org
From the August 2020 issue