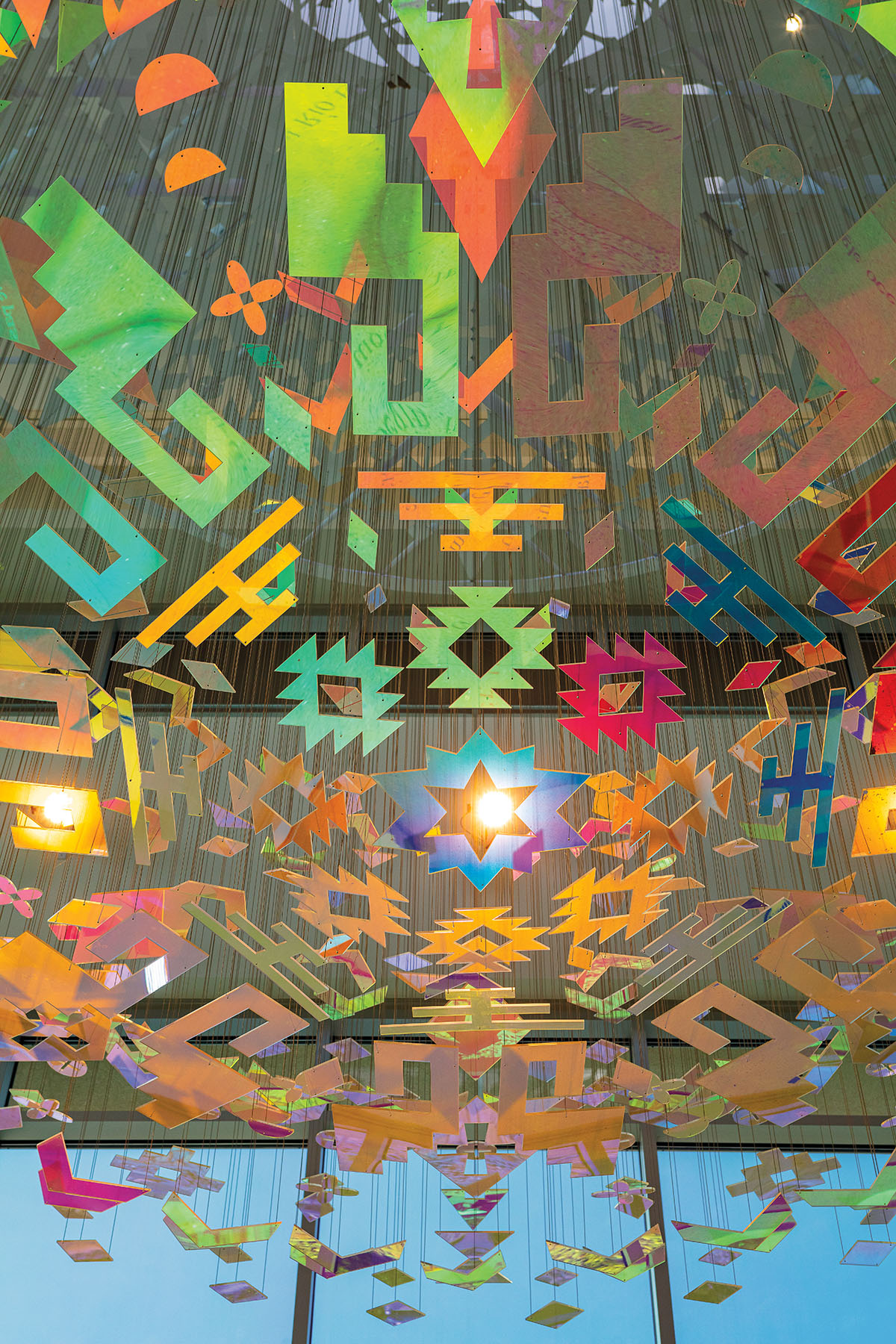 Radiance
By Shane Allbritton and Norman Lee
By ire'ne lara silva
City
in
Color
Explore El Paso through its vibrant public artworks
Photographs by Christ ChÁvez
E
Even a short drive through El Paso reveals a city that's unmistakably itself. The breathtaking vistas of the Franklin Mountains give way to colorful skies as vivid as the city's landscape, anchored by architectural gems around every corner. Italian cypresses grow fast and tall, and ocotillo blooms dot the land with bursts of crimson.
It's no wonder El Paso would be home to several brilliant public artworks. These outdoor sculptures pay homage to El Paso's landscape, history, and culture without walls or visiting hours. It's art that can be touched, seen at dawn, dusk, and in the full light of day.
El Paso's Public Art Program began in 2006, created by city council in an effort to make art more accessible and to celebrate the city's diversity. As of July 2022, the city had completed its 82nd project, with 27 more currently in progress. Recent additions include Bienvenido, a big yellow door in the middle of downtown El Paso that debuted in May 2021; and Flores Del Desierto, an installation at the El Paso International Airport that was named one of the Top 100 public art pieces in the international 2020 CODAawards, which recognizes projects that integrate commissioned art into interior, architectural, or public spaces..
"Public artworks allow people to experience art every day," says Miriam Garcia, supervisor of El Paso's Public Art Program. "The artworks are part of the beautification of El Paso and give us a sense of its culture."
While a large percentage of the artists behind each project are local, many come from all over the country. According to Garcia, the meticulous selection process involves the artists, community members, and engineers, among others. Artists are asked to contemplate art that is "relevant to El Paso culture—whether it's Chamizal, the West Side, or downtown."
For travelers, the public artworks provide an ideal avenue to explore the city. These six artworks are a noteworthy sampling of what El Paso has to offer: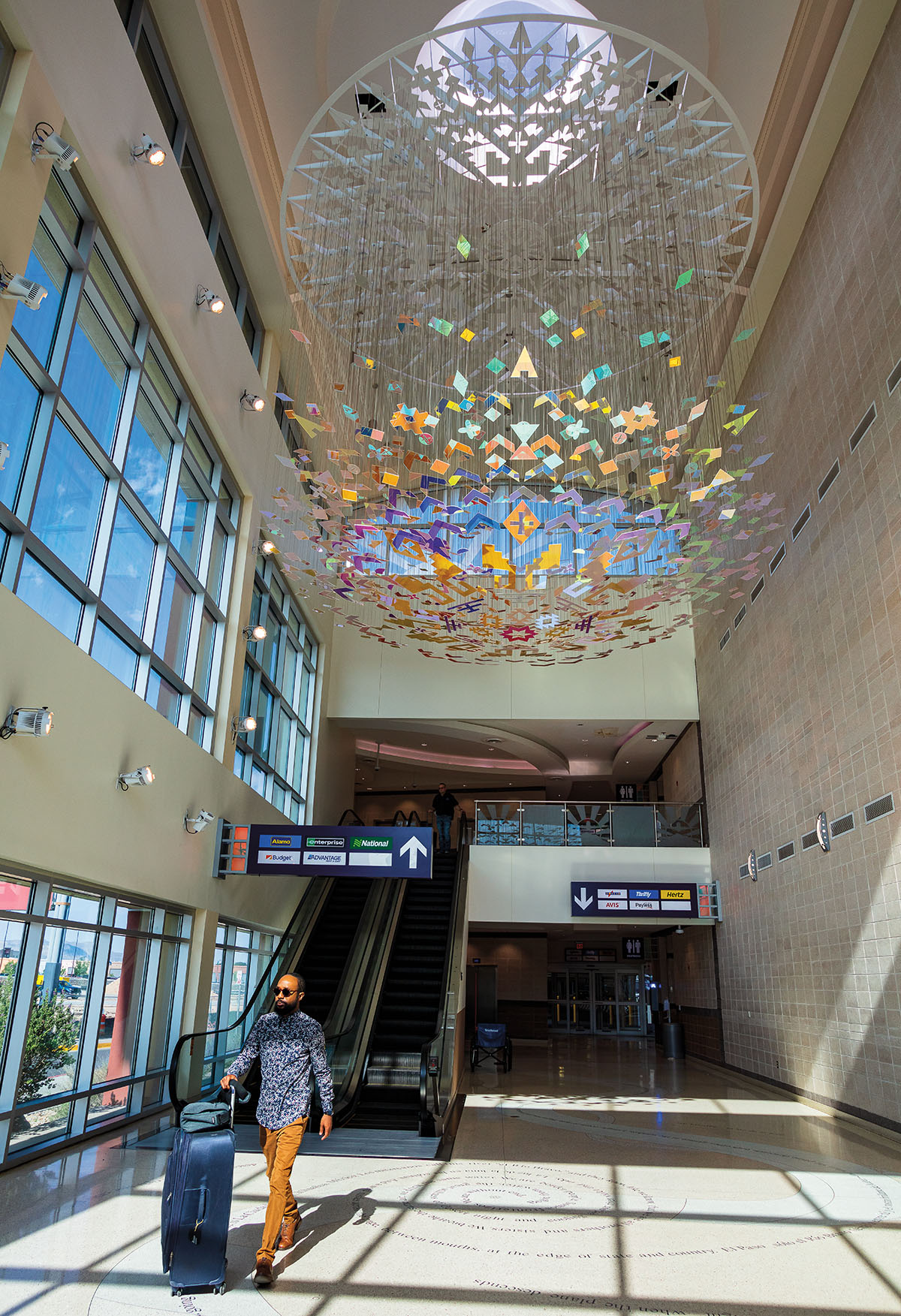 Radiance
By Shane Allbritton and Norman Lee
El Paso International Airport, 6701 Convair Road
Twenty feet wide and shot through with light, Radiance is a three-dimensional mandala by Houston-based artists Norman Lee and Shane Allbritton that welcomes travelers to El Paso's airport in stunning fashion. The artists created acrylic shapes that pull from textiles, pottery, and other crafts dervied from Mexican, Spanish, and Indigenous cultures, representing the historical inhabitants of the area. The color-changing material hangs from a steel canopy, playing with the light to imitate El Paso's sunset. "Like with all art, people bring their own interpretations and experiences to the works they encounter," Lee says. "Radiance conjures notions of the beauty of El Paso's cultural diversity and surrounding natural landscape." Beneath the structure, a swirling inscription of the poem "The River/El Rio: both Sides, No Sides" by award-winning poets and El Pasoans Bobby Byrd and Sasha Pimental caps the piece.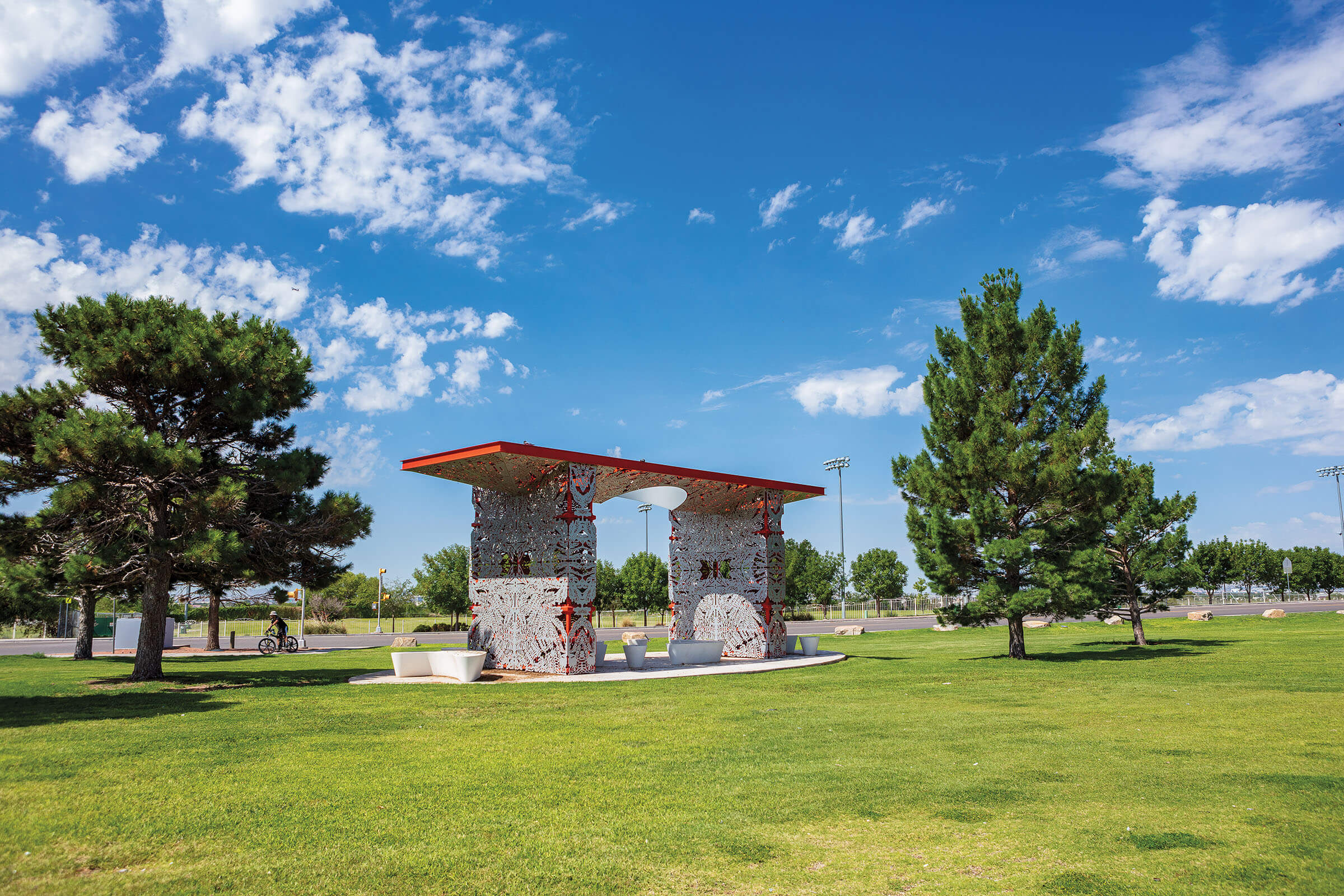 Sun Pavilion
By David Dahlquist and Matt Niebuhr
Blackie Chesher Park, 1100 N. Zaragoza Road
On bright and breezy days at Blackie Cheshire Park, where the structure Sun Pavilion casts its shade, families picnic, neighbors walk their dogs, and soccer games are punctuated by happy shouts. Here, Iowan artists David Dahlquist and Matt Niebuhr bring a piece of Hueco Tanks to passersby. Made of steel and aluminum, the installation imitates the granite hollows of the low-rising mountain-scape, incorporating Indigenous petroglyphs and pictographs found at the natural site. The cutout design is a nod to the traditional Mexican paper craft of papel picado. The artwork both stands out and blends in, inviting visitors to sit beneath it and contemplate the shapes. "The patterned shadows and colors echo faces of the past and put us together in the present, creating a special, distinctive place for Blackie Chesher Park and the community," Niebuhr says. "The Sun Pavilion is a moment in the shade, a place to meet and enjoy each other's company."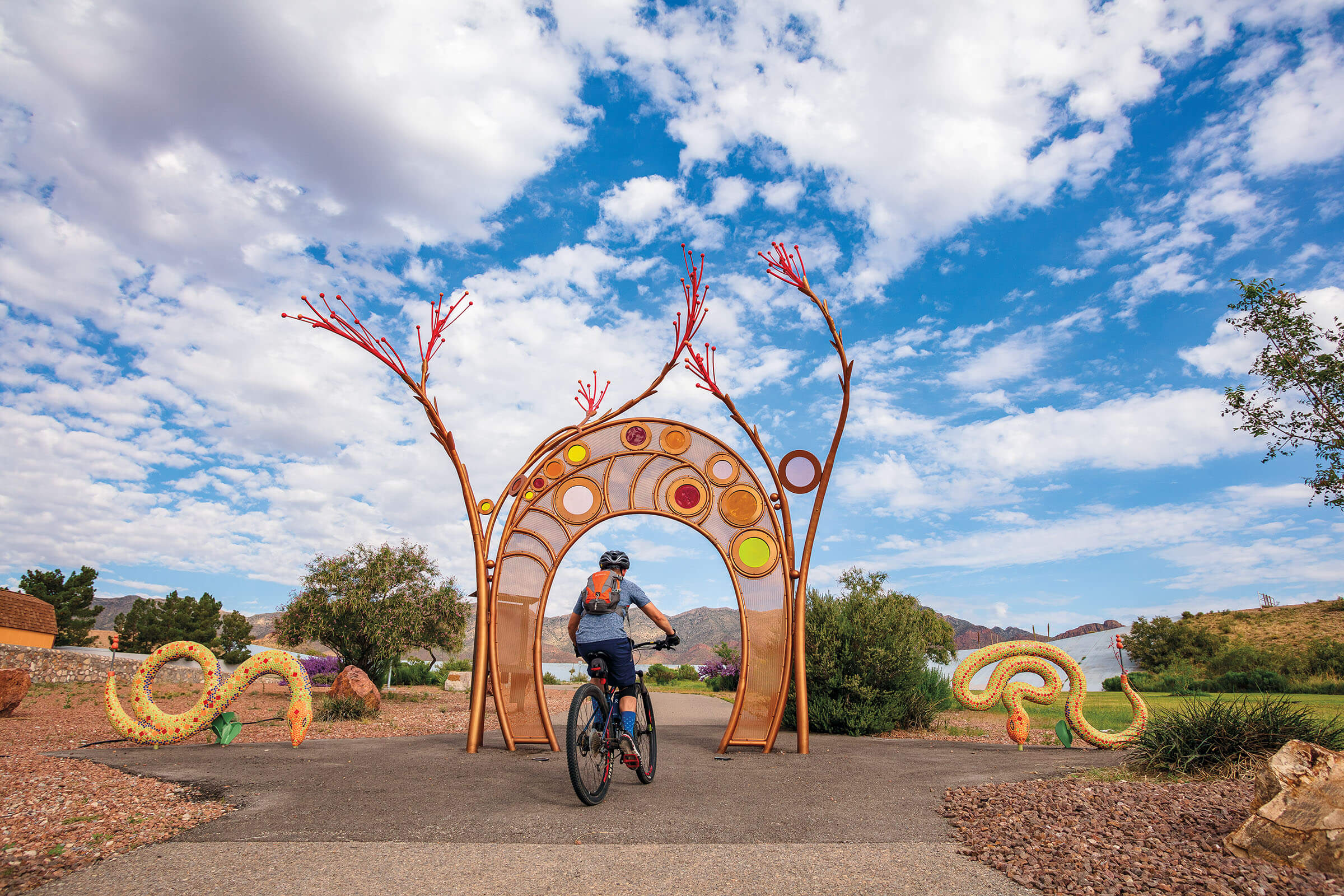 Desert Bloom
By Carol May and Tim Watkins
Chuck heinrich memorial park, 11055 Loma del Norte Drive
Forty feet across, Desert Bloom incorporates two mosaic serpents and an archway both ancient and futuristic, like an elegant version of a Star Trek time portal. "Desert Bloom is a gateway to the natural world," says Tim Watkins, who co-created the arch with fellow Brooklyn-based artist Carol May. Originally made for a children's playground that was put on hold, the structure is designed to be touched. The installation serves as one of the entrances to Franklin Mountain State Park, 27,000 acres of land that offer multiple hiking trails of varying levels of difficulty as well as opportunities for biking, mountain climbing, and camping.
Ocotillo
By Howard Kalish
Pebble Hills Roundabout, 12274 Pebble Hills Blvd.
Ocotillo is not an exact representation of the flowering plant found throughout El Paso's desert land, but it manages to convey its spareness and the thrill of its blooms. Standing at 14 feet, the structure made of steel and cast urethane feels massive when you're next to it. It's especially beautiful at night when the blooms are illuminated by LED lights. "I hope El Paso residents and visitors will see it as a beacon, visible from a distance," says creator Howard Kalish, a Brooklyn-based artist known for his public artworks, "and I hope they will appreciate its changing aspects from day to night." Ocotillo is located in an entirely unexpected spot. It's the centerpiece of the roundabout off of Loop 375, surrounded by a convenience store, a residential neighborhood, and an empty lot.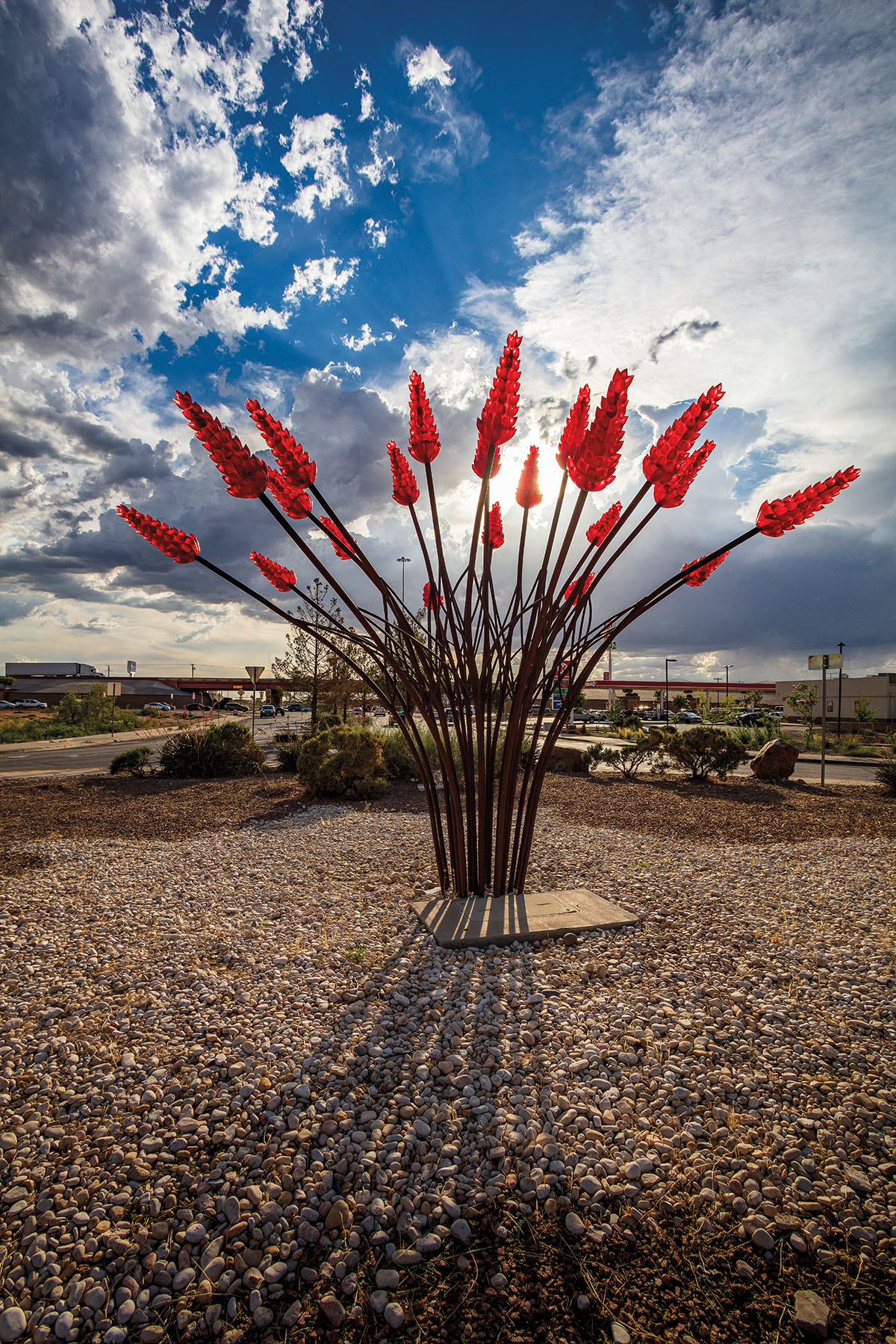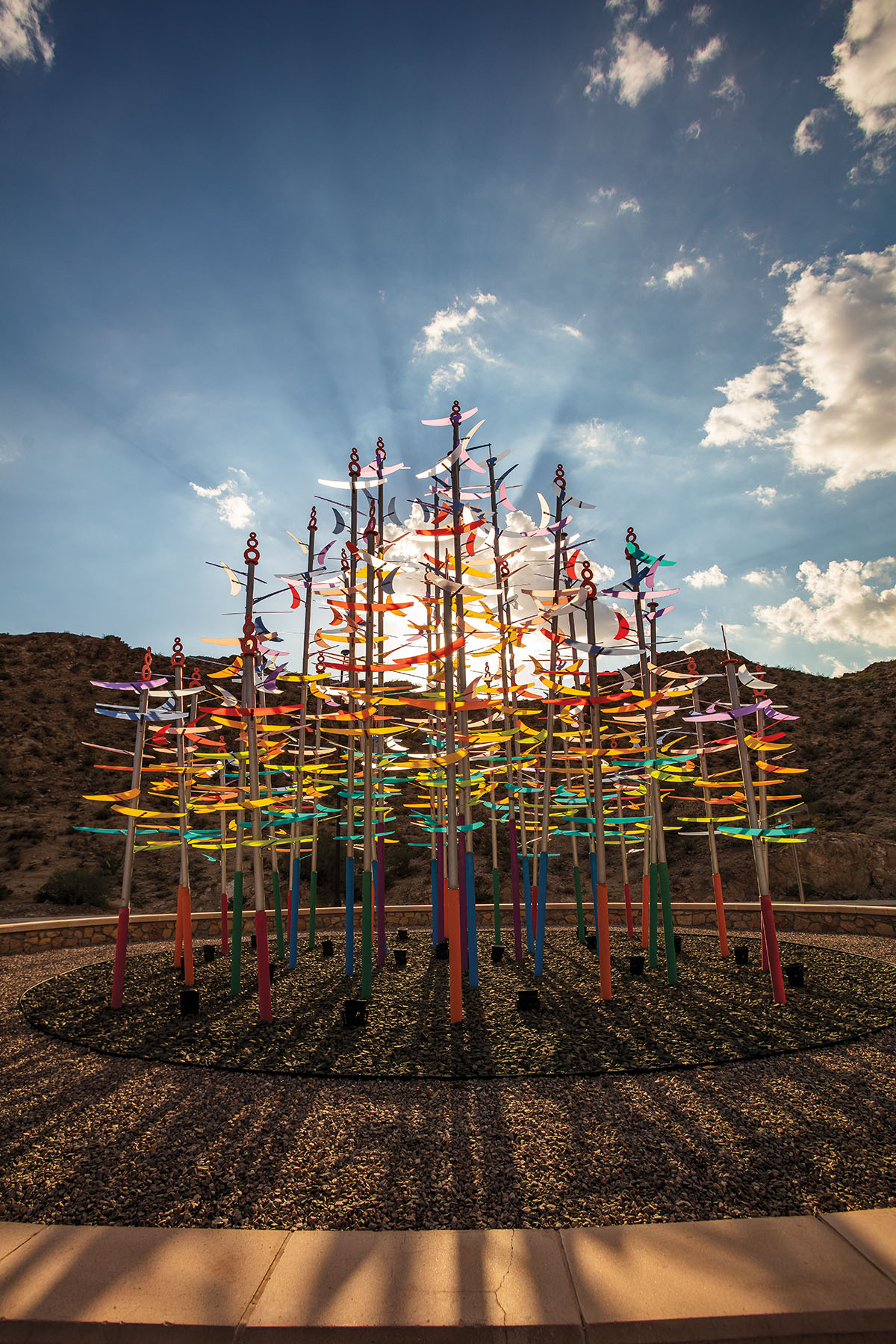 Mandala Sunrise
By Koryn Rolstad
University of Texas at El Paso, 2850 Sun Bowl Drive
Located at and sponsored by the University of Texas at El Paso, Mandala Sunrise by Seattle-based artist Koryn Rolstad is an irresistible invitation to explore the school's unique combination of Southwest cultures. The colorful structure is influenced by the sand art of monks from the Kingdom of Bhutan, the country in South-Central Asia. UTEP has a storied connection with Bhutan, channeling the country's architecture throughout campus. After visiting Mandala Sunrise, head over to the Lhakhang Cultural Exhibit to explore the Bhutanese temple gifted to the school by the isolated Himalayan kingdom.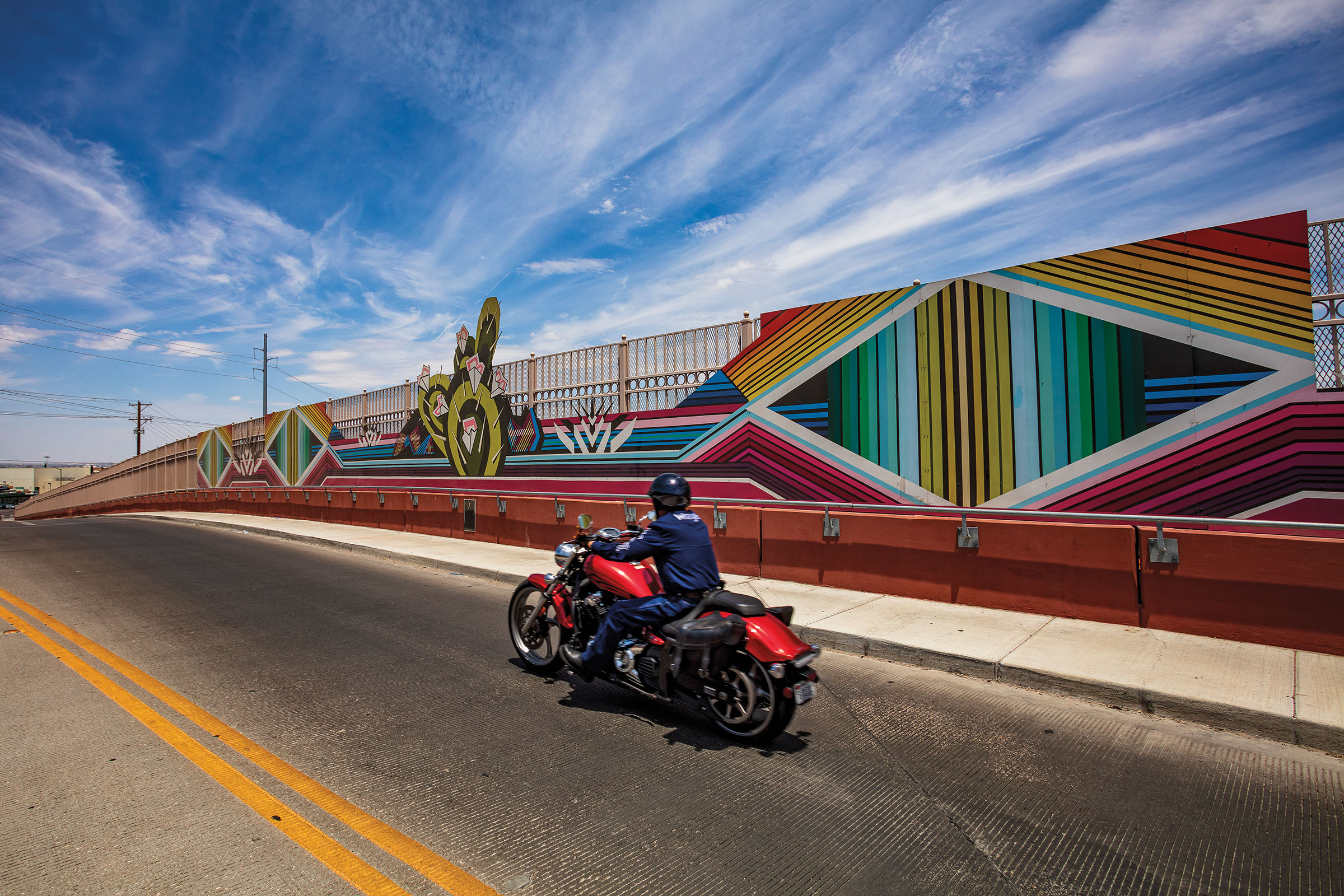 Woven Culture
By Creative Kids
Carolina Bridge, from Alameda Avenue to Franklin Drive
It's hard to choose whether it's best to see Woven Culture while driving or walking over the Carolina Bridge. A close-up view allows time to feel the textures and colors. Viewing from the car reveals the whole of it—a mesmerizing rainbow structure jutting into the sky. Along either side of the roadway, the piece includes sarape-like patterns and depictions of nopales, or prickly pear cacti. The team behind Creative Kids, a nonprofit that provides art education to youth in El Paso, created the sculpture with a group of eight children. "This piece was done to reflect the diverse and rich culture we have living on the border—hence the name," Creative Kids executive director Andrea Gates-Ingle says. "This piece offers El Paso residents and visitors a symbol that signifies building bridges of community."
From the September 2022 issue