Just northwest of downtown Houston, a sprawling complex of factories and warehouses that once churned with heavy industry now fosters a different kind of production as the home of Sawyer Yards—quite possibly Texas' largest concentration of working artists. And on the second Saturday of each month, the complex opens the doors of its 400 studios to give the public a taste of this burgeoning artistic epicenter in the city's historic First Ward.
Sawyer Yards

Sawyer Yards comprises six buildings in Houston's First Ward.
The main yard parking lot is at 2101 Winter St.
During the monthly Second Saturday event, the Silos, Silver, and Winter Street studios open noon-5 p.m.; Sabine, Spring, and Summer Street studios 2-7 p.m.; and The Market at Sawyer Yards 6-10 p.m.
The Market's hours vary seasonally.
sawyeryards.com
David Adickes' cast-concrete sculpture ART adorns the entrance of Sawyer Yards, its oversized letters hinting at the funky, creative vibe inside. Here, during the Second Saturday event, hundreds of people mill about the grounds listening to live music, lining up at food trucks, and browsing The Market at Sawyer Yards, an outdoor offering of arts, crafts, and locally made goods and goodies. Others duck into the six warehouses to check out the artists' studios. 
The Union Pacific railroad bisects the campus, a reminder of the ward's industrial history. Shifting economic fortunes brought about its decline in the late 1970s and '80s, and many of the area's once-bustling warehouses sat empty for decades. That changed in 2005 when real estate developer Jon Deal overhauled a building and opened Winter Street Studios, a collection of affordable work spaces for artists.
"It was a pretty rough area, but I thought it was one of the last great opportunities to create an arts district in Houston," Deal says. "Artists pioneer areas—I just had to go find them."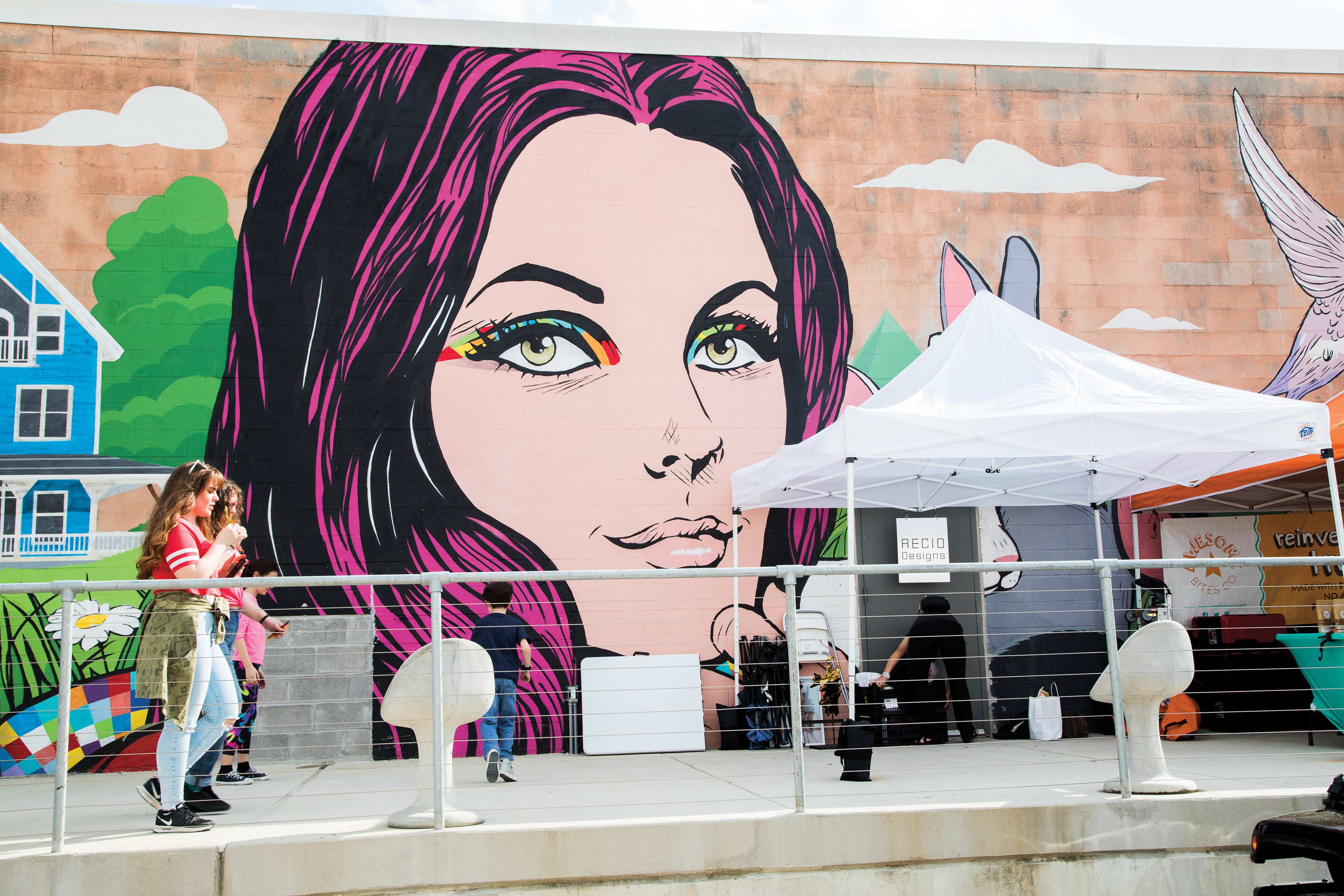 He found them, all right, and demand quickly exceeded supply. Deal's vision expanded to neighboring structures with the help of fellow developers Steve Gibson and Frank Liu. Spring Street Studios followed in 2010, Silver Street Studios in 2013, the Silos in 2015, and Summer Street Studios in 2017. Yet another, Sabine Street Studios, launched in April. 
On second Saturdays, visitors can wander from one building to the next and meet fascinating artists along the way. Painters, sculptors, photographers, and jewelry-makers inhabit the maze of spaces, along with artists working in mosaic, metal, ceramic, and glass. Their studios showcase a spectrum of styles, from figurative to abstract and some that defy categorization, such as Ruben Salazar's kaleidoscopic displays of framed and artistically arranged butterflies. Other inventive creations include Barbara Jackson's graphic black-and-white painted paper sculptures and Monique Weston's found-object jewelry, including old watch faces and hands turned into delicate earrings and necklaces pieced together from flute keys.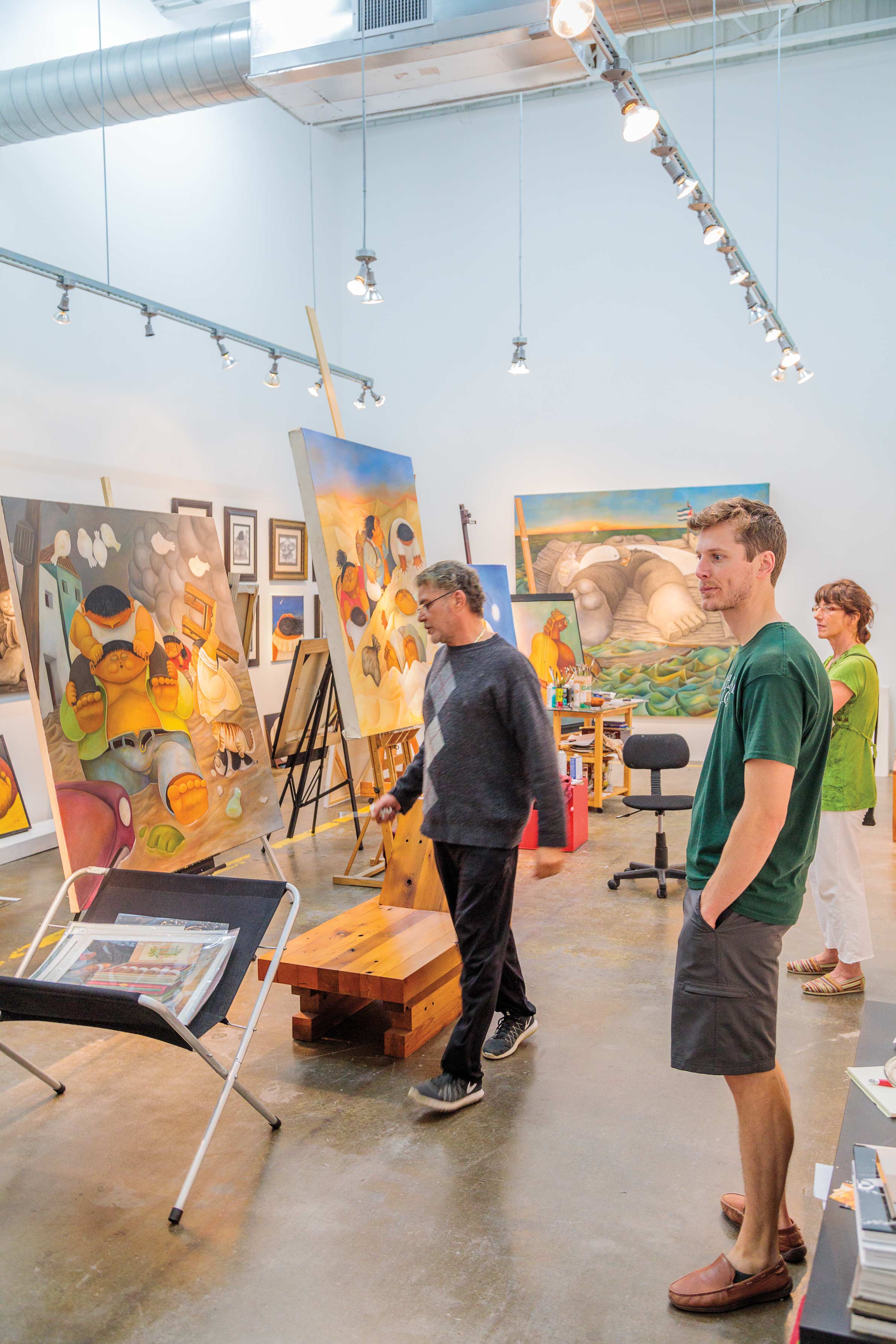 Sawyer Yards' hub is a central courtyard encompassing a stage for live music, picnic tables, and a rotating cast of food trucks. One regular dining option is Falacos, which dishes up falafel balls in unusual-yet-delicious taco concoctions. Mitch Cohen, producer of The Market at Sawyer Yards, has booked the musical acts—a recent Saturday featured the husband-and-wife duo Grifters & Shills playing folksy Americana tunes—and wrangled the food trucks since the market started in May 2016. Separate from the artists' studios, the market comprises two long rows of tented booths. The Market vendors offer wine, tea, handcrafted jewelry, carved-wood cutting boards, succulents, macramé, and printed T-shirts and cards with clever designs, to name just a few.
"We went from 30 exhibitors to 60 in less than a year," Cohen marvels. "I started it as a makers' market with folk art and curated crafts. Our focus is primarily on food and artisan crafts made by the person you actually meet. There's everything from Bundt cakes to pacifier clips, crochet monsters, shaving equipment, candles, and soaps. I have a guy who makes magic wands, but you have to bring your own magic." 
The rapid growth of Sawyer Yards has led brick-and-mortar businesses to set up shop in the district as well. Among them are microbrewery
Holler Brewing Co., dance school Love Dance Houston, and Momentum Indoor Climbing gym. "The end goal is to create a cultural destination, for locals and tourists alike," Deal says, and Second Saturday is a big part of that effort.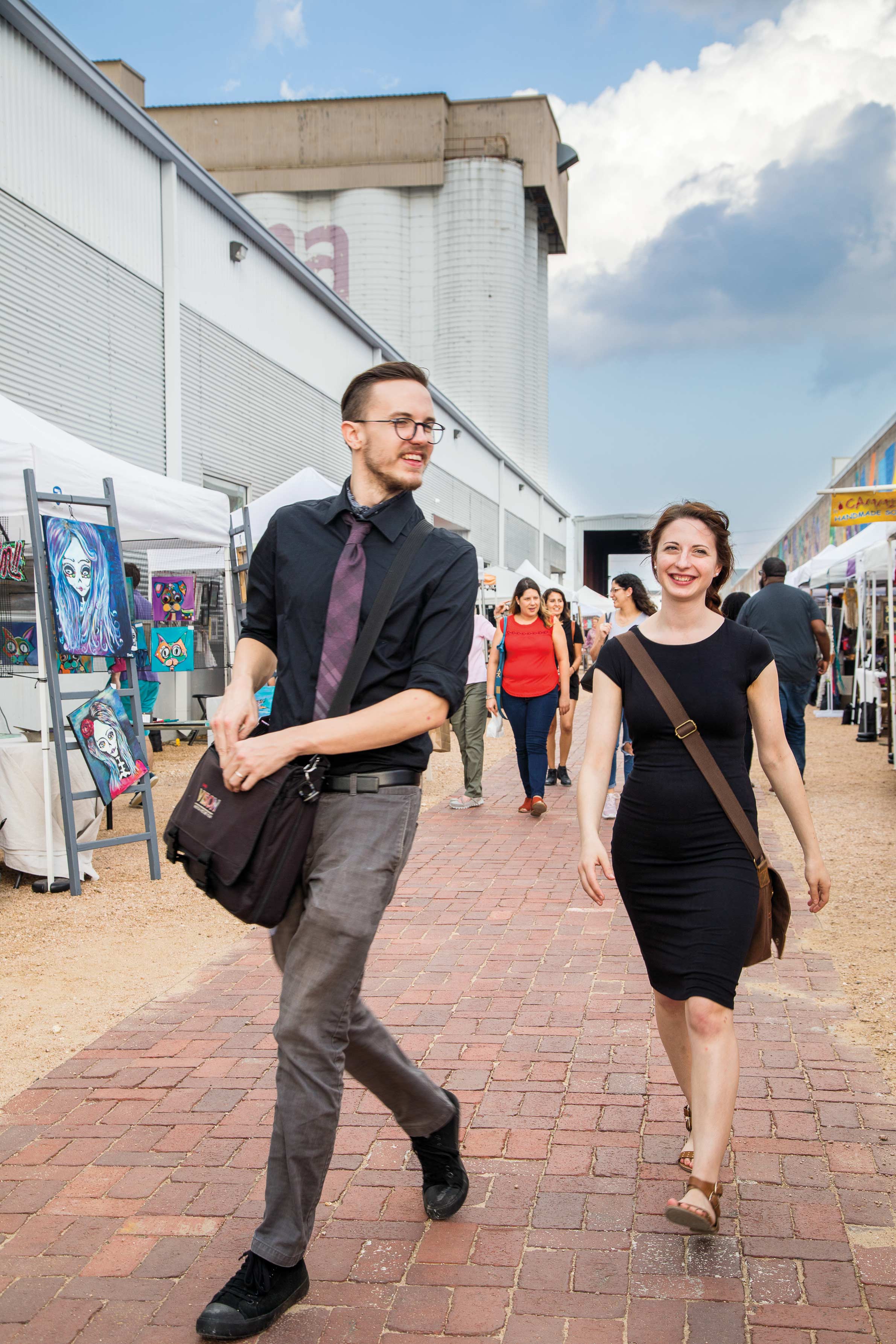 Artist Katherine Stewart attests to the event's success at raising Sawyer Yards' profile. She occupies a studio in the Silos, where she uses two onsite kilns to mold colorful glass sheets into bowls, trays, jewelry pendants, and wall hangings. During Second Saturday, she regularly receives about 200 visitors. 
"The women always look to buy, and the men always want to know how I did it," she chuckles. "Some people come time and time again. There are six buildings and hundreds of artists. If you want to stroll around and see everything and meet everybody, you just can't do it all in one day." 
Ultimately, Second Saturday at Sawyer Yards deserves a second look—and probably more. 
From the August 2018 issue