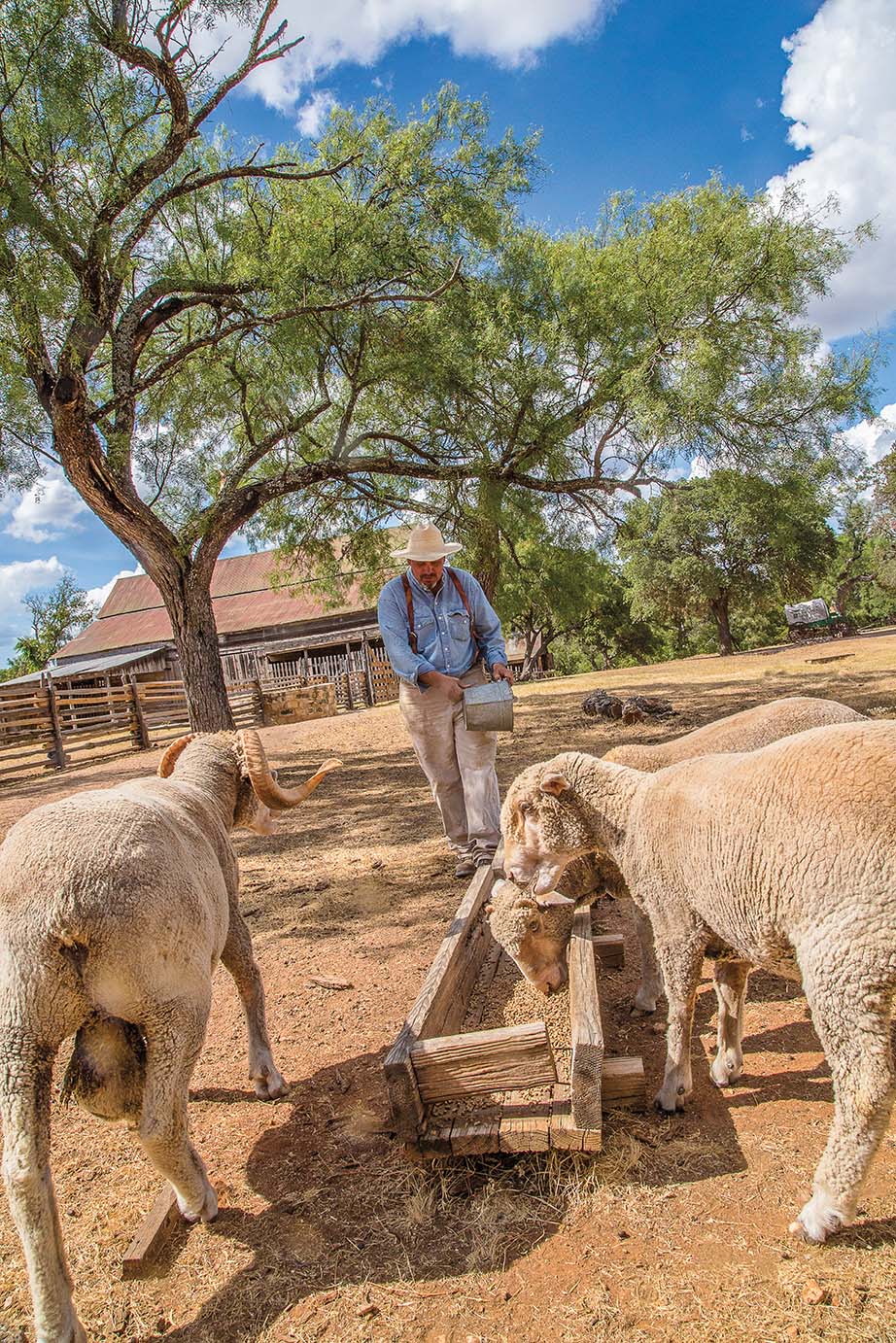 Germans who visit Texas are often surprised to discover the depth of their homeland's influence on the Lone Star State—the cities with German names, Oktoberfest traditions, and business signs printed in the fraktur lettering of the Old World. In fact, thousands of Germans moved to Texas during the mid-1800s, bringing their culture and traditions with them, but few know this German influx can be traced to one man. A settler named Johann Friedrich Ernst, an enterprising swindler, would never have dreamed of his eventual legacy in the New World.
In April 1831, empresario Stephen F. Austin issued a league of land to Ernst, an immigrant from the Duchy of Oldenburg. Though the land grants in Mexican Texas were free, the recipients had to be married men, and Austin had to vouch for the character of his colonists. Ernst, who had a wife and five children, seemed to fit the bill. What Austin didn't know was that Ernst's name was really Dirks, his money was embezzled from the Oldenburg post office, and he was on the lam from the duke's police.
No matter—it was common for fugitives to reinvent themselves in Texas. Ernst took his grant in the northern reach of Austin's colony, between the present cities of La Grange and Brenham, arriving in high spring when the rolling prairies were blooming with wildflowers. The Ernsts made a go of it, and the following February he wrote a letter home, describing the new land: "A father of a family … receives on his arrival … a small kingdom. … The expenses for the land need not be paid immediately. … Climate like that of Sicily. The soil needs no fertilizer. No winter, almost like March in Germany. Bees, birds, and butterflies the whole winter through. … Meadows with the most charming flowers. … Scarcely three months work a year. No need for money, free exercise of religion.
"Ernst's letter landed like a bombshell when newspapers published it through-out the patch-quilt of German states, which were rife with political discontent and economic depression. German peasants, merchants, even minor nobility, began to sell out, pack up, and head for the ports of Hamburg and Bremen. Ernst sponsored these new arrivals, supplying them with goods and lending them money. On the 4,400 acres of his own league, he founded the town of Industry, sold lots to newcomers, and became—surprise!—the postmaster.
Ernst's stone post office survives, standing in Industry's quiet little Ernst Memorial Park. Its rock-solid walls mark a German-Texan approach that came to annoy the resident Americans, who were satisfied with their drafty log cabins. "The Germans didn't care if it took two or three years to build something," says Daniel Koennecke, a historical interpreter at the Sauer-Beckmann Living History Farm in Stonewall. "They built to last."
German dukes and princes were initially alarmed at their countrymen's flight to Texas. But Adolph, Duke of Nassau, saw it differently. He realized that if the nobility sponsored the immigrants, they could develop a foreign market for German products and sow the seeds of empire. At Adolph's opulent Biebrich Palace near Wiesbaden, the Adelsverein, or Society for the Protection of German Immigrants in Texas, gathered in March 1842 and enacted a plan that would finance German emigrants to Texas and eventually secure more than 3 million acres in the republic.
Three hundred German families came in the first wave. Carl, Prince of Solms-Braunfels, led the initial contingent. Dashing and adventurous, the 32-year-old prince had been reading avidly about Texas. The project began with enormous optimism, but quickly fell apart. The first ship reached Texas in November 1844. "The journey here was awful," explains Keva Hoffmann Boardman, curator of the Sophienburg Museum in New Braunfels. "The holds of cargo ships were crowded with tiny cubicles for passengers."
From Galveston, they sailed on to the west shore of Lavaca Bay, where Carl founded a new port he named Carlshafen (later known as Indianola). Out of money and supplies because the prince was a terrible manager, and realizing their land grant lay hundreds of miles away, between the Llano and Colorado rivers, the settlers started walking inland. Immigrant diaries reveal a death march: Hundreds, possibly thousands, perished of disease and malnutrition.
Realizing they couldn't make it far, Prince Carl purchased 1,100 acres north-east of San Antonio and named the new town New Braunfels. "The first orphan-age in Texas was organized in New Braunfels to care for the children of those who died en route from the coast," Boardman says. Artifacts such as dolls and toys from that orphanage are on display in the Sophienburg Museum.
Prince Carl reserved for himself a hilltop on which he planned to build the Sophienburg ("Sophie's fortress"), a combination house and fort for himself and his fiancée, Princess Sophie of Salm-Salm. But he didn't last. The Adelsverein's finances were wrecked, the colonists resented Carl's insistence on maintaining royal protocol, and worst of all, Princess Sophie refused to leave Germany. So, Carl returned home. His New Braunfels hilltop, however, now houses the Sophienburg Museum.
Management of the Adelsverein passed to Baron Ottfried Hans von Meusebach, also age 32, who proved to be more suitable for the job. Unlike Carl, Meusebach renounced his noble titles and arrived in Texas as John O. Meusebach. His principal task was to move the Texas contingent onto their distant land grant before it expired. This required securing a treaty with the Comanche who lived there. Ignoring Texas authorities who warned him of the danger, Meusebach led colonizers into the Hill Country and founded the town of Fredericksburg—named for Prince Frederick of Prussia—80 miles west of Austin, in May 1846.
Willkommen
Historic German settlements across the state interpret the heritage of 19th-century German-Texans.
The Sophienburg Museum and Archives in New Braunfels preserves and displays immigrant stories and historical photos of New Braunfels and Comal County. sophienburg.com
The Ferdinand Lindheimer House in New Braunfels contains exhibits about pioneering botanist Lindheimer, who settled in Texas in 1844. He's credited with identifying hundreds of new plants in Texas, including prickly pear cactus, mesquite, and milkweed. The house displays the printing press Lindheimer used to print Texas' first German-language newspaper, the Neu-Braunfelser Zeitung, starting in 1852. newbraunfelsconservation.org
The Pioneer Museum in Fredericksburg collects artifacts, including nine historic structures, chronicling Gillespie County history. pioneermuseum.net
The Sauer-Beckmann Farm, at the Lyndon B. Johnson State Park & Historic Site in Stonewall, interprets German farming life in early Texas. facebook.com/sauerbeckmann
The German Free School in Austin opened in 1858 and now houses the German Texas Heritage Society, which maintains an active schedule of classes and events. germantexans.org
German Turnvereins served as gyms, dance halls, and social centers. In Bellville, an elaborate, 12-sided frame structure from 1897 now serves as a municipal pavilion. bellvilleturnvereinproject.org
One year later, six Comanche chiefs rode peaceably into town and signed a treaty of friendship and cooperation. The Comanche regarded Americans as treacherous, but they were willing to work with Meusebach, impressed by his flaming red hair, his candor, and the fact that he wasn't American. Infractions occurred now and then, but the treaty has been hailed as one of a very few between Anglos and Native Americans that was upheld by both sides.
Meusebach's success angered long-resident Texans, for they had fought the Comanche since President Mirabeau Lamar declared war in 1839, and only recently—thanks to the advent of repeating pistols—had started to take the upper hand. Fredericksburg thrived, and from there more new communities, such as Castell on the Llano River, were founded farther into the Hill Country. This history is presented in Fredericksburg's Pioneer Museum and in the reconstructed octagonal Vereins Kirche (society church) on the town square.
The lifestyle of these frontier settlers continues today at the Sauer-Beckmann Living History Farm at Lyndon B. Johnson State Park & Historic Site in Stonewall. Docents in period dress maintain traditional German practices of animal husbandry, vegetable gardening, and dairy, and smokehouse operation. From the time when Americans arrived in Texas, they basically grew corn for food and cotton for cash. The Germans tended to diversify more readily. "They worked hard," explains farm manager Hannah Kellogg, "and had their eye open for any crops they could adopt, such as okra." The German settlers kept to themselves for decades and showed little interest in assimilating, leading many of their American neighbors to resent them. "Sometimes when you are successful, it can make people jealous," Kellogg says. Germans also disliked slavery, and that caused additional tensions.
By 1860, more than 20,000 Germans called Texas home. As much as their sheer numbers, their cultural, scientific, and educational advancements enriched Texas in innumerable ways, from bratwurst to biergartens, nine-pin bowling, classical music, and even county fairs. It's enough to make German tourists depart Texas with a sense of accomplishment.
From the March 2021 issue