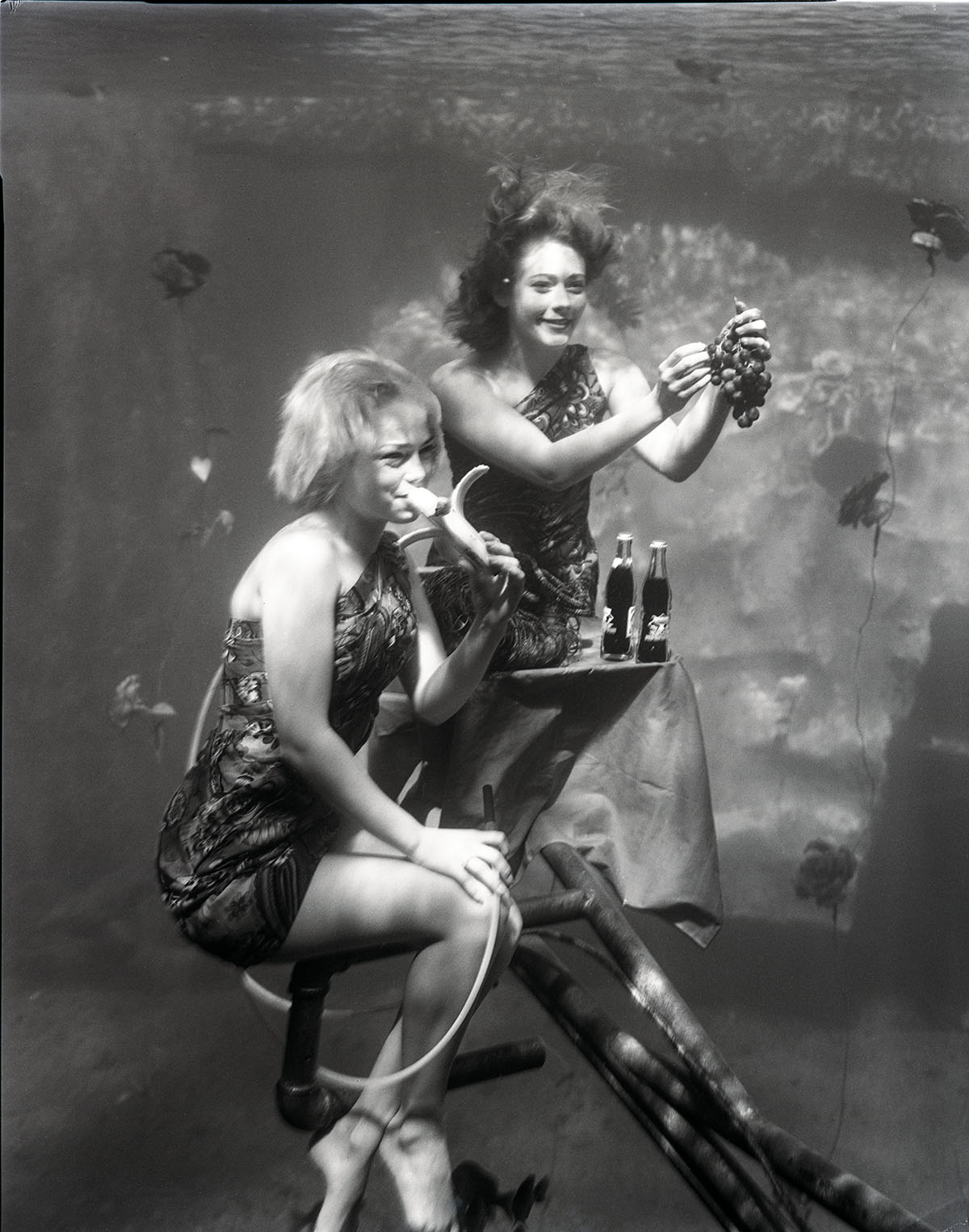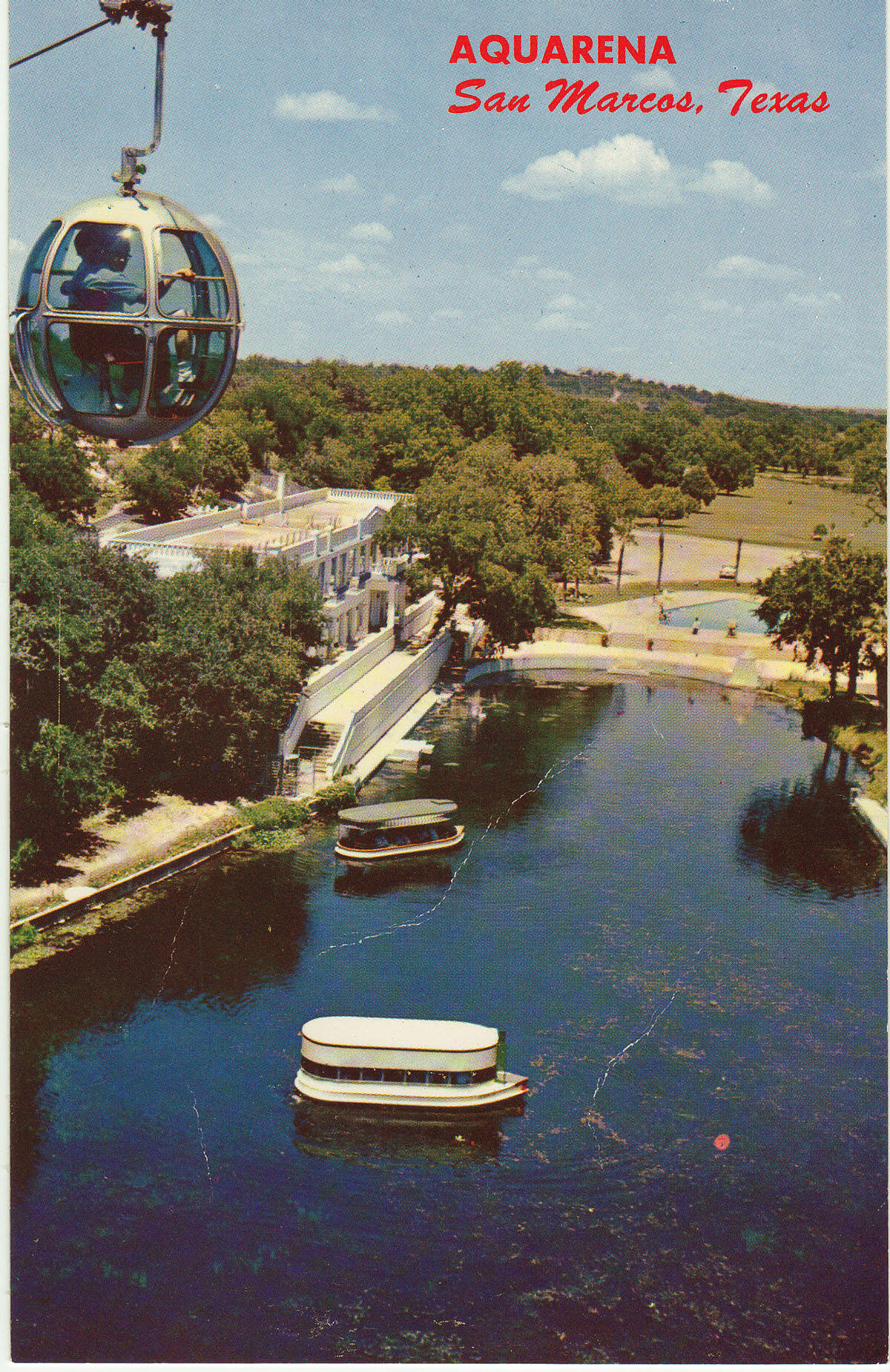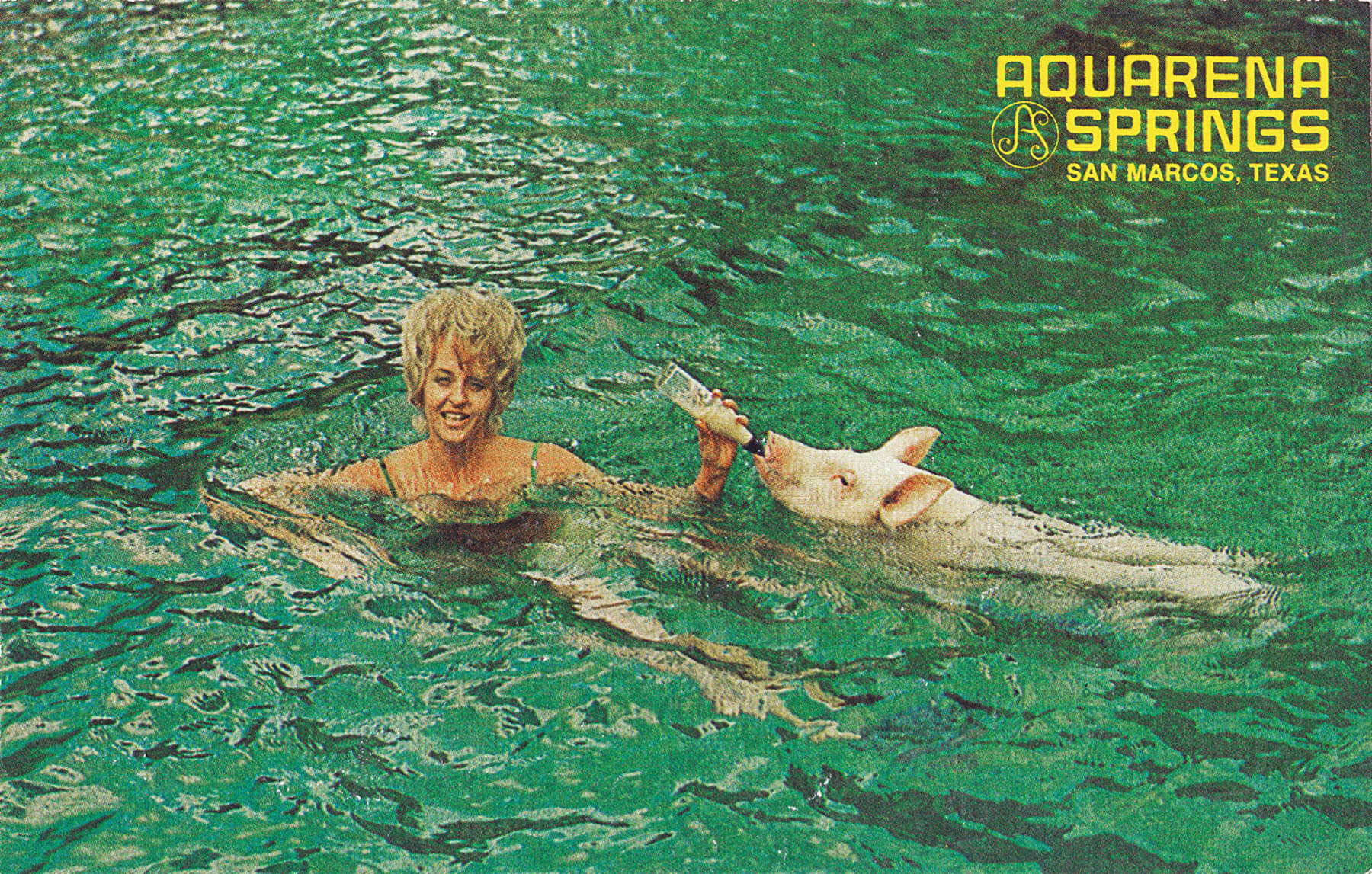 Spring Lake has attracted humans for millennia, its plentiful fresh water providing relief for indigenous Clovis people, Spanish explorers, and Texas cattle drovers. But most people wouldn't know about the San Marcos natural treasure if not for a more recent chapter in the lake's history, when mermaids, clowns, and a swimming pig named Ralph frolicked there.
Spring Lake transformed during the heyday of Aquarena Springs, an amusement park that operated there from 1950 to 1996. The park's underwater theater has since been removed, along with the fiberglass volcano that served as a dressing room for performers, the tic-tac-toe- playing chicken, the soaring gondola, and other vestiges of what once was one of the biggest commercial tourist attractions in Texas.
"All of our friends in San Marcos worked at Aquarena Springs," said Mary McBeth, 70, who wore a ruffled blue leotard in her role as an Aquamaid in the 1960s. "We made $3-something per show, and when people called us 'mermaids,' we always corrected them."
Experts peg this spot, where the San Marcos Springs form the headwaters of the San Marcos River, as one of the oldest continually inhabited sites in North America. Artifacts excavated in the 1970s and '80s indicate humans have lived here for more than 12,000 years. Spring Lake's current steward, Texas State University's The Meadows Center for Water and the Environment, explores this history as part of its conservation and research mission.
Perhaps the most colorful chapter of the lake's story began in 1924, when embalmer A.B. Rogers, who ran a furniture and coffin store in downtown San Marcos, bought land along the San Marcos River and opened a small hotel a few years later. In 1946 he added glass-bottom boats so guests could spy on turtles, spotted gar, and undulating aquatic grasses.
In 1950, A.B.'s son, Paul Rogers, took over operations. He dredged a portion of the lake to install a 125-seat submarine theater for a new park modeled after Weeki Wachee Springs in Florida, where women dressed as mermaids performed in crystal-clear water. After guests filed into Rogers' theater, the structure would submerge into the water, giving them a glimpse of a swimming clown named Glurpo and Aquamaids who stayed underwater by taking sips of air from a long rubber hose.
Shirley Rogers, Paul Rogers' daughter, was one of the first to perform in the show in the 1950s. "I had seen the mermaids in Weeki Wachee Springs when I was in my early teens," Shirley recalled. "I said, 'I'm going to do that one day.'"
She spent a summer as an Aquamaid, twirling amid the metal lily pads that served as underwater picnic tables during the show. "Once you conquered the breathing and being able to control your position in the water, it was easy," she said. "But you really had to practice. If you took in too much air you'd rise to the top; if you didn't take enough, you'd sink to the bottom."
Occasionally, marine life disrupted the performance. "I had a dark mole on my back, and once as we were performing, one of those little perch came up and bit me and it started bleeding," Shirley said. Suddenly swarmed with curious fish, she tried to nonchalantly shoo them away with her air hose.
A gondola named The Swiss Sky Ride began carrying people across the lake in 1963; a second, 300-seat underwater theater opened in 1972; and the Sky Spiral, a rotating observation tower on a 220-foot spire, debuted in 1979. Visitors could drop a coin into a contraption at the arcade and watch a live chicken play tic-tac-toe, or take in a Wild West shootout at Texana Village, where 24 alligators were also housed. (A flood in 1970 washed them out of their enclosure and down the river; they were recaptured—along with an extra gator.)
Wooed by the waters—and, perhaps, the Aquamaids—visitors flocked to Aquarena Springs, making it the top commercial tourist draw in Texas in the 1950s and '60s, according to the Meadows Center. Life magazine ran a story about an underwater wedding held there in 1954. The underwater theater inspired a feature story in Popular Mechanics in 1952. And in 1967, high-profile TV journalist Charles Kuralt included Ralph the Swimming Pig in his On the Road program.
The underwater shows were always the biggest attraction. Each performance featured an appearance by Glurpo and the Aquamaids, who nibbled celery sticks and drank from pop bottles filled with fruit punch because carbonation caused problems underwater.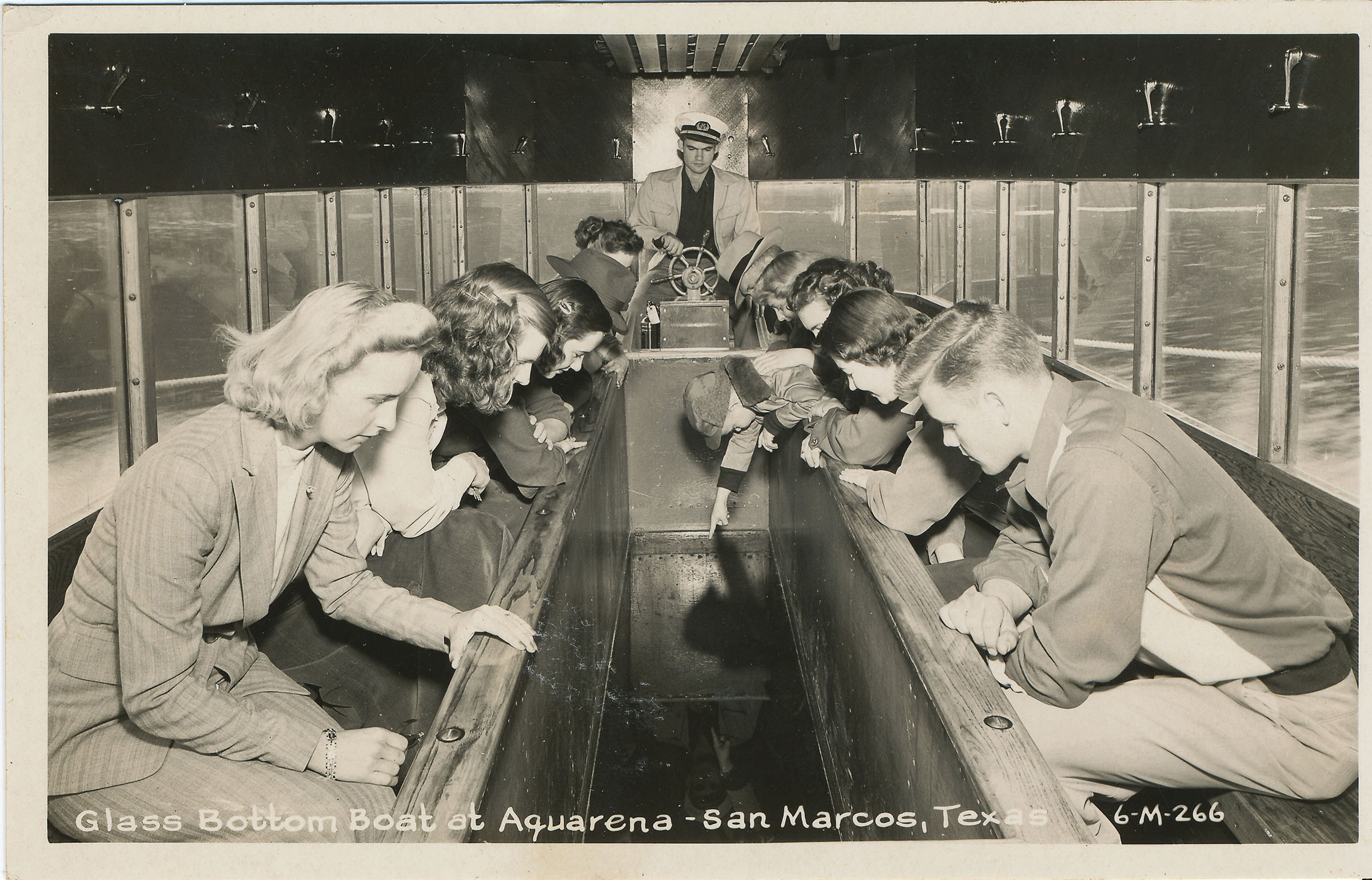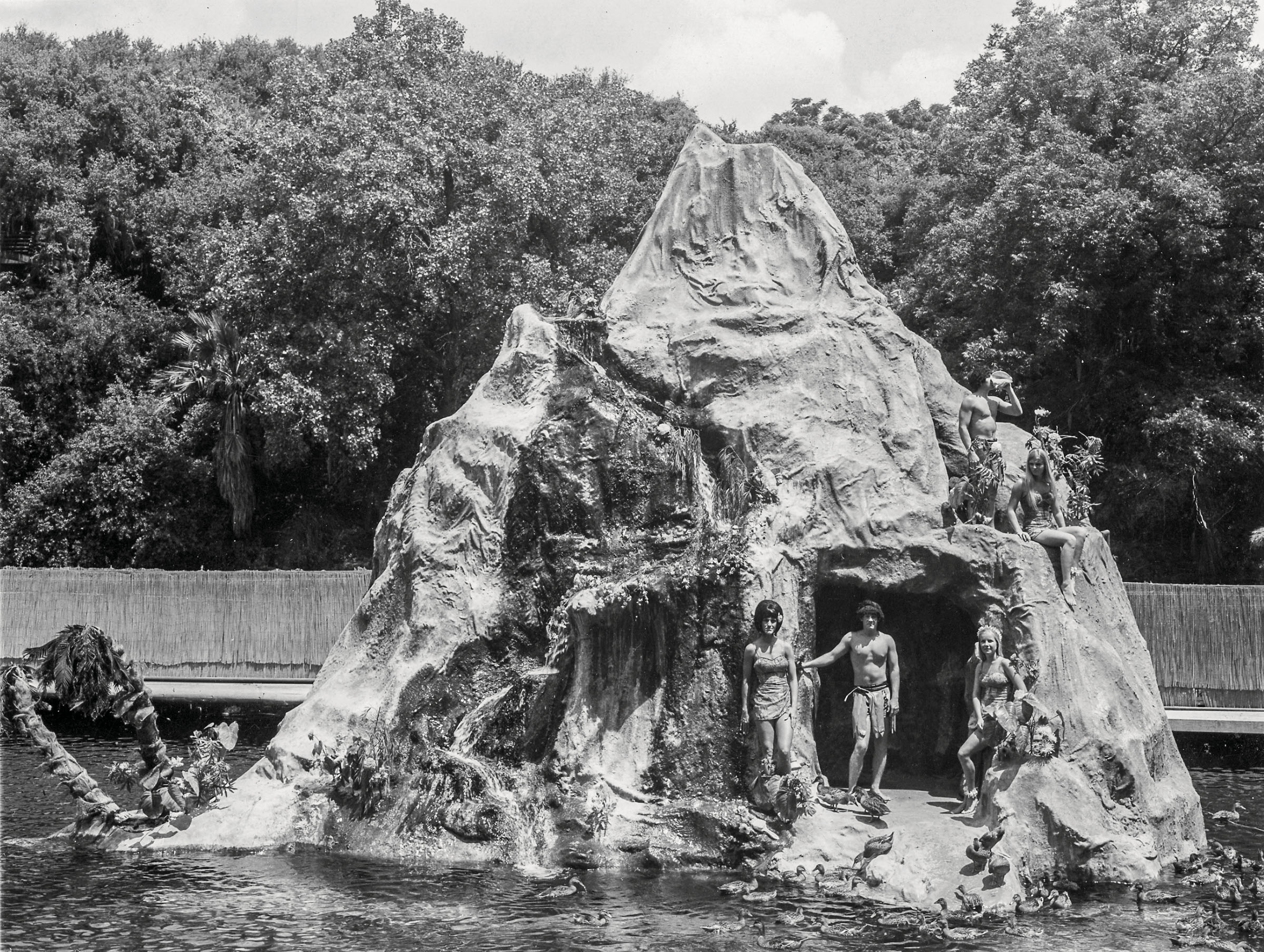 During her first performance as an Aquamaid, Beverly Posey Morrison got nervous. "I kept swallowing air and got a huge air bubble in my belly," said Morrison, who's now 73. She burped up her drink, and a purple cloud formed around her, prompting her boss to write up the infraction. (Aquamaids also got in trouble if any part of their body breached the surface.)
But the Aquamaids loved the job. Between shows, they'd sunbathe on a deck behind the underwater theater. "Boats would go by, and you'd wave and feel like a celebrity," McBeth said. To this day, the city of San Marcos has a special affinity for mermaids, hosting an annual Mermaid Capital of Texas Festival and exhibiting mermaid-themed artwork around town.
Aquarena Springs welcomed more than 350,000 people a year at its peak. But as new amusement parks like Six Flags Fiesta Texas opened, the San Marcos park's appeal waned. The days of paddling porkers and marvelous mermaids were numbered, and in 1994, Texas State University acquired the property. The last traces of the old amusement park, including the submarine theaters and the Sky Spiral, were carted away in 2012.
These days, the Meadows Center protects Spring Lake as a natural site with interpretive exhibits and walking trails in the adjacent hills. But two prominent relics of Aquarena Springs remain. A.B. Rogers' 1920s hotel has been renovated to house the center's offices. And the center offers tours on the park's old glass-bottom boats, providing perspective on a pristine underwater world that's plenty magical in its own right
The Mermaid Capital of Texas Festival in San Marcos includes a fashion show, parade, street fair, and other events. Sept. 11-25. mermaidsocietysmtx.com.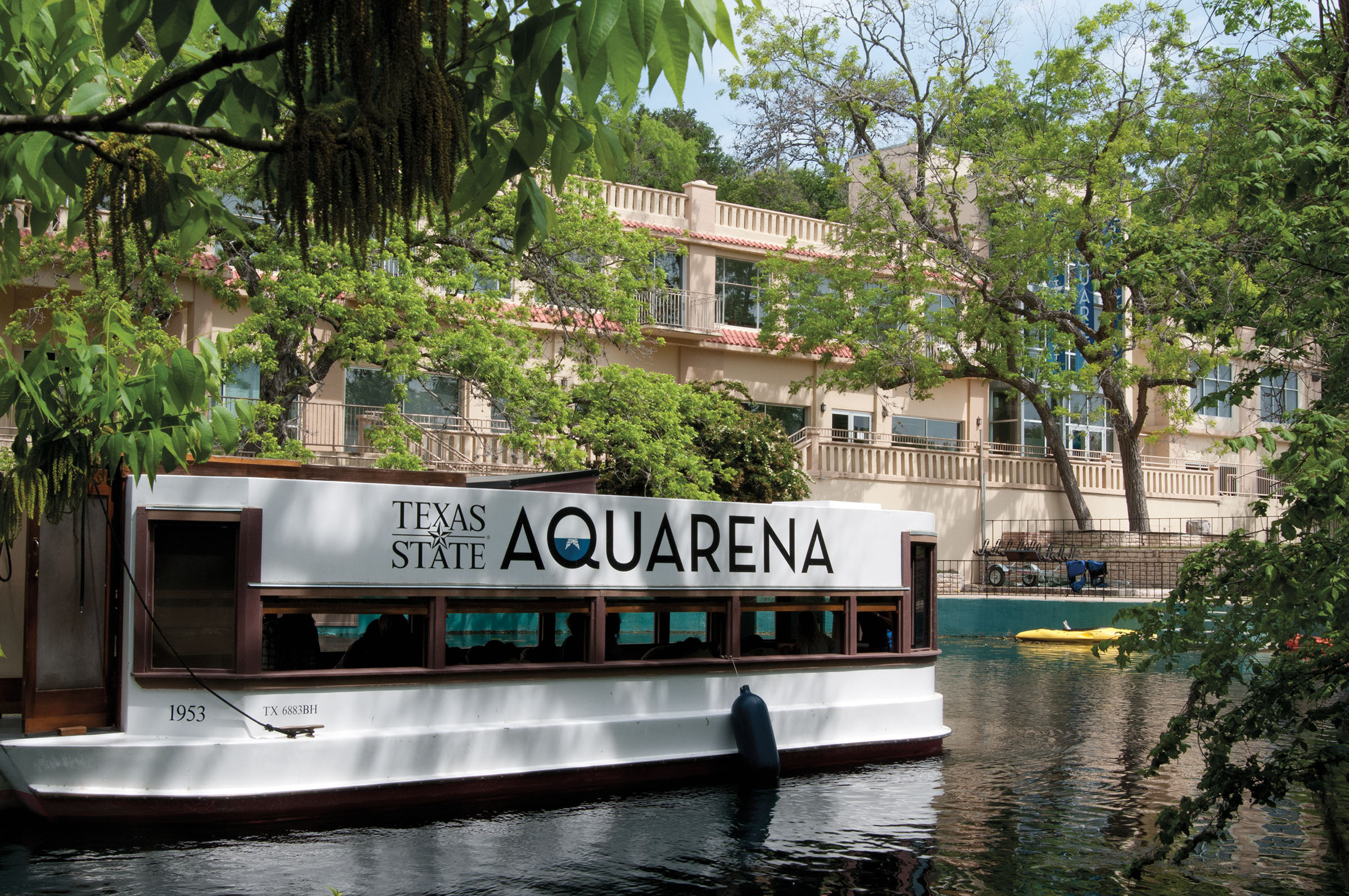 The Oasis of Spring Lake
Southwest Texas State University (now Texas State University) purchased Aquarena Springs in 1994, launching a new era for Spring Lake dedicated to aquatic resource management.
The Meadows Center for Water and the Environment has trained about 2,000 volunteers over the years to measure water quality around the state. "We help communities protect their watersheds and do extensive research on the environmental aspects of water," said Andy Sansom, the center's former director, who now works part-time at the center and as a geography professor. "We're also becoming a major facility in Texas for the study of climate change."
When it opened, the center, with help from a Texas Parks and Wildlife Department contribution, donated 40,000 acre-feet of water (1 acre-foot equals the amount needed to cover an acre a foot deep, or about 326,000 gallons) from San Marcos Springs in perpetuity for environmental purposes. "That means that water will flow uninterrupted into San Antonio Bay to nourish the estuary," Sansom explained.
The university opens Spring Lake Park to visitors daily for hiking along a boardwalk and trails. A.B. Rogers' historic hotel now houses offices for the center's 71 employees, as well as an exhibit that highlights the eight endangered or threatened species—including the fountain darter and Texas wild rice—that live in the springs.
About 120,000 people, mostly schoolchildren, visit the center each year. Five of the original glass-bottom boats have been renovated and are still used for tours. And each June, paddlers line up in Spring Lake for the start of the 260-mile Texas Water Safari canoe race.
"It's absolutely beautiful," Sansom said. "There are very few places where you can see water this sensationally clear."
---
The Meadows Center is at 201 San Marcos Springs Drive in San Marcos.
meadowscenter.txstate.edu
From the August 2021 issue