If you want to feel like Texas royalty, get fitted for custom boots at M.L. Leddy's. Like a king or queen on a throne, you kick back in an engraved leather chair in the back of the Fort Worth shop while Raz —he prefers his first name only—focuses on your feet. In his cowboy hat and well-oiled ostrich-skin boots, the 18-year veteran of the shop's Stockyards location wraps measuring tape around the instep, the heel, and the ball of the foot with steadied precision.
"One of the first things I try to get people to do is come in and look around," Raz explains against a backdrop of shelves stacked with hundreds of boots—all varied in color, stitching, and design—that serve as imagination prompts. "It's like you tell your husband you want to buy a brand-new white Camaro with a red interior. He says, 'OK, I have one right here you can look at.' And then you say, 'Oh, maybe that red is a little much.' You have to see boots up close to know what you really want."
As Raz measures my feet, a wall-mounted bison head gazes down on this sacred Texas ritual. When Raz traces a person's feet two times in one of Leddy's red leather-bound ledgers—once while standing and once while sitting—something momentous is happening. Not only is the customer on their way to boots that fit perfectly from day one, but their feet are also now a part of Texas history.
"Leddy's are widely known as being the Rolls Royce of boots," says Rodney Hawkins of Graham, who works in cattle, oil, and gas, and owns two pairs. "When you pull them on, they just kind of pop on your foot. It's a cool sound they make."
The fourth-generation family business, today employing two of Martin Luther Leddy's great-grandchildren, will celebrate its centennial in 2022. M.L. started the operation four years after he left his family's cotton farm in 1918. He bought the boot and saddle shop where he'd been employed in Brady and set out to make it his own. Measuring the feet of 1920s cowboys who paid about $25 a pair, M.L. developed a ledger system in which notes on arches, tracings, and measurements were faithfully recorded in a 17-by-11-inch leather-bound book.
M.L. Leddy's
2455 N. Main St., Fort Worth.
817-624-3149
222 S. Oakes St., San Angelo.
325-653-3397
leddys.com
When Leddy's outgrew its Brady location, M.L. moved the shop in 1936 to San Angelo, the eastern edge of the Permian Basin's booming oil economy. Comfortable custom-made boots were a necessity for cowboys who were on their feet all day. In 1941, M.L. opened a second shop in the Stockyards. Today, M.L.'s grandson, Wilson Franklin, reviews every entry recorded in the ledgers, just as M.L. did a century ago.
"Mr. Leddy was a wise man to determine that these measurements are something to be recorded for history," says Mark Dunlap, the general manager of the Fort Worth Leddy's and an old friend of Franklin's. In San Angelo, where all their custom boots are still made today, ledgers from the '20s contain the traced feet of many long-departed hard-working West Texas cowboys. In the Fort Worth store, the wall of the fitting room is lined with ledgers that date to 1941. Raz plucks out a random ledger from '43, revealing names of customers from across North Texas: Mineral Wells, Sulphur Springs, Denton.
The ledgers are road maps for Leddy's bootmakers, who refer to them for years to come when a client needs adjustments or a new pair. They are documents of arcane trivia, too: The smallest boot recorded is a size 2; the largest, a size 22. The treasured records are also meaningful for customers.
"It's really special when you see an 18-year-old kid coming in with his granddad or even a great-granddad and they dust off his ledger and look at that old footprint from 60 years ago," Dunlap says. "To think about who they were back then and who they are today—I mean, the experience really can change people."
Generations of family stories are held in these ledgers, and so are some famous feet. Leddy's, honoring its origins as a working man's boot, downplays the fame factor and, respecting its customers' privacy, won't drop names. But the staff admits you can find the measurements of kings, presidents, and sports and movie stars within its pages. While I respect the discretion, a little searching on the internet suggests Paul Newman, Nolan Ryan, Kareem Abdul-Jabbar, and Sam Shepard are among the VIPs who've walked in their own pair of Leddy's.
The ledgers also contain fragments of U.S. history. There are several entries in the '40s from GIs who, having just disembarked in Fort Worth from overseas, came to the Stockyards for a steak and a visit to Leddy's.
"We'll have those guys, World War II veterans, occasionally walk back into our shop," Dunlap says. "And you'll look up their boot measure for them, and it's an emotional moment for them and for us."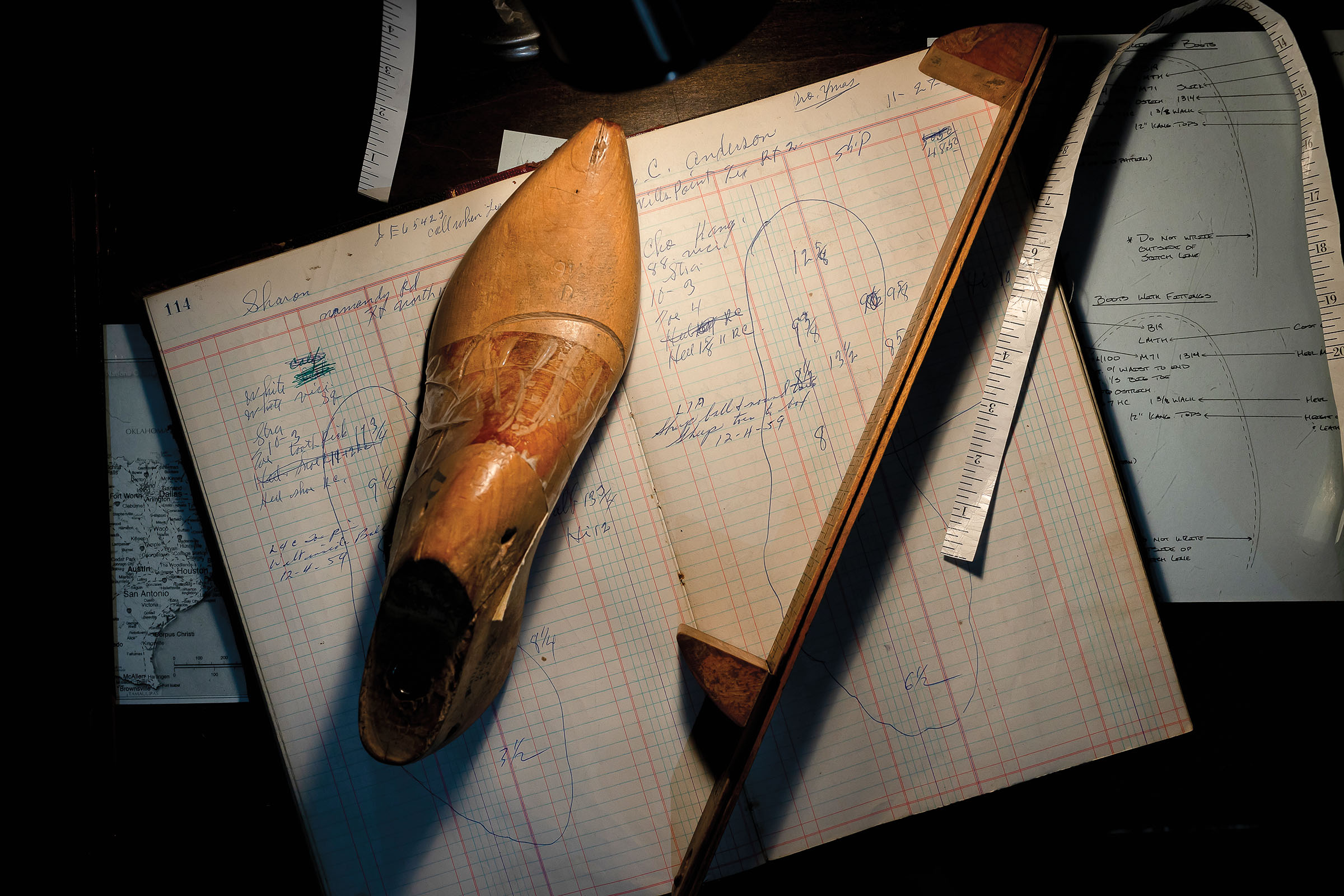 Moments like these don't happen when people buy boots over the internet. Nothing beats shopping in person at Leddy's, especially after a year of pandemic-induced online shopping. The smell of the leather. The gravelly voiced jokes of an old-timer who stepped inside the store to find a present for his wife. The sound of the staff's boots thudding neatly on the worn hardwood floors.
There's Andrew Douglas, proprietor of the $10 in-house boot-polishing service, who works with a visible smile even though he's wearing a mask. There's John Ripps, who oversees a menswear section including a Leddy label. There's Kimberly Davenport in womenswear, who hands me a flashy Vera Vasiley Western shirt to try on. "Vera is a Fort Worth icon," Davenport relays. "She started with Loretta Lynn back in the day, and she's all about stage presence with a vintage style." Tucked away on the third floor, there are saddle makers cutting, sewing, and hand-tooling custom saddles ideal for fancy gifts. (When he was president, George W. Bush presented one to Prince Charles).
And of course there's Raz, coaching me on how to best put on a pair of boots. "Stand up, and push and pull all in one motion," he says, helping me find the sweet spot where the boot slips smoothly over my heel.
In the front room of the Fort Worth shop, a quote attributed to M.L. is painted over the belt section: "The bitterness of poor quality is remembered long after the sweetness of low price is forgotten." I wince as I think about the cheap ropers I bought online last Christmas and how they hurt my feet.
"So many people don't wear boots, and the reason why is they've never had something that fits well," Raz says. "Once you get a boot that really fits you well, it will be your go-to footwear for everything."
After the time and care Raz put into measuring my feet, not only do I feel like a queen, but I also realize why boots that last, boots made especially for me, are worth the steep cost. And I'm pleased that my feet will now be part of Leddy's nearly 100-year history alongside thousands of others in the red leather-bound ledger.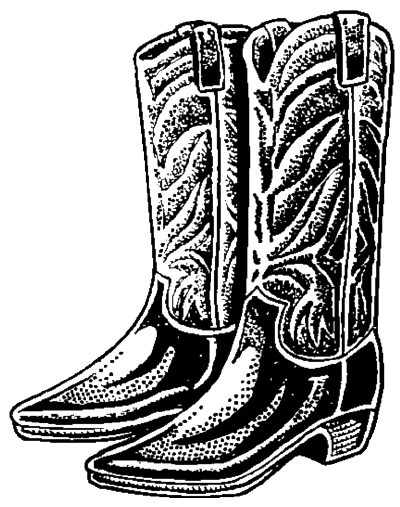 Made to Fit
M.L. Leddy's custom boots start at about $1,400 for a pair of calfskin boots (best for riding and ranching), and customers can expect a one-year wait. A pair of shiny full-quill ostrich starts at $2,795. For a more affordable but still comfortable boot, the Leddy's Vaquero brand starts at $400. They may not be made-to-measure, but the cowboys like them. For a fitting, here's what to expect:
Step One: Choose your toe box: round, pointed, or French toe (a combination of the
first two).
Step Two: Pick your heel height and shape.
Step Three: Select among four scallop designs (the design of the top of the boot).
Step Four: Decide on an arch. Try on sample pairs to see which feel the best.
Step Five: Get measured. Relax and let Raz or one of his colleagues do the work.
Step Six: Playtime. Check out the many samples of leather (ostrich, alligator, cow, etc.), stitch patterns, colors, and inlays, all on display in the Leddy's custom boots room.
From the September 2021 issue