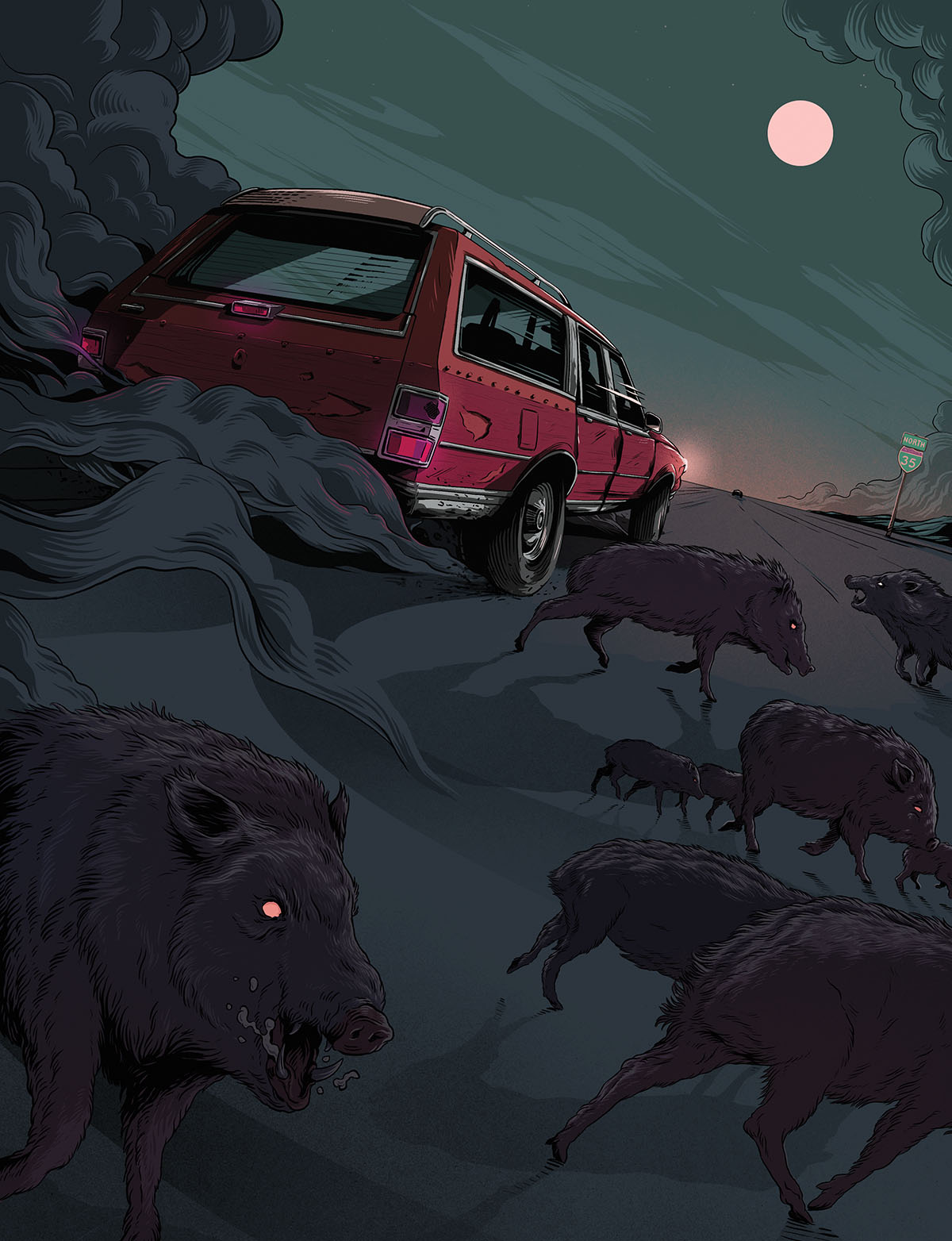 Rapture of the Freeway
A Texan by way of Oklahoma traces a lifetime along Interstate 35
by W.K. Stratton
I
dash around Laredo's Plaza de San Agustín trying to stay dry. An unexpected downpour struck this normally arid city the night before, and every so often palms and shade trees drench my battered Stetson Open Road hat with leftover rainfall. Otherwise, everything here on this sultry Saturday spring morning is peaceful and slow-paced. Some of the buildings surrounding me are relics from the 1800s and range in style from Spanish colonial to the Gothic Revival of the city's cathedral, standing at the east end of the plaza. It's hard to fathom that Interstate 35, one of America's busiest north-south freeways, begins only a few blocks from where I'm standing.
My whole life has been connected to I-35. America's system of "Interstate and Defense Highways" and I came into being at roughly the same time. Congress passed the Federal-Aid Highway Act of 1956, then the largest public works program in history, just weeks after I took my first breath at Benedictine Heights Hospital in Guthrie, Oklahoma. My earliest memories involve watching the four-lane slab of concrete take shape 2 miles from the trailer house where I grew up. It was a wonder to behold fleets of bulldozers, graders, trucks, and earthmovers (for some reason I called them "digger hoppers" when I was a preschooler) remold and pave red-dirt prairie into a section of what author Ginger Strand describes as "the biggest, fastest, safest, most beautiful roads the world had ever seen."
That occurred 650 miles north of the intersection of Victoria Street and San Dario Avenue in Laredo, which is where I-35 officially begins. The great highway that bisects America ends on the shores of Lake Superior 1,568 miles away in Duluth, Minnesota, not far from the Canadian border. My plan today is to travel a little less than a tenth of that distance, beginning at I-35's starting point a few blocks away from the Rio Grande and winding up in San Antonio. This section of I-35 is different from the uber-congested freeway extending from the Alamo City to Denton. Traffic tends to move freely here. There is little commercial or residential development on the roadside. I have no purpose in mind except to drive, and it's an ideal stretch for getting behind the wheel and moving on.
I hustle back to my room at the venerable La Posada Hotel to pack and get rolling. For bedtime reading, I'd brought a copy of Joan Didion's The White Album, a collection of exquisite essays I've read maybe 10 times since it came out in 1979. I remember a passage from one concerning the difference between mere driving and partaking in the freeway experience: "Anyone can 'drive' on the freeway, and many people with no vocation for it do, hesitating here and resisting there, losing the rhythm of the lane change, thinking about where they came from and where they are going. Actual participants think only about where they are. Actual participation requires a total surrender, a concentration so intense as to seem a kind of narcosis, a rapture-of-the-freeway. The mind goes clean. The rhythm takes over."
As I load a suitcase in my Lexus, I decide I am such a participant. I don't drive so much as surrender to the throughway experience in which the "mind goes clean," as Didion writes. I become one with concrete, asphalt, cars, pickups, and 18-wheelers. It's a Zen-like mindfulness. I always feel better after I've logged some highway miles, just as I do after I've sat in meditation. I pull away from the parking garage and start a music stream. The first song is Willie Nelson's "Still Is Still Moving to Me," which has been my personal anthem for nearly 30 years. Motion is what it takes to be free. I so get that. I love to be free, so I move whenever I can.
On the highway, I feel at home. Except for a couple of years when I worked at the Tulsa World newspaper, I've lived my whole life within 5 miles of I-35. My family began using it almost as soon as the pavement was dry. Though it was still a patchwork affair in the late 1950s—I-35 wasn't fully completed until 1992—it became our pathway to Texas.
My stepbrothers' mother and maternal grandparents lived in Fort Worth, so we made regular trips south of the Red River for visits. In September 1960, my parents took I-35 to the Cotton Bowl to watch the Dallas Cowboys play their first-ever football game. (They lost to the Pittsburgh Steelers 35-28; I still have the program Mom and Dad brought back.) A year later, my stepbrothers and I went with them to the newly opened Six Flags Over Texas in Arlington. As much as anything, exposure to that amusement park instilled in me the desire to live in the Lone Star State, where everything seemed big and wondrous. Oklahoma had nothing to compare to Six Flags.
In ensuing years, I made many more excursions down I-35, plunging deeper into Texas until I eventually hit Laredo and crossed over into Mexico. Ever since I was a little kid, I knew I belonged in Texas. Even to a child's eyes, Texas brimmed with endless possibilities. When I was an adult, I loaded my stuff into a U-Haul truck and, with a dog and a cat sharing the bench seat with me, drove 400 miles down I-35 to a new home in Central Texas. Thirty-three years later, I'm still here with no plans to live elsewhere, though as Willie conveys in his song, even when planted in place, I'm still moving.
Laredo was a favorite destination for me when I was younger, but years have passed since I was last here. I particularly loved crossing the river to Nuevo Laredo to take in shops and restaurants and maybe get into a little mischief at night. The only explanation I have for my absence is that life got in the way, and I'm sorry about that. The city has grown considerably. I cannot imagine what it was like when Tomás Sánchez de la Barrera y Garza founded it on the north side of the river in 1755. No Indigenous community existed here at that time, only a few goat paths, maybe. Now it's the 10th most populous city in Texas with about 270,000 people calling it home.
As I move through the northern part of Laredo, both sides of I-35 are lined with big-box stores such as Academy, Walmart, and Lowe's, as well as many hotels and chain restaurants. Eventually retail gives way to industrial buildings and warehouses. Just before the intersection with the Bob Bullock Loop, which connects Interstate 69W with I-35, I see a Drug Enforcement Agency office and the Laredo South Border Patrol Station to the east. I pass under the massive concrete and steel ribbons of the flyovers marking the interchange, and everything on I-35 changes. From here to Duluth, 18-wheelers are the dominating force.
Plenty of trucks are entering the highway this morning. Around 5,000 of them enter the U.S. daily via Laredo's World Trade International Bridge, which is up the Rio Grande from downtown and connects to I-35 via I-69W. Another roughly 2,000 trucks cross a few miles further upstream at the Laredo Colombia Solidarity Bridge, which links Texas to the planned community of Colombia, Nuevo León. When I was last here, neither of the two massive bridges nor the town existed.
Trucking's impact on the economies of the U.S. and Mexico is measured in the billions of dollars. It's no wonder Laredo's population has more than doubled over the past 30 years. Access to I-35 is the reason. The truckers make their way northward along the highway with cargoes of goods to plug into the nation's transportation arteries.
I feel comfortable out here among the big rigs. I've been around them all my life. My grandfather drove bulk fuel and oil field seismograph trucks. My birth father piloted semis for Beutler Brothers when that operation was the biggest rodeo stock contractor in the U.S. My step-father drove for Halliburton in West Texas and western Oklahoma, then later operated tow trucks, with most of his business coming from picking up wrecks and broken-down vehicles on I-35. My older stepbrother, a Vietnam War vet, was a long-haul trucker before he became a bulldozer operator and oil field firefighter. Whenever I pull into a truck stop for gas and black coffee, I feel as if I'm rejoining, at least for a few minutes, my native move-it-on-down-the-line clan.
If you are near the Mexican border and driving north on a major Texas highway, you can count on a mandatory stop at a Border Patrol checkpoint. The sprawling Laredo North Station on I-35 is actually 29 miles away from the city, not far from the ghost town of Callaghan. In the 1880s, this area was ground zero in the war between sheepherders and cowboys over unfenced grazing ranges. Now the conflicts here—human trafficking and drug smuggling—involve much different stakes. The current checkpoint opened in April 2006, replacing a smaller, overloaded facility closer to the city.
I pull into one of the lanes to wait my turn to have my car checked by the Border Patrol. I remember going through the previous checkpoint in the 1990s. It was after midnight, and I was driving a decrepit Buick station wagon with balding tires. The officer who looked the car over waved me onward. Back on the highway, I mashed the accelerator to the floor to get the rusty old boat up to speed. Maybe a mile beyond the checkpoint, a squadron of javelinas (yes, that's the term for a group of javelinas) rocketed onto the pavement in front of me. I gasped, braking and swerving simultaneously. I managed to avoid hitting any of the animals, but the old Buick fishtailed from lane to lane several times before I brought it under control on the shoulder. Once my heart started beating again, I continued on toward San Antonio.
Nothing so eventful occurs as I leave the checkpoint today. But I have seen horrible things on I-35. When I was a young newspaper reporter, I was frequently dispatched to photograph major smashups, often involving fatalities. Once, a woman changing a flat tire on the shoulder was struck by a drunken driver who had veered off the highway's main lanes. I arrived on the scene seconds ahead of the ambulance and watched her bleed to death as EMTs tried to save her. I was just 19. Images from that afternoon still haunt me. The possibility of death always lurks on I-35, as it does on any highway.
I pull my mind back from that dark memory and focus again on what Didion called "active participation" as I make my way to Encinal, the town closest to George Strait's home ranch. I believe such active participation includes not only maneuvering through traffic but also paying attention to what you see along the roadside. Both sides of I-35 are now lined by la brasada, the term Mexican settlers applied to the brush country that blankets much of a dozen or more South Texas counties.
La brasada is a tapestry of mesquite, huisache, agrito, granjeno, nopal, and many other plants. The landscape is thorny and inhospitable to humans. Texas novelist Larry McMurtry first saw it on a trip he made as a boy with his cattleman father. "We had plenty of mesquite in our country, four hundred miles north," McMurtry writes in his travel memoir Roads, "but nothing like what I saw that day as we drove into a kind of South Texas heart of darkness."
He was both "astonished and a little scared" by it, especially after his father and several vaqueros vanished into la brasada to inspect a cattle herd, leaving McMurtry to stress alone in the car. "That night, we stayed in a cow camp that had somehow been beaten out of the brush. About suppertime a vaquero rode in with a dead javelina across his horse's rump; our supper consisted of wild pig and frijoles."
Young McMurtry left la brasada thinking it was "a wild place filled with desperate men," an assessment he considered still valid when he returned in his mid-60s. I'd phrase it differently, but I think I know what he was getting at: La brasada country is home to resilient people with independent minds who have found ways to thrive in a landscape with many challenges. It's always been that way.
At the southern edge of Cotulla, I cross the Nueces River. To this day, many Mexicans and Tejanos think the Nueces, not the Rio Grande, should be the legitimate boundary between Mexico and Texas. Many refer to the part of Texas between the two rivers as the Wild Horse Desert. Though the name dates back centuries to old Spanish maps, it's troubling, as my friend the historian Andrés Tijerina and I have discussed. Calling it a desert marginalizes a culturally rich region inhabited by hundreds of thousands of people. It's hardly desert-like—and I've never seen wild horses running free here.
I pull off at Cotulla because I want to see Laredo artist Gilberto Rocha's 96-foot-long downtown mural and the La Salle County courthouse. Rocha's massive painting, completed in 2016, is a work of vibrant colors and realistic images, including the town's founder, Polish immigrant Joseph Cotulla; a Longhorn; a mounted cowboy; a steam locomotive; and, yes, a couple of javelinas. To someone like me who can only draw a stick figure, it's a mind-boggling achievement. Rocha painted it on sheets of plywood at his studio in Laredo, then assembled them here. He completed the work while also teaching public school art classes.
It's just a short walk from the mural to the courthouse, which underwent renovations just a few years ago. Completed in 1931, it was the last of 17 Texas courthouses designed by architect Henry Phelps. His building in Cotulla is a testament to his versatility as an artist. The courthouse designs he created in the 1910s drew on Mission Revival-style architecture. The building I'm looking at now is Art Moderne, and it's very different from his earlier work. I appreciate the beauty of Phelps' architecture, but it occurs to me that it's not very "moderne." The courthouse was already more than 30 years old when I-35 was formally opened in Austin in 1962. Now the building is 90. I pause for a moment and consider my own age. I'm not very "moderne" either. I sigh and return to my car, then head toward Dilley, 15 miles north of Cotulla.
During my newspaper days, I worked with a woman from Dilley, the self-proclaimed Watermelon Capital of Texas. (A sculpture of a half-eaten watermelon graces Main Street.) With all sincerity, she told me Dairy Queen's Dilly Bar, soft serve vanilla ice cream coated with a chocolate shell, had been invented in her hometown. Coming from a fellow journalist, I figured it had to be accurate. I bought into it without noticing the town and bar had different spellings. Other people told me the same thing; it must have been part of mid-'80s Texas urban mythology. But it's not true. The Dilly Bar originated in Moorhead, Minnesota, which is about 250 miles due west of I-35's terminus at Lake Superior. Phyllis and Bob Litherland, who owned a Dairy Queen franchise, created it. My guess is neither ever set foot in Dilley.
I drive past Dilley without stopping. Likewise Pearsall, which claims to be home to a sculpture of the world's largest peanut. It is not. That distinction commonly belongs to Plains, Georgia, the hometown of President Jimmy Carter, a former peanut farmer—though there's bound to be a bigger one out there. The sculpture in Plains is twice the size of Pearsall's. That said, I like Pearsall's peanut. It's a funky piece of roadside Americana, and I'm a sucker for that kind of thing. But I've seen it several times before. Besides, I've fallen into a groove since leaving Cotulla. I am in full-blown "active participant" mode. I just want to experience moving on my lifelong companion, I-35. My mind goes clean.
Northbound I-35 changes at Devine. It becomes a suburban highway. Traffic increases substantially. Mobile home dealerships, car lots, and strip malls begin to line the frontage roads. All signs of la brasada disappear. One hundred forty-two miles after I began this trip, I end it by exiting onto Loop 410 eastbound. I drive on it until I reach a roadside barbecue place around Seguin, where I stop to grab a late lunch.
This was a satisfying trip. I was able to get a good look at some places I haven't seen in a long time. And I took in new things. I gazed out at the endless, transfixing brasada. I engaged in the Zen of driving. And I was one with the highway that has defined my life. I grew up with it. And I'll likely die near it. As I sit still eating, my mind wanders to other highway voyages I could make. Interstate 10 from Junction to Van Horn is always nice. It's been forever since I crossed the Panhandle on Interstate 40. And so on. Still is still moving to me.
From the July 2021 issue