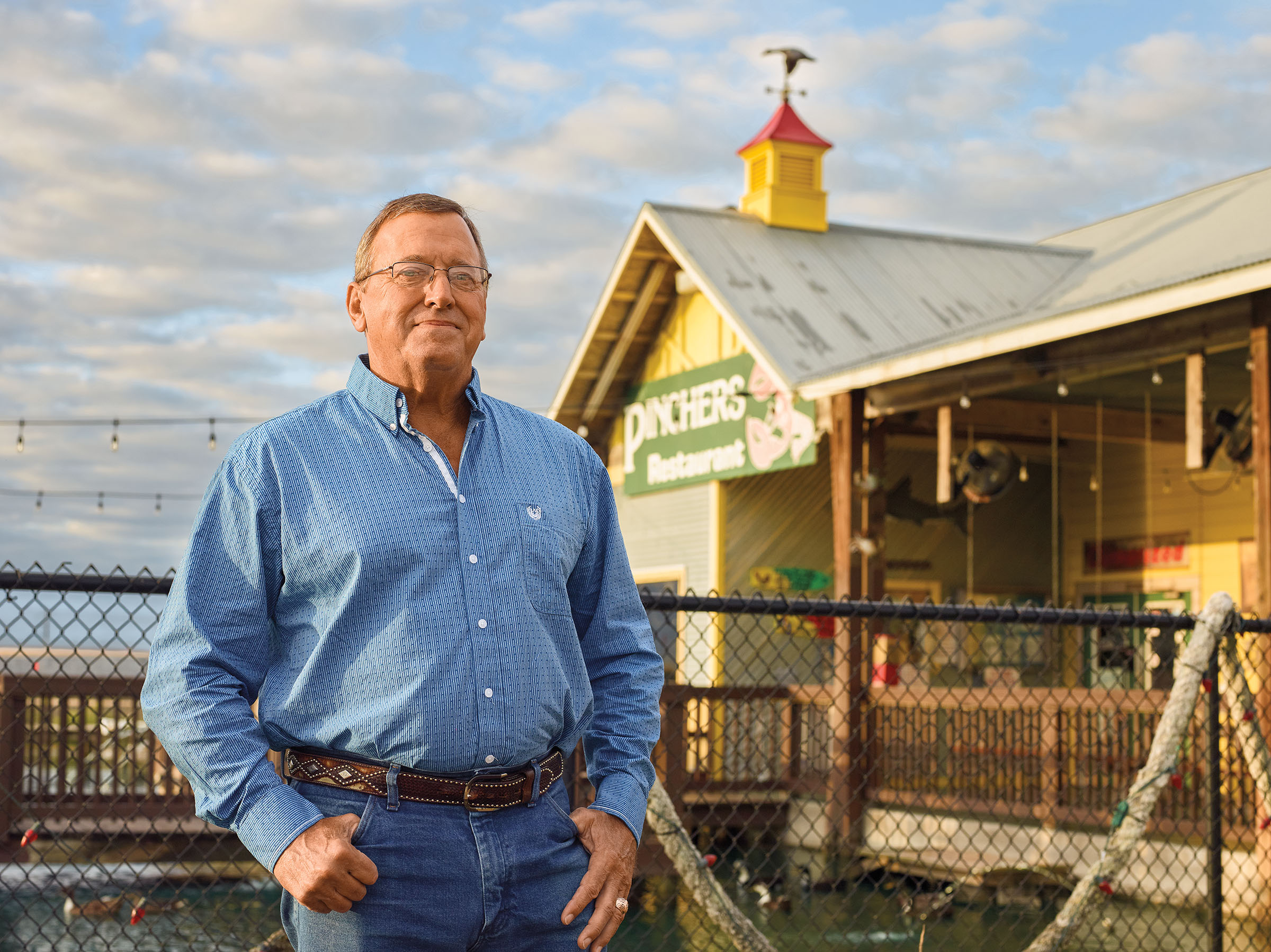 El Campo got its start as a railroad camp, nicknamed the "Pearl of the Prairie" for the light of the switching point that would glow over the landscape at night. Set in the coastal plains, the area has long been cattle country. Local vaqueros gave the town the name of El Campo—Spanish for the countryside or field­—in 1890. Agriculture has fueled the economy ever since. Farmer, rancher, and restaurateur Craig Radley has spent his entire life in El Campo, minus the four years he studied agricultural economics at Texas A&M University. He returned home to raise cattle and cultivate rice, milo, cotton, and corn, but eventually he branched into crawfish farming, and in 1999 he opened Pinchers Restaurant to sell his own product. Although Radley retired from trapping crawfish after the 2021 season, the 65-year-old continues to operate the restaurant—along with an adjacent candy shop and RV park—with his wife and youngest son.
Rails and Rice
"El Campo's old downtown is right on the railroad tracks. Back then, the economy was totally agricultural. My grandfather Jesse Myatt moved here in 1905 and was a rice farmer and rancher. A lot of grain elevators around here were originally for rice. Some have been converted now to hold different grains, like milo or corn. Rice has been declining over the years, due to the price and the lack of water, but cattle and cotton are still a big deal here."
Czech It
"I'm not Czech, but Czechs make up a large portion of our area. When our kids would have baseball or football games in other towns where they don't have a large Czech presence, it was hilarious to listen to the announcer butcher the Czech names. The local radio station KULP has a Czech polka hour every weekday [8-9 a.m.] and all Saturday morning."
Crazy for Crawfish
"We're close to the Gulf Coast. When people pull up here, I want them to have a sense of the water. We serve seafood and have coastal decorations, and we built a pond out front where people can feed the fish and ducks while they're waiting on their food. If we can't get fresh crawfish, we don't serve them. We sell a little bit of everything—all kinds of crabs, étouffée, gumbo, burgers, and po'boys. We get our shrimp fresh and peel and batter them per order. We don't sell any desserts, except bread pudding. Other than that, our store The Candy Shop is next door. It has a little bit of everything: chocolates, chocolate-covered nuts, and all the gummies that are legal to sell in El Campo, Texas."
On the Hunt
"E.A. Weinheimer was a doctor here who was an avid hunter of animals all over the world, which he donated to El Campo for a museum. The El Campo Museum of Natural History has a dedicated space in our civic center. Another place people go to is Janik Alligators. They raise gators, trap gators, sell the meat, and use the hides. Larry Janik is a trapper for the state, one of the people the game warden calls when there's a nuisance gator to be relocated. I think some might get 'relocated' to Pinchers; they sell us their alligator meat. Fried alligator is a big hit!"
Unexpected Oasis
"A family called Mobley built the largest residential pool [700,000 gallons] in the country here. When they put their house and pool up for sale, Stephen and Kenna Lucas bought it with enough property to put in an RV park called the Lost Lagoon, and they've added all kinds of amenities: a great bar, live entertainment, events, and cook-offs. It's been a boon for El Campo. People come from other states with their campers to stay for a few days."
Worth the Trade-Off
"In a small town, everybody knows your business. But then whenever someone is in need, everybody rallies around them. We have the convenience of being about an hour away from the medical center and shopping in Houston, but we don't have to put up with all the hustle and bustle. I could have started Pinchers in a city and been more successful, but the trade-off is I get to have a business in my hometown and still have all the amenities that a rural area affords you."
Town Trivia:
Population:
11,539
Number of Stoplights:
12
Year founded:
1905
Nearest City:
Houston, 70 miles northeast
Marquee Event:
Prairie Days Festival, first weekend in October
Map it:

El Campo Museum of Natural History, 2350 N. Mechanic St.
From the January 2022 issue